Make these low-carb 30-minute meals in half an hour or less! If you're trying to feed your family good, nourishing food and have time to live your life, then these recipes are for you. Not only are they quick and easy recipes, but they are also full of flavor that everyone will love!
Keep it keto and healthy all day long with these essential family-friendly recipes. This roundup showcases delicious, nutrient-dense breakfast, lunch, and dinner meals. Plus, you'll find all the meal-planning inspiration to please the crowd right here!
From coconut pancakes to keto blueberry scones, from Taco Tuesday to Chinese take-out, all recipes are low-carb, keto, gluten-free, and sugar-free.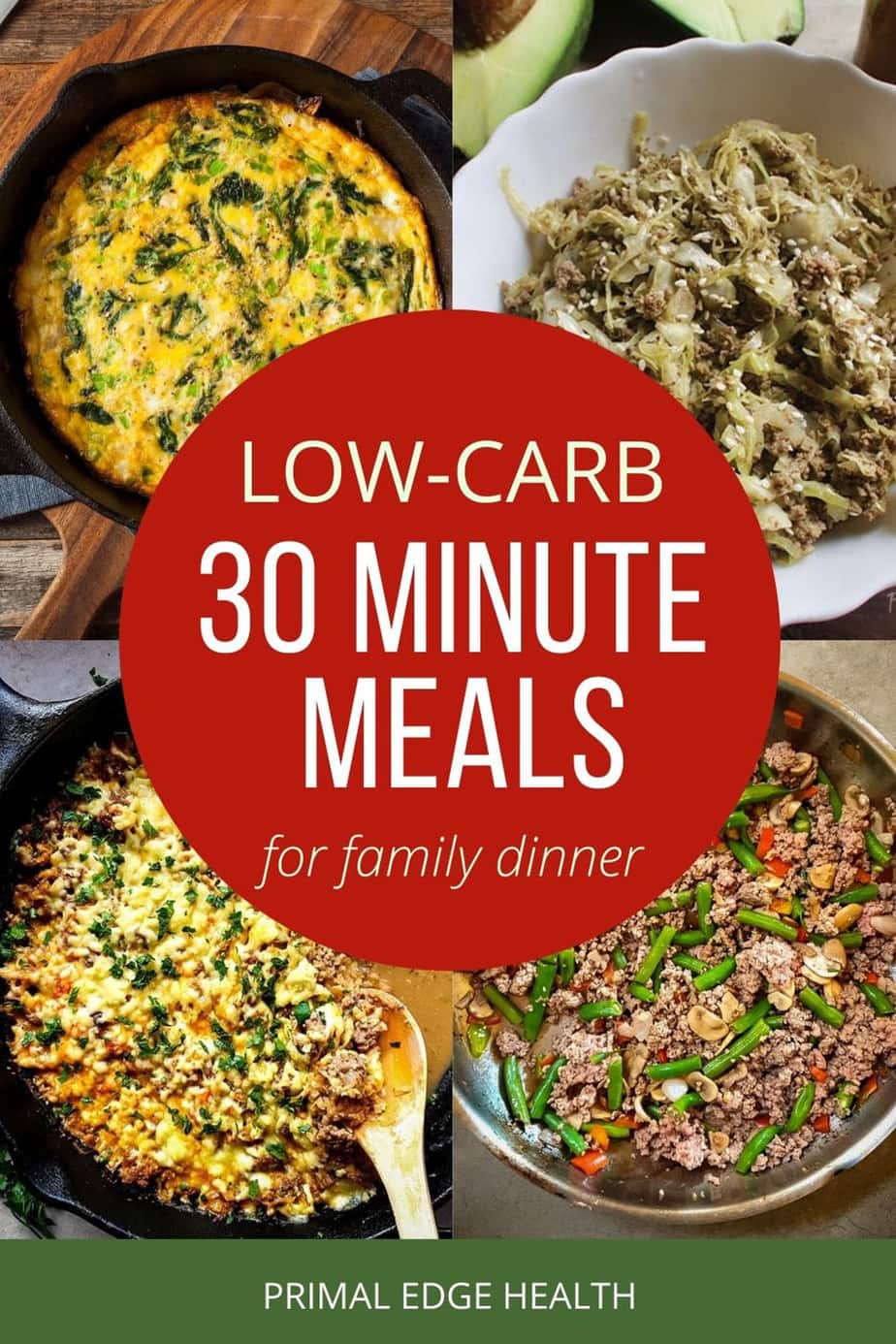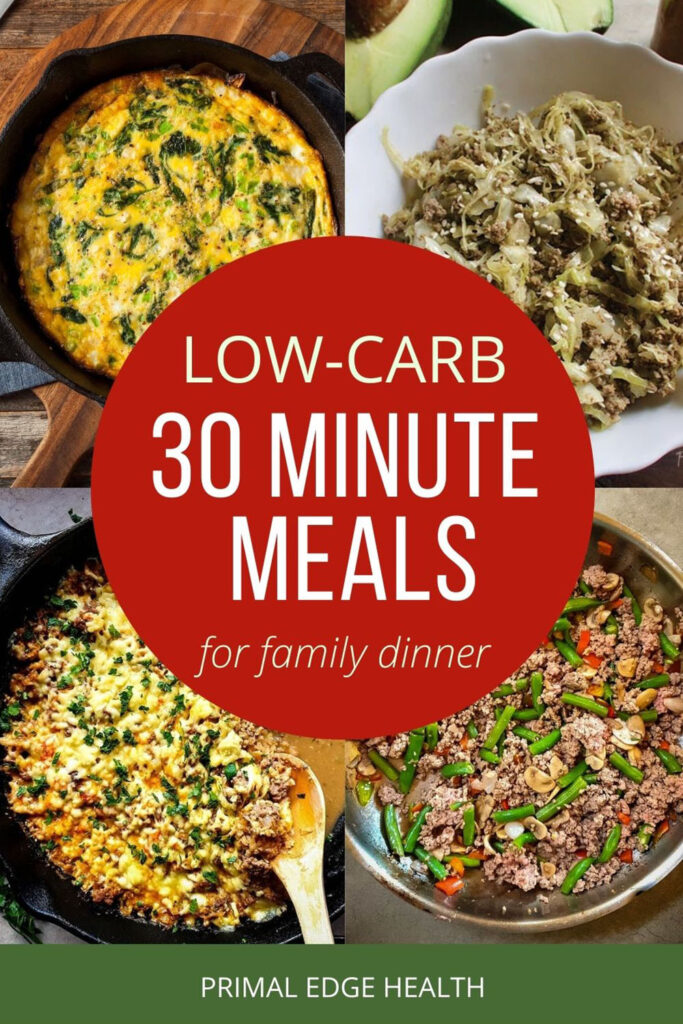 Table of Contents (click to view)
30-Minute Keto Recipes
When you need breakfast, lunch, or dinner on the table fast, these 30-minute keto recipes are golden. Low-carb eating doesn't have to be difficult to be delicious. Keep your family fed and happy with simple, satiating recipes.
Common Ingredients for Quick Keto Meals in 30 Minutes or Less
When browsing through this list, you'll find that there's often a common theme in these recipes.
All of these low-carb recipes include some or all of the following ingredients.
Ground Meat
Ground meat is great for adding satiating protein to an easy meal. It cooks quickly, making quick keto dinners a possibility!
Plus, the versatility of ground meat is appealing. If you're working towards weight loss, consider using lean ground meat like ground turkey or chicken.
On the other hand, ground beef or pork make great keto options for their high-fat content.
Either way, ground meat is a staple in tasty keto meals and an excellent protein source, which keeps you feeling fuller longer.
Eggs
Eggs are an excellent ingredient for quick keto meals for several reasons. Like ground meat, they are incredibly versatile and can be prepared in various ways to add variety to a ketogenic diet.
With minimal effort, you can add protein and healthy fats to your healthy meals by scrambling, frying, poaching, or boiling a few eggs.
Including eggs in a recipe like a bake or a casserole is the easiest way to bind ingredients to have a cohesive and delicious meal.
Cheese
Cheese is an excellent food choice for anyone on the keto diet, it is naturally low in carbs and high in fat.
It's important to know that cheese encompasses a wide range of varieties, from creamy options like cream cheese to shredded or sliced cheese like cheddar cheese and a star finisher such as parmesan cheese.
Whether sprinkling shredded cheese on top of a salad, melting it in a cheesy sauce, or enjoying it as a snack, cheese is a crowd-pleaser and may be the best part of a low-carb diet.
Butter
Contrary to popular belief, good quality butter can be part of a nutrient-dense meal.
It's rich in healthy fats and low in carbohydrates, providing a good energy source while keeping you satiated.
But what makes butter shine is its high smoke point, which means it can withstand higher cooking temperatures without burning. This makes it versatile for various cooking methods, including frying, baking, and grilling.
Can't do dairy? Try ghee, which is clarified butter and is just as delicious and decadent. Other stand-ins are classic extra virgin olive oil and avocado oil.
Avocado
This tasty fruit can elevate any simple recipe into a mouthwatering masterpiece. The creamy, rich texture and mild flavor lend avocado so much potential and take on the flavor of the recipe.
Its versatility allows it to be used in various ways, such as sliced, mashed, or blended into sauces.
This low-carb fruit is packed with essential nutrients and healthy fats, making it easy to jazz up an already healthy dinner.
Coconut flour
A keto pantry staple, coconut flour is a game changer when it comes to eating well on a keto diet.
Not only is it low in carbs and high in fiber, but it also adds a deliciously subtle sweetness to baked goods.
The good news about coconut flour is that the entire family will love how moist and tender your baked goods turn out.
30-Minute Low-Carb Meals for Meal Prep
After a long day, the last thing I want to figure out is what we're having for dinner. With some planning and these handy recipes, I save so much time, energy, and money!
These breakfast, lunch, and dinner meals are instrumental for making a weekly meal prep plan. In addition, planning is simple because I can stretch the same ingredients across multiple recipes.
Look at how you can make a varied menu over the week with many of the same basic ingredients.
Quick Keto Breakfast Recipes
Serve a hot breakfast to your family in less than 30 minutes! Ensure that they have the nourishment they need for starting the day without spending forever in the kitchen. These recipes are comforting, flavorful, and fast!
More Low-Carb Breakfast Ideas
Easy 30-Minute Keto Meals
Looking for easy, low-carb lunch recipes? Look no further because these quick keto meals in 30 minutes are the solution. Make a savory mid-day meal without the mess or time investment.
Keto Dinner Ideas in 30 Minutes or Less
Are you wondering what's for dinner tonight? We've got you covered with wow-worthy meals you can make in less than 30 minutes on a busy night. These recipes are perfect for keeping you on a keto track and your family happy!
More Low-Carb Dinner Ideas
What to Serve with 30 Minute Low-Carb Dinner Recipes
All of these 30-minute keto dinner recipes are complete meals on their own. However, if you have unexpected guests or are stretching leftovers, you may serve a vegetable side dish or keto bread too.
Here are some ideas for your menu: