Start the day right with this easy keto frittata recipe featuring fluffy eggs, tangy feta cheese, and tender spinach. This satisfying and nutritious meal will keep you full and energized for hours. Plus, this delicious vegetarian keto breakfast can be on your kitchen table from start to finish in just 20 minutes.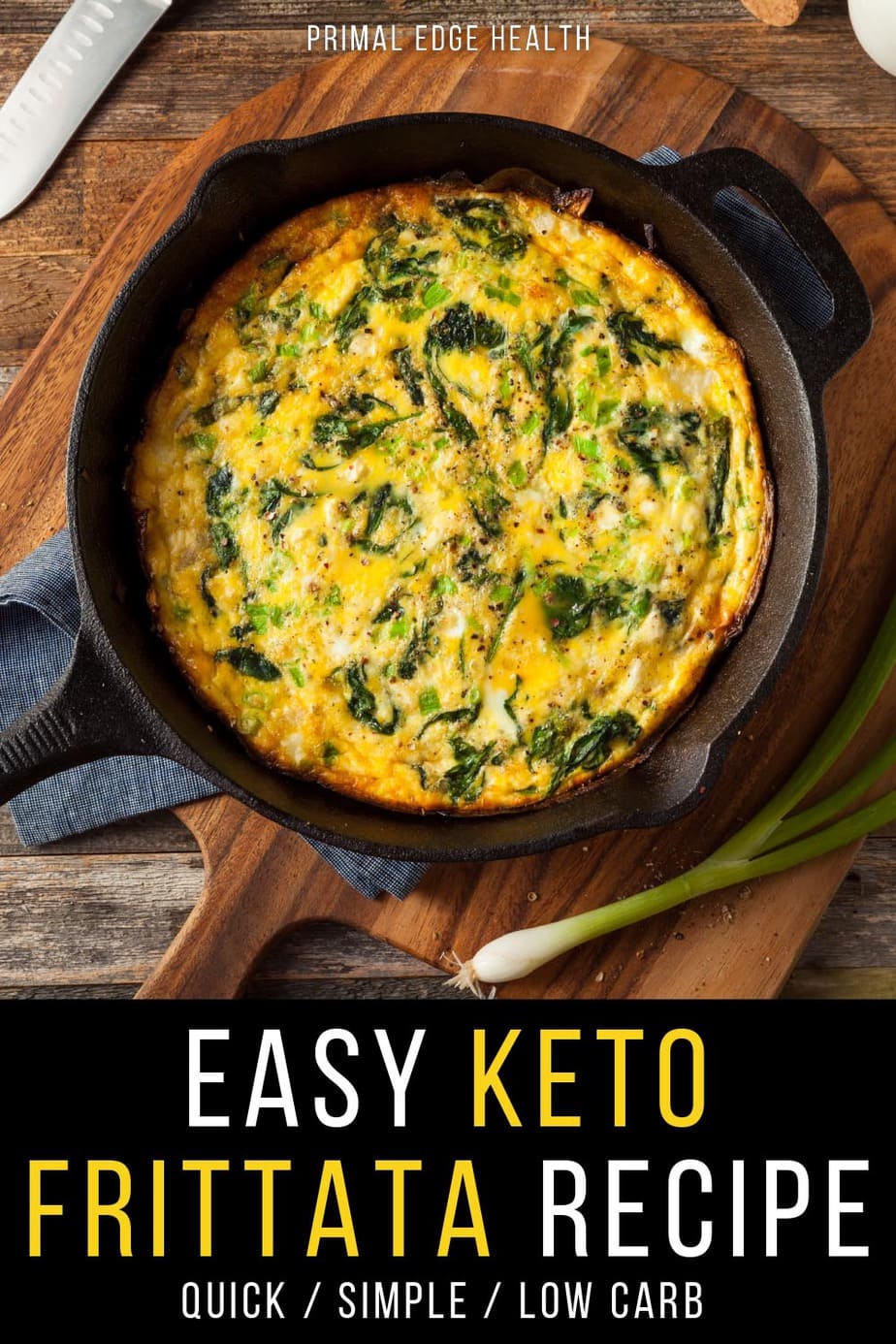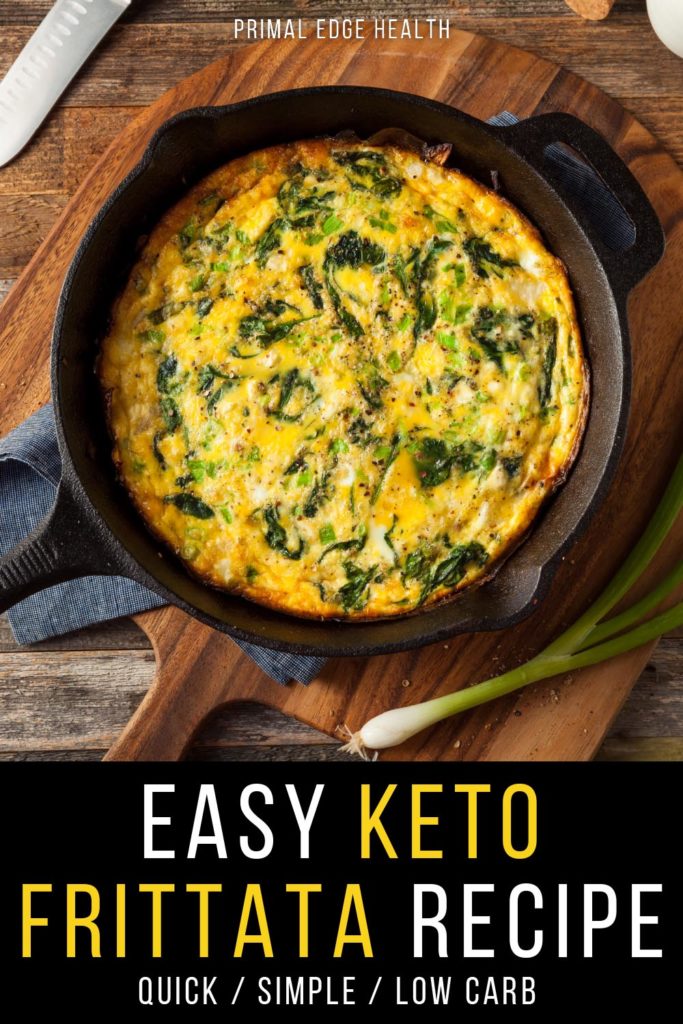 Table of Contents (click to view)
Easy Keto Frittata
Frittatas are one of my favorite keto breakfast foods – eggs, veggies, and cheese wrapped in one dish. They are quick meal ideas that double for brunch or a great lunch. And if you're like me, you don't need to warm it up as I enjoy the cold leftovers.
Easy keto recipes make breakfast meal prep a breeze. With just five minutes of prep, you can put food in the oven and move on with your day.
I struggled with frittatas because they were delicious but too eggy and light. It seemed like I could eat the whole thing and still be hungry.
But here's the secret: You must treat them like keto omelettes – stuff them with your favorite fillings!
There are many variations to try, so feel free to be creative with whatever you already have on hand. Like a baked omelette, baking a frittata is an excellent opportunity to use leftover veggies and herbs.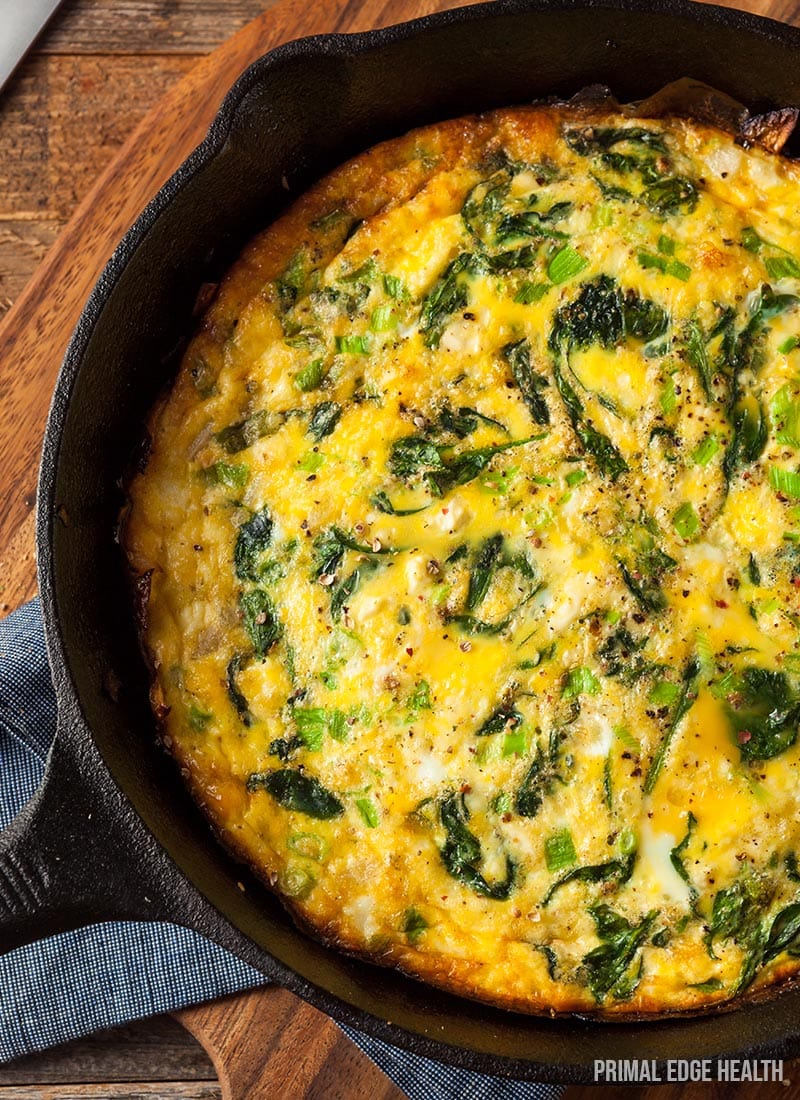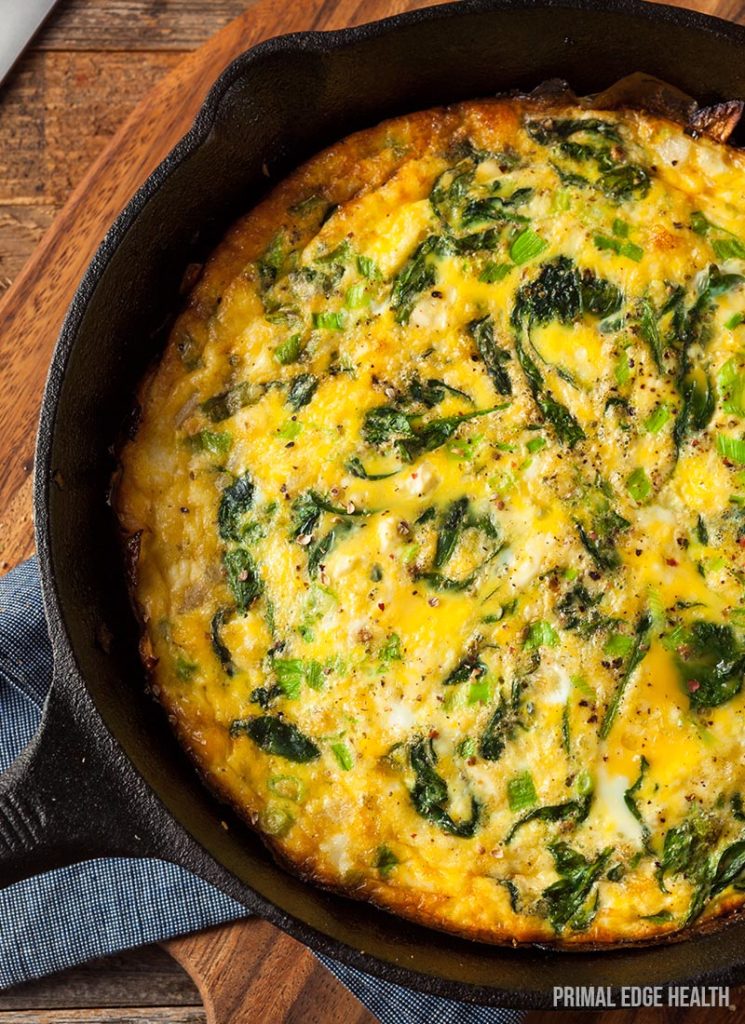 How to Make Keto Frittata
Gather ten basic ingredients, and you're halfway to making spinach and feta frittata in just 20 minutes. That includes 5 minutes of prep time and 15 minutes for baking!
Ingredients
Eggs – Since the eggs are the star of this dish and hold all the ingredients together, buying the best quality, like free-range, pastured eggs is a good idea.
Heavy whipping cream – Besides healthy fats, heavy cream gives the omelette volume and an incredible texture.
Butter – Unsalted butter is best as you control the saltiness of the dish. Choose grass-fed butter, if the budget allows.
Fresh spinach – This popular leafy green adds flavor, texture, and nutrition to frittata. Cook it slightly in a skillet first, so it's tender and sweet, providing a delicate balance to the richness of the rest of the ingredients.
Feta cheese – The creamy and crumbly texture of feta balances out the eggs' fluffy and light consistency while adding a tangy and salty flavor.
Aromatics – Garlic and fresh herbs like green onion and thyme add flavor and depth that will delight your taste buds.
Salt and black pepper – Just a pinch of seasoning to balance all the flavors!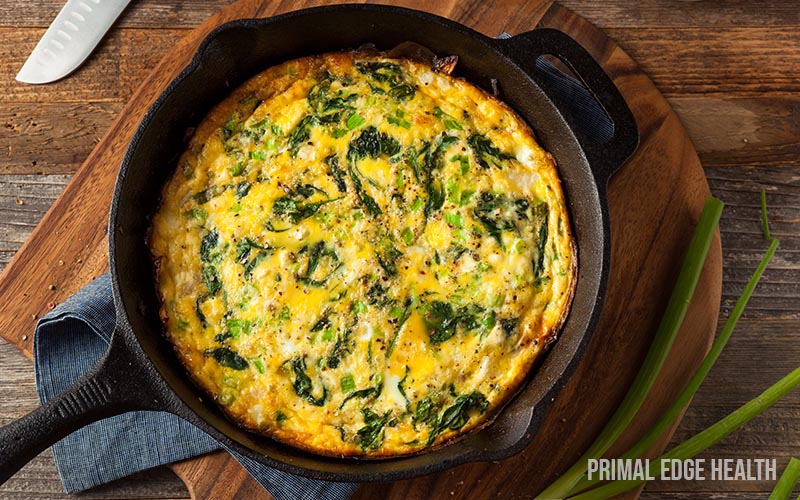 Substitutions and Variations
Once you have the basics for this keto frittata recipe, you can experiment with other flavors and textures.
Leafy green – Swap out the spinach for Swiss chard, kale, or sorrel.
Add veggies – Toss in diced red bell pepper and red onions for contrasting colors, flavors, and textures. This easy frittata recipe is great for using up leftover vegetables.
Change up the cheese – Make your own spin on this egg dish and use whatever cheese you like. Feta is a classic choice, but goat cheese would be equally delicious. Or you can go with something more common, like Parmesan or sharp cheddar cheese.
Add protein – A great way to bulk up this healthy breakfast is by adding cooked meat like turkey sausage to the egg mixture.
Diet Modifications
As written in the recipe card, this recipe is naturally keto and gluten-free. If you have additional specific dietary needs, consider the following modifications to make this cheese frittata recipe suitable for any wellness diet.
Dairy-Free – Use ghee instead of butter, and swap the heavy cream with almond milk. The texture won't be as rich, but it will still be delicious. Omit cheese.
Whole30 – Use dairy-free substitutions for butter and milk, and omit cheese.
Paleo – If you tolerate dairy, you can make the recipe as is. However, if you are on strict paleo and must avoid dairy, make appropriate substitutions, as mentioned above.
GAPS – Omit heavy cream and use aged cheeses like Parmesan cheese or Monterey Jack cheese, as fresh cheese is not GAPS compliant.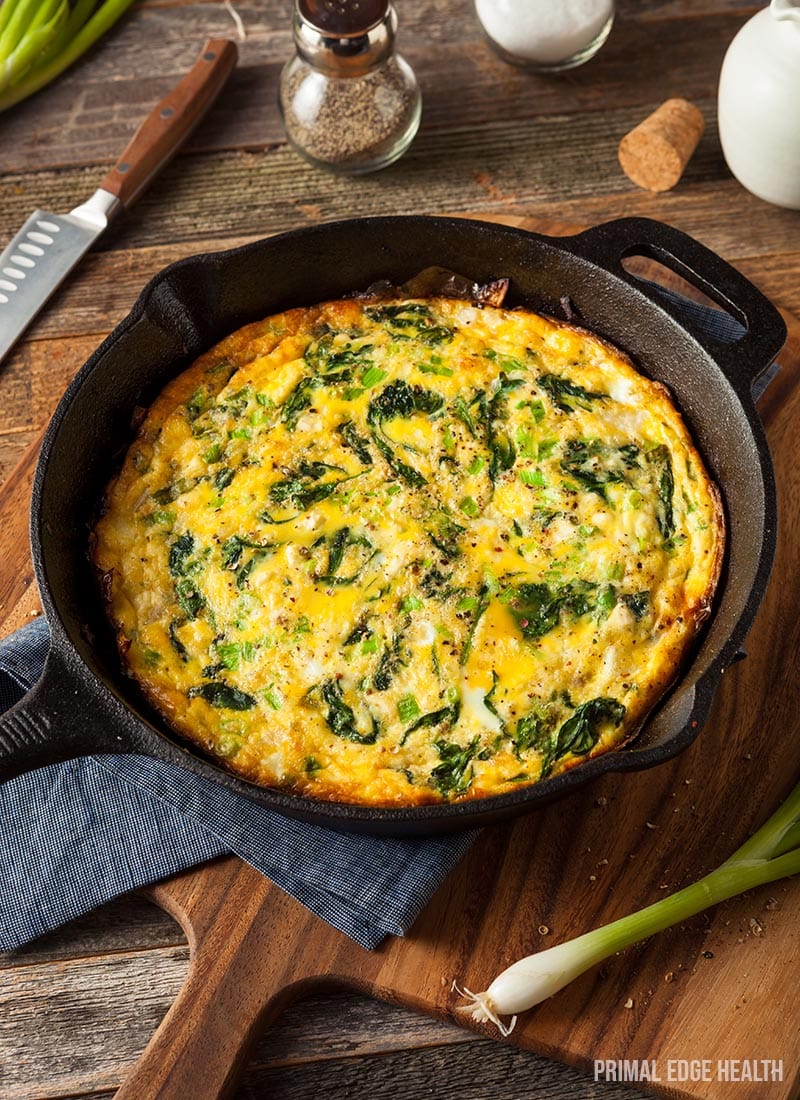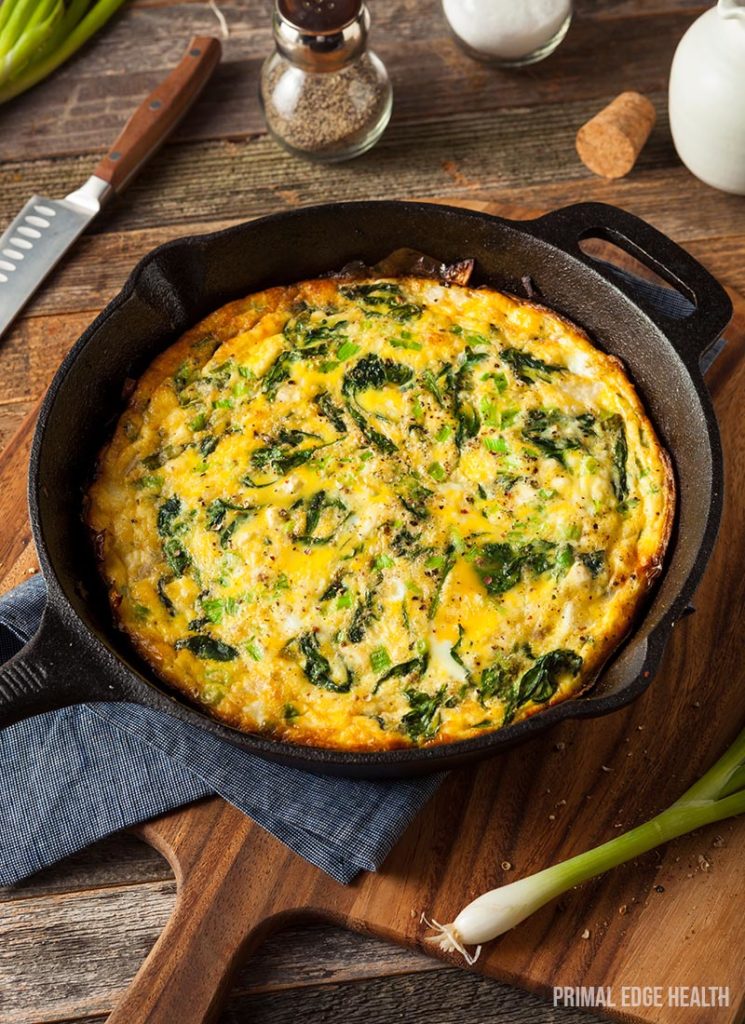 Step-by-Step Directions
Follow these simple steps for a delicious keto egg frittata that you can enjoy in no time!
Step 1: Whisk
First, begin by preheating the oven to 350°F (177°C).
Second, whisk eggs, cream, and green onion in a large bowl. Season with thyme, salt, and pepper.
Step 2: Saute
Add butter to an oven-safe skillet like a cast iron pan over medium heat on the stove top.
Using oven-safe cookware is the easiest shortcut to one-pan and one-pot meals. Contrary to what you might think, cleaning cast iron is easy and seasoning isn't too hard either.
Once the butter melts, sauté minced garlic for one minute, then add the spinach and stir until it slightly wilts.
Remove the spinach and garlic from the heat and add them to the eggs in a bowl.
Step 3: Add feta
Next, crumble the feta cheese with your hands and stir until combined.
Step 4: Pour
Add more butter to the cast-iron skillet if needed to ensure nothing sticks. Pour the egg mixture into the skillet.
Use a fork or spatula and move the spinach around so it's evenly distributed throughout the frittata.
Step 5: Bake
Lastly, bake for 15-20 minutes in a preheated oven until golden brown and the edges set.
Remove from heat and allow to rest for a few minutes before serving.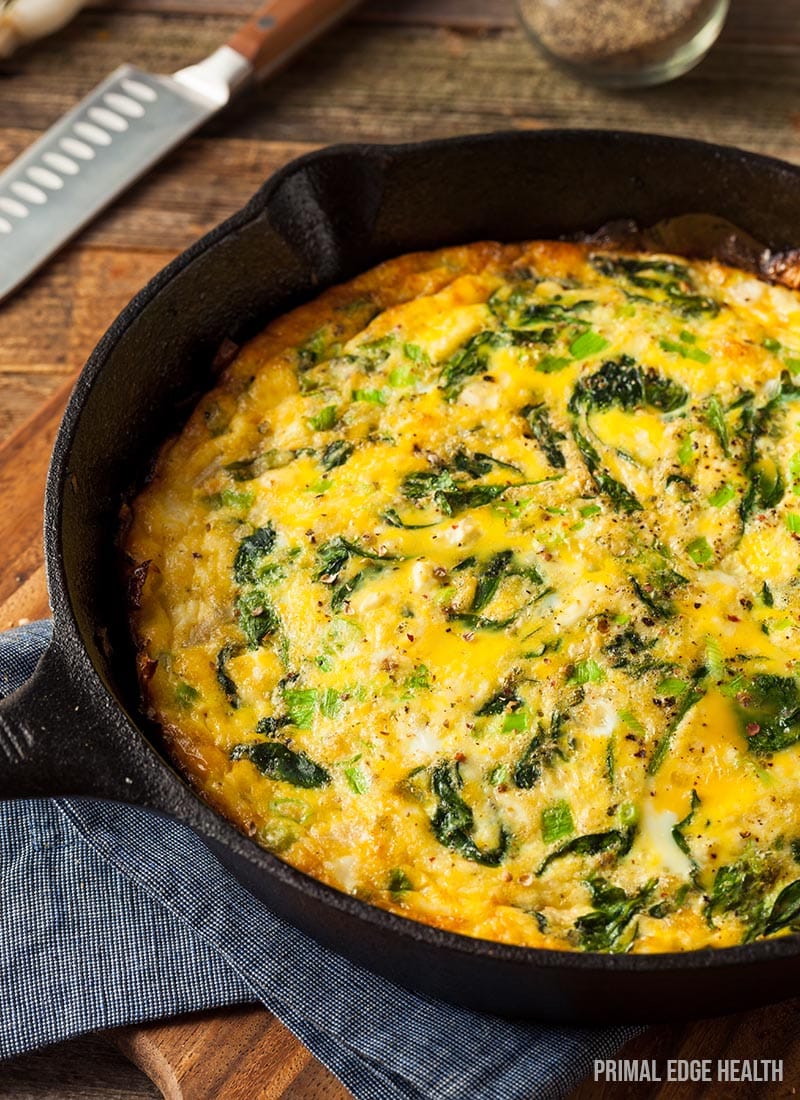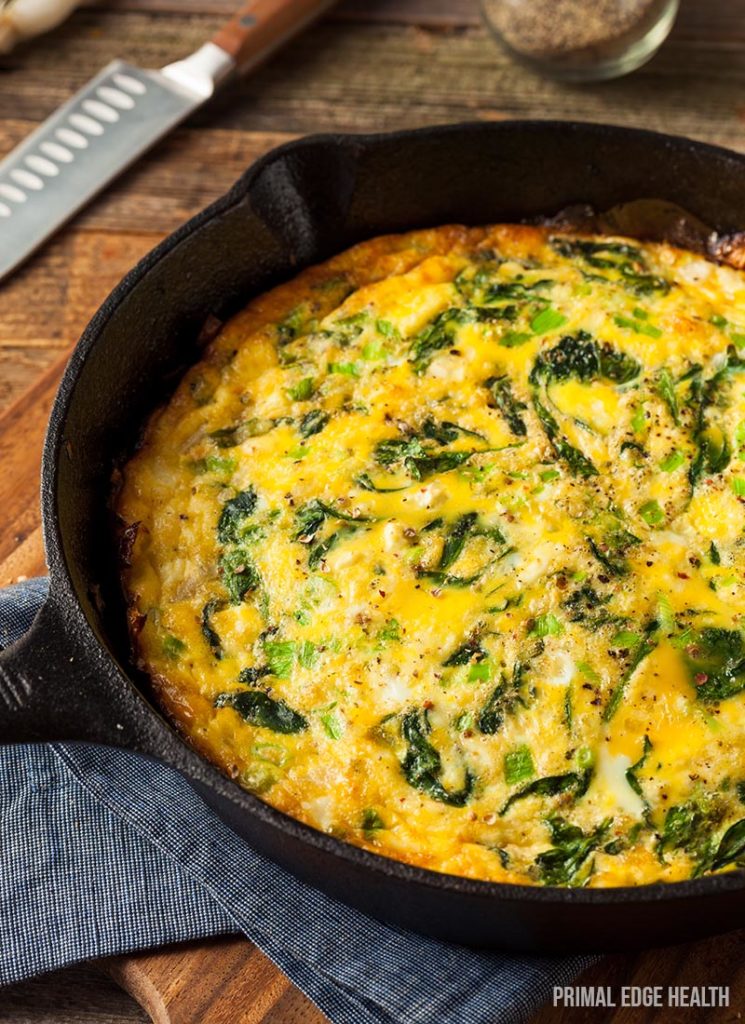 Nutritional Info for Keto Frittata Recipe
There are four servings of this keto breakfast dish.
Each serving contains:
370 calories
21 g protein
30 g fat
4 g total carbs
1 g fiber
3 g net carbs
Please note that the nutritional value will change if you substitute ingredients. Use a nutrition app to recalculate and reflect your changes.
Easy Keto Frittata FAQ
Is frittata keto?
This one is! With a nice balance of fat to protein ratio, eggs are an excellent staple for anyone on a keto diet. Combining other low-carb ingredients like spinach, green onion, and cheese gives us a healthy yet flavorful ketogenic meal.
How many calories are in a vegetarian frittata?
Per serving, this recipe has 370 calories. There are 30 grams of fat, 21 grams of protein, and 4 grams of carbohydrates. Additionally, each serving contains only 3 grams of net carbs!
Can I make keto frittata ahead of time?
Yes, you can combine all the ingredients for keto frittata ahead of time and store them in the refrigerator overnight in a covered baking dish. When ready to bake, pull it out of the fridge and allow it to come to room temperature before baking it for an easy keto breakfast casserole.
How long will keto frittata last in the fridge?
Leftover keto frittata can be stored in an airtight container in the fridge for up to three days. After that, you can freeze the keto dish for longer storage but note that the texture may differ. Thaw overnight in the refrigerator and reheat until warmed through.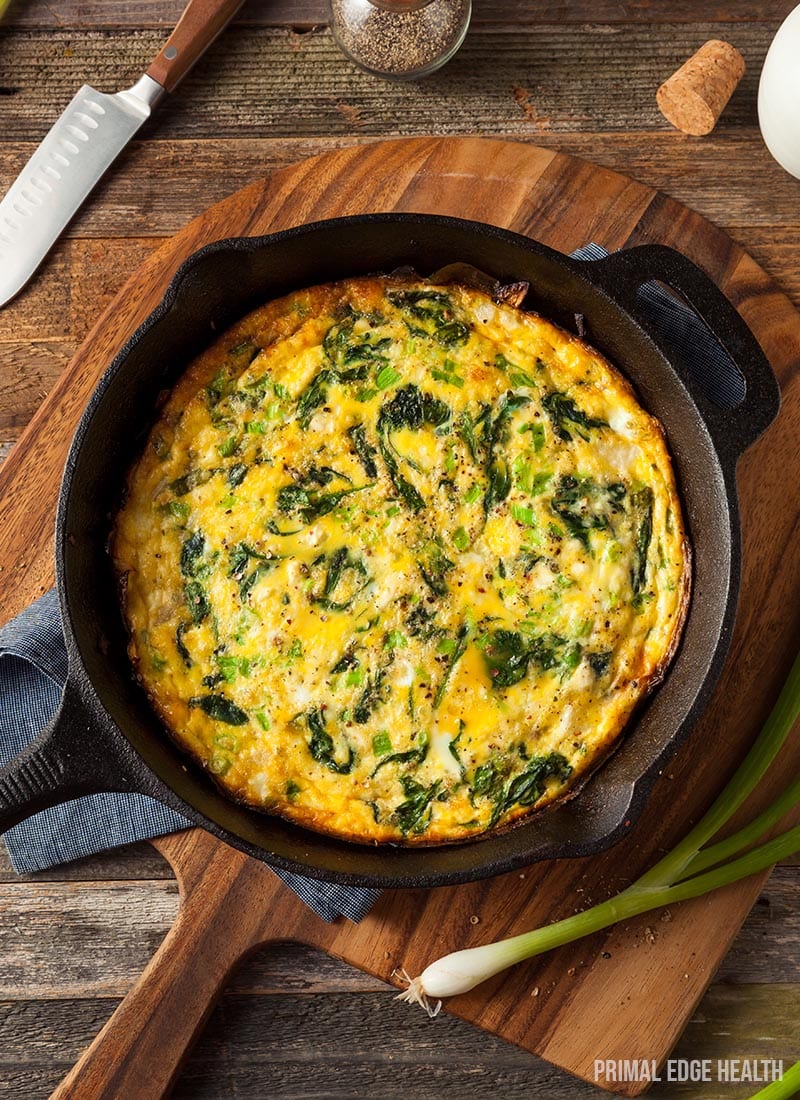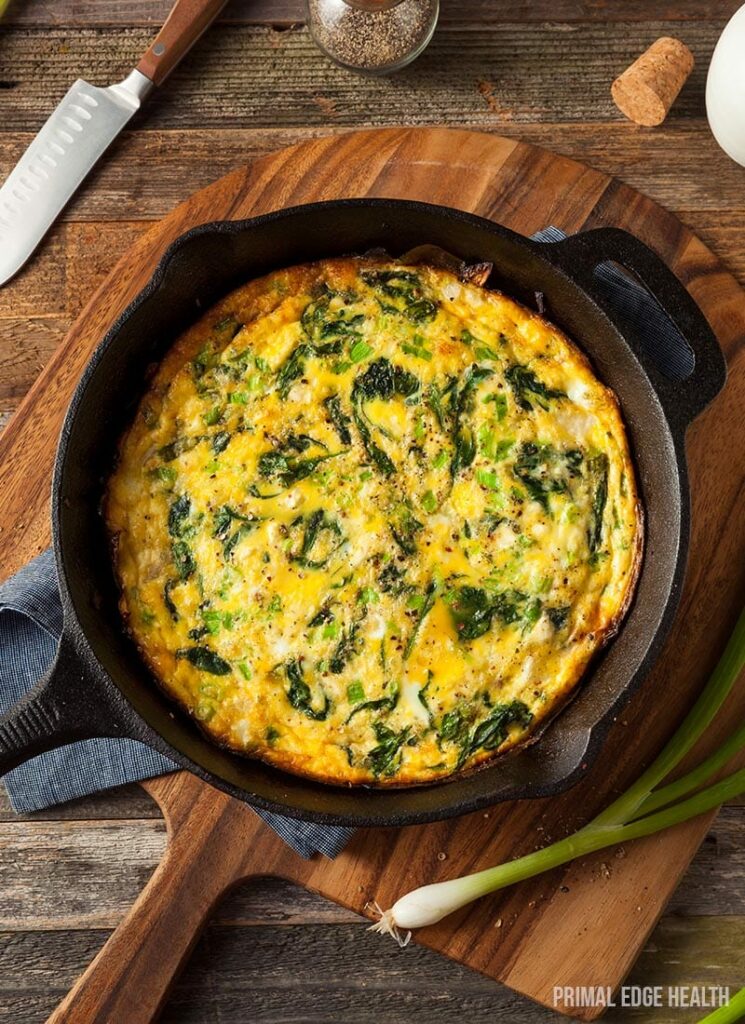 Keto Breakfast Recipes with Eggs
Following a low carb diet can be challenging, especially when it comes to breakfast. Traditional breakfast foods like pancakes, waffles, and cereal are out of the question.
The good news is that with just a little creativity and planning ahead, you can still have a satisfying and delicious keto breakfast every day.
Make sure to fill out your printable keto meal planner full of delicious, quick, and easy low-carb breakfast options like this cheesy breakfast casserole or portobello egg bake.
And you won't regret adding a Mexican omelette to your meal plan. Pepper jack sausage balls are another spicy and delicious way to start the day.
Great keto recipes allow you to enjoy a satiating and tasty breakfast on a busy weekday or fancy weekend brunch!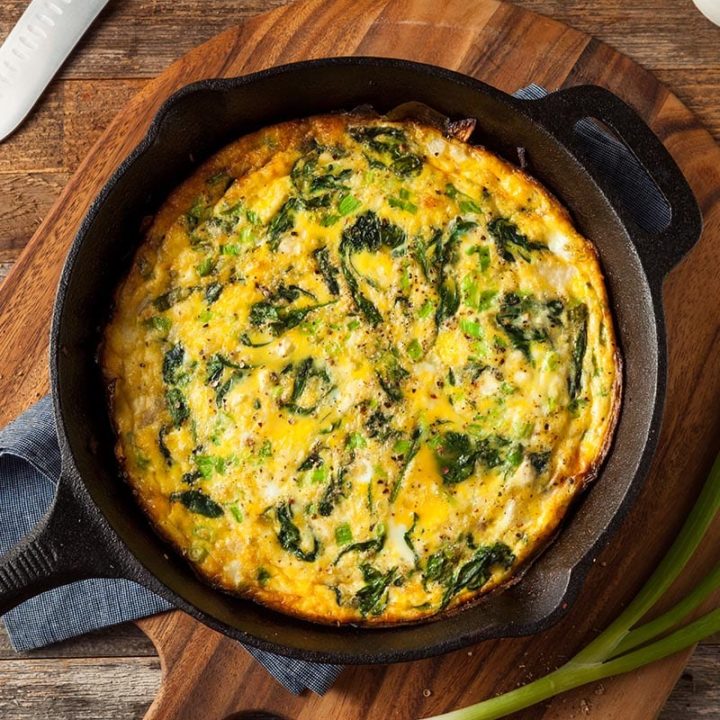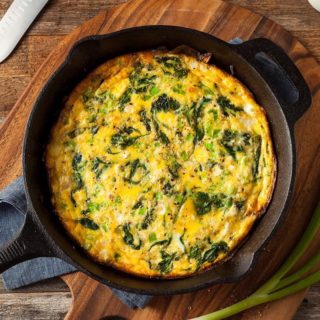 Easy Keto Frittata (Low Carb & Vegetarian)
Whip up this easy keto frittata stuffed with a flavorful mix of eggs, spinach, and feta cheese for breakfast or brunch. This is a delicious vegetarian keto recipe ready from start to finish in just 20 minutes or less!
Equipment
7-inch oven-proof skillet
Instructions
Preheat the oven to

350

°F

(177°C).

Whisk the eggs, cream, and green onion in a large bowl. Season with thyme, salt, and pepper.

8 whole eggs,

¼ cup heavy whipping cream,

2 tablespoons green onion,

1 teaspoon dried thyme,

1 teaspoon salt,

½ teaspoon ground black pepper

Add butter to an oven-proof skillet over medium heat on the stovetop. Once it melts, sauté minced garlic for 1 minute, then add the spinach and stir until it begins to wilt. 

1 tablespoon butter,

2 cloves garlic,

2 cups spinach

Remove the spinach from heat and combine it with the eggs in a bowl. Crumble the feta cheese with your hands into the egg mixture and stir until combined.

Add more butter to your pan, if needed, so nothing sticks. Pour the egg and spinach into the skillet. Use a fork or spatula and move the spinach around until it's distributed evenly throughout the frittata. 

Bake for

15-20 minutes

until the top turns golden brown and the edges set.
Nutrition & Macros
Calories:
370
kcal
Carbohydrates:
4
g
Protein:
21
g
Fat:
30
g
Saturated Fat:
14
g
Sodium:
1255
mg
Fiber:
1
g
Net Carbohydrates:
3
g
To obtain the most accurate representation of the nutritional information in a given recipe, please calculate the nutritional information with the actual ingredients and amounts used, using your preferred nutrition calculator. Under no circumstances shall the this website and the author be responsible for any loss or damage resulting for your reliance on the given nutritional information.
Made this? Leave a Rating! ⭐⭐⭐⭐⭐
Tag a photo with @Primal_Mom and #PEHRecipe on Instagram to share with us!
First published on May 15, 2018. Later updated with new tips and images.