Everyone will gather and dig into this cheesy breakfast casserole without hesitation. The savory mix of eggs, cheese, and greens is an instant crowd-pleaser. It's quick to prep and delicious to eat!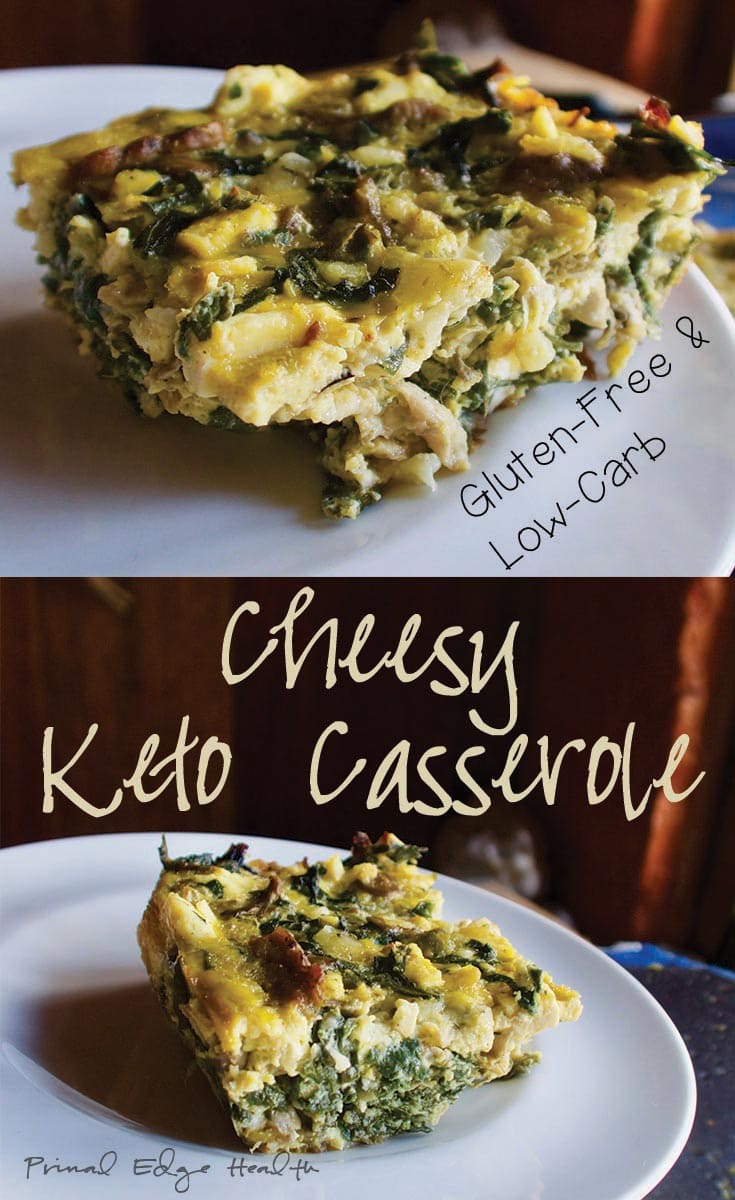 Simple Morning Meal Prep
Breakfast casseroles are an all-in-one dish you can make for weekly meal prep or when company comes over.
It's simple enough for daily eating but also serves a crowd nicely. The current recipe contains 6 servings when cooked in an 8×8-inch baking dish.
If you need more portions, all you have to do is double the recipe and bake in a 9×13-inch baking dish. Viola!
Breakfast casseroles are one of my favorite keto breakfast recipes. With eggs, veggies, and cheese wrapped up in one dish, how can you go wrong?
Egg bakes are quick meal ideas that easily double for brunch or lunch. I really enjoy the cold leftovers.
Keto omelettes take it to the next level of quick meal prep, but usually, only make one serving at a time. Lucky for you, I have suggestions for all of these meals, so you can pick and choose whatever you enjoy most.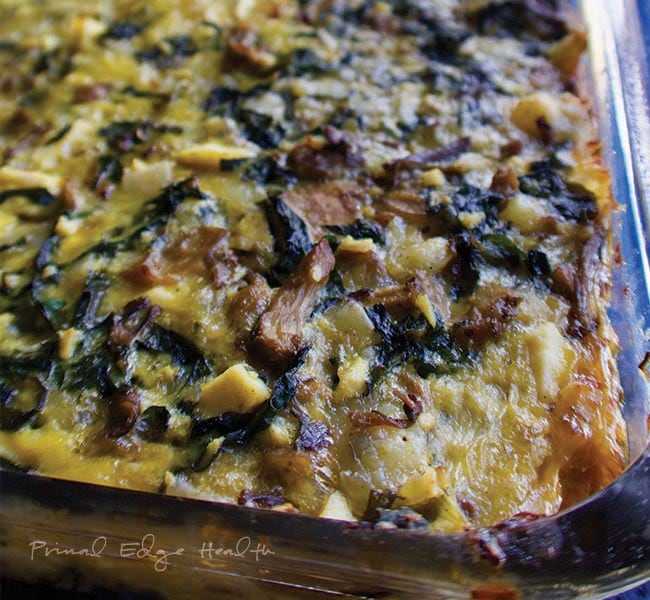 How to Make a Low-Carb Breakfast Casserole Recipe
Gather 10 ingredients and you're halfway to making a vegetarian breakfast casserole. Prep it all in just 10 minutes.
Ingredients
Mushrooms – This might surprise you, but I find that mushrooms are very filling. It's nice to start the day with a satiating meal and gives me energy all day long.
Onion and garlic – A classic combination of flavorful add-ins.
Butter – Choose grass-fed butter, if you can
Spinach – Wilt the leaves a little by cooking in the skillet before combining with the eggs. Substitute with any of your favorite leafy greens: Swiss chard, kale, arugula, etc.
Eggs – Opt for free-range, pastured eggs or raise them yourself!
Cheese – I like combining cheese like ricotta or goat cheese with something like cheddar or mozzarella. Pairing a non-melting cheese with a type that melts is a guaranteed win!
Salt and pepper – Just a pinch of seasoning here!
Directions
Preheat the oven to 350°F (177°C).
Sauté mushrooms, onion, and garlic in the butter in a skillet or frying pan over medium heat for 2 minutes.
Add the spinach to the pan and frequently stir for about 5 minutes while the leaves wilt.
Add cheese to the whisked eggs in a bowl. Season with salt and pepper.
Add the sauté to the eggs. Mix well and pour into a greased 8×8-inch baking dish.
Bake for 20 to 25 minutes, until top turns golden brown and the center sets.
Remove from heat and serve warm or at room temperature.
Cold leftovers are great too!
I pack leftovers with a can of wild-caught fish and avocado for lunch. It's delicious!
More Keto Breakfast Ideas with Eggs
Fill your printable Keto Meal Planner full of delicious, quick and easy low-carb breakfast options!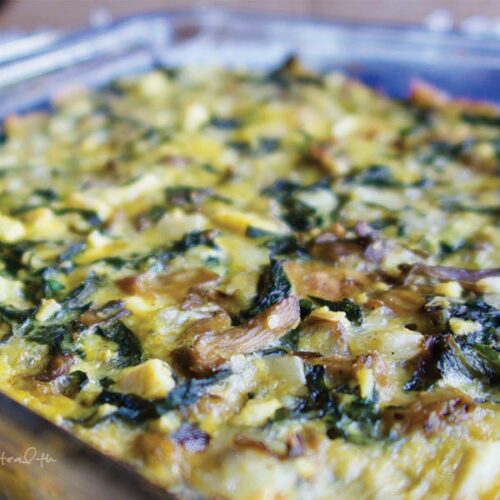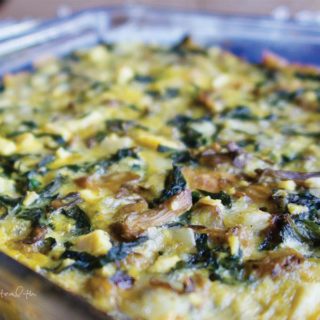 Cheesy Keto Casserole | Gluten-Free & Low-Carb
Make cheesy keto casserole stuffed with spinach and mushrooms for breakfast; Save leftovers for a quick lunch or dinner.
Instructions
Preheat the oven to 350 degrees F.

Chop the mushrooms, onion and garlic. Saute with butter in a frying pan over medium heat. While this cooks, chop the chard. Add to the pan after mushrooms are soft, after 5 to 7 minutes. Cook, stirring well for 3 minutes, until greens are soft and bright.

In a medium mixing bowl, whisk the eggs. Add the cheese. Season with salt and pepper. Stir well to combine.

Add in the sauteed veggies to the eggs. Mix well and pour into a greased 8 by 8-inch baking dish.

Bake for 25 to 30 minutes, until top is golden brown and the center is set.

Serve warm or cold in a packed lunch.
Nutrition & Macros
Calories:
208
kcal
Carbohydrates:
7
g
Protein:
12
g
Fat:
15
g
Saturated Fat:
9
g
Sodium:
760
mg
Fiber:
2
g
Net Carbohydrates:
5
g
To obtain the most accurate representation of the nutritional information in a given recipe, please calculate the nutritional information with the actual ingredients and amounts used, using your preferred nutrition calculator. Under no circumstances shall the this website and the author be responsible for any loss or damage resulting for your reliance on the given nutritional information.
Made this? Leave a Rating! ⭐⭐⭐⭐⭐
Tag a photo with @Primal_Mom and #PEHRecipe on Instagram to share with us!
More Keto Casserole Ideas
And for dinner? Yes! They are great for practically any meal and meal prep. How about this rich Keto Bacon Chicken Ranch Casserole from Keto Cooking Wins, or try this Keto Pizza Casserole from Joy Filled Eats next!