Enjoy this ultra-creamy spicy no bake eggnog cheesecake pudding with grass-fed gelatin for the holidays this year! It's a great example of how easy keto recipes can be sugar-free and low-carb and perfect for gluten-free and keto dieters. Even those who enjoy carnivore diet recipes can get in on this seasonally inspired dish!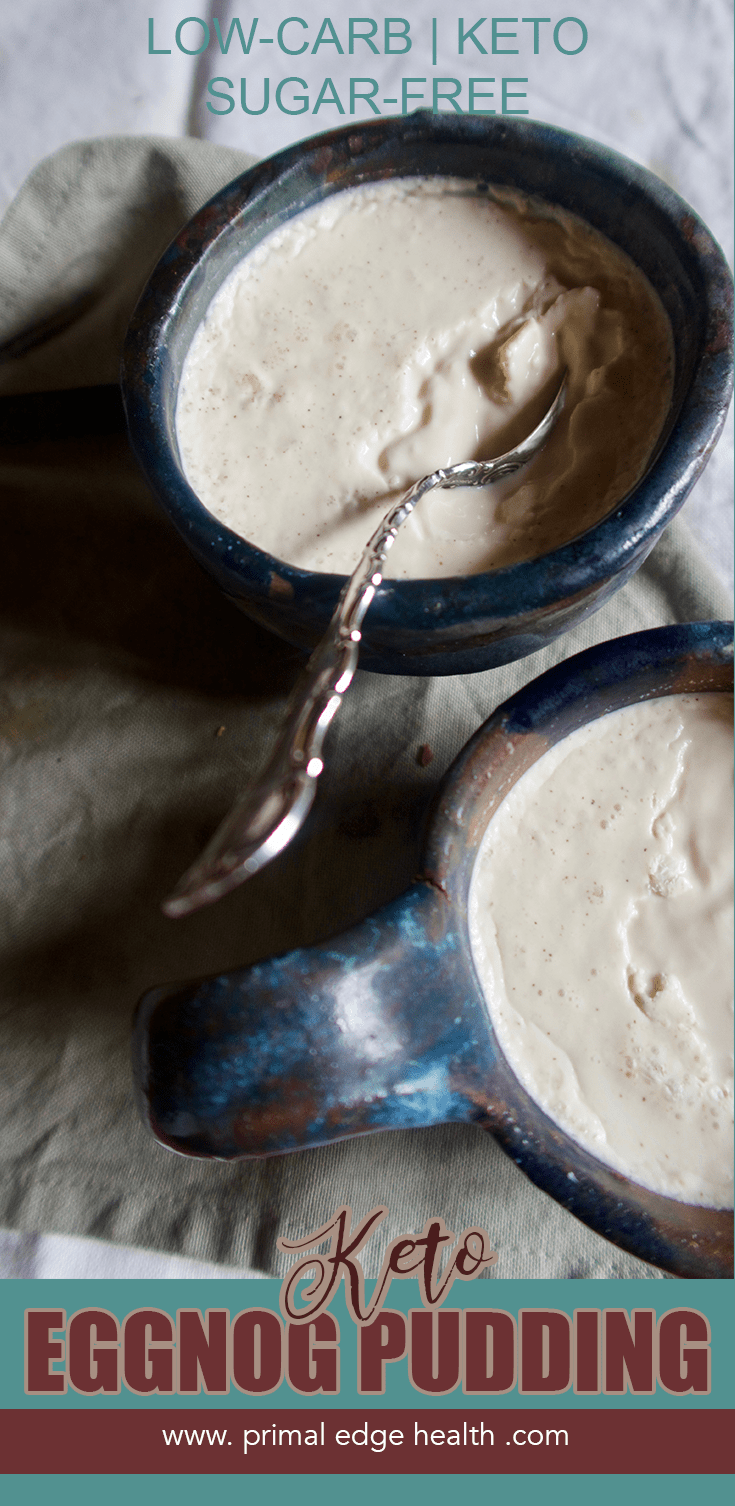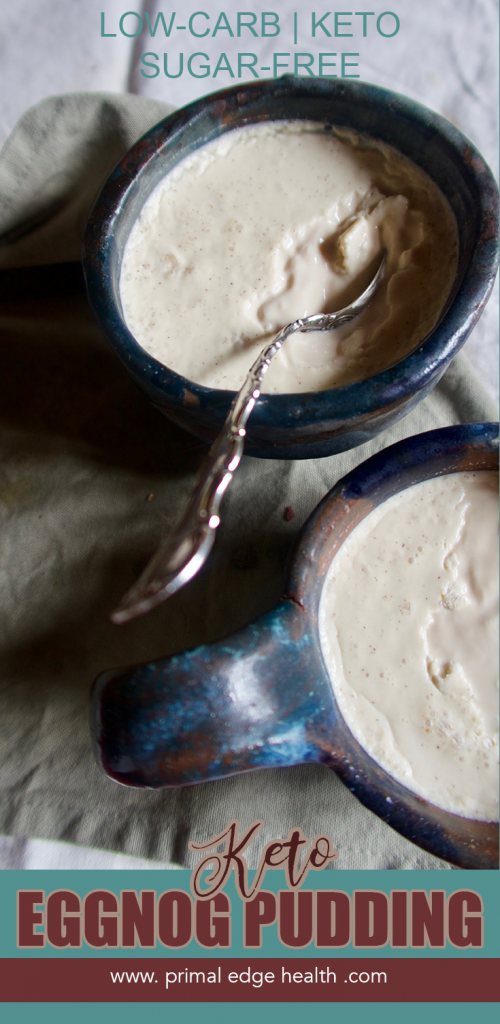 This post is sponsored by our friends at Mountain Rose Herbs.
With a very simple list of ingredients in this recipe, it is important to use quality spices. This dessert is essentially just cream flavored with cinnamon and nutmeg. We rely on the spices to get the signature eggnog smell and taste.
I've tasted old dry dusty cinnamon before and it's made a mark on my memory! Once you've tasted the real thing, it becomes so disappointing to realize what a weak imitation low-quality spices can be.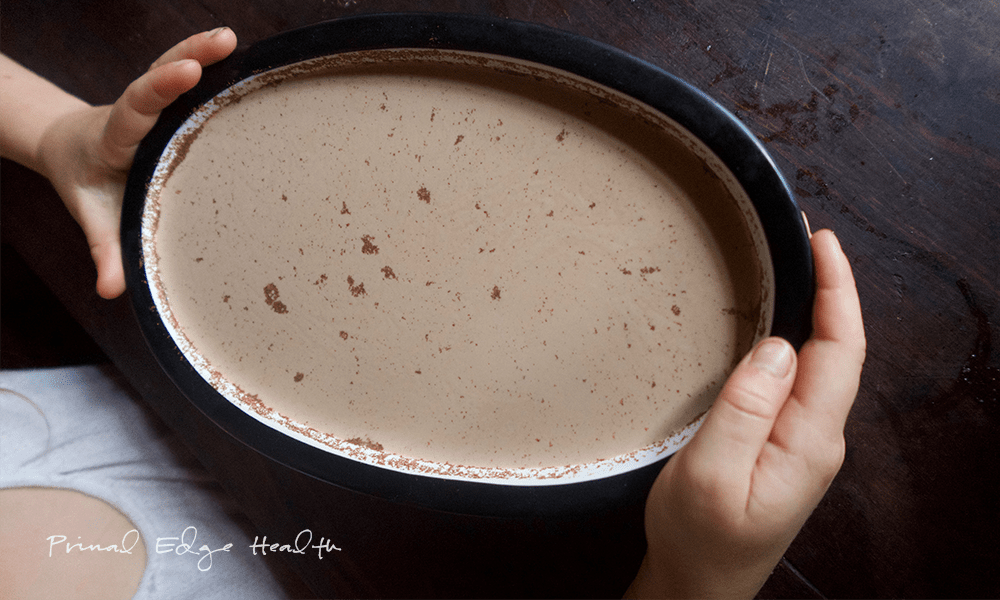 Table of Contents (click to view)
No-bake Pudding without Jello
Grass-fed beef gelatin is the featured ingredient of this dessert recipe. It's how we can make a jiggly jello-like custard pudding texture without cooking or using artificially flavored Jello packets.
I recommend Great Lakes gelatin because it is pure, unflavored gelatin powder from pasture-raised, grass-fed beef.
Don't worry about getting stuck with 15.5 leftover ounces of gelatin after you make this recipe. I use this same powder for thickening a sugar-free Peppermint Custard, binding my Keto Gingerbread Loaf, and putting the "chewy" in Chewy Chocolate Chip Cookies. It's also great for adding into warm drinks like coffee, broth, and hot chocolate!
Of course, gelatin is the main feature in eggnog-inspired Keto Gelatin squares!
Is Eggnog Keto?
Traditional store-bought eggnog is packed with sugar and cannot be considered keto-friendly.
This homemade version is simplified to a few basic ingredients and approved for the keto diet.
Review the recipe and you'll see cream, gelatin, water, cinnamon, nutmeg, and a keto sweetener. With an ingredient list like this, the eggnog pudding is 100% low-carb and ketogenic!
It is also a nice keto carnivore recipe for anyone on a carnivore diet.
Each serving has 2.5 g net carbohydrates and won't take you out of ketosis.
In place of sugar, I use liquid Lakanto drops for flavor and added sugar-free sweetness. Lakanto is my favorite healthy sugar alternative. Their all-natural, zero glycemic, and zero-calorie monk fruit sweeteners are great for baking, chocolate making, and drinks!
Take a look at these other keto desserts sweetened with Lakanto to see how to use it.
Use code PRIMALEDGEHEALTH to Save 20%

You may substitute with liquid stevia drops (I make Homemade Stevia Extract) if you prefer.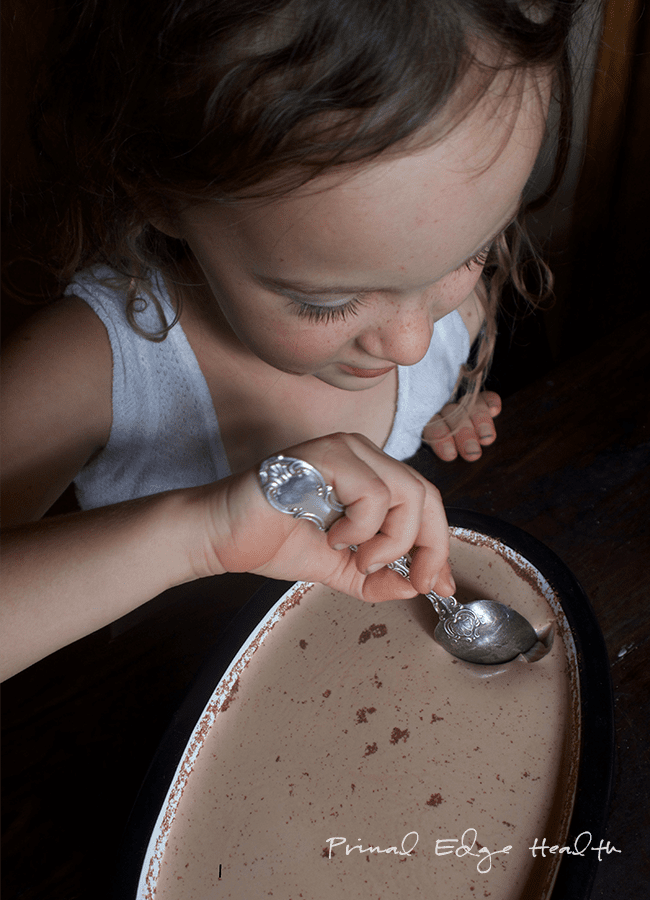 Single Serving Cheesecake for One
Sometimes we are only making food for ourselves, if that's the case for you simply divide the recipe by 4 to make a single serving no bake eggnog cheesecake for one.
Sprinkle 1 teaspoon gelatin over 6 tablespoons of heavy cream. Set aside while ¼ cup of water comes to a boil. Whisk in ¼ teaspoon ground cinnamon and nutmeg with 5 drops of the liquid Lakanto sweetener. Add the cream to the water and spices. Whisk well until smooth. Transfer to a single ramekin and chill for 30+ minutes until set.
Sign into download our free ebook below.
More Low-Carb Recipes for Winter
Browse through Healthy Cinnamon Recipes for more seasonal treats!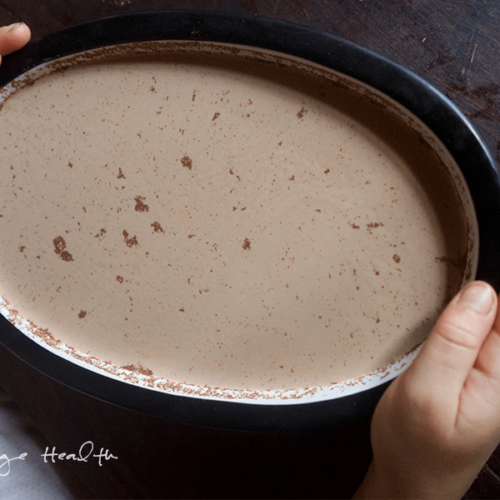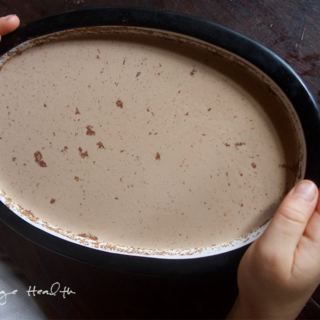 Keto Eggnog Pudding
Enjoy this ultra-creamy spicy no bake eggnog cheesecake pudding with grass-fed gelatin for the holidays this year! It's sugar-free and low-carb, perfect for gluten-free and keto dieters.
Instructions
Sprinkle gelatin over the cream. Leave this aside to "bloom" or sit and thicken.

Bring the water to a simmer on the stove. Remove from heat, whisk in the cinnamon, nutmeg and Lakanto sweetener.

Add the thickened cream to the saucepan and mix well until all gelatin dissolves.

Pour into individual pudding cups (ramekins) or one main serving dish.

Refrigerate for one hour or until completely set. Serve chilled.
Notes
You may substitute monkfruit with liquid stevia drops (I make Homemade Stevia Extract) if you prefer, or omit it entirely.
Nutrition & Macros
Calories:
318
kcal
Carbohydrates:
3
g
Protein:
3
g
Fat:
33
g
Saturated Fat:
21
g
Sodium:
41
mg
Fiber:
1
g
Net Carbohydrates:
2
g
To obtain the most accurate representation of the nutritional information in a given recipe, please calculate the nutritional information with the actual ingredients and amounts used, using your preferred nutrition calculator. Under no circumstances shall the this website and the author be responsible for any loss or damage resulting for your reliance on the given nutritional information.
Made this? Leave a Rating! ⭐⭐⭐⭐⭐
Tag a photo with @Primal_Mom and #PEHRecipe on Instagram to share with us!
Many thanks to Mountain Rose Herbs for partnering with me to bring you this recipe! They offer unparalleled quality of organic herbs, spices, teas, and essential oils. I've been supporting them for 10 years and highly recommend you consider making your next order of botanicals with them. Read my honest review of Mountain Rose Herbs: Are they Good? to learn more.
More Sugar-Free Pudding Recipes