This keto avocado chocolate pudding blends into a creamy sugar-free treat, ready in 10 minutes or less! It's a quick and easy dessert or afternoon snack. Plus, the pudding is dairy-free and kid-friendly, so everyone will enjoy it.
10 minute Keto Avocado Dessert
If any food is associated with a keto diet, it has to be avocado! People love this green fatty fruit (yes, it's part of the Lauraceae family and considered a berry!) for its creamy texture, low-carb nutritional profile, and healthy fat content. According to the USDA, avocados can provide 42% of the recommended daily value (DV) for copper, 56% of the DV for pantothenic acid (B5), and 41% of the DV for folate, among other notable nutrients.
On top of that, you can use them as topping for just about anything from salads and soups to eggs and meat or blend them in dips, dressings, and guacamole, so it's no wonder they are a favorite keto ingredient.
Knowing all this, why not make a dessert with avocado? It's a fun challenge for anyone who loves avocados as much as they love trying new recipes.
Don't worry about how to hide the taste of avocado in this avocado keto pudding. I formulated the recipe perfectly, so you won't notice anything except an enjoyable thick and creamy texture. To be extra sure you can properly hide avocado in food, I gave specific tips on how to taste and adjust the recipe. Your results won't be less than perfect!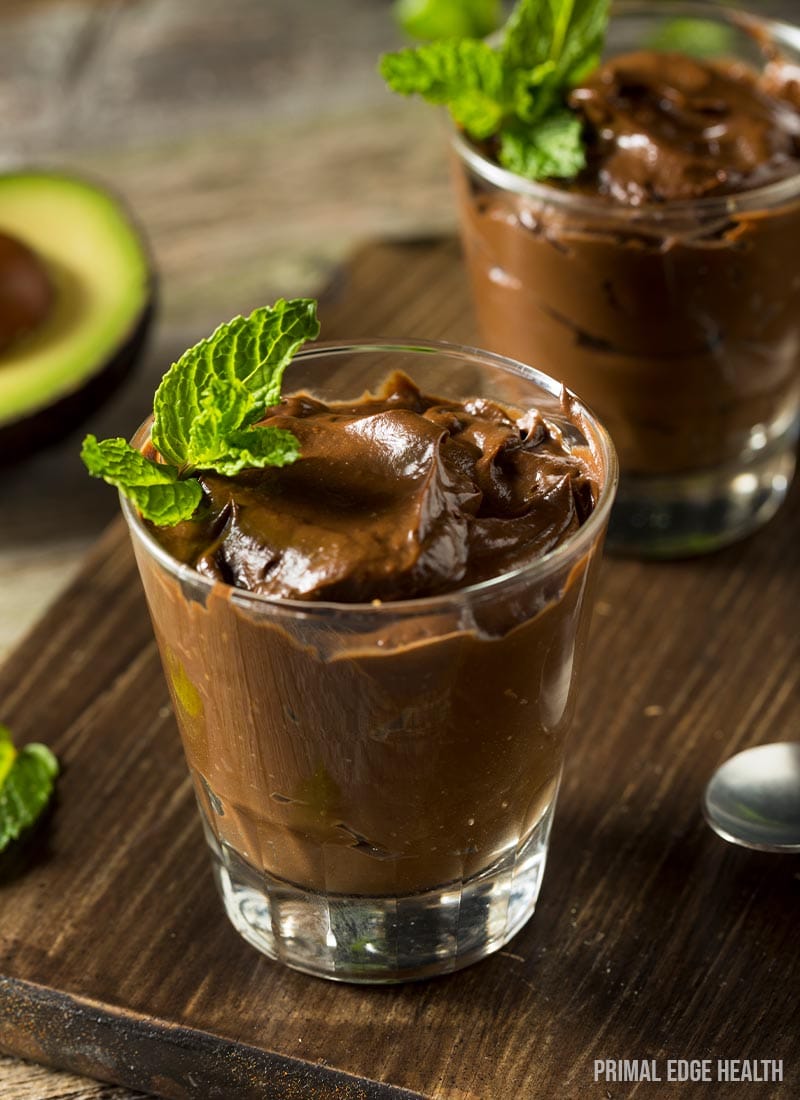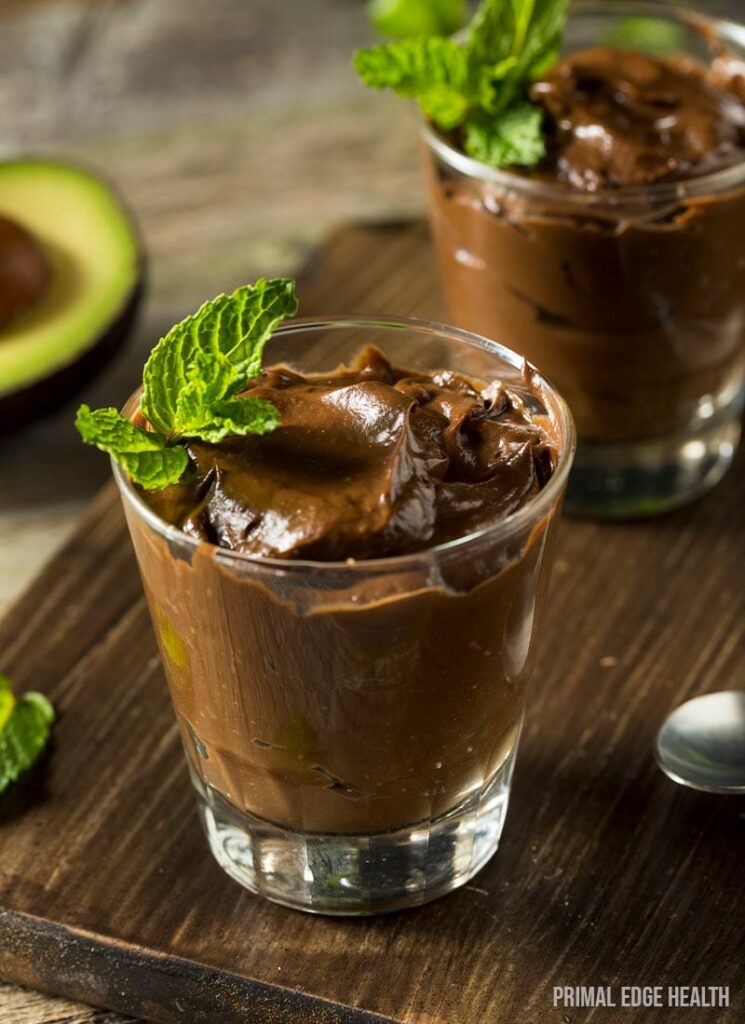 How to Make Avocado Pudding
Gather seven dairy-free, low-carb ingredients, place them in a blender, and process until smooth! It's so easy to make a keto avocado pudding in just 10 minutes!
Ingredients
Avocado – Cut the avocado in half, remove the pit and scoop the meat into a blender. You'll use approximately 3.5 ounces (100 grams) of edible green flesh. Hass avocados are the best type in my opinion. I love the flavor!
Coconut milk – ½ cup of coconut milk allows us to blend a smooth pudding without heavy cream and keep this recipe dairy-free. If your avocado is extra large, you may need to adjust with more milk until it thins to your liking. Blend one tablespoon at a time until you see the texture you like most.
Cacao powder – Cacao powder is 100% chocolate powder. It's dark and unsweetened. You can also use cocoa powder or powdered bakers chocolate.
Sweetener – I use powdered Monkfruit sweetener on a keto diet. The powdered form blends well and doesn't leave a leftover gritty texture as granular sweetener does.
Coconut oil – 1 tablespoon of coconut oil boosts the creamy texture and puts healthy MCT fats in the recipe.
Vanilla extract – 1 teaspoon of vanilla extract is a great way to add a sweet flavor without sugar.
Salt – add just a pinch. Believe it or not, the salt brings out the sweetness! I almost always add salt to my chocolate recipes.
Step-By-Step Directions
Prepare ingredients. Measure the ingredients and add them all to the blender cup.
Blend until smooth. Attach the blender lid firmly. Pulse a few times, and then blend continuously until smooth and creamy. Allow a break from mixing and scrape down the sides of the cup as you notice the food creeping upward and missing the blade below.
Taste and adjust. Take a quick taste after blending. Is it sweet enough for you? Yes? Good! No? Add 1 teaspoon of sweetener at a time until it's how you like it.
Pudding comes in different textures. I love a thick, firm result but if you prefer a thinner consistency, blend 1 tablespoon of coconut milk at a time until you get what you're looking for!
Serve immediately. Divide the pudding evenly between two dessert bowls and serve immediately at room temperature. This avocado keto pudding will firm after chilling in the fridge and is best eaten immediately.
It's quick to prepare and clean up after!
If you're excited about this quick dessert recipe, I recommend making a 5-minute keto ice cream from Joy Filled Eats too.
Low-Carb Avocado Pudding FAQ
Is avocado pudding good for you?
Not only does avocado taste delicious, but it has lots of healthy fats, vitamins, and minerals. As you can see from the nutrition facts presented in the recipe card below, each serving has 10g total carb, 4g protein, 21g fat, 5g fiber, and 5g net carb. In addition, there is also 343g potassium, 29mg calcium, and 4mg iron.
How long is avocado pudding good for?
You can store this pudding in an airtight container in the fridge for up to 3 days before it loses its freshness. The texture changes as it chills. You may want to bring it back up to room temperature and blend again before serving.
Can you freeze chocolate avocado pudding?
Even though avocados don't last long in the fridge, they freeze well. Transfer leftover pudding to a freezer-safe container and add a label with the date so you remember what it is. Then, store it for up to 3 months. Freezing is a great option when you buy a lot of avocados, and they all start to ripen at once. You can double or triple this recipe and store in the freezer until you want to eat it.
More Avocado Keto Recipes
More Sugar-Free Pudding Recipes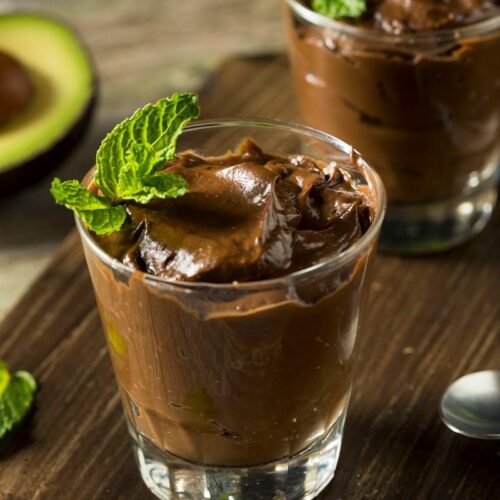 Keto Chocolate Avocado Pudding
This keto avocado chocolate pudding blends into a creamy sugar-free treat, ready in 10 minutes or less! It's a quick and easy dessert or afternoon snack. Plus, the pudding is dairy-free and kid-friendly too, so everyone will enjoy it.
Instructions
Place all ingredients in a high-speed blender. Pulse a few times, then blend until smooth. Pause the blender and scrape the sides as needed.

Divide in half evenly between two serving bowls and serve immediately at room temperature.
Notes
Taste the pudding as you blend. Add more sweetener, if needed.
If you prefer a thinner texture, blend 1 tablespoon of coconut milk at a time until you get what you're looking for!
There are more important notes and tips shared in the post above. I highly recommend you read the whole post before making the recipe!
Nutrition & Macros
Calories:
211
kcal
Carbohydrates:
10
g
Protein:
4
g
Fat:
21
g
Saturated Fat:
18
g
Sodium:
30
mg
Fiber:
5
g
Net Carbohydrates:
5
g
To obtain the most accurate representation of the nutritional information in a given recipe, please calculate the nutritional information with the actual ingredients and amounts used, using your preferred nutrition calculator. Under no circumstances shall the this website and the author be responsible for any loss or damage resulting for your reliance on the given nutritional information.
Made this? Leave a Rating! ⭐⭐⭐⭐⭐
Tag a photo with @Primal_Mom and #PEHRecipe on Instagram to share with us!
More Keto Chocolate Recipes
I originally published this recipe on August 6, 2019.