This keto blueberry avocado smoothie recipe is low-carb, dairy-free, and vegan. Enjoy it as a quick and easy breakfast meal or refreshing snack on a hot summer day. It's easy to make in 5 minutes and only has 5 ingredients!
Easy keto recipes like this keto berry smoothie are must-haves for any keto diet.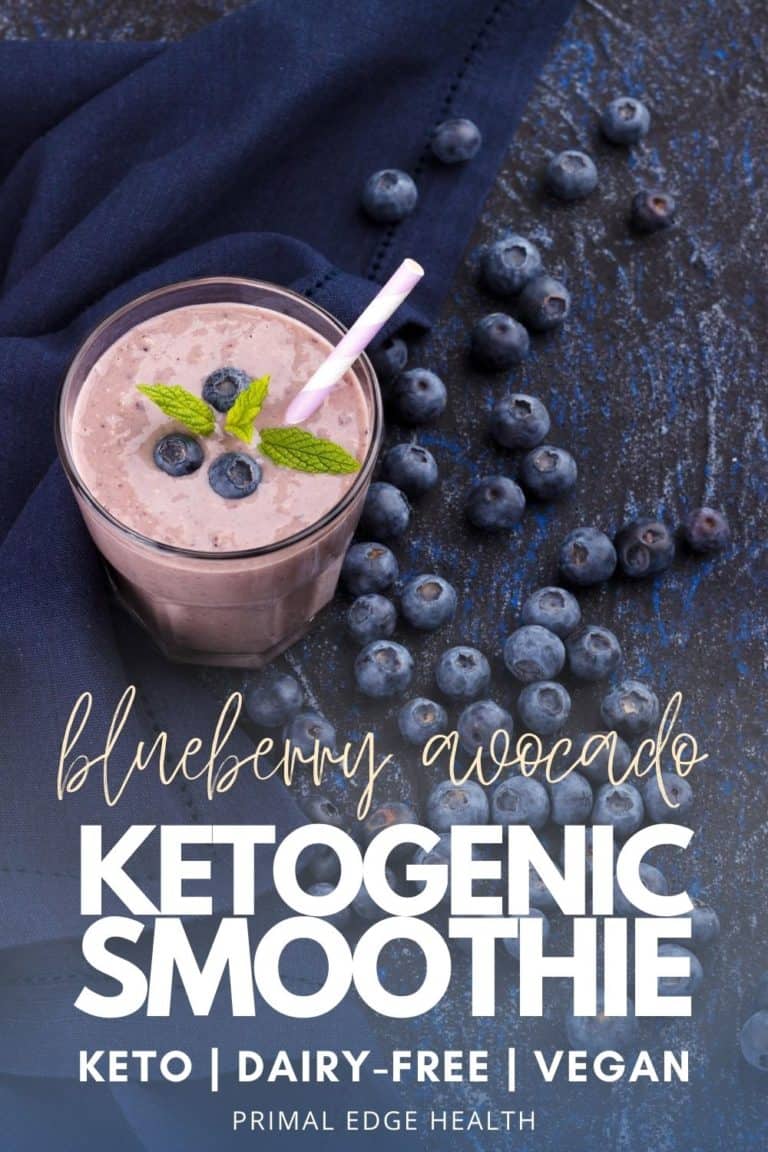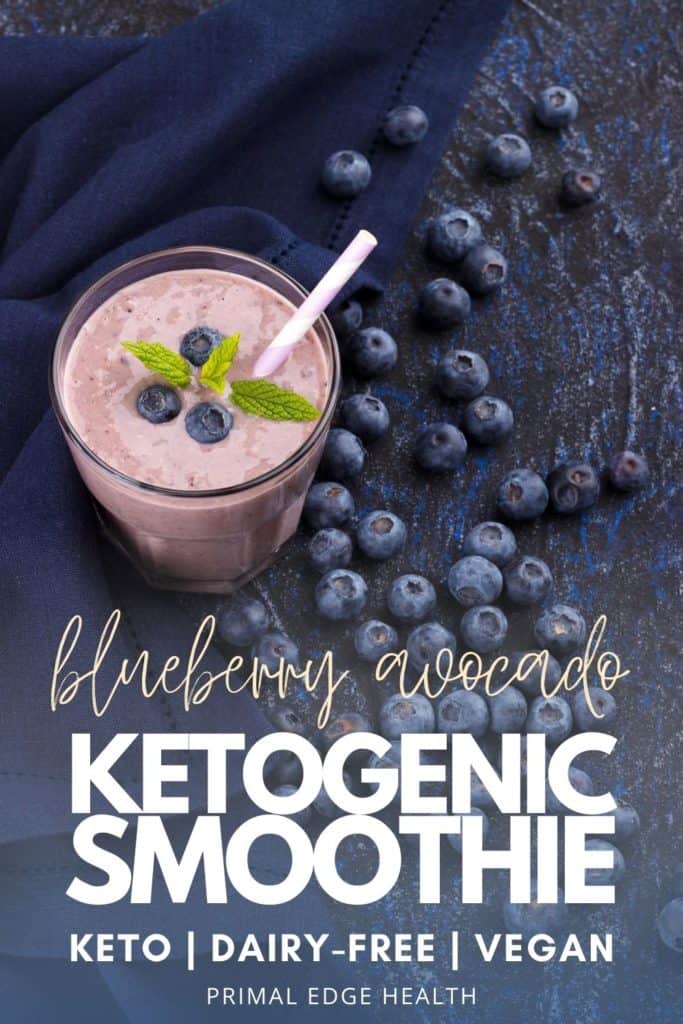 How to Make a Keto Smoothie
Since ketosis is a metabolic state in which you burn fat, (rather than carbs) for fuel, we want to pack keto smoothies full of low-carb, high-fat ingredients.
All good low-carb smoothies have a few basic steps.
Start with a liquid. Coconut milk, nut milk, yogurt (I make my own Raw Milk Yogurt), heavy cream, water, and herbal teas are safe low-carb choices with great flavor and texture.
Add a thickener. No bananas for us because they are too high in carbohydrate but we do have other choices like avocado, chia seeds, nut butter, protein powders, or shredded coconut which will thicken the smoothie nicely. The best keto thickeners are healthy high-fat ingredients!
Pick a flavor. This is usually the fruit part of the smoothie. Berries (blueberries, strawberries, blackberries, boysenberries, etc) are keto-friendly options.

Cocoa powder (cacao powder), pumpkin puree, lemon juice, mint leaf, or cinnamon can also add flavor.

Leafy greens like spinach and kale are common in keto green smoothies. Some recipes use savory foods like cucumber and even cauliflower! (source)
Enhance with optional add-ins. A scoop of collagen powder or hemp seeds adds a subtle flavor and extra nutrients. Tossing in 1/2 teaspoon of spirulina or chlorella is also tasty. Cacao nibs are fun to top a smoothie with, they have a delightful crunch!
Blend until smooth. Once all the ingredients are gathered in the blender, flick it on, and blend until the smoothie is well incorporated.
Serve immediately. Keto smoothies, or any smoothie for that matter, are best served right away. Enjoy!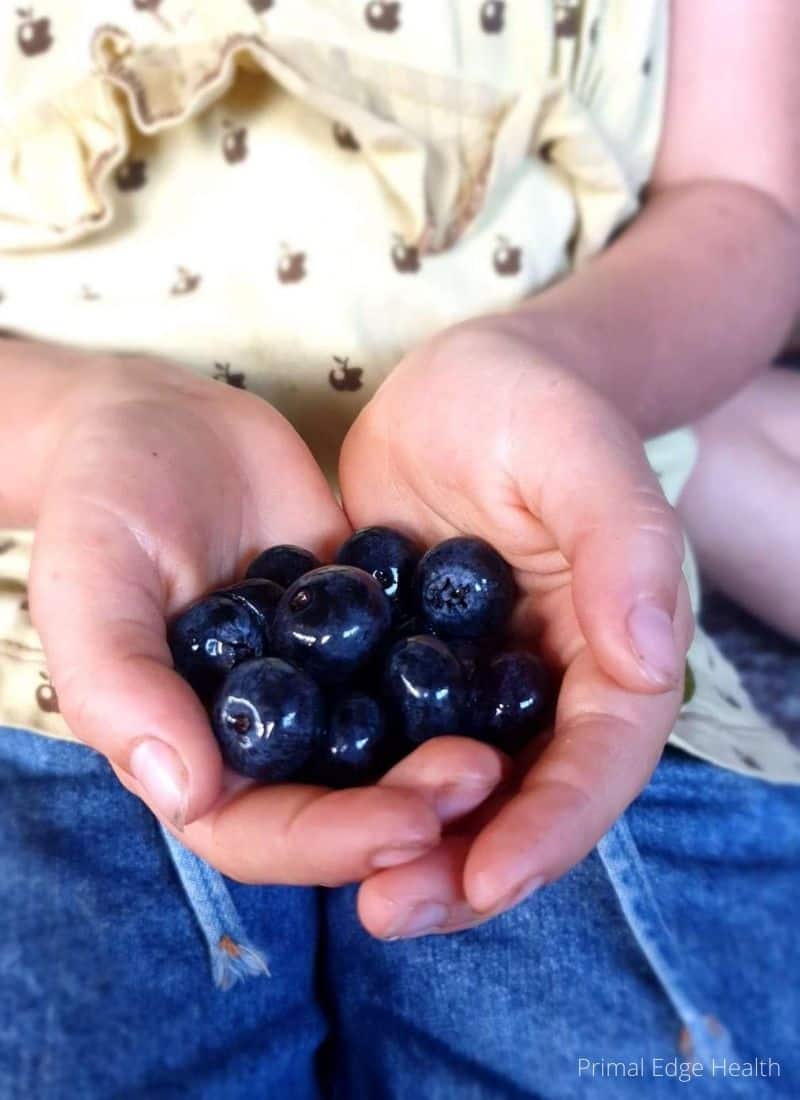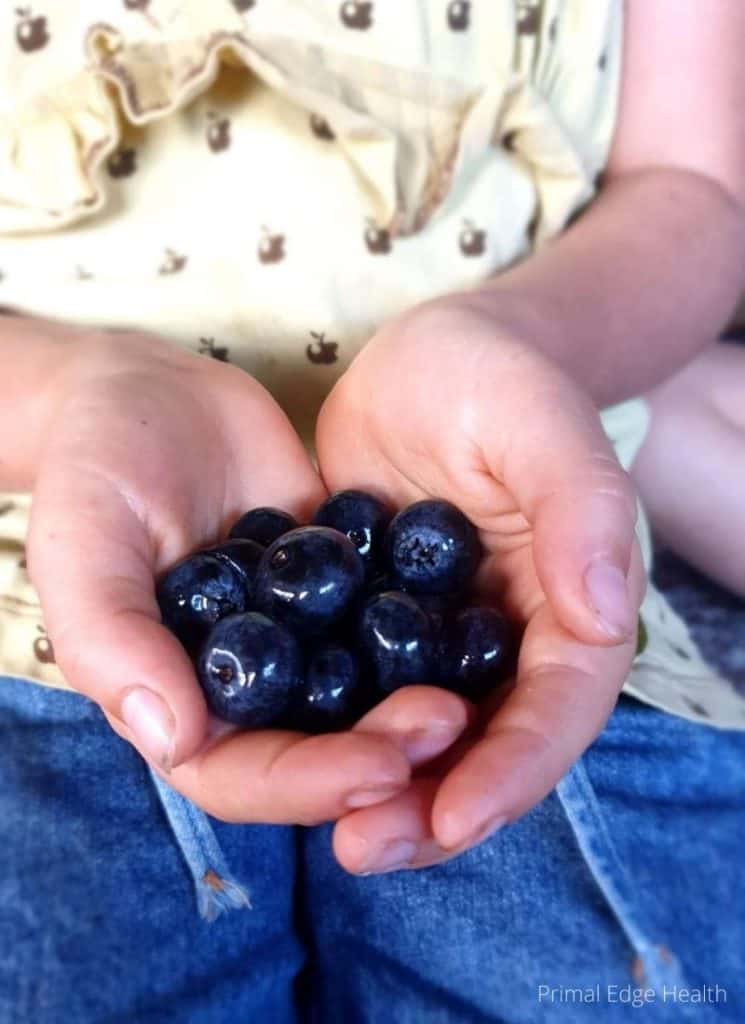 Keto Blueberry Avocado Smoothie
This keto avocado blueberry smoothie calls for a small bit of sweetener.
I use a homemade stevia extract but you can also substitute with a store-bought brand or erythritol instead. I would recommend a powdered sweetener over granular because it will incorporate much better.
Sometimes the granular options don't blend thoroughly and leave a gritty texture, particularly in the last few sips. Nobody likes that!
This recipe serves 2. If you only need 1 serving, divide the ingredient amounts in half. If you desire more servings, multiply the ingredients accordingly.
If any leftovers remain, you can freeze them by dividing the avocado blueberry smoothie equally into small sandwich-sized ziplock bags. Place them flat in the freezer. Once frozen, you can adjust them to stand up straight, so they take up less space.
Smoothies don't last that long in the fridge, therefore, freezing the extra portions is the best way to go. This way, nothing goes to waste, and you will have pre-prepped food, which will save you time on a busy day.
Add this to your list of keto breakfast recipes to make this week!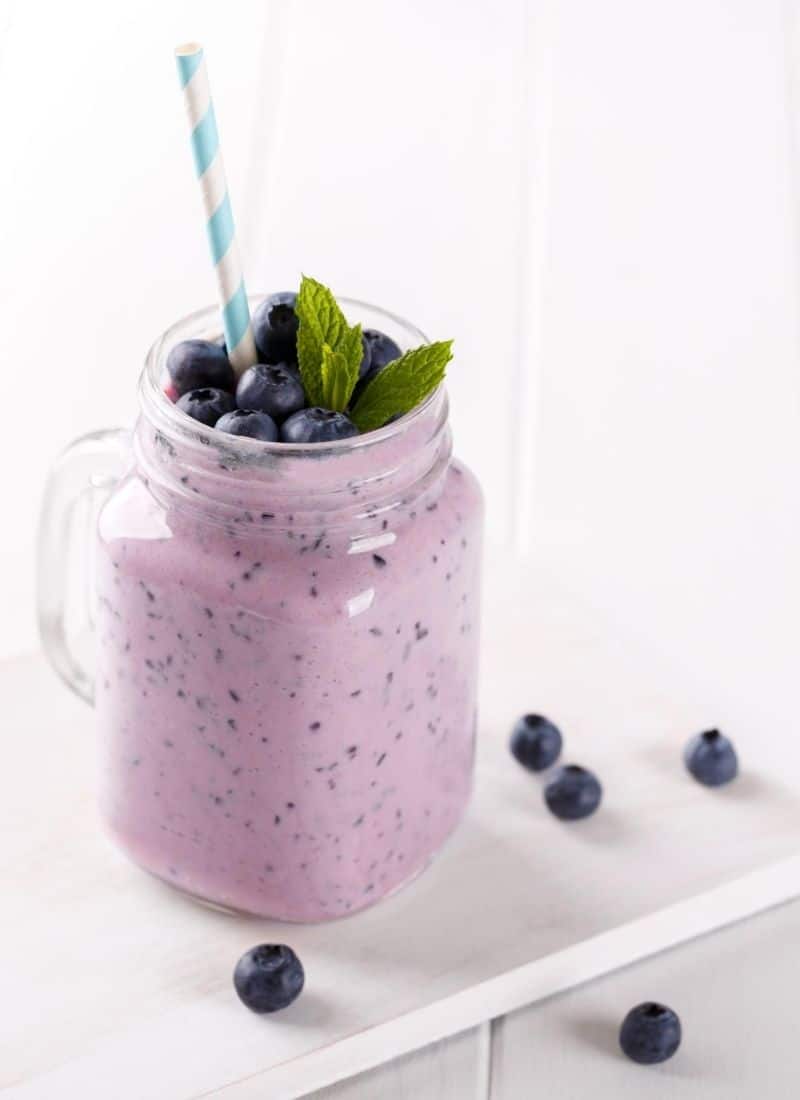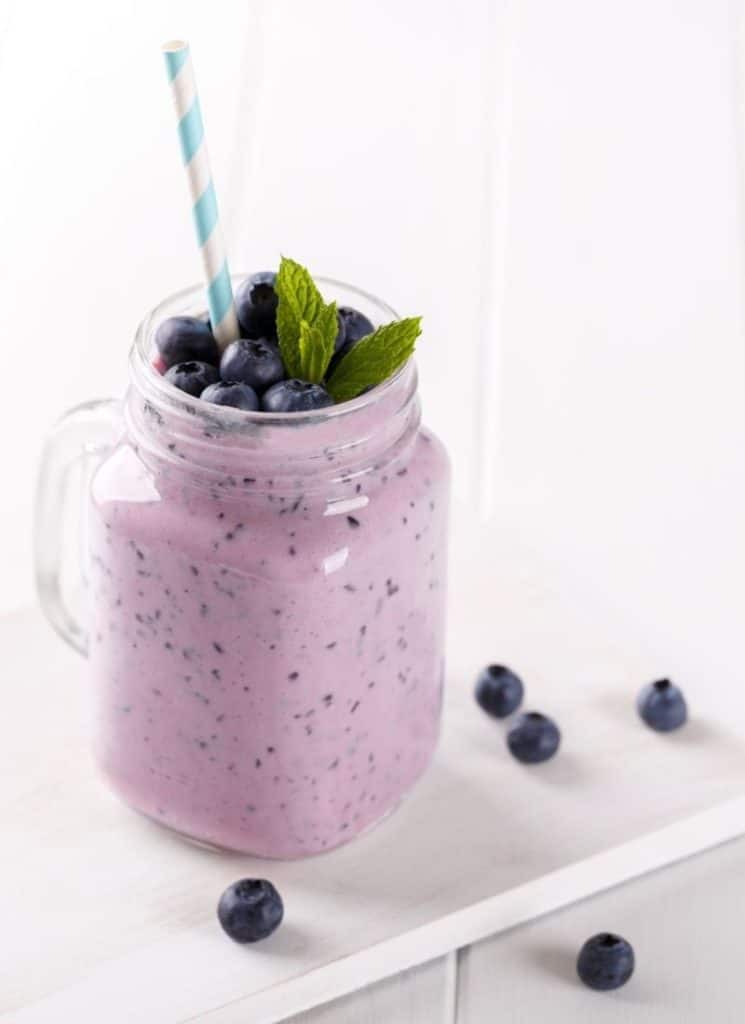 Are Blueberries Keto Friendly?
Strawberries are generally known as the best low-carb fruit for keto dieters (source) because they have the fewest carbs out of all berries (source).
However, blueberries are also keto-friendly!
Per 1 cup, there are 83 calories coming from 0.5 g fat, 1 g protein, 21 g total carbohydrate, and 17.5 g net carb (source).
We use half this amount for the whole recipe which makes 2 servings. In this keto blueberry smoothie, there are 5.25 g total carbohydrate and 4 net carbs from the berries per serving.
Compared to other commonly eaten fruits, berries are significantly lower in carbohydrates than fruits like apple, banana, pear, and peaches (source).
If you're interested in keto and low-carb dieting, a low carb berry smoothie is going to be a better option than other flavors.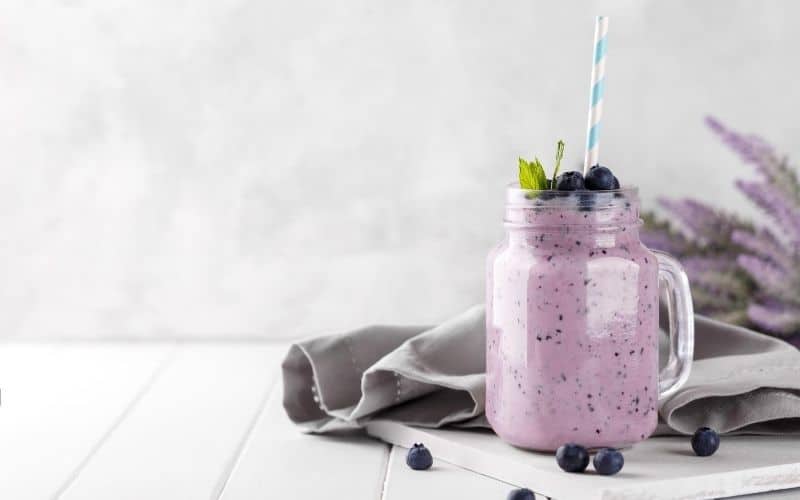 The Best Avocado Smoothie Recipe
There are a variety of avocado smoothie recipes but I like this one the best. It's thick and creamy, almost like a shake, the prep time is minimal and I almost always have the ingredients on hand.
In the summer I prefer to use fresh blueberries. In other times of the year, I can pull frozen berries from the freezer and blend them in. Either fresh or frozen blueberries may be used. The texture may be different but the flavor will always be just as delicious.
Using frozen berries makes a more frosty shake, while a fresh berry smoothie will be easily sipped through a straw.
Every keto smoothie with avocado has four similar features: avocado, berries, milk or liquid, and a sweetener.
Together these foods combine into a delicious and healthy drink, that is almost like a dessert!
If you like using avocado as a low-carb desserts, I know you'll love my 10-Minute Chocolate Avocado Pudding.
Don't like avocado? Try this delicious Low-Carb Blueberry Spinach Smoothie from Real Balanced.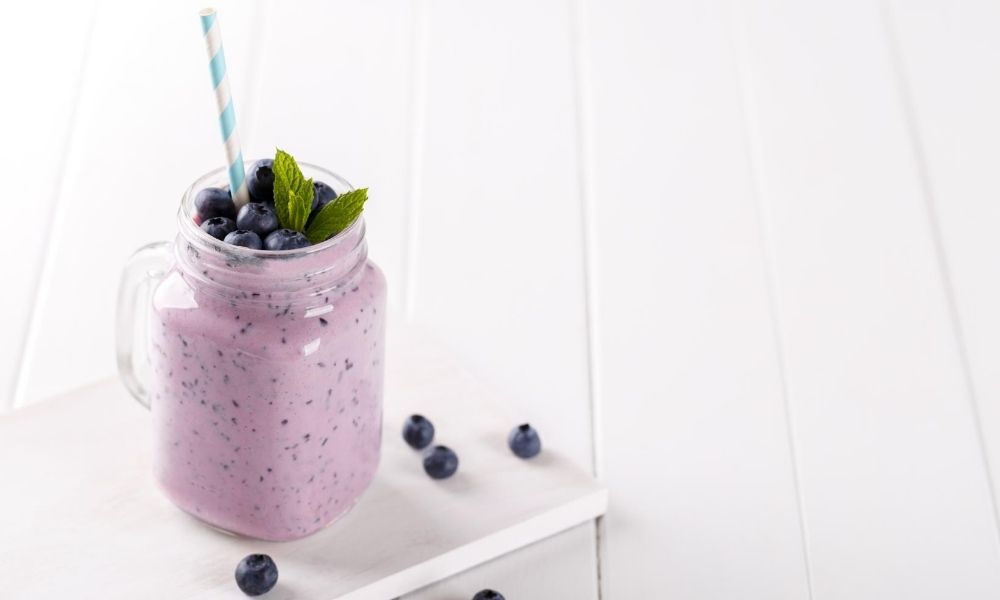 Vegan and Dairy-Free
In addition to being ketogenic, containing zero added sugar, and paleo-approved, this keto berry avocado smoothie is also vegan and dairy-free.
Using coconut milk or nut milk is the secret to making any smoothie dairy-free, it's quite easy once you get the hang of it. These ingredients are also plant-based and naturally vegan too.
Quick and Easy
If you're feeling shy about your cooking skills, this easy recipe is for you.
The keto avocado blueberry smoothie is almost too easy to believe!
Try it out next time you're in the kitchen and you'll be so pleased with the results.
Not only is the smoothie easy, it is quick too!
My daughter is more and more interested in preparing food. Now that her coordination has caught up with her desires, she is a lot more welcome in the kitchen and we often make low carb blueberry smoothies together as a family.
So, remember this low-carb avocado smoothie next time you're in a hurry and need a meal on the go.
This homemade version is a super-fast snack that doesn't have any hidden sugars or unexpected ingredients.
It's better than any smoothie you'll find at a fast-food restaurant! Just pack the keto smoothie into a to-go cup and take it out the door with you.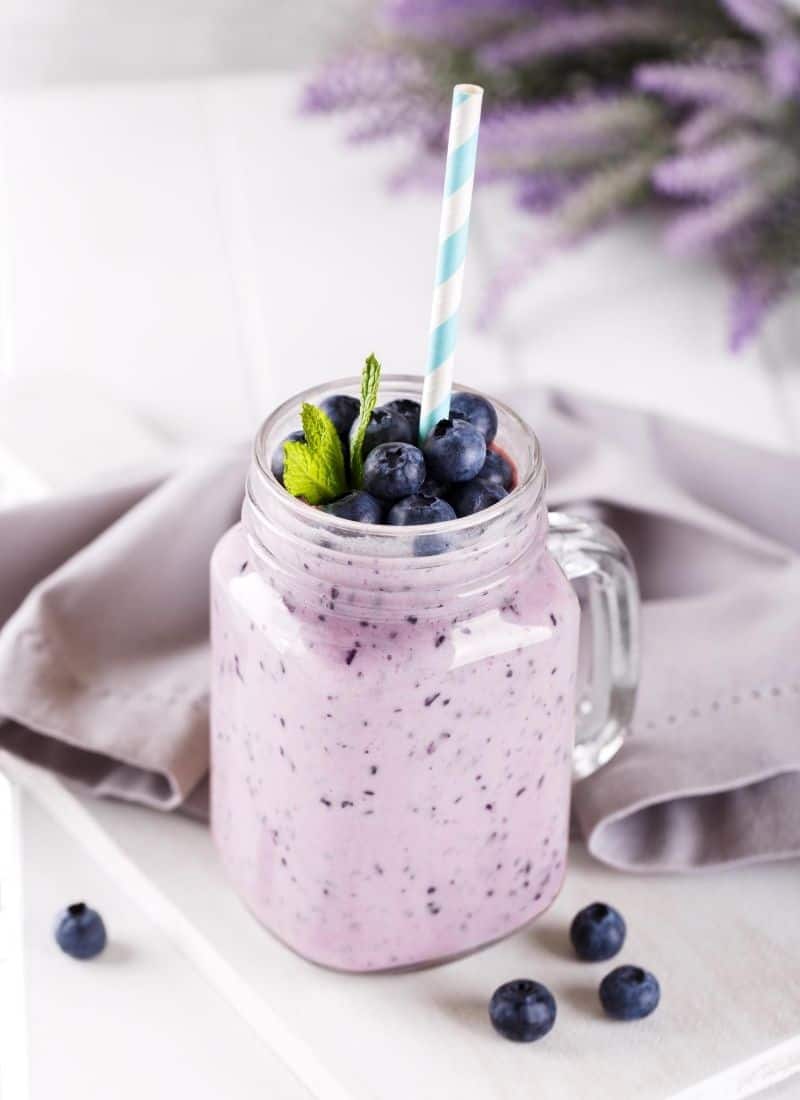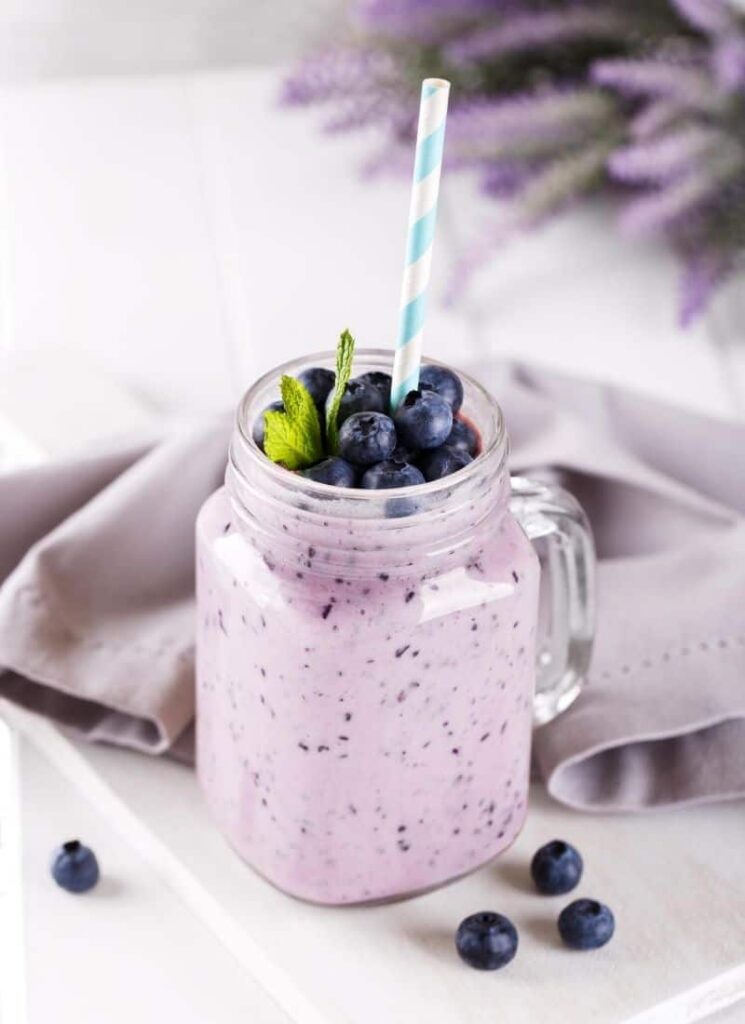 More Low-Carb Berry Recipes
There are many delicious and nutritious keto breakfast ideas and desserts to try with berries!
FOLLOW PRIMAL EDGE HEALTH on INSTAGRAM, PINTEREST and FACEBOOK for more easy keto carnivore recipes and info!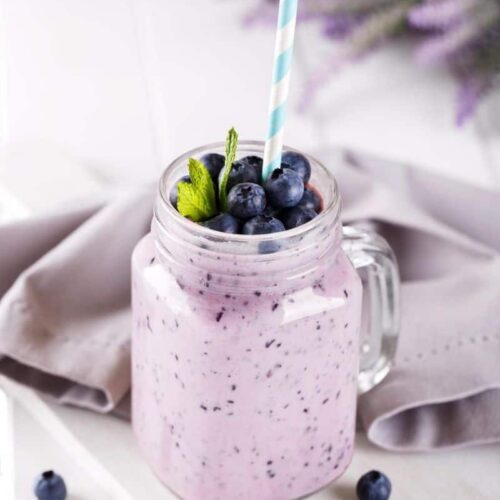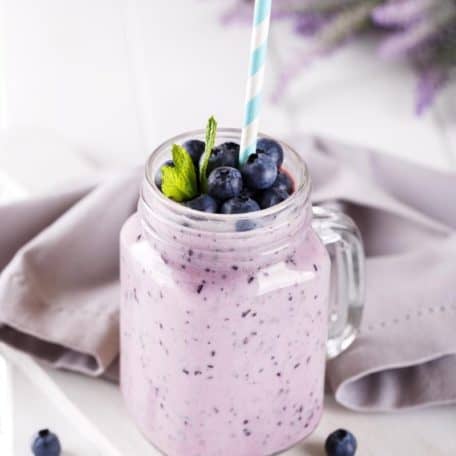 Blueberry Avocado Smoothie Recipe (Keto, Low Carb, Vegan, Dairy Free)
This keto blueberry avocado smoothie recipe is low-carb, dairy-free, and vegan. Enjoy it as a quick and easy breakfast meal or refreshing snack on a hot summer day. It's easy to make in 5 minutes and only has 5 ingredients!
Instructions
Add all ingredients to a blender.

Divide in two glasses and serve immediately.
Nutrition & Macros
Calories:
359
kcal
Carbohydrates:
11
g
Protein:
4
g
Fat:
36
g
Saturated Fat:
32
g
Sodium:
23
mg
Potassium:
401
mg
Fiber:
1
g
Sugar:
4
g
Vitamin C:
11
mg
Calcium:
31
mg
Iron:
6
mg
To obtain the most accurate representation of the nutritional information in a given recipe, please calculate the nutritional information with the actual ingredients and amounts used, using your preferred nutrition calculator. Under no circumstances shall the this website and the author be responsible for any loss or damage resulting for your reliance on the given nutritional information.
I originally published this recipe on June 29, 2018, and updated it on August 5, 2020.