This blueberry avocado smoothie is keto, low-carb, dairy-free, and vegan. Enjoy it as a quick breakfast or refreshing snack with fresh or frozen berries on a hot summer day. It's easy to make in 5 minutes and with only 5 ingredients!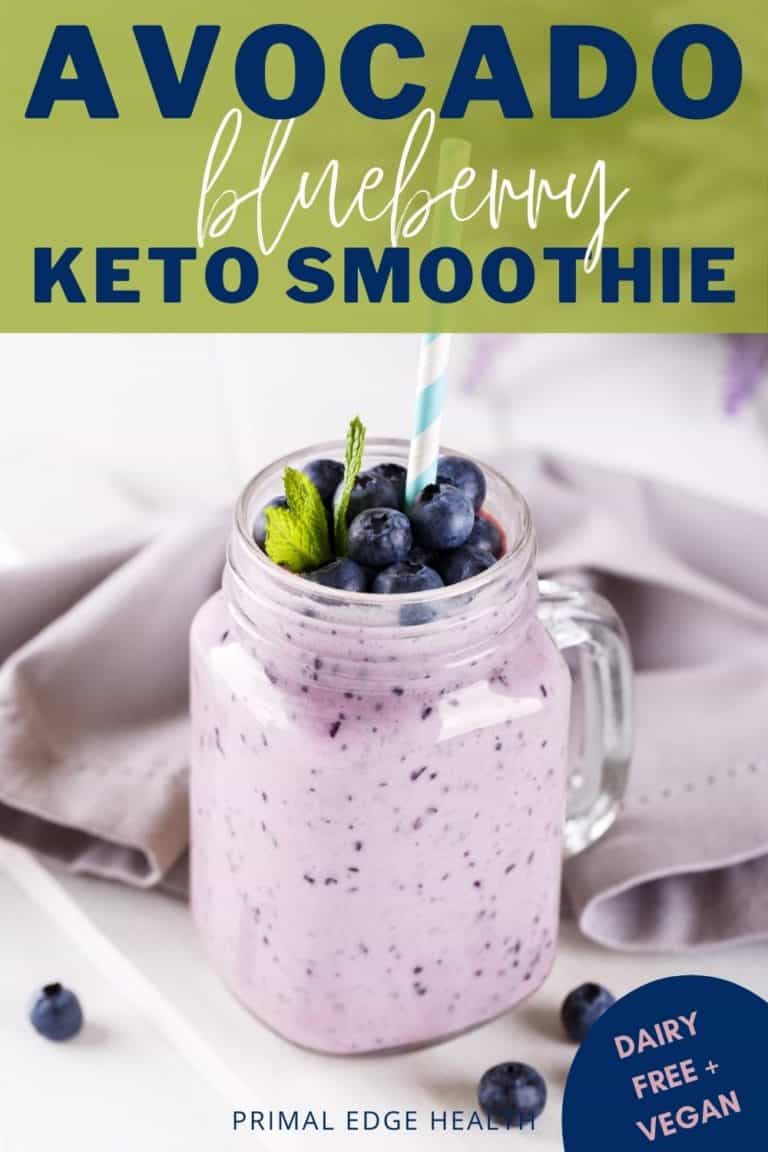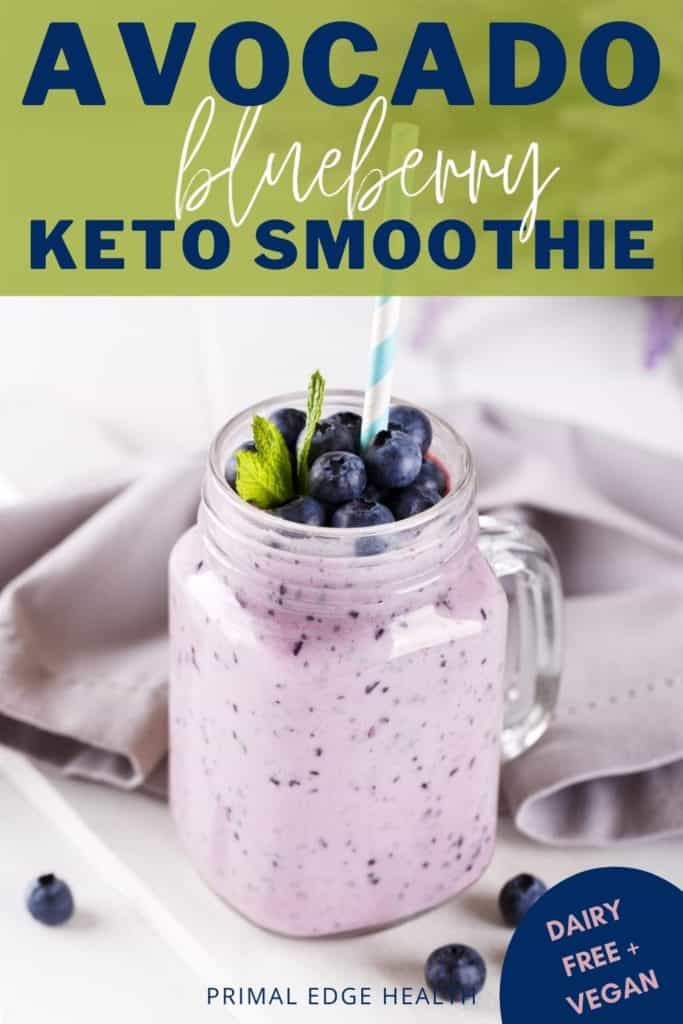 Table of Contents (click to view)
Avocado Blueberry Smoothie for Weight Loss
Easy keto recipes like this keto blueberry smoothie are must-haves for any keto diet.
Since all ingredients are low-carb and dairy-free, this is the perfect avocado blueberry smoothie for weight loss! Each serving is filling yet only has 51 calories.
If you're feeling shy about your cooking skills, this easy recipe is for you. Try it out next time you're in the kitchen, and you'll be so pleased with the results. Not only is the smoothie easy, but it is also quick, and ready in five minutes.
I suggest adding this to your list of keto breakfast recipes and making it this week!
For more snack-time ideas, check out Healthy Snack Recipes for Weight Loss.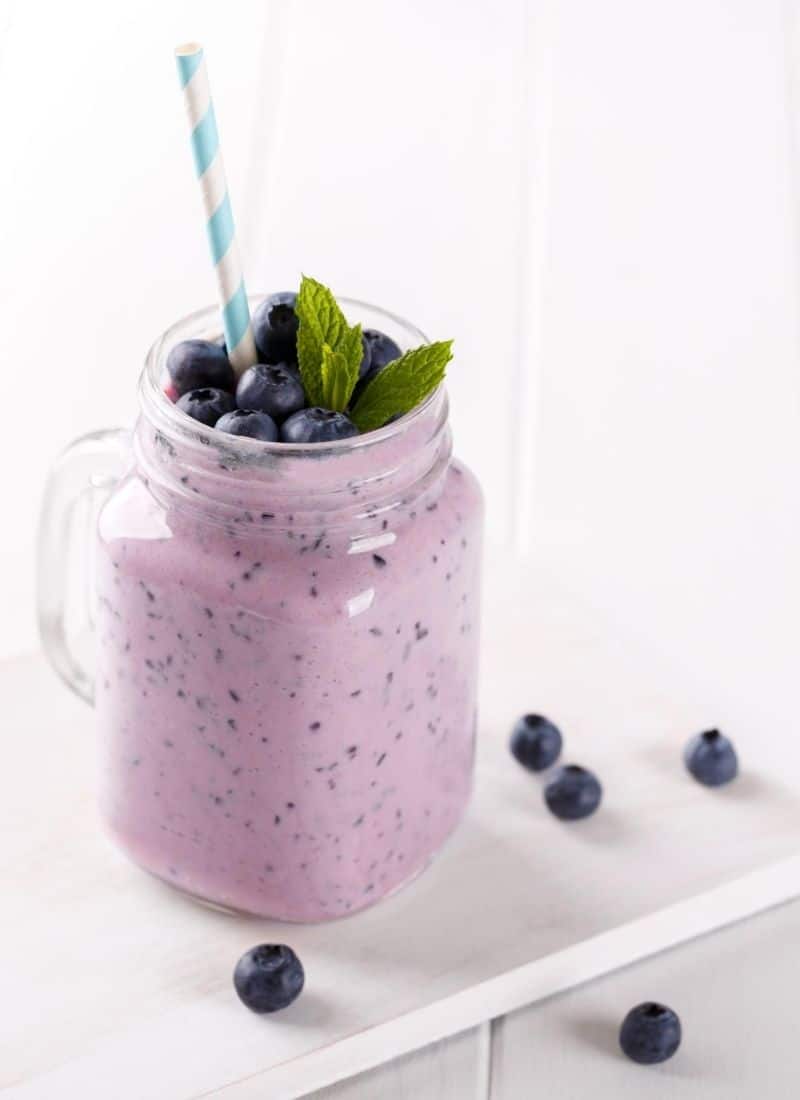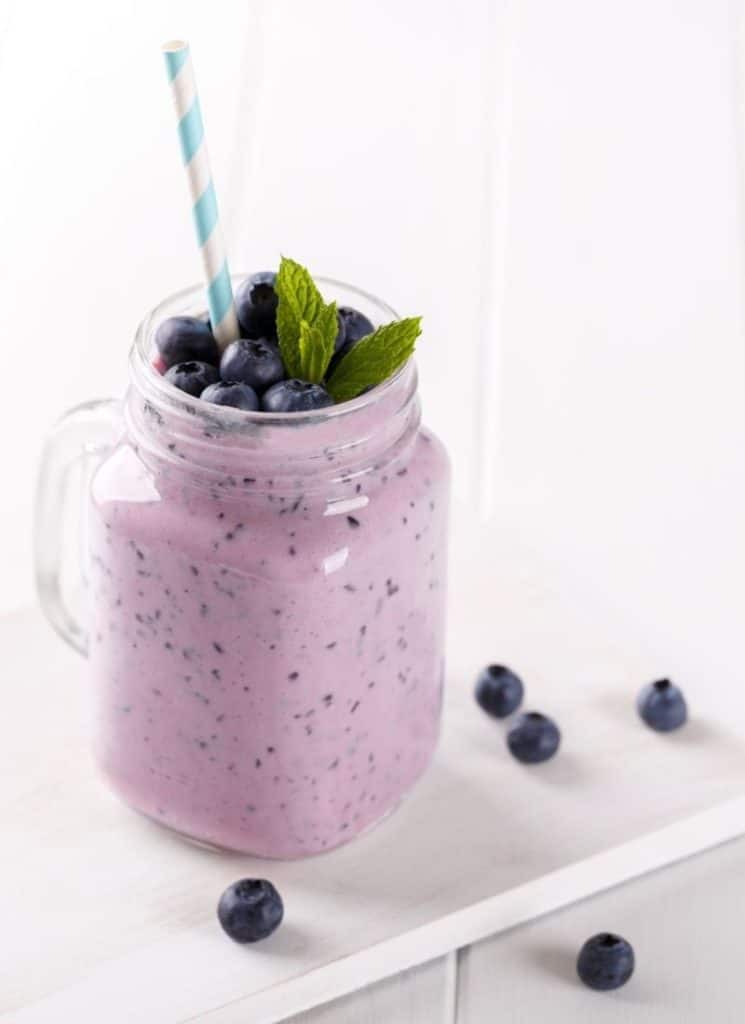 How to Make a Keto Blueberry Smoothie
Gather 5 ingredients and your blender. Then, whip up this berry smoothie with almond milk in just 5 minutes!
There are a variety of avocado smoothie recipes, but I like this one the best because it's thick and creamy, almost like a shake. Plus, prep time is minimal, and I almost always have the ingredients on hand.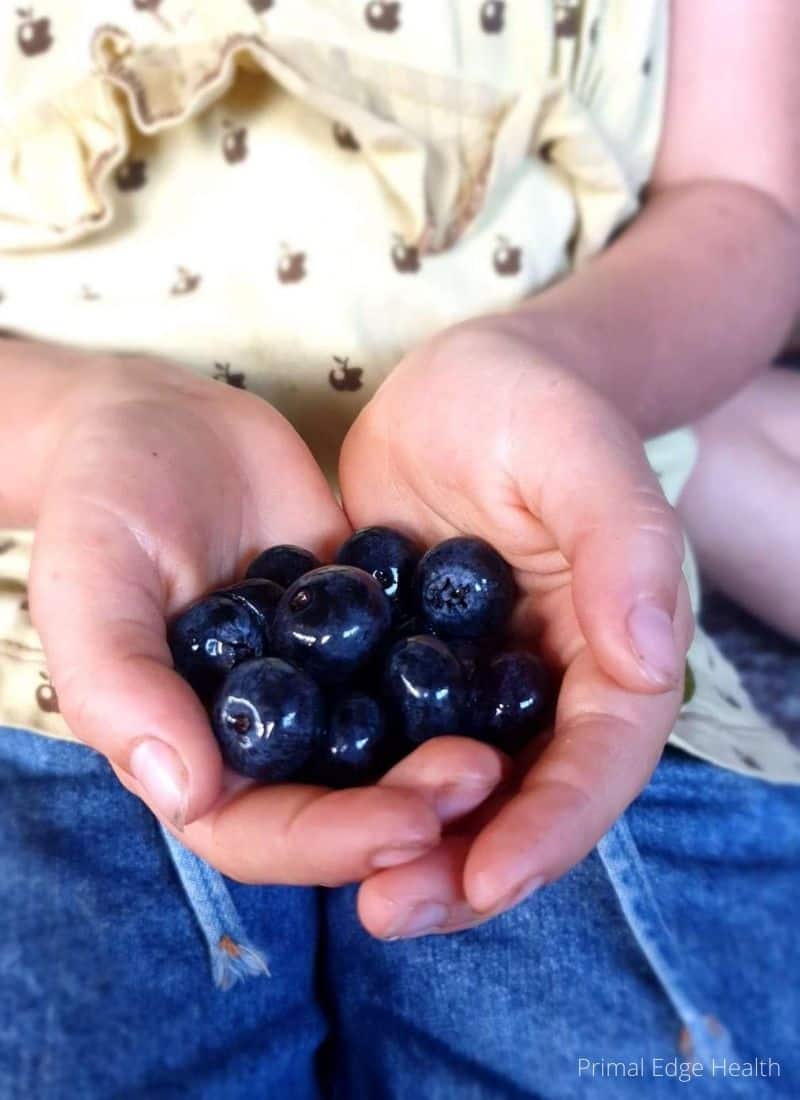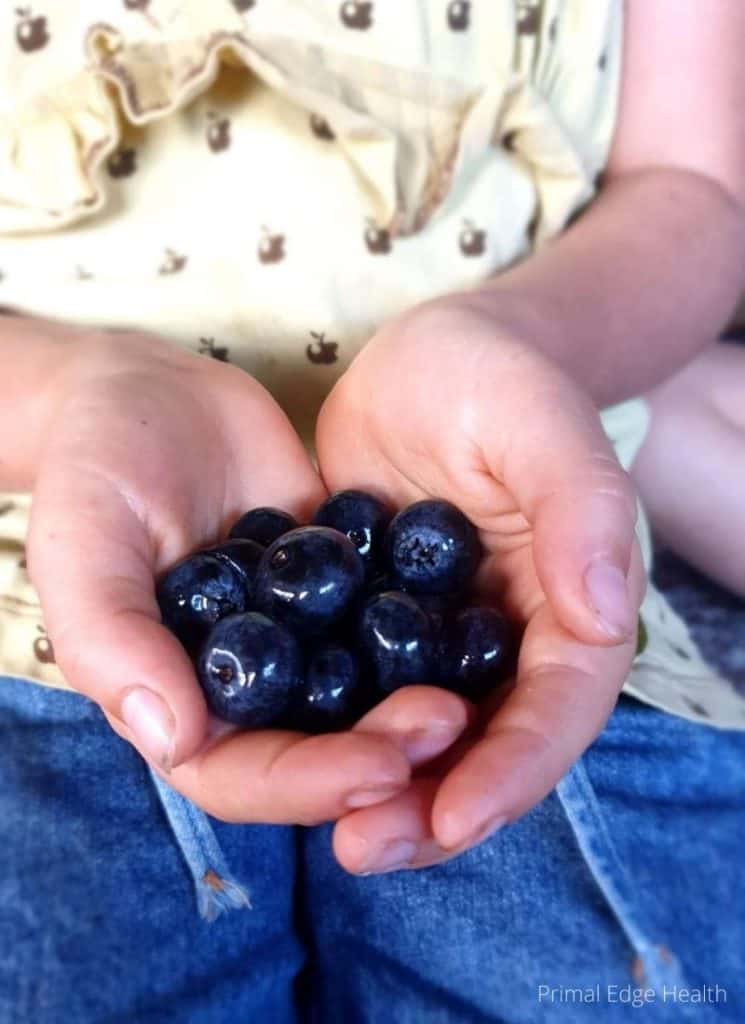 Ingredients
Almond milk – As a lighter option, almond milk has fewer calories than coconut milk. However, you can substitute coconut milk and get a great finish too. If you need to increase fat macros, coconut milk is a great choice. Almond milk is dairy-free and low-carb. If you have a nut allergy, substitute hemp or pumpkin seed milk.
Avocado – Blend fresh or frozen avocado. I learned about "hidden avocado" after making 10-Minute Chocolate Avocado Pudding. Avocados are a key ingredient for making creamy, dairy-free, filling, and quick treats! So say "yes" to a keto smoothie with avocado.
Blueberries – In the summer, I prefer using fresh blueberries, however, at other times of the year, substitute with equal amounts of frozen berries. The texture may be different but the flavor will be just as delicious. A fresh berry smoothie sips more easily through a straw than blending frozen berries, which makes a more of a frosty shake.
Lemon juice – Just a splash of citrus makes the flavor pop! Lemon and blueberries are often paired together for a good reason.
Sweetener – Round out this keto avocado blueberry smoothie with a small amount of sweetener. I use a homemade stevia extract, but you can substitute a store-bought brand or even erythritol.
I recommend a powdered sweetener over granular because it will incorporate much better. Sometimes the granular options don't blend thoroughly and leave a gritty texture, particularly in the last few sips. Nobody likes that!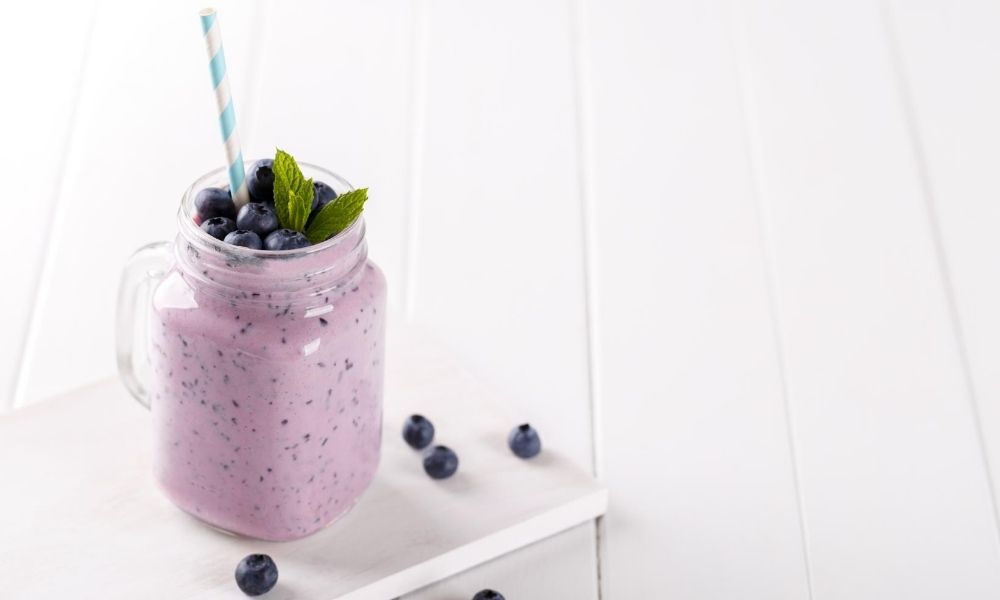 Step-By-Step Directions
Remember this low-carb avocado smoothie next time you're in a hurry and need a meal on the go. It's better than any smoothie you'll find at a fast-food restaurant! Pack the keto smoothie in a to-go cup and take it out the door with you.
Follow this easy 3-step process, and you can't go wrong!
Add ingredients
Add all the ingredients to a blender.
Blend
Flick the blender on and let it run until the ingredients are smooth and well combined.
Serve
Divide the smoothie between two glasses and serve immediately.
This recipe yields two servings. However, it's very flexible to scale up or down depending on how many people you want to feed. For example, if you only need one serving, divide the ingredient amounts in half. If you desire more servings, multiply the ingredients accordingly.
By chance, if any leftovers remain, freeze the avocado blueberry smoothie by dividing equally into small sandwich-sized ziplock bags. Place each bag flat in the freezer. Once frozen, you can store them standing up straight, so they take less space.
Smoothies don't last long in the fridge; therefore, freezing the extra portions is the best. This way, nothing goes to waste, and you will have pre-prepped food, saving you time on a busy day.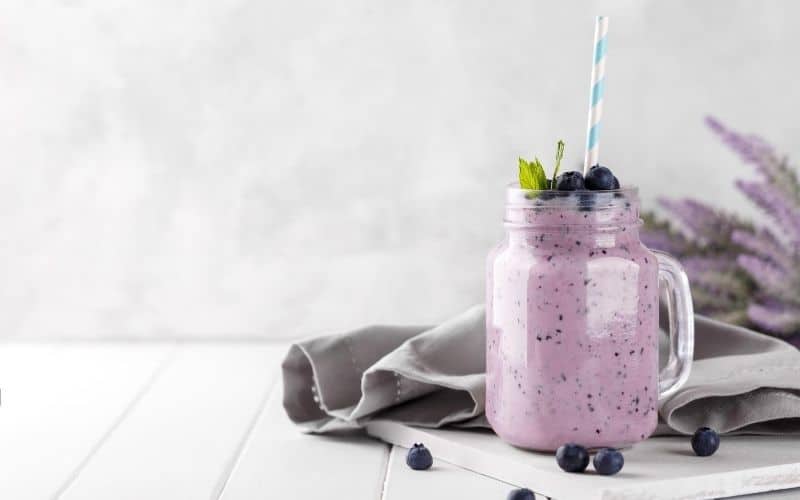 Keto Smoothie with Avocado FAQ
I understand you might have some questions, particularly if berry smoothie with avocado is new to you or you've never worked with low-carb ingredients before. Let me answer some common queries and clarify the process for you.
Can I put avocado in my smoothie?
I highly recommend blending avocado in a smoothie because the avocado gives an unparalleled thick and creamy texture with lots of healthy fats that will keep you full for hours.
Can you taste avocado in a smoothie?
Thanks to all the other ingredients in this recipe, you won't taste avocado in the smoothie. If needed, add additional stevia drops to mask the avocado flavor further.
How many calories are in a keto blueberry smoothie?
This is a low calories smoothie. Per serving, there are only about 50 calories from 7 grams carbohydrate, 1 gram protein, 2 gram fat. There are 5 gram net carbs per serving.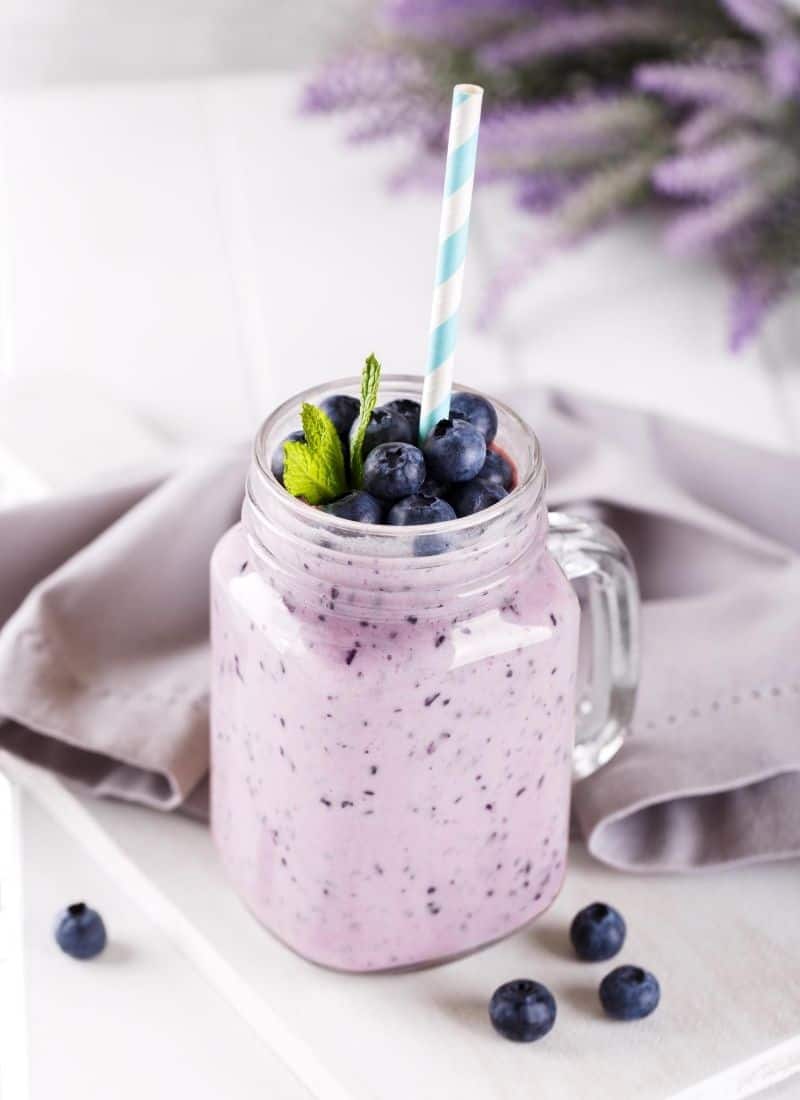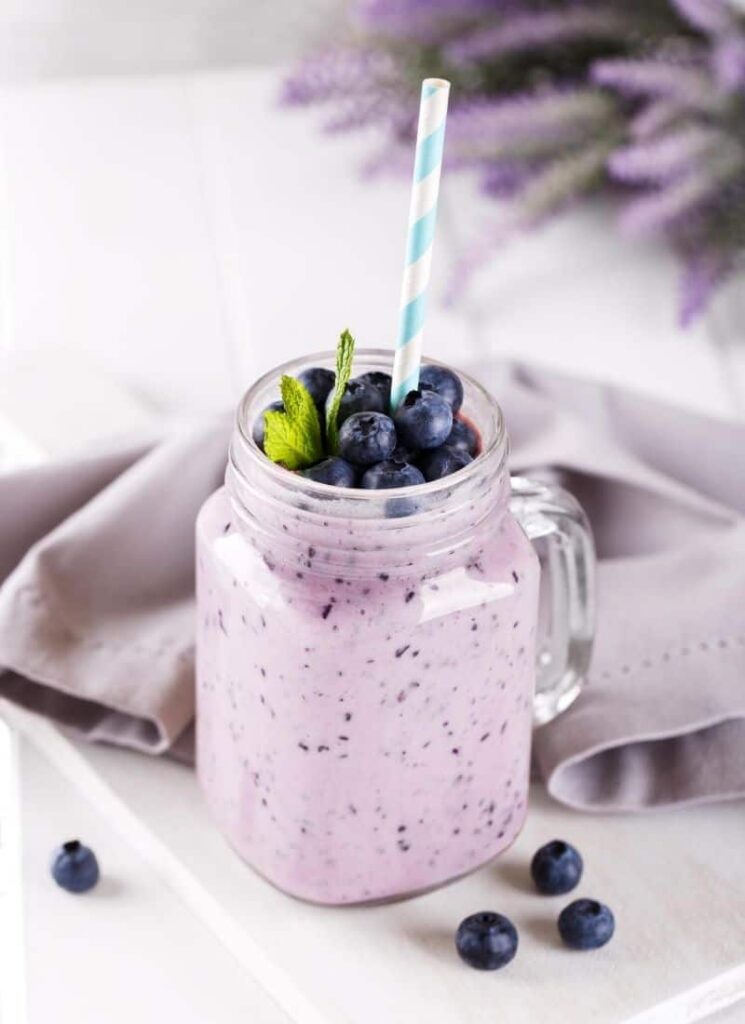 Are Blueberries Keto Friendly?
Strawberries are the most keto-friendly fruit because they have the lowest carb count compared to other berries. (1, 2).
However, blueberries are also acceptable for a keto diet. Per 1 cup, there are 83 calories coming from 0.5 g fat, 1 g protein, 21 g total carbohydrate, and 17.5 g net carb (3).
In this recipe, we use one-half cup of blueberries, divided into two servings. Each serving has 5.25 g total carbohydrate and 4 net carbs from the berries.
Berries are a great choice for keto and a clear winner over other high-sugar fruits like banana, pineapple, and mango. For more about this question, jump over to Keto Cooking Wins' post Are Blueberries Keto?
More Keto Smoothie Recipes
Celebrate summer with more tasty keto smoothie recipes! Each flavor is a unique low-carb summer treat.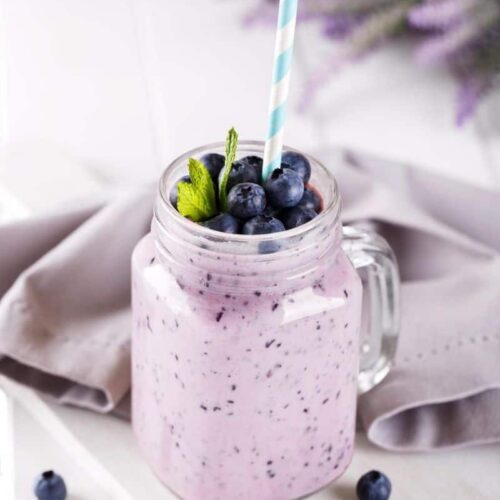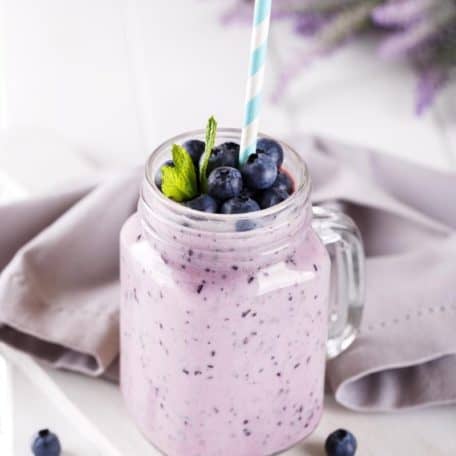 Blueberry Smoothie with Almond Milk
This blueberry avocado smoothie is keto, low-carb, dairy-free, and vegan. Enjoy it as a quick breakfast or refreshing snack with fresh or frozen berries on a hot summer day. It's easy to make in 5 minutes and with only 5 ingredients!
Ingredients
1 ½

cup

almond milk

1

ripe

avocado

½

cup

blueberries

fresh or frozen

2

tablespoons

lemon juice

10

drops

Liquid Stevia Extract
Instructions
Add all ingredients to a blender.

1 ½ cup almond milk,

1 ripe avocado,

½ cup blueberries,

2 tablespoons lemon juice,

10 drops Liquid Stevia Extract

Divide in two glasses and serve immediately.
Nutrition & Macros
Calories:
51
kcal
Carbohydrates:
7
g
Protein:
1
g
Fat:
2
g
Saturated Fat:
1
g
Sodium:
244
mg
Fiber:
2
g
Net Carbohydrates:
5
g
To obtain the most accurate representation of the nutritional information in a given recipe, please calculate the nutritional information with the actual ingredients and amounts used, using your preferred nutrition calculator. Under no circumstances shall the this website and the author be responsible for any loss or damage resulting for your reliance on the given nutritional information.
Made this? Leave a Rating! ⭐⭐⭐⭐⭐
Tag a photo with @Primal_Mom and #PEHRecipe on Instagram to share with us!
More Keto Berry Recipes
There are many delicious keto breakfast ideas and desserts with fresh or frozen berries!
I originally published this recipe on June 29, 2018.