This keto chocolate raspberry smoothie is a quick breakfast or refreshing afternoon snack for summer. Blend four ingredients with ice and sip on a thick and creamy chocolate smoothie, ready in 5 minutes and with only 4 g net carb.
It's the perfect raspberry weight loss smoothie and part of my keto breakfast recipes collection.
How to Make Low-Carb Chocolate Raspberry Smoothie
Ingredients
Greek yogurt – Choose a plain, full-fat yogurt. Double-check the label and make sure there's no hidden added sugar. Milk is not keto-friendly, but you can substitute with coconut cream or coconut milk and make this dairy-free.
Raspberries – Frozen raspberries are preferred because they will blend into a thicker texture. However, substitute with fresh raspberries if that's all you have or if you don't mind a thinner result. If you use fresh berries, add a few extra ice cubs to balance them out.
Even though there are carbs in raspberries, they are still considered a low-sugar, low-carb fruit. You can eat raspberries on keto without a problem. For reference, one cup of raspberries has 6.6 grams net carb. (1)
Cacao powder – Pure, 100% cacao powder brings a delicious chocolate flavor to every sip. You only need 1½ tbsp for the whole recipe. Although, if you like a darker flavor, play around and add more!
Vanilla extract – Using vanilla extract is an easy, zero-calorie way of sweetening up a smoothie without adding sugar or other sweeteners.
Ice – Ice makes the smoothie thick and frosty, which is even better on a hot day. It can be an optional ingredient and intended purely for optimizing the texture only.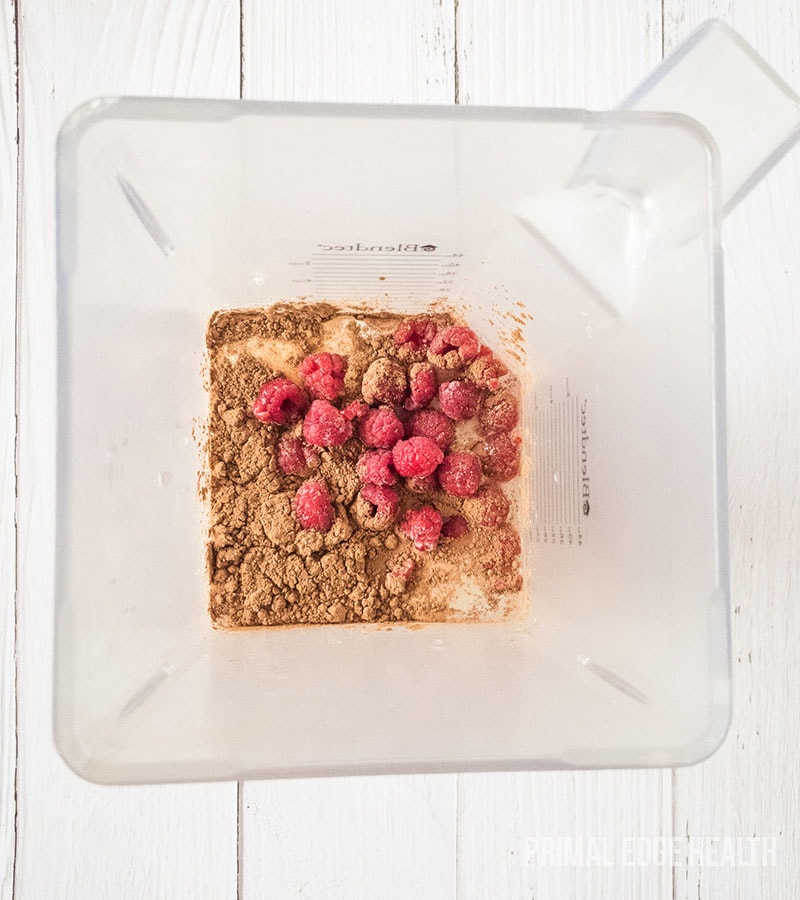 Step-By-Step Directions
Blend all ingredients. Add all ingredients to the blender cup and blend on high until smooth, creamy, and well combined.
I use a high-speed blender, which only takes 30-60 seconds to finish. Your blending time may be slightly longer with a regular blender. You also may need to pause, scrape the sides and continue blending before all the berries combine.
Taste and adjust as needed. Add ½ tbsp more cacao powder for a stronger chocolate flavor. Sweeten it with an additional ¼ to ½ tsp vanilla extract or add 1 to 2 tbsp keto sugar replacement if desired. Thin the smoothie with ¼ cup more water, or thicken it with 2 to 4 more ice cubes.
Everyone's taste buds are slightly different, so go ahead and experiment a little if you want. This smoothie is easy to modify to your liking.
Serve. Could it be any easier? Divide the smoothie evenly between two glasses and serve immediately.
Nutritional Info for a Keto Raspberry Smoothie
93 calories
5 g net carb
8 g total carb
4 g fiber
6 g fat
13 g protein
Please note that the nutritional value will change if you substitute ingredients. Use a nutrition app like My Fitness Pal to recalculate and better reflect any adjustments you choose to make.
More Keto Smoothie Recipes
Celebrate summer with more tasty keto smoothie recipes! Each flavor is a unique low-carb summer treat.
More Keto Berry Recipes for Summer
There are many delicious and nutritious keto treats to try with fresh or frozen berries!