Beef heart meatballs have been my number one beef heart recipe for years. It's the ultimate in ease, taste, and aesthetic. These meatballs are undoubtedly one of my family's favorite organ meat recipes that we actually want to eat. They are a great option for those interested in zero-fiber carnivore diet recipes too!
Organ meats provide many health benefits and are very affordable foods. They are not to be missed!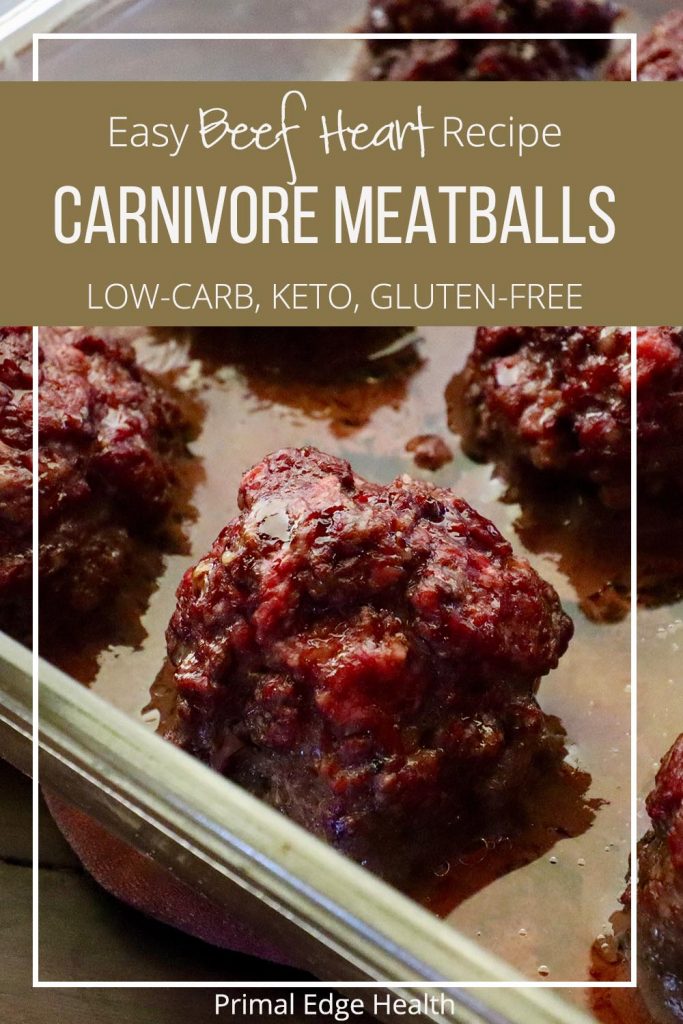 I came up with the concept of using ground beef heart mixed in with ground beef during the recipe testing for my first cookbook. Once ground, beef heart flawlessly blends into any ground beef recipe. Our family favorites are "Mama's Best Meatballs," "Cheesy Meat Pie," and "Beef Heart Burgers" all from The Ketogenic Edge Cookbook.
Table of Contents (click to view)
Is Beef Heart Good for You?
Beef heart is a very viable source of nutrition. Not only does it provide affordable and bioavailable amino acids and fat-soluble vitamins, but also nutrients like zinc, selenium, B vitamins, and CoQ10.
There are many benefits of organ meats and heart is no exception.
In just 4 easy steps and 3 simple ingredients, you can make a delicious, servable low-carb meal for the whole family.
Beef Heart Macros
Beef heart is notoriously lean. Depending on your body composition and macro goals, you may want to add butter, fried suet, avocado, a low-carb sauce, or another source of fat to the meal.
One way to increase the fat is to stuff each ball with a one-ounce cube of mozzarella cheese before baking.
According to fatsecret, there are 32 calories in 1 ounce of beef heart. Macros include 5 g protein and only 1 g fat per ounce. There is no carbohydrate.
How do You Cook Beef Heart?
Although some call beef heart an organ, it's really closer to a muscle. This is true not only in its biological function but also in the way it cooks and tastes.
The most common way I prepare organs is by having them ground and adding into ground beef.
This disguises any odd appearance, subdues the flavor, and above all, makes them super versatile to work with. Once the ground organ is mixed into ground beef, you can substitute the blend in any one of your favorite ground beef recipes.
More Beef Heart Recipes
Did you know you can also hide beef liver? If you haven't tried Hidden Liver Meat Muffins, you're missing out!
Heart takes well to other methods like grilling, stewing, slow-cooking, searing, and curry too.
Once you get the hang of it, be sure to try cooking other organs too. This Easiest Beef Kidney Recipe is a great one!
What Does Beef Heart Taste Like?
Beef heart is extremely flavorful and does NOT have a strong "organ" flavor. It is a soft, tender piece of the animal with a smooth, sweet flavor.
Similar venison, in taste and texture, although far less gamey. It is a pleasing flavor that goes well with any meat seasoning.
This beef heart recipe shows the basic concept of how to find beef heart and make meatballs. Take a versatile approach if you like and add in ingredients like:
Minced onion, cumin powder, and paprika (Moroccan)
Minced garlic and fresh oregano (Greek)
Chili powder, garlic, cumin, coriander, ginger, and turmeric (Bangladesh)
Choose a mineral rich salt. Black Lava and Cypress Flake Salt are some of my favorites.
Where do I Buy Beef Heart and Grass-fed Ground Beef?
Beef heart is extremely budget-friendly if you can find it.
Start by asking your local butcher if they can source it for you.
If they can't or you don't know who to ask, search your area for a grass-fed beef rancher at EatWild.com.
If no listings show from EatWild, browse through the other resources in How to Find Quality Foods.
Once you find a source ask if they can grind it for you ahead of time. It is very convenient to have the butcher do this for you and usually not a big deal for them. If you forget or want DIY, skip down to the section below for directions on how to grind heart at home.
Buy Beef Heart Online
In some areas, buying direct from farmers is not an option. Fortunately, there are many places online where you can find grass-fed meat and organs.
US Wellness – whole beef heart and a pre-made mix of 55% beef heart with ground beef. The combination is exactly what you want for this recipe!
For a limited time only, ButcherBox is hosting one of their best sales of the year. You can get FREE ground beef for LIFE when you sign up for a subscription of grass-fed, grass-finished beef.
ButcherBox offers ethically raised meat with zero antibiotics or hormones and pride themselves in providing meat you can trust. In addition to beef, free-range poultry, heritage bred pork, and wild-caught seafood are also available.
You're going to want a good quality ground beef for all the amazing zero carb carnivore ground beef recipes!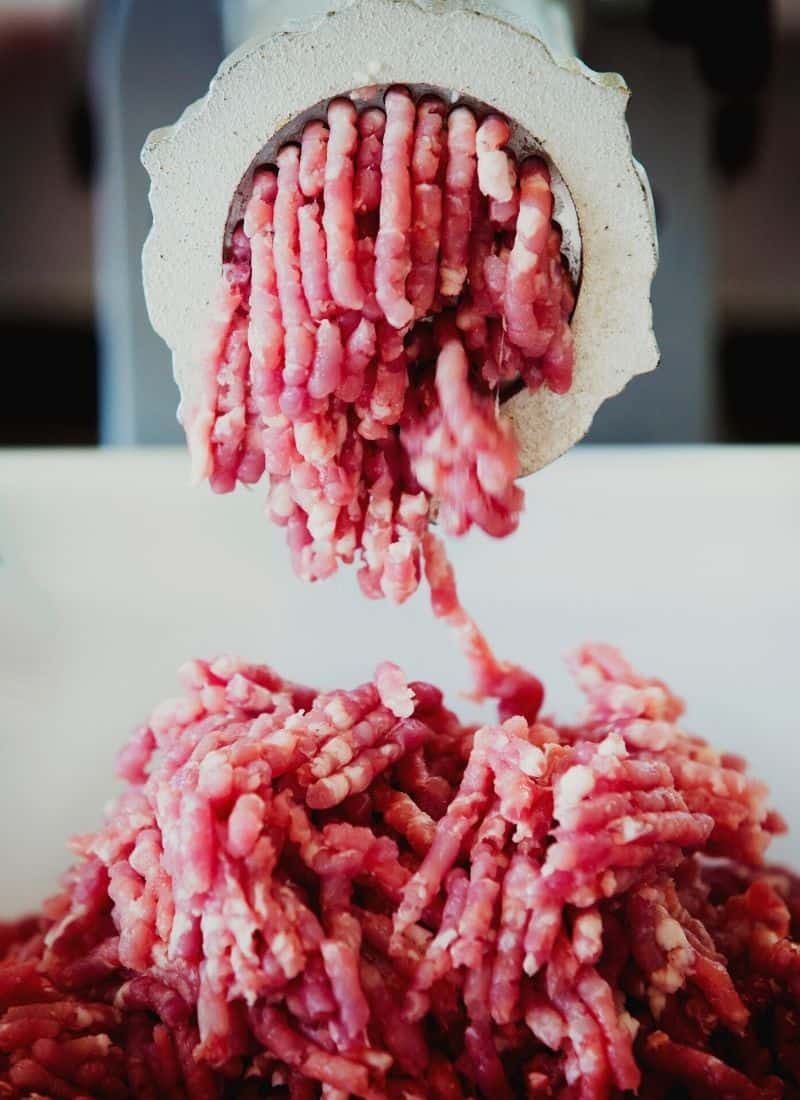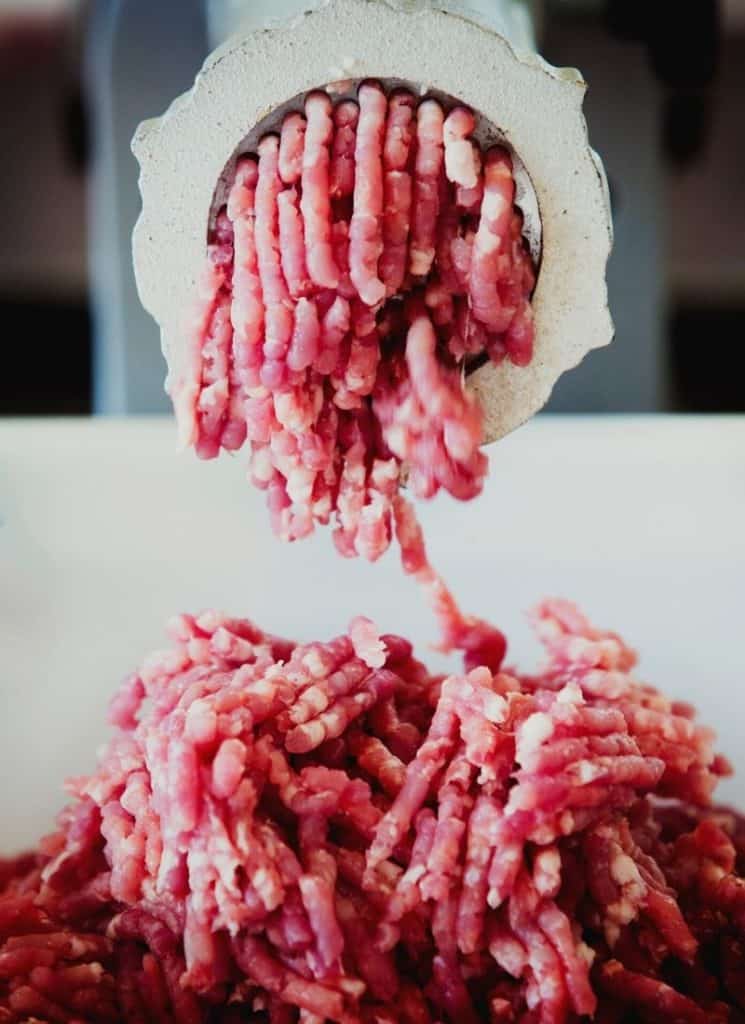 How do I Grind Organ Meats at Home?
Say you can only find a whole heart, how are you going to grind it up at home?
Cuisinart's standing mixer has a meat grinding attachment which is very helpful in times like these. If you are fortunate enough to have one, use it!
Most of us probably have a food processor or blender around. Either of these will do the job.
To grind heart
Place the whole heart on a cutting board and trim off any hard parts of collagen or arteries that may be attached to the bottom rim.
Open the heart by separating the four chambers into individual sections.
Since the heart will be ground, you don't need to trim any of the small tubes or collagen located on the inside. These will all go into the mix.
Dice the heart into small pieces.
Place all the meat in the bowl of a food processor and pulse to combine.
Continue until the meat is thoroughly ground.
In full disclosure, I have never done this in a blender, but I don't see why it wouldn't work also. You would follow the same directions as with a food processor.
What can I use in Carnivore Meatballs Instead of Breadcrumbs?
In carnivore meatballs, you could use ground pork rinds or add a whisked egg to the meat. These will both serve to bind the meat together.
However, they are not necessary.
I was preoccupied with this question of replacing breadcrumbs for a very long time before trying a meatball recipe with just meat. And it worked!
Meatballs will bind together fine all on their own.
I make ground beef, pure ground beef heart, and a 50/50 split of heart and ground beef meatballs and they always hold together without the addition of anything else.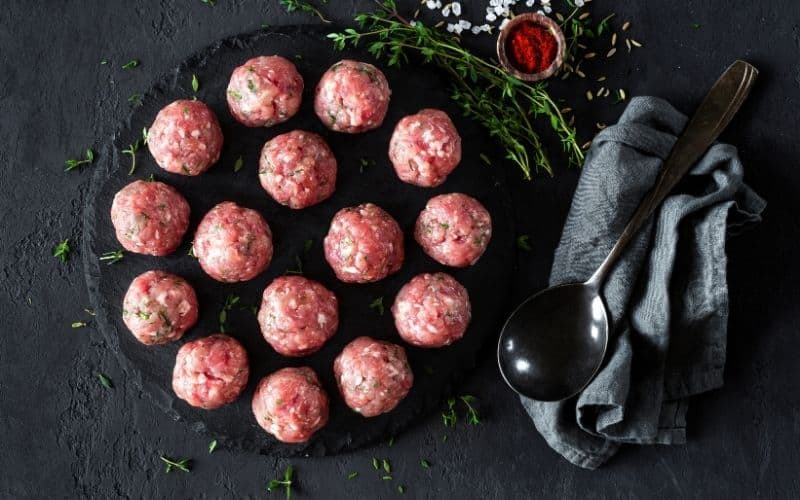 Simple Keto Carnivore Meal Prep
Meatballs are a great recipe for family-friendly meal prep. The familiar appearance is always welcome at the table and they are delicious by themselves or served on a bed of cauliflower rice or with cauliflower mash on the side.
With 1 g carbohydrate per serving, Carnivore Meatballs are a delicious, zero-fiber way to enjoy a "hearty", nutrient-dense meal.
If you divide the meat into 2-ounce balls, scaling the macros of a meal up or down becomes very easy.
I use an 8×8-inch glass baking dish for 1 pound of meatballs. 2 pounds will fit in an 8×13-inch dish. Anything more will probably need to be baked in batches.
Bulk prepping meatballs is a simple carnivore diet food prep tip. Having these on hand makes it easy to create a meal with pre-made protein.
Meatballs may be frozen. If stored in an airtight container, it will keep fresh in the fridge for 5 days and up to 7, but always use your judgment. Frozen will last longer, best before 3 months old.
Bump up the fats a bit with avocado or cheese, and you'll have a nice keto meal.
You can also mix your favorite herbs and spices with the meat and make a good keto carnivore recipe.
Meatballs are delicious when dipping in a homemade chimichurri sauce.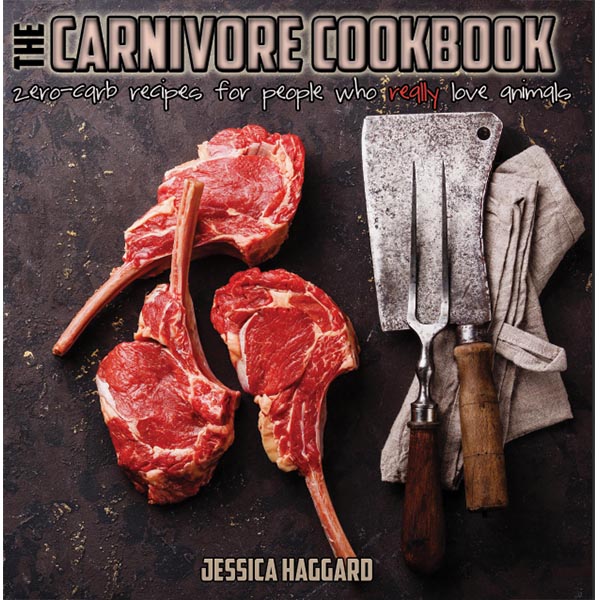 Are you hungry for Carnivore Diet Recipes?
If you are following a zero-fiber, carnivore diet, the meal prep is even easier (one of the reasons I love the all meat concept). In this case, meatballs are all you need.
There is so much variety available! Read our list in What to Eat on a Carnivore Diet so you can start this diet right.
I have so many more delicious zero-fiber recipes to support your journey to better health, rapid fat loss, and auto-immune relief!
Check out The Carnivore Cookbook with over 100 recipes made from just the essentials: animal protein and fats.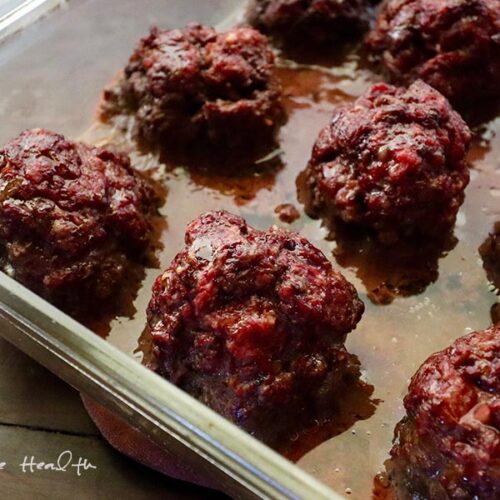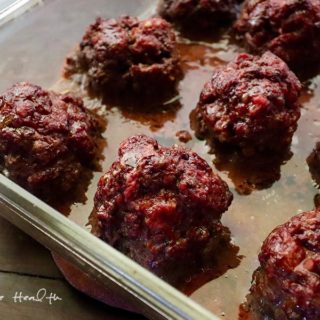 Easy Beef Heart Recipe – Carnivore Meatballs
Ultra-simple carnivore style meatballs
are made with 3 ingredients in 4 easy steps and packed with zinc, selenium, B vitamins,
and CoQ10.

Instructions
Mix the two ground meats in a bowl until well combined. Season with salt.

Scoop approximately 2 ounces and roll between the palms of your hands to form a ball shape.

Place in a small glass baking dish.

Bake in a preheated oven at 350*F (175*C) for 20 minutes.


Juices will run onto the baking dish once meat is cooked through. Serve meatballs warm with this "sauce" spooned over.
Notes
I use an 8×8-inch square glass baking dish to bake these in.
Nutrition & Macros
Calories:
208
kcal
Carbohydrates:
1
g
Protein:
20
g
Fat:
14
g
Saturated Fat:
5
g
Sodium:
675
mg
Net Carbohydrates:
1
g
To obtain the most accurate representation of the nutritional information in a given recipe, please calculate the nutritional information with the actual ingredients and amounts used, using your preferred nutrition calculator. Under no circumstances shall the this website and the author be responsible for any loss or damage resulting for your reliance on the given nutritional information.
Made this? Leave a Rating! ⭐⭐⭐⭐⭐
Tag a photo with @Primal_Mom and #PEHRecipe on Instagram to share with us!
More Carnivore Diet Recipes with Ground Beef
Ground beef is one of the top carnivore diet staples. Known for its availability, affordability and overall easy to use nature, ground beef can make some of the best easy carnivore diet recipes.