The Carnivore Cookbook: Zero-Carb recipes for people who really love animals demystifies the preparation of nearly every single animal food. More than 100 recipes are carved down to the most essential ingredients: meat and animal fat.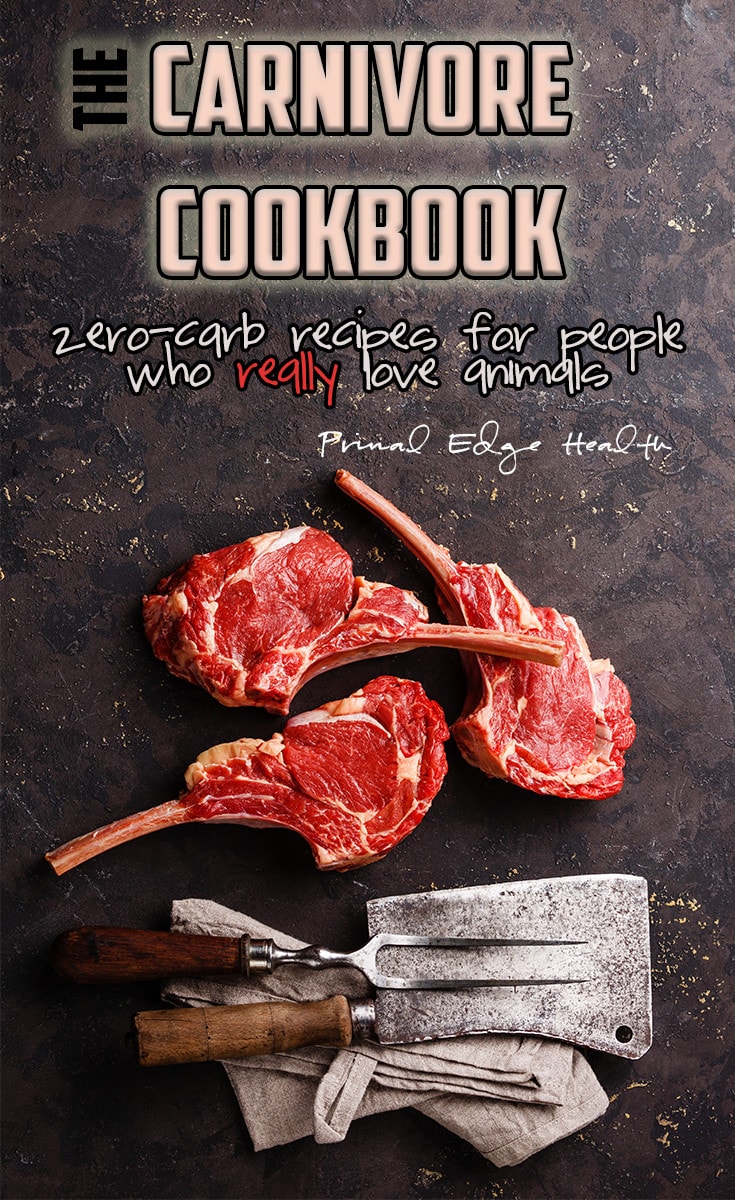 Table of Contents (click to view)
How to Start a Carnivore Diet
A carnivore diet is a type of elimination diet. The focus is on nutrient-dense animal-based foods. Remove all fiber and all plant foods.
Before you begin, define your "why".
Why are you choosing this dietary approach? What issues do you want to address?
Keep these reasons in the forefront of your mind, write them down, and use them as motivation as you move forward.
Next, there are five basic steps to follow:
Eat high-fat meat; the fattier, the better.
Salt your food liberally.
Avoid all plant foods.
Drink water as desired.
Read The Carnivore Cookbook for diet tips, meal prep strategies, general know-how, and all the zero-fiber recipes you'll ever need.
100+ Strict Carnivore Diet Recipes
Do you need to learn the easy way to cook every cut of meat?
Are you craving variety and excitement around your meals?
Say you're ready to eat more organ meats but don't know how to get started…
Look no further than The Carnivore Cookbook!
Why Animal Foods?
Animal foods are the most bioavailable, easiest foods to digest on the planet. (1, 2)
Animal protein and fat are 100% free from plant-based toxins like lectins, oxalate, salicylate, phytic acid, etc.
People with chronic "mystery" conditions may notice profound health changes within a matter of weeks, if not days, after eliminating processed food, food-like ingredients, and all plant foods from their diet.
For many, a diet of pure animal foods is the ultimate health reset.
Once your body has the nutrients it needs from food that supports the body, rather than fighting against it, healing can occur.
The benefits of a carnivore diet are many. Here are some of the most common ones:
Fat loss
Clear skin, remission of excess and adult acne
Decreased inflammation and joint pain
Stable mental and emotional health
Improve metabolism, cognitive function
Better energy levels throughout the day
The Carnivore Cookbook (The ORIGINAL!)
I wrote and self-published my third cookbook to teach all you need to know about preparing and cooking animal meat and fat. This is the original carnivore cookbook – one of the FIRST ever released in the world!
With many helpful tips about carnivory, souring ingredients, shopping on a budget, and handling animal foods, this book is a must-read for anyone interested in eating more meat.
As I've shown time and time again on the blog, carnivore diet recipes are so easy and delicious! The diet isn't restrictive, costly, or time-consuming. You'll have everything, even carnivore diet desserts!
With 100+ recipes made exclusively from animal-based ingredients, The Carnivore Cookbook is your all-on-one carnivore recipe guide. If you don't already have a copy, buy one now!
All the Zero Carb and Ultra-Low Carb Recipes You Need
Steaks are amazing but don't stop there.
This collection teaches all you need to know about preparing ultra simple, nourishing recipes. Enjoy your new source of zero-carb culinary inspiration.
Family-Friendly Eating
Don't worry about meal prepping for others in the household while also being on a carnivore diet. It's super easy because we all need to eat meat! With this cookbook, you'll fuel your whole family (especially growing children!) with bio-available nutrition.
Make a carnivore recipe, or bulk prep your favorites a few times a week. Then, add your family's preferred source of carbs (rice, potatoes, bread) on the side with a serving of salad, fermented vegetables, or whatever they like most.
I added many notes to my recipes so you can be aware of easy variations and modifications to follow when you want additional seasonings, keto add-ins, and other family-friendly serving tips.
Health is our greatest wealth. Therefore, our physical health should be in our favor so we can get through the day with high energy, a clear mind, and no pain!
Once you get your health in line, your family's health will follow. You'll be a glowing example of what's possible and help everyone around you. So shower them with love and fill your house with good vibes!