The Carnivore Cookbook: Zero-Carb recipes for people who really love animals demystifies the preparation of nearly every single animal based food. More than 100 recipes are carved down to the most essential ingredients: meat and animal fat.
These vital ingredients should be the foundation of every single diet. Animal proteins and the many fat soluble vitamins found in animal fat cannot be replaced or supplemented with by other inferior ingredients.
I believe that this book is important for anyone who wants to know how to enjoy regenerative soil based meats in the ways that nature intended.

By following beautifully outlined instruction, you can easily gain confidence in cooking and enjoying meat!

Jessica does a beautiful job showing everyone exactly how to honor regenerative meat in a sustainable way so nothing is wasted.

Niti Bali, http://farmtoforkmeat.com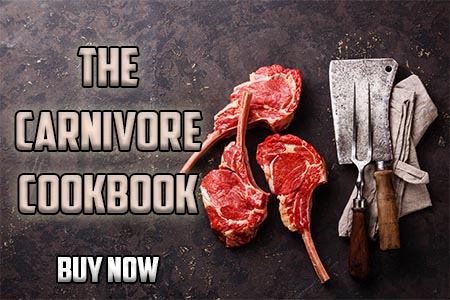 Nutrient Density and Nose-To-Tail Variety
Steaks are amazing, but don't stop there. This collection teaches all you need to know about preparing ultra simple, nourishing recipes.
Variations and modifications are noted for those who enjoy and tolerate unnecessary seasonings and low-carb vegetables or may be cooking for a multi-diet home.
I had no idea there could be so many recipes for a carnivore- style diet!

In my honest opinion, this is one of the most life-changing books I own. As an ex-vegan and being raised on processed food, I have never really learned how to cook with animals. This book will teach you how to utilize the whole animal, from snout to tail (the organ meat section is phenomenal).

Most importantly, this book teaches you how to connect back to nature. These recipes are so simple, just as nature intended them to be. Finally, a cookbook that brings true health and vibrancy.

Megan Presley, Vital Flower Health
Beef, bison, goat, sheep, pork, poultry (chicken, turkey, duck), fish, seafood, organs…
Raw and cooked recipes…
Home rendered fats and sauces…
It's all in The Carnivore Cookbook!
The Carnivore Cookbook: A Companion for All
There is a wide application for this carnivore cookbook. The bulk of the recipes have zero-carb, while a handful contain animal-based carbohydrates coming from honey and diary products like raw cream and cheese.
If you are healing chronic conditions with a zero-carb approach, bulking or aiming to gain healthy weight with animal-based nutrition, a recovering vegan or vegetarian healing nutrient deficiencies, or someone seeking better health and vitality – animals are your friends.
And they are for you to eat.
If you follow any of these diets, The Carnivore Cookbook will be a useful kitchen companion.
Zero-Carb
Carnivore
Ketogenic
Low Oxalate
Fiber-Free
Nutrient Dense
Paleo
Low-Carb
Whole30
GAPS
low-FODMAP
And of course, it's an excellent gift for anyone who simply enjoys good food!
Fuel your whole family (especially growing children!) with bio-available nutrition.