Hello and welcome! Hi, I'm Jessica, a busy homeschooling, homesteading mom dedicated to helping people cook easy everyday low-carb recipes with a focus on bioavailable and nutrient-dense ingredients.
Whether you have a food allergy or sensitivity, metabolic dysfunction, autoimmune conditions, or extra weight to lose, I'm here to support you in taking control of your health and thriving.
Let's embark on this journey together and discover the nourishing foods that make a difference in our life!
Table of Contents (click to view)
My story
My first experience with dietary interventions was in 2009, when I completely cut out processed food and started cooking from scratch with high-quality organic ingredients.
This was a huge step, but not the end of the line.
By 2013, my husband, Tristan, was intermittent fasting and starting to learn about a keto diet, a fat-burning metabolism that promised big things. But there was no way I would be the first to try it because living low-carb seemed like a huge restriction I couldn't face.
Well, it's a good thing he's braver than I am because after seeing his success, I wanted benefits too. From keto, I went carnivore in 2019 and haven't looked back.
Tristan was drawn to a low-carb diet and soon started sharing about it in 2014 on a YouTube channel and corresponding podcast. While that grew, people approached him for private coaching. Naturally, clients needed recipes and meal plans to support their transition. Since I grew up in the kitchen and dreamed of having a cooking show, starting a blog in 2015 to support his efforts seemed like a fun project.
Not only has a low-carb diet been the way to manage all my health conditions successfully, but I have overcome them and moved into a superior state of health than ever before. It's been a process of trial and error, but now I'm quite comfortable with a low-carb lifestyle, even while living a busy life and raising a family.
A low-carb lifestyle does work
If you had asked me all these years ago if I could live without sugar, I'm sure I would have laughed. However, being free from emotional eating, binge behavior, and sugar-bound addictions is one of the best liberations.
Food is a tool I need to live, but I no longer live to eat.
Plus, I now experience the additional benefits of:
Easy post-partum fat loss
Maintaining healthy body weight
No more chronic inflammation
No migraines!
High-quality mental performance
Minimal brain fog
No anxiety attacks
Significantly reduced depression
Stable energy levels throughout the day
Better stress management
Comfortable digestion; no bloat or constipation
A pain-free monthly cycle (that doesn't make me a crazy mess!)
Dietary change might seem hard. But if the simple change of putting one thing in your mouth over another will help, then change is worth a try. Continuing and living with long-term chronic conditions is a way worse alternative.
Elimination diets, such as gluten-free, low-carb, low-oxalate, nut-free, egg-free, dairy-free, or even strict carnivore diets, can be transformative for individuals with food allergies and sensitivities.
These diets aim to reduce inflammation, alleviate symptoms, and improve overall well-being by eliminating trigger foods and focusing on bioavailable, nutrient-dense options. While making such dietary changes may initially seem daunting, the potential benefits far outweigh the challenges.
Bioavailable Basics Nutrition Strategy
Primal Edge content caters to a diverse audience with various dietary needs, ranging from low-carb to strict carnivore, and everything in between.
But what brings us all together is our love for easily digestible, nutrient-dense foods. That's bioavailable real food. This is why I've developed the Bioavailable Basics Nutrition Strategy (BBNS).
The BBNS is all about focusing on the basics first, providing clear details for specific dietary needs and preferences so you know exactly what you're getting with our recipes.
You might have noticed all our new recipes include handy diet-specific notes and allergen alerts, guiding you to make informed choices and modify the recipes to suit your needs.
Whether you're the lone low-carb dieter in a family, have a laundry list of ingredients to avoid, or eat with restrictions like dairy-free or nut-free, my recipes are designed to be flexible and delicious.
I put a lot of thought into developing simple and streamlined recipe processes with easy-to-follow directions. That way, the meals I cook in my kitchen taste just as good when you make them in yours.
Find success with your diet too
I understand the struggles and frustrations that come with elimination diets, and that's why I'm passionate about creating practical solutions.
By providing a range of delicious and satisfying recipes, I aim to empower individuals on restricted diets to take control of their health, discover new flavors, and enjoy a fulfilling and sustainable dietary journey.
Starting a new diet, cleaning out cupboards, and learning meal prep is a lot to take on. Fortunately, I'm here to walk you through the process as slowly (or quickly) as you need to go with practical advice and super delicious recipes (so good, the rest of your family will like them too).
Start with the right beginner's guide for your diet:
If you don't consider yourself a beginner but are struggling with a stall or not meeting your goals, review these guides and learn how to improve your current approach.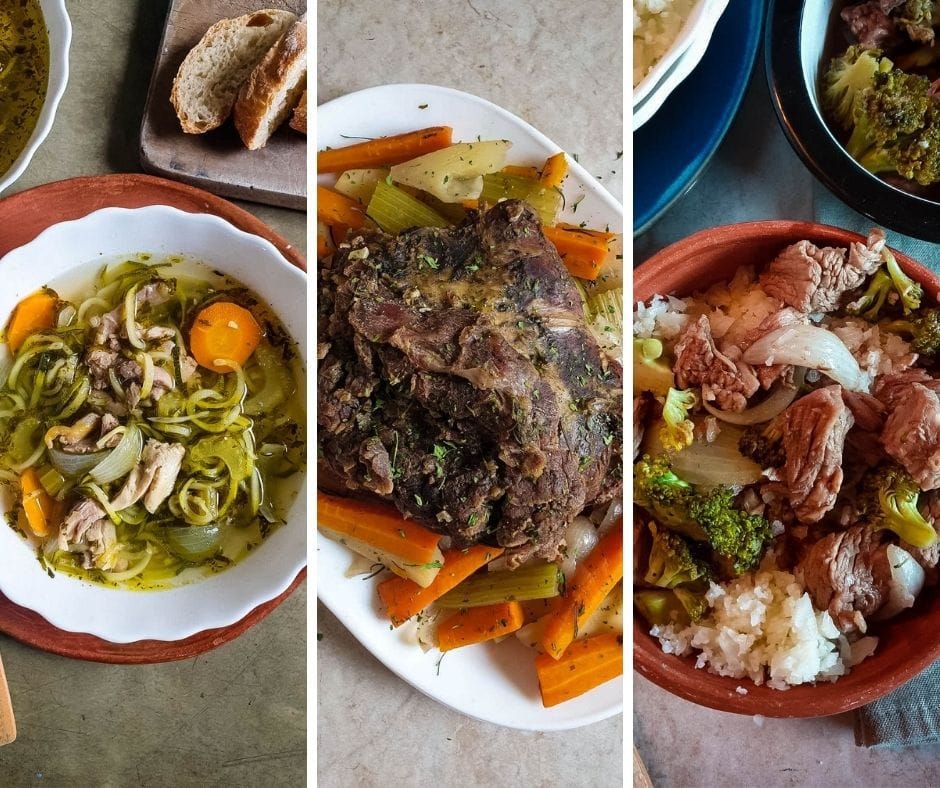 Easy Low-Carb Recipes
Of course, tasty recipes are essential for success. Whether you're cooking for one or a family, the food has to work with you, not against you. If dinner reminds you of cardboard, you won't last very long on any diet!
I am completely committed to a low-carb diet and love developing easy everyday recipes to help others succeed and enjoy long-term results.
By focusing on simple, accessible ingredients and straightforward cooking techniques, my recipes make it easier for individuals of all ages, from single people in their mid-twenties to married folks over 65, to master low-carb cooking and adhere to a keto or strict carnivore diet.
Many of my best recipes are published in cookbooks and hundreds more on the blog here for free.
I also curate low-carb recipe collections and contribute helpful kitchen and lifestyle tips to Food Drink Life, Tastes Delicious and MSN.
You can find tutorials for natural cleaning and personal care products on my other blog, Easy Homemade Life.
Get recipes delivered to your inbox
Do you want me to send you low-carb recipes that will save you time, help you stay on track, and taste delicious?
Sign up to hear from me weekly when I share the latest and most fabulous recipes for you and your family.
Note: If you don't see the sign up form above, you're already subscribed and we'll talk soon!
Need to get in touch?
The best way of getting in touch with me is by leaving a comment on a recipe on the blog or subscribing to my newsletter and replying to an email. I love reading about your successes, getting questions, and learning new tips you have to share.
You can also find me on Facebook, Instagram, Pinterest, and Flipboard.
If you are a brand with business inquiries, please email help.primaledgehealth@gmail.com.