Hidden Liver Meat Muffins are the best way to add liver to your diet without any unusual taste, texture, or appearance. If you think you don't like liver, this is the recipe to change your mind!
Table of Contents (click to view)
Who Wants to Eat Hidden Liver?
If you are still warming up to the idea of organ meats, recipes with hidden liver are good ways to disguise the liver in a way that allows you to eat and enjoy it without having to see it directly.
With just 1 gram of carbohydrate, this recipe is keto diet approved! It's also suitable for gluten-free, dairy-free, paleo, AIP, and GAPS diets.
If you prefer a strict carnivore diet and want proper carnivore diet recipes, simply omit the herbs de Provence and you'll have a zero fiber recipe based entirely on animal foods only.
There are many ways to eat liver on a carnivore diet, this is just one of them!
Find more zero-carb, animal based recipes in The Carnivore Cookbook with over 100 recipes made from just the essentials: meat and fat. Serve your favorite vegetables, if any, on the side and thrive with animal based nutrition!
What are the Benefits of Eating Liver?
Liver is a nutritional powerhouse. It is, ounce for ounce, the most nutrient-dense food on the planet.
For some, it's hard to wrap your head around, but overcoming the cultural disconnect is totally worth it.
There are many benefits of organ meats and nose to tail eating:
It is a respectful, utilitarian approach to raising animals for food
Organ meats, bones, and hoofs are some of the most affordable parts – great for my budget!
They are highly concentrated sources of nutrition
As a full-time, homeschooling, mompreneur I need my health to be on point 24/7. There's too much to do that would suffer if I'm feeling lousy. Plus, children are only little for so long and I want to make the most of it while I can!
I rely on a diet free from processed foods, inflammatory ingredients, and sugar to keep me going strong day in and day out.
Adding liver regularly is part of this strategy. The health benefits of liver are impressive!
I know I'm not the only one who feels the same, liver is often referenced as an "anti-fatigue" food due to its health-boosting attributes.
A quarter-pound of liver once every 1-2 weeks is a healthy practice for anyone who wants to have high nutrient density in their diet.
Liver is great, but be sure to branch out and try other organ meats too. This Easiest Beef Kidney Recipe and Beef Heart Meatballs are also delicious and super simple to make.
Meal Prep & Freezer Friendly
This is one of my favorite ways to cook liver without flour.
Each batch makes 12 individual meat muffins which are perfect for portion control. So, if you have a big family or like to cook in bulk, you can make a double batch of this recipe with no problem.
Similar to meatloaf, these muffins are perfect for dinner or a cold breakfast. I meal prep them with keto Carnivore Breakfast Muffins and have food to last all week!
Pack them into a lunch or eat on the spot. You'll be surprised how good these are!
You can freeze the meat muffins too. Place in a freezer-safe container or freezer bag and store for up to 3 months.
In my family of 4, these never make it to the freezer. They get eaten pretty quickly because having pre-prepped, grab-and-go ready food makes meal prep so easy. Why make anything new when these are in the fridge already made?
How to Make Organ Meats Taste Good
Offal (aka organ meat) can be a difficult thing to start working with if you've ever done it before. It's my goal to make organ meat recipes that are actually worth eating.
I used to struggle with the taste and texture of many offal recipes, so I know the challenge.
It took me a long time before I was comfortable with nose to tail eating, but now I never look back!
The original version of this hidden liver recipe was published as Mini Meat Pies in my Ultimate Guide to Low-Carb Baking. I enjoyed writing both of our keto cookbooks and found many creative ways to enjoy offal meats. So much so, in fact, there is an entire chapter in The Ketogenic Edge Cookbook, dedicated to organ meats and odd bits.
Ingredients like liver, kidney, heart, and others are very influential in my health journey. They were too important to my recovery to leave out of the recipe books.
There are a few strategies I recommend for making organ meats taste good:
Add up to a tablespoon of your favorite seasoning blend.
Sauté onion and 2 cloves of garlic, then add to the meat before cooking.
Serve with hot sauce. The spicy kick is sure to cover up any earthy taste of the offal.
Use different types of salt. There are many options and each brings its own unique flavor.
Cover the recipe with cheese. Melt shredded mozzarella or cheddar on top of the organ meat, everything tastes better with cheese!
Cook with beef tallow or butter, animal fat is much more flavorful than coconut oil or olive oil.
Liver pate is a great recipe for beginners. The creamy blend of butter, liver, herbs and garlic is not to be missed!
Where Can I Buy Organ Meat Near Me?
I usually use beef liver because that's most accessible for me. You can substitute any liver, although I recommend a ruminant animal like lamb or veal over chicken or pork due to their superior nutrient profile. (1)
Buy grass-fed and organic cuts as much as possible. (2, 3)
Talk to your local butcher about organ meats and see what they recommend.
Don't know your butcher yet? Sign up to access our Resource Library and take a look at the keto or carnivore diet shopping lists. The second page of the printable pdf gives tips on how to find local food producers near you. Follow the directions an connect with someone in your area.
If you are shopping online, I suggest on of the following places for grass-fed organ meat.
White Oak Pastures – Large selection of grass-fed and pastured beef, goat, lamb, pork, turkey, chicken, duck, goose, guinea, and rabbit
US Wellness Meats – A complete list of organ meats from grass-fed beef, lamb, and bison as well as pasture-raised chicken and turkey. Also, liverwurst, braunschweiger, head cheese, and dried organ sausages.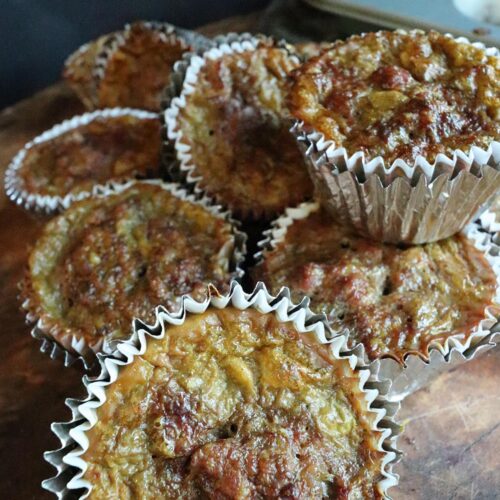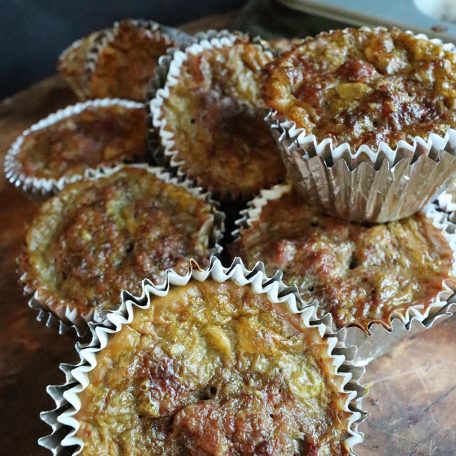 Meat Muffins with Hidden Liver
These 5-ingredient meat muffins with hidden liver are the perfect nutrient-dense addition to breakfast or lunch. Pack them in a lunchbox or keep them in the fridge, they pair well with everything. It's a great way to get your liver in without any unusual taste, texture, or appearance.
Instructions
Preheat oven to 350°F (177°C).

Mix meat and liver in a bowl.

Whisk eggs, pour over meat and stir to combine.

Melt the tallow and pour over meat egg mixture. Mix well.

Season with salt and optional herbs.

Grease a 12-cup muffin pan or use cupcake liners. Spoon mixture into each well evenly.

Bake for 20 minutes. Remove from oven and cool for 10 minutes before taking out of the pan. They may look wet still, but it's just the melted fat. Let them cool and everything will firm up. Serve warm or leftovers cold.
Notes
May also adapt to a 24-cup mini muffin pan for smaller portions or bake in an 8 x 8 inch baking dish or something similar.
To grind liver:
Ask your butcher to do it for you
Dice into small cubes and blend in a food processor or blender.
Chop finely by hand
Nutrition & Macros
Serving:
1
muffin
Calories:
139
kcal
Carbohydrates:
1
g
Protein:
10
g
Fat:
10
g
Saturated Fat:
4
g
Sodium:
255
mg
Fiber:
1
g
To obtain the most accurate representation of the nutritional information in a given recipe, please calculate the nutritional information with the actual ingredients and amounts used, using your preferred nutrition calculator. Under no circumstances shall the this website and the author be responsible for any loss or damage resulting for your reliance on the given nutritional information.
Made this? Leave a Rating! ⭐⭐⭐⭐⭐
Tag a photo with @Primal_Mom and #PEHRecipe on Instagram to share with us!
More Hidden Liver Recipes
Does hidden liver work for you? Try these recipes too!
Organ Meat Pie – This nourishing combination of ground beef, liver, and heart baked into a meat pie is simple and satiating. It's a great keto carnivore diet liver recipe.
Pemmican – Take this survival food to the next level with hidden beef liver and/or heart mixed into the bars.
Cabbage Noodles with Hidden Liver – Served on a bed of Chinese-style cabbage noodles, the ground liver is mixed into ground beef and flavored with vegetables!
I think you'll also enjoy other keto carnivore recipes and carnivore ground beef recipes for meal prep too!