Organ meats are the most nutrient dense foods on the planet and can have an important role in your health. Get to know these heritage foods and learn the best ways to use organ meats in your diet. Whether you enjoy a keto diet, carnivore diet, paleo, or just want to eat healthier, I have organ meat recipes and tips for you!
No one is going to start eating nose to tail if recipes are overly complicated or look too foreign to eat. My goal is to make simple and easy organ meat recipes that the whole family will enjoy. Learn the nutritional benefits of organ meats, follow my shopping and sourcing tips, and get used to cooking these foods in your own kitchen. Enjoy the journey of maximizing nutrition as you optimize diet and lifestyle!
Table of Contents (click to view)
What are organ meats?
Referred to by many names like offal, odd bits, pluck, and variety meats, Wikipedia states
These general terms refer to the whole category of parts, the specific edible bits vary from culture to culture. Typically muscle meat and bone are excluded from offal.
With German roots, the word
You've probably heard of foie gras, pate, and sweetbread which are internationally recognized as gourmet foods. Once you start looking you will soon realize the variety of use these parts have and the important role they hold as culturally significant ingredients.
Organ meats and offal may come from any number of animals. The most common choices are beef, lamb, sheep, goat, bison, chicken, duck, pork, and rabbit.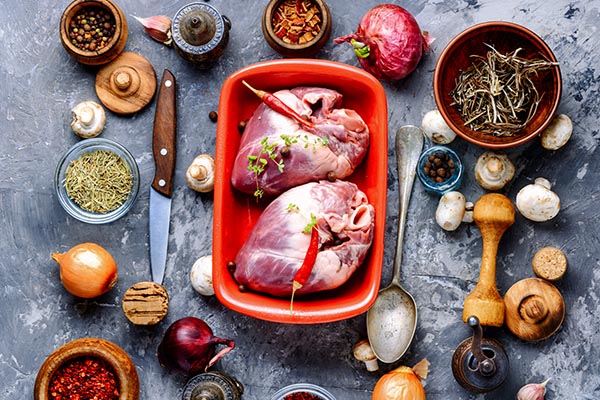 A List of the Best Organ Meats to Eat
Whichever organ you can find and cook in a way you enjoy is going to be the best to eat. In contemporary American culture, liver is the most popular and well known.
Most common types of organ meat are:
Heart
Kidney
Liver
Sweetbread
Tongue
Tripe
Others include, but are not limited to: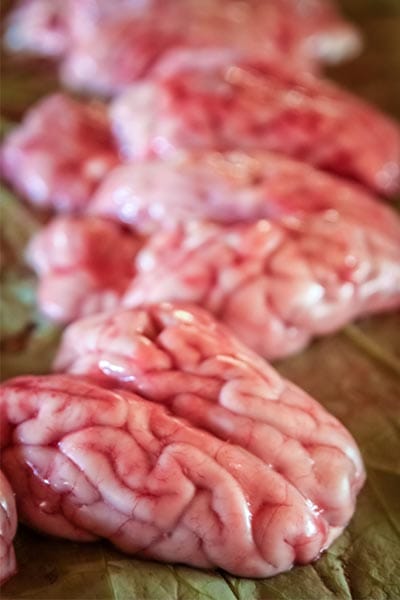 Blood
Brain (would you believe it is best raw?)
Chitterlings
Hide
Hooves
Horns
Intestines
Lung
Pancreas
Snout
Spleen
Testicle
Trotters
Some people also say suet aka fat, used to render beef tallow (or lamb, mutton, etc) can also be classified as an organ.
Organ meat comes from many animals: beef, lamb, mutton, goat, bison, elk, deer, chicken, duck, goose, pork, and fish.
I do recommend sourcing grass-fed, pasture-raised, and organic organ meats over conventionally raised. Although, not always possible, knowing the source of your food is very rewarding. Using the tips in How to Buy Liver can also help for other organ meats of choice. Always do the best you can.
Organ Meat Benefits: Are they Healthy?
There are many nutritional benefits of organ meats. The benefits of liver, for example, are just about off the charts.
Organ meats are culturally significant foods across the world and have a valued role in many fertility boosting diets. Weston A. Price notes in Nutrition and Physical Degeneration, that many traditional tribes use organ meats in their preconception and postpartum care. They also reserve certain organs for their young children and the elderly.
With the general degradation of an agrochemical attack on our modern food supply, organ meats may have a more important role than ever before when it comes to increasing nutrient density.
Liver pate is a great organ meat recipe for beginners. Most people have heard of pate before, if not tried at least once themselves. Liver pate is easy to make, has a smooth and creamy texture, and actually tastes pretty darn good. I highly recommend liver pate for keto and carnivore diets!
How to Cook Organ Meats that Actually Taste Good
If you are just getting started with organ meats, I have some tips for you. To make this new culinary journey as enjoyable as possible, sign up for my mini email series for my top 5 Easy Ways to Make Organ Meat.
I have a few secrets on cooking organ meat recipes that you will want to know about!
The best organ meats for you
How to start eating organ meats
How to customize recipes so they aren't gross
Tips for getting the family on board
What organ meat actually taste like
How much organ meat you should eat
Freezer friendly options for organ meat recipes
Keto Organ Meat Recipes
Making healthy recipes with hidden organ meat is an excellent meal prep strategy if your new to this realm or if you cook for a family and want to ease everyone into nose to tail cuisine gently and gracefully.
My favorite way to make delicious organ meat recipes that no one will scream over is to use ground organ meat mixed into ground beef.
US Wellness has one of my favorite pre-made blends with ground liver, heart, and kidney all mixed up with beef and ready to go. This is a great choice to order a few pounds of and keep in the freezer until you are ready to use it.
Take a break from my traditional easy keto recipes and try a keto recipe with organ meats!
Organ Meat on a Carnivore Diet
If you are inclined toward a more simple approach, already have a knack for organ meats, or prefer a fiber-free diet, these carnivore diet-approved organ meat recipes are for you!
Get started with our downloadable Carnivore Diet Food List in a printable pdf format. Save this on your device or print it out at home so you can reference it over and over again.
If you enjoy these recipes with organ meat, I know you will love my other carnivore diet recipes too!
Liver is by far the most popular organ meat, there are many different ways to eat liver on a carnivore diet.
Plus, I include carnivore friendly options for all my liver pate recipes!
Organ Meat Cookbooks
Now that you know I'm such a fan of organ meats. Do you think I could write a cookbook and leave out these important foods?
If you said "no", you're right!
I included a huge section of easy to make, homemade organ meat recipes in both The Ketogenic Edge Cookbook and The Carnivore Cookbook.
Hopefully, you enjoy all the family-friendly options as much as I do.
Organ Meat Supplements
If you are on the fence about making organ meats in your own home, try grass-fed beef organ meat supplements first. Ancestral Supplements has a great line of different blends to choose from.
These are great if you travel often and want to take your nutrition on the go. They will fortify whatever meals you have while out and about.
Children can also benefit from supplementation. If they are not old enough to swallow the capsule yet, it is easy to open up and sprinkle the contents over their food. Our children happen to love desiccated liver supplements and eat them like candy. They play with the gelatin capsules and get them to stick to their lips and fingers after soaking up a little moisture from their mouth. It's always a big show but I don't even mind because we're dealing with a minimally refined, whole food supplement.
Where to Find Organ Meats Near Me?
In comparison to the nutritional value of organ meats, their dollar value is quite low. This is another reason why you can benefit from eating more of them. Your body and wallet will thank you!
The overall demand for organ meats remains low so they are still pretty affordable options.
The easiest place to find organ meats is from your local butcher. Ask the person you already buy meat from and see if they can source organs for you too.
Now, the best place to buy organ meats is from the food producers themselves. Search EatWild to find ranchers in your area and connect with them directly.
There are also many trusted places online that sell high-quality organ meats.
White Oak Pastures – Large selection of grass-fed and pastured beef, goat, lamb, pork, turkey, chicken, duck, goose, guinea, and rabbit
Alder Spring – Grass-fed organ meats and bones from beef; kidney, tendons, oxtail, heart, liver, and tongue. They also offer pork heart and chicken livers. Save $10 off with coupon code primal$10
US Wellness Meats – A complete list of organ meats from grass-fed beef, lamb, and bison as well as pasture-raised chicken and turkey. Also, liverwurst, braunschweiger, head cheese, and dried organ sausages.