Slow cooked organ meat stew is a delicious recipe and very budget friendly too. It's great to find organ meat recipes you actually want to eat! With a few simple modifications, this stew can be added to your collection of easy keto recipes too.
Organ meats provide many health benefits and are very affordable foods. They are not to be missed!
This post was updated in April 2020 with new tips and images after being originally published on October 9, 2015.
Why do people eat offal?
There are many benefits of organ meats. Taking as much as possible from an animal lets little to nothing go to waste. No one likes wasting food, this is especially true if you raise the animal yourself and want to maximize your efforts.
Offal, is the general term for organs. These parts have an important and respected place in traditional diets around the world as beneficial, and in some cases, medicinal foods.
All organ meats are concentrated sources of easily digested nutrition. For this reason alone they are worth eating. If you are recovering from a nutrtionally deficient vegan or vegetarian diet or pregnant or breastfeeding you have an added demand for bioavailable nutrients. Aside from amino acids, offal also contains fat soluble vitamins and minerals found in great abundance.
Organ meats are largely absent from modern day Western diets but this is really to your benefit because this means they are very budget friendly. Organ meat is notorious for being some of the most affordable parts brought to market.
If you have the pleasure of buying directly from a rancher or a small local butcher, ask if they can source your offal. You may find they even give it away!
Offal recipes are gaining popularity and now included in many newer diet types:
GAPS diet
AIP diet
Paleo diet
Primal diet
Whole 30
This easy organ meat soup meal would be great for any of these diets. It's made with low carb and low oxalate diet approved ingredients, free from common allergens such as soy, corn, eggs, dairy, and nightshades.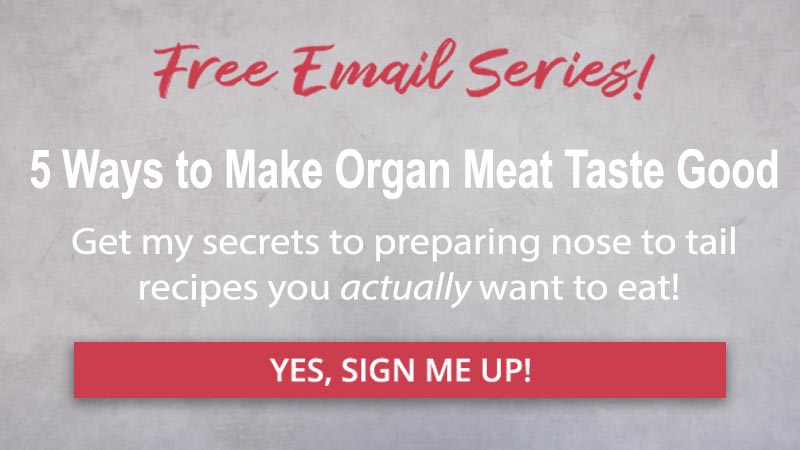 What is the healthiest organ meat?
The healthiest organ meat comes from animals that eat a clean diet and live a non-toxic environment with good quality of life. Most commonly, organ meats are sourced from beef, bison, lamb, and chicken. Mutton, rabbit, goat and pork offal may be found as well. Choose a grass-fed, organic, or pasture-raised animal whenever possible.
Comparing organ to organ doesn't matter much. Even though people usually start with liver because it's nutritional profile is known to be off the charts, there isn't one organ that stands above all others.
Liver pate is very popular, especially on keto and carnivore diets. For those interested in cooking liver without flour, don't miss my recipe tips!
Other organs like kidney and heart deserve some attention too. That's why I made them the featured ingredients for this slow cooked organ meat recipe.
How to Make Organ Meat Stew
Making this slow-cooked organ meat stew is easy and straightforward. It's a good recipe for beginners or advanced nose to tail eaters. Without any modifications, you can serve this on a keto diet and to low carb, paleo, and primal dieters. It is also naturally gluten free, grain free, dairy free, and sugar free.
Begin by preparing the organs. Trim off any connective tissues and large vessels from the heart; cut into 1 to ½-inch cubes. Cut kidney into similar sized pieces. The smaller the pieces of meat, the better. Leave the fat on both the heart and kidney. Add meat to the pot.
Dice the onion and mince garlic. Chop the cauliflower, mushrooms, and parsley. Arrange over the meat.
Season with salt and pepper.
Pour in bone broth or water.
Bring the pot to a boil and then lower heat down to a simmer. Maintain this for 2-3 hours until the heart is very tender.
If you love stew, I know you'll enjoy these 8 Keto Chicken Soup Recipes too!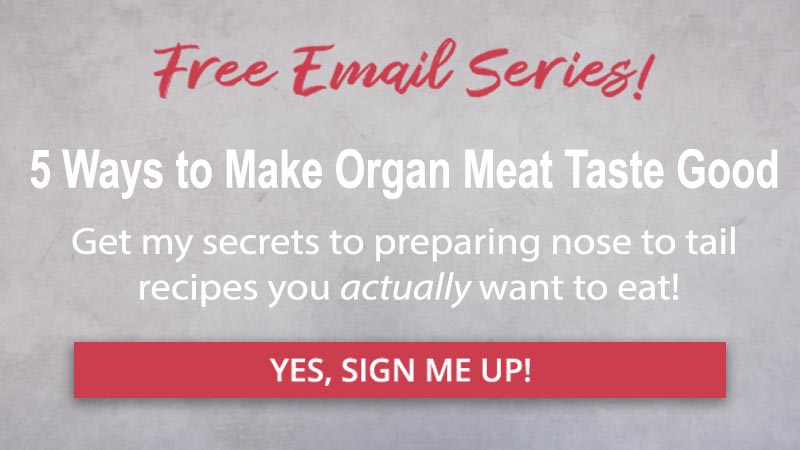 Slow Cooked Carnivore Stew Recipe (Zero-Fiber)
This is written as a keto carnivore recipe, but if you prefer, follow the directions above for trimming and cutting the meat and omit all plant ingredients that you don't do well with.
Slow cook the heart and kidney together in broth for 2-3 hours.
You might want to use the Carnivore Diet Bone Broth Recipe as a substitute for my Traditional Homemade Beef Bone Broth or Slow Cooker Bone Broth.
Are you just getting started with a carnivore diet? Read our Quick Start Guide to Carnivory + 21 Day Meal Plan for answers to FAQs, plus a delicious meal plan to build dietary confidence and get success!
If you like this recipe, I know you will also enjoy my other carnivore diet recipes.
Slow Cooker / Crock Pot option for Organ Meat Stew
You can also cook organ meat soup in your slow cooker or crock pot.
Follow the original recipe directions but instead of cooking in a stockpot, add all the ingredient to a crock pot or slow cooker.
Cook on low for 4-6 hours, until heart is very tender.
You'll like these other Keto Crockpot Meals too!
Where do you buy organ meats?
The best place to buy organ meats is from the person who either raised or butchered the animal. This means connecting with the farmer themselves or a local butcher. Getting as close as possible to your source of food is of great value. To find a food producer in your area, search online at the US and Canadian directory at Eat Wild. There are international listings but they are a bit sparse.
If nothing shows up in your area, buy organ meat online
US Wellness – grass-fed liver, heart, kidney, tongue, bones and more (from beef, chicken, lamb, and bison). Their ground beef blend with organs is an excellent way to disguise these cuts in normal recipes.
CrowdCow – kidney, liver, heart (from beef and chicken)
Have you prepared organs before? What role do they have in your diet? Let me know in the comments below!
Featured in 34 Paleo & Keto Organ Meat Recipes and MeatRx.
More Organ Meat Stew Recipes
Are you inspired by this carnivore style organ meat stew? The world of offal recipes is a fun one to explore. Try one of these soup meals next.
Keto Carnivore Beef Stew – This collagen-rich, super meaty Easy Keto Carnivore Beef Stew is slow-cooked in a crockpot. It pops with flavor from low-carb vegetables and herbs. Carnivore option available.
Offal (not Awful) Stew – This stew manages to incorporate meat from three different organs (heart, liver and kidney) into a delicious and very rich stew.
Beef Heart Stew – This beef heart stew recipe is tender and flavorful. It's the best way to enjoy the benefits of an animal part which can otherwise be tough and gamey.
100+ ways to eat more organ meats – To help you include more organ meats and odd bits in your diet, use this huge list of paleo, keto, AIP, etc friendly recipes that cover the whole animal.

Save