Learn how to make a keto omelette for breakfast, lunch, or dinner. It is an excellent way to use up leftover vegetables, precooked meat, and fresh herbs.
Omelettes and other keto breakfast recipes make starting the day with a low-carb, high-fat breakfast a simple and quick process. From start to finish, the meal only takes a few minutes to make and is perfect for a keto diet.
Table of Contents (click to view)
Is it omelette or omelet or omlet?
Have you seen these words around and ever wondered which way this breakfast egg dish is truly spelled?
Omelet is American English spelling
Omelette is British English spelling
Omlet is a misspelling and common typo
Apparently omelette is the modern French spelling of the word, which makes a lot of sense knowing omelets are originally from French cuisine.
Like many words, Americans took their own spelling while the rest of the English-speaking world keeps close to the original source.
There's not a hard rule anywhere that says the word must be spelled one way over the other. Both spellings are widely understood and appear in varying degrees in English-speaking media.
Are omelettes keto?
Unless you put sweet potatoes in an omelette or sprinkle it with sugar, this bunch favorite has a good chance of being keto approved.
A keto diet is a low-carb, moderate protein, and high-fat diet. In essence, meals are made around healthy sources of protein and fat with low carb vegetables and fruit on the side.
We are already off to a good start with a base of eggs. Add in your favorite keto foods and you will have a healthy and filling meal in no time!
This is a safe keto friendly dish to order in restaurants as just about all traditional omelette combinations are naturally low-carb.
We make keto omelette recipes in many of our day of eating keto videos:
How many carbs in an omelette?
Total carb load will vary from omelette to omelette depending on the ingredients.
A typical 3 egg and cheese omelette only has 2 grams net carb. Something with a little more vegetables like a Keto Western Omelette may have up to 6 grams net carb.
There may be a sliding scale but it is unlikely that you'll consume a high number to net carbs if you stick to fatty proteins, herbs, and low carb plants.
How many calories are in a 3 egg omelette?
You can save yourself a lot of trouble if you learn to count macros on a keto diet and forget about calories.
Why? Simply because calories don't matter.
This is hard for a lot of people to wrap their heads around, especially when much of our dietary training has revolved around a magical caloric number.
According to Fat Secret an omelette made from 3 large eggs and cooked in 1 tablespoon of butter will have 303 calories.
That will give you a feel for the numbers related to your meal but do look into if you really need to count calories or not.
How to make a Keto Omelette Recipe
The perfect ketogenic omelette is made on the stovetop in 4 easy steps.
HEAT a generous amount of fat in a skillet
Many people would recommend a non-stick skillet but I avoid Teflon surfaces and use an extra bit of fat in a stainless steal pan instead. A well seasoned cast-irion pan will work for this too.
Using a liberal portion of fat will prevent the eggs from sticking and allow you to easily fold the omelette.
Choose one of the following:
BEAT the eggs
While the pan heats up, beat the eggs well in a bowl.
Choose whatever type of egg you like:
chicken eggs
duck eggs
goose eggs
guinea fowl eggs
Some recipes add water or milk to the eggs. If you want to do that, go ahead, but it isn't necessary.
Season with salt, pepper, or dry herbs and spices if using.
Once the fat is melted, tilt to coat the entire pan. Pour the egg mixture in. The pan should be hot enough to set the edges immediately.
COOK the omelette 1-2 minutes
Use a spatula to gently move the cooked eggs from the edges toward the center of the pan. This allows the uncooked eggs to fill the open spaces. Make gentle waves, but do not scramble the eggs.
Listen up because this is important: cook the omelette until it looks just underdone.
The Kitchn recommends you look for the bottom to be firm and set but the top is still a little wet. If the top is dry while the eggs are still in the pan, you've cooked it too much!
Because the eggs will continue to cook with the residual heat that is trapped after folding, this tip about a wet top is essential to avoiding a dry omelette.
Arrange the optional filling down the center for a tri-fold or just on one half of the eggs if you want to fold down the middle.
FOLD the omelette
Slip the spatula under one side of the eggs and fold the bottom third up and the top third down or fold one half on top of the second half.
Hold the pan over your serving plate at an angle and slide the omelette onto the plate.
Serve immediately.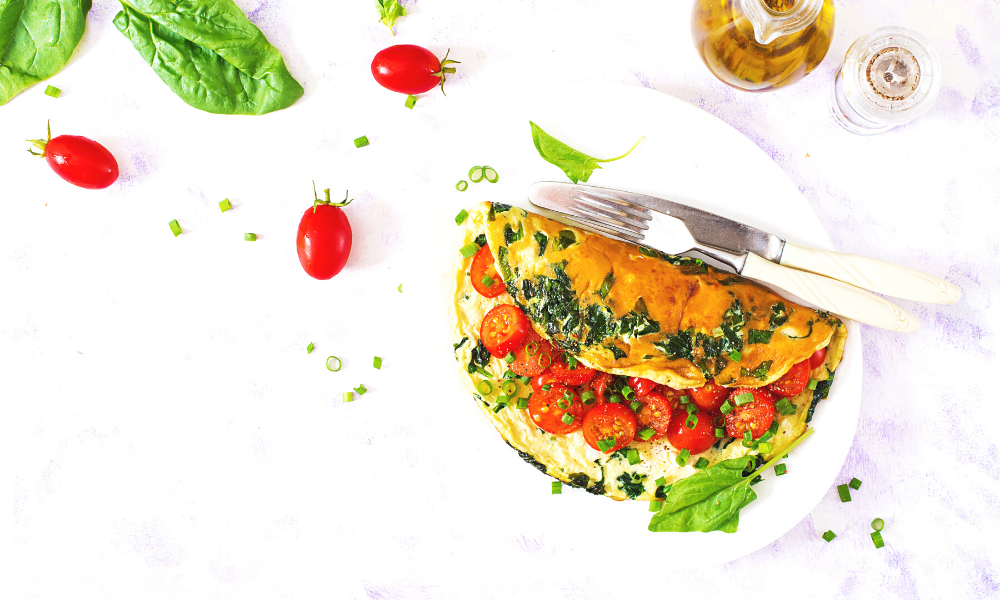 How many eggs do you put in an omelette?
A basic keto omelette usually has 3 eggs.
If you are adding in precooked protein like shredded chicken or left over meat you may only want 2 eggs.
If you eat OMAD you will want to add more than just 3 eggs.
Adjust the amount of eggs to best suit your needs.
Keto Omelette Fillings
If you are adding a filling, it may be best to warm or precook it before you put the eggs in the pan.
For example, onions, garlic, and mushrooms are usually best sautéed first. Greens also do well once they are softened a little in the pan before getting stuffed into the eggs.
Ingredients like fresh herbs, tomatoes, and olives can be added directly since they tend to be eaten raw or barely warm. Cheese can also be added as the eggs cook. It will continue to melt once the omelette is folded over.
If this is all new to you, pick a recipe to try first and follow the directions to learn the right order. It might take a few tries before you fully master omelette making but once you do, it will be a great addition to weekly keto meal prep!
Keto Breakfast Omelette Recipes
Omelettes are just one of many keto breakfast ideas, enjoy them as often as you like!
If quiche is more your style, don't miss this Crustless Keto Quiche.
Three Cheese Omelette Just the basics here. You'll love the ease of this morning meal. Have fun trying all the different cheeses!
Healthy Sweet Omelette Make this quick for breakfast next time you feel like eating something special but don't want to spend more than five minutes cooking.
Low-Carb Baked Omelette Make this quick and easy recipe for breakfast or brunch. It's a fast meal idea you can put together during the week or dress up for guests on Sunday.
Sausage and Cheese Omelet Roll This is a family-sized omelet, just what you need when there are many mouths to feed.
Souffle Omelette with Cheese and Spinach Use any of your favorite herbs and nosh in this ketogenic breakfast with goat cheese. I think fresh thyme would be what I add.
5 Easy Low Carb Omelet Options Here's a choice for each day of the work week! Plus, all recipes are under 5 g net carb. Who doesn't love that? The herbed omelet recipe with chives would be my first choice.
Keto Bacon Omelette Start your day with an utterly delicious keto breakfast of protein and fat. If you're a bacon lover, this recipe is not to be missed!
Western Omelette This keto spin on a classic diner-style omelet is a great breakfast or bunch meal.
Ham and Cheese Omelette Add 1/4 cup of shredded cheese and 2 ounces diced ham per serving.
Easy Keto Omelette Recipes
Omelettes are good any time of the day. They are an unbeatable quick prep meal and great for lunch and dinner too.
Let your omelette fillings take you on a culinary tour of the world with different flavor variations. Pack your eggs full of the best combinations each region has to offer. You'll love this fun adventure without leaving comfort of your own home.
Spanish Omelette Use cauliflower instead of potato for a delicious low-carb spin on the traditional Spanish recipe. It's a wonderful budget-friendly recipe that only uses 5 ingredients and makes leftovers that taste even better the next day!
Greek Omelette Stuffed with classic Mediterranean flavor from fresh tomatoes, green bell pepper, Kalamata olives and feta cheese this combination will instantly transport you to the sunny outdoor patios of Greece.
Mexican Omelette Bursting with all the flavors of Taco Tuesday but wrapped up with eggs for breakfast!
Taco Omelet Made in an Instant Pot, this recipe is the perfect breakfast for dinner kind of meal. Since it makes many serings, this dish is great for the whole family too.
Ground Beef Omelette Suff the eggs with leftover ground beef and broccoli for an Asian inspired dinner that stretches leftovers to the max.
Denver Omelette Add 1 tablespoon chopped onion, 1/4 seeded and chopped bell pepper, and 1/2 cup shredded cheese per serving
French Omelette Cook in extra butter and add 1 tablespoon chopped onions, 1 small tomato, 1 tablespoon fresh tarragon and 1/2 cup shredded cheese per serving
Indian Omelette Add 1 tablespoon chopped onions, 1 tablespoon green chilies and 1 tablespoon cilantro per serving
Persian Omelette Add 1 small tomato,1 clove minced garlic, 1/4 teaspoon turmeric powder and 1 tablespoon fresh chopped dill
African Omelette: Add 1 cup pre-cooked mutton, 1/4 teaspoon red paprika, 1/4 onion powder and 1/8 teaspoon red chilli paste.
Originally posted August 24, 2017. Updated with new images and directions April 2020.