This keto bread with psyllium husk recipe could be the only keto bread substitute you need! With a crispy crust and soft pliable center, this is perfect for all multi-grain or whole wheat bread uses. Each slice only has 2 net carbs per slice and an amazing mouthfeel which makes it the best keto bread I've ever had!
Bread is just one of the many keto breakfast recipes you can make to stay on track with your keto diet.
This post is sponsored by Mountain Rose Herbs.
The Best Keto Bread Recipe with Psyllium Husk
Bread is usually one of hardest foods to quit eating when transitioning to a low carb keto diet. If you grew up on a standard Western diet, bread is just about everywhere!
With this keto bread alternative, you can still eat bread on a keto diet. Use this recipe, especially in the beginning phase and you'll have an easier time without struggling with too many adjustments.
This oven-baked beauty looks just like the whole wheat and multi-grain bread I grew up eating.
The texture is akin to sourdough bread. Psyllium husk works its magic inside and makes light air pockets just like you see in traditional sourdough.
This coconut flour keto bread is not overly dense and seems to digest well even for people with many food sensitivities.
This is the best keto bread replacement I've ever made! Because this recipe functions so well and can be frozen without any problem, I use it for all my keto bread needs.
How many carbs in psyllium husk keto bread?
There are only 2 net carbs per slice!
That alone is reason enough to call this the best keto bread. Consider its amazingly buttery flavor and perfect bread-like texture and you know this is a clear winner.
Each slice of coconut flour keto bread contains 10 g fat, 7 g carb, 2 g net carb, and 4 g protein.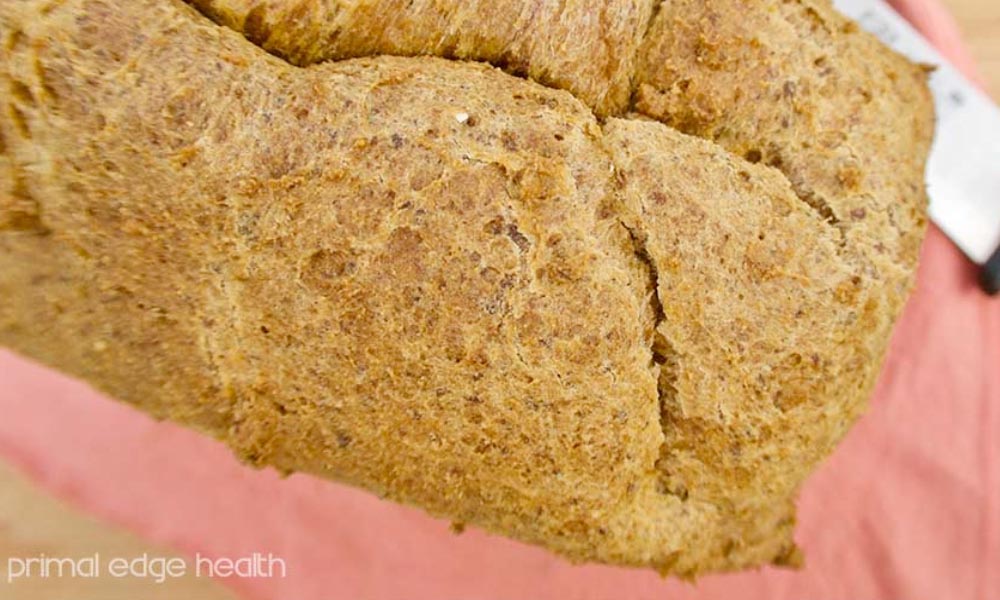 Why keto bread with psyllium husk?
Psyllium husk powder is the special keto approved ingredient essential for creating a light, spongy texture that mimics wheat-bread. It is excellent for gluten free baking
The husk is a form of soluble prebiotic fiber harvested from Plantago ovata. Once mixed with water, it becomes very gelatinous and acts exactly like gluten – it's glue!
This is the perfect remedy for low carb baking because so many keto recipes don't hold together. How many times have you baked something only to find that it crumbles apart as soon as you try to eat it? This can be so frustrating!
I have many psyllium husk keto recipes.
My favorite Flourless Keto Brownies use psyllium husk powder to get a fudgy cake texture. Low Carb Focaccia Bread has an irresistible texture also thanks to psyllium husk.
This recipe is included in The Ultimate Guide to Low-Carb Baking which features psyllium husk powder in other recipes like Smoked Salt Dinner Rolls, Keto Tortilla Chips, and Nut & Seed Mini Bread Bites.
For more information and important tips about working with psyllium husk, read The Secret to Perfect Keto Bread.
How to Make an Easy Keto Bread Recipe Step by Step
Make a homemade keto bread by following this simple no-knead process.
It is very important to use psyllium husk powder, not whole psyllium husk. The powder ensures a smooth and even texture, whereas the whole husk will be grainy.
If all you have is the whole husk, grind it beforehand in a coffee grinder or blender.
Begin by preheating the oven to 350°F (175°C).
Separate the ingredients by mixing the dry ingredients (psyllium husk powder, coconut flour, baking soda, salt) in a bowl and the wet ingredients (eggs, butter or coconut oil, and hot water) in another bowl.
Combine the two bowls together by adding the dry into the wet. Mix quickly because psyllium gels fast once activated with water! Do not over mix.
Transfer to a lightly greased standard 8×4-inch bread loaf pan.
Bake for 60 minutes.
Remove from the oven and let sit in the bread pan for 15 minutes to settle. Loosen the edges with a knife to release the bread. Cool completely on a wire rack before slicing.
How to Tell when Keto Bread is Done Cooking
You know the bread is done when the top is dark brown and firm. Look for a crusty finish and the cooking time will be almost up.
Usually, we can test with a toothpick and if it comes out clean, the bread is done. However, this may be a little misleading since the toothpick will be clean before the bread is done.
When in doubt, cook for another 10 minutes.
Temperature does vary. It may take a time or two before you get the exact result you are looking for. Overcooking the bread is not a concern as much as undercooking it is.
Generally, recipes with psyllium husk have longer baking times but it is well worth the wait.
Troubleshooting Psyllium Husk Keto Bread
The only challenge with this recipe is making sure the bread has cooked long enough. It will look done before it actually is.
Gluten free baking presents a number of challenges. The thing people struggle with the most is watching the bread rises while baking and fall while cooling. With practice, you will improve your technique so be patient and pay attention to this new style.
Avoid the temptation to remove the bread too early from the oven. Cook it long enough so it doesn't collapse in on itself or worse, be uncooked, and gummy inside.
Over mixing may contribute to a poor quality dough that collapses upon cooling. When adding the wet and dry bowls together, mix just enough to combine.
The Best Psyllium Husk Keto Bread Recipe Video
Watch our recipe video and make the best psyllium husk keto bread recipe along with me!
The video is located above, under the first image.
In the video, I combine the psyllium and water together first and then add it to the rest of the ingredients. I've updated the recipe below because some people were having problems getting the ingredients to incorporate together well.
To be on the safe side, follow the updated directions, and keep the ingredients separate.
Ways to Use Your New Favorite Multi-Purpose Crusty Bread
This best keto bread with psyllium husk powder is the perfect low-carb substitute for traditional sliced bread.
This could be the ONLY bread replacement you need.
It is great for many keto breakfast ideas, as well as, lunch and dinner meals!
Soak up soup – Easy Slow Cooker Keto Carnivore Beef Stew is delicious with a side of buttered bread to soak up the soup.
Make a sandwich – An Avocado Tuna Melt Sandwich has never tasted better than with this keto bread recipe. It's also amazing with Slow Cooker Crack Chicken!
French Toast on a Special Morning – Keto French Toast is a fancy breakfast made for keto macros when you use this psyllium husk bread.
Grilled Cheese & Paninis – Keto Grilled Cheese will be my go-to for people with on gluten-free diets, especially children!
Toast – Pop slices of this keto bread with psyllium in a toaster, toaster oven, or broiler and you'll never tell that this is low carb!
Top with this delicious Everything Bagel Seasoning and smear with cream cheese.
Croutons – This is the thing to do with older pieces of bread or the heels no one wants to eat.
How to Store Psyllium Husk Keto Bread
Store coconut flour psyllium husk bread in an airtight bag or container at room temperature. It will last a few days on the counter.
It has the best longevity if kept in the refrigerator and will last for up to two weeks in a bag or container.
My bread always gets eaten quickly so I can't speak to it lasting for longer than two weeks.
Can you freeze keto bread?
If you double batch or only use a few slices at a time, freezing the rest of the keto bread will be a good choice.
This is a great recipe to make extra of and keep in the freezer for meal prep later on.
It thaws incredibly quickly so pre-slice it and you can easily separate out the exact amount you need.
Is the keto bread dairy free or nut free?
Another reason why this is the best keto bread with phylum husk is that, in addition to already being keto and gluten free, it is naturally dairy free and nut free too!
You have the option to use butter or coconut oil. If eating dairy free is best for you, opt for coconut oil. You can also use olive oil, lard, and even beef tallow!
We use coconut flour not almond flour so there are no tree nuts in this recipe.
Take a look at this list of best keto baking ingredients if you want to know more about what to store in your pantry.
Many thanks to Mountain Rose Herbs for partnering with me to bring you this recipe! They offer unparalleled quality of organic herbs, spices, teas, and essential oils. I've been supporting them for 10 years and highly recommend you consider making your next order of botanicals with them. Read my honest review of Mountain Rose Herbs: Are they Good? to learn more.
Originally posted Oct 17, 2017. Updated April 2020 with new images and tips.