A WONDERFUL keto, low-carb bread, the ONLY bread replacement you need. It is perfect for all traditional bread uses.

The Best All-Purpose Keto Bread is soft on the inside with a firm crust edge. It's the perfect low-carb alternative for any traditional bread.
This could be the ONLY bread replacement you need.
Listed as the first recipe in The Ultimate Guide to Low-Carb Baking, this is the best all-purpose keto bread!
From Cinnamon French Toast to grilled cheese and tuna melts, you can do anything with it! This recipe is also great for "breadcrumbs", soaking up sauces and dipping into soups – truly all-purpose.
Let me show you my favorite recipes for FREE!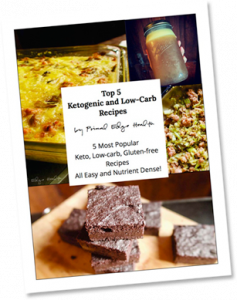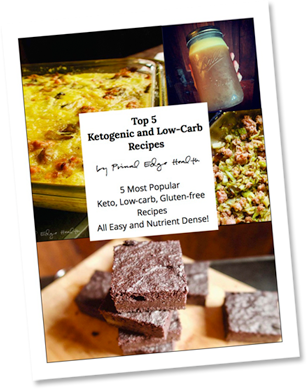 Sign up to get my new recipe ebook
This most may contain affiliate links. Primal Edge Health LLC may receive a small commission at no extra cost to you for any orders made through these links. All thoughts and opinions are my own and I never promote something I wouldn't use myself.
ONLY TWO CARBS per slice!
The satisfyingly bready combination of coconut flour, psyllium husk powder, egg and oil adds up to Macros Per Slice: 9.8 g fat, 7 g carb, 2 g net carb, 3.9 g protein
Psyllium husk powder?
Psyllium husk powder is the special ingredient essential for creating a light, spongy, wheat-bread like texture. Generally, recipes with psyllium husk have longer baking times but it is well worth the wait. This all-purpose keto bread is 100% satisfying, so far it has held up well against all tests (sandwiches, soaking up soups, French toast, grilled cheese…).
Use psyllium husk powder, not psyllium husk! The powder combines well in the bread dough and makes a smooth textured bread once baked. If you use the whole husk, it does not incorporate well into the dough and will leave grainy bits in your bread. These little bits get gritty after getting baked. Avoid the disappointment and be sure to use psyllium husk powder.
Shopping Suggestion: Finely Ground Psyllium Husk Powder
Compared to other coconut flour loaves…
This keto bread rises well thanks to the abundance of eggs. Little air bubbles burst open creating beautiful pockets, just like white bread! My favorite element of this keto bread is the crunchy outside that encases a soft flexible inside. The crust is a crisp shell, reminiscent of French bread. The loaf slices easily and has never gummed up on the knife.
Speaking of French bread, I use my Grain-Free Coconut Flour Bread as a French Bread replacement. With different ratios of coconut flour to egg and the lack of psyllium, it does not rise at all. Simple to make, the directions walk you through the process of blending the batter, packing into a loaf pan and baking. Once you remove it from the oven, you have a nice dense loaf. It is much smaller in size and better suited for bruschetta, toasted garlic bread, and serving with pesto or olive tapanade as you would French bread.
The Grain-Free Coconut Flour Bread was my first successful keto bread recipe and I have used it often! It is very nice when you want just a little texture and extra bulk to a meal. In The Ultimate Guide to Low-Carb Baking, I provide a number of fun flavor variations and ways to enhance it with herbal infused oils and medicinal spices.
Watch the All-Purpose Keto Bread recipe video here.
FOLLOW PRIMAL EDGE HEALTH on INSTAGRAM, PINTEREST and FACEBOOK for more low-carb, ketogenic recipes and diet tips!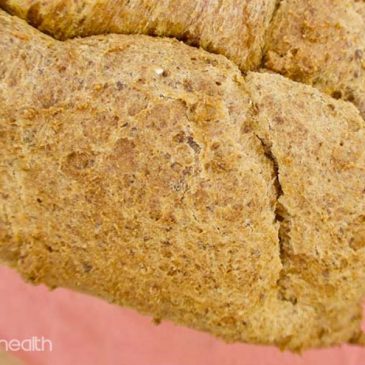 The BEST All-Purpose Keto Bread
A WONDERFUL keto, low-carb bread, the ONLY bread replacement you need. It is perfect for all traditional bread uses.
Print
Rate
Total Time:
1
hour
5
minutes
Ingredients
6

tablespoons

psyllium husk powder

<-- I use this one

3/4

cup

warm water

3/4

cup

coconut flour

1 1/2

teaspoons

baking soda

1

teaspoon

salt

8

whole

eggs

1/2

cup

butter or coconut oil

soft or melted
Instructions
Preheat oven to 350° F. Grease a bread pan.

**SEE UPDATE IN RECIPE NOTES** Mix psyllium and warm water together in a small bowl. Set aside to gel. Combine the remaining dry ingredients in a second bowl. Mix the egg and oil in a third bowl.

Combine the egg and oil with the dry bowl. Stir well. Add the psyllium. Transfer to a food processor or use an electric mixer to blend again thoroughly.

Transfer dough to the bread pan. Smooth the top.

Bake for 60 minutes, until the top is browned and a knife comes out clean after being inserted in the center.

Remove from the oven. Leave to cool in the bread pan for 15 minutes. Loosen the edges with a knife and release the loaf from the pan. Place on a wire rack to cool completely before slicing.
Notes
**UPDATE**
You can follow the same recipe as above without premixing the psyllium and water. Make a bowl of all the dry ingredient and make a second bowl of all the wet. Combine the two bowls and transfer into a greased bread pan. Bake as usual. This will help avoid any odd clumping with the psyllium and ensure the batter is evenly mixed. (11/9/17)
If the bread rises and then collapses in on itself, it needs to bake for 15 minutes more.
Nutrition
Calories:
87
kcal
|
Carbohydrates:
6
g
|
Protein:
1
g
|
Fat:
7
g
|
Saturated Fat:
4
g
|
Cholesterol:
17
mg
|
Sodium:
311
mg
|
Fiber:
5
g
|
Sugar:
1
g
|
Vitamin A:
177
IU
|
Calcium:
2
mg
|
Iron:
1
mg
Pin it for Later:
Save
Save
Save