Sandwich a creamy tuna spread with avocado and melted cheese between two pieces of crispy, buttery ketogenic bread slices and I'll be over for lunch anytime!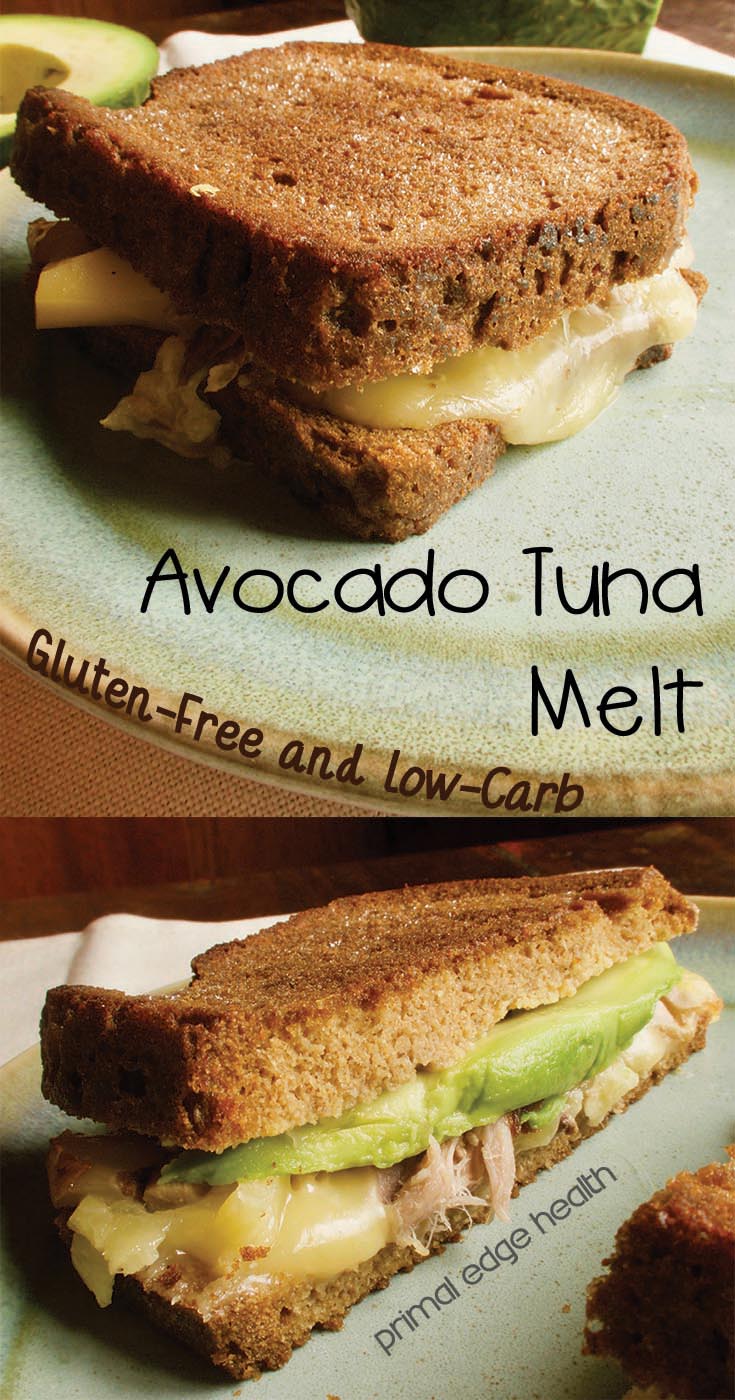 Canned fish is a quick and easy high protein addition for many types of meals on a keto diet. I like having canned fish (salmon, sardines, mackerel, and tuna) stored in the pantry to add into omelettes, quiches, frittatas annnnnd sandwiches!
My All-Purpose Keto Bread makes 16 thin slices, enough for me to make a sandwiches for a few days in a row or make a meal for everyone and freeze half the loaf for another time. The bread freezes well and thaws quickly. I always pre-slice the bread before freezing so it thaws faster and I can separate a few pieces at a time.
Glorified Grilled Cheese?
An avocado tuna melt is really a fancy, supercharged grilled cheese sandwich. You follow the basic principles of pan-frying butter bread until it is crispy and delicious on the outside and stuff the inside with avocado, a creamy tuna mixture and lettuce, tomato and broccoli or alfalfa sprouts, mustard, olive oil mayonnaise, etc as you see fit.
Recipe Suggestion: Keto Grilled Cheese
Many different types of cheese are suitable for sandwiching between slices of low-carb ketogenic bread. I like smoked mozzarella and raw milk cheddar. Other cheeses like Colby, pepper Jack, muenster, Parmesan or provolone also work. As long as it melts, it should be good!
Shopping Suggestion: Raw Milk Cheese from US Wellness
Low Mercury Tuna Fish
US Wellness supplies canned tuna sourced from a North Pacific fishery which specializes in using small boats that line-catch individual tuna using the sustainable troll method. This type of albacore has low mercury content and has been categorized as a "Best Choice" by the Monterey Bay Aquarium. A 6-ounce can from US Wellness contains 12 g fat, 0 g carb and 48 g protein.
Shopping Suggestion: Wild Sustainable Fish
For a "fish free" melt idea, use this Keto Buffalo Chicken Salad Spread instead!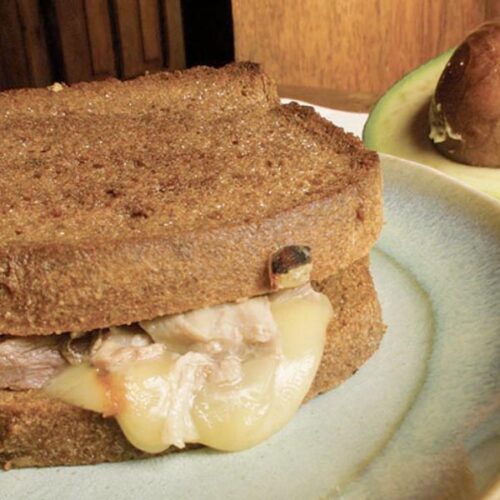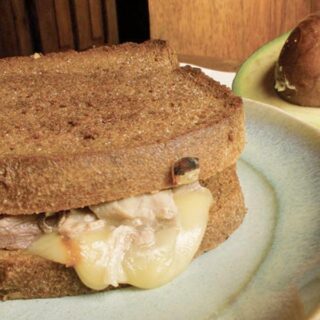 Avocado Tuna Melt (Gluten-Free, Keto, Low-Carb)
Crispy bread sandwiches gooey cheese, avocado and tuna fish.
Instructions
Lightly butter one side of each piece of bread. Pan fry one piece in a skillet over medium heat.

1 teaspoons butter,

4 pieces The BEST All-Purpose Keto Bread

Make a quick tuna salad mixture by combining the tuna with mayonnaise or yogurt, garlic, dulse, salt and pepper. Spread over the first pieces of bread. Top with slices of avocado and then cover with a slice of cheese. Place the remaining bread on top. Press down and once the bottom piece is melted, flip and cook the second side until the cheese is melted.

1 can Wild-caught albacore tuna,

2 teaspoons mayonnaise,

1 tablespoon roasted garlic,

1 teaspoon raw apple cider vinegar,

1 teaspoon dulse flakes,

1/2 teaspoon salt,

1/4 teaspoon ground black pepper,

1 whole avocado,

2 slices cheese

Serve warm, slice in half if desired.

For an open faced sandwich: prepare the sandwiches in the same way. Leave off the second piece of bread. Cook the sandwiches until the bottom is golden. Turn the oven broiler on high, place the sandwiches on a baking sheet and put in the oven. Broil for

2 minutes

or until cheese is melted and bubbling. Remove from the baking sheet and serve warm.
Notes
Note on the avo: I fit 1/4 of an avocado on each sandwich then divide the remaining 1/2 of avocado on the serving plate.
Nutrition & Macros
Calories:
622
kcal
Carbohydrates:
16
g
Protein:
36
g
Fat:
50
g
Saturated Fat:
8
g
Sodium:
1009
mg
Fiber:
9
g
Net Carbohydrates:
7
g
To obtain the most accurate representation of the nutritional information in a given recipe, please calculate the nutritional information with the actual ingredients and amounts used, using your preferred nutrition calculator. Under no circumstances shall the this website and the author be responsible for any loss or damage resulting for your reliance on the given nutritional information.
Made this? Leave a Rating! ⭐⭐⭐⭐⭐
Tag a photo with @Primal_Mom and #PEHRecipe on Instagram to share with us!
This is one of many great low-carb 30 minute meals you can enjoy for lunch any day of the week!
Looking for the perfect side to pair with this sandwich? Try these Golden Jicama Fries from Real Balanced. Got leftover avocado? Here is another delicious recipe for Bacon Tomato Avocado Cucumber Boats!