Sandwich a creamy tuna spread with avocado and melted cheese between two pieces of crispy, buttery ketogenic bread slices and I'll be over for lunch anytime!
Canned fish is a quick and easy high protein addition for many types of meals on a keto diet. I like having canned fish (salmon, sardines, mackerel, and tuna) stored in the pantry to add into omelettes, quiches, frittatas annnnnd sandwiches!
My All-Purpose Keto Bread makes 16 thin slices, enough for me to make a sandwiches for a few days in a row or make a meal for everyone and freeze half the loaf for another time. The bread freezes well and thaws quickly. I always pre-slice the bread before freezing so it thaws faster and I can separate a few pieces at a time.
Recipe Suggestion: The BEST All-Purpose Keto Bread
Let me show you my favorite recipes for FREE!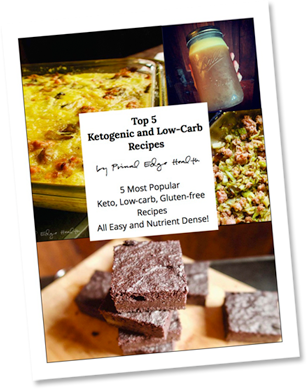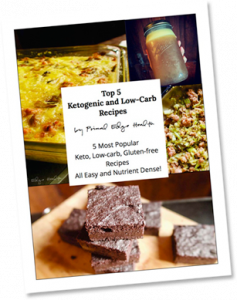 Sign up to get my new recipe ebook
This post may contain affiliate links. Primal Edge Health LLC may receive a small commission at no extra cost to you for any orders made through these links. All thoughts and opinions are our own and we never promote something we wouldn't use ourselves.
Glorified Grilled Cheese?
An avocado tuna melt is really a fancy, supercharged grilled cheese sandwich. You follow the basic principles of pan-frying butter bread until it is crispy and delicious on the outside and stuff the inside with avocado, a creamy tuna mixture and lettuce, tomato and broccoli or alfalfa sprouts, mustard, olive oil mayonnaise, etc as you see fit.
Recipe Suggestion: Keto Grilled Cheese
Many different types of cheese are suitable for sandwiching between slices of low-carb ketogenic bread. I like smoked mozzarella and raw milk cheddar. Other cheeses like Colby, pepper Jack, muenster, Parmesan or provolone also work. As long as it melts, it should be good!
Shopping Suggestion: Raw Milk Cheese from US Wellness
Low Mercury Tuna Fish
US Wellness supplies canned tuna sourced from a North Pacific fishery which specializes in using small boats that line-catch individual tuna using the sustainable troll method. This type of albacore has low mercury content and has been categorized as a "Best Choice" by the Monterey Bay Aquarium. A 6-ounce can from US Wellness contains 12 g fat, 0 g carb and 48 g protein.
Shopping Suggestion: Wild Sustainable Fish from US Wellness
★ FOLLOW PRIMAL EDGE HEALTH on INSTAGRAM, PINTEREST and FACEBOOK for more low-carb, ketogenic recipes and diet tips!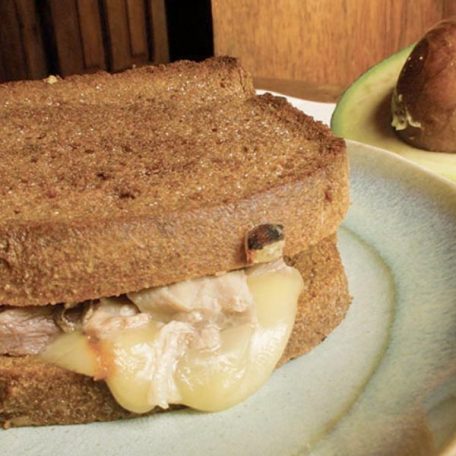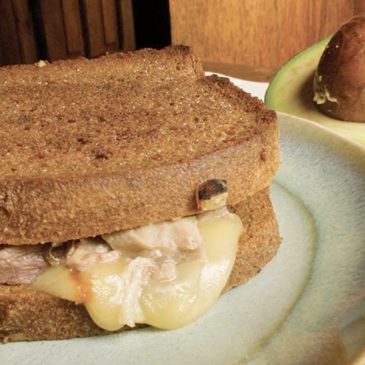 Avocado Tuna Melt (Gluten-Free, Keto, Low-Carb)
Crispy bread sandwiches gooey cheese, avocado and tuna fish.
Print
Rate
Instructions
Lightly butter one side of each piece of bread. Pan fry one piece in a skillet over medium heat.

Make a quick tuna salad mixture by combining the tuna with mayonnaise or yogurt, garlic, dulse, salt and pepper. Spread over the first pieces of bread. Top with slices of avocado and then cover with a slice of cheese. Place the remaining bread on top. Press down and once the bottom piece is melted, flip and cook the second side until the cheese is melted.

Serve warm, slice in half if desired.

For an open faced sandwich: prepare the sandwiches in the same way. Leave off the second piece of bread. Cook the sandwiches until the bottom is golden. Turn the oven broiler on high, place the sandwiches on a baking sheet and put in the oven. Broil for 2 minutes or until cheese is melted and bubbling. Remove from the baking sheet and serve warm.
Notes
Note on the avo: I fit 1/4 of an avocado on each sandwich then divide the remaining 1/2 of avocado on the serving plate.
Macros and Nutrition
Nutrition Facts
Avocado Tuna Melt (Gluten-Free, Keto, Low-Carb)
Amount Per Serving
Calories 622
Calories from Fat 450
% Daily Value*
Fat 50g77%
Cholesterol 67mg22%
Sodium 1009mg44%
Potassium 180mg5%
Carbohydrates 16g5%
Protein 36g72%
Vitamin A 391IU8%
Vitamin C 1mg1%
Calcium 224mg22%
Iron 2mg11%
* Percent Daily Values are based on a 2000 calorie diet.
Pin it for later: