Keto Chicken Soup Recipes are always family favorites once the weather turns cold. Not only are these soups easy one-pot meals for weekly meal prep, but they are low-carb and budget-friendly too!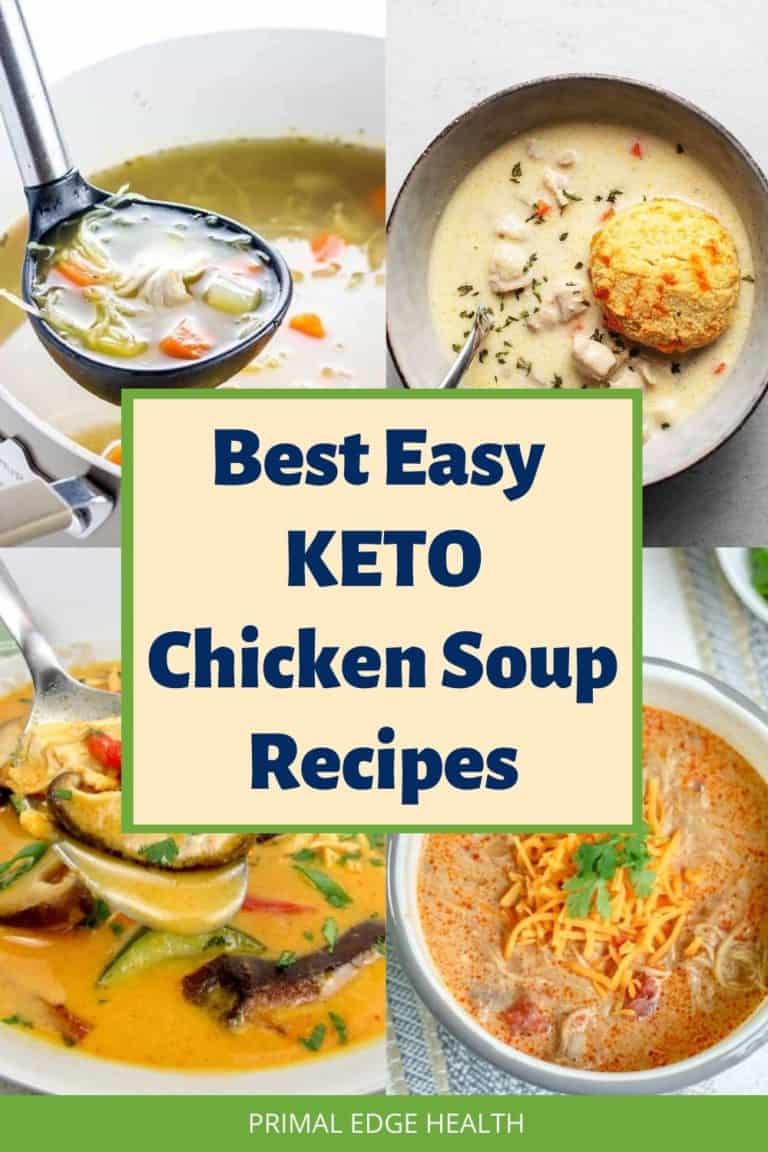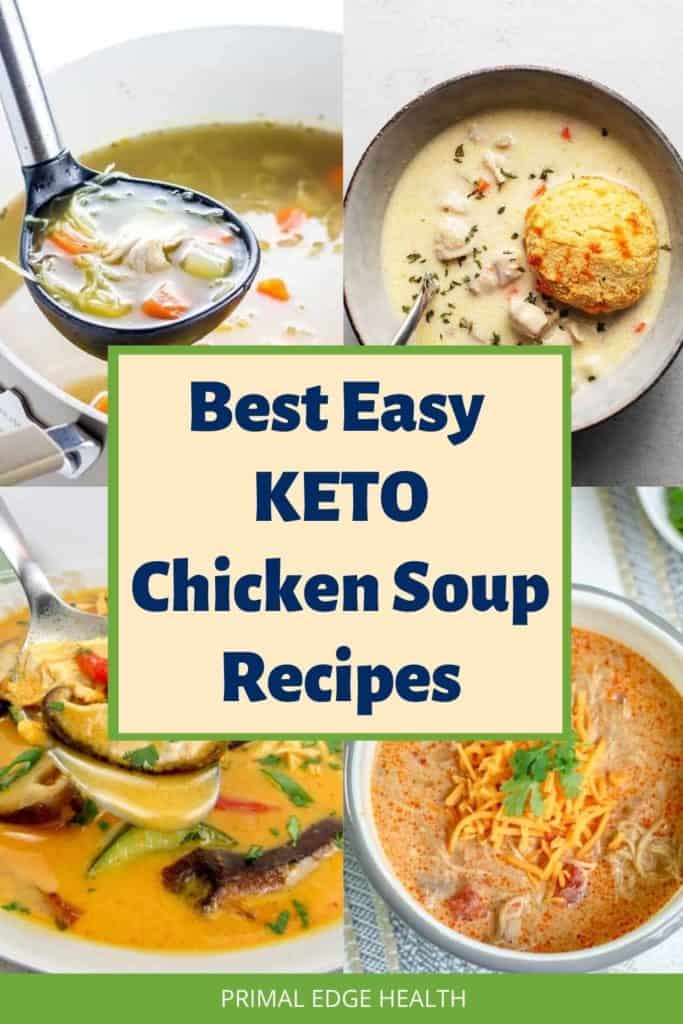 Table of Contents (click to view)
Low-Carb Chicken Soup Recipes
Using quality chicken bone broth makes all the difference in these recipes. There's nothing better than a warming bowl of soup made the old-fashioned way with bone broth.
I'm sure you've heard the age old expression
It rings true for me!
You can make any of these delicious keto chicken soup recipes with homemade chicken broth or store-bought.
If you like shopping online, I highly recommend organic chicken broth by Kettle & Fire. They do a wonderful job at packaging quality broth so it is shelf-stable and will last in your pantry without spoiling until you are ready to use it.
This broth is on my list of keto pantry staples and is always recommended as keto emergency food.
Made with all-natural, organic ingredients, and properly simmered over low heat for a long period of time, it won't disappoint. I have yet to find a better option for ready-made broth on the market!
Read my Kettle & Fire Review to learn more about my experience with their bone broth.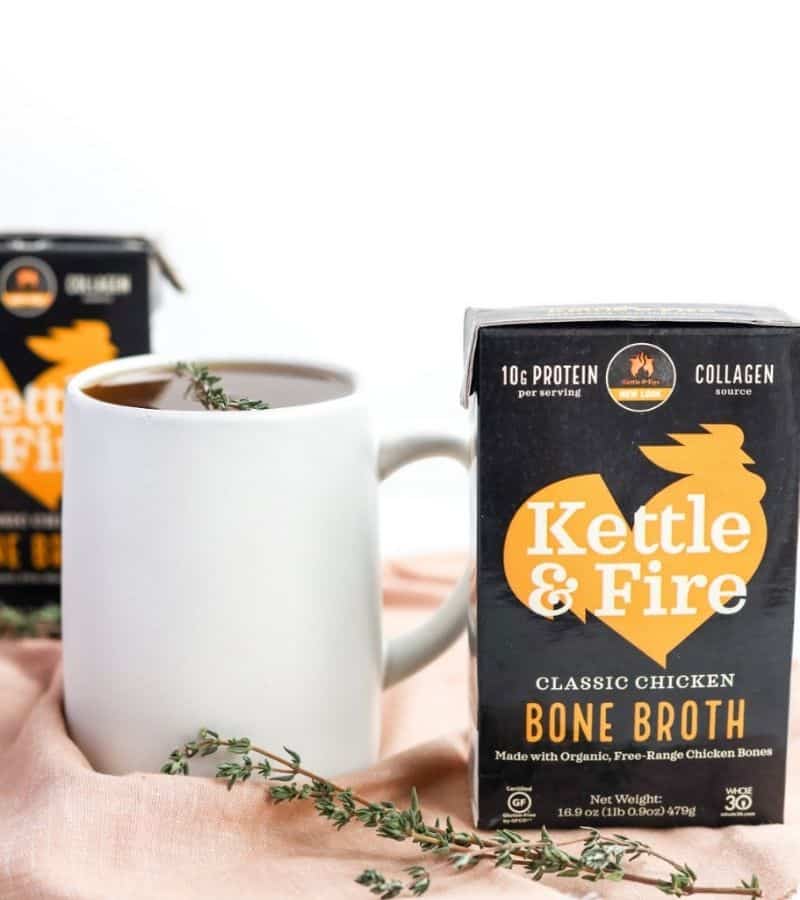 How to Make Keto Chicken Soups
My weekly trip to the farmer's market provides all the inspiration, poultry, and vegetables I need for making a big pot of chicken soup. There are so many delicious ways to prepare chicken soup, from spicy Mexican and savory Thai to thick and creamy. Seasonal ingredients usually dictate the type of soup I make.
To start, I pop my chicken and herbs in the crockpot and get the broth going. Although a quicker method uses store-bought bone broth with rotisserie chicken, I like the from-scratch approach when time allows.
It takes about half an hour to shred or cube the chicken meat and dice the vegetables to make the soup. I prefer shredding just chicken breasts for my soup and reserving chicken thighs in the freezer for another meal.
Preparing chicken soup on a Saturday is a perfect way to set up my family for the week. I make enough to get two meals out of one pot. Plus, it's my go-to meal if someone has a cold or a runny nose.
Chicken soup is as nourishing as it is practical. Once you get into the rhythm of cooking chicken soup for the family, you'll see it's the perfect keto meal.
Main Ingredients for Keto Soup Recipes with Chicken
Chicken
Chicken stock or broth
Vegetables
Herbs
Spices
Homemade Chicken Keto Soup FAQ and Tips
If cooking chicken soup or eating a keto diet is new to you, I understand you might have some questions! So let me address these common queries and see if I can help clarify.
Can I have chicken soup on keto?
You sure can have chicken soup on keto, provided that it's gluten-free and low-carb. All the recipes here are safe for you to make because there are no hidden starches, sugar, or noodles.
How many calories are in homemade chicken soup without noodles?
My keto noodle soup has 218 calories per serving. Since the recipe is low-carb, we save significant calories by omitting wheat-based noodles. Instead, zucchini noodles, also called "zoodles" make a great replacement.
How many carbs are in homemade chicken noodle soup?
Homemade chicken noodle soup will have too many carbs for a keto diet. However, with these healthy low-carb alternatives, you'll never miss this comfort food because there are so many other choices that are just as delicious as traditional chicken noodle soup, if not more so!
How long can chicken soup stay in the fridge?
Chicken soup keeps about 3 to 5 days in the fridge. You'll get the best results by storing it in an airtight container within 2 hours after serving. For longer storage, freezer for 3 months in an airtight container or freezer bag. Then, thaw the soup overnight in the fridge or place it in a warm water bath for an hour or so. Reheat on the stovetop before serving. If there is an odd or sour smell, the soup might be spoiled and should be discarded.
What to Serve with Keto-Friendly Chicken Soup
Chicken soup might be enough as a stand-alone dish. However, I have some ideas if you want some extras or are stretching leftovers.
8 Keto Chicken Soup Recipes
Each of these ketogenic soup recipes is sure to be a hit! Serve a recipe for dinner and save the leftovers for lunch the next day.
This post was originally published on Dec 29, 2017, and later republished on Sept 9, 2020.
More Keto Soup Recipes
For even more meal prep ideas, check out this collection of Unique & Tasty Keto Soups and Chowders.