The base of a low-carb egg drop soup is a mixture of three basic ingredients – eggs, broth, and salt. Keep it simple if you like carnivore diet recipes or add extra flavors like ginger, anise seed, cinnamon, black pepper, chili peppers, scallions or garlic chives for something more keto style.
This is a quick and easy recipe you can make any time on a keto diet or carnivore diet!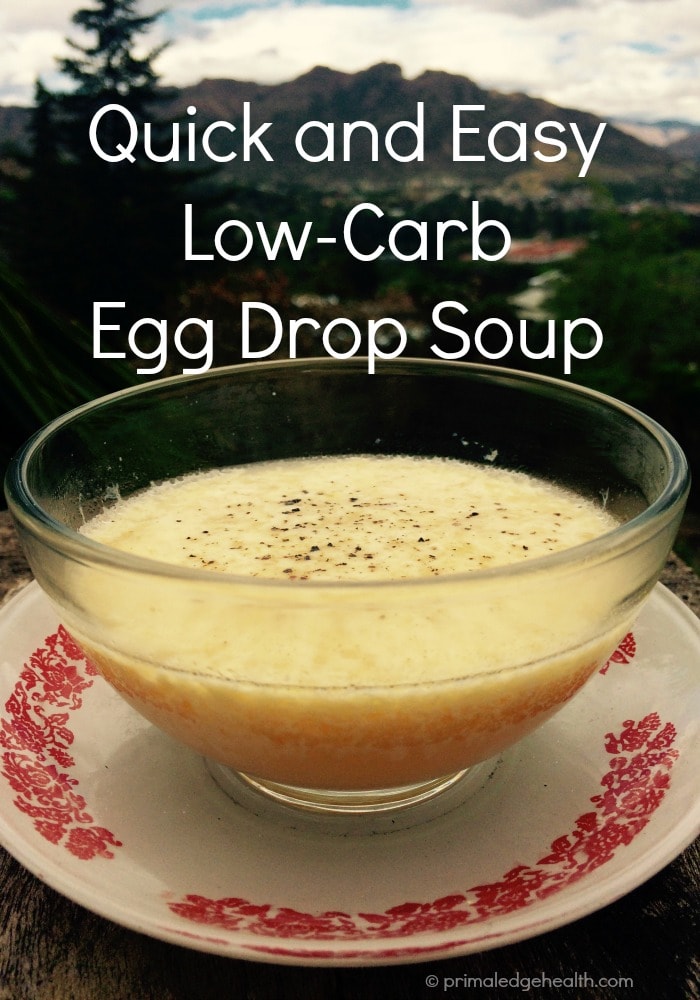 Egg drop soup is a traditional dish from Chinese culture. The original recipe is naturally low-carb, however some people suggest adding a starch in to thicken the broth. I find this is completely unnecessary; starch doesn't add more flavor or nutrition (for a keto dieter).
It is extremely quick and easy to make an low-carb egg drop soup. Simply infuse the broth with flavor and finish by adding a slow, steady stream of whisked egg while the broth is stirred in a circular motion. Season with salt and pepper and serve warm – violaaaa… perfect for breakfast, lunch, or dinner.
The combo of bone broth, eggs, and a few spices is exactly what I want when I make keto carnivore recipes – simple, meat-based, and loads of flavor.
If you follow a strict carnivore diet, you might prefer an ultra-simple Carnivore Diet Bone Broth Recipe instead of a Traditional Homemade Bone Broth or Slow Cooker Beef Bone Broth.
Carnivore Stroganoff is another carnivore approved dinner idea you might like!
This low-carb egg drop soup is kid approved!
Our four-year-old chows this soup. She prefers it plain, seasoned with just salt and pepper.
This is a warm and surprisingly filling soup that is my answer to a quick meal anytime. Add in as many eggs as you like, there is no limit here so whatever you need to make your macros is fine. I love the combination of broth with a pinch of salt and tang of coconut aminos. There is something undeniably comforting about holding a bowl of this soup.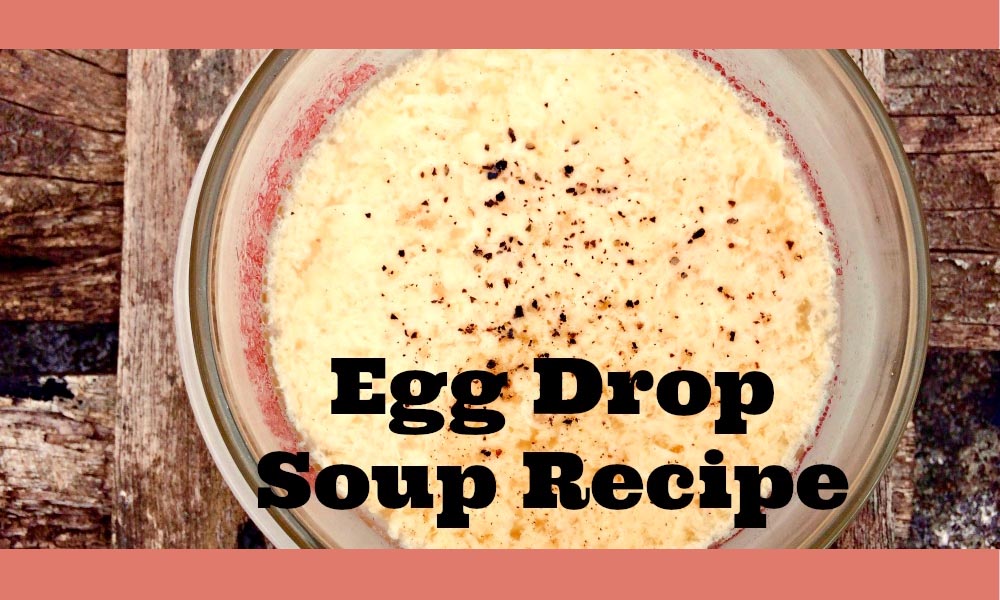 What are Coconut Aminos?
Coconut aminos is a liquid, non-soy replacement for soy sauce. It is made from aged coconut sap, blended with a mineralized salt. This is a great product to replace the traditional soy based sauce. It is gluten-free and organic. The coconut aminos we recommend contains 17 amino acids, vitamin C and broad spectrum B vitamins. Coconut Secret explains:
Many soy sauces on the market are fermented by first soaking the soybeans in water and salt, and then adding specific cultures of molds, yeasts and bacteria to help catalyze the fermentation process. Coconut Amino is made from coconut tree sap, which comes right out of the tree so that vital, active and alive nutrients are blended with sun dried mineral-rich sea salt and aged, without the need for a fermentation booster or added water.
If you don't have coconut aminos, you can make my Keto Soy Sauce instead!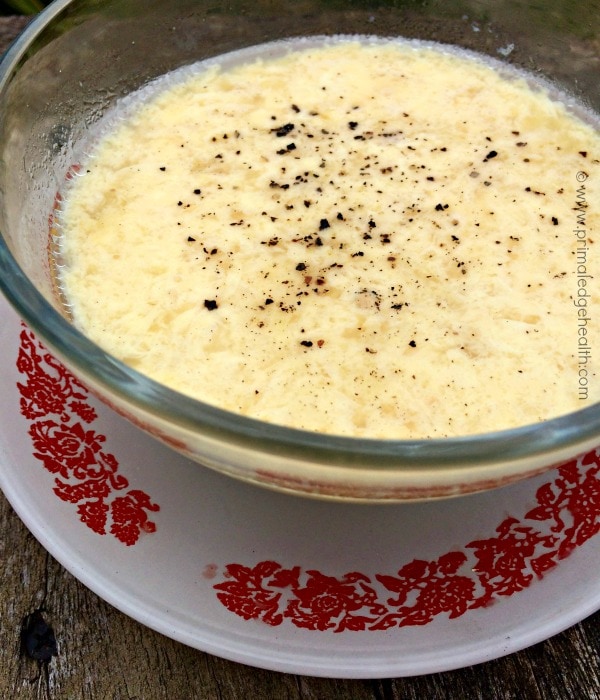 More Asian Keto Recipes
Homemade keto Asian recipes are the way to go if you want to still eat all your favorite take-out dishes but avoid the carbs.
I'll suggest some easy stir fry recipes to get you started:
Looking for an organic shelf-stable bone broth to keep in your pantry? Read my Kettle & Fire Bone Broth Review to learn why they are my top pick for ready-made bone broth!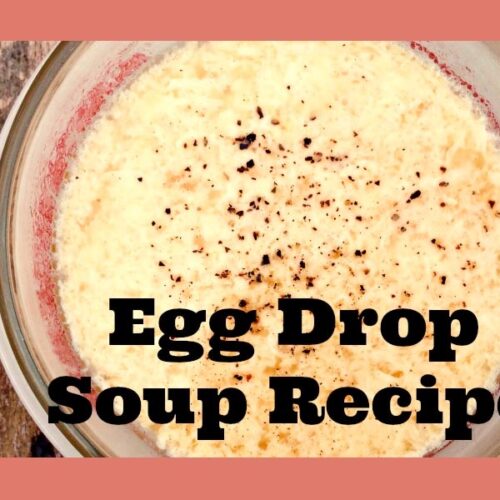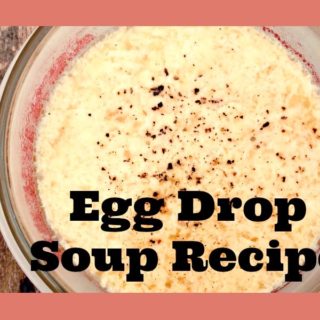 Quick and Easy Egg Drop Soup
A nourishing soup for breakfast, lunch, or dinner, this Quick and Easy Egg Drop Soup is a great low carb and keto meal. Put this warming dish together with just a few simple ingredients you probably already have on hand.
Instructions
Warm broth in a small saucepan over medium heat.

Whisk eggs in a bowl. Add ginger powder and mix well.

Once little bubbles begin to rise in the broth, just before boiling, stir in a circular motion and slowly pour in the whisked eggs.

Leave to cook for one minute, or until eggs are done to your liking.

Pour into a serving bowl, season with coconut aminos, salt and pepper and the optional chili flakes. Taste and adjust as needed.
Notes
Add fats as needed, serve with coconut oil melted in or with an avocado and greens on the side.
Nutrition & Macros
Calories:
140
kcal
Carbohydrates:
4
g
Protein:
20
g
Fat:
15
g
Saturated Fat:
1
g
Sodium:
821
mg
Fiber:
1
g
Net Carbohydrates:
3
g
To obtain the most accurate representation of the nutritional information in a given recipe, please calculate the nutritional information with the actual ingredients and amounts used, using your preferred nutrition calculator. Under no circumstances shall the this website and the author be responsible for any loss or damage resulting for your reliance on the given nutritional information.
Made this? Leave a Rating! ⭐⭐⭐⭐⭐
Tag a photo with @Primal_Mom and #PEHRecipe on Instagram to share with us!
Loving soup recipes right now? Try this Avocado Soup for the ultimate in nourishing flavor.