Bone broth is used for many easy keto recipes and carnivore diet recipes but say you aren't so sure about leaving your stove on all day (and night) or have an electric stove that actually shuts off after a certain number of hours.
No problem.
Enter: the slow-cooker. Sure it takes up valuable counter space, but it's work is worth the sacrifice of elbow room. Like almost all slow cooker recipes, crock pot bone broth is easy to master!
When choosing a crock pot, I would opt for a non-digital design that will not emit EMF and potentially alter the food and home environment. It may seem a bit old school, but that's just how we are.
US Wellness Meats sells quality grassland meat products – Shop with them Online!
What kind of bones?
Grass-fed beef, goat, lamb, mutton bones or free-range, organic chicken (or other fowl like turkey, duck, or guinea fowl) bones
Meaty bones, marrow bones and/or knuckle bones from the ruminants listed above or save the bones/carcass after roasting a whole chicken, pick the meat for dinner and simmer the bones for broth
Feet (halved and cut across the bone) and tails are nice add-ins also. Some places sell bunches of chicken feet, check with your local Ethnic Market (specifically Asian and Mexican Grocers)
Choose one animal – don't mix and match.
Go to your local farmers market and do some recon to see if any one knows of local sources you can buy grass-fed bones from (while you're shopping from bones, think about liver and heart too…). If you have my cookbook, The Ketogenic Edge Cookbook, use the various resources listed in "Directories for Sustainably Produced Food" in Chapter Two: Purity of the Elements.
If you are looking for an online source, check out US Wellness Meats (they ship to Canada too!).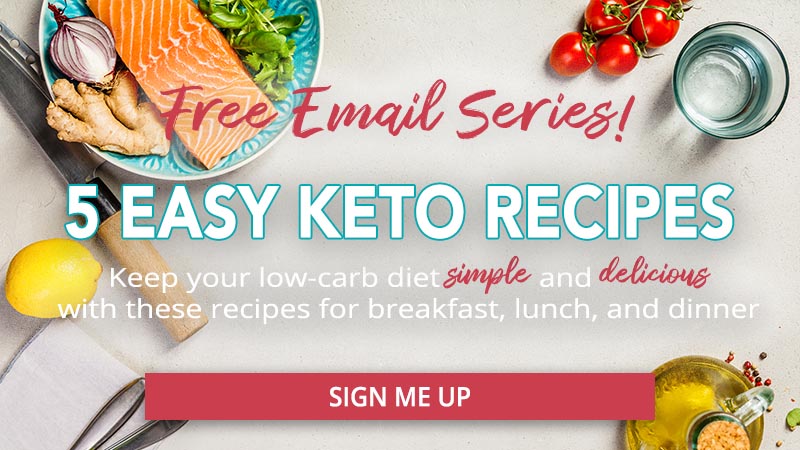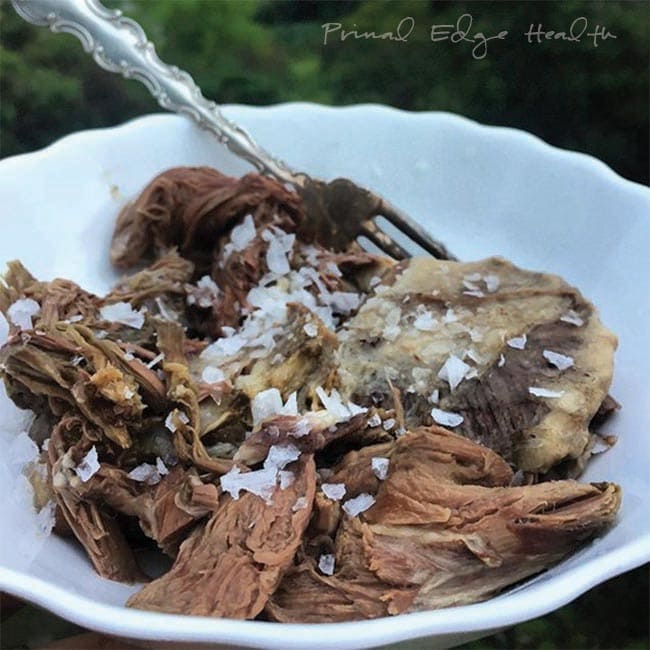 Veggies are optional
Some people like the added flavor of carrots, celery, onion and parsley. These are the classic add-ins to a pot of broth. You can also toss in a clove or two of garlic and fresh oregano and/or rosemary sprigs. It is completely optional, the decision is up to you if you want the veggie and herb flavor or not.
If you're using a carnivore diet to rest your health, keep it simple and skip the plants. Follow my Carnivore Diet Bone Broth Recipe instead.
Honestly, I keep it ultra simple and just cook the bones in water. It makes it easier to pick out the meat and add it to a plate of eggs for breakfast. Slow-cooked meat is one of my favorite meals. For me, the simplicity of soft meat swimming in grass-fed butter with a liberal sprinkle of one of my favorite types of mineral rich salt cannot be beat! I posted this simple keto breakfast meal on instagram and based on the all the comments – we're on the same page!
Want Never Ending Broth?
Use this technique for Endless Homemade Bone Broth. To adapt the recipe for a slow cooker, you follow the same steps but use a crock pot instead of a stock pot. It couldn't be easier!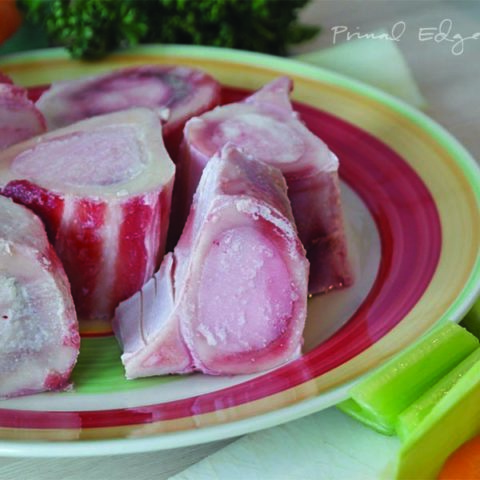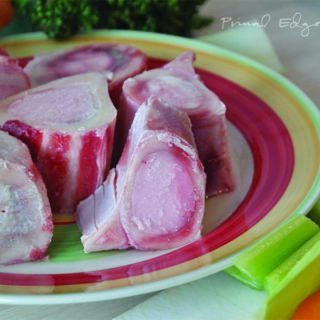 Crock Pot Bone Broth
Make this easy keto staple in your crock pot with minimal prep and clean up. Set it and forget it, until you start smelling your golden and delicious prize within!
Instructions
Place your bones in the slow-cooker. Submerge completely with clean, filtered water. Add the vinegar or citrus juice. The bones should fill up about 3/4 of the slow-cooker. Leave at least 1-inch of room from the water line to the top of the crock pot. You can easily adjust this recipe to the size of your slow-cooker, just add more or less material.

Put the lid on and turn on the crock pot. If this is your first time, keep an eye on the water line just to make sure it doesn't evaporate off too quickly. Cook on low for 24 to 72 hours.

If you like the added flavor of herbs and vegetables, chop one big carrot, an onion and some celery. Rinse 1/4 cup of parsley. Add these ingredients to the crock pot in the last hour or two of cooking time. This step is optional, do it if you want.

Once the broth is done, let it cool first before transferring to mason jars or other storage containers. Skim off the top layer if you see one, sometimes there is a thin crunchy layer floating on top. Use a fine mesh strainer or a cheese cloth to filter out your luscious liquid from the bones, meat, and odd bits (your dogs are sure to come running in hopes of catching scraps). Reserve the meat aside, this is great for adding into omelettes, wraps, or just eating as is.

After cooling or chilling in the fridge, the fat will solidify. This is called tallow, it rises to the top. You can scoop it out and use it as cooking fat or feed it to your animals.

Bone broth keeps in the fridge for up to one week. I think it is ideal to consume it within 3-5 days. If you wish to store it for a longer period, put it in freezer safe containers and freeze it for months.
Notes
Bone broth does not have a complete amino acid profile, and therefore is not a complete protein. We do not count the protein found in bone broth toward daily macro intake. Any tallow consumed with the broth should be counted. Tallow has 14 g of fat per tablespoon.
Nutrition & Macros
Calories:
3
kcal
Carbohydrates:
1
g
Sodium:
1
mg
Potassium:
11
mg
Sugar:
1
g
As featured in 62 Recipes for the Carnivore Diet.
Interested…but not quite ready to make it yourself?
You can stock you pantry with high-quality beef and chicken broths made from 100% organic ingredients. Kettle and Fire makes the only shelf-stable bone broth without a bunch of preservatives and stabling agents. I thought it was too good to be true, until I tried their broth myself! They are the real deal!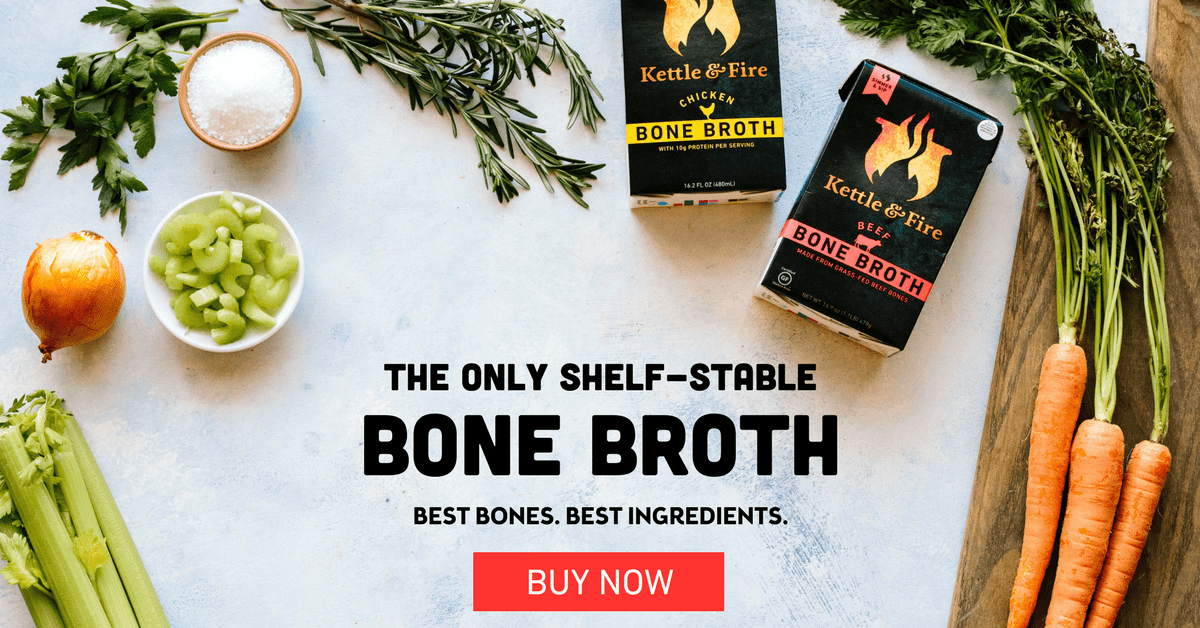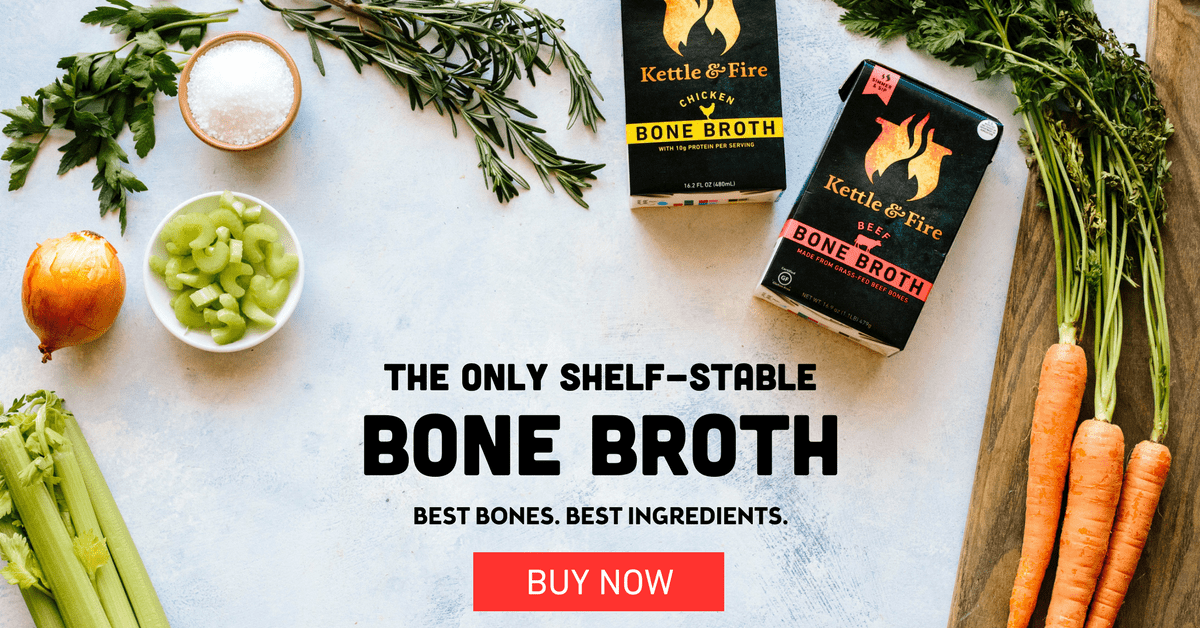 Enjoy maximizing nutrient density in your daily diet?

It is a great kitchen resource and inspiration for low-carb, ketogenic, and paleo cuisine!
Available only in our shop – come and support our work!
Check out the free preview here.