Slow cooker beef bone broth is an easy, hands free way to make bone broth in your own kitchen. Add beef and low carb vegetables to a crock pot, step back and wait while your nutrient dense liquid cooks.
Add bone broth to keto soups, stews, sauces, or sip on it hot straight from a mug. It's a warming, comforting, and nutritious food to enjoy on any day of the year.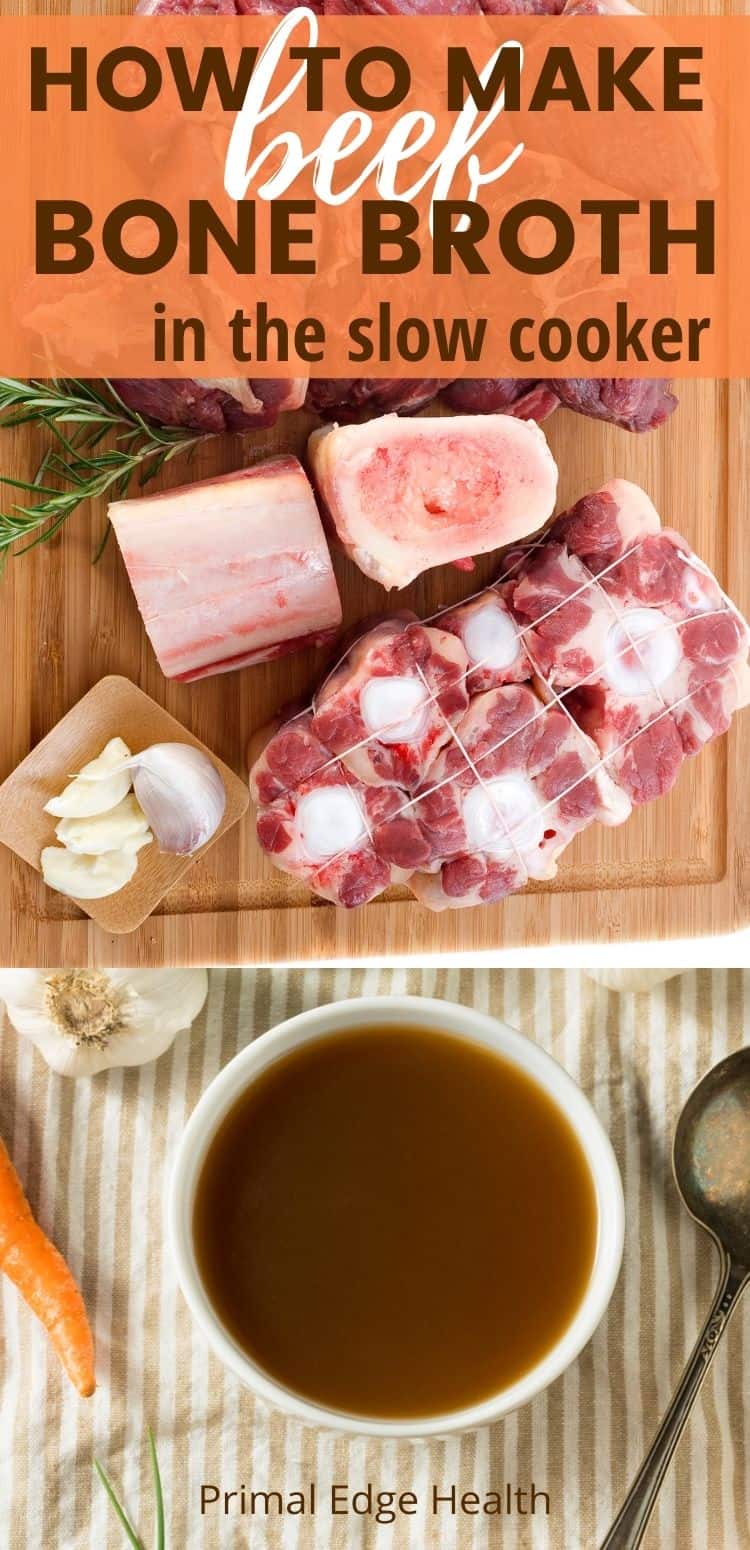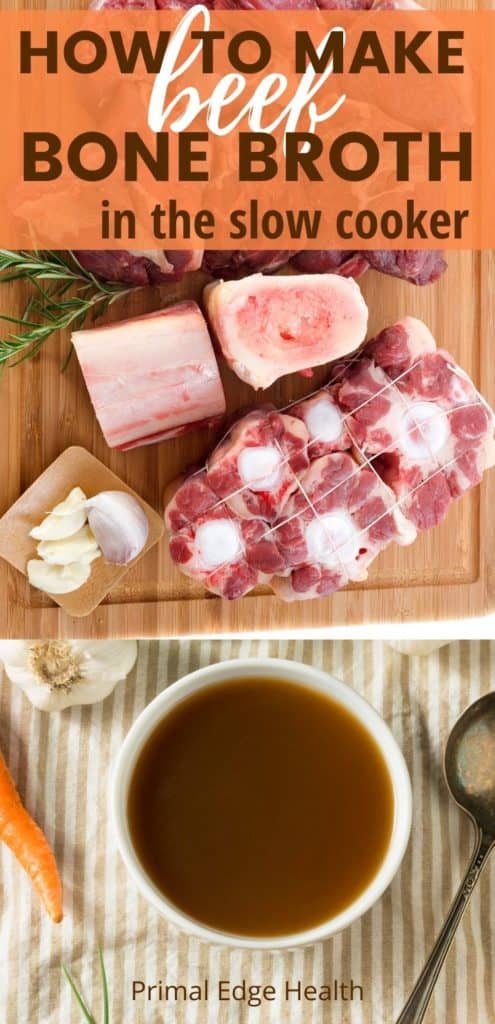 Table of Contents (click to view)
Is it Healthy to Drink Bone Broth?
I think it is safe to say that bone broth is one of the fastest-growing health trends over the last few years.
Made from bones and odd bits like tail and feet, bone broth is a resourceful way to use all parts of the animal and let nothing go to waste.
Being economical and utilitarian with the food we have available is one of the reasons my family eats nose to tail and enjoy organ meats regularly. Not only is it budget-friendly, but there are other important benefits of organ meats too.
While I realize bones aren't organs, normalizing bone marrow and working with these parts of the animal are a stepping stone in that direction.
You'll see beef tallow rise to the top of your broth, have bits of collagen and sinew floating in your pot, and sooner or later come to appreciate the nutritional depth animal foods have to offer us. (1, 2)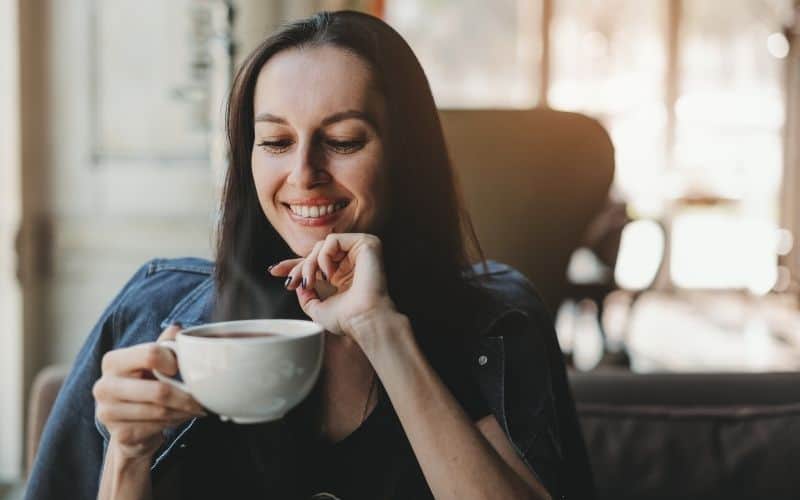 Is it Ok to Drink Bone Broth Every Day?
Bone broth is a healthy option for many diet types. From paleo to the keto diet, Whole30 to AIP, and the carnivore diet to GAPS, we see many wellness types promoting and celebrating the benefits of bone broth.
If you fall in love with bone broth and want to drink it every day, you certainly may.
This is a whole food, made from scratch. If you are a recovering vegetarian or ex-vegan, you might have a wild craving for broth. Include broth liberally in your diet as a way to remedy the period of time you were undernourished and nutrient deprived.
I do have a Carnivore Bone Broth recipe made entirely from animal foods, so if you prefer to omit the plant-based ingredients, you can. Otherwise, add this recipe to your collection of keto carnivore recipes!
Broth is great in the morning as a healthy alternative to coffee. Many people enjoy swapping out their morning Joe for bone broth instead.
What is the Best Slow Cooker for Bone Broth?
Making beef bone broth in the slow cooker is a great idea for many reasons.
It's easy to cook in.
Clean up is a breeze.
You don't need to have the stove on all day long.
Broth can safely simmer while you're out of the house.
I recommend a simple, old-fashioned slow cooker. Personally, I skip in the digital and "smart" designs that can potentially emit EMF.
Make sure the inner pot is pure ceramic. This is that part that touches your food so it's important that it is completely non-toxic and food grade quality. The best quality slow cookers have an outer appliance made from aluminum or stainless steel.
When shopping around, consider all your needs. It's likely you will cook other things in this slow cooker too.
Consider the following points as you make your decision:
What size is best for your family?
What style fits best with your kitchen?
Is the model you are looking at versatile?
Is the slow cooker easy to transport?
Does the inner pot double up as a storage container with a secure lid?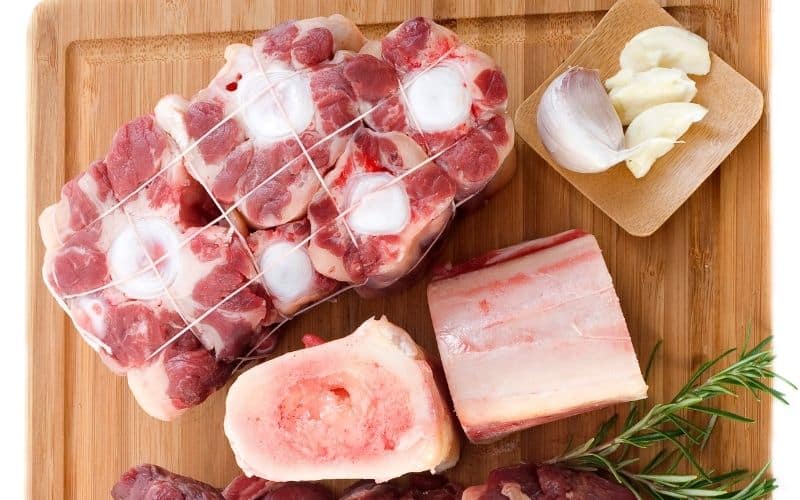 How to Make Beef Bone Broth in a Slow Cooker
I learned how to make beef bone broth on the stovetop and usually follow that recipe.
However, the pot I use isn't always available since that is what I use for cheesemaking too. Other times, the stove is already full and there's no room for another pot.
It's nice to have an alternative method so knowing how to make beef bone broth in a slow cooker is useful too.
The procedure is very similar to the stove top method with just a few notable differences.
Roast the bones.
Place vegetables and herbs in the slow cooker.
Arrange the bones over the vegetables.
Fill with water until all ingredients are completely submerged.
Stir in vinegar.
Cook on low for at least 18 hours.
Strain. Store liquid in the fridge or freezer until you are ready to use it.
How Long to Cook Beef Bone Broth in a Slow Cooker?
The key to any good broth is cooking it for a long period of time, over low heat.
In most cases, the longer you cook beef bone broth in a slow cooker, the better.
You will see it become darker as the minerals are extracted from the bone material over time.
There's no doubt broth is delicious and useful at any stage but if you pull it too early, you'll end up with something closer to stock or broth than a true bone broth.
Set the slow cooker for at least 18 hours and leave it for up to 48 hours.
I tend to strain the broth after 24 hours, probably because it is convenient for me to make broth in the morning and then strain it the following day. I know it's cooked long enough and the timing works within my schedule.
If you end up being a broth fanatic, follow my recipe for Endless Beef Bone Broth!
In this approach, we keep the slow cooker on, refill as needed, and never run out of broth.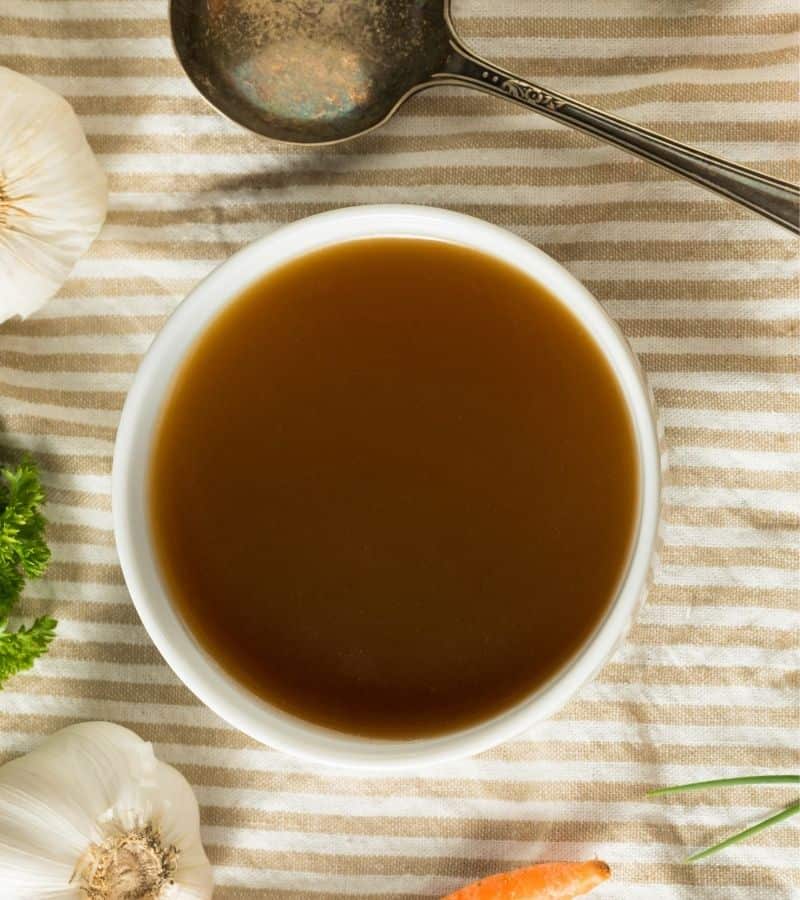 Are Beef Feet Good for Bone Broth?
One of the most amazing ingredients you can add to your broth pot is beef feet. Pick one up from your butcher or local Ethnic grocer, bring it home, and toss it in.
The level of collagen and gelatin in feet is unparalleled.
Organic, pastured, and grass-fed animals will make the best broth. (3)
Depending where you shop, you might be surprised how expensive bones are. Buying from a local rancher is usually the most affordable, ordering from a city-based grocery store is usually the most expensive.
If you're on a budget, look for the best quality you can afford and buy feet, which tend to be cheap.
In the event that no feet are available, use neck bones instead. These bones are full of cartilage, excellent choices for slow cooker bone broth.
Add these to a combination of knuckle bones, joints and meaty bones like oxtail, shank, and short ribs.
Support your local food producers when you can. If you need a suggestion for shopping online, I recommend ordering grass-fed beef bones from White Oak Pastures or US Wellness Meats. Both shops carry high-quality marrow bones, soup bones, feet, and oxtail.
What Happens if Bone Broth Doesn't Gel?
When made correctly, homemade bone broth will firm up and gel once cooled. This is a sign that it is gelatin and collagen-rich.
The most common reason that broth doesn't gel is because you used too much water in proportion to the bones. When the pot is over saturated, the broth won't reduce properly.
The remedy for this is to just follow the recipe directions more carefully next time.
It's possible the broth was cooked at too high of a temperature or for too short of a time.
Maintain a low simmer throughout and make sure to cook for the entire cooking time (beef broth is best cooked for 18-24 hours).
The final thing to check is the type of bones you use. Some types add gelatin while others add flavor and color.
If you are ever in doubt wether or not your bones are gelatin-rich, add a whole of half foot (pata) in your mix. The recipe is guaranteed to gel up nicely!
Don't dump the broth if it hasn't gelled! The liquid is still full of nutrition and great flavor.
If you want to make it gel, add 1 tablespoon of grass-fed beef gelatin per 1 quart of liquid. Stir well to combine and leave to sit in the fridge until it thickens.
Where Can I Buy Bone Broth?
It's great to make your own homemade broth but not everyone has the time or desire.
I know how useful it is to have a few containers of shelf-stable bone broth ready-made so you can pull it out whenever you need it. That's why I include it in my list of best keto pantry staples.
Kettle & Fire offers the best store-bought bone broth that I know about.
They have the only shelf-stable bone broth made with 100% organic ingredients, but without preservatives and stabling agents. I thought it was too good to be true until I tried their broth myself! They are the real deal!
You can buy their bone broth online AND if you use the promo code PRIMALEDGEHEALTH, you'll get 15% off in the checkout.
I wrote a Kettle & Fire Review of my experience and share some specific insights I have about them as a company so you can learn more about them before buying.
Recommended Products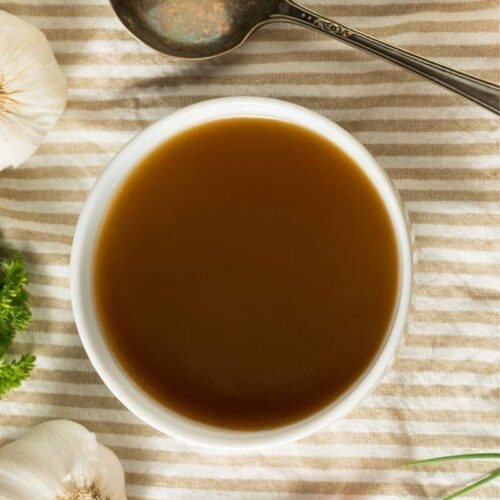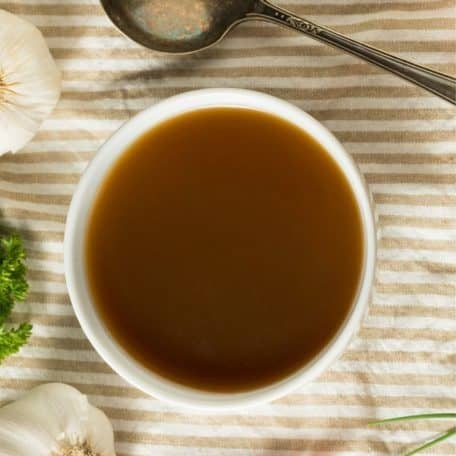 Slow Cooker Beef Bone Broth Recipe
Make this easy Beef Bone Broth recipe in your slow cooker or crockpot. It's a hands off, "set and forget" kind of method which helps busy people make healthy food in their own kitchen.
Equipment
1 (4-6 qt) Slow Cooker

1 Funnel

3 Quart jars
Instructions
Preheat the oven to 350°F (177°C). Placing the bones in a roasting pan or baking dish. Roast for about 20 minutes, until golden brown.

Add all vegetables and herbs to the bowl of the slow cooker. Arrange bones on top of the vegetables. Cover all ingredients with 3 quarts of water or enough to fully submerge bones. Leave about 1-inch of space from the water line to the top of the slow cooker. Stir in the vinegar.

Cover with a lid. Cook on low for 18 to 24 hours.

Skim off any scum that rises to the top. Once cool enough to handle, strain the broth through a strainer and ladle into glass jars for storage.

Bone broth keeps in the fridge for up to one week, best if used in 3-5 days. It will freeze well for up to 3 months.
Notes
Separate any meat you can and save it for a quick prep meal by adding to an omelette or casserole.
Bone broth does not have a complete amino acid profile, and therefore is not a complete protein. We do not count the protein found in bone broth toward daily macro intake. Any tallow consumed with the broth should be counted. Tallow has 14 g of fat per tablespoon.
Nutrition & Macros
Serving:
2
cups
Calories:
16
kcal
Carbohydrates:
3
g
Protein:
1
g
Fat:
1
g
Saturated Fat:
1
g
Sodium:
24
mg
Fiber:
1
g
Net Carbohydrates:
2
g
To obtain the most accurate representation of the nutritional information in a given recipe, please calculate the nutritional information with the actual ingredients and amounts used, using your preferred nutrition calculator. Under no circumstances shall the this website and the author be responsible for any loss or damage resulting for your reliance on the given nutritional information.
Made this? Leave a Rating! ⭐⭐⭐⭐⭐
Tag a photo with @Primal_Mom and #PEHRecipe on Instagram to share with us!
This post was originally published May 24, 2018 and later updated with new images and directions on November 4, 2020.
More Slow Cooked Keto Recipes