Choose one of these healthy alternatives to coffee in the morning and start your day off right! If you're trying to kick the coffee habit or just looking for a new delicious and energizing drink to try, one of these ideas will be for you!
This selection includes hot and cold beverages. There are caffeine alternatives to coffee as well as some caffeine free choices.
This post is sponsored by Mountain Rose Herbs.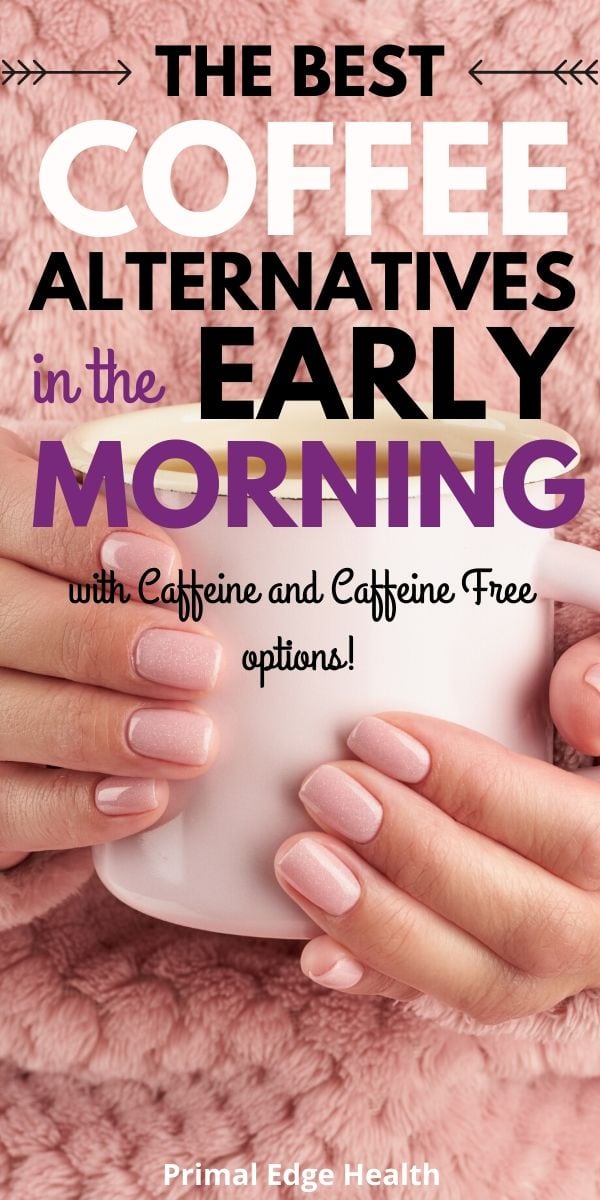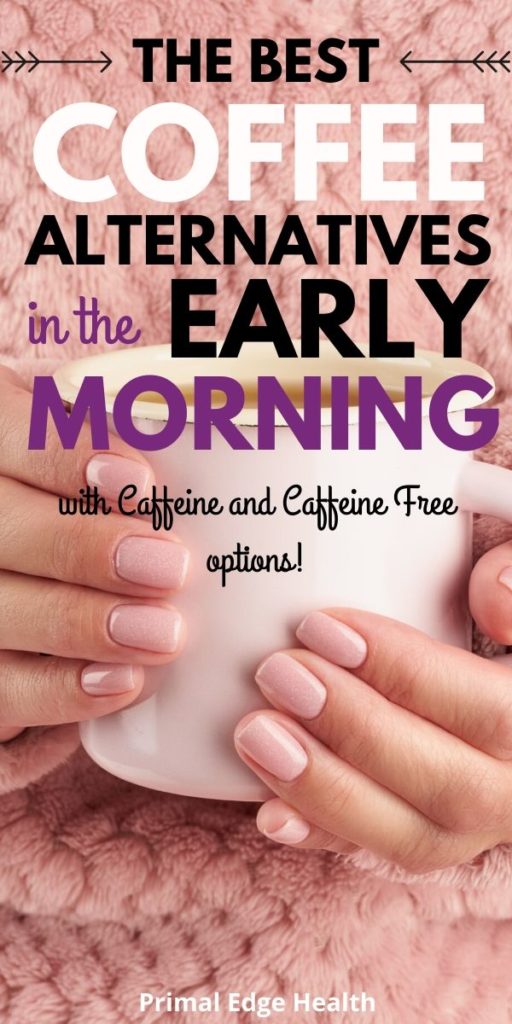 Coffee is the go-to morning beverage for many, and it's fine to drink if you like it.
Trust me, I'm not trying to take away any of your favorite sugar-free Starbucks drinks.
But, sometimes, we need something different.
Do you want to reduce caffeine intake?
Do you get jittery with coffee but like sipping on a warm cuppa something to help wake up?
Are you tired of the same daily brew and want to shake it up with something new?
Whatever your reason, I have an idea for you. There are many healthy alternatives to coffee in the morning!
Table of Contents (click to view)
11 Alternatives to Coffee in the Morning
Hot and Cold Drinks with Caffeine
Start to wean yourself from caffeine or reduce intake by choosing hot drinks like English Breakfast Tea or Chai Tea.
Coffee contains almost double the amount of caffeine that tea does. Therefore, by drinking tea instead of coffee you effectively lower the amount of caffeine naturally.
You'll still get the energy-sparking benefits without symptoms of withdrawal.
English Breakfast Tea
This well-known tea is dark and full-bodied. Made by combining different blends of Assam, Kenyan and Ceylon teas, the result is tangy and rich with light floral undertones and graceful tannin finish.
Brew a cup for 3-4 minutes, until deep amber. Add optional flavor with lemon, coconut milk, or heavy cream.
Use English Breakfast Tea the next time you make Butter Tea!
Try this organic English Breakfast Tea.
Contains caffeine.
Chai Tea
With a piquant flavor, the blend of organic ginger, cinnamon, cardamom, clove, and nutmeg mixed with fair trade Darjeeling tea gives a spicy allure.
Savor all your favorite chai flavors without the sugar and additives commonly found in commercial chai products.
Brew for 5-10 minutes, until amber with orange tones. Flavor with optional dairy or coconut cream.
Drink hot or cold. Follow the recipe to make an iced chai latte.
Try this organic Chai Tea.
Contains caffeine; although a caffeine-free version is also available.
Yerba Mate
With nearly the same amount of caffeine as an average cup of coffee, Yerba Mate is a good choice for those who want to drink something other than coffee but don't want to let go of the caffeine.
Healthline claims that Yerba Mate contains beneficial plant compounds like antioxidants and several minerals and vitamins, including riboflavin, thiamine, phosphorus, iron, calcium, and vitamins C and E.
Traditionally brewed in a gourd by South American tribes, you can step the leaves in a tea ball at home for 3-5 minutes or use a handmade wooden Mate Gourd Cup.
Try this organic Yerba Mate.
Contains caffeine.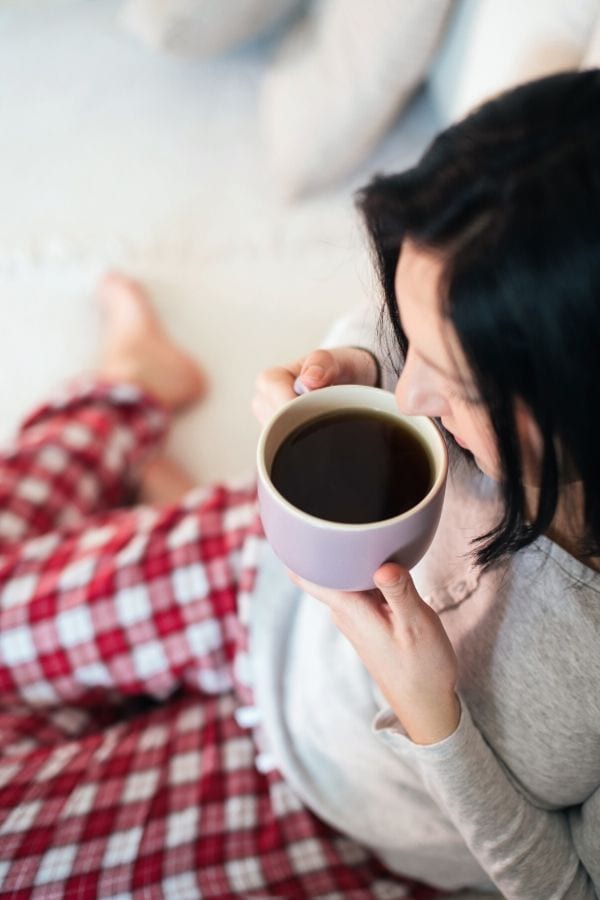 Hot and Cold Drinks without Caffeine
Caffeine free options like herbal teas and bone broth are delightful hot drinks when you prefer a possibility with no caffeine.
Simply infusing water with a splash of ACV or lemon juice can be just as good too!
Herbal Coffee
Herbal coffee is perhaps the best coffee alternative because the flavor is so reminiscent of brewed coffee. It is the ideal alternative for coffee drinkers who like the dark, earthy flavor.
Brew 2-3 minutes until light chocolate in color.
Try this organic herbal infused Herbal Coffee.
Each ingredient is incredibly well thought out to provide a positive physical effect (energy, mood boost) with corresponding coffee-like flavor (bitter, roasted, and chocolaty).
Caffeine free.
Homemade Hot Chocolate
Make a homemade hot chocolate drink from real food ingredients and you are guaranteed to feel a surge of energy and positive mental side effects.
I combine specifically selected ingredients in my healthy hot chocolate recipe to promote stress relief, clear cognition, and easy to digest nutrition.
Cacao is the main feature because it contains theobromine (as does Yerba Mate) which is a naturally occurring stimulant. It gives a long-lasting energy boost to your body and mind. Maca is used for its adaptogenic properties which can relieve stress and help us cope with challenges better.
Try homemade Sugar-Free Hot Chocolate.
Caffeine free.
Mushroom Tea
A staple in traditional Chinese medicine, the reishi mushroom is full of immune-supporting benefits and comes with a delicious flavor.
An second mushroom to try is Chaga. It also has a range of health benefits from increased brain function to boosting immune system.
Begin with 1/3 ounce of chopped reishi or chaga (or a combination of the two) mushroom with 3 cups of water, then bring the tea to a boil and simmer for 30 minutes before drinking in individual portions.
Try this organic Reishi Mushroom or organic Chaga Mushroom.
Caffeine free.
Lemon Water
Lemon water may be the simplest swap for coffee.
Drink hot or cold water with a squeeze of fresh lemon.
A good ratio is 1 tablespoon of lemon juice to 1 cup water. That will make a bright and lemony drink without the need to pucker.
Mix it all together with a custom stamped teaspoon! What a fun way to infuse your drink with a bit of quirky personality.
As a calorie free drink, you don't have to consider added creamer or sugar if you track macros. Lemon water is surprisingly satisfying!
Caffeine free.
21st Century Tea
The power of herbs should not be underestimated. In this calming yet invigorating infusion of organic nettle, red clover blossoms, elderberries, alfalfa, St. John's wort, sage, and ginger, you will find a tasty drink that is supportive to the immune and nervous system.
It has strong herbal notes complemented by a touch of floral aromas.
Brew 3-4 minutes until golden in color.
Try organic 21st Century Tea.
Caffeine free.
Bone Broth
Rich with amino acids, collagen, and gelatin, bone broth has many benefits.
While it warms you up, it also nourishes the gut and supports immune function.
You can make Homemade Beef Bone Broth in 5 simple steps on the stovetop, try Slow Cooker Beef Bone Broth, or buy an organic shelf-stable version from Kettle & Fire. I'll walk you through the simple, 5 step process to create your own liquid gold.
Warm this liquid gold on the stovetop over low heat until steaming and drink it hot out of a soup bowl.
Caffeine free.
Rooibos Tea
Red tea, also called Rooibos tea, is a South African specialty.
Traditionally given to babies with colic, Rooibos is naturally low in tannins and has a very smooth, slightly sweet and fruity flavor.
Brew the loose leaf for up to 10 minutes. Add an optional squeeze of lemon and sweetener.
Try this organic Rooibos Tea.
Caffeine free.
Apple Cider Vinegar
A splash of apple cider vinegar in warm or cold water is exceptionally sweet and helps improve digestion for some people.
Add a pinch of cinnamon and you may be surprised just how nice this drink can be!
Try this organic raw apple cider vinegar.
Caffeine free.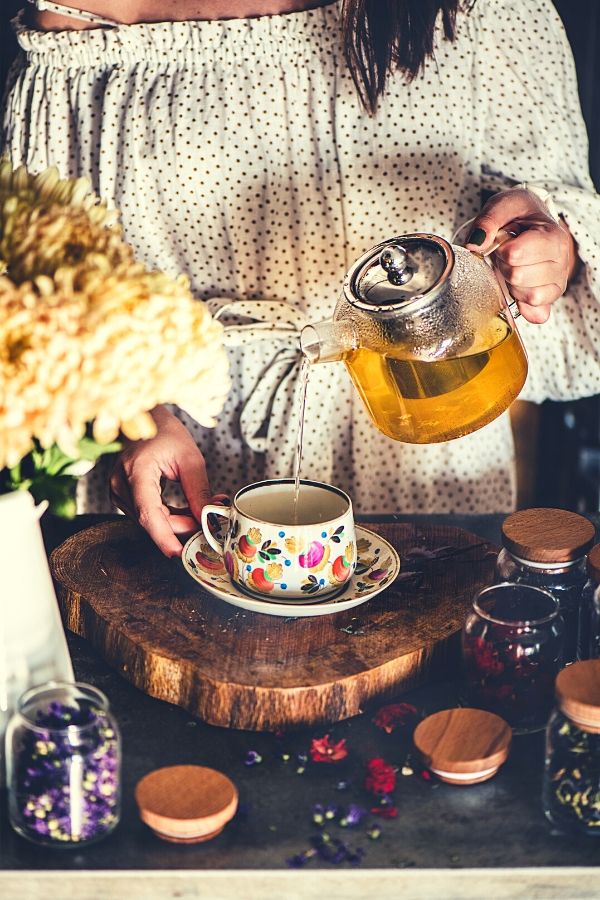 How to Make the Best Tea at Home
Anyone can master the art of tea making at home.
I like working with loose leaf material because
I can buy in bulk
It is cheaper
It is less processed (less waste)
Infuse your herbs or tea of choice in boiling water with a tea ball or eco-friendly tea filters.
Using a mesh teaspoon is my favorite method for green and black tea! It allows for just the right amount of material to be infused without making a mess.
Of course, nothing is better than a lovely glass teapot with a built-in infuser reservoir. It is as eye-catching as it is practical.
Once your drink is brewed, pour into a funky "Make Tea Not War" mug or take it to go in a beautiful bamboo tea tumbler!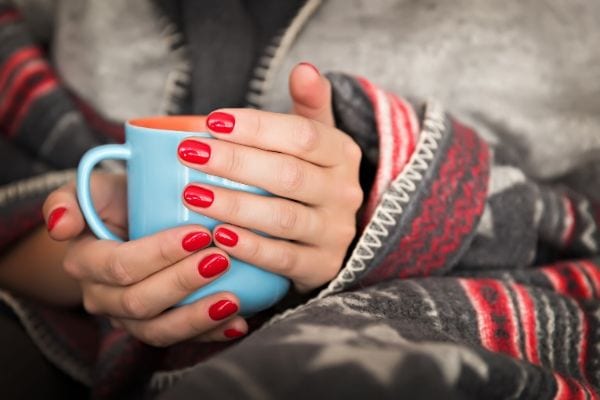 Bottom Line
Now you know about all the healthy alternatives to a morning cup of coffee. Whether you tolerate coffee or not, taking a break from the same old thing may help shake things up for you and get you inspired about your food again.
Caffeine or caffeine free, herbal or not, quick brew or made ahead, there are options for you.
Rotate all of these hot and cold drinks during the week or pick a new daily favorite.
Many thanks to Mountain Rose Herbs for partnering with me to bring you this post! They offer unparalleled quality of organic herbs, spices, teas, and essential oils. I've been supporting them for 10 years and highly recommend you consider making your next order of botanicals with them.