A mix of cream, egg yolk, cinnamon, and nutmeg makes the delicious custard-like base for this keto eggnog recipe. It's a great sugar free alternative to the traditional holiday beverage. Spike your eggnog with bourbon or keep it non alcoholic, either way, Homemade Keto Eggnog is one of the best winter drinks and is so easy to make!
Made almost exclusively from animal-based ingredients, this eggnog is also carnivore diet-friendly and will appeal to those interested in zero-fiber carnivore diet recipes.
When I was growing up, my mom would get store-bought eggnog for Christmas but and I never liked it much. I wanted to be like her and drink it together, but it just wasn't palatable for me.
This homemade keto eggnog is totally different! I'm 100% behind this recipe and can't wait to share it with her.
After following a low-carb, keto diet for so many years, my taste buds have changed a lot. But I think the biggest difference between this recipe and a store-bought version is the quality and freshness of ingredients.
Let me show you my favorite recipes for FREE!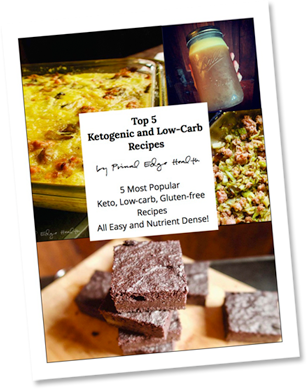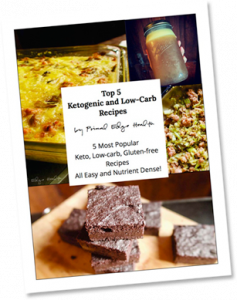 Sign up to get my new recipe ebook
This post may contain affiliate links. Primal Edge Health LLC may receive a small commission at no extra cost to you for any orders made through these links. All thoughts and opinions are our own and we never promote something we wouldn't use ourselves.
Is Eggnog Keto?
Traditional store bought eggnog is packed with sugar and cannot be considered keto-friendly. This homemade version is low-carb and ketogenic.
Read the nutrition label before you buy a carton of eggnog in the store. Some brands hide unexpected ingredients like high fructose corn syrup, sugar, corn syrup, natural and artificial flavor, carrageenan, and other unpleasant food-like ingredients.
Plus, they use reduced-fat milk so you don't even get healthy fats, much less the benefits of raw milk.
Each 0.5 cup serving has 2 g net carbohydrates and won't take you out of ketosis.
With 33 g fat and 6 g protein, it is very filling! One small cup is extremely satisfying.
I use liquid Lakanto drops for flavor and added sugar-free sweetness. Lakanto is my favorite healthy sugar alternative. Their all natural, zero glycemic, and zero-calorie monk fruit sweeteners are great for baking, chocolate making, and drinks!
Use code PRIMALEDGEHEALTH to Save 20%
Non alcoholic Keto Eggnog?
You can serve this keto eggnog recipe warm or chilled, spiked or virgin. I like it best after resting overnight and chilled but you can also drink it warm right after making it.
Be careful if you spike the eggnog!
You can have alcohol on a keto diet. Alcohol metabolizes quickly for people on low-carb diets, don't be surprised if one drink feels like two or three. You may find that you are a cheap date!
The recipes calls for 6 ounces of bourbon which gives 1 ounce alcohol per serving. Feel free to adjust the amount to your liking. You could start with 3 ounces, go up to 6, or just pour to taste.
Bourbon may be replaced with dark rum if you prefer. Take a look at this comparison of whiskey, rum, and brandy to decide which alcohol is best in eggnog.
The alcohol is an optional add-in. Add it or don't, however you prefer. If you omit, you don't have to change anything else.
Keto Friendly Eggnog
Eggnog is a thick creamy, custard-based drink. You can make it frothier and lighter by adding in egg whites. Beat the egg whites until soft peaks form and then fold them into the eggnog just before serving. Drink immediately as the egg whites will separate again after resting.
I personally love the thick creamy texture and don't use the egg whites. However, the whites don't ever go to waste! I usually save them in a jar and add to my next keto omelet.
If you like this recipe I know you will also enjoy Eggnog Cheesecake Pudding! It has all the classic eggnog flavors but is creamy like cheesecake and sets up like pudding.
Best Keto Eggnog Recipe
Make-ahead recipes are a big plus for this time of year. When we are busy with all the holiday excitement, tried and true keto recipes are a must for staying on track!
I'm saving this recipe for every December from now on!
It's so good, even our children drank some with me, without the bourbon of course.
★ FOLLOW PRIMAL EDGE HEALTH on INSTAGRAM, PINTEREST and FACEBOOK for more low-carb, ketogenic recipes and diet tips!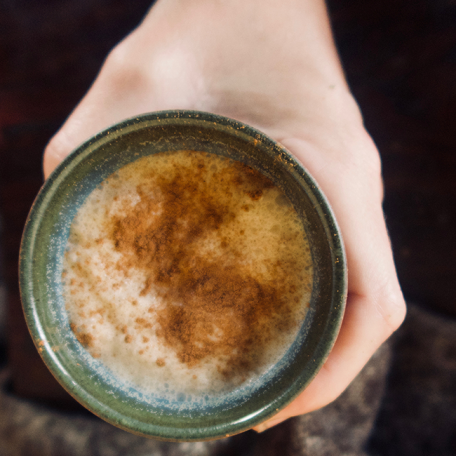 Homemade Keto Eggnog Recipe
This keto eggnog recipe is a great sugar free alternative to the traditional holiday beverage. Spike it with bourbon or keep it non alcoholic, either way, Homemade Keto Eggnog is one of the best winter drinks and is so easy to make!
Print
Pin
Rate
Instructions
Combine cream and water in a small saucepan.

Whisk egg yolks into the saucepan. Combine well. Warm over medium-low heat until cream and egg thicken enough to coat a spoon.

Add sweetener, cinnamon, nutmeg, salt, and optional bourbon.

Cover and chill in the fridge until cold, at least 4-6 hours but best if left overnight.

Serve cold, dusted with additional nutmeg and/or cinnamon on top.
Macros and Nutrition
Nutrition Facts
Homemade Keto Eggnog Recipe
Amount Per Serving (0.5 cup)
Calories 378
Calories from Fat 288
% Daily Value*
Fat 32g49%
Cholesterol 232mg77%
Sodium 45mg2%
Potassium 72mg2%
Carbohydrates 3g1%
Protein 3g6%
Vitamin A 1330IU27%
Vitamin C 1mg1%
Calcium 73mg7%
Iron 1mg6%
* Percent Daily Values are based on a 2000 calorie diet.
More Delicious and Cozy Winter Foods:

Pin it for Later: