Keto gelatin squares are a fun, almost zero-carb recipe to make for the whole family. These are a delicious and healthy jello alternative! Plus, the 5-ingredient no bake dessert has zero-fiber and is carnivore-friendly too.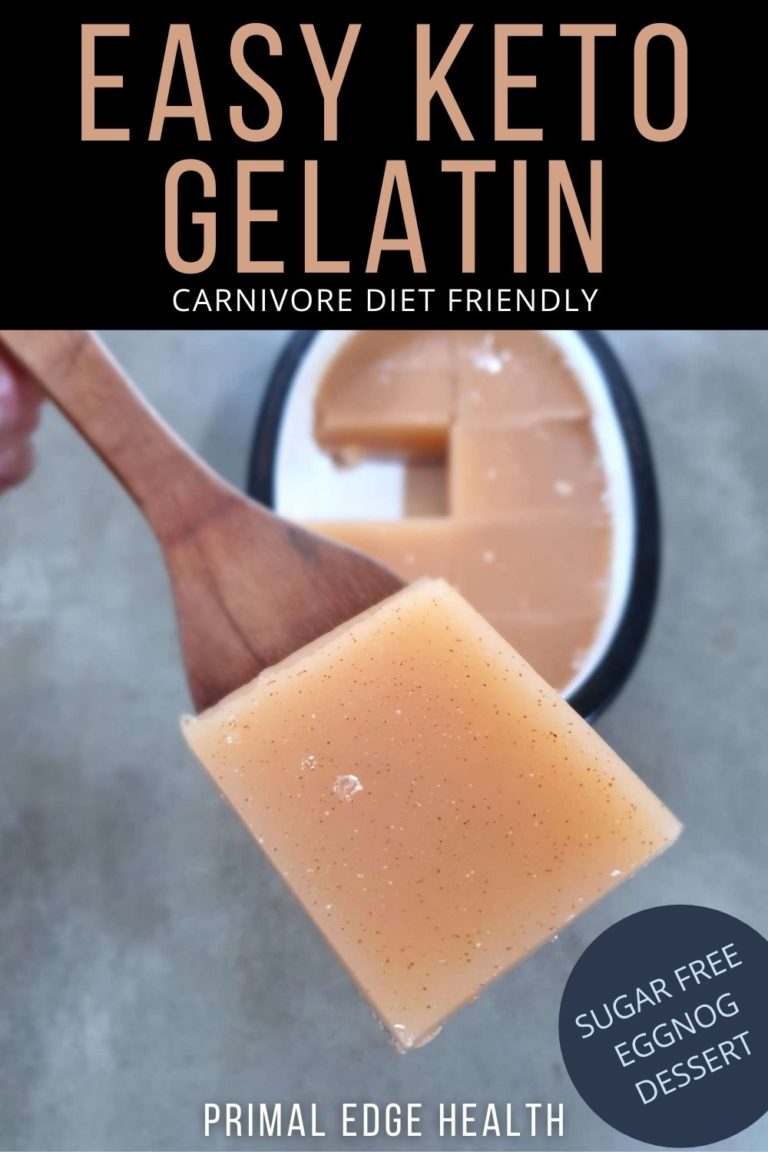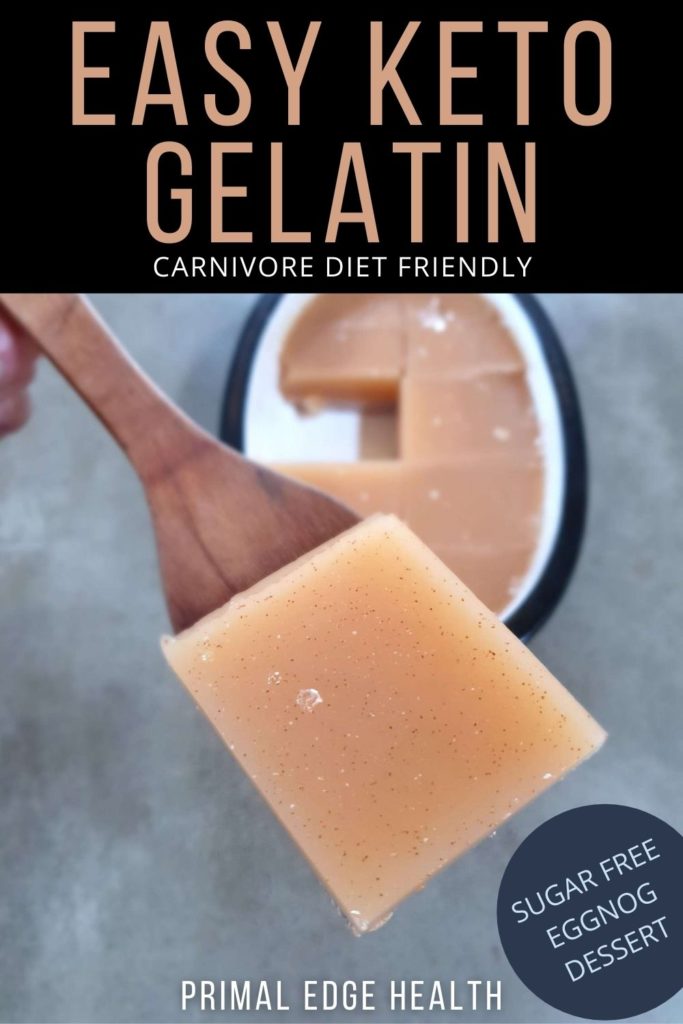 Table of Contents (click to view)
No Bake Gelatin Dessert Idea
Gelatin is a neat ingredient to work with in the kitchen. It is easy to use, fun to eat, and soothing for the digestive system.
You might know gelatin as the thing that makes the best bone broth. Made correctly, homemade beef bone broth will shake and jiggle after sitting in the fridge overnight.
The transformation of texture happens because of all the gelatin present in the bones and connective parts!
Gelatin has many potential benefits as a nutritious source of amino acids. (1, 2)
Makes healthy body tissues
Improves skin appearance by tightening the skin and decreasing wrinkles
Protects and promotes a healthy mucosal lining in the stomach
Decrease joint pain associated with inflammation
Strengthen bone density
Improve sleep for some people
Prevent brittle nails and improve hair growth
It can help improve our poor health conditions in a variety of ways. No one should go without gelatin in their diet! (3)
Besides recipes with bone broth like Slow Cooker Beef Stew and Braised Beef Shanks, adding a grass-fed gelatin powder into a dessert is an easy way to eat more gelatin.
No bake desserts are best with gelatin because you will get a thick, custard-like consistency without heating anything!
This eggnog dessert is one of the no-fuss easy keto recipes I like best.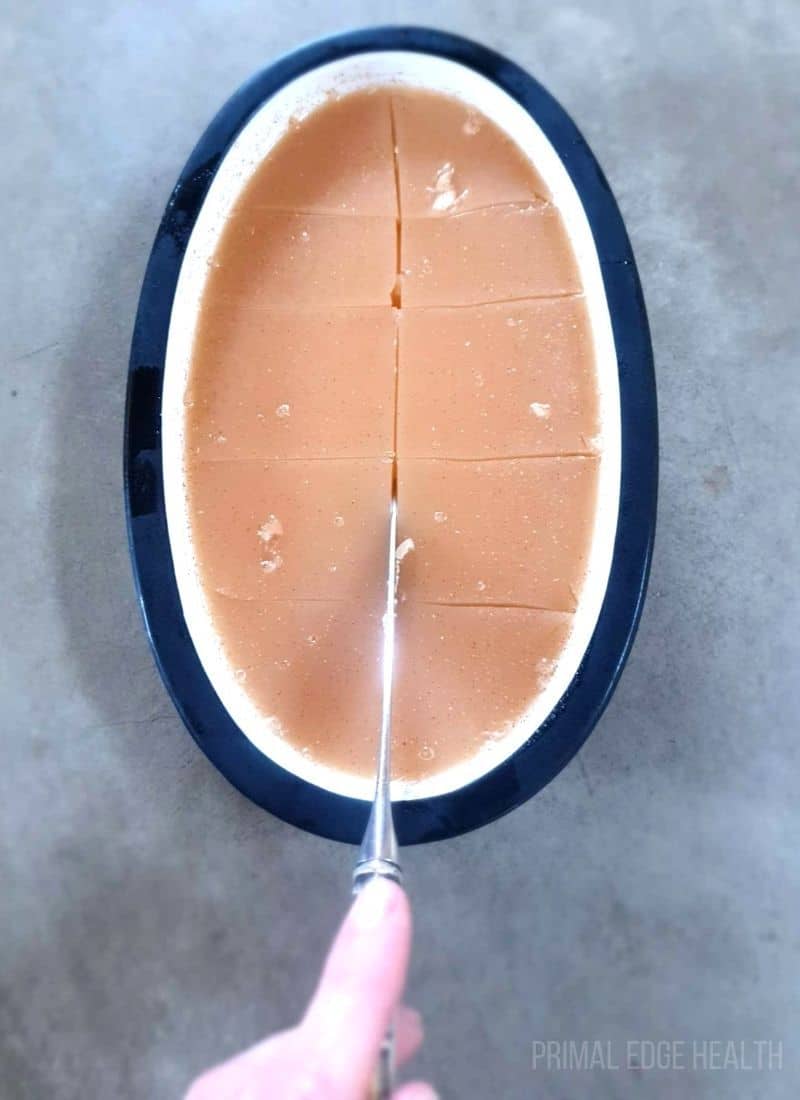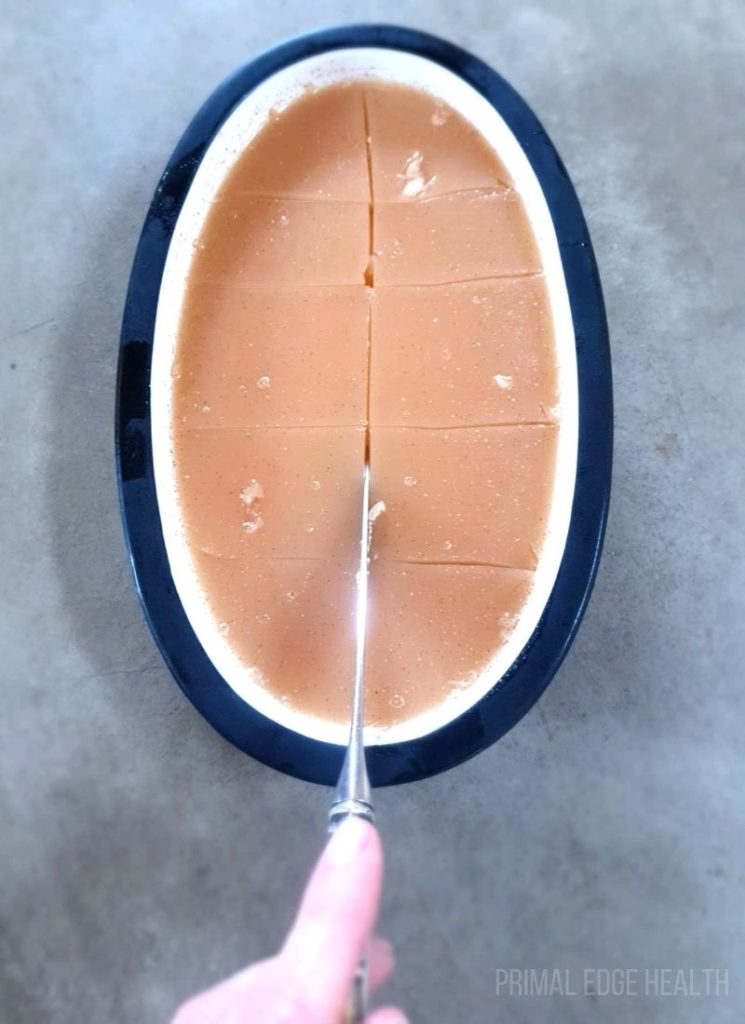 The Original Carnivore Diet Dessert
The original inspiration for this keto gelatin recipe comes from my third cookbook, the Carnivore Cookbook! It has over 100+ carnivore diet recipes made entirely from animal foods, so you'll never get bored with eating meat or other animal proteins and fats. 
I added the gelatin to the Raw Meats, Organs & Bones section. You will find it listed between "Liver Topped Burgers" and "Beef Heart Meatballs".
Gelatin dessert is a change from meat, yet 100% based on animal foods. The jello-like texture is a welcome treat for those seeking to heal their body without any plant-based ingredients.
This cookbook is the perfect kitchen resource for beginners and advanced zero-carb dieters! There are options for strict carnivores as well as those who want to add dairy or eggs. I also include notes for family-style meal prep, so you have strategies for cooking meals that everyone can enjoy together.
Best Seller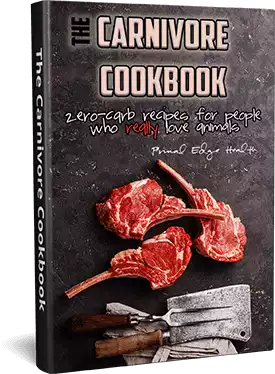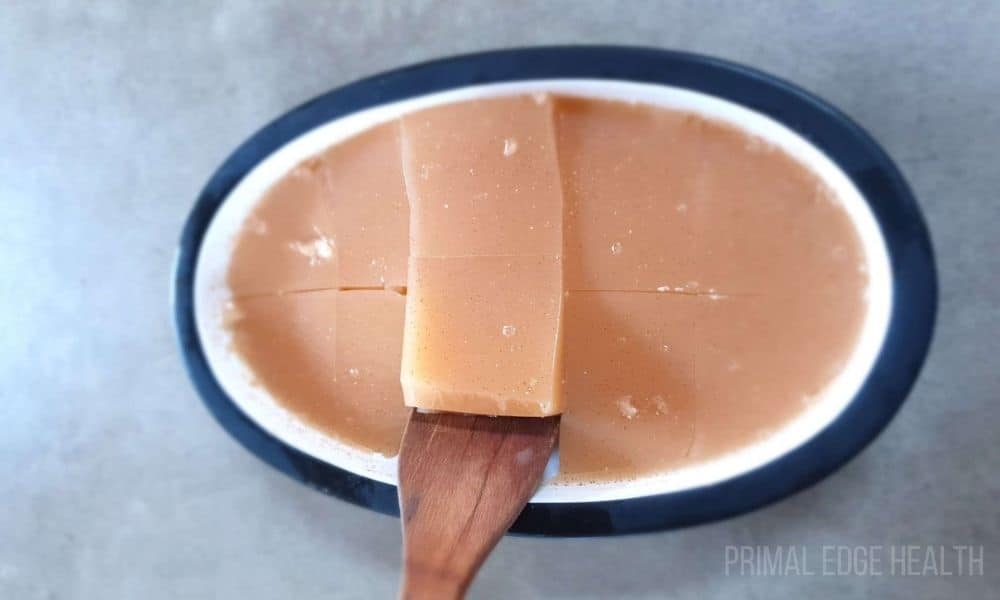 A Keto Carnivore Diet Friendly Recipe
We live in an age of massive chemical contamination. Chemicals and foreign components inundate our bodies left and right from the industrial food system, standard medical industry, and big pharma. It's just too much to handle for some of us. Our bodies respond to the stress with auto-immune conditions, weight gain, depression, and other chronic issues.
The best way to reset your health and get back to your foundation of strength is a dietary intervention. Pass on the grains, sugar, and starches for a while, follow our keto diet guide and focus on keto carnivore recipes that prioritize easily digested animal foods above all else.
There are many keto carnivore diet dessert recipes to help you stay on track.
Would you like to get all my carnivore dessert ideas in a simple, easy-to-use ebook?
Sign in to download our free ebook below.
Some of us need to take it a step further and follow a strict carnivore diet. That means for some time, you don't eat any plant foods. Wondering what to eat on a carnivore diet? The basics are red meat, eggs, fish, seafood, chicken, and pork.
Sound crazy? The carnivore success stories speak for themselves.
It's worth considering for at least 30 days, if you haven't achieved the success you're looking for with keto.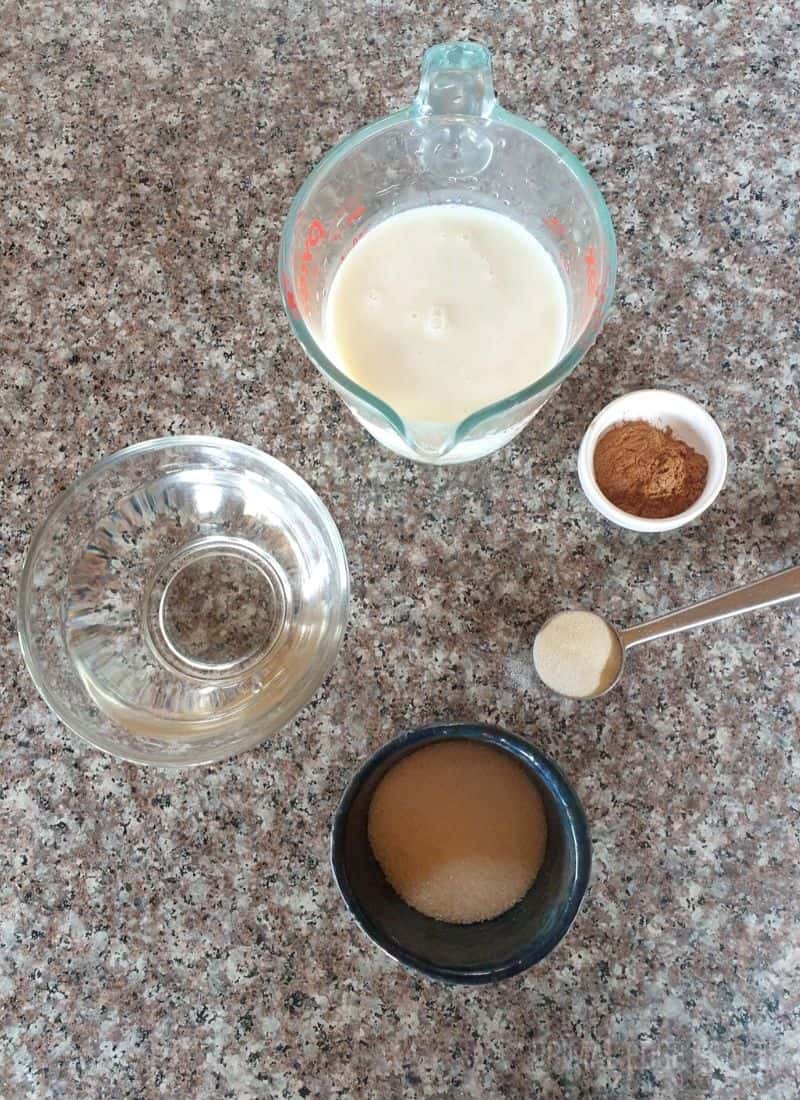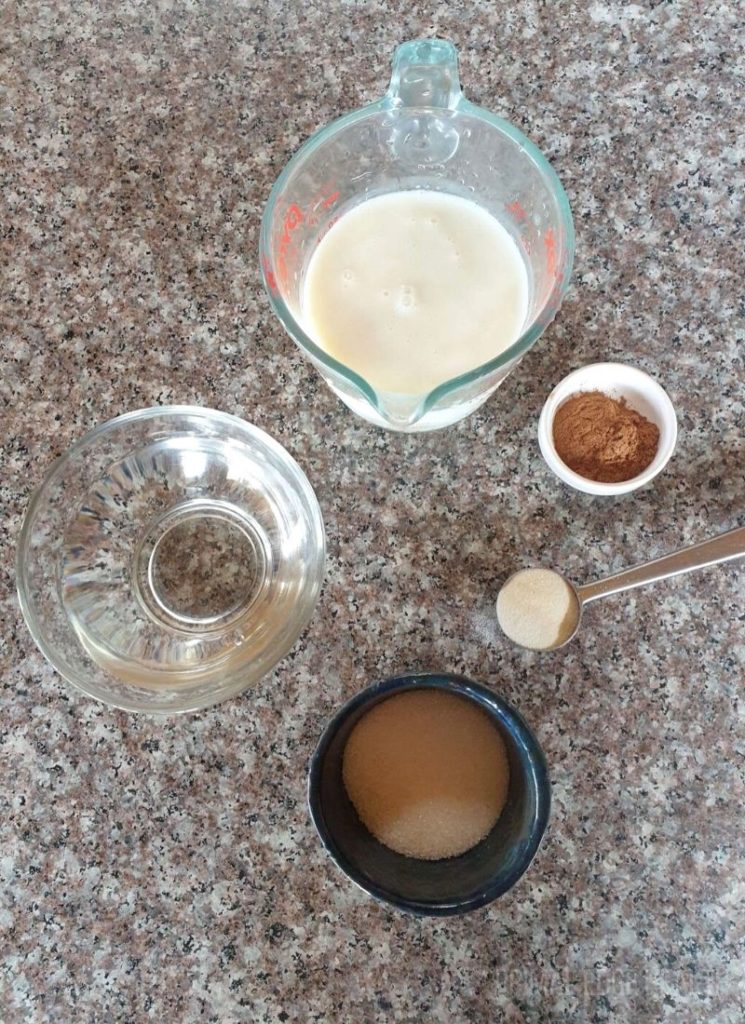 How to Make Keto Gelatin
You can make keto gelatin with just 5 ingredients. I like to flavor mine with a pinch of cinnamon and nutmeg because it complements the cream and reminds me of my favorite Keto Eggnog recipe.
Keto Gelatin Ingredients
Grass-fed beef gelatin – Binds the recipe together. You can't leave it out!
Heavy whipping cream – Adds a flavorful, creamy base but can also be substituted with coconut milk or cream to make the recipe dairy-free
Sweetener – I use the erythritol and monk fruit sweetener from LAKANTO. If you try it out, use our coupon code PRIMALEDGEHEALTH to save 20% off non-sale items!
Cinnamon – For the warm, spicy flavor!
Nutmeg – Compliments the cinnamon and gives the signature eggnog flavor.
I always order my herbs and spices from Mountain Rose Herbs. Their quality, selection, and commitment to environmental stewardship are unparalleled!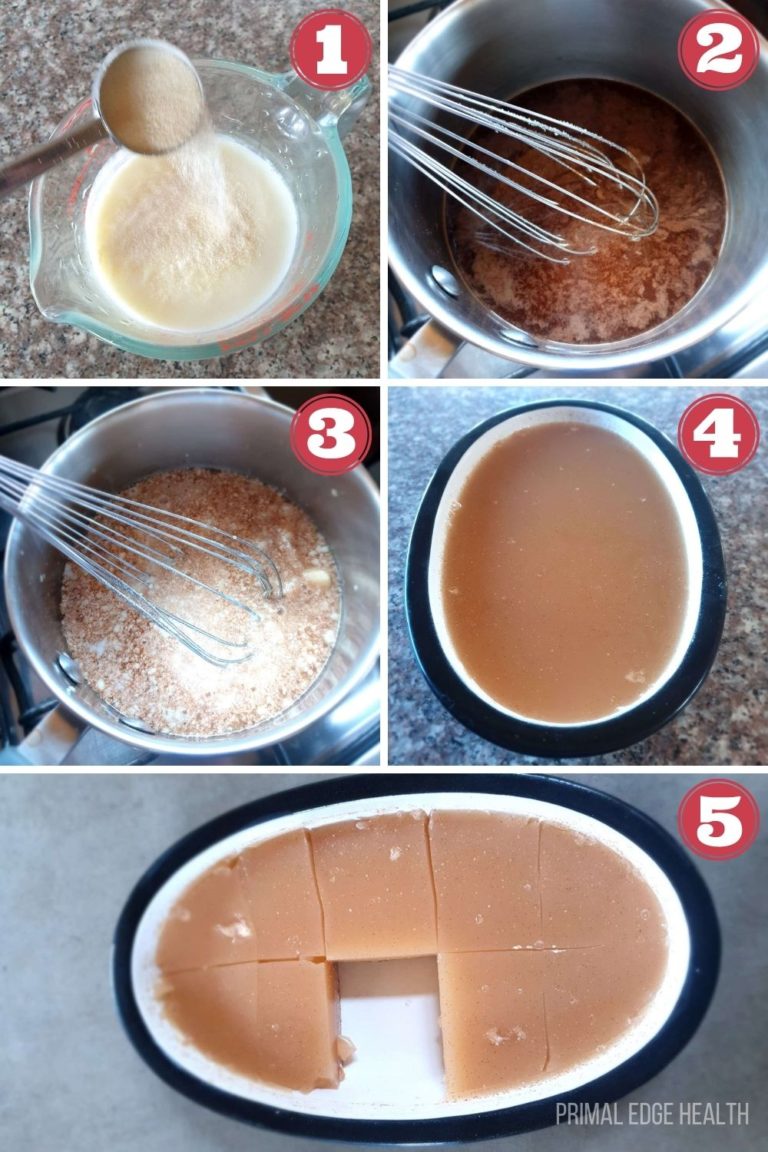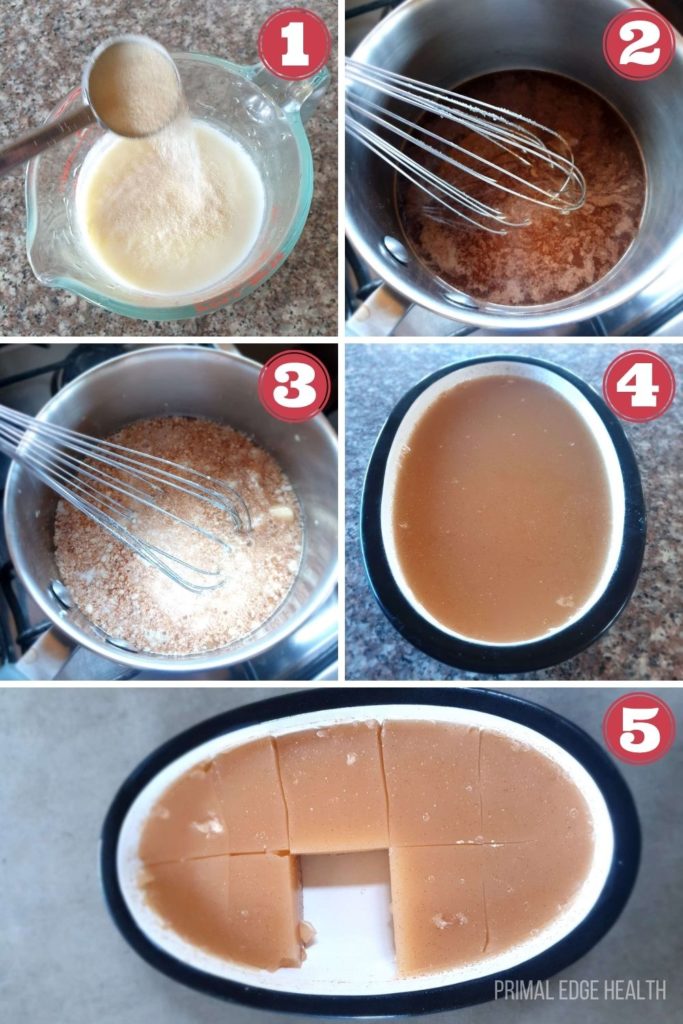 Keto Gelatin Directions
Start by sprinkling the gelatin over the cream in a shallow, wide dish. You want to cover as much surface area of the cream as possible. Leave it aside to set and thicken.
Bring the water to a simmer in a small saucepan over medium heat on the stove. Whisk in the cinnamon, nutmeg, and sweetener until dissolved.
Remove from heat and add the thickened cream. Mix well until all the gelatin dissolves.
Pour into individual ramekins or one main serving dish. I often use an 8×8-inch baking dish. The photographs show a 2-liter casserole dish.
Refrigerate for at least 2 hours or until completely set. Serve chilled in the ramekins or cut into individual squares and remove with a spatula to serve.
Store leftovers in an airtight container. Cover the dish with plastic wrap or remove and save in a container with a lid. The recipe will last for up to 1 week in the refrigerator.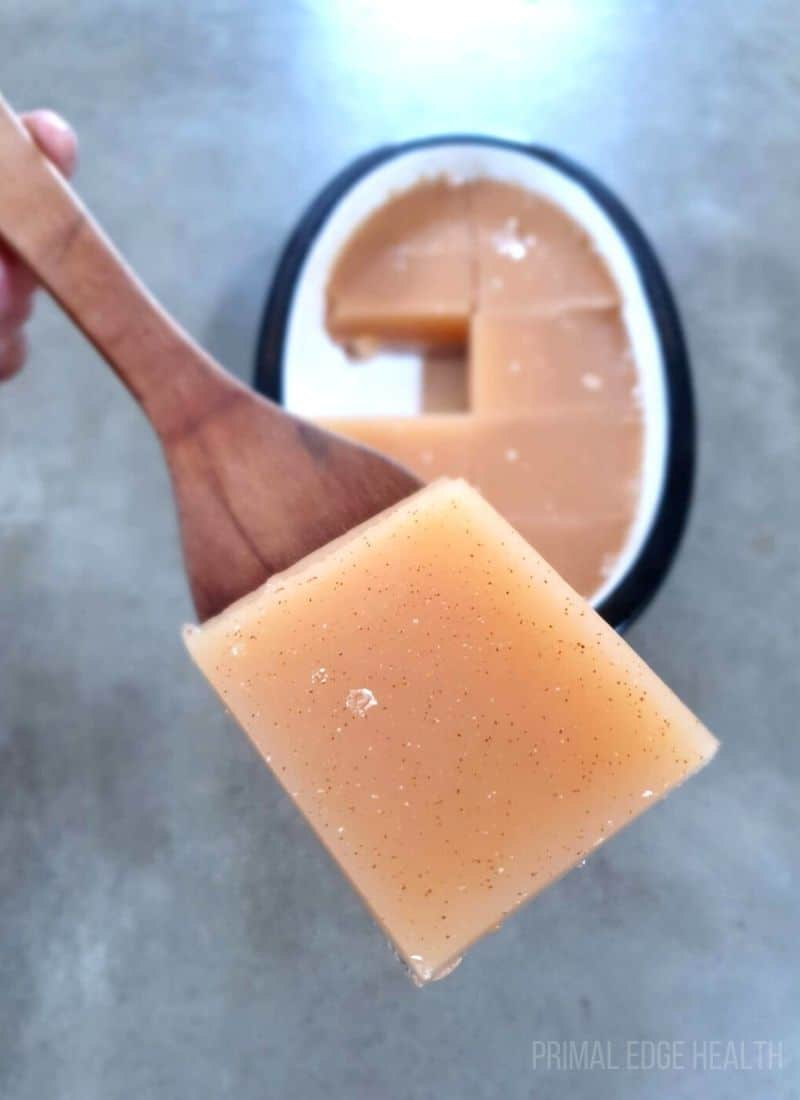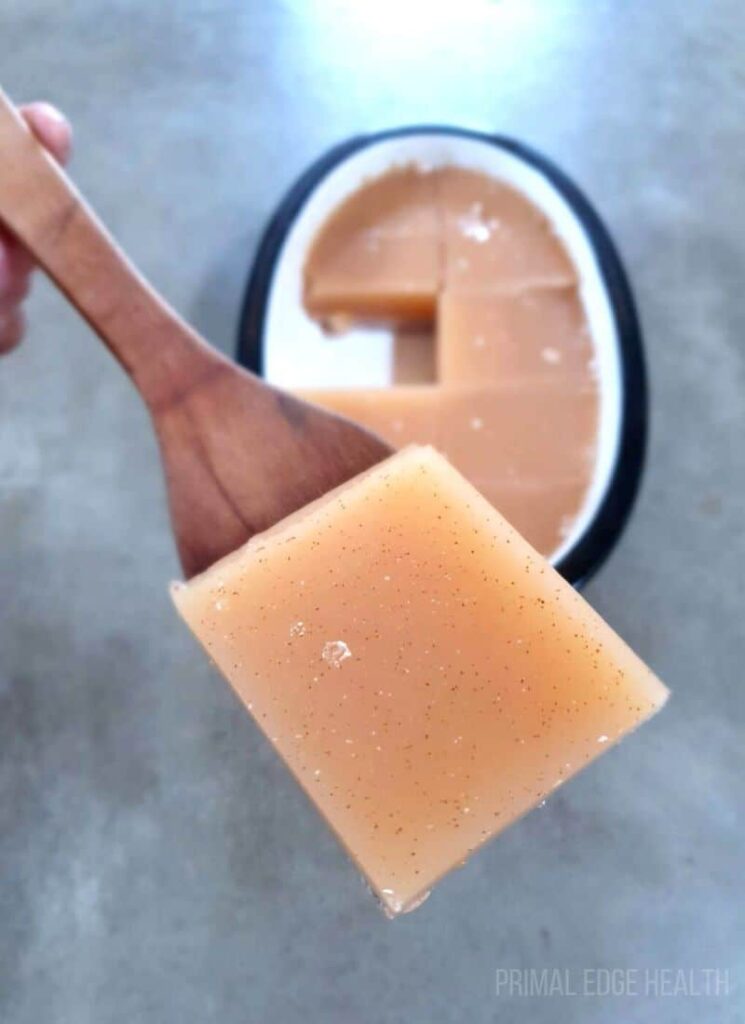 More Keto Gelatin Recipes
Keto gelatin desserts are so delicious! Grass-fed beef gelatin is one of my favorite ingredients to add to keto desserts. Check out these other easy keto gelatin recipes!
No Bake Cheesecake Pudding – Make a pudding with gelatin in less than 10 minutes of prep time and enjoy the tangy cheesecake flavor we all love so much. Also a carnivore-friendly dessert.
No Bake Keto Custard – A classic custard recipe made for low carb and carnivore diets! Don't miss this recipe.
No Bake Eggnog Cheesecake Pudding – Everyone will love all the best parts of pudding mixed with the sweet cinnamon flavors of eggnog in this keto gelatin dessert recipe.
Peppermint Keto Custard with Gelatin – Based on the famous Grasshopper pie filling, this is an easy no bake alternative you can enjoy any time of the year.
Thin Mint Chocolate Pudding – Chocolatey and creamy, this dairy-free keto pudding is thick and delicious!
Keto Salted Caramel Panna Cotta – Panna cotta is an Italian dessert made with cream and gelatin and oh so delicious!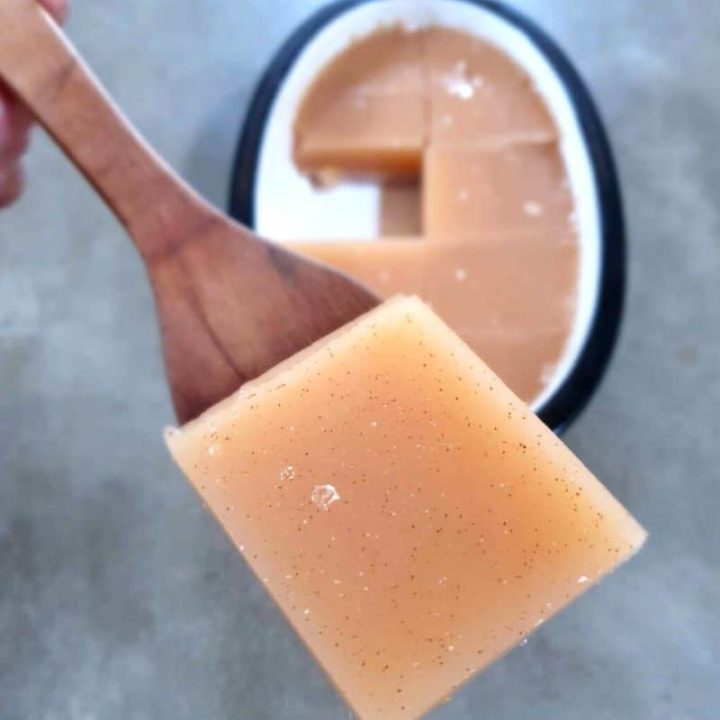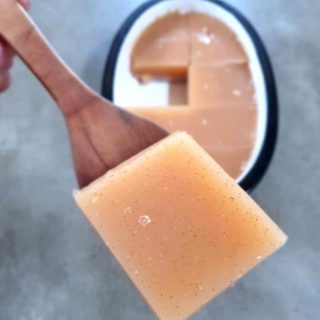 Keto Gelatin (Carnivore Friendly Dessert Recipe)
Keto gelatin squares are a fun, almost zero-carb recipe to make for the whole family. These are a delicious and healthy jello alternative! Plus, the 5-ingredient no bake dessert has zero-fiber and is carnivore-friendly too.
Instructions
Sprinkle gelatin over the cream. Leave this aside to set and thicken. Cover the most surface area as possible by putting the cream in a wide, shallow dish.

1 tablespoon grass-fed beef gelatin,

1½ cups heavy whipping cream

Bring water to a simmer on the stove. Whisk in the cinnamon, nutmeg, and sweetener until dissolved.

1 cup water,

1 teaspoon ground cinnamon,

1 teaspoon ground nutmeg,

¼ cup Keto sugar substitute

Remove from heat, add thickened cream to the saucepan, and mix well until all the gelatin dissolves.

Pour into individual pudding cups (ramekins) or one main serving dish.

Refrigerate for at least

2 hours

or until completely set. Serve chilled.
Nutrition & Macros
Calories:
64
kcal
Carbohydrates:
2
g
Protein:
2
g
Fat:
5
g
Saturated Fat:
3
g
Sodium:
20
mg
Fiber:
1
g
Net Carbohydrates:
1
g
To obtain the most accurate representation of the nutritional information in a given recipe, please calculate the nutritional information with the actual ingredients and amounts used, using your preferred nutrition calculator. Under no circumstances shall the this website and the author be responsible for any loss or damage resulting for your reliance on the given nutritional information.
Made this? Leave a Rating! ⭐⭐⭐⭐⭐
Tag a photo with @Primal_Mom and #PEHRecipe on Instagram to share with us!
Browse through Healthy Cinnamon Recipes for more seasonal treats!