Served in broth, Easy Braised Beef Shank hits the proverbial "spot" on a cold-weather day and in times of stress. I find there is something very comforting and deeply nourishing encountered in a bowl of melt in your mouth tender meat and hot broth.
While it may sound like a daunting technique, braising meat is quite easy!
In my vegan to carnivore journey, I know I put off braising for far too long. It seemed overly complicated and touchy. In the few recipes I tested, the meat came out dry and tough. Not at all like the soft, slow-cooked meal I was after.
You can skip all the trial and error I went through and jump right into this Easy Braised Beef Shank recipe.
Let me show you my favorite recipes for FREE!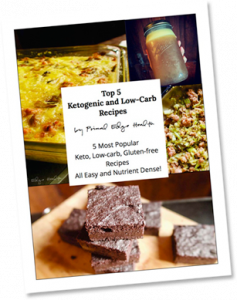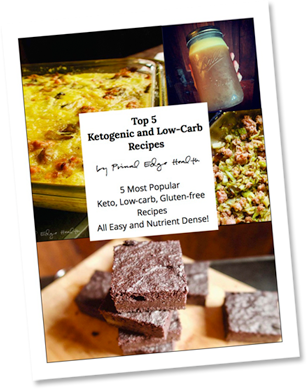 Sign up to get my new recipe ebook
This post may contain affiliate links. Primal Edge Health LLC may receive a small commission at no extra cost to you for any orders made through these links. All thoughts and opinions are my own and I never promote something I wouldn't use myself.
Which part of the cow is a "Shank"?
Beef shanks are found on the leg of a cow, directly above the knee joint. The section is cross-cut horizontally, usually in 1 to 2-inch thick rounds. The meat may appear similar to steak, but with a signature marrow bone featured in the center. All ruminant animals have shanks (beef, lamb, mutton, bison, etc.) and may be prepared in the same manner.
Buying boneless shank is a shame and, in my opinion, you will be missing the best part! Upon cooking, the marrow becomes succulent and buttery. It is not to be left out!
Peak into your butcher's case, and you may see a few different names: foreshank, hind or rear shank, and soup bones. These are all essentially the same, usually just varying in size. Any option will work well for braising.
Are beef shanks tough?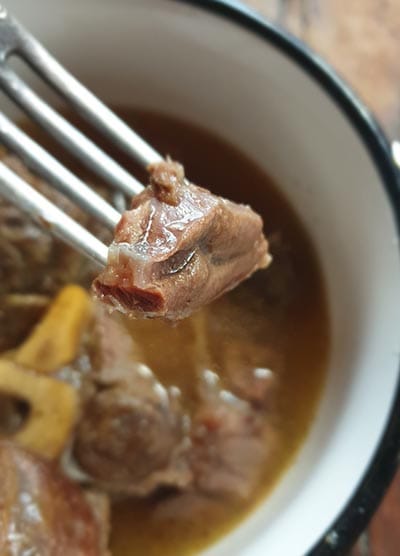 The shank is a hard-working muscle that would be tough unless properly prepared through braising or slow-cooking. This cut has beautiful coils of collagen threaded through the muscle meat. Because of this, it must be simmered in liquid over low heat for a few hours before for the collagen transforms into the soft, melted goodness we all love so much.
As a dry, sinewy piece of meat, it may not sound like much, but with some simple tips, it will produce a flavorful and nutritious meal.
Also, tougher meat is more affordable than tender cuts (from lazier muscles) like sirloin, ribeye, and filet mignon. The beef shank is a great choice when you compare the nutritional bang you get in exchange for your buck.
Tips for Easy Braised Beef Shank
I'm grateful to meet more and more people who are interested not only in broadening their scope of culinary skills to include basic from-scratch cooking but also desire to be confident in the preparation of animal protein and nose-to-tail cooking.
Most people are not as familiar with beef shanks as they are with hamburger or steak cuts, but you shouldn't overlook them!
I wrote this recipe for a cast iron or heavy bottom skillet (with a lid) or a Dutch oven. As an alternative, you may also use a crockpot. In this case, place the meat in the bottom of a slow-cooker, pour broth over and season with salt. Cover with the lid and turn on low. Cook for 4-6 hours until easily falls off the bone.
Use at least 2 cups of broth. There should be enough broth to cover the meat ½ to ¾ of the way up the side. I like using 3 cups because it leaves extra liquid to sip on too.
Beef shank cut 1-inch thick is about 6-8 ounces.
Render tallow yourself and use it in step 1 for browning.
Make homemade bone broth to use for braising, sipping, and more!
There are many different types of culinary salts as well! They all modify the flavor slightly.
With 0 g net carbs per serving, Easy Braised Beef Shank is a delicious, low-carb way to enjoy a new, often overlooked cut of beef while also staying on a keto diet.
The recipe below is 100% gluten-free, grain-free, sugar-free, paleo, low-carb, ketogenic and carnivore-friendly!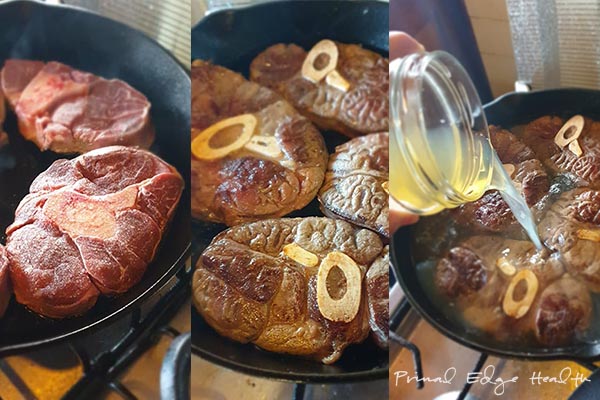 Make the Perfect Keto Meal
You'll soon notice this recipe is ultra simple (just the way I like to cook!). I teach the basic concept of braising shank: brown, simmer and wait. Once you get that down, you can add in vegetables and herbs and play with a splash of red wine or apple cider vinegar.
f you enjoy the simple prep but still want some veg on the side, pair the meat with roasted Brussel sprouts, cauliflower rice, or your favorite side dish.
Here are my recommendations on how to combine other ingredients to this recipe.
In the last 30 minutes of the cooking time, add any of the following combinations and simmer with the meat.
Chopped mushrooms, parsnips, and rosemary
Cauliflower, oregano, and garlic
½ cup white wine, sauteed garlic and onion
Garlic, thyme, basil, and lemon juice
Ginger root, garlic, scallions, and ¼ cup Keto Soy Sauce Alternative.
Wine and vinegar may also be used. Decrease the amount of broth to 1.5 to 2.5 cups and add ½ cup of dry white wine or red wine. If adding vinegar, choose balsamic, apple, or red wine vinegar.
The broth is impressive after simmering the shank for a few hours. It becomes incredibly gelatinous after chilling!
Beef Shanks are great for a Carnivore Diet!
If you're looking for more delicious zero-fiber recipes to support your journey to better health, rapid fat loss, and auto-immune relief check out The Carnivore Cookbook. You'll find over 100 recipes made from just the essentials: animal protein and fats. Also, browse through my free collection of Carnivore-Friendly recipes!
---
Join our private VIP members community forum for ongoing support and interaction from a like-minded people seeking to improve their health with animal foods!

Do you need help dialing in your specific situation? Learn more about our private and group keto & carnivore diet coaching options to see how you can benefit from our custom approach and view on holistic health.
---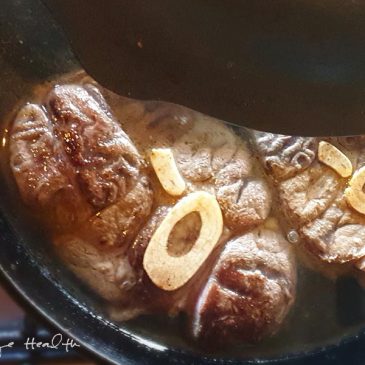 Easy Braised Beef Shank
Follow a 4-step process to slow-cook Easy Braised Beef Shank to perfection. Tender, collagen-rich meat, falling off the bone, makes an affordable, nourishing meal at any time of the year!
Print
Pin
Rate
Total Time:
2
hours
5
minutes
Equipment
Cast iron skillet

Dutch oven

Crock pot
Ingredients
1

tablespoon

Homemade Tallow

butter, ghee, or other cooking fat

4

pieces

beef shank

1-inch thick

2-3

cups

bone broth

or water

1

teaspoon

salt

plus extra as needed
Instructions
Heat cooking fat in a cast iron or heavy bottom skillet (with lid) or Dutch oven. Once smoking, brown both sides of the beef shanks, about 2-3 minutes per side.

Pour broth over shanks. Season with salt. Bring to a simmer.

Reduce heat and cover with lid, leaving a small opening for the steam to escape.

Cook over low heat for 2-3 hours.

Serve warm in broth, with extra fat as needed.
Notes
Crockpot option: Place meat in the bottom of a slow-cooker, pour broth over and season with salt. Cover with the lid and turn on low. Cook for 4-6 hours until easily falls off the bone.
In the last 30 minutes of the cooking time, add any of the vegetable and herb combinations listed above and simmer with the meat.
Macros and Nutrition
Nutrition Facts
Easy Braised Beef Shank
Amount Per Serving (6 ounces)
Calories 220
Calories from Fat 54
% Daily Value*
Fat 6g9%
Cholesterol 66mg22%
Sodium 652mg28%
Protein 36g72%
Vitamin A 87IU2%
* Percent Daily Values are based on a 2000 calorie diet.
★ FOLLOW PRIMAL EDGE HEALTH on INSTAGRAM, PINTEREST and FACEBOOK for more low-carb, ketogenic recipes and diet tips!
Pin it for Later: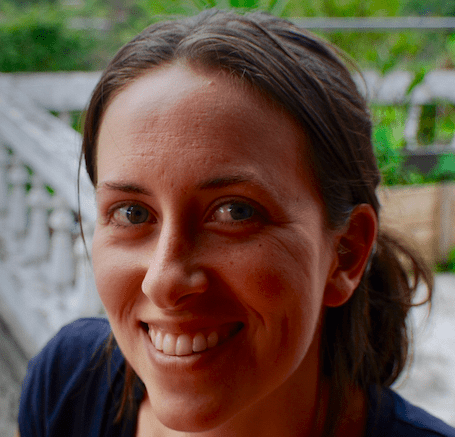 Meet Jessica Haggard
Jessica Haggard is the creator of Primal Edge Health, where she shares simple, nourishing low-carb, keto and carnivore diet recipes. With a focus on from scratch, homemade cooking, animal-based nutrition, and easy DIY beauty and personal care recipes, there's always something new going on in her kitchen! Jessica will teach you exactly how to thrive with all the best ingredients and enjoy the journey along the way.
She has photographed and authored two best selling ketogenic cookbooks, The Ketogenic Edge Cookbook and The Carnivore Cookbook. Learn more about Jessica…