Cauliflower rice on keto makes a great low-carb rice replacement to use in so many recipes. It's a healthy dish everyone should know about!
Faux rice is a great tool for people transitioning to a keto diet and for families wanting to minimize processed foods and eliminate grains. With my easy keto recipes, you can recreate all your favorite high-carb foods with healthy whole foods ingredients.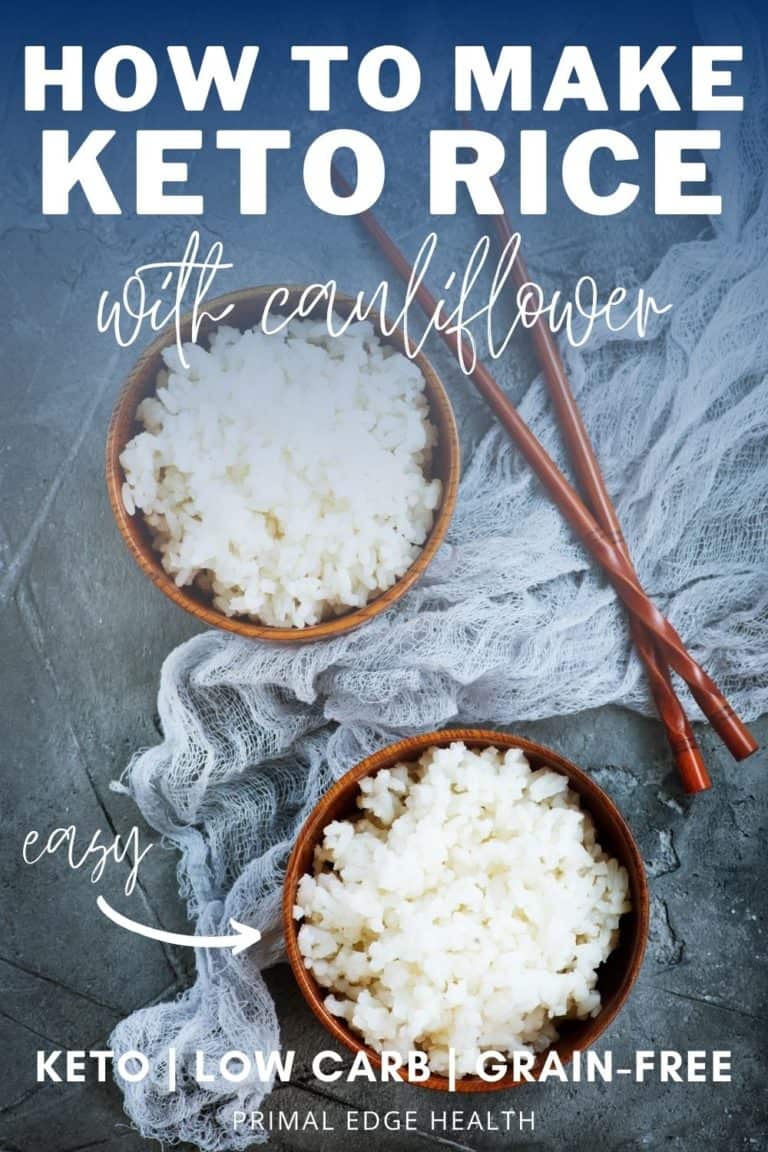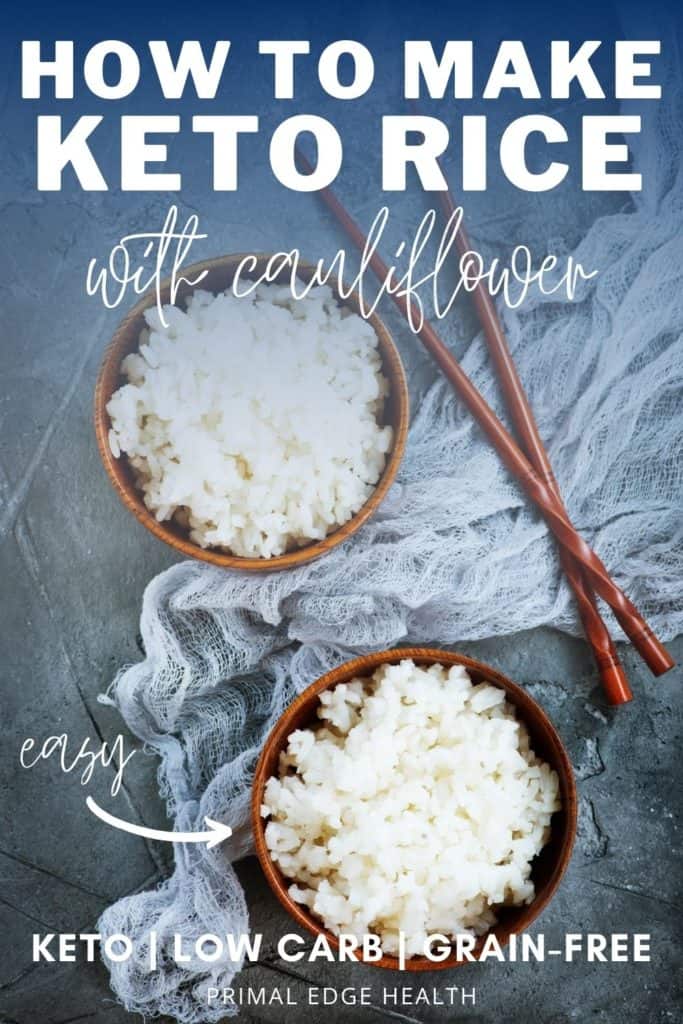 Table of Contents (click to view)
A Keto Replacement for Rice
Cauliflower rice provides the familiarity of rice with an array of micronutrients and keto-approved low carbohydrate levels. There are many types of cauliflower you can choose from and even more ways to use it in recipes.
In 100 grams of raw cauliflower, there are 25 calories per serving. This comes from 2 g protein and 5 g total carbs with 3 g net carb. (source)
Knowing how to replace staple grain-based dishes makes me feel confident I can succeed on a low-carb diet. I can cook healthy low-carb food, maintain keto macros, and never feel like I am missing out.
I hope these tips will help you too.
Once you get a hang of keto substitutions, low-carb meal prep becomes easy.
Did you know there are many suitable keto pasta alternatives too?
My low-carb alternative to mashed potatoes is also amazing!
With recipes like these, you will never miss the carbs from your diet.
Does Cauliflower Have Oxalate?
Many people are catching on to the potential problems of oxalate toxicity.
Oxalate, or oxalic acid, is a naturally occurring compound found in many popular, so-called "healthy", plant foods. (source)
Foods with the highest levels of oxalate include:
Some leafy greens (spinach, Swiss chard, beet greens)
Nuts and seeds (almonds)
Cacao (chocolate)
Soy
Rubarab
Sweet potatoes
Whole wheat flour
By nature, a keto diet will eliminate many high oxalate foods. However, if you find yourself eating a lot of spinach salad or smoothies, almond, and cacao (chocolate) and have chronic joint pain, depression, or gut problems, you may want to learn more about the effect of oxalate.
Cauliflower rice is acceptable for a low-oxalate diet. Cauliflower is also great for paleo, gluten-free, grain-free, whole30, and other wellness diets.
Sally K. Norton is one of the best oxalate researchers to learn from. She is very passionate about the oxalate issue as a proponent of both a keto and a carnivore diet.
Use my Low Oxalate Food List to determine what foods are safe in this regard and have minimal to no oxalic acid.
Spoiler alert, cauliflower is one of those foods!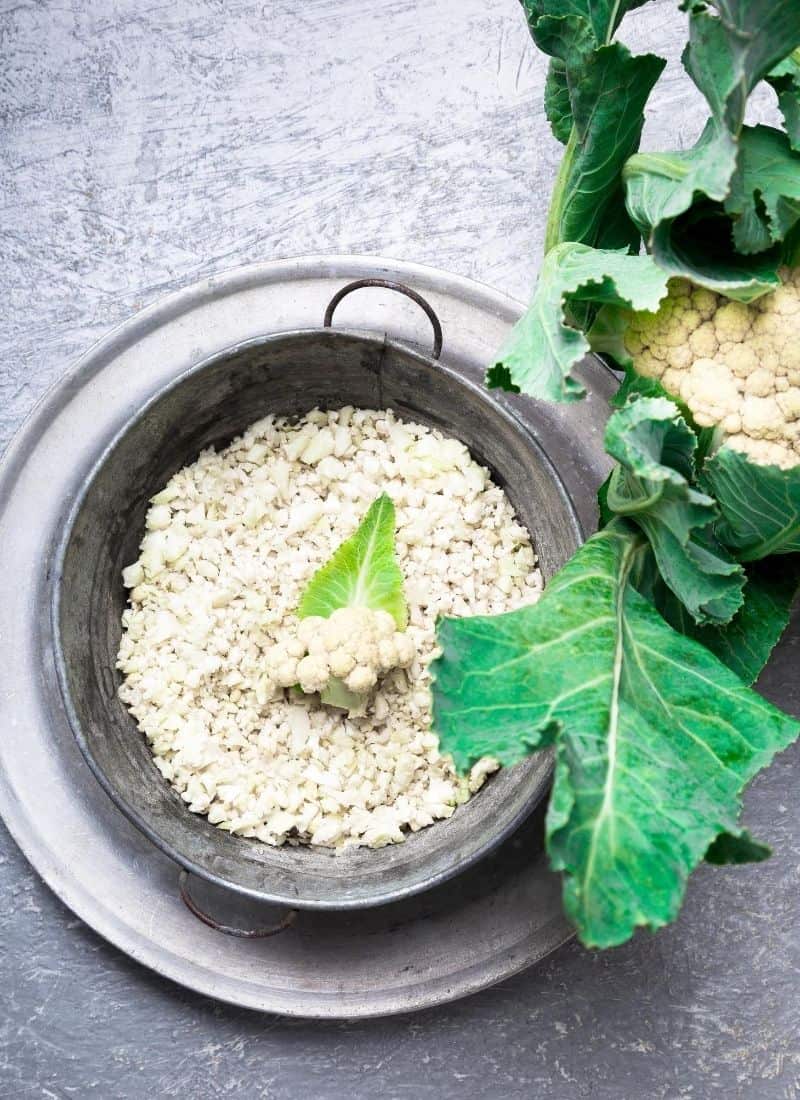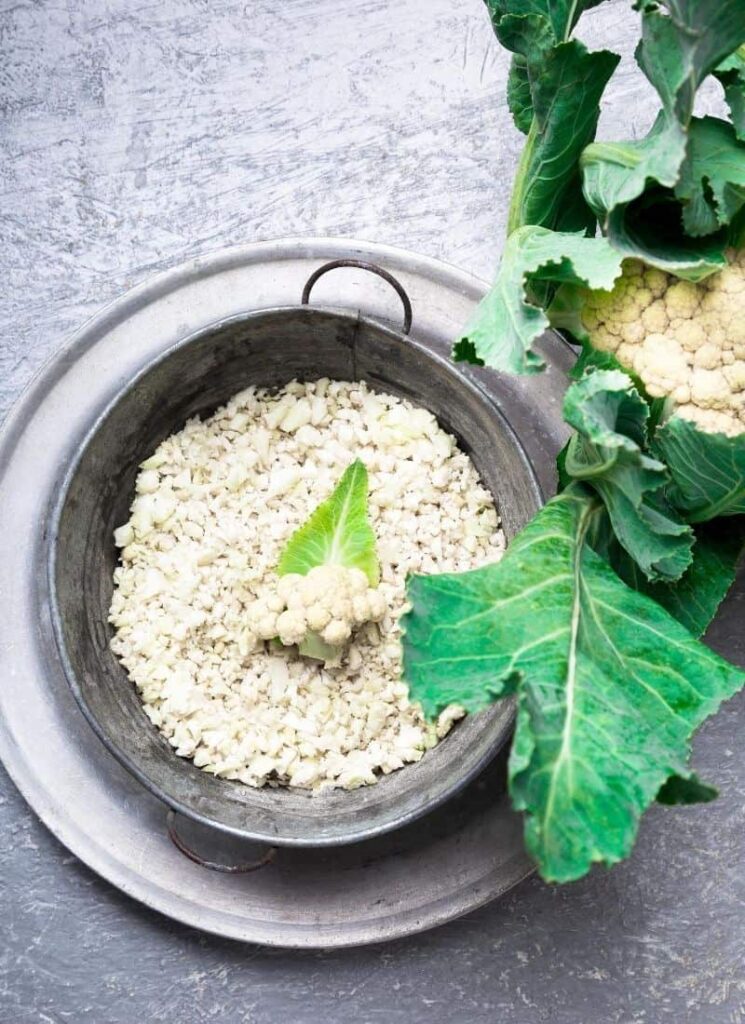 How to Prepare Cauliflower Rice
This is a basic keto food prep technique that all low-carb dieters should know about.
You can prepare cauliflower rice by hand or in a food processor.
Begin by cutting it into florets. Wash and trim the whole cauliflower head. Remove any brown spots.
Cut the whole piece in half and then half it again into quarters.
Hold each wedge from the top and angle the knife so that you can slice the stem off from the florets.
If the florets are still quite large, slice them in half or thirds to get them down in size. The only thing to consider here is if you can fit them in the shoot of your food processor or not. If you don't have a food processor, we will use a box grater instead. In that case, larger pieces are fine.
Ways to Make Cauliflower Rice
There are two ways to make cauliflower rice. You can choose to pulse the material in a food processor or grate it with a box grater.
Both ways are successful, although the food processor is much faster and you don't need to worry about nicking your knuckles. That is my preferred choice, however, using a box grater produces just as good results and is less bulky to store.
How to Rice Cauliflower with a Food Processor
You can rice a whole head of cauliflower in a matter of minutes with a food processor! It makes the prep work so fast.
Attach the grater disk and feed tube top.
Start the food processor and feed the cauliflower through the feed tube.
Be mindful of your fill line. You may need to empty the bowl out halfway through if you have a lot of material.
How to Make Cauliflower Rice Without a Food Processor
It is time to grab your trusty box grater or a sharp knife for this task.
Box grater method: Grate the cauliflower against the medium or large grater side. I use the same side that I use to shred cheese. This makes nice rice sized pieces.
Knife method: In the event you don't have a food processor or box grater, you can make cauliflower rice just by using a knife. Have some patience because it can take a while. Arrange the florets on a cutting board and chop them all up into small rice-like pieces.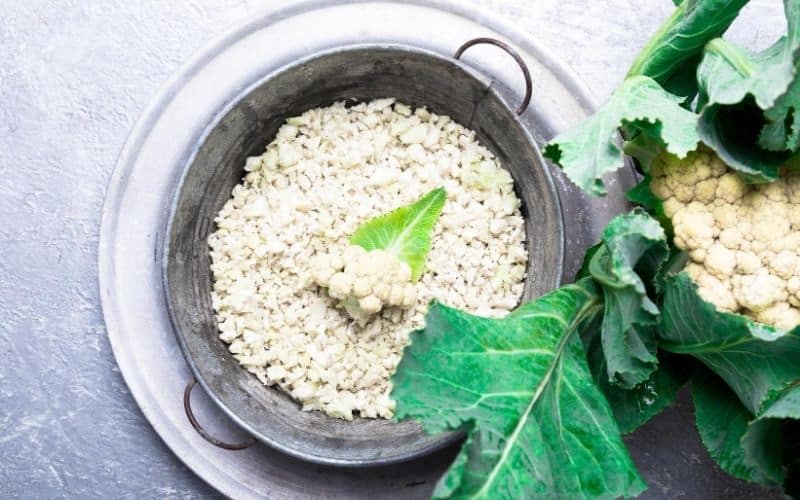 How to Cook Cauliflower Rice on the Stove
Now that we have the "rice", it is time to cook it!
The process is easy and will be completed in just two steps.
Melt a generous amount of cooking fat in a skillet over medium-high heat. I love butter but olive oil and coconut oil also work if you prefer a dairy-free option.
Add the riced cauliflower and stir-fry until done. We want an "al dente" finish so don't over cook it.
Cooking time does vary depending on the size of your rice and how much you cook at a time.
Fresh cauliflower rice usually takes about 5-10 minutes. It will be soft, but not mushy.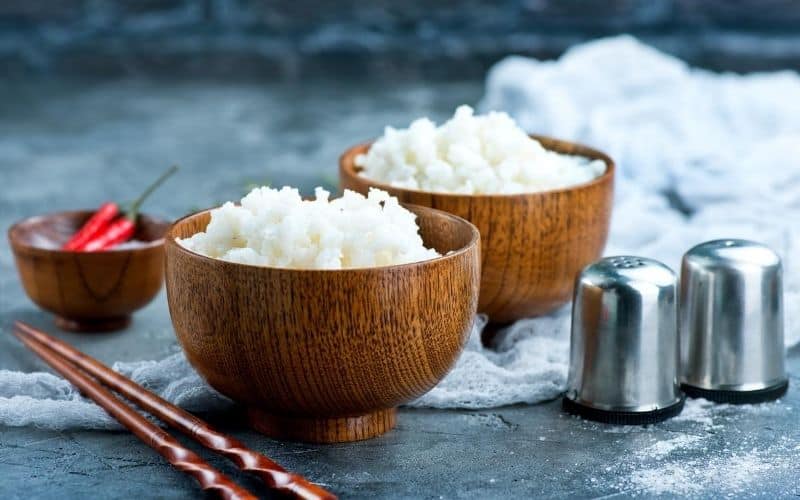 Prepare Cauliflower Rice in Bulk for Meal Prep
I bulk prep cauliflower rice just like I bulk prep broccoli as a quick and easy low-carb staple to have for the week. This strategy saves me a lot of time and makes meal prep a breeze.
Make a big batch of this rice alternative and store in an air-tight container in the fridge for up to 4 days after cooking.
Add it into salads, soups, and casseroles or just serve it with lots of salt and butter as a side dish.
Best Practices for Storing in the Freezer
I only recommend freezing cooked cauliflower rice because of the enzyme activity present that can affect both texture and flavor. Generally speaking, it is not recommended to freeze most vegetables completely raw precisely due to this issue. You can blanch the cauliflower first and then freeze if desired, and that will help preserve it better.
I tend to think if you're going to assert effort to pre-cook it anyway, why not just go ahead and cook it all the way through?
Allow the rice to cool completely then portion it out into freezer bags or containers. Label with a name and date. Store cooked cauliflower rice in the freezer for up to 3 months.
Cauliflower Rice Variations
Cauliflower is a neutral base, so feel free to get creative with flavorful cauliflower rice variations.
Flavor with cilantro and lime juice. Add a few squeezes of lime juice while the faux rice cooks and stir in up to 1/2 cup of finely chopped cilantro. Season with 1/2 teaspoon of garlic powder (optional) salt and pepper.
Make Mexican cauliflower rice. This might be the most popular variation and it's easy to cook. While the keto rice is cooking on the stovetop, add a few teaspoons of low-carb taco seasoning, minced onion, and diced peppers. Season with salt and pepper. Top with a generous amount of shredded cheese or queso blanco in the last few minutes of cooking.
Stir-fry with meat and low carb vegetables. Add ground beef, diced chicken breast, or sliced spicy sausage and your favorite vegetables and herbs with a splash of Keto Soy Sauce to a skillet and stir fry until cooked. You'll have dinner on the table in less than 30 minutes.
Add spirulina and sautéed garlic. No joke! Spirulina will turn your rice green (which can be extra fun for children), plus it has a great flavor. Serve with fried eggs on top and enjoy!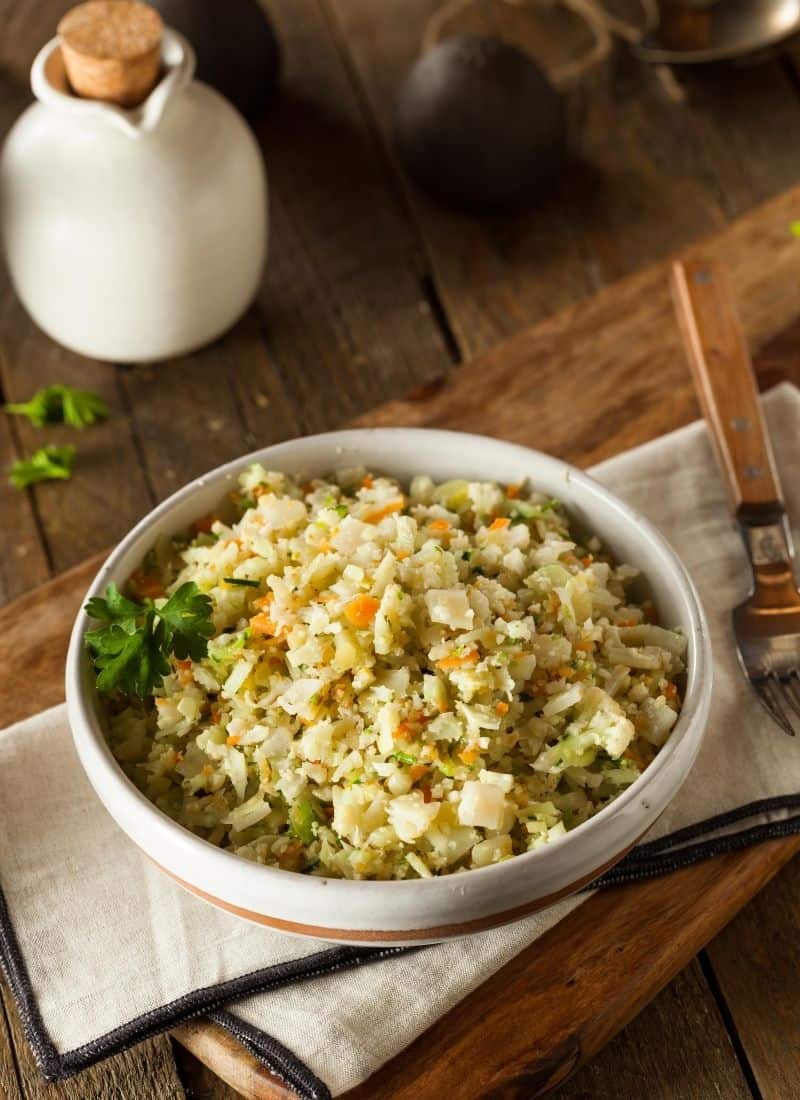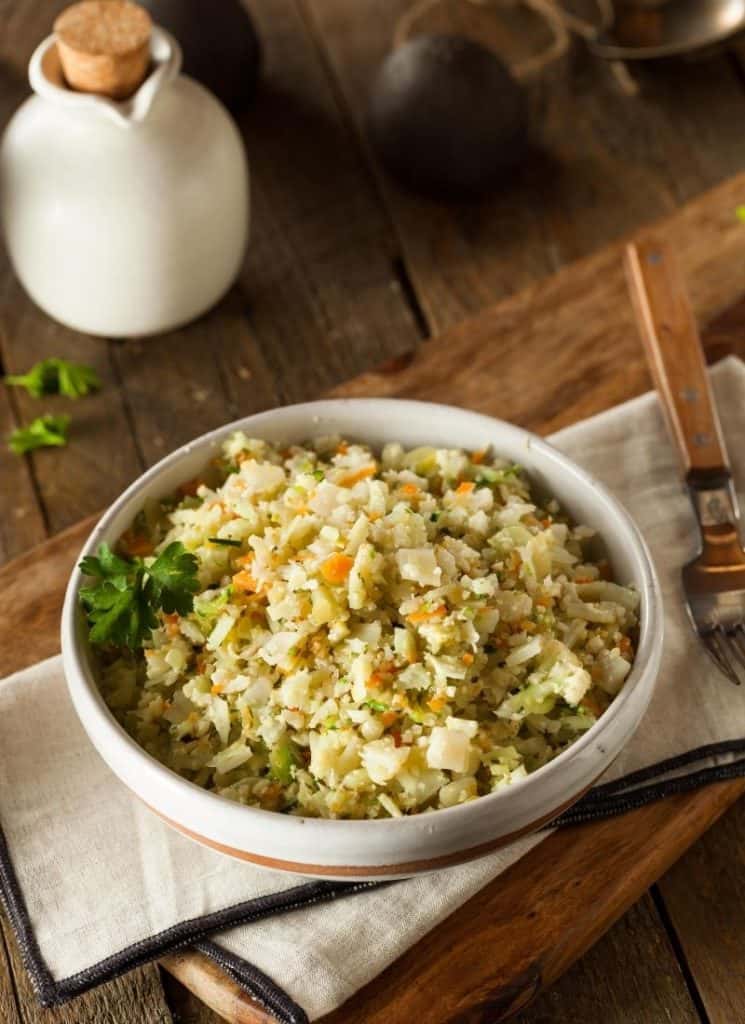 What to Serve with Cauliflower Rice
I love my keto dinner recipe for 15-minute Carne Asada with Cauliflower Rice. It never fails me!
Homemade keto rice is also great with carnivore meatballs, or with this Beef Shank Slow Cooker Recipe.
Cauliflower rice is the perfect side dish for Asian inspired recipes like Ground Beef and Broccoli Stir-Fry and Keto Ground Beef Stir-Fry.
Got chicken on hand? Try our rice with Keto Garlic Butter Chicken Bites from Keto Cooking Wins.
If you have our keto training manual, The Ketogenic Edge Cookbook, you know how useful cauliflower rice can be on a keto diet. It is a great thing to add to family-friendly low-carb recipes to provide a familiar rice-like bulk to the meal.
In our cookbook, we pair some of our favorite keto recipes with cauliflower rice like:
Mama's Best Meatballs
Beef and Wild Mushroom Stroganoff
Spanish Paella
Coconut Beef Curry
Sushi Rolls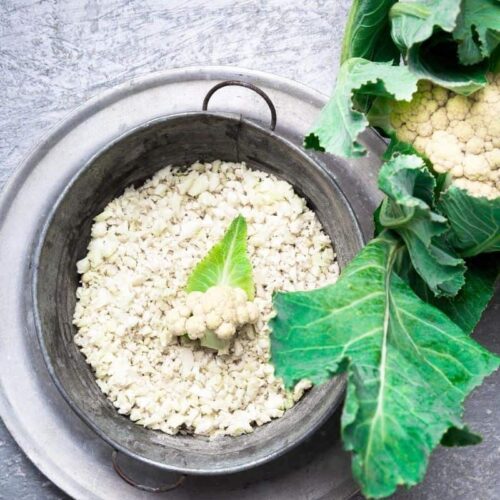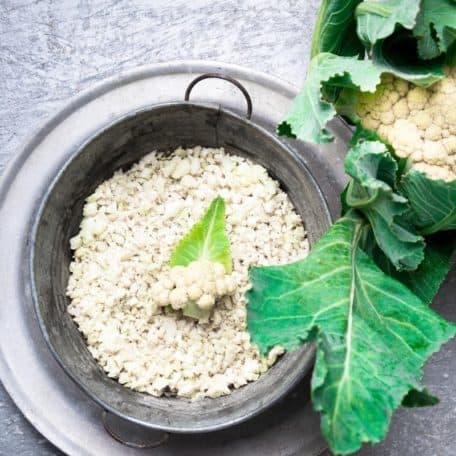 How to Make Cauliflower Rice
With cauliflower rice, you can have rice on a keto diet! Make this basic keto staple in your weekly meal prep and you'll have a satisfying low-carb replacement anytime you need. It's an easy recipe, as you'll see in the two-step process below.
Instructions
Rice the cauliflower with a food processor and grater blade attachment, box grater, or a knife.

Heat the cooking fat in a skillet over medium-high heat until spitting hot, about 1-2 minutes.

Add the cauliflower. Stir-fry 5-10 minutes, uncovered, until soft and al dente.

Season with salt and black pepper. Serve warm.
Nutrition & Macros
Serving:
1
cup
Calories:
86
kcal
Carbohydrates:
7
g
Protein:
3
g
Fat:
6
g
Saturated Fat:
4
g
Sodium:
384
mg
Fiber:
3
g
Net Carbohydrates:
4
g
To obtain the most accurate representation of the nutritional information in a given recipe, please calculate the nutritional information with the actual ingredients and amounts used, using your preferred nutrition calculator. Under no circumstances shall the this website and the author be responsible for any loss or damage resulting for your reliance on the given nutritional information.
Made this? Leave a Rating! ⭐⭐⭐⭐⭐
Tag a photo with @Primal_Mom and #PEHRecipe on Instagram to share with us!
Browse through Low-Carb Vegetable Recipes for more easy side dishes.