Butter tea is a popular Tibetan drink with four simple ingredients: brewed black tea, half-and-half, butter, and salt. It's a hot, savory tea enjoyed with breakfast or as an afternoon treat. Plus, it's a healthy and naturally low-carb keto drink that comes together in five minutes.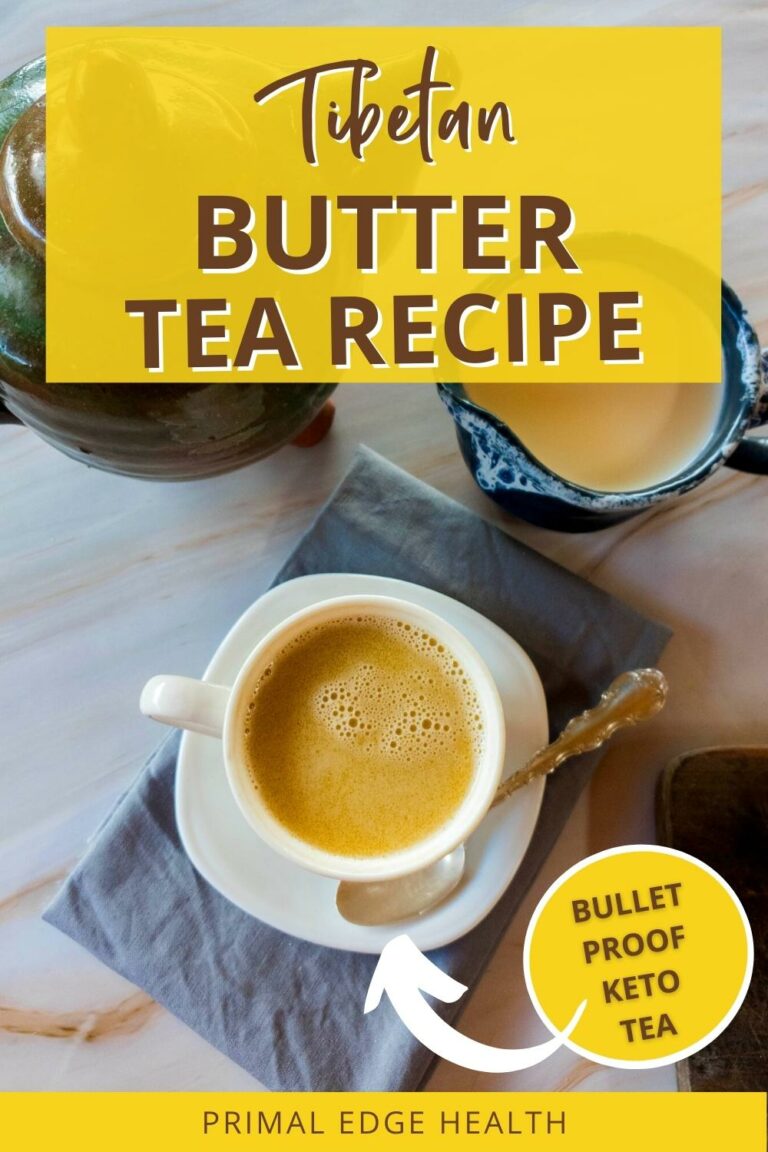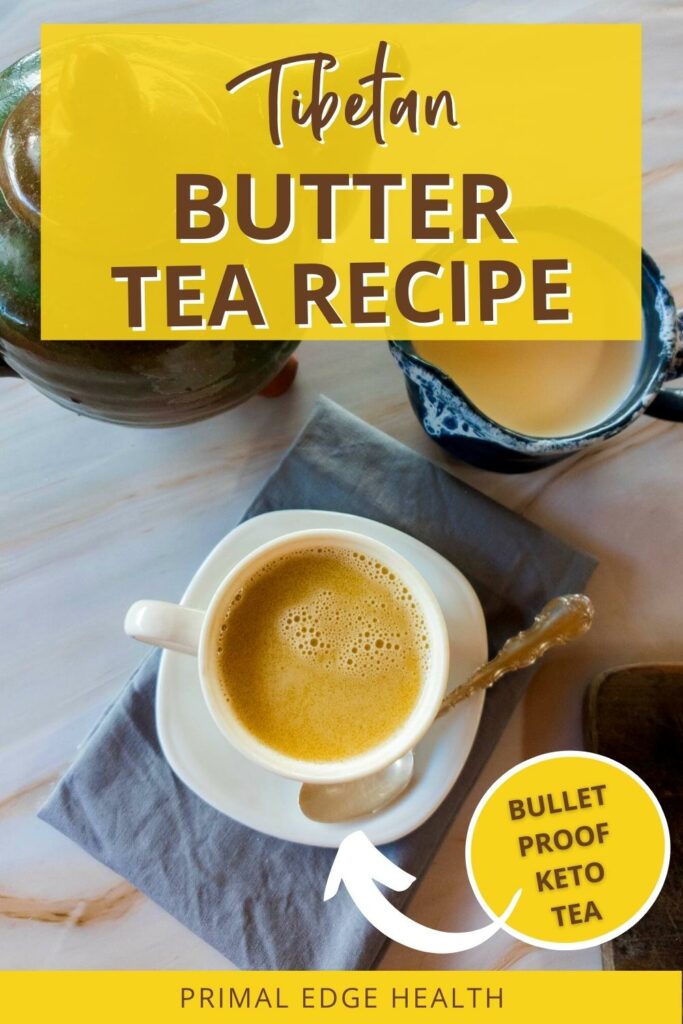 Table of Contents (click to view)
What is Butter Tea?
If you're familiar with the tenets of a ketogenic diet, you've probably heard of butter coffee. But have you heard of butter tea? This creamy keto drink has numerous health benefits, but what exactly is it?
Butter tea is a warm, savory tea made with cream, butter and a touch of salt. It's originally from the Himalayan region between the great Tibet and India.
Traditionally, it was made using the highest quality Pu-erh tea bricks, which make a vibrant dark brown tea when steeped. After steeping, the tea leaves are strained through a reed colander, and a large chunk of yak butter is added.
Butter tea continues to be a big part of Tibetan life. It's always served to guests and is a staple at every Tibetan celebration.
Today, you don't need a brick of tea, reed colander, or yak butter to enjoy a delightful cup of tea with butter. You can make a cup or two of this wonderfully delicious tea in just five minutes using a few black tea bags, half-and-half, butter, and salt.
If strong black tea isn't your thing, don't worry – use your favorite tea instead. This recipe is just as delicious with red rooibos tea or chai tea for a different flavor profile.
Rooibos is naturally caffeine-free. But chai usually contains a type of black tea, so be sure to check the labels for caffeine-free chai specifically if that is your preference.
Traditionally, this tea is savory and served without a sweetener. However, feel free to add honey to taste or a keto sweetener if you're sugar-free but prefer a sweetened tea.
The good thing about butter tea is that it comes together quickly and effortlessly. The ingredients mix together surprisingly well.
Sometimes, butter doesn't emulsify with liquid and tends to pool on the top in a separate layer, but that's not an issue in this tea recipe.
The half-and-half seems to help disperse the butter evenly throughout the tea. However, if you still want a luxuriously rich and creamy warm drink, a great way to emulsify all the ingredients is by using a milk frother for a few seconds.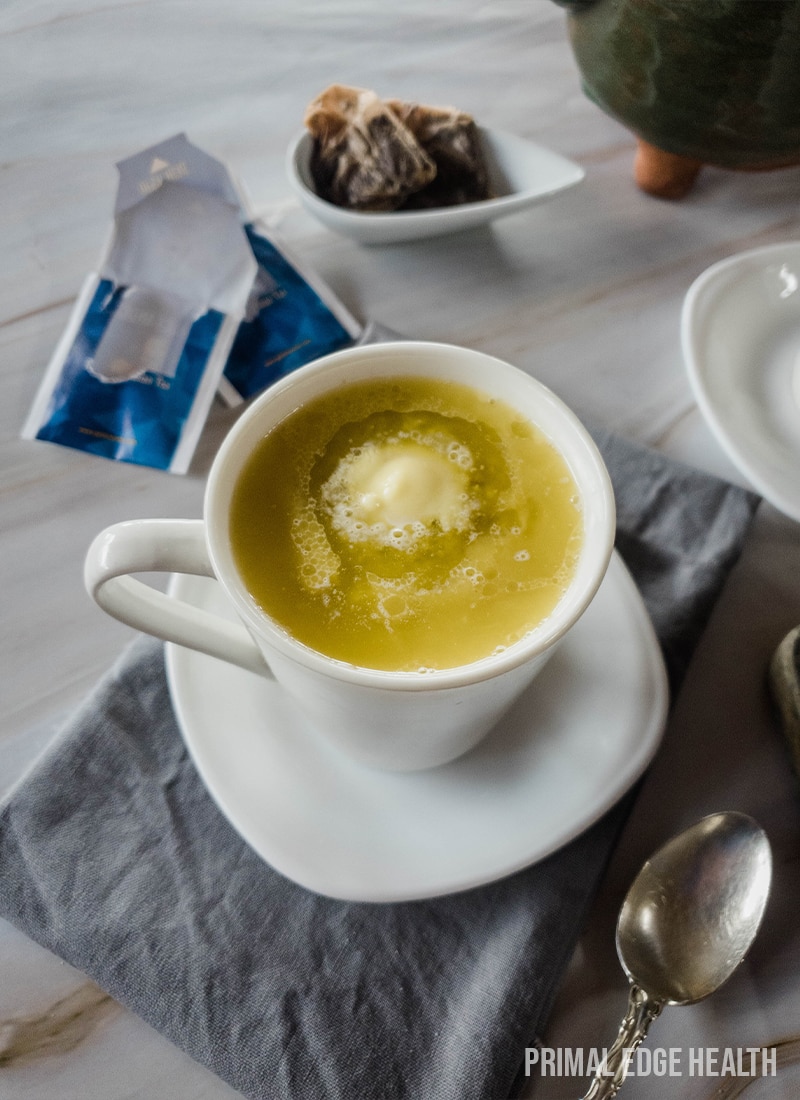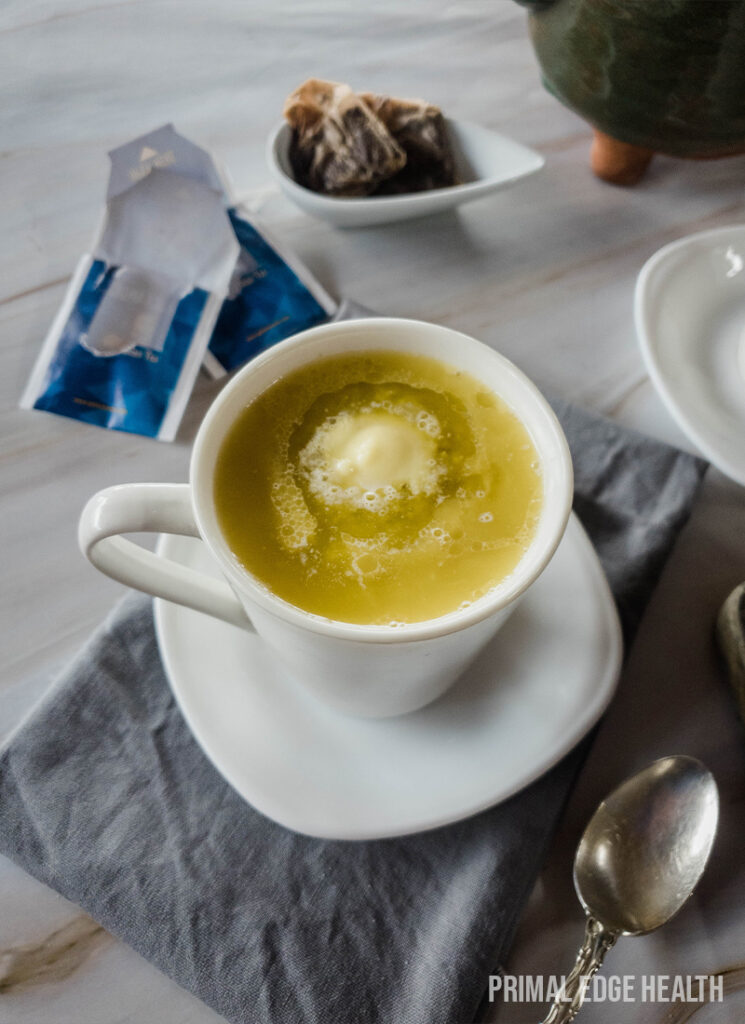 How to Make Butter Tea
Gather three main ingredients, and you're halfway to making butter tea in just five minutes!
This delicious hot drink comes together in no time, and you have options to make it simple or fancy. You only need to combine brewed tea with cream, butter, and a little salt and then serve.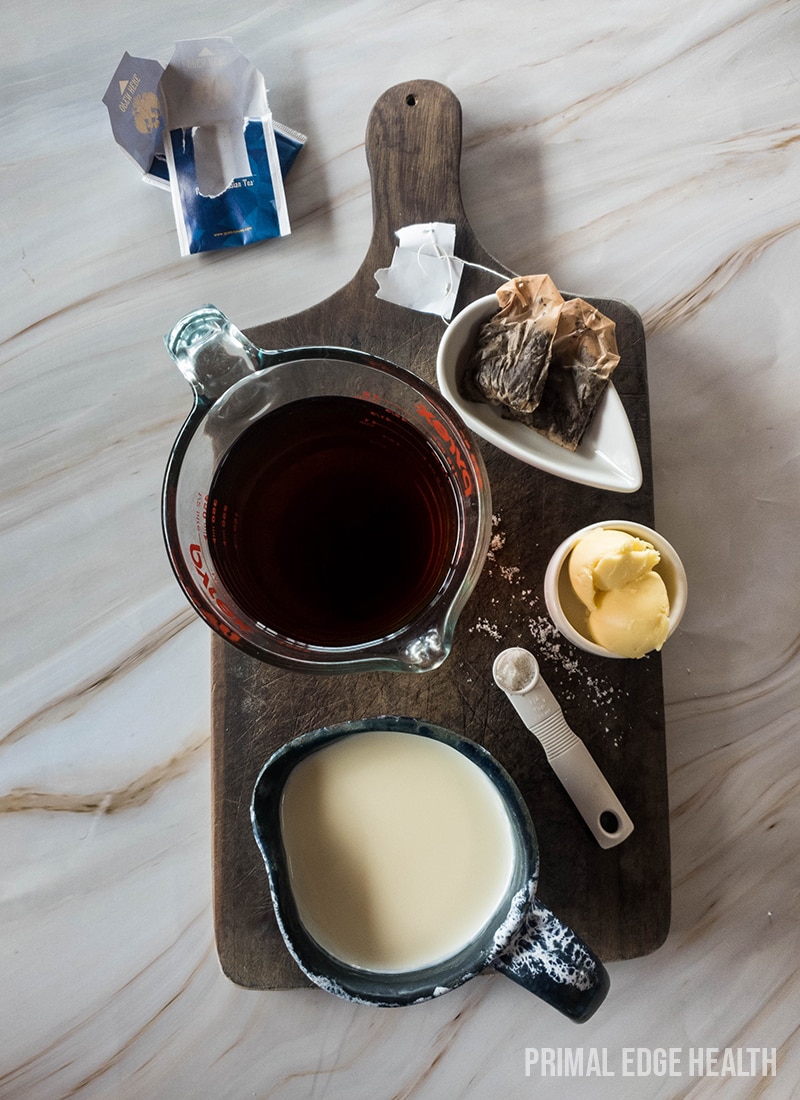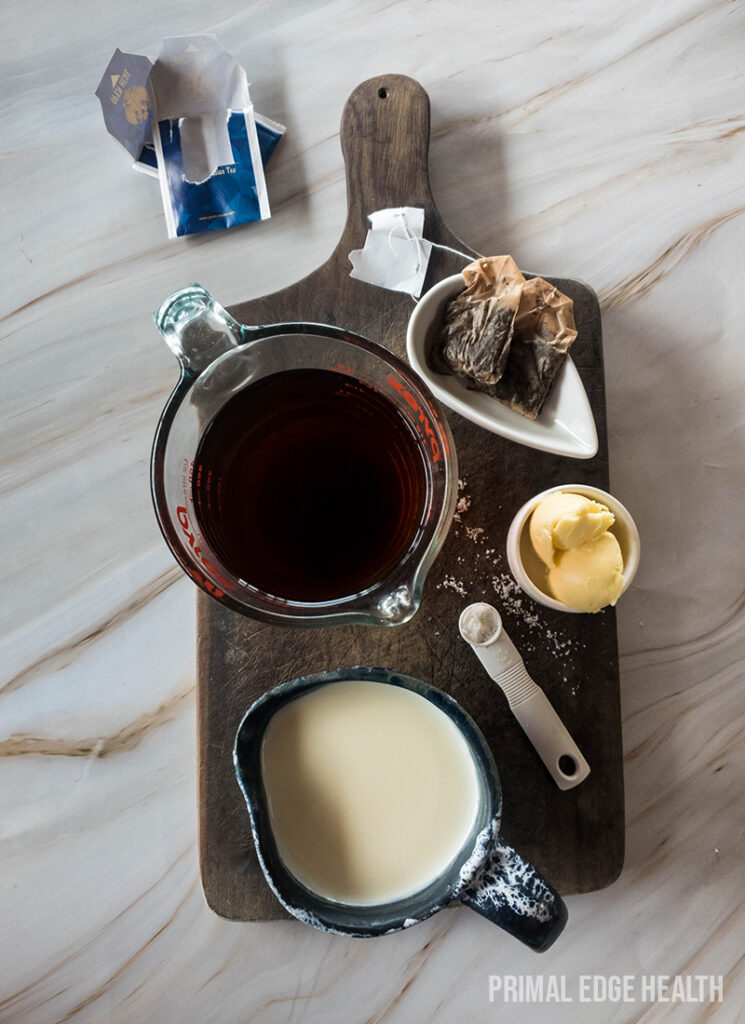 Ingredients
Hot water
Black tea – Either store-bought tea bags or 2 teaspoons of loose-leaf tea. Some loose-leaf tea can be superior to bagged teas, so keep that in mind if you want to make an authentic Tibetan butter tea.
Half and half – a great source of healthy fats. Obtain a raw milk half-and-half from a local food producer, if you can. If not, store-bought is fine. Out of half-and-half? No problem – make a simple blend of heavy cream and milk for homemade half-and-half using a 1 to 1 ratio.
Unsalted butter – I suggest grass-fed butter for the best creamy flavor. If you can source raw butter from a local producer, it makes this drink an exceptional treat! If not, regular unsalted butter will work.
Sea salt – Surprised to see salt listed as an ingredient? It very subtly pulls all the flavors together. Don't skip it! For a traditional spin, use pink Himalayan salt. You can also take this recipe to the next level with different types of gourmet salt. I bet you'll be pleasantly surprised by how different the flavor can be.
Substitutions and Variations
Butter tea is a high-fat beverage that stabilizes blood sugar, making it a great option for those on a low-carb diet. But you can easily adapt Tibetan butter tea to best suit any wellness diet.
There are several easy ways to modify the recipe and adjust for particular dietary needs.
Check out the following diet modifications:
Keto diet – Butter tea is the original inspiration for Bulletproof Coffee, the popular morning drink for keto, OMAD, and intermittent fasting. As long as you keep this unsweetened or use a keto-friendly sweetener, it's a perfect bulletproof tea recipe for a keto diet!
Dairy-free – Replace half-and-half with coconut milk and substitute butter with coconut oil, ghee, or MCT oil.
Carnivore diet – This is a keto carnivore and carnivore-friendly recipe. Those on a strict carnivore diet may wish to substitute tea with carnivore bone broth instead.
Low oxalate diet – Black tea has a moderate amount of oxalate, so you'll do best by substituting with another choice like rooibos, which I mention above.
Paleo diet – For true paleo butter tea, substitute half-and-half with coconut milk and use dairy-free butter replacement like coconut oil, ghee, or MCT oil. If you tolerate butter, feel free to use the best quality butter that fits your budget. Organic raw butter is ideal if you have access to it, but regular unsalted butter will work too.
GAPS – To make a GAPS butter tea, replace the half-and-half with coconut milk but use pure organic butter as called for in the recipe. GAPS diet limits dairy to fermented and lactose-free milk products. The process of making butter from cream removes most of the lactose, making it GAPS compliant.
Whole30 – Use dairy-free substitutions like coconut milk and coconut oil, ghee, or MCT oil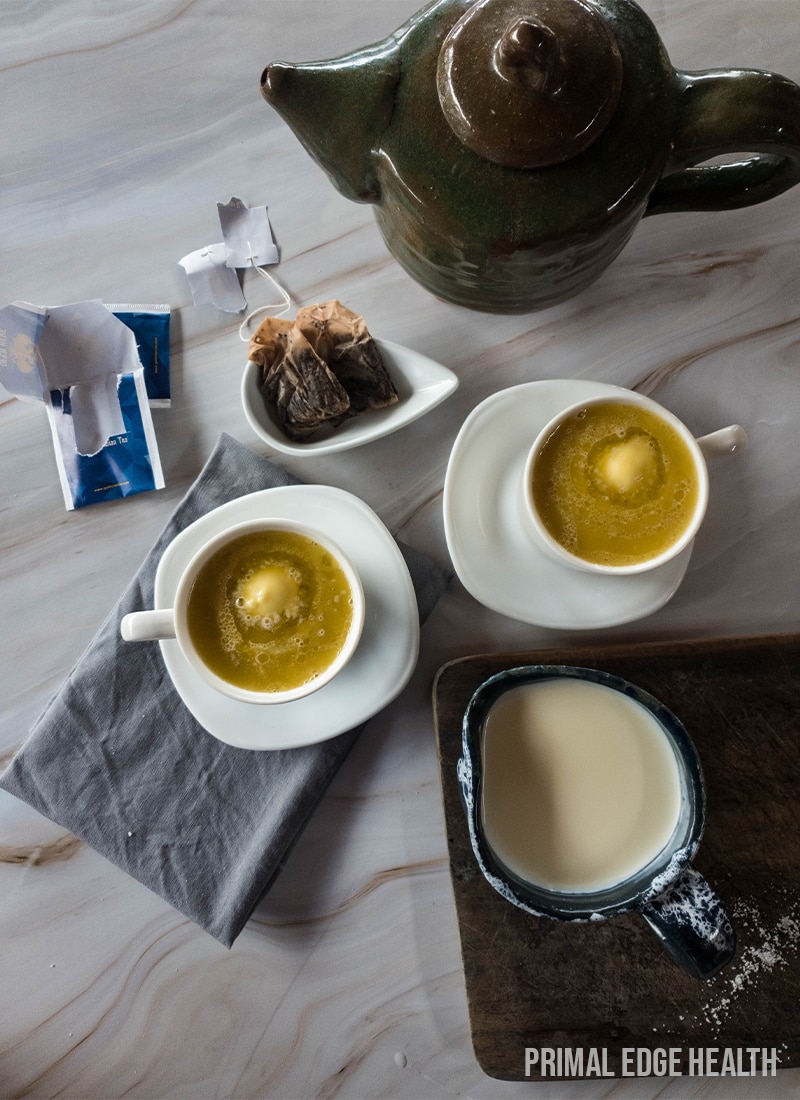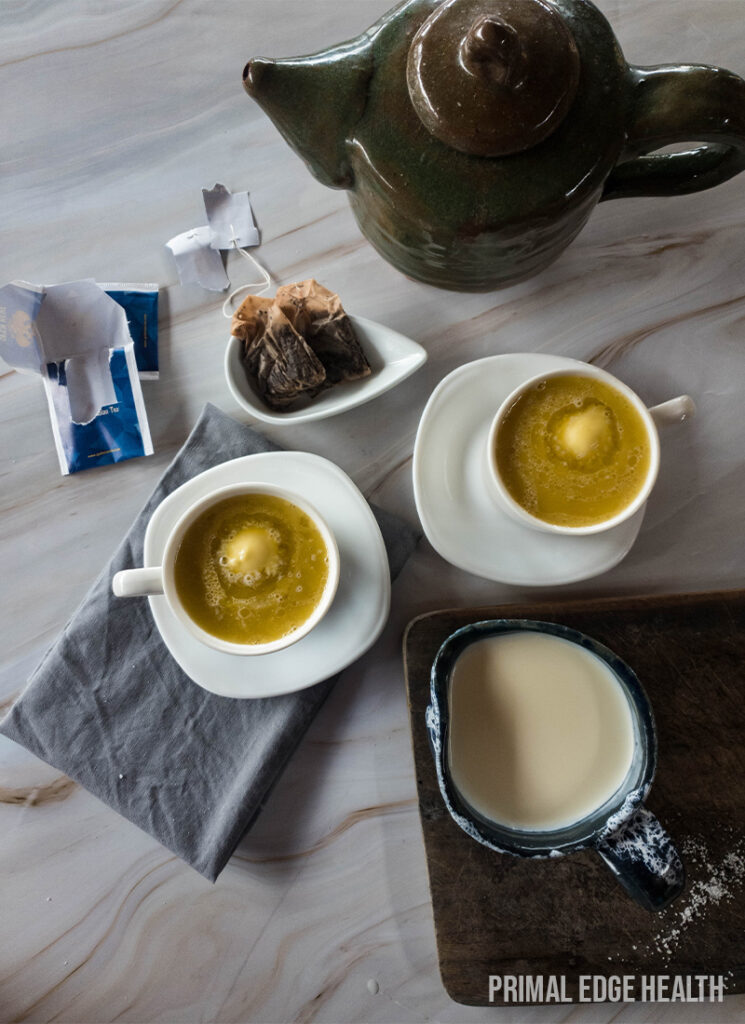 Step-By-Step Directions
The directions for making butter tea are as easy as two simple steps. You'll start with steeping tea first, then add all the fixings. Finally, pour into cups and enjoy warm! That's it.
From simple to more involved, there are various ways to steep tea, depending on the equipment available and how much time you have to spare. Steeping tea bags is the fastest route, but you can opt for a more authentic Tibetan butter tea and steep loose-leaf tea instead.
Step One: Steep tea
Use the tea-making method most convenient for you.
Method #1: Tea bags
Boil water in a small saucepan or tea kettle, then divide into two mugs and steep one tea bag in each cup. Remove tea bags, squeeze out the water, and discard.
Method #2: Tea bags but make it in bulk
Steep tea bags directly in the saucepan. Remove tea bags, squeeze out the water and discard. Add all remaining ingredients, stir, then divide and serve. This is the best way if you double or triple the recipe to accommodate more people.
Method #3: Loose leaf
Of course, tea lovers see this as an opportunity to go fancy and use their teapot! Go for that option if you have one. I love the design of this glass teapot.
Now, if you're using loose leaf tea, the process is slightly different, but only because you need to prepare the tea first before steeping. To do this, measure out 1 teaspoon or approximately 3 grams of tea per cup. In this case, our recipe yields two cups, so we use 2 teaspoons, or 6 grams, of loose leaf black tea.
Add the loose leaf directly into the teapot, pour hot water, and allow to steep for five minutes before pouring the tea into cups. You can use a fine mesh sieve to catch the tea leaves if your teapot doesn't come with a strainer.
Method #4: Tea ball and other accessories
Instead of a teapot, you can add the single servings of loose leaf tea to a mesh teaspoon or tea ball and steep in the saucepan, teapot, or directly in the mug (loosely covered, so steam does not escape).
Alternatively, you can make your own tea bags with these eco-disposable filters from Mountain Rose Herbs. Fill with the amount you please, and then tuck the paper flap under the pot's lid and steep as you would a normal tea bag.
As you can see, any of these methods will work for this Tibetan butter tea recipe. It's a matter of preference and what equipment, tea, and time you have available.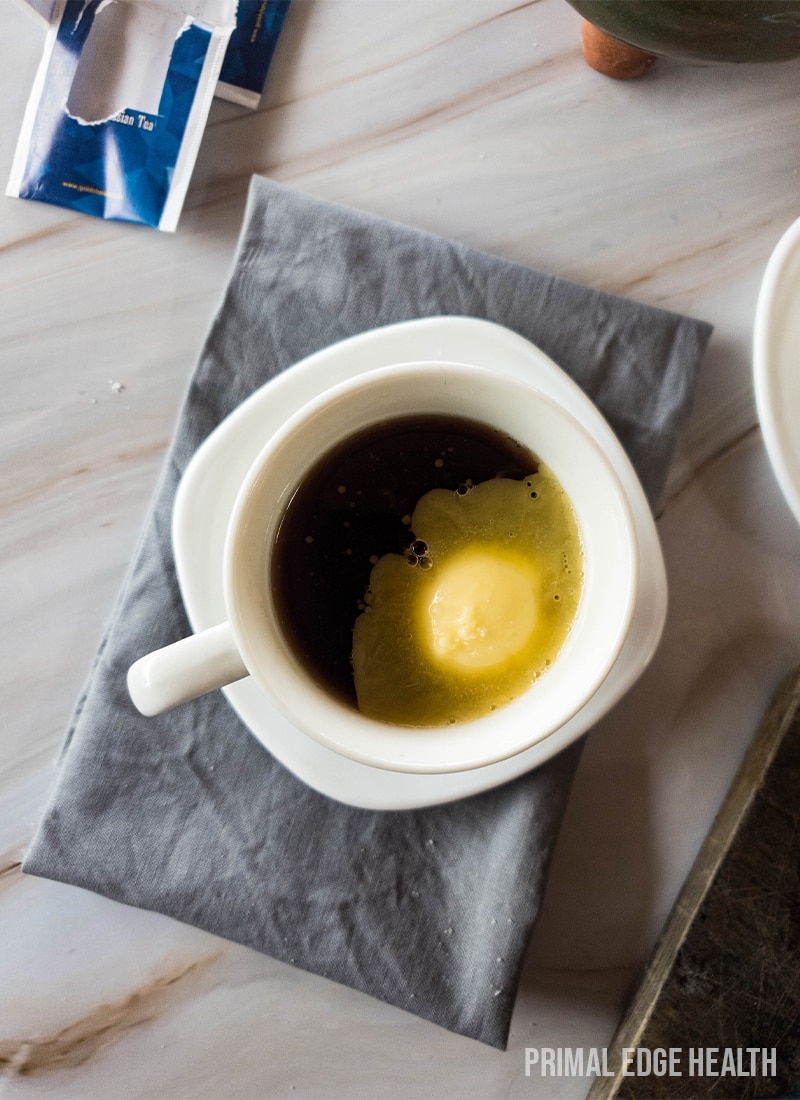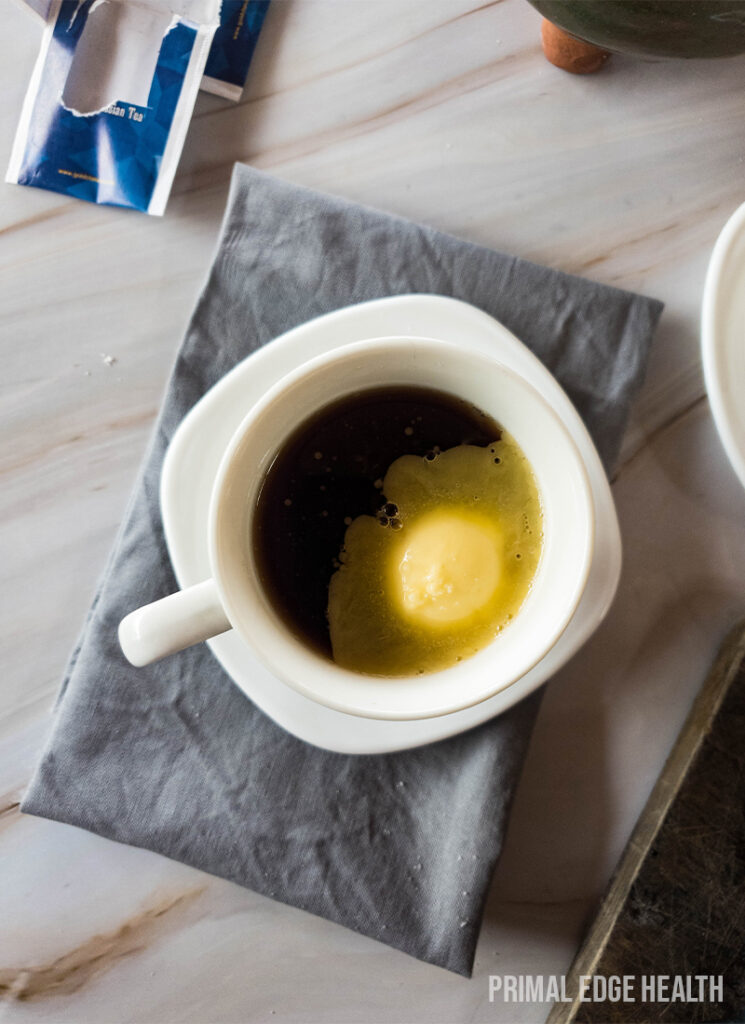 Step Two: Add other ingredients
After the tea has steeped, pour it into two cups if you haven't already. Divide half-and-half, butter, and salt evenly between each cup. Mix well and serve.
Alternatively, you can add half-and-half, butter, and salt to the brewed tea directly into the saucepan if that is your method of steeping tea.
If you prefer to sweeten tea, add raw honey to taste or a keto sweetener if you're sugar-free. Traditionally, this recipe is left unsweetened.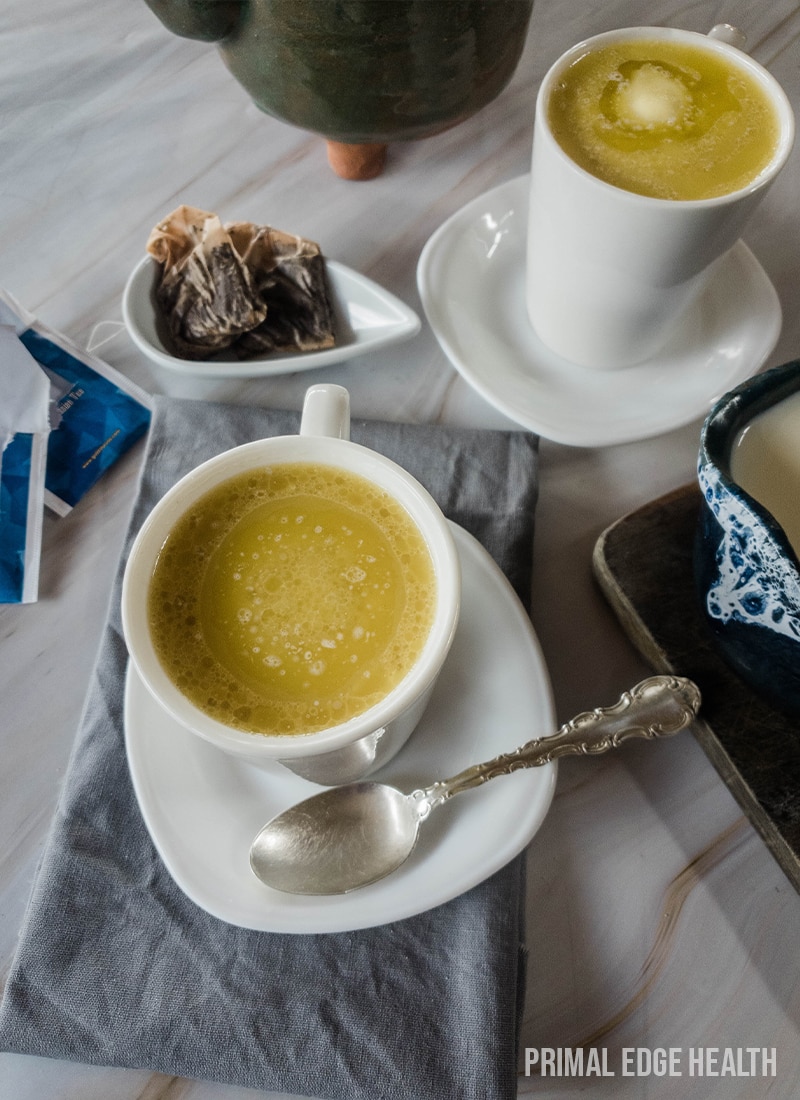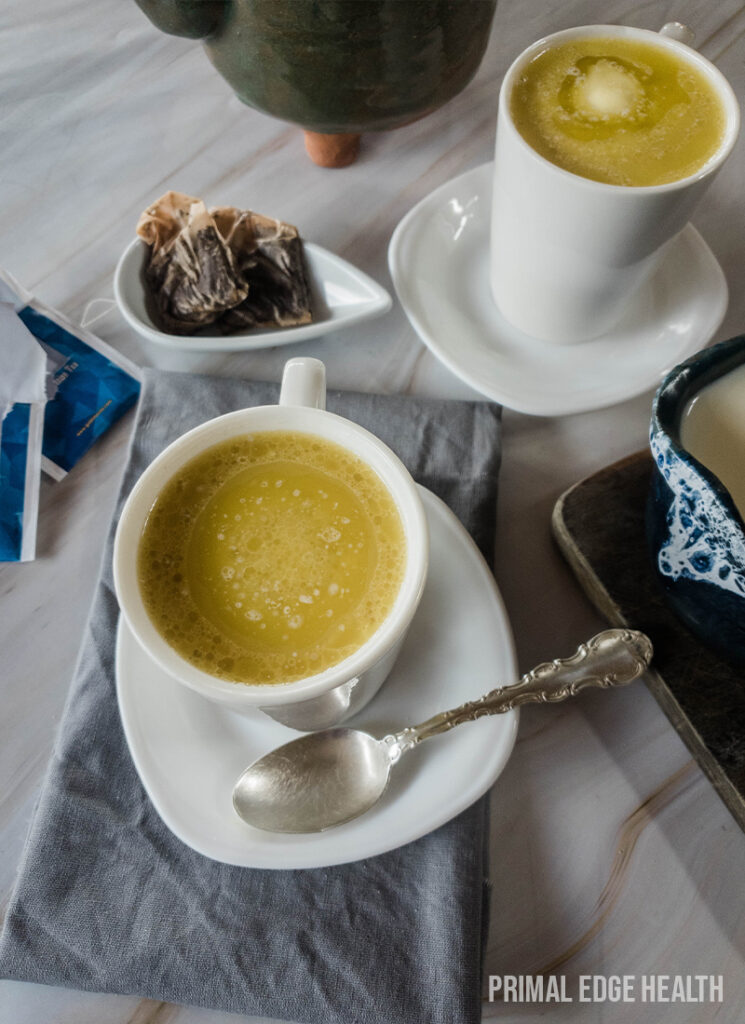 Step Three: Divide and serve
Mix well and divide evenly between the two cups. Serve immediately.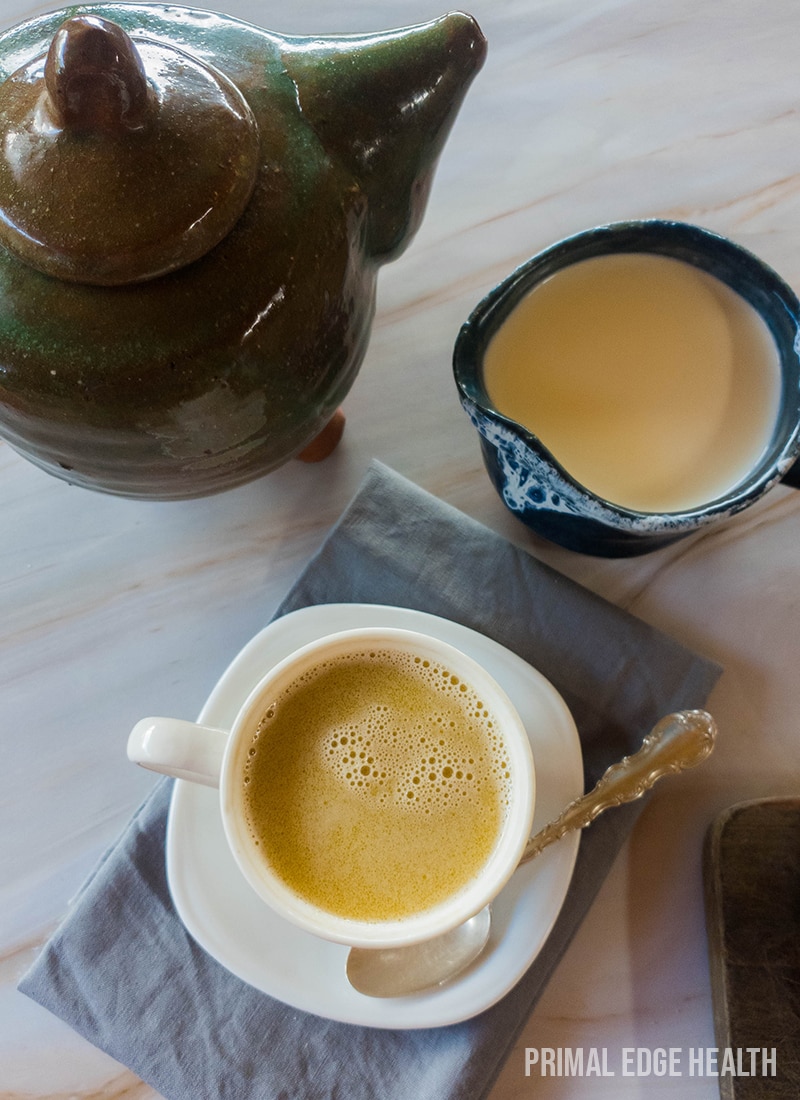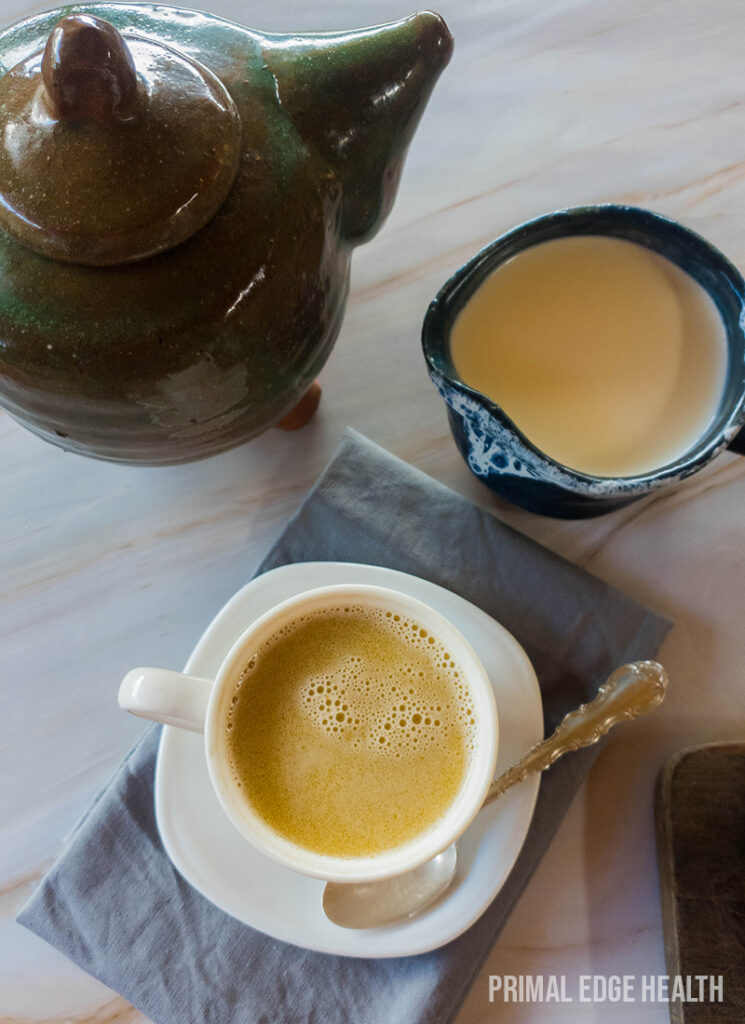 Nutritional Info
There are two servings in this butter tea recipe.
Each serving contains:
90 calories
1 g protein
9 g fat
1 g total carbs
1 g net carbs
Please note that the nutritional value will change if you substitute ingredients. Use a nutrition app to recalculate and reflect your changes.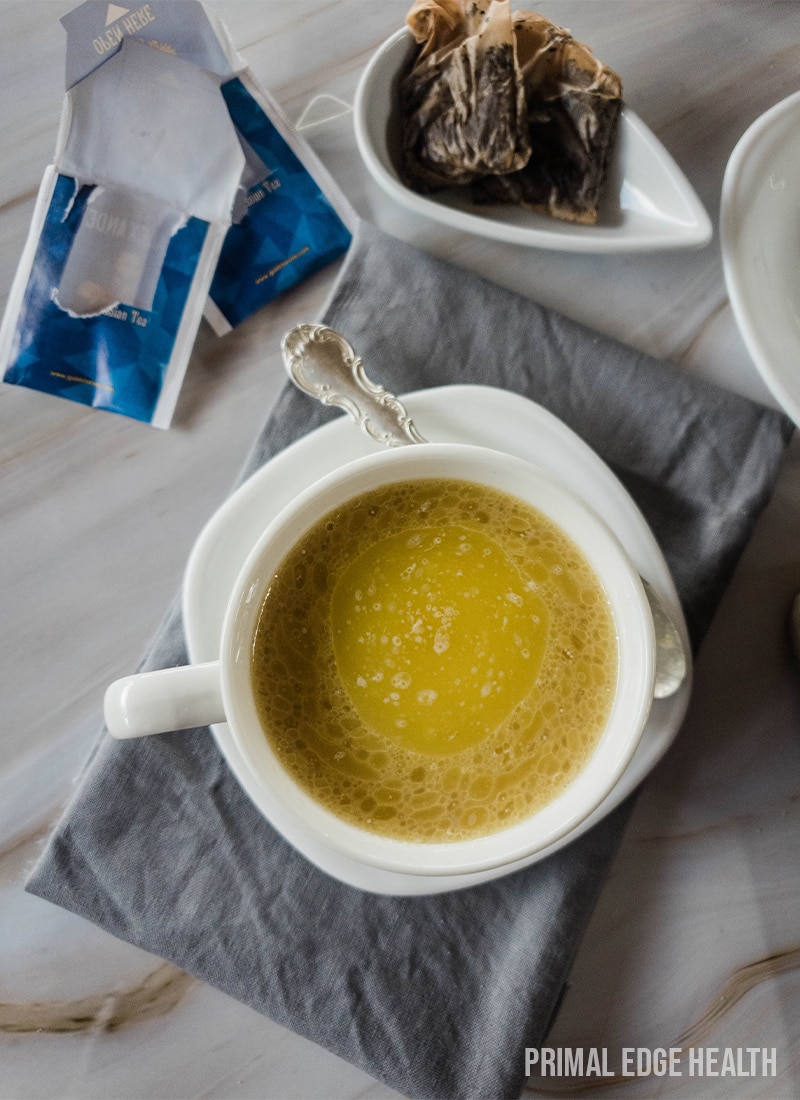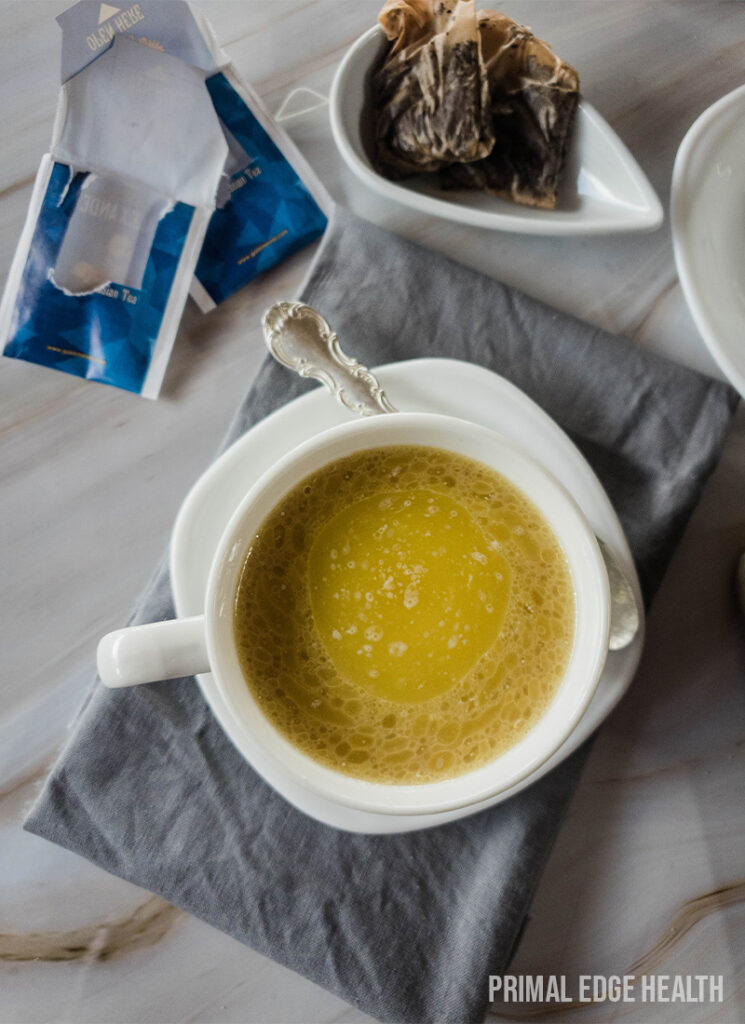 Can you put MCT oil in tea?
Instead of butter, you can add MCT oil or coconut oil in tea as an easy way to incorporate this healthy fat into your diet. MCT oil is a type of fat called medium-chain triglycerides, which is commonly found in coconut oil and butter. MCT molecules are smaller than other fats and, thus, are easier to digest, giving you quick energy.
What unexpected ingredient is added to tea in Tibet?
Traditionally, Tibetan tea is made with yak butter. Regular cow's butter is more accessible and very similar to yak butter, therefore makes a great alternative for this recipe.
Is tea keto?
Tea can certainly be keto as long as non-keto ingredients are not used. Skip any non-compliant sweeteners like regular cane sugar, maple syrup, and honey, and stick to low-carb and keto sweeteners, if any.
What is a good keto-friendly tea?
You have many different options for choosing the type of tea. Use black tea for traditional Tibetan butter tea, or go with green tea or even rooibos tea for a caffeine-free herbal option.
These will be a nice bulletproof coffee alternative if you don't drink coffee but still want the brain-boosting fats. Dairy fats and salt make this an excellent keto tea for weight loss.
If you like making recipes with tea, a Dirty Chai Smoothie and Hibiscus Mint Keto Mocktail are right up your alley!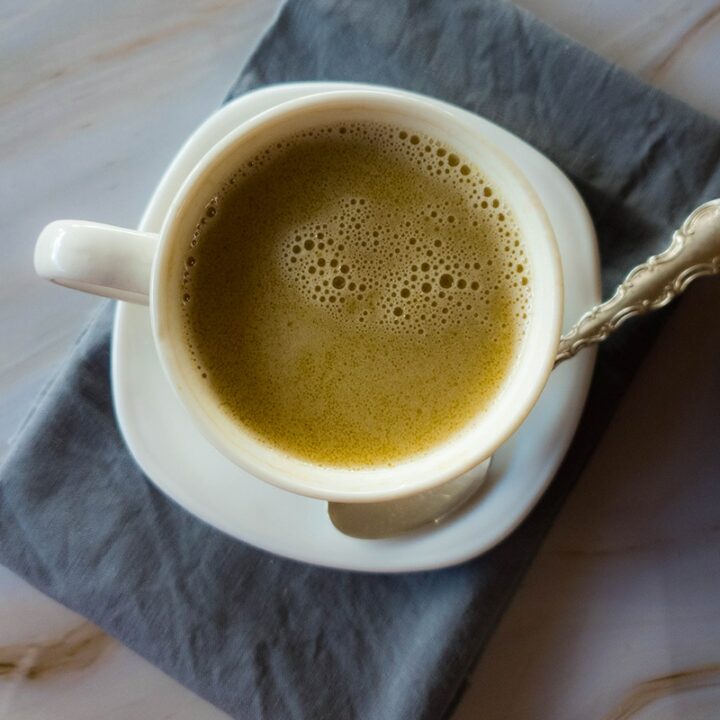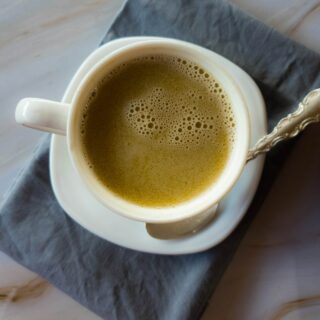 Butter Tea Recipe
Butter tea is a popular Tibetan drink with four simple ingredients: brewed black tea, cream, butter, and salt. It's a hot, savory tea enjoyed with breakfast or as an afternoon treat. Plus, it's a healthy and naturally low-carb keto drink that comes together in 5 minutes.
Instructions
Bring two cups of water to a boil over medium heat. Then, remove from heat and steep the tea for

5 minutes

. Remove tea bags, squeeze out the water, and discard.

Add half and half, butter, and salt to the brewed tea, then mix well. Or divide the tea between two cups first, and then portion the remaining ingredients with half to each cup, and mix them individually.

¼ cup half and half,

1 tablespoon butter,

¼ teaspoon salt

Divide the tea into two cups, if you haven't already and serve immediately.
Notes
There are a variety of different methods for steeping tea. Please read the detailed description in the post text above if you are unsure of the best option for you.
If you prefer to sweeten tea, add raw honey to taste or a keto sweetener
if you're sugar-free.
Traditionally, this recipe is left unsweetened.
Nutrition & Macros
Serving:
1
cup
Calories:
90
kcal
Carbohydrates:
1
g
Protein:
1
g
Fat:
9
g
Saturated Fat:
6
g
Sodium:
354
mg
Net Carbohydrates:
1
g
To obtain the most accurate representation of the nutritional information in a given recipe, please calculate the nutritional information with the actual ingredients and amounts used, using your preferred nutrition calculator. Under no circumstances shall the this website and the author be responsible for any loss or damage resulting for your reliance on the given nutritional information.
Made this? Leave a Rating! ⭐⭐⭐⭐⭐
Tag a photo with @Primal_Mom and #PEHRecipe on Instagram to share with us!