Low-carb blueberry scones are a nice transition recipe as a means of introducing other nonketo dieters into the world of delicious ketogenic foods.
The blend of almond and coconut flour is an gluten-free and grain-free base for the eggs, coconut oil and blueberries.
With only two bowls, a spoon, and a baking sheet, this recipe couldn't be simpler.
Like many of my recipes from The Ultimate Guide to Low-Carb Baking, this procedure follows the easy process of mixing all the wet ingredients in one bowl and they dry ingredients in another.
Combine the two together, fold in the berries and you have yourself some lovely low-carb blueberry scones after just 30 minutes of bake time.
The tartness of our blueberries gave a great flavor and inspired me to add some lemon or lime zest in the next batch.
Let me show you my favorite recipes for FREE!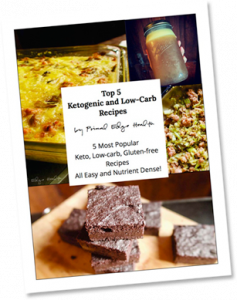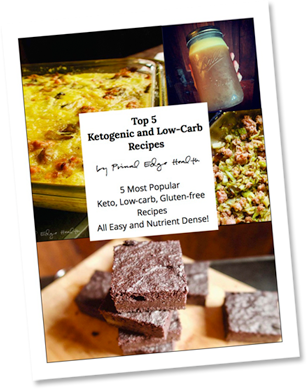 Sign up to get my new recipe ebook
This most may contain affiliate links. Primal Edge Health LLC may receive a small commission at no extra cost to you for any orders made through these links. All thoughts and opinions are my own and I never promote something I wouldn't use myself.
Fresh v Frozen Blueberries?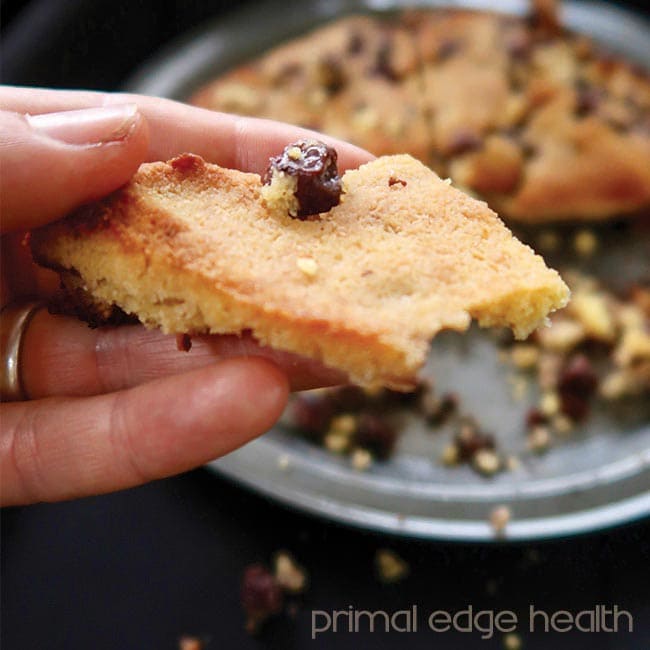 You can use either. If the berries are still frozen when you mix them into the batter, this may affect the baking time. Frozen berries might increase the baking time by 5 to 10 minutes.
Tristan and I go back and forth on this question. He is convinced he can tell a difference with the frozen and prefers fresh, but for me, it isn't so clear. I'm fine either way.
A strategy I do employ is to thaw the frozen blueberries before baking, this brings us to a happy middle ground where I get to tap in to my frozen stash of summer blueberries and he gets to enjoy delicious scones. Win, win.
Blue, Black or Red
I'm a fan of consuming local, seasonal produce. The blueberries can be replaced with other berries of your choice. Blackberries, red raspberries or strawberries, or any other local specimen should work fine with this recipe. Bonus points if you forage the berries yourself! We've made strawberry and strawberry/blueberry scones.
We'll Sugar-Coat for it You
And we can by using a keto-approved low glycimic, zero calorie sweetener called Lakanto. It is a special blend of erythritol and monk fruit extract. For us, the monk fruit extract brings added nutritional benefits and value to the erythritol. We purchase directly from Lakanto's store. In this recipe, we use their "golden" which is a brown sugar sub, you could also use the "classic" version or just plain erythritol- whatever works best for you!
Use the coupon code "primaledgehealth" and save 20%!
It was Tristan's idea to add a finishing coat of the sugar-free sweetener over the top of the unbaked scones. The final result has a crunchy "sugar" topping.
Watch the recipe video for low-carb blueberry scones here.
FOLLOW PRIMAL EDGE HEALTH on INSTAGRAM, PINTEREST and FACEBOOK for more low-carb, ketogenic recipes and diet tips!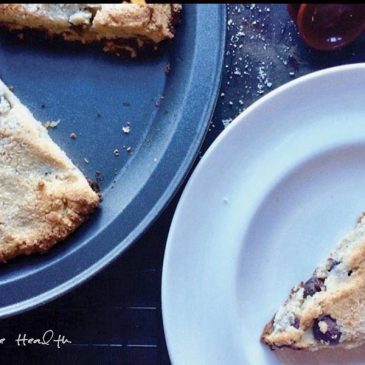 Low-Carb Blueberry Scones
A family friendly low-carb blueberry scone made with a simple prep method and basic ketogenic ingredients.
Print
Pin
Rate
Instructions
Preheat the oven to 350° F. Lightly grease a baking sheet or small pizza pan with coconut oil.

Combine the dry ingredients in a small bowl.

In a second bowl, whisk the nut milk, coconut oil, eggs and vanilla. Reserve the blueberries. Fold this wet bowl into the dry bowl; continue gently mixing until dough forms. Fold in blueberries.

Shape the scones on a baking sheet in 8 discs or form a circle on a pizza pan and divide into 8 even sections. Separate the pieces a bit so they do not stick together while baking. Sprinkle additional Lakanto on the tops, if desired.

Bake for 20 to 30 minutes, until golden brown on the edges. Let cool completely before serving.
Nutrition
Calories:
151
kcal
|
Carbohydrates:
8
g
|
Protein:
4
g
|
Fat:
13
g
|
Saturated Fat:
5
g
|
Cholesterol:
1
mg
|
Sodium:
82
mg
|
Potassium:
55
mg
|
Fiber:
3
g
|
Sugar:
3
g
|
Vitamin A:
10
IU
|
Vitamin C:
2
mg
|
Calcium:
42
mg
|
Iron:
1
mg
Pin it for Later: