Perfectly chewy ketogenic chocolate chip cookies are made possible by adding grass-fed beef gelatin to the cookie dough. These moist morals of flaky chocolate cookie are wonderful to share with the whole family. You can share these at school, playdates, and family gatherings. Everyone can enjoy easy keto recipes without even knowing they are sugar-free and low-carb.
These cookies have replaced the desire for oreos in one family!
A subscriber shared the story of making these cookies for their daughter. After trying them, she said she liked these better than oreos! WOW! What a #momwin!
These are a low-carb and sugar-free recipe that is safe for a keto diet.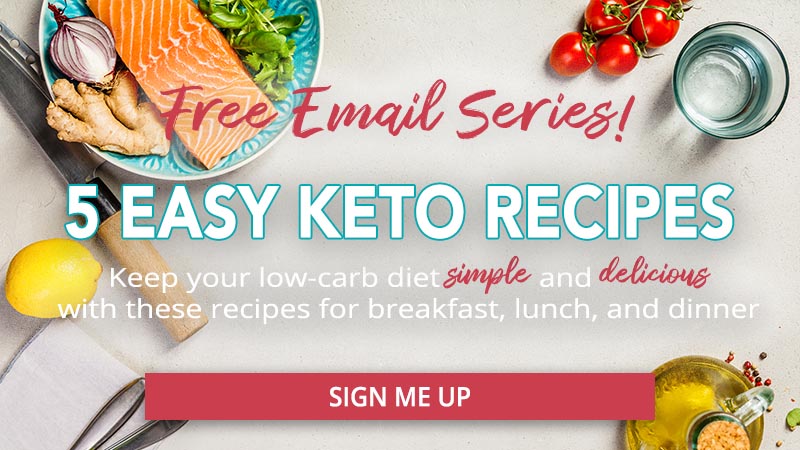 This post may contain affiliate links. Primal Edge Health LLC may receive a small commission at no extra cost to you for any orders made through these links. All thoughts and opinions are our own and we never promote something we wouldn't use ourselves.
The Hardest Part of making Keto Chocolate Chip Cookies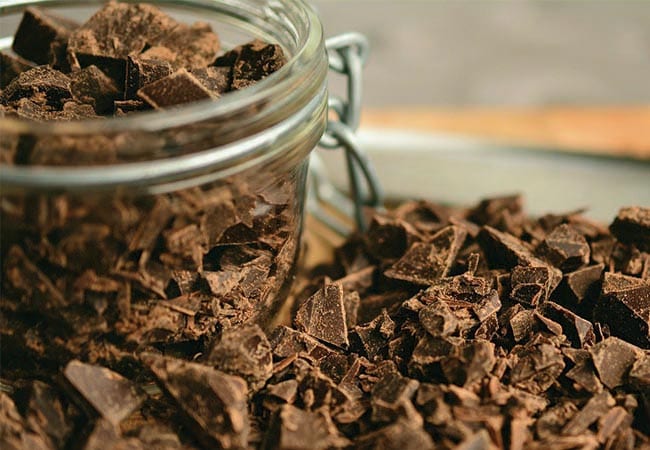 The hardest part of this recipes is waiting for the cookies to completely cool before eating!
As an experiment, you can try them at the difference stages: hot from the oven, slightly cooled and completely cool. You'll learn the difference and can decide how you like them best.
Like all most all ketogenic baked cakes, breads and cookies, I do think they are the best to eat once totally cooled.
If you have the patience, keep them in the refrigerator overnight and you'll see how amazing they are the next day (breakfast cookies…).
If you feel like decorating them, a Diary-Free Keto Icing looks beautiful drizzled on top.
Get a Little Nutty
Chop up 1/4 cup of walnuts or pecans and add them in the batter with the chocolate bits. Macadamia nuts or pumpkin seeds can be used also. The nuts lend a nice texture to the chewy ketogenic chocolate chip cookie.
Our son loves this Sugar Free Chocolate Recipe, if you're a fan of chocolate and almonds, I bet you will too.
Watch the recipe video here.
★ FOLLOW PRIMAL EDGE HEALTH on INSTAGRAM, PINTEREST and FACEBOOK for more low-carb, ketogenic recipes and diet tips!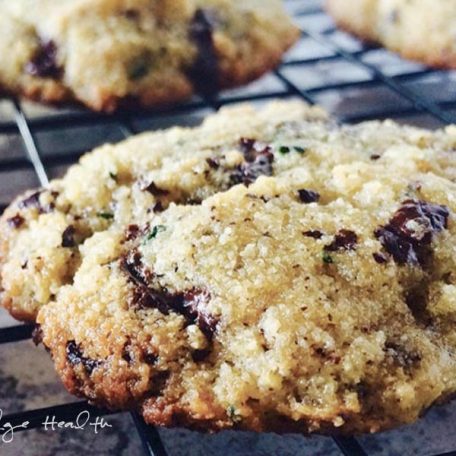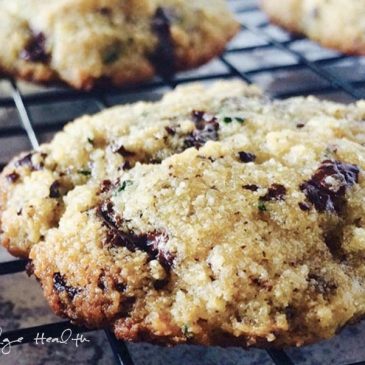 Ketogenic Chocolate Chip Cookies
Chewy, ketogenic chocolate chip cookies with a hidden vegetable ingredient - a recipe the whole family can enjoy!
Print
Pin
Rate
Instructions
Preheat the oven to 325° F.

Whisk the egg, oil, and milk in a medium bowl.

In a second bowl, combine the flour, sweetener, gelatin, vanilla, baking soda, baking powder, and salt.

Pour the dry bowl into the wet mixture. Mix a few times to combine. Fold in zucchini and cacao paste.

Spoon onto a baking sheet lined with parchment paper. Bake for 12 to 15 minutes, until golden and firm. Transfer to a cooling rack, leave until completely cool before eating.
Macros and Nutrition
Nutrition Facts
Ketogenic Chocolate Chip Cookies
Amount Per Serving
Calories 1087
Calories from Fat 936
% Daily Value*
Fat 104g160%
Cholesterol 1mg0%
Sodium 2579mg112%
Potassium 1357mg39%
Carbohydrates 51g17%
Protein 31g62%
Vitamin A 468IU9%
Vitamin C 42mg51%
Calcium 302mg30%
Iron 19mg106%
* Percent Daily Values are based on a 2000 calorie diet.
Pin if for later: