Can you eat coconut on a keto diet? Coconut is a popular health food and makes such yummy recipes but is it low carb enough to be keto-friendly?
Coconut is an adequate dairy replacement and often used to mimic dairy milk, cream, and butter. It's caught the attention of the paleo crowd and now sparks the interested of low-carb dieters too.
Read on to learn all you need to know about which coconut-based ingredients are ketogenic and how to use them.
Table of Contents (click to view)
Is Coconut Allowed in Keto Diet?
Coconut has a moderate amount of carbs and protein and high-fat content which makes it a very keto-friendly food. It's naturally low-carb and high-fat which is what you want on a keto diet.
Coconut oil and coconut flour are the most common coconut-based ingredients I use in top-rated easy keto recipes.
Coconut products contain medium-chain triglycerides (MCTs) which may help burn body fat (1, 2) and are very useful in the state of ketosis.
7 Coconut Ingredients to Use on a Keto Diet
There are a number of different coconut products you can use in your kitchen. Each has its own unique properties and function. Let me explain a little about each one so you will understand what to shop for to best suit your needs. For your convince I'll include a link to where I buy each of these foods so you can order them online and buy in bulk with ease.
What Kind of Coconut Oil for Keto Diet?
Want to know what is the best type of coconut oil for keto diet?
There are a few on the market. I understand if you're confused about the differences and wonder which coconut oil is best for you.
Let's compare and contrast the similarities and differences.
Refined Coconut Oil is steam cleaned and does not taste like coconut at all. This oil is completely neutral and will absorb all the other flavors of a dish.
Virgin Unrefined Coconut Oil has a rich flavor and aroma. Used for bath and body, as well as cooking.
Centrifuge Extracted Coconut Oil has a mild and light coconut taste. Typically more expensive. Recommended for eating raw and using for no bake recipes, smoothies, and homemade chocolate.
Coconut oil is just one of the fats we use on a keto diet.
Each grade of coconut oil is available at a different price. This may be a factor in your decision.
Some people dislike the taste of coconut, in which case a refined oil will be the one you want.
Others consider the least processed form of coconut oil to be the best. For them, centrifuged coconut oil will be the preferable option.
You can taste them all and see which one you like the best.
To save money, I buy a 5-gallon bucket in bulk once or twice a year. Buying the amount upfront saves a lot of money and packaging when compared to getting many smaller containers. I also like minimizing the frequency of shopping too.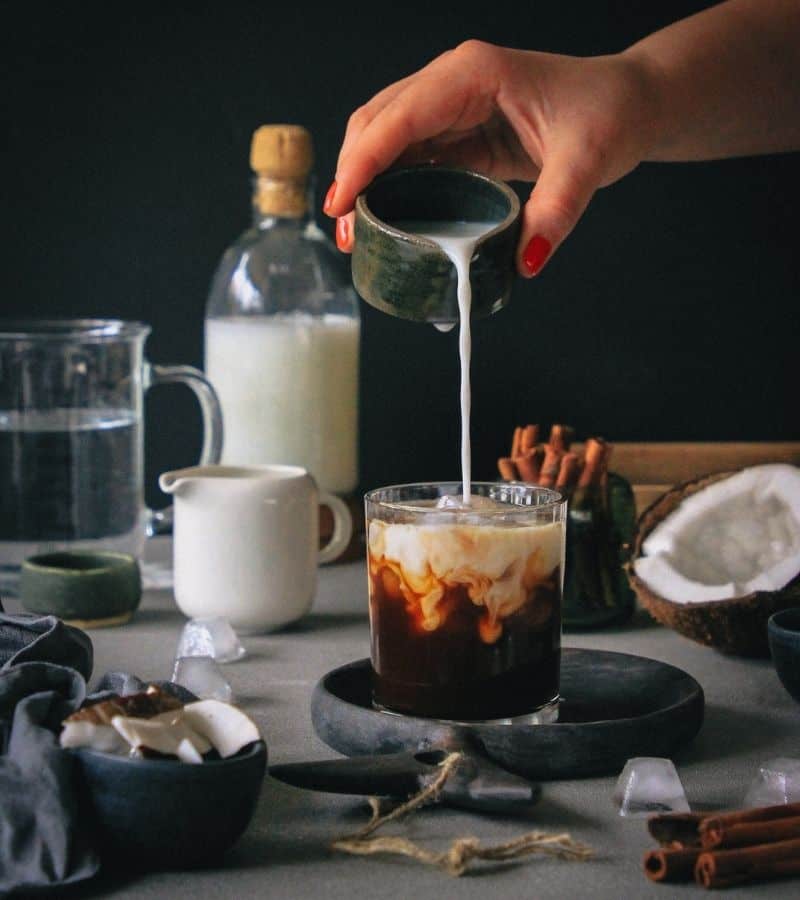 What is the Best Coconut Milk for Keto?
Coconut milk is the creamy white liquid that comes from pureed coconut meat.
On average, the nutritional breakdown of 1 ounce (30 ml) of unsweetened canned or fresh coconut milk contains 7 grams fat, 0.5 grams protein, and 1.5 grams fat. (3)
These ratios are perfect for any low carb kind of diet. There's no problem with using coconut milk on a keto diet.
I like making my food from scratch and as fresh as possible. For that reason, I make my own coconut milk from the whole coconut. Follow the tutorial on How to Make Coconut Milk from Fresh Coconut and you can too!
When I do buy coconut milk, I support Wildly Organic who is a family-owned and operated US-based business that specializes in coconut products. They have high-quality options that never disappoint me. I talk about my experience with their milk and milk powder in the list above, see #3.
How Many Carbs are in Unsweetened Coconut Milk?
The majority of calories in coconut milk come from fat. It's a low-carb food with only 2 grams of total carbohydrate per 1/3 cup (80 ml). This number dramatically increases with added sugar. Read the label and make sure you're getting the product you want. (4)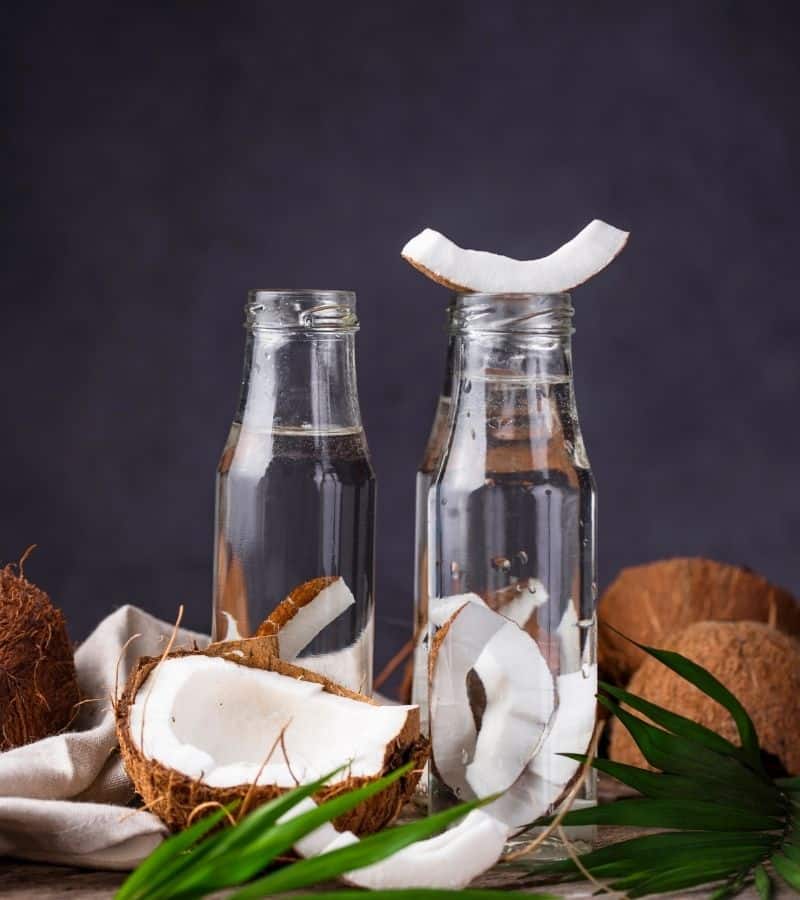 Is Coconut Water Allowed in Keto?
Are you excited about all the diverse options coconut can give you? It's pretty amazing to get such a variety from one single plant.
Coconut water is the only coconut ingredient that is not approved for a keto diet.
Yes, it's refreshing and delicious. However, it's a little high in carbs.
In every 8 ounce serving of coconut water, there are 10 grams of total carbohydrate. (5) Consider that most bottles contain 2-4 servings of coconut water and you see how easy it is to drink up to 40 grams of carb without realizing it.
I recommend you omit the coconut water because the carbs can add up quickly and the sweetness can trigger unnecessary cravings.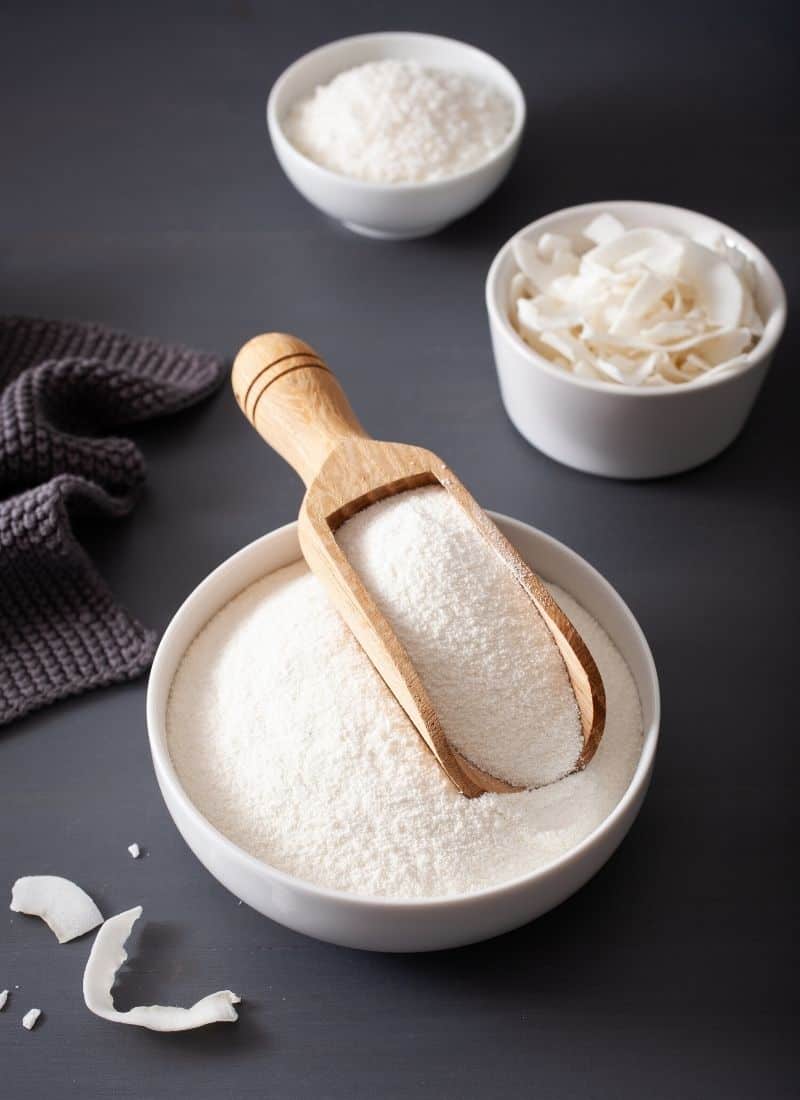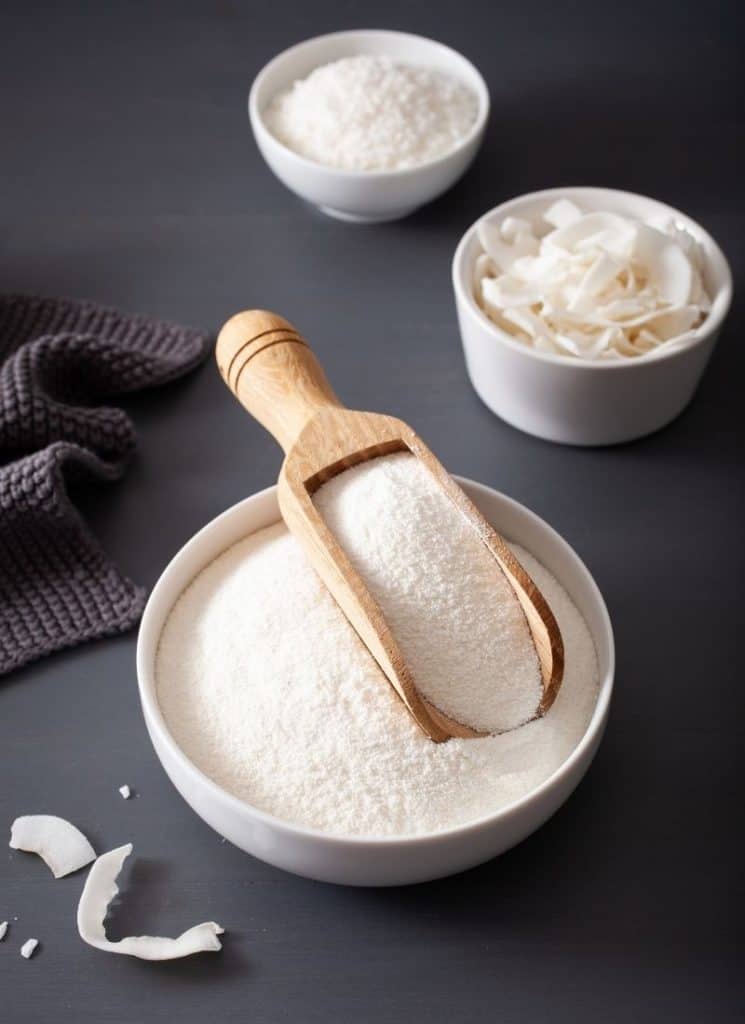 Does Coconut Flour Have Carbs?
After reading what I shared in the list above, you know coconut flour is a unique flour for the ketogenic diet.
It's popular for being a suitable low carb alternative.
But how many carbs does coconut flour have?
It's not zero-carb and still needs to be considered when you track macros on keto.
A 1/4 cup (30 gram) serving contains 18 grams total carb, 10 grams fiber, and 8 grams net carb.
Most recipes call for 1/4 to 1/2 cup of flour.
Let's use my Simple Keto Chocolate Cake as an example. It called for 1/2 cup coconut flour for the whole recipe. Once baked, divide the cake into 12 servings. This gives 3 grams total carb, 1.6 grams fiber, and 1.3 grams net carb per piece of cake from flour.
Used appropriately, coconut flour is a great food to enjoy on keto diet!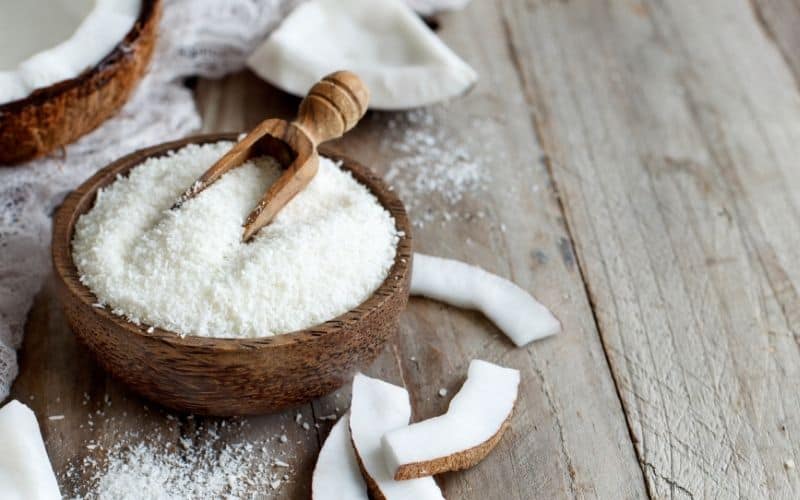 Is Shredded Coconut Allowed on Keto Diet?
If you're this far into the article, you've heard enough on all the ways we can eat coconut meat by now to know, YES, shredded coconut is allowed on a ketogenic diet.
It's the perfect thing to decorate cakes with, give texture to low-carb smoothies, and coat no bake truffles.
How Many Carbs Are in Shredded Coconut?
Check it out, per 1/2 cup (40 g) of shredded coconut there are 9 grams of total carbohydrate. Subtract the 7 grams of fiber and you see there are only 2 grams net carb!
Per 100 g, shredded coconut contains 22.5 total carbs, 17.5 fiber, and 5 grams net carb. (6)
I hope this breakdown was thorough enough for you and answered all your questions about eating coconut on a keto diet.
It can be hard to make all the diet adjustments at once but arm yourself with the correct information and the decisions become easy. Soon a low-carb lifestyle will feel second nature.
This post was originally published February 15, 2018 and updated October 10, 2020 with new images and information.