Pickled eggs are great to snack on, serve as an appetizer, or add to the side of a meal. Not only are they fun to make, but the tangy salty flavor is also so delicious! In this easy pickled egg recipe, there is no canning equipment required because we use brine and the power of a refrigerator instead. It's so simple!
This version is sugar-free, perfect for anyone on a keto diet and interested in easy keto recipes. It is also fiber-free, so people who do best with a carnivore diet and make carnivore diet recipes can enjoy pickled eggs too!
This post is sponsored by our friends at Mountain Rose Herbs.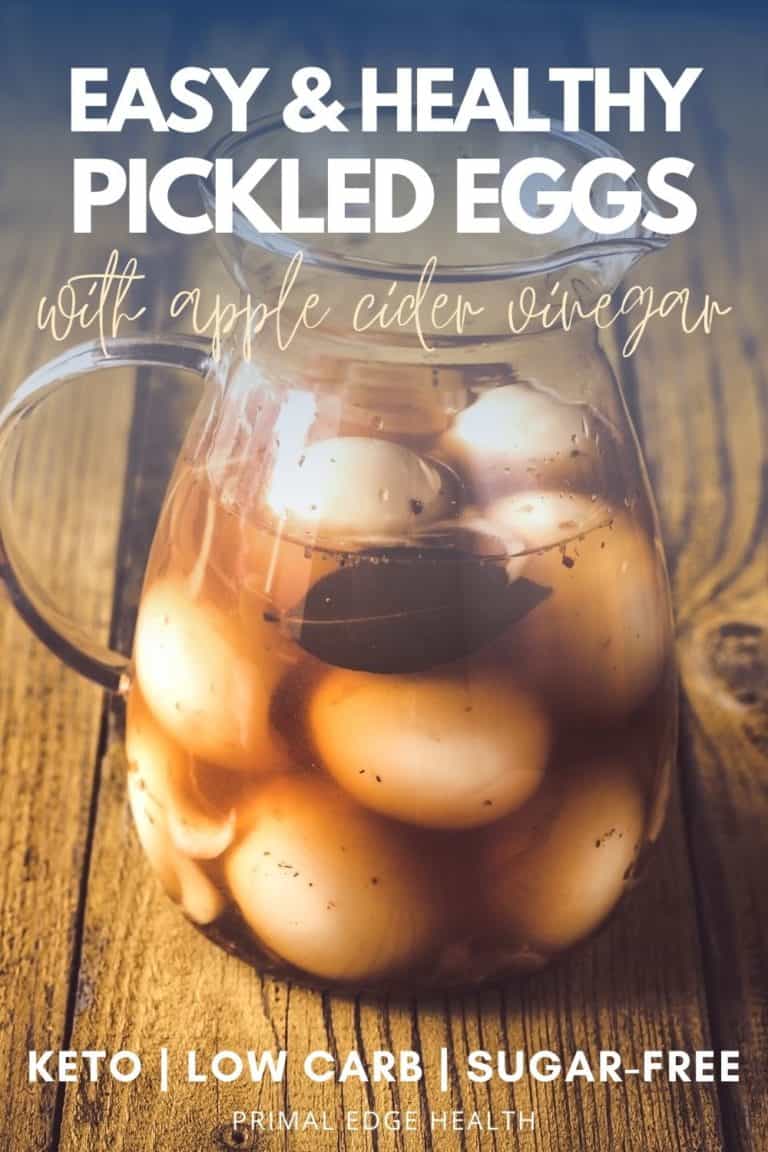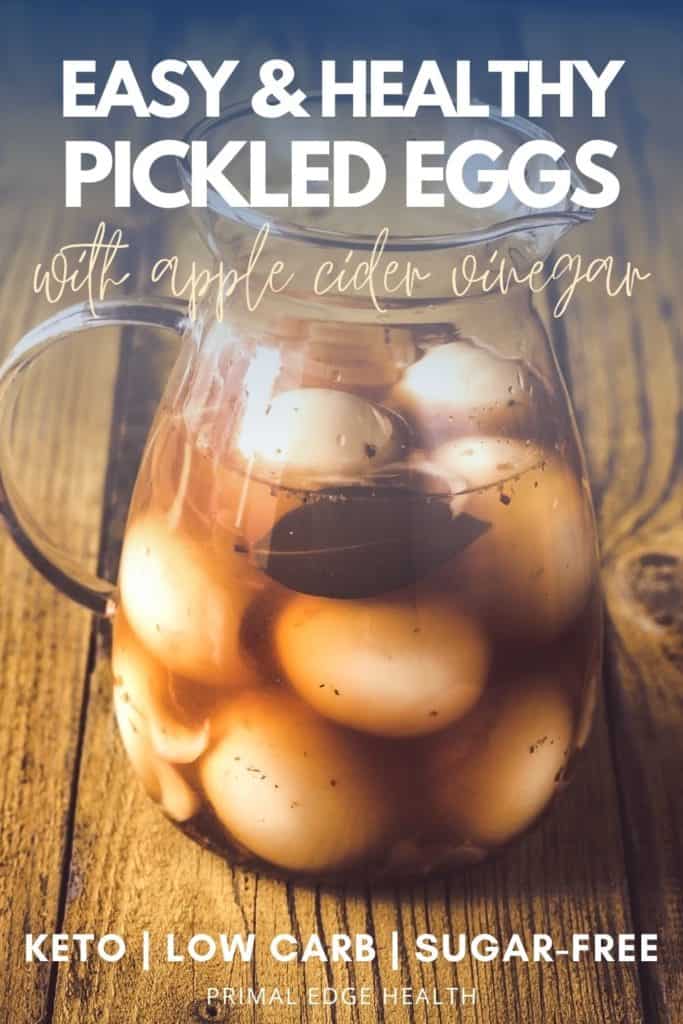 Table of Contents (click to view)
Old Fashioned Pickled Eggs
Pickling an egg may sound a little strange, but the end result is worth trying.
As popular bar food, pickled eggs were often found in jars, suspended in vinegar, on the counter top ready to be served out as a healthy, natural snack. They are particularly popular in the UK where Aspall Cider House hosts the World Pickled Egg Competition annually.
With peak popularity from 1860 until prohibition, old fashioned pickled eggs proceeded deviled eggs and Scotch eggs which later became a more common treat (1). Now it's more likely you will find chicken wings, jalapeño poppers, and mozzarella sticks.
We like pickled eggs because they are wholesome family-friendly snacks. I also give them as gifts during the holidays or just as a thank you to someone who helps us. All you need to do is tie a ribbon around the jar and then you have a beautiful homemade gift. Edible recipes are great gifts for keto dieters!
They are also great for game day or anytime you want to serve keto appetizers for a crowd! For a simple meal, pair them with Gluten-Free Keto Cheese Curds and satisfy all the cravings.
How do you Make Pickled Eggs from Scratch?
Making pickled eggs from scratch has never been easier.
Bring the water, vinegar, onion, spices, and salt to a gentle boil for about 5 minutes. Then remove from heat and cool slightly.
Place peeled hard-boiled eggs in a clean jar.
Read how to make perfect boiled eggs so you don't have to struggle with peeling eggs. I used to have a very hard time with it, but not any more.
Pour the brine, with spices, over the eggs and seal the jar.
Transfer to the refrigerator and leave to sit for a few days until ready to eat.
There is no canning required with this simple approach!
Forget the water bath, serializing jars, and needed to find long-term storage space. This easy recipe doesn't require any special equipment or canning experience in order to make a snack that will come out perfectly every time.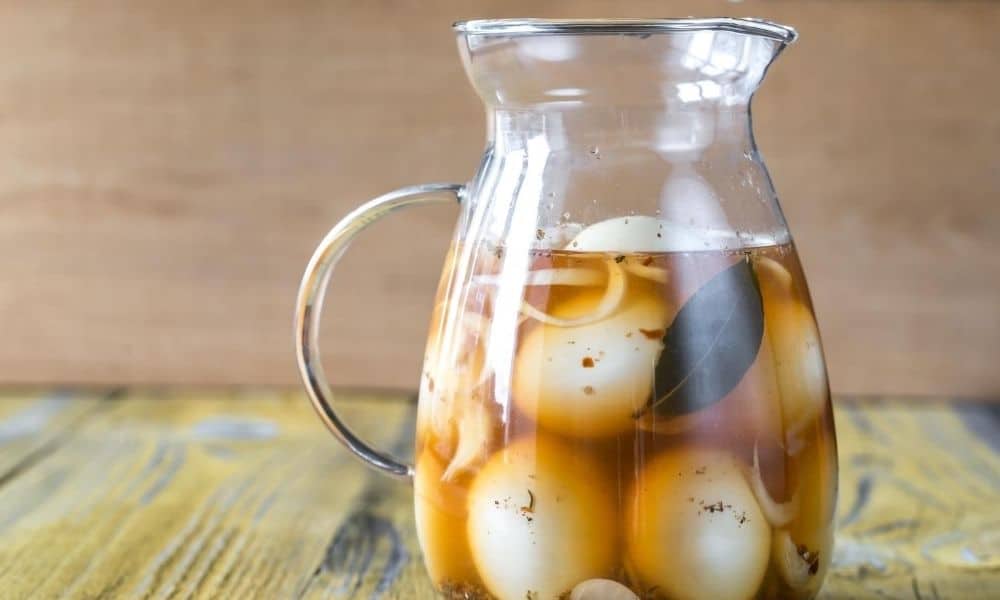 Low Carb Keto Pickled Eggs with Apple Cider Vinegar
Many recipes add sugar to the vinegar solution but no sweetener is necessary. The tangy touch of vinegar is enjoyable by itself.
If you're trying to stay keto, you want to minimize your sources of carbohydrate to 20-30 g net carb per day. Generally speaking, you'll be safe by sticking to low-carb vegetables, avocado and cheese.
To make this a keto-friendly recipe, we only use vinegar, pickling spice, and salt for flavor so there is no sugar added.
Pickling spice is made of cinnamon, mustard, coriander, allspice, peppercorn, dill, fennel, cloves, celery seed, juniper berries, bay leaf, ginger root, and chili flakes. More than 10 spices and whole berries are mixed together and work wonderfully for any refrigerator or canned pickled fruit or vegetable recipe. It's a great spice blend to have in your keto pantry staples.
I recommend using apple cider vinegar over plain white vinegar. Apple cider vinegar still has some sweetness left in it and gives a delicious, tasty pucker.
With all that's going on, it's easy to see how unnecessary the sugar is. Replacing sugary sweetness with rich and robust flavor is the key to these sugar-free pickled eggs.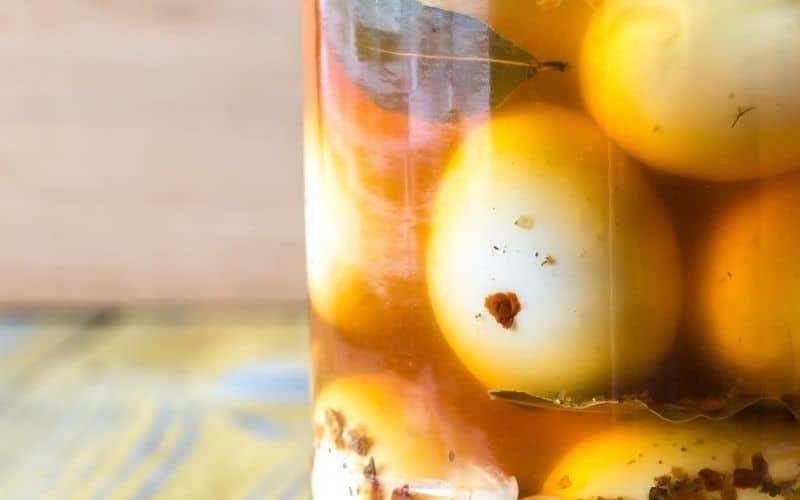 How long Do Pickled Eggs Last?
The peeled hard boiled eggs need to infuse for at least 2 days and up to 1 week before they are ready to eat.
While you wait, the acidity in the vinegar solution acts as a natural preservative and prohibits unwanted bacteria from growing. The salt also serves to create an environment where microbes cannot thrive.
To be safe, it's best to consume the eggs within 3-4 weeks. They taste so good, it's unlikely any will remain past that anyway. Pickled eggs should always be stored in the refrigerator in a clean jar with a tight-fitting lid (2).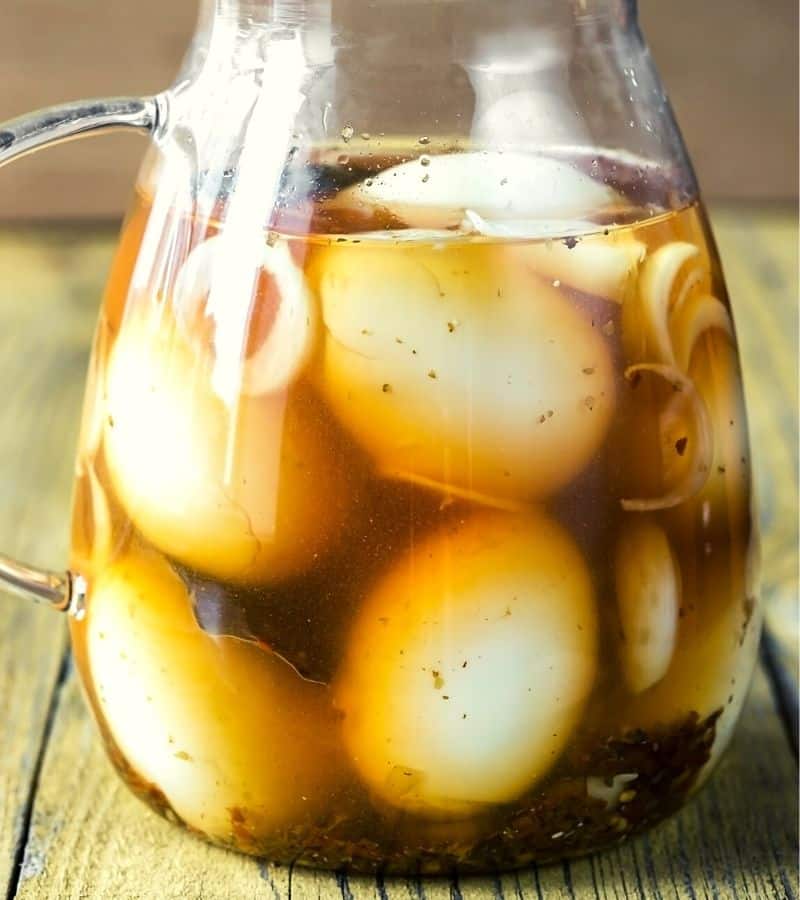 Are Pickled Eggs Healthy?
Pickled eggs are a healthy snack, side, or appetizer. Naturally low-carb, and made with a few simple, everyday ingredients, this easy recipe is good for many diet types.
This sugar-free pickled egg recipe is gluten-free and grain-free making it paleo and whole30 friendly. Pickled eggs are good for keto and may be eaten on a carnivore diet too. Flavored with a few select plant-ingredients this is one of many delicious keto carnivore recipes!
Because they are low calorie, yet nutrient-dense, pickled eggs are good for losing weight. Animal foods are very nourishing and satiate well.
How many calories are in a pickled egg?
There are only 85 calories in one pickled hard-boiled egg. Each egg contains 5 grams fat, 2 grams carbohydrate, and 6 grams protein.
Since these are made without sugar, the carbs are very low. The minimal amount of carbs in these pickled eggs is not significant enough to throw you out of ketosis.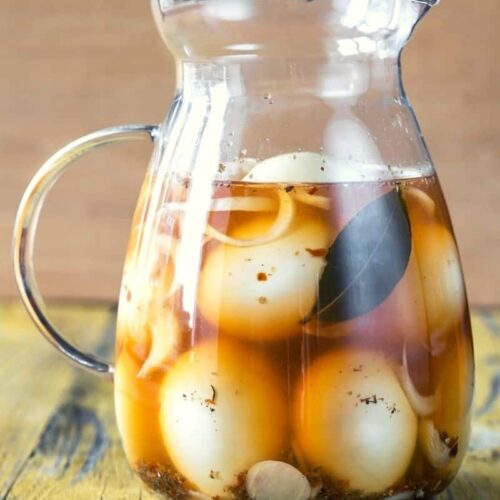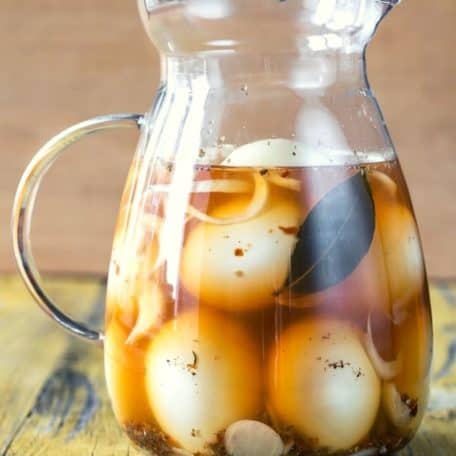 Homemade Pickled Eggs
Pickled eggs are a special food to snack on, serve as an appetizer, or add slice and serve with salad. Not only are they fun to make, but the tangy salty flavor is also so delicious! This recipe is sugar-free and naturally low carb. It is keto and carnivore diet-friendly.
Instructions
Bring the water, vinegar, onion, spices, and salt to a gentle boil for

5 minutes

. Then remove from heat and cool slightly.

1 cup water,

½ cup raw apple cider vinegar,

¼ small onion,

2 tablespoons pickling spices,

1 teaspoon salt

Add the hard-boiled eggs to a clean glass jar.

Pour liquid over the eggs, cover completely and seal the jar.

Transfer to the refrigerator and leave to sit for at least 2 days until ready to eat. If you can, waiting 1 week is best.

Store in the fridge. Serve whole or sliced on salad, meat, or by themselves.
Notes
If you do not have pickling spices, use cloves of garlic, dried herbs and seeds instead. I use 1 tsp dried herb per liter of water/vinegar brine, which covers 8-10 hard boiled eggs.
Nutrition & Macros
Serving:
1
egg
Calories:
85
kcal
Carbohydrates:
2
g
Protein:
6
g
Fat:
5
g
Saturated Fat:
2
g
Sodium:
356
mg
Fiber:
1
g
Net Carbohydrates:
1
g
To obtain the most accurate representation of the nutritional information in a given recipe, please calculate the nutritional information with the actual ingredients and amounts used, using your preferred nutrition calculator. Under no circumstances shall the this website and the author be responsible for any loss or damage resulting for your reliance on the given nutritional information.
Made this? Leave a Rating! ⭐⭐⭐⭐⭐
Tag a photo with @Primal_Mom and #PEHRecipe on Instagram to share with us!
Many thanks to Mountain Rose Herbs for partnering with me to bring you this recipe! They offer unparalleled quality of organic herbs, spices, teas, and essential oils. I've been supporting them for 10 years and highly recommend you consider making your next order of botanicals with them. Read my honest review of Mountain Rose Herbs: Are they Good? to learn more.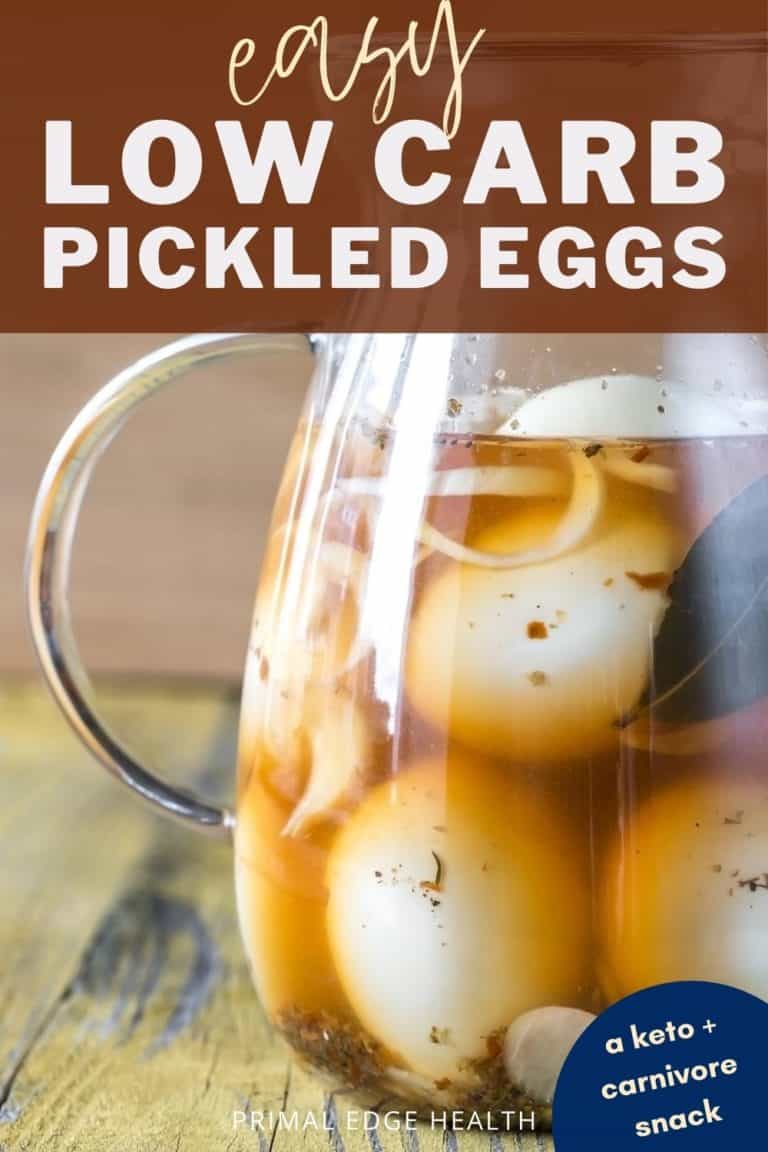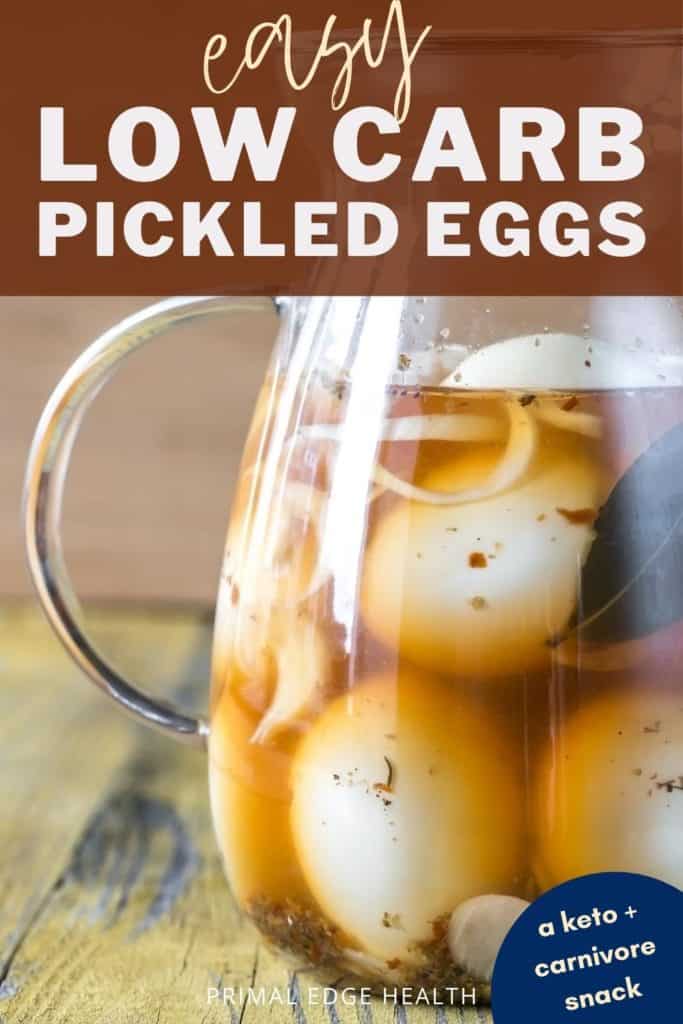 Originally posted Sept 18, 2015. Updated July 2020 with new images and information.
Looking for more ways to use up eggs?
Try these recipes if you're sitting on a bunch of eggs and wondering how best to use them up.
Keto Scotch Eggs – With only 3 ingredients in the recipe, the eggs are very important.
The Best Psyllium Husk Keto Bread – This is my favorite bread and uses 8 whole eggs!
Keto Breakfast Casserole – Add this yummy meal to your meal prep and you'll enjoy the classic breakfast flavors all week long.
3 Cheese Omelette – How can you make an omelette without cracking a few eggs? They are indispensable.
Easy Keto Frittata – This is a delicious breakfast recipe ready in just 20 minutes!
Low Carb Deviled Eggs – A classic from Cassidy's Craveable Creations.
If you're looking for more easy snack ideas, check out these beauties in Healthy Snack Recipes for Weight Loss.