You will love this slow cooker keto beef and broccoli recipe featuring tender beef, spicy broth, and vibrant broccoli. This keto dish has major flavor but only 3 grams of net carbs per serving!
Both convenient and healthy, it's a keto-friendly meal option for busy weeknights. Set it and forget it while all the flavors infuse in one pot for a low-carb dinner.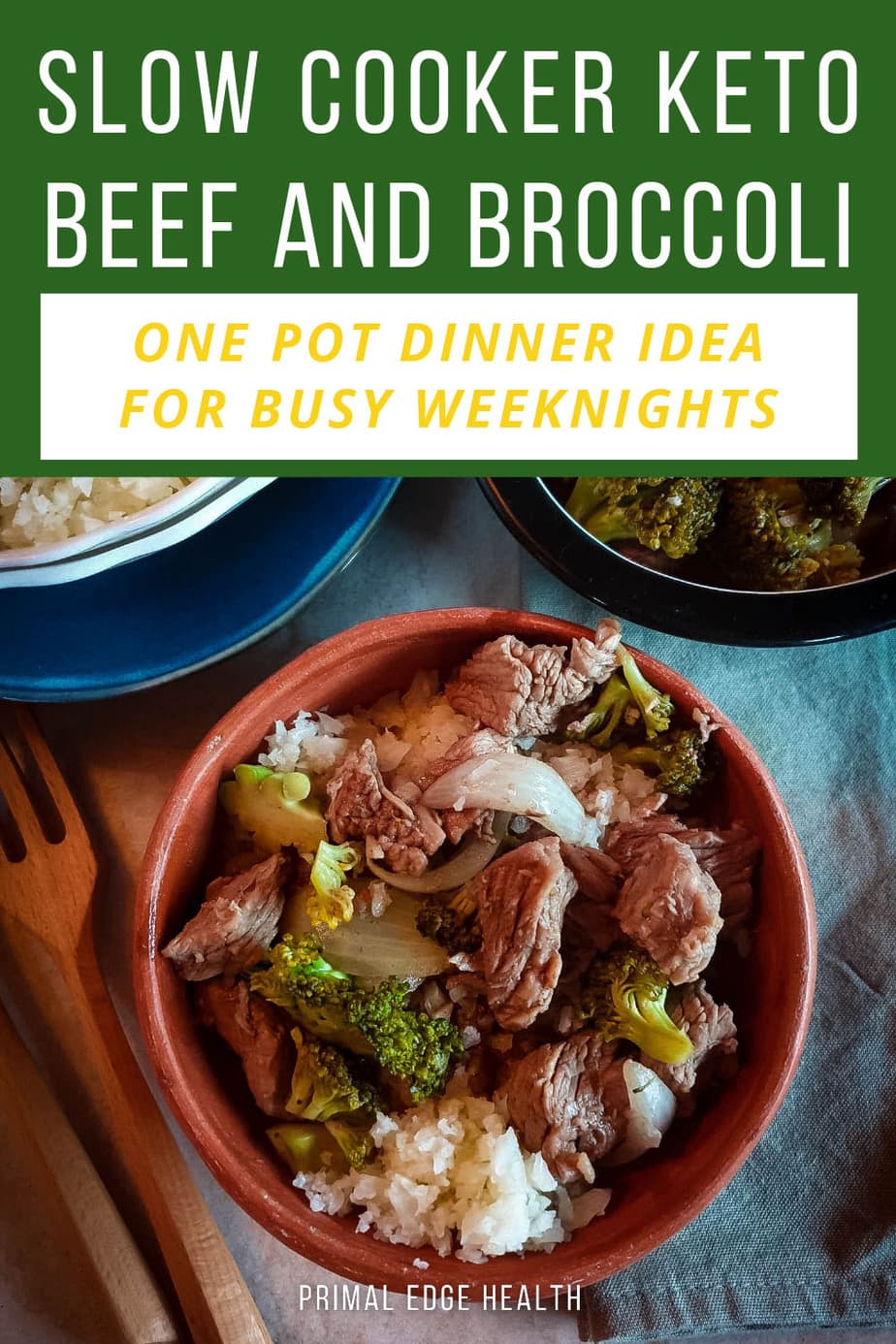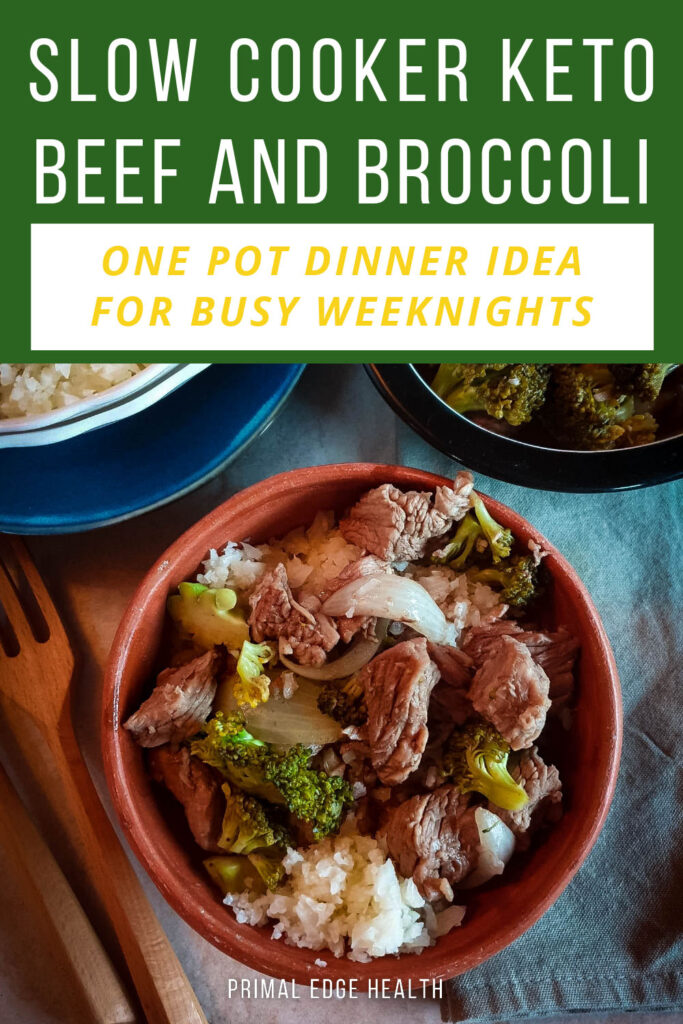 Table of Contents (click to view)
Easy Keto Beef and Broccoli Recipe
My family loves this ground beef and broccoli stir fry so much that we make a ground beef and broccoli omelette in the morning anytime there are leftovers.
As quick and easy as skillet meals are, I like using my crockpot even more. Being able to prep the ingredients, dump them in the pot, and turn the temperature on before walking out of the kitchen is a huge time saver and super easy.
Plus, because minimal cooking skills are involved, I like teaching my young children these recipes. With simple, age-appropriate step-by-step directions, they help me make homemade meals more often!
This slow cooker recipe is just one of many keto crockpot meals you can make during the week. It's great for dinner and makes nice leftovers for lunch the next day.
Although very delicious, Chinese food like beef and broccoli is often made with corn starch, a common ingredient used in sauces to thicken and stabilize the mixture but isn't for a low-carb diet. But there are better ways to enjoy the flavors without the added thickeners and gums.
Plus, using a slow cooker to make this low-carb beef dish is a convenient way to prepare a delicious and healthy meal while avoiding the starches and sugar often found in conventional recipes.
The slow cooking process ensures that the flavors are melded together, giving each bite a burst of deliciousness. Toss all the ingredients in one pot and enjoy a satisfying meal without sacrificing taste or convenience. This is an excellent recipe for a busy weeknight or feeding a crowd!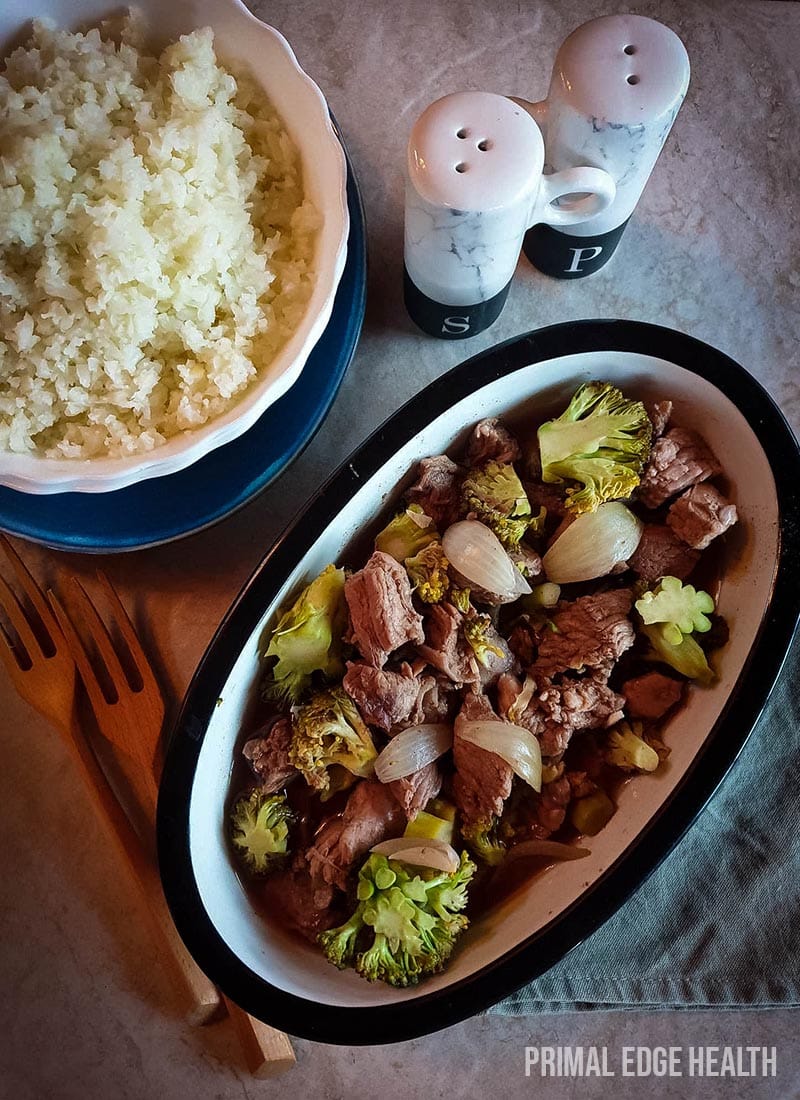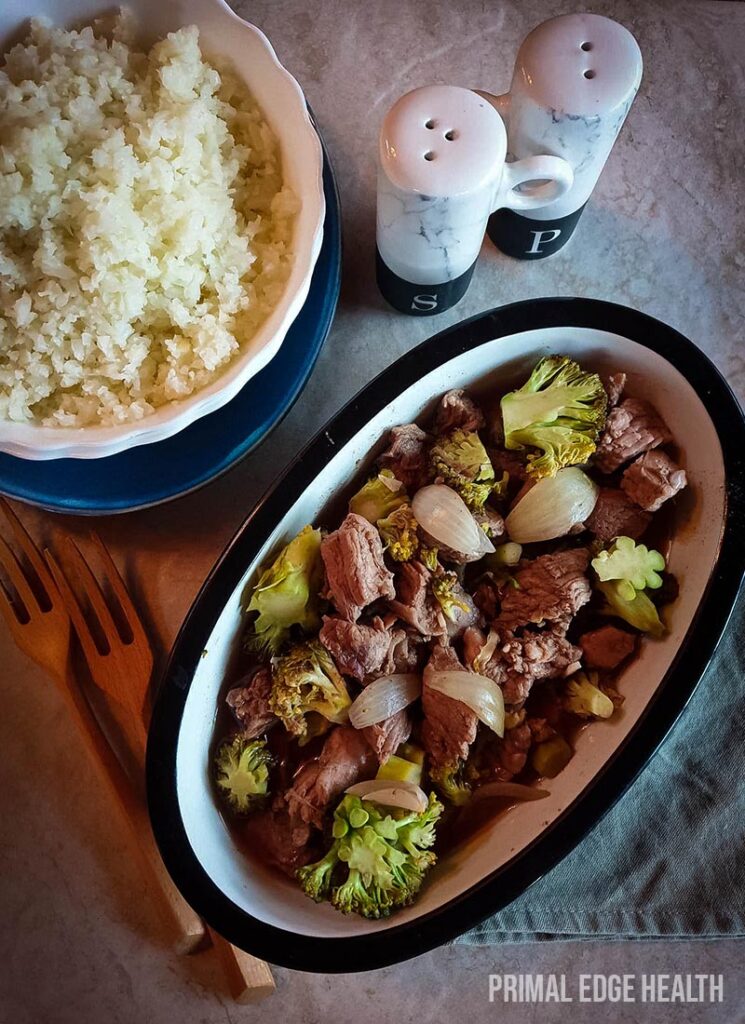 How to Make Keto Beef and Broccoli
Gather these simple everyday low-carb ingredients and start prepping your keto crockpot meal in just ten minutes! The good thing about slow cooker recipes is that they are excellent for setting them up in the morning to have a delicious and healthy meal in the evening.
Ingredients
Beef tips – Starting a subscription with a meat delivery service like ButcherBox is a great way to buy organic, grass-fed beef tips. Having high-quality meat delivered to your door is so convenient! Substitute with strip or flank steak if you don't have beef tips.
Seasonings and spices – We season the meat with salt and pepper. Then, add large pieces of onion for flavor and texture. I like how large pieces look, but you can dice or chop them into any size you want. Later in the recipe, we add garlic and fresh ginger for burst of flavor in every bite.
Beef broth – Simmering the meat and vegetables in a bone broth base is a must! Bone broth gives a depth of flavor and added nutritional benefits.
Broccoli – Use fresh or frozen broccoli florets. Either one will work well! If using frozen, you may need to adjust the cooking time. First, check the tenderness of the broccoli with a fork. If it's still undercooked, cook for 20-30 minutes more until done to your liking.
Garnish – Although optional, you can top this delicious meal with chopped green onions, red pepper flakes, and sesame seeds. You can also drizzle some liquid aminos for extra flavor if desired.
Need a grocery shopping shortcut? Check out ButcherBox and see if it's the solution you're looking for.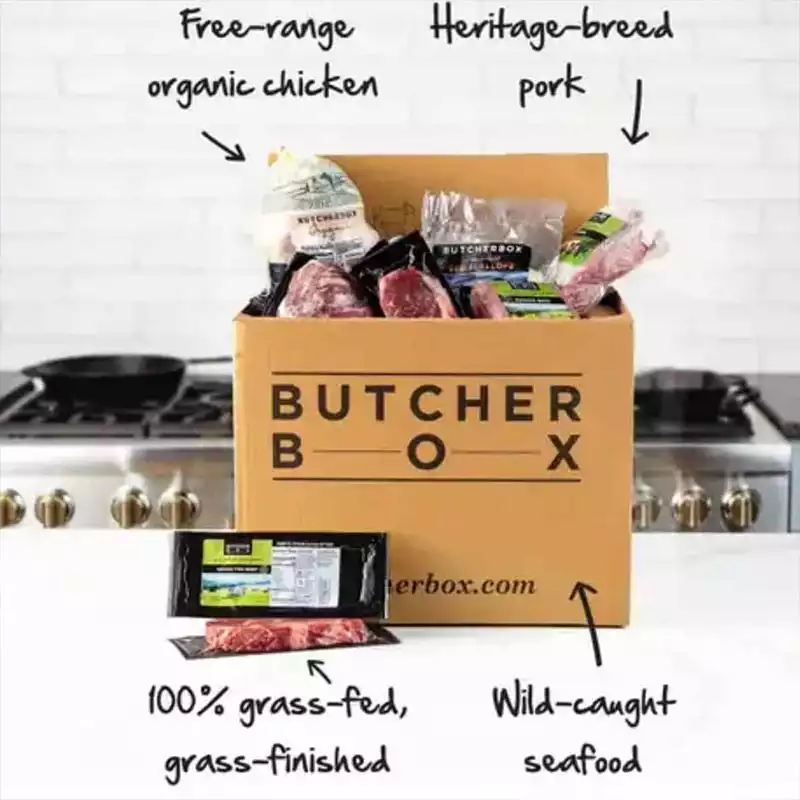 Substitutions and Variations
This easy recipe is a low-carb variation to the Chinese beef and broccoli stir fry recipe we all love. Therefore, there aren't many substitutions that would work in this recipe without the changes affecting the result.
Diet Modifications
As written in the recipe card, this recipe is naturally keto, low-carb, low-oxalate, dairy-free and gluten-free. For Whole30, Paleo, and GAPS, I suggest using coconut aminos instead of keto soy sauce.
Step-by-Step Instructions
Follow these simple steps, and you'll make this keto slow cooker dinner perfectly the first time you try it!
Step 1: Season
Pat dry the beef tips with paper towels to remove excess moisture. Season with salt and pepper. Place in the bottom of the crockpot insert of your slow cooker. Then, arrange the coarsely cut onion on top of the meat.
Step 2: Add
Whisk the broth, soy sauce or coconut aminos, and sesame oil in a small bowl. Mix in garlic and ginger. Pour liquid over the meat and onion.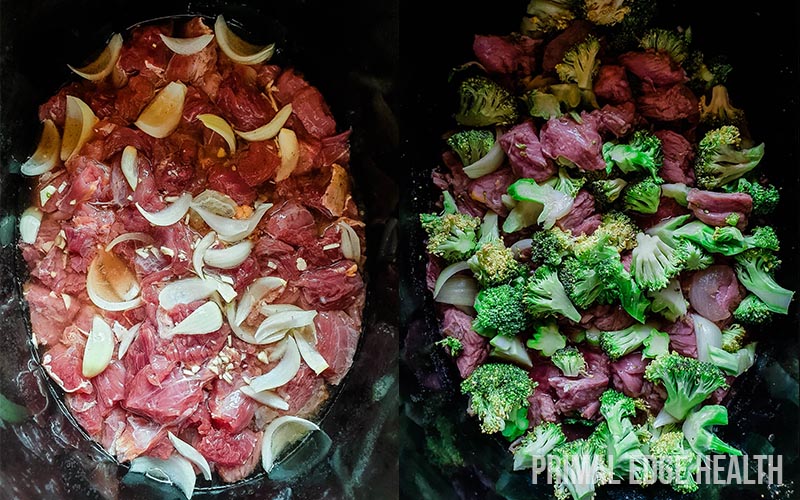 Step 3: Cook
Cover the slow cooker with a lid and cook on LOW for 4-6 hours or on HIGH for 2-3 hours.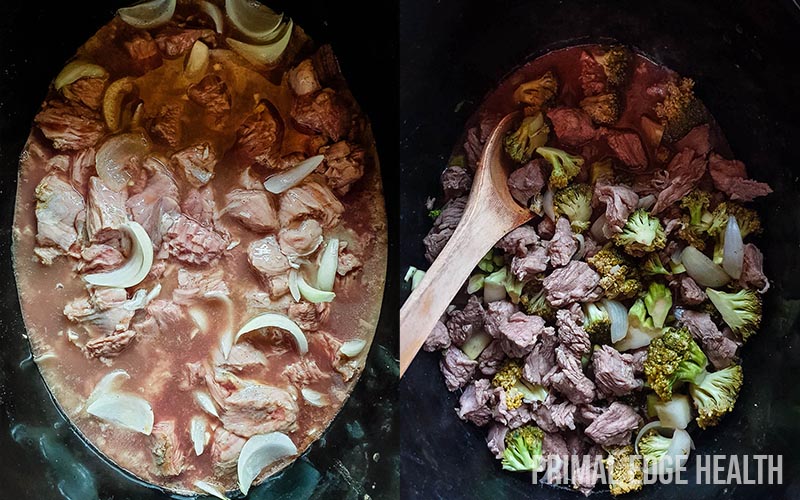 Step 4: Add broccoli
Add the chopped broccoli to the pot and combine by mixing well with a spoon. Continue to cook the final 30 minutes or until the broccoli is soft and tender.
Step 5: Serve
Remove from heat and serve the simple keto beef and broccoli dish warm over Cauliflower Rice, miracle noodles, or by itself.
Depending on the cut of beef you use, this recipe may be very lean, feel free to add butter directly into your dish for healthy fats and deeper flavor.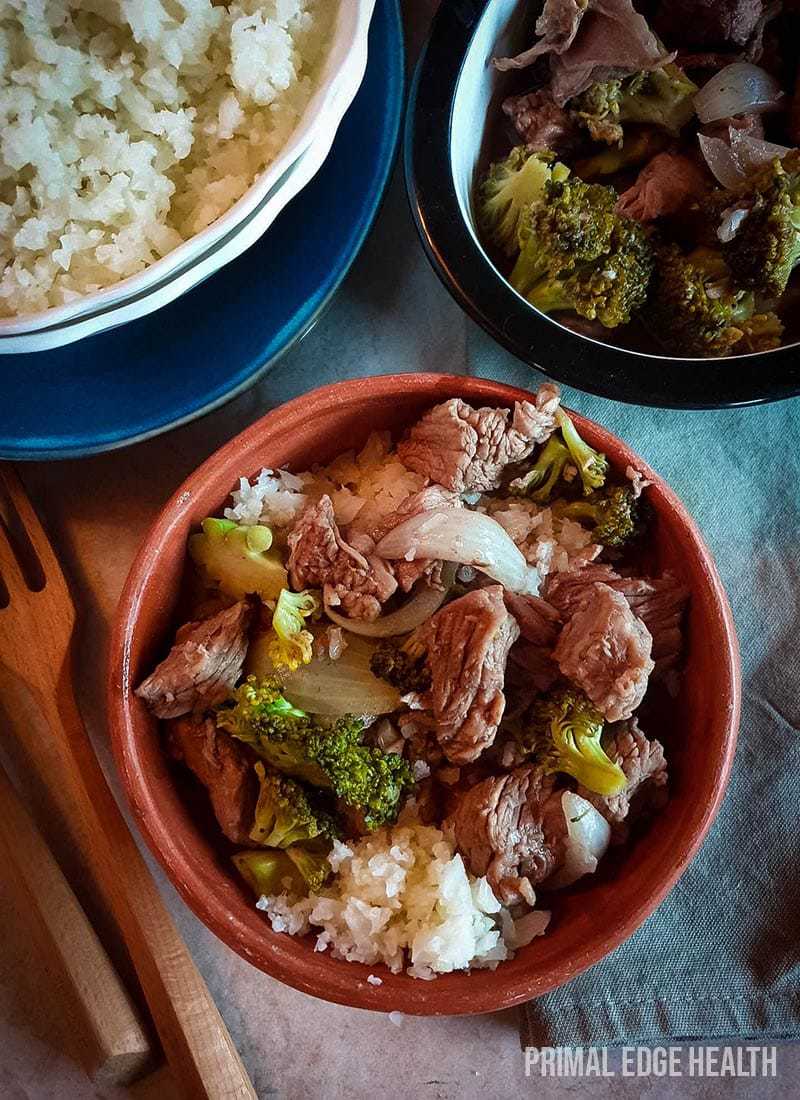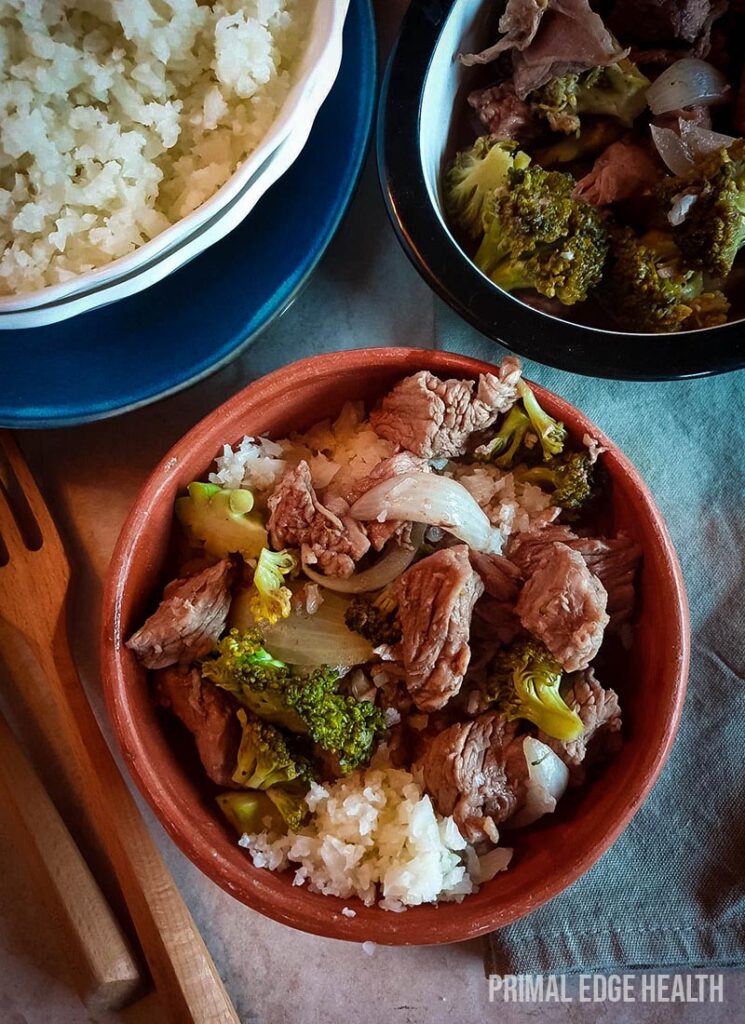 Nutritional Info for Keto Beef and Broccoli Recipe
This slow cooker recipe yields six servings.
Each serving contains:
259 calories
36 g protein
10 g fat
4 g total carbs
1 g fiber
3 g net carbs
Please note that the nutritional value will change if you substitute ingredients. Use a nutrition app to recalculate and reflect your changes.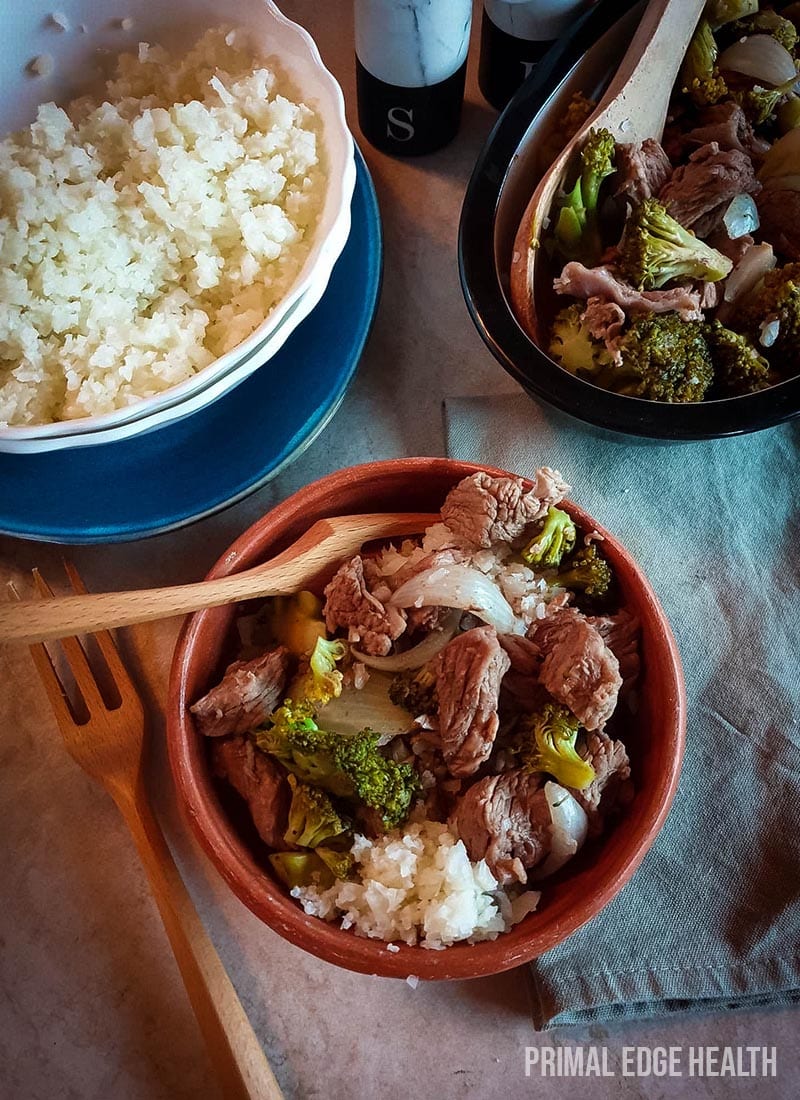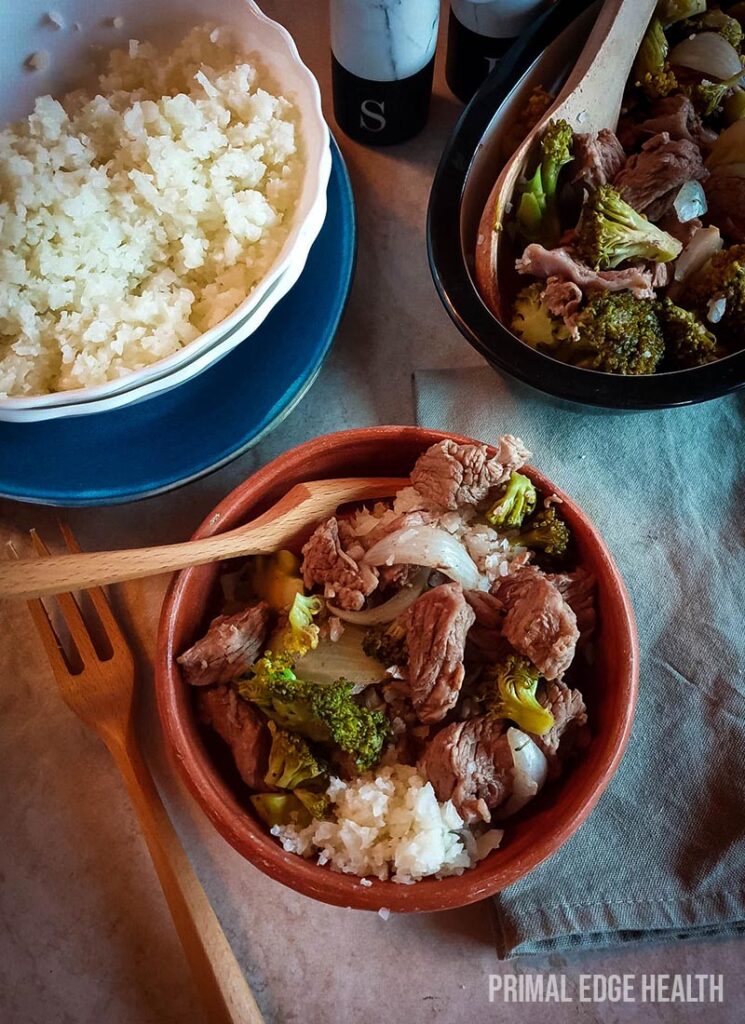 Slow Cooker Beef and Broccoli FAQ
Can you eat Chinese beef and broccoli on keto?
There are three main things you want to avoid when eating or ordering takeout on keto. The first are foods cooked in vegetable oil. The second thing to look out for is sweet sauces; the third is hidden carbs.

Beef cooked in a Chinese restaurant may often be water-velveted, a technique for marinating meat in cornstarch before cooking. These hidden carbs can mess with your macros. Therefore, you're better off making homemade keto-friendly stir fry recipes instead.
Can you put raw beef in a slow cooker?
You can add raw beef to the slow cooker and then cook according to the recipe directions. Some recipes present an optional step of searing the meat in cooking fat over high heat before placing it in a slow cooker. The flavor develops differently after browning, which is also very enjoyable; however, this step adds an extra pan to wash and up to 10 minutes of prep time. To keep this recipe simple, we just put the raw beef into the slow cooker without searing it.
Does beef and broccoli have carbs?
According to FatSecret, the famous Chinese take-out, Beef and Broccoli, has 21g total carb, 16g net carb, 9g fat, and 15g protein per 1 cup serving. You would likely eat two or more cups per meal, doubling the macros.

Carb Manager cites lower macros per 1 cup serving, but even so, there could be 12-18g net carb minimum if you eat a regular-sized meal. The homemade low-carb version contains only 3 grams of net carbs, making it a much better option for keto dieters!
Is it okay to cook beef on high in a slow cooker?
If you keep a timer and don't overcook the meat, you can cook beef on high in a slow cooker. However, if you leave it for too long, it may become tough and dry. Likewise, it will also be tough if you don't cook it long enough. You can test your progress by pricking the beef with a fork every hour or two and gauge tenderness. If the meat is still tough once the cooking time is up, add another hour to the cooking time to make the meat more tender.
More Keto Slow Cooker Recipes
Keto slow cooker recipes are a convenient and delicious way to prepare low-carb meals with minimal effort. You can set it and forget it and go about your day, then come to a hearty and flavorful dinner.
If you're new to slow-cooking keto meals, I recommend starting with this easy beef stew or the classic chicken noodle soup.
Another great option is pot roast and crack chicken, perfect for meal prep or feeding a crowd.
However, if you are looking for a comfort food that will keep you feeling full, you will love this beef stroganoff. Serve it over cauli-mash or zucchini noodles for a hearty and comforting meal.
Lastly, give Shepherd's pie a try – it will surely impress!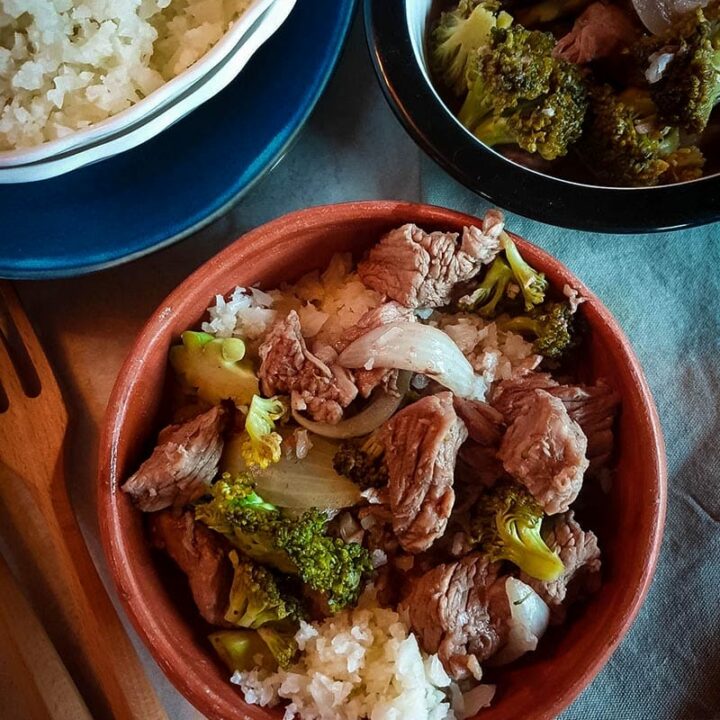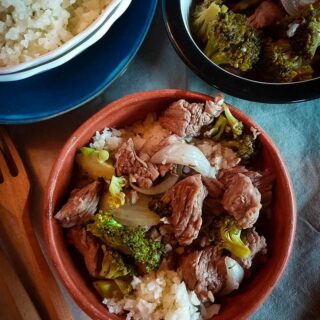 Slow Cooker Keto Beef and Broccoli
Enjoy slow cooker Keto Beef and Broccoli as a sugar-free and low-carb option, with only 3g net carb per serving, instead of traditional Chinese takeout. This savory dish pops with flavor after stew meat simmers in spicy bone broth for hours on your countertop. This easy one pot dinner practically cooks itself!
Instructions
Season the beef tips with salt and pepper. Place it in the bottom of the crockpot insert of your slow cooker. Then, arrange the onion on top of the meat.

2 pounds beef tips,

½ teaspoon salt,

¼ teaspoon ground black pepper,

1 medium white onion

Whisk broth, soy sauce, and sesame oil in a small bowl. Mix in garlic and ginger. Pour liquid over the meat and onion.

2 cups bone broth,

½ cup Keto Soy Sauce,

1 tablespoon sesame oil,

2 cloves garlic,

2 teaspoon ginger

Cover with a lid. Cook on LOW for

4-6 hours

or HIGH for

2-3 hours

.

Add the chopped broccoli to the pot and combine by mixing well with a spoon. Continue cooking for final

30 minutes

until the broccoli is soft and tender.

Remove from heat and serve warm over optional Cauliflower Rice.

1 recipe cauliflower rice
Notes
Serve with my cauliflower rice recipe which is linked in the ingredient list, miracle noodles, or just by itself.
This recipe is very lean, you'll probably want to add some extra butter!
Nutrition & Macros
Calories:
259
kcal
Carbohydrates:
4
g
Protein:
36
g
Fat:
10
g
Saturated Fat:
3
g
Sodium:
315
mg
Fiber:
1
g
Net Carbohydrates:
3
g
To obtain the most accurate representation of the nutritional information in a given recipe, please calculate the nutritional information with the actual ingredients and amounts used, using your preferred nutrition calculator. Under no circumstances shall the this website and the author be responsible for any loss or damage resulting for your reliance on the given nutritional information.
Made this? Leave a Rating! ⭐⭐⭐⭐⭐
Tag a photo with @Primal_Mom and #PEHRecipe on Instagram to share with us!
Originally published March 2022. Later updated with more tips and information.