A low-carb alternative to mashed potatoes is better than the real thing. We take a humble cauliflower and transform it into the secret sister of everyone's favorite potato side dish. The creamy consistency of cauliflower mashed with butter and herbs is too delicious to resist. Everyone can enjoy easy keto recipes without even knowing they are low-carb!
Table of Contents (click to view)
Healthy Potato Alternatives
Potatoes have been a staple crop for many cultures around the world. However, today we have a few unique circumstances that might make this food less desirable.
Potatoes are a high-carb, starchy food that will not be found in a keto diet food list.
These tubers are a nightshade from the Solanaceae family. Along with tomatoes, peppers, and eggplant, these vegetables may cause auto-immune reactions. For this reason, they are omitted in AIP and GAPS style diets. If you suffer from digestive abnormalities or mood swings, it may be worth removing nightshades from the diet to see if you notice a difference.
Potatoes also have high-oxalate levels. A medium Idaho potato has around 64 milligrams of oxalate, which is too high for someone interested in minimizing their intake and following a low oxalate diet. If you are interested in learning more about this topic, take a look at my low-oxalate food list to learn which foods are allowed.
You can see why some of us will want to look for a potato substitute.
There are many options to choose from. Yams and sweet potatoes are most similar, however, these still present many of the same original problems so they aren't much of an improvement.
Carrot can replace potatoes in some cases, but it is too high in carbs to be considered keto-approved.
Celery root and parsnip can work to be good low-carb options but if you have to ask me, cauliflower mash makes the best alternative to mashed potatoes.
Is Cauliflower Keto Friendly?
If you are not already using cauliflower on your keto diet you are missing out!
Not only is this the secret ingredient for a keto mashed potato substitute, but it is also essential for making other low-carb comfort foods.
We use it regularly in
How Many Carbs in Mashed Cauliflower?
Compare regular mashed potatoes with 30 grams net carb to a low-carb cauliflower mash that only has 7 gram net carb and you have a clear winner.
If you are looking for how to make a healthier mashed potatoes replacement, this recipe is for you!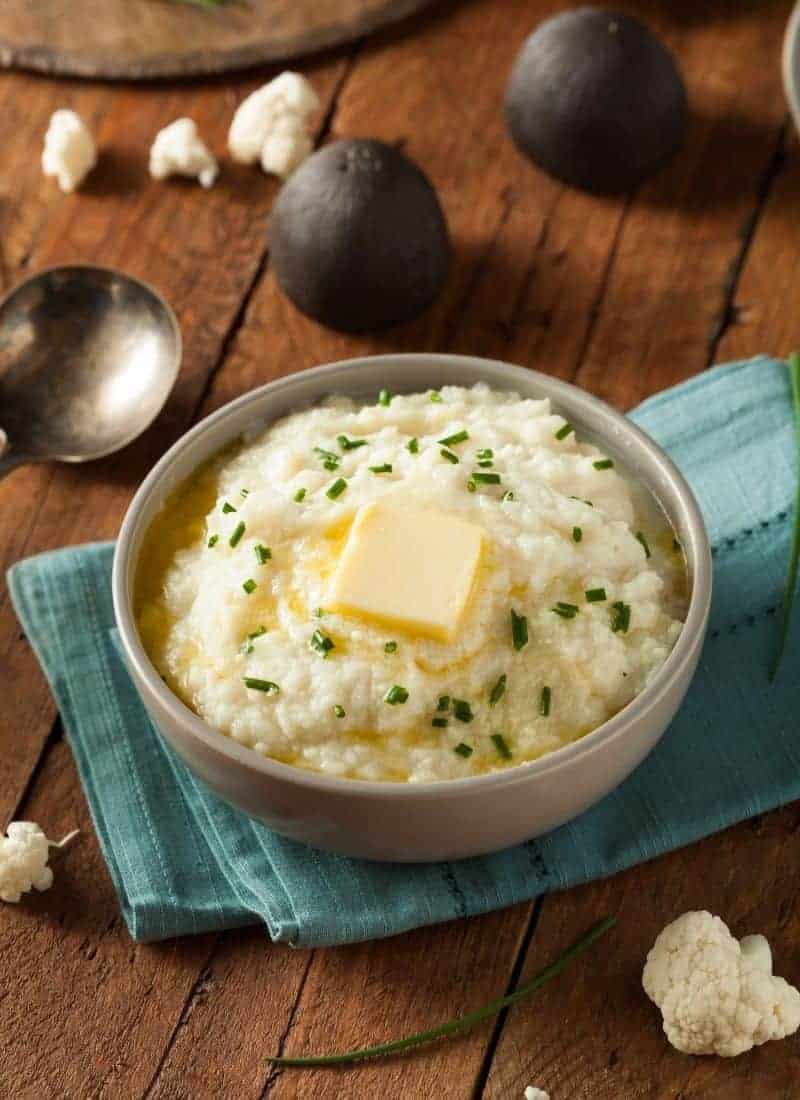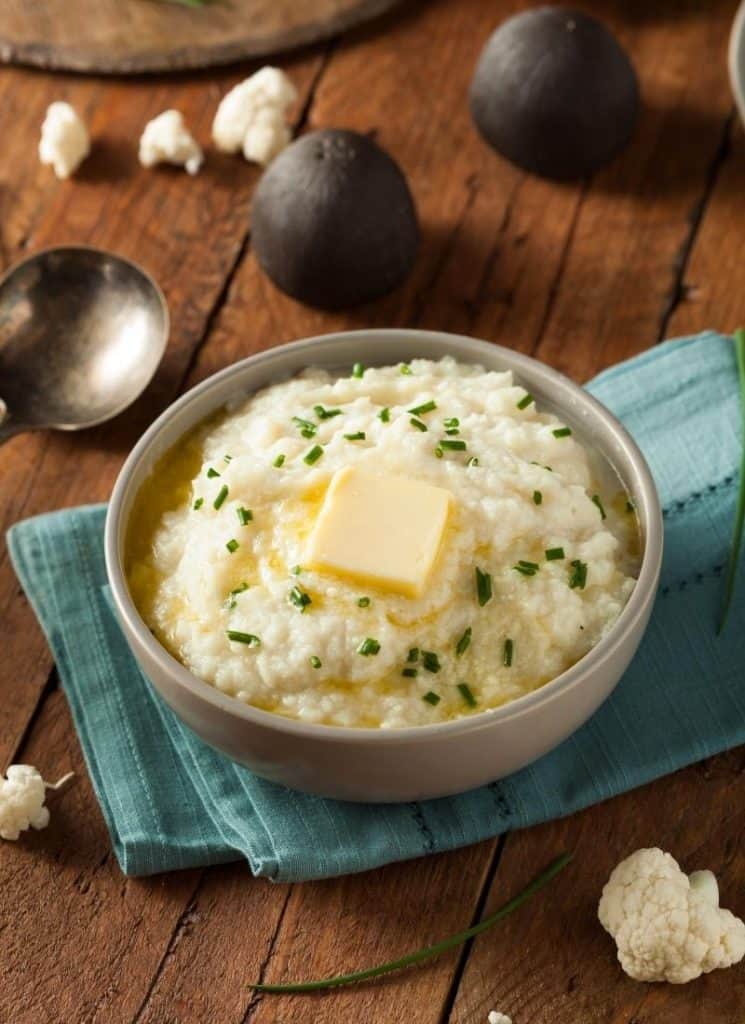 How to Make Keto Mashed Potatoes Recipe
This is the BEST keto mashed potato substitute for a few reasons
It's delicious. Regardless of what diet you follow, everyone can get behind cauli mash.
Cauliflower is easy to find. Widely available all over the world, cauliflower is an easy to find ingredient you can buy during many months of the year.
This is a dish that is even easier to make than mashed potatoes. This low carb mashed potato alternative is very easy to make. As long as you have a "knife license" (which any 4 year old is eager to get) you can make this keto mash.
You don't need any special ingredients, but what is listed is pretty important.
There is some variability which I will note below.
Ingredients for Low Carb Mash
Cauliflower
Butter
Cream cheese
Chives
If you want to make this recipe dairy-free or paleo, use coconut oil or extra virgin olive oil in place of butter. Omit the cream cheese or use a nut-based cream cheese instead.
Directions for Cauliflower Mashed Potatoes
Follow along carefully and you'll get it right the first time!
Step 1
Chop the cauliflower into florets. Remove the stem and any brown parts.
Step 2
Steam in a saucepan or pot for about 10 minutes, until tender.
If you don't have a steamer basket or insert, I recommend these makeshift DIY steamer solutions. #2 is what I do the most often, basically just put the vegetables in a large strainer and place that over the pot of water. I use a colander for larger amounts of material.
Step 3
Place the cauliflower in a food processor with all the ingredients except the chives. Puree for a few minutes, until smooth. Pause to scrape the sides as need.
If you don't have a food processor, you can still make this recipe!
Combine all ingredients in a large mixing bowl and mash by hand with a potato masher or puree with an immersion blender.
Adjust with salt and pepper if necessary.
Step 4
Garnish with chives and serve warm.
Flavor Variations
Just like potatoes, this keto faux potato mash is super yummy with rosemary and thyme. Maybe a little onion powder too if you're feeling wild.
Another flavor variation to try is with roasted garlic, parmesan, and a squeeze of lemon juice. YUM!
Pretty much anything you like on traditional mashed potatoes will be good on this keto alternative.
Brit Co adds a handful of sage, which sounds amazing!
Mashed potatoes get a makeover here and have never looked better. Same great flavor, with a new low-carb macro nutrient profile.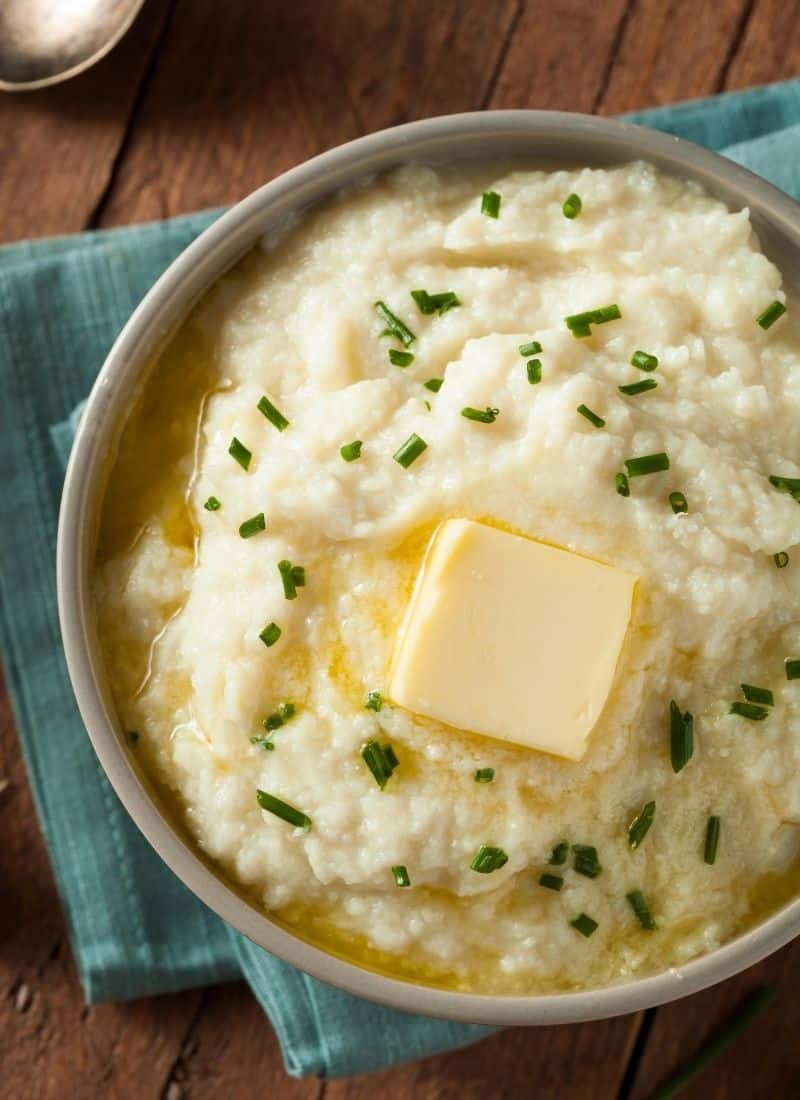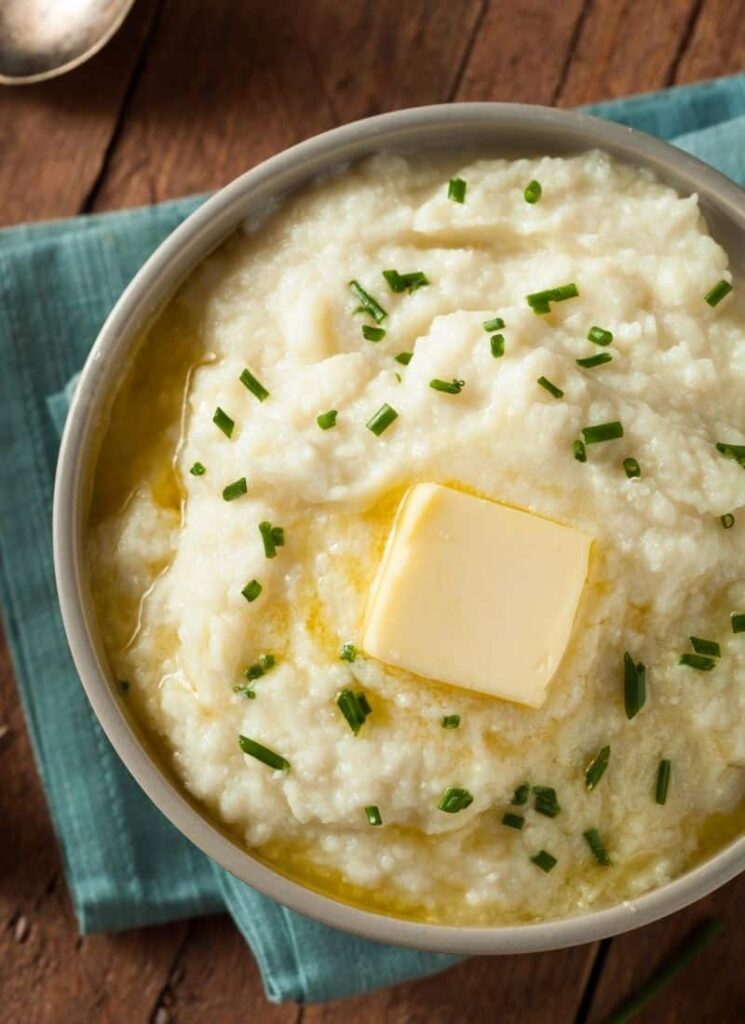 Cooking in Bulk for Easy Meal Prep
This is an excellent recipe to make in bulk and add to your keto meal plan. Meal prepping is easy when the vegetable side dish is already ready in the fridge.
You'll also want to make a double batch on Thanksgiving and be sure to add it to your list of keto Christmas dinner recipes. This dish is such a bridge that will show off how good keto eating can be and hopefully inspire some other people to consider trying a low-carb diet.
Don't save this recipe just for the holidays though, because it's a great staple that can last all week long.
Can You Freeze Mashed Cauliflower?
Make this low-carb alternative to potatoes ahead of time and keep it in an airtight container in the fridge until serving. It stores well for a few days and can even be frozen.
There is one important note about freezing cauliflower mash.
Since it has cream cheese in it, you may want to freeze it without the cream cheese. In general, dairy doesn't freeze that well and can make a weird texture in the fauxtatoes.
Follow the directions as usual and puree all the ingredients in a food processor, but reserve the cream cheese. Then let it cool before storing in a freezer bag or container. Reheat the mash before serving and stir in the cream cheese until evenly incorporated and mixed in.
You can also live on the wild side and sacrifice a touch of texture for the practical convenience of have a complete dish ready-made and frozen. Feel free to disregard my previous statement and freeze the mashed cauliflower. There might be a slight difference in texture but overall, it isn't that noticeable. If needed, puree it all again briefly once it is hot, before serving.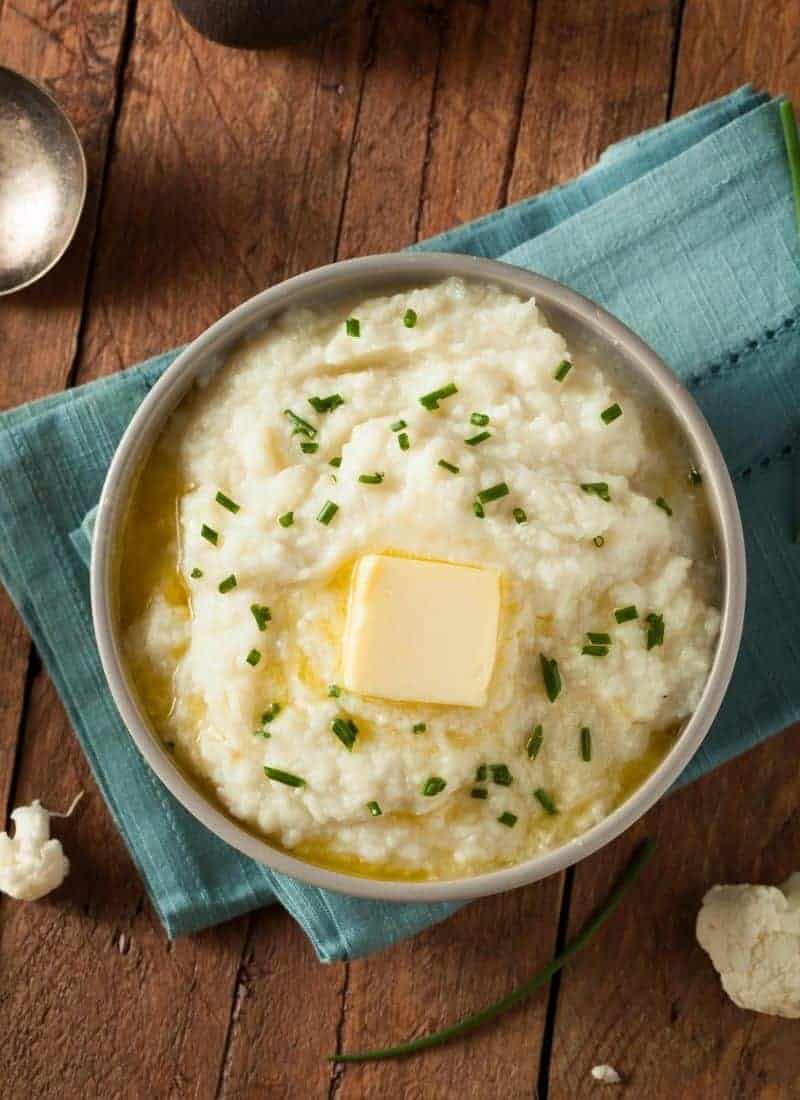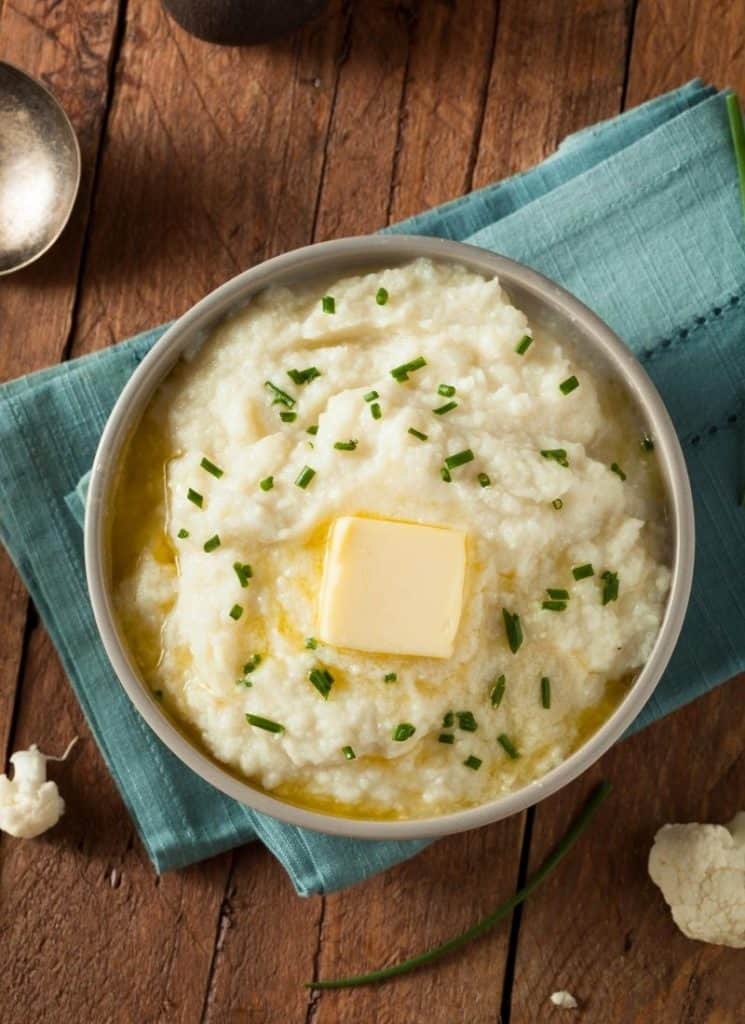 What to Serve with Mashed Cauliflower
Thinking about all your favorite mashed potato meals again while also staying low-carb is quite a delightful treat!
Here are some ideas on what to serve with mashed cauliflower
Browse through Low-Carb Vegetable Recipes for more easy side dishes.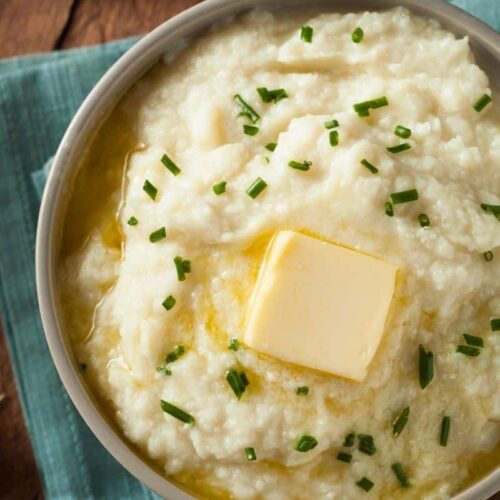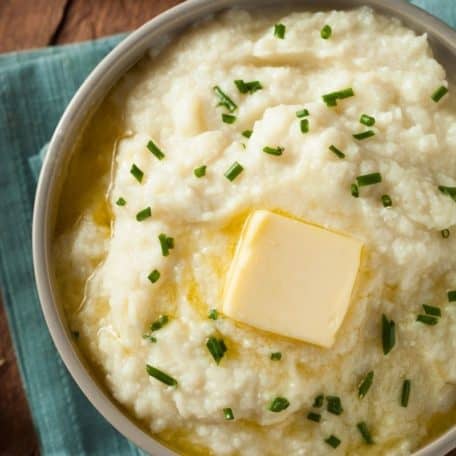 Creamy Caulifower Mashed Potatoes
Cauliflower Mashed Potatoes are better than the real thing. Add this to your weekly meal prep or serve at a big holiday party. The creamy consistency of mashed cauliflower with butter and flavourful herbs is too delicious to resist!
Instructions
Chop the cauliflower and remove the stem and any brown parts.

Steam in a small saucepan for about 10 minutes, until tender.

Place the cauliflower in a food processor with all the ingredients except the chives. Puree for a few minutes, until smooth. Pause to scrape the sides as need. Adjust salt and pepper, if needed

Garnish with chives and serve warm.
Notes
If you don't have a food processor, you can still make this recipe!
Combine all ingredients in a large mixing bowl and mash by hand with a potato masher or puree with an immersion blender.
Nutrition & Macros
Serving:
1
cup
Calories:
87
kcal
Carbohydrates:
8
g
Protein:
3
g
Fat:
6
g
Saturated Fat:
3
g
Sodium:
285
mg
Fiber:
3
g
Net Carbohydrates:
5
g
To obtain the most accurate representation of the nutritional information in a given recipe, please calculate the nutritional information with the actual ingredients and amounts used, using your preferred nutrition calculator. Under no circumstances shall the this website and the author be responsible for any loss or damage resulting for your reliance on the given nutritional information.
Made this? Leave a Rating! ⭐⭐⭐⭐⭐
Tag a photo with @Primal_Mom and #PEHRecipe on Instagram to share with us!