There are many useful keto pasta alternatives to keep in your kitchen that are both low-carb and gluten-free. Use our guide to discover new ketogenic noodle options, plus recipes and step-by-step directions that show exactly how to use them. Add these meal ideas to your collection of easy keto recipes and you will never miss your favorite pasta dish again!
Keto Pasta Alternatives
Many of us grew up on pasta dinners and it can be tricky to find the right low-carb noodle replacement, until you know where to look.
The good news is that you can enjoy pasta on a keto diet!
Knowing how to choose the right keto alternatives to pasta is going to help you make your keto diet more enjoyable and easier to follow long-term.
When considering a healthy pasta alternative, you want to pick something low in carbohydrate that mimics the size, shape, and function of whichever pasta noodle you wish to replace.
There are keto diet pasta alternatives for spaghetti, fettuccine, rigatoni, macaroni, bucatini, penne, lasagna and more!
We want you to succeed on a low-carb, ketogenic diet so use this guide for keto noodle substitutes and don't let pasta cravings take you off track.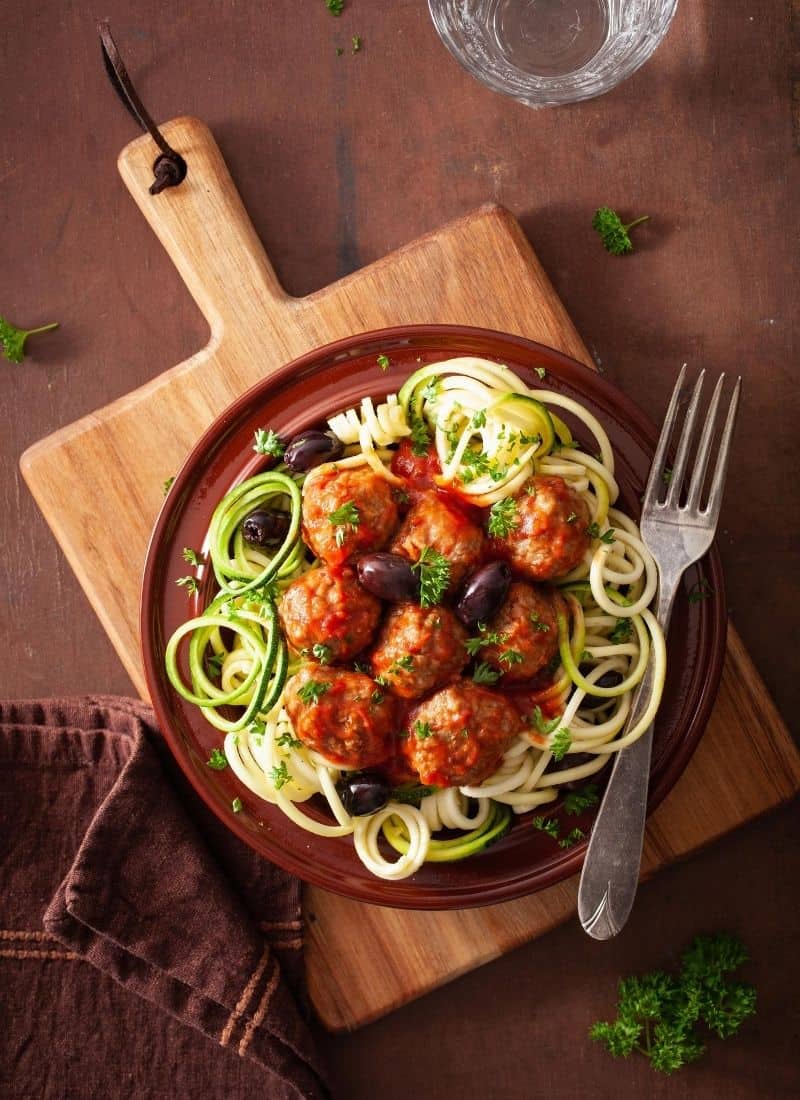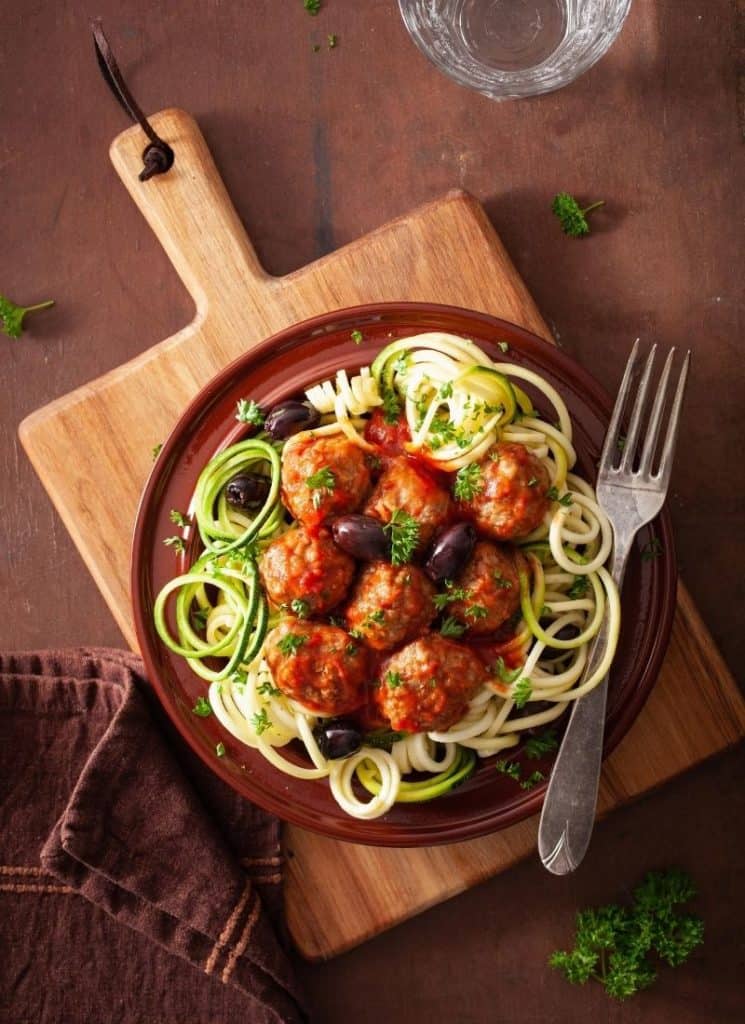 Keto Friendly Noodles
There are so many keto friendly noodles to choose from!
You might be able to pick up a ready-made option by ordering online or next time you go to the grocery store. There is also keto pasta noodle recipe to try making at home. Finally, my personal favorite is to use low carb vegetables as a healthy noodle replacement!
Once you get a hang of preparing your favorite noodle, make a quick and easy keto dinner meal by pairing your noodles with any of the sauces from The Ketogenic Edge Cookbook.
Kelp Noodles These noodles are made with kelp (a sea vegetable), versatile, and easy to prepare. They are also low calorie! Each noodle is long and slender, making the shape reminiscent of spaghetti. Kelp has a neutral taste, so these low-carb noodles pair well with any sugar-free pasta sauce.
Shirataki Noodles Also called "Konjac noodles" are true to the name. This 0 calorie noodle substitute is paleo and keto-approved, and gluten-free. There are a variety of styles to choose from including spaghetti, fettuccine, and angel hair noodles.
Homemade Noodles Perhaps not as easy as buying a ready-made keto noodle alternative, this option is just as delicious, if not more so. You can make your own keto diet noodle from dough. Recipes usually call for everyday ingredients and are pretty simple. I include some recipes to try below.
Vegetable Noodles These are what I end up making most of the time. They add a beautiful splash of color to the meal and have more nutrition than the other options, so why not? Zucchini makes my favorite type of noodle; read on to learn exactly how this is done.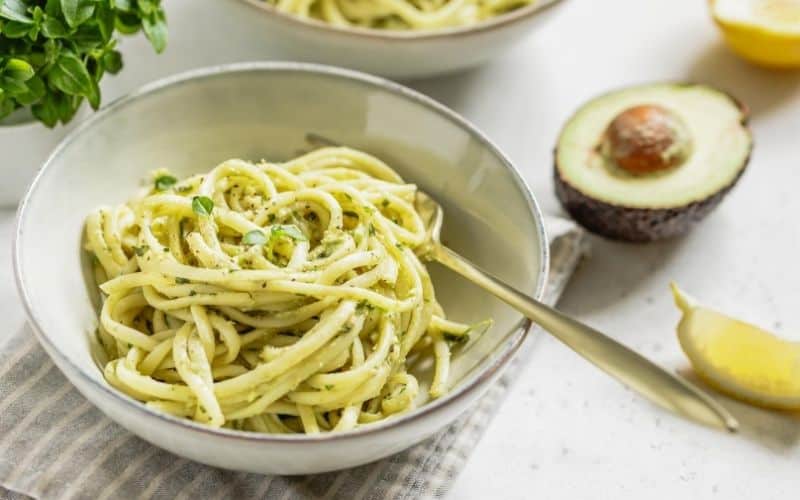 Where to Buy Keto Pasta
Stock your pantry with easy to use keto noodles so you have them on hand whenever you are ready for pasta night. Plus, you usually get a better deal when you by in bulk, so grab a case at a time.
Kelp Noodles are found in the international aisle of a local grocery store and online. I recommend the Sea Tangle brand. Kelp noodles are just kelp (read more about seaweed in traditional diets) and nothing else. A 4-ounce serving has 1 gram of carbohydrate.
Shirataki Noodles are usually found online but some Whole Food and Walmart stores may have them in stock too. I recommend the Miracle Noodle brand. They only have 2 ingredients listed: water and konjac flour. Konjac is the root of a plant similar to yam. A 3-ounce serving has 1 gram of carbohydrate.
Zoodles can be purchased from some grocery stores. Look in the fresh produce or frozen food section to find them. If they are not in stock, make a request, and see if you can get them in. A 4-ounce serving has 4 g of carbohydrate.
Fresh vegetables are available from CSAs, farmer's markets, and local grocery stores. If you want long broad noodles, pick zucchini or eggplant. If you desire thin, spiralized noodles grab a zucchini. Cauliflower and broccoli florets can also make suitable pasta substitutes.
Check out my friend's review on The Best Low Carb Pasta you can buy. It's interesting to hear her opinion and see all the options available. Do be mindful when making your selection, these are all low carb options, but not all are keto.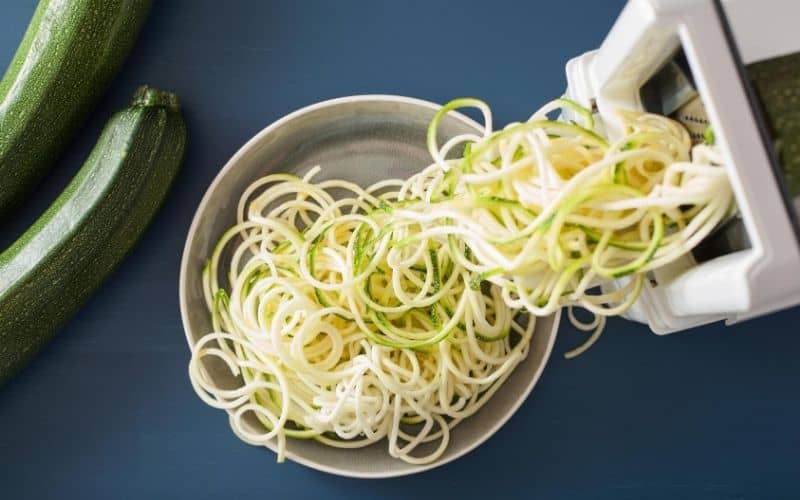 How to Make Keto Noodles
Are you ready to make a pasta recipe for dinner tonight? You are going to love these options because they open up an entire world of keto pasta alternatives.
Making keto noodles at home isn't hard or overly time-consuming. Follow these recipes and tips to start making homemade pasta noodles from scratch.
Homemade Keto Noodles
Perhaps not as easy as buying a ready-made keto noodle alternative, this option is just as delicious, if not more so.
There are a handful of different keto pasta noodles you can make with simple ingredients in your own kitchen.
Vegetable Noodles
Did you know you can use specific kitchen tools to prepare your own keto-friendly noodles in just a few minutes?
Employ a spiralizer, julienne, or vegetable peeler as a tool to transform low-carb vegetables into healthy low-carb pasta noodles.
Many vegetables are suitable.
Zucchini (zoodles) are a classic choice if you own a spiralizer. You can make long noodles that are suitable as a general pasta alternative in dinner meals and soups. Attach the zucchini to the kitchen tool and twist away until you make all the long curly noodles you need.
Spaghetti squash is baked in the oven then shredded with a fork to produce thin spaghetti-like vegetable noodles.
Cabbage can be finely sliced and sautéed, it pairs best with meat-based pasta sauces.
Eggplant is great for making long broad strips if you want to make lasagna.
Cauliflower can be used for more than a keto mashed potato substitute! It's a good pasta alternative for keto too. I find the florets best in macaroni and cheese and also in baked ziti recipes.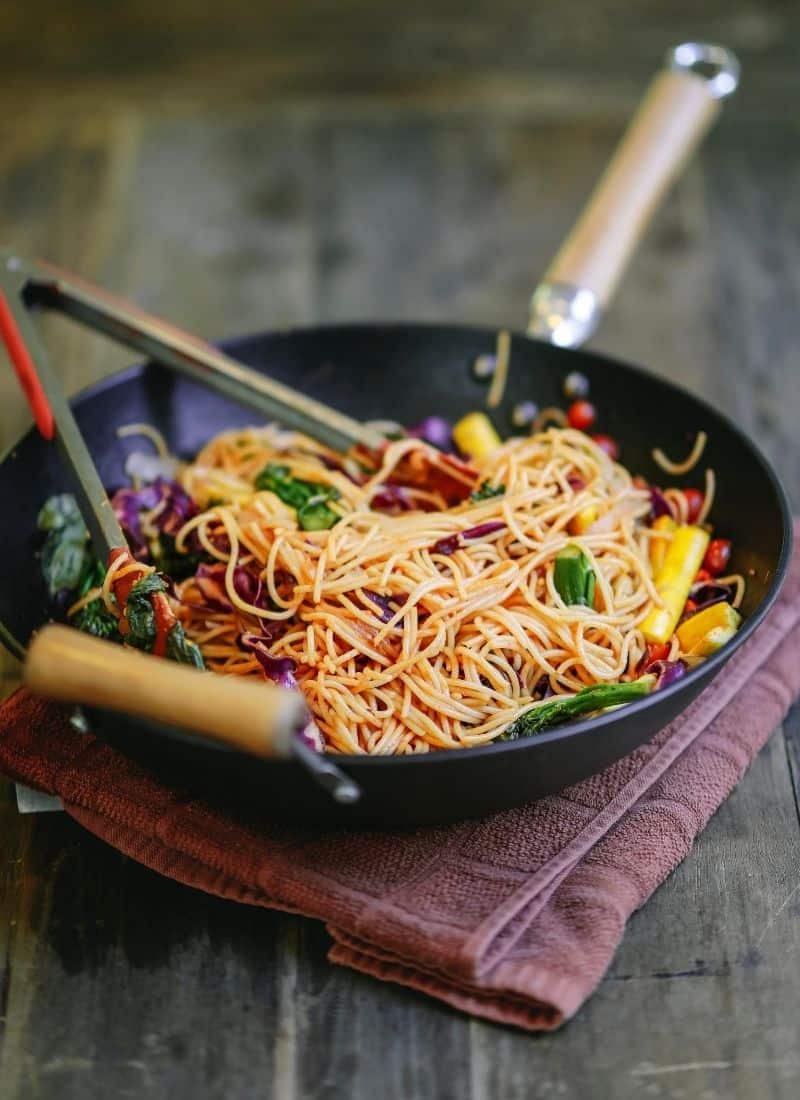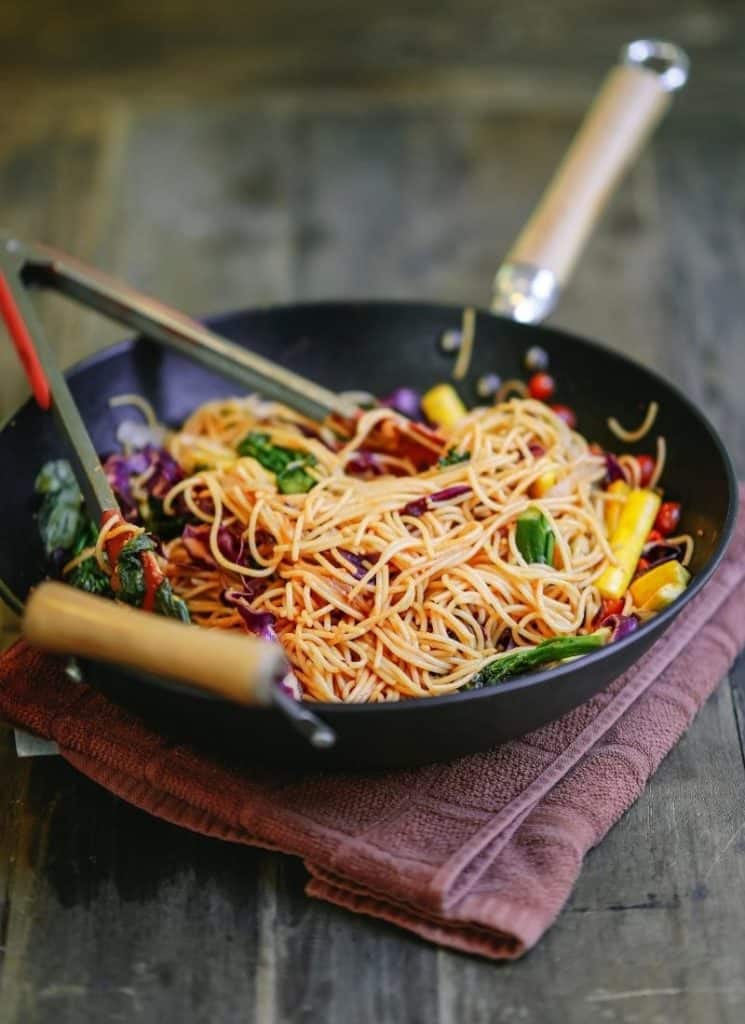 Low Carb Pasta Alternatives
Once you find a low-carb pasta noodle to use making keto-friendly pasta recipes it is pretty straightforward.
Celebrate, friends, because you can still enjoy your favorite pasta dishes while making progress to your keto diet goals!
With the right kind of keto noodle, you can eat pasta on a keto diet.
How to Make Keto Pasta Recipes
Now that you have a clear understanding on how to make low carb pasta noodles, re-creating a keto pasta meal is so easy!
Most pasta recipes are a combination of keto-approved ingredients:
Animal protein: ground beef, chicken breast, pork, sausage, fish, seafood, cheese
Vegetables: zucchini, spinach, bell pepper, onion, garlic
Fruit: tomato
Herbs: basil, oregano, dill,
Sauce: marinara, Keto Alfredo Sauce, cheese, Keto Bolognese Sauce, pesto, olive oil
So all you really need to do is swap out the noodles!
Make low-carb pasta recipes in easy 4 steps.
Choose the keto-friendly pasta noodle substitute. Will it be a pre-made store-bought option or homemade recipe?
Prepare the noodles. Follow the directions listed on the bag or make the noodles from scratch.
Prepare the sauce. Any sauce will work! Marinara, Alfredo, pesto or whatever you like.
Serve with optional garnish if you like. Don't forget the Parmesan on top or a sprinkle of parsley. Then grab your forks and sit down to dine.
30 Keto Pasta Recipes
These 30 Keto Pasta Dinner Recipes use a variety of keto noodles. From personal favorites like Shrimp Scampi with Zoodles to Keto Cauliflower Mac and Cheese and Low-Carb Eggplant Lasagna, you're sure to find a recipe that inspires you to try something new!
This recipe collection was originally published on December 15, 2016 and later updated with new information and images on August 14, 2020.
Save