You will love this rosemary garlic butter. Made with five simple ingredients and 15 minutes of hands-on time, you can create a rich and flavorful spread perfect for adding to grilled meats, roasted vegetables, or even a slice of bread. Plus, this easy condiment is high-fat and low-carb, making it an excellent option for those on a keto or low-carb diet.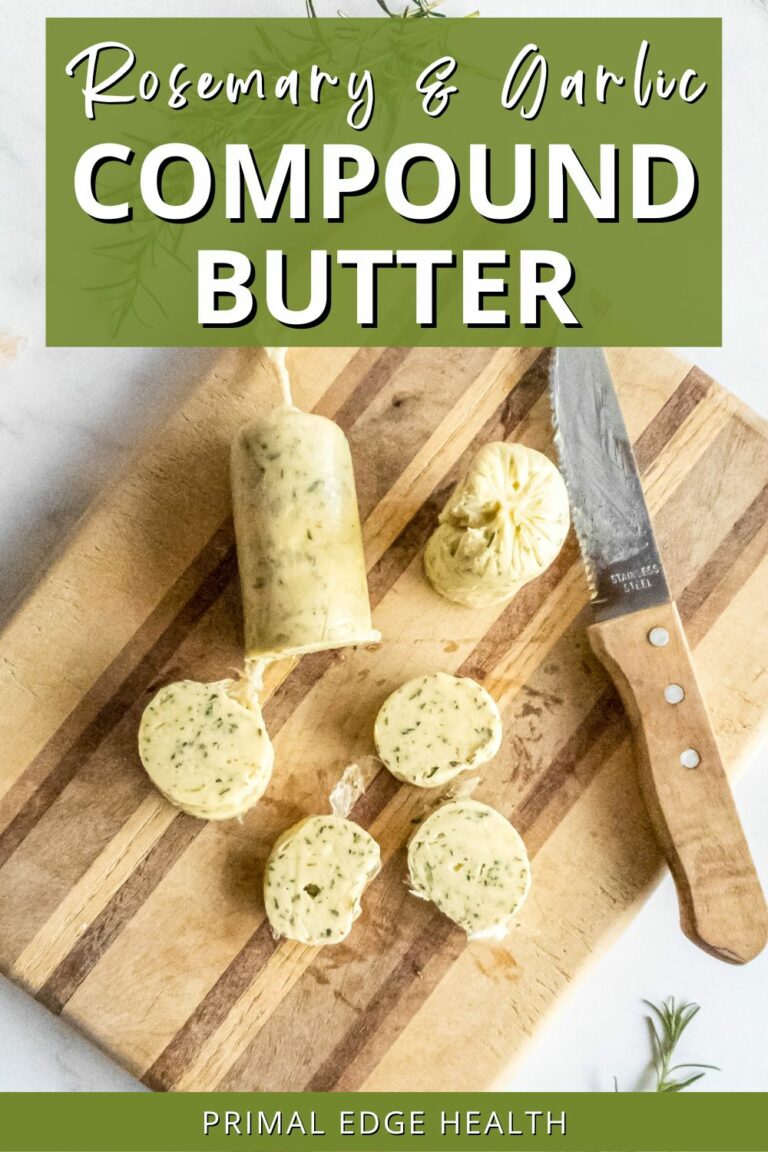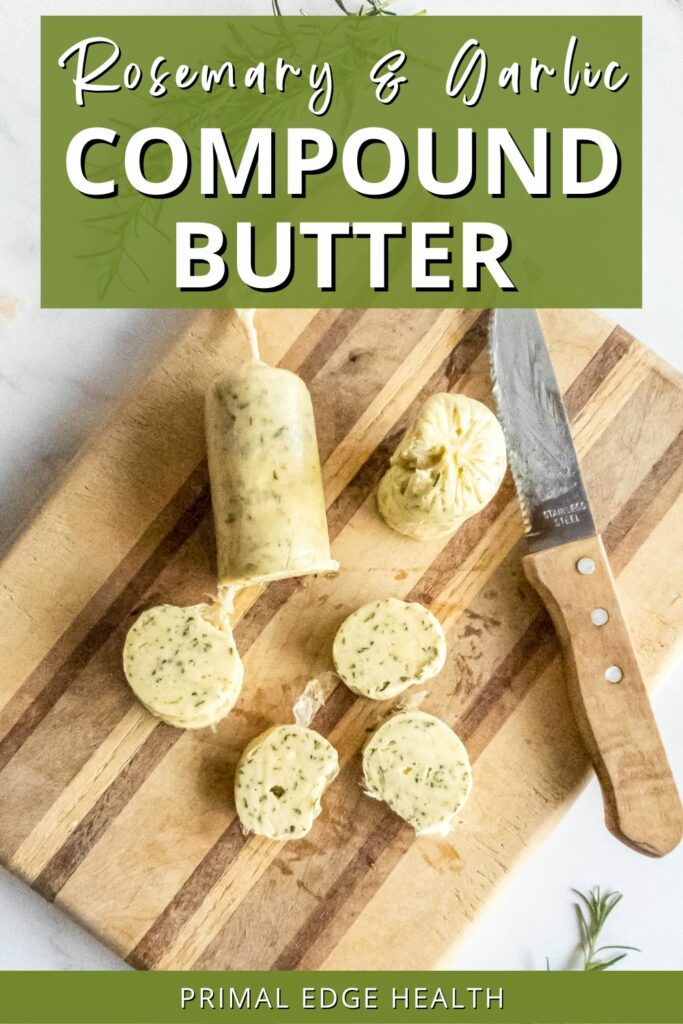 Table of Contents (click to view)
What is Compound Butter?
Compound butter is a type of butter that has been mixed with other ingredients to create a flavorful and versatile ingredient. I made many of these when developing my first cookbook, The Ketogenic Edge Cookbook, and I list many of my favorite ideas there.
However, this rosemary-infused butter is too good not to share! Since it's great for beginners, it would be a good peek into the wonderful world of compound butter.
Making compound butter involves mixing softened butter with herbs, spices, fruits, nuts, or other ingredients to create a unique and flavorful butter that you can use in various ways.
Compound butter can be sweet or savory, depending on the ingredients and serving purpose. For example, sweet compound butter may include honey, cinnamon, or fruit, while savory butter often has garlic, herbs, or cheese. The possibilities are endless, and the flavor combinations are limited only by your imagination.
Compound butter can be used as a spread on biscuits, as a seasoning for pork chops or other meat and vegetables, as a sauce for pasta, or as a flavoring for soups and stews. In short, it's a versatile ingredient that can add depth and richness to many dishes.
Making compound butter at home is easy and requires only a few ingredients. Simply mix the softened butter with your desired ingredients, shape it into a log or a small bowl, and chill it in the fridge until firm. Once the compound butter has solidified, you can slice it into rounds and serve when needed.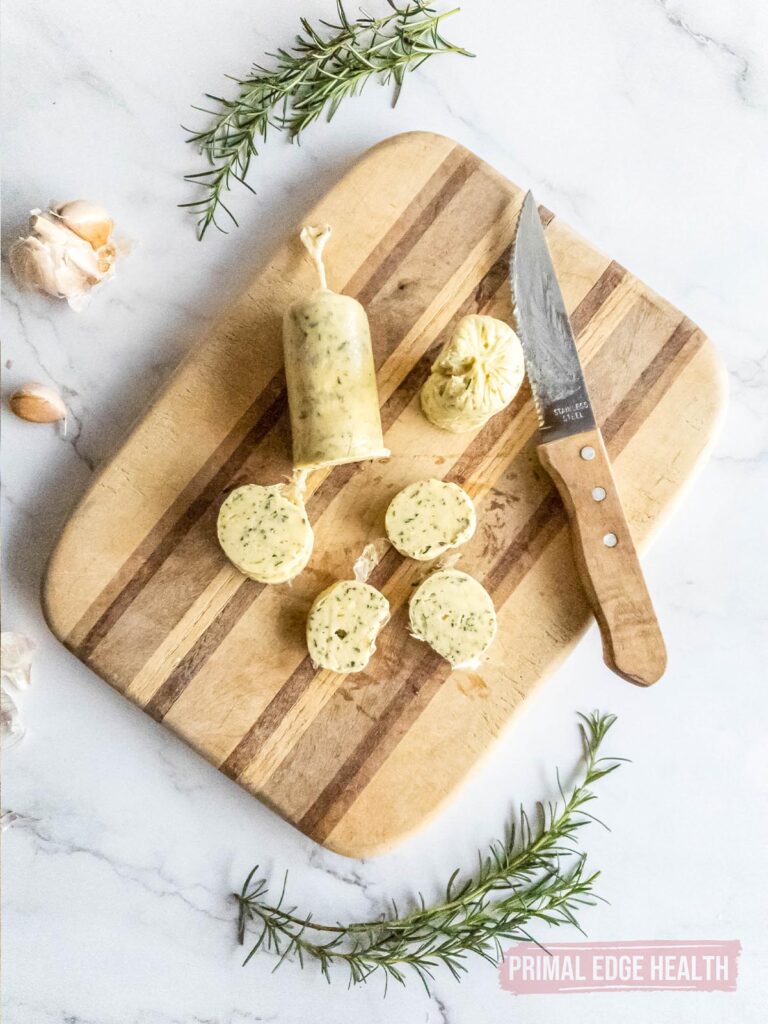 Rosemary Herb Butter: An Easy Flavor Boost for Your Cooking
Looking for a tasty way to add some extra flavor to your meals? You should give this garlic rosemary butter a try. The combination of fresh rosemary and minced garlic gives it a herbaceous and savory taste you'll love. Plus, it's incredibly versatile and can be used in various recipes for all occasions.
The best part is rosemary compound butter can be a great idea for meal prep, thanks to its relatively long shelf life compared to other dairy-based products. When kept in an airtight container in the fridge, rosemary butter can last a few weeks. You can even extend it further by freezing it. Then when ready to use, thaw it in the fridge overnight or throw it directly on a skillet to melt gently.
Having a batch of rosemary garlic compound butter on hand can add flavor and richness to your meals. Plus, by meal prepping it, you can make a big batch at once and use it over time, which is perfect when you only have a little time to cook but want to elevate your meal.
Whether you have some fresh rosemary from your garden that you want to use up or you want to have a batch of this garlic rosemary butter on hand to add extra flavor to your leftovers, this butter is a tasty way to level up any meal.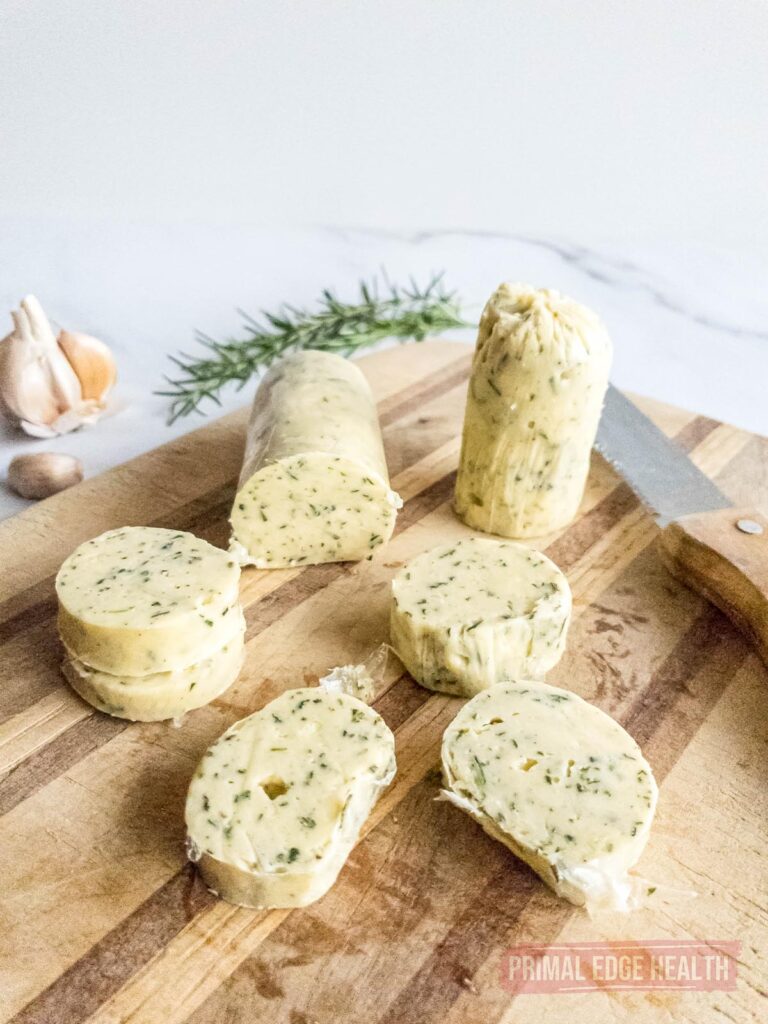 From Steak to Bread: When to Serve Compound Butter
Learning to make garlic rosemary butter allows you to improve any dish without much effort. Plus, rosemary compound butter is an excellent choice to add flavor and healthy fats to a meal while keeping carb intake low.
Because butter is naturally high in fat and low in carbs, it is an excellent option for those following a keto diet. However, when serving compound butter, using ingredients low in carbs is important to stick to your diet goals.
That's why making your own compound butter at home allows you to control the quality of the ingredients and the flavor profile. It's also a great way to use fresh herbs before they go bad. Herbs and spices like garlic and rosemary are excellent choices, as they are naturally low in carbs and high in flavor, enhancing any dish!
Impress your guests by serving garlic rosemary compound butter at dinner parties or family gatherings during the holidays. But don't limit this delicious condiment to formal events only.
Rosemary herb butter adds a special touch to an otherwise plain weeknight meal. Top a perfectly cooked steak or spread some on warm bread. With just a few simple ingredients, compound butter can turn a simple dish into a gourmet experience.
How to Make Rosemary Butter
Gather five simple ingredients, and you're on your way to making an easy condiment that goes with just about any dish. This rosemary butter recipe requires just 15 minutes of active, hands-on time, but you'll need at least an hour to chill in the fridge.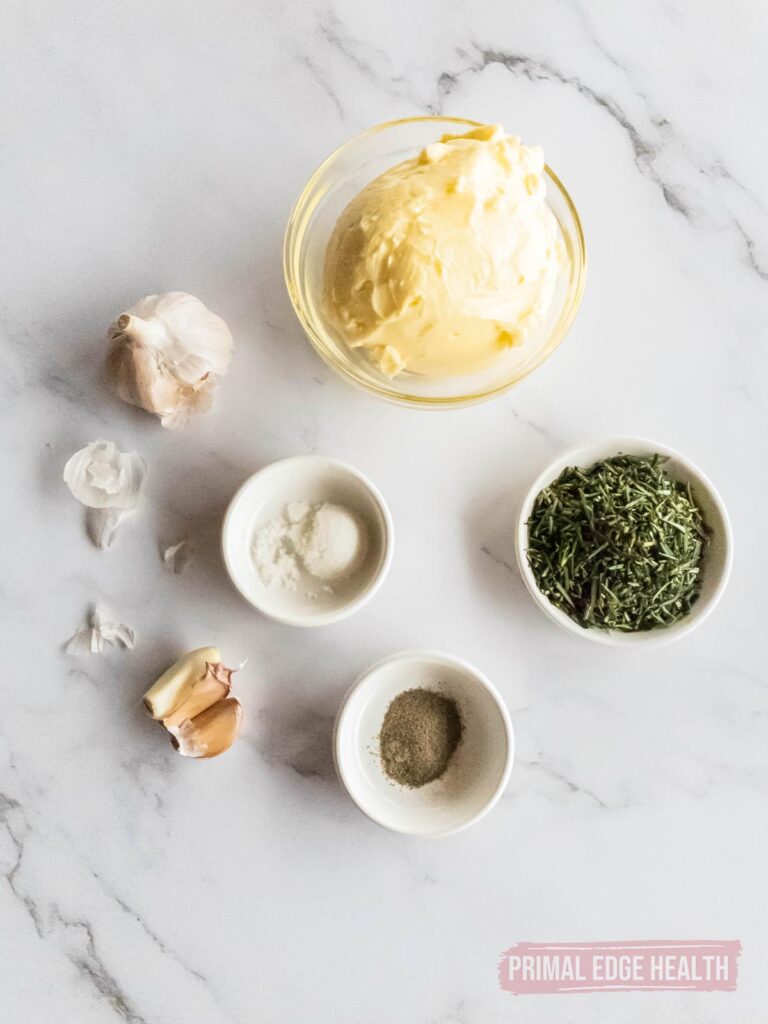 Ingredients
Unsalted butter – Starting with softened butter, this is the base of compound butter and provides a creamy texture and rich flavor. Be sure to use unsalted butter to better control the salt content; if budget allows, buy organic and grass-fed butter.
Fresh rosemary – This aromatic herb adds a fragrant and robust flavor to the butter. Fresh is best, but if using dried, you want to use half of the amount called for in the recipe.
Fresh garlic – Garlic adds a pungent, savory flavor to the butter and complements the rosemary beautifully, adding a delicious taste and aroma.
Salt – Good quality salt enhances the flavor of the butter and balances out the other ingredients.
Black pepper – Adds subtle heat and a slight spiciness to the butter.
Substitutions and Variations
Compound butter is a highly versatile condiment that can be customized to suit various tastes and dietary preferences. Mixing butter with different herbs and spices allows you to create a compound butter that is unique to you.
Check out these easy swaps:
Diet Modifications
As written in the recipe card, this recipe is naturally keto, low-carb, low-oxalate and gluten-free. If you have additional specific dietary needs, consider the following modifications to make this rosemary garlic butter recipe suitable for any wellness diet.
Carnivore diet – As an essentially zero-fiber recipe, this is keto carnivore-friendly. If you are strict carnivore, just eat butter.
Gluten-free – All ingredients are naturally gluten-free, so no modifications are needed.
Paleo diet – Strict paleo does not allow dairy products, so compound butter would not be permissible. However, if you tolerate dairy, the rest of the ingredients are paleo-compliant. You may also decide to make this with ghee (clarified butter).
GAPS – The recipe is naturally GAPS-compliant as long as you use grass-fed butter and unrefined salt.
Whole30 – Use ghee instead of butter, as dairy is not allowed on Whole30.
Step-By-Step Directions
If you're a beginner at making compound butter, don't worry – it's an easy process that can add a lot of flavor to your dishes. Follow these simple directions, and you can't go wrong!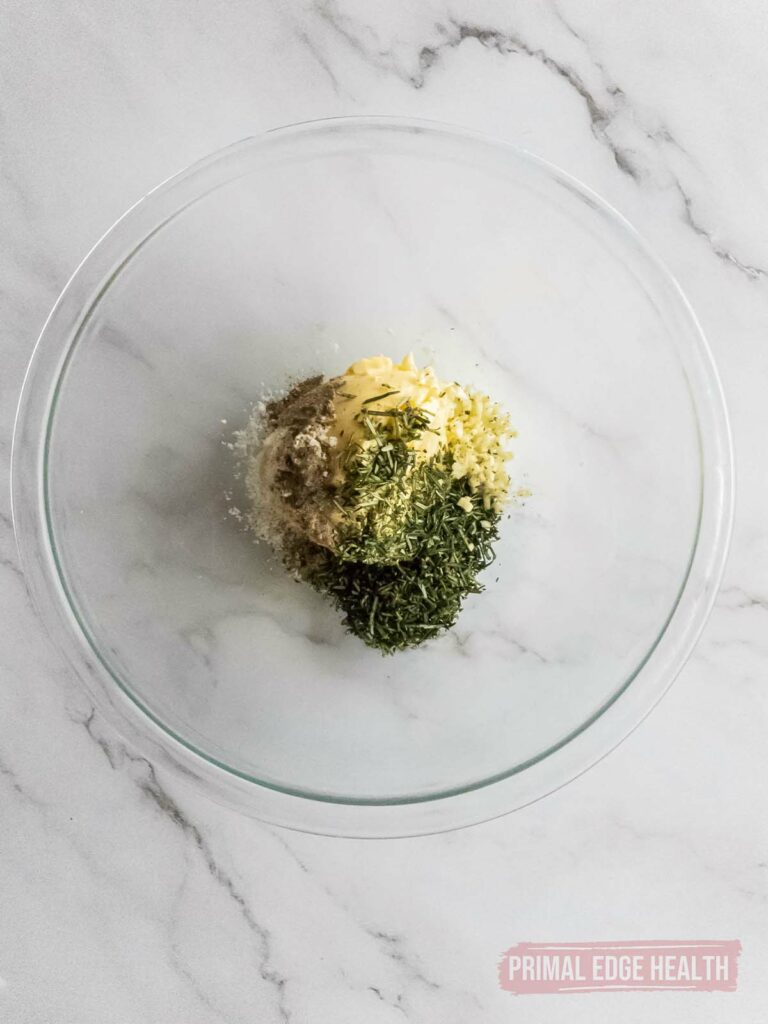 Step One: Add
First, make sure that your butter is softened to room temperature, but not melted. This will make it easier to mix with the other ingredients.
Add the chopped rosemary, minced garlic, salt, and black pepper to the butter.
Step Two: Mix
Mix everything with a hand mixer or spoon until they are well combined, and the rosemary and garlic are evenly distributed throughout the butter. An electric mixer may give you a better-whipped texture but a nuisance to clean the butter off the beaters. On the other hand, mixing it by hand may make a slight difference in consistency, but it is much easier for cleanup.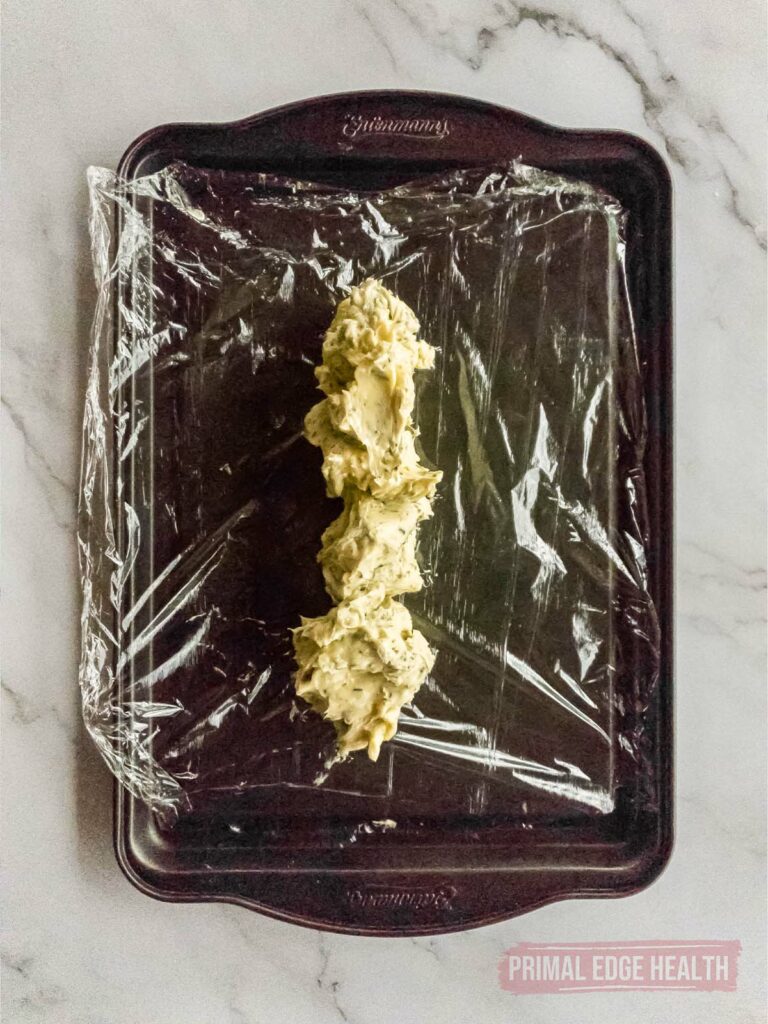 Step Three: Transfer
Once the ingredients are fully mixed, transfer the compound butter onto the center of a large piece of plastic wrap or wax paper.
Step Four: Shape
Fold the plastic wrap or paper up and over the butter, tucking it underneath. Use your hands to shape the butter into a tight log, about 1-1.5 inches in diameter. For best results, do your best to smooth it out to fill all air bubbles.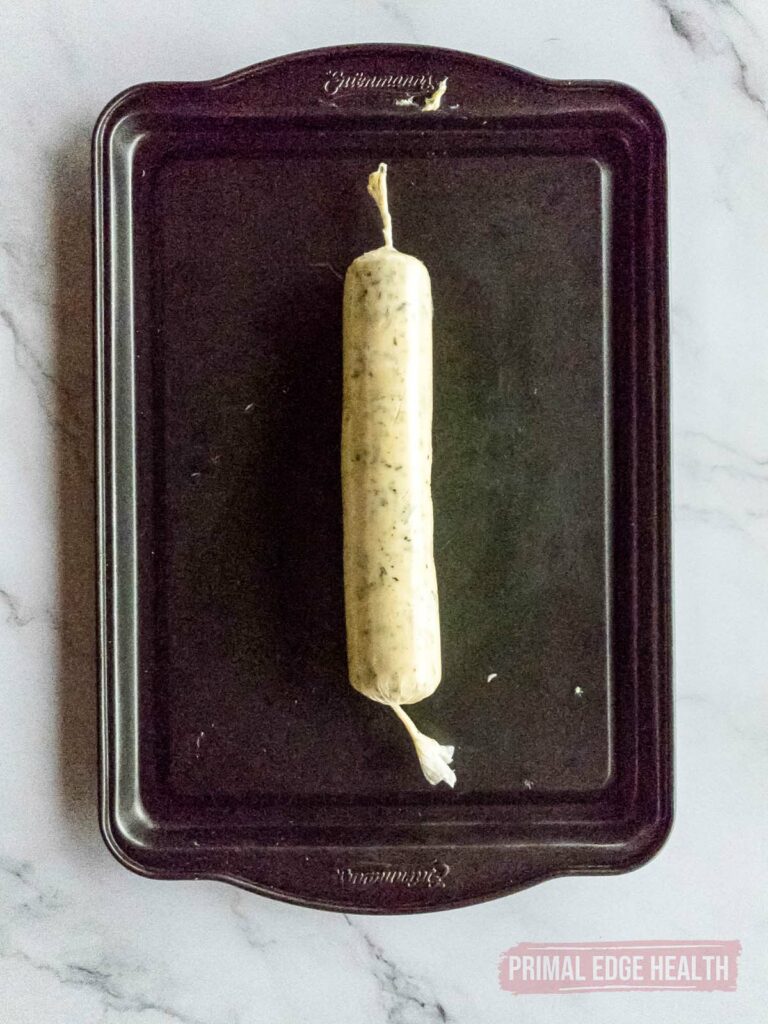 Step Five: Twist and chill
Once the butter is tightly rolled up, twist the ends of the plastic wrap tightly to secure the shape. Tie on one end, then stand the butter upright, tap down and secure the other end.
Chill the compound butter in the refrigerator for at least an hour.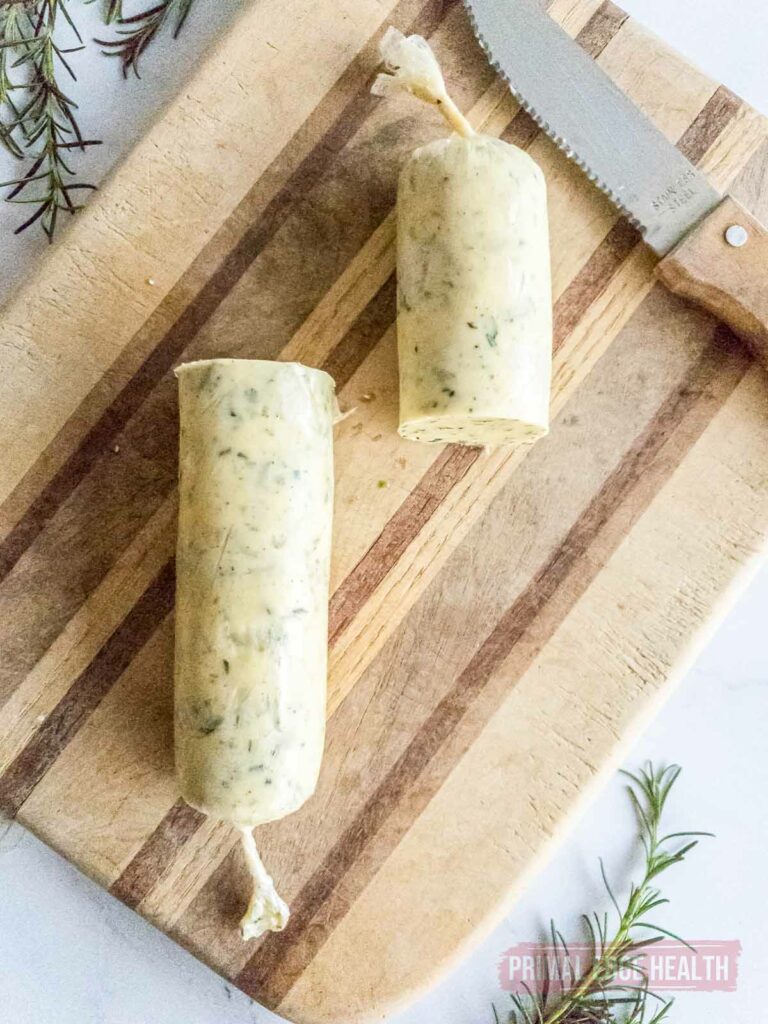 Once the compound butter has solidified, you can slice it into rounds and serve. Or keep it in the fridge and store it for later.
The compound butter is now ready to use as a seasoning for meat, vegetables, or any dish you want to add a rich and flavorful accent to.
How to Use Compound Butter
Typically considered a condiment, compound butter can be used as a spread, seasoning or sauce, depending on how it is used.
Here are a few examples:
As a spread: Serve on oven-fresh bread, grilled or roasted vegetables, or on keto mashed potatoes.
As a seasoning: Melt a pat of the butter in a skillet and cook meat, fish, or poultry in it, or place a slice of the butter on top of the cooked meat just before serving. The butter will melt and coat the meat with its flavor.
As a sauce: Simply melt the butter in a skillet, add some broth or cream, and cook until the sauce thickens slightly. You can then pour the sauce over your cooked low-carb pasta noodles or use it as a dipping sauce for steamed vegetables.
Rosemary Garlic Butter Steak Sauce
Are you thinking what I'm thinking? Garlic rosemary butter for steak, but make it saucy? Yes, please!
You can easily adapt the regular compound butter recipe and turn it into a rosemary butter sauce for steak. This is fantastic for serving a crowd because this yields a generous amount. You can adjust the amounts of Worcestershire sauce and beef broth to your liking, depending on how thick or thin you want the sauce to be.
To make rosemary garlic butter steak sauce, follow these steps:
Ingredients:
Rosemary garlic butter
2 tablespoons Worcestershire sauce
¼ cup beef broth
Start by following the directions for rosemary garlic butter as they are written in the original recipe, but skip the chilling step.
Instead, preheat a skillet over medium-high heat. Add the butter mixture to the skillet and warm for 1-2 minutes until butter is melted and fragrant.
Add the Worcestershire sauce and beef broth to the skillet and stir to combine. Cook the mixture for another 2-3 minutes until the sauce has thickened slightly and the flavors have melded together.
Remove the skillet from heat and let the sauce cool for a minute. Pour the sauce over the cooked steak and serve.
Basic Rosemary Butter Nutrition
This recipe yields 16 one-tablespoon servings of rosemary garlic butter. Compound butter is considered a condiment, so enjoy it in moderation.
Each serving contains:
103 calories
12 g fat
0 g total carbs
0 g net carbs
Please note that the nutritional value will change if you substitute ingredients. Use a nutrition app to recalculate and reflect your changes.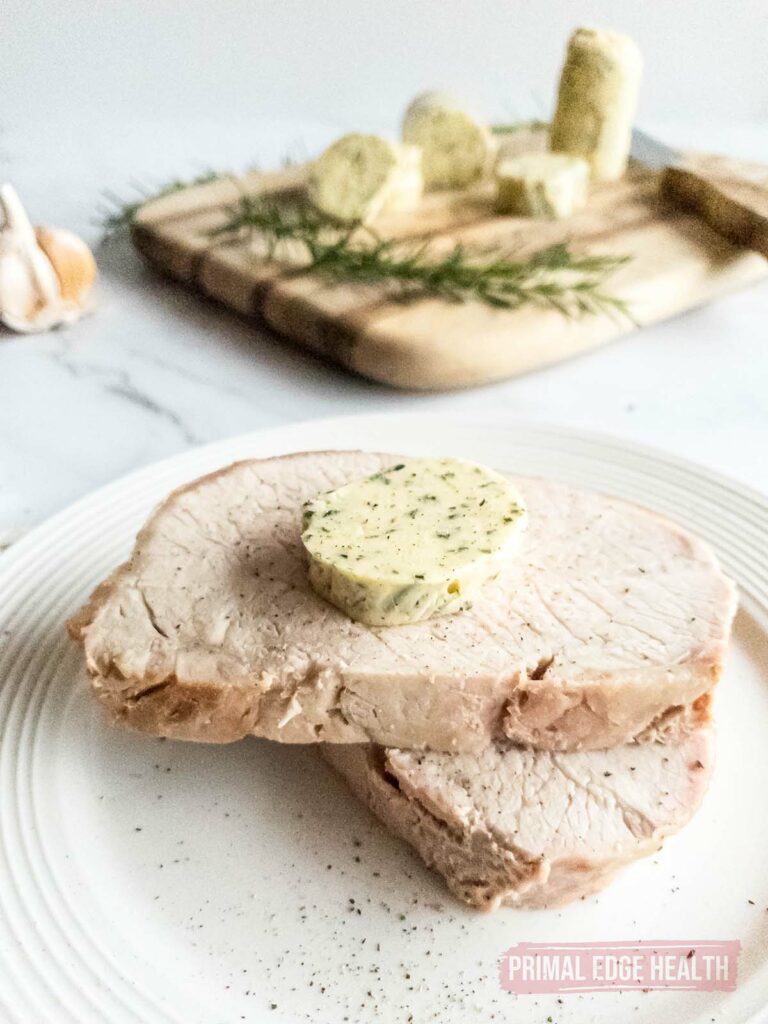 Rosemary Compound Butter FAQs
How long does compound butter last?
Compound butter can last up to two weeks in the refrigerator, but it's best to use it within a week to ensure maximum freshness and flavor. If you don't plan to use the butter within a week, you can freeze it for up to six months.
How to store compound butter?
To store compound butter, wrap it in plastic wrap or parchment paper and place it in an airtight container in the refrigerator.
Can you freeze compound butter?
Yes, you can freeze compound butter for up to six months. To freeze it, wrap it tightly in plastic wrap and place it in an airtight container in the freezer. Add a label with the recipe name and date.
What do you serve with compound butter?
Compound butter is a versatile condiment that can be used in many ways. You can serve it with roasted or grilled meats, seafood, steamed or baked vegetables, keto bread and low-carb pasta.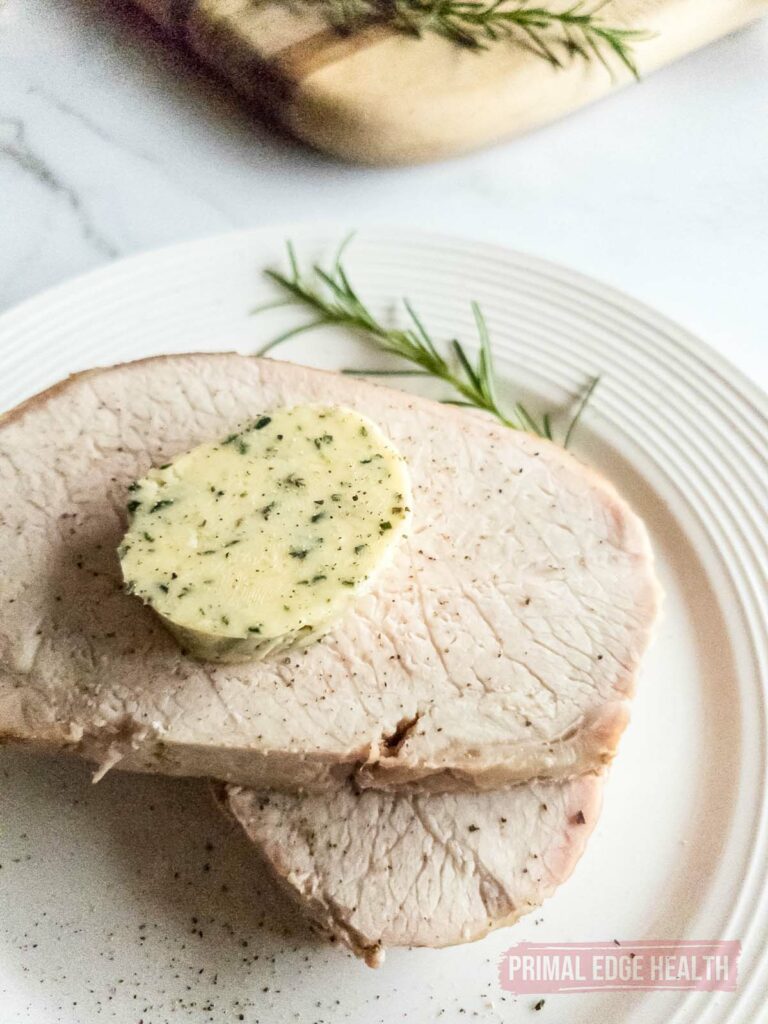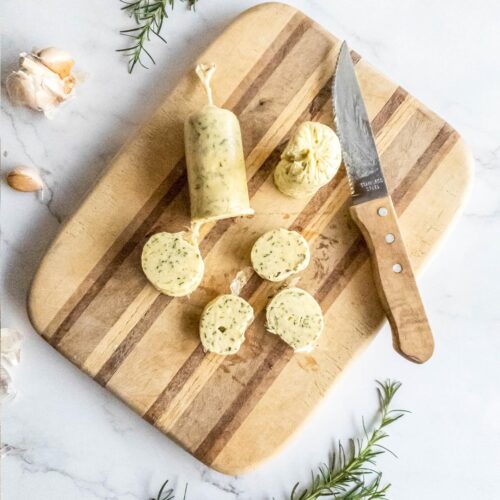 Garlic Rosemary Butter Recipe
With five simple ingredients and 15 minutes of hands-on time, you can create a rich and flavorful spread perfect for adding to grilled meats, roasted vegetables, or even a slice of bread.
Instructions
In a mixing bowl, combine softened butter, finely chopped rosemary, minced garlic, salt, and black pepper.

1 cup butter,

2 tablespoon rosemary,

2 cloves garlic,

1 teaspoon salt,

¼ teaspoon ground black pepper

Mix the ingredients together until they are well combined and the rosemary and garlic are evenly distributed throughout the butter.

Place the mixture onto a sheet of plastic wrap and roll it into a log shape, about 1-1.5 inches in diameter.

Twist the ends of the plastic wrap tightly to secure the log.

Refrigerate the butter until firm, for at least

1 hour

.

Once firm, slice the butter into rounds and serve.
Nutrition & Macros
Serving:
1
tbsp
Calories:
103
kcal
Carbohydrates:
0.3
g
Protein:
0.2
g
Fat:
12
g
Saturated Fat:
7
g
Sodium:
237
mg
Fiber:
0.1
g
To obtain the most accurate representation of the nutritional information in a given recipe, please calculate the nutritional information with the actual ingredients and amounts used, using your preferred nutrition calculator. Under no circumstances shall the this website and the author be responsible for any loss or damage resulting for your reliance on the given nutritional information.
Made this? Leave a Rating! ⭐⭐⭐⭐⭐
Tag a photo with @Primal_Mom and #PEHRecipe on Instagram to share with us!