Do you have 10 minutes to mix some almond flour, cheese, eggs, cream, butter, thyme and salt together in a bowl? That's all you need to prep these savory low-carb, keto biscuits. Easy keto recipes are not difficult!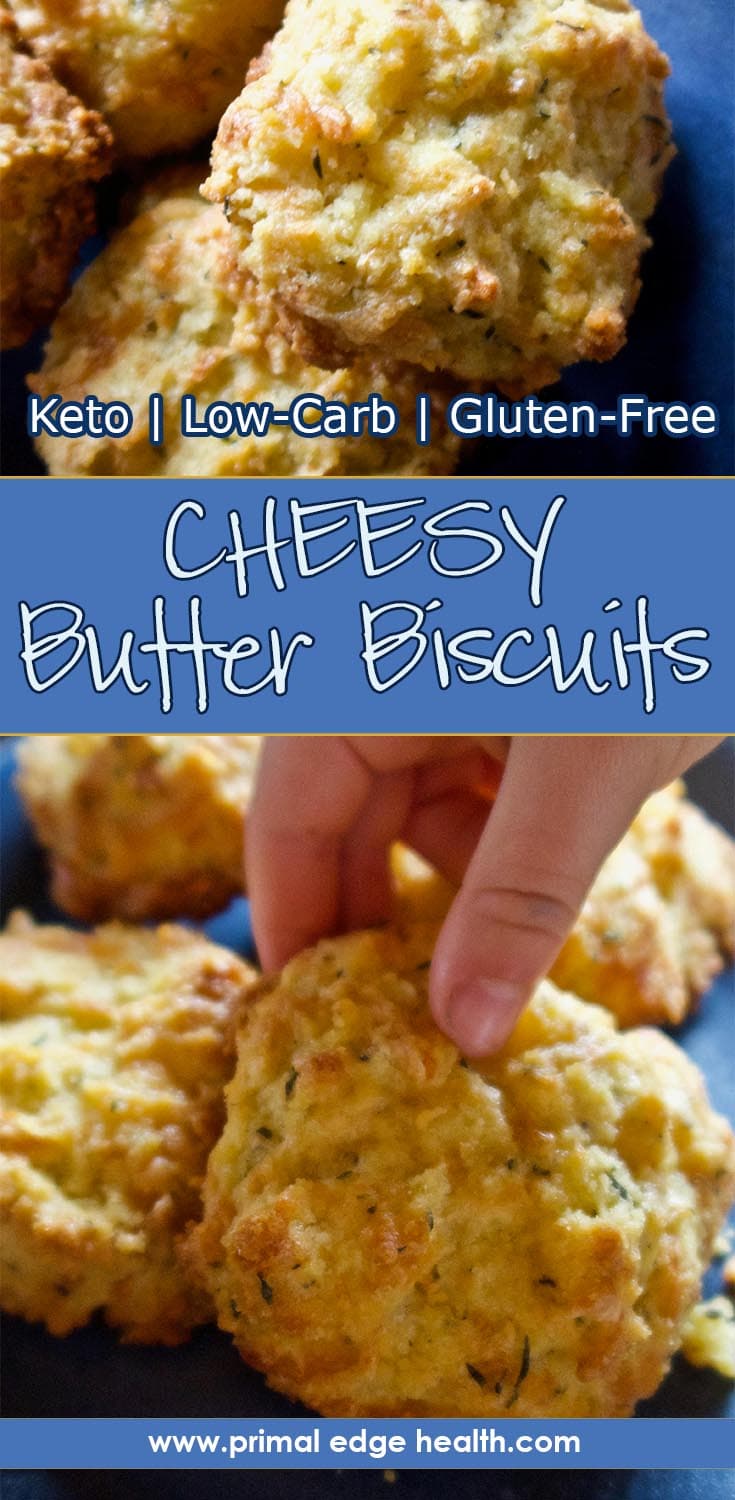 Crack one open after baking for 25 minutes and the top will be a crisp, golden brown while the inside is soft, warm and gooey.
Serve them with keto breakfast recipes or with a lunch or dinner. They are filling enough to satisfy a bread craving.
These butter infused rolls look just like a traditional biscuits but won't leave you feeling heavy and tired like high-carb four based foods do.
A great savory side for the holidays
Biscuits are a great recipe to share on Thanksgiving or any holiday. I really like using keto baked goods as "bridges" to introduce friends and family to our delicious keto foods. Selecting foods that are "too good to be true" (but really are!) is a fun strategy to surprise people and show them (in a nonthreatening way) the potential of healthy foods.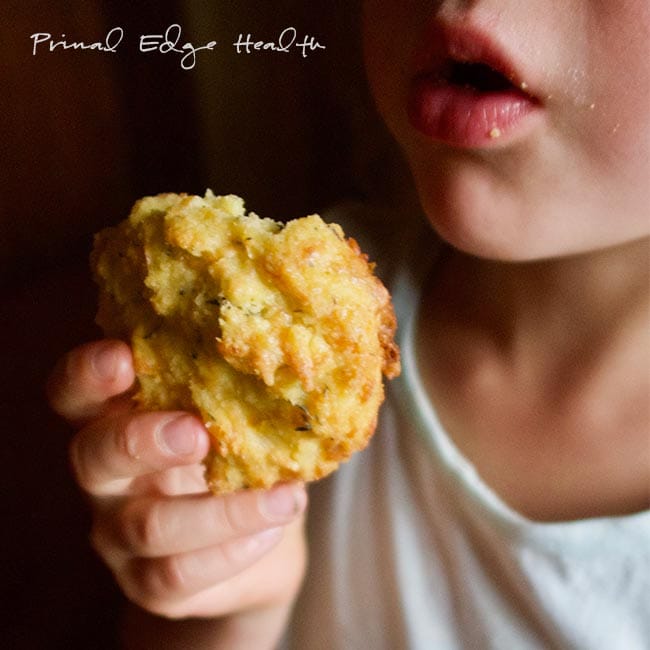 Low-Carb Flours
If you are following a ketogenic diet, you've said good-bye to wheat flours and gluten-free alternatives like oat flour and plantain flours. In this low-carb dietary path, almond flour, as showcased in this keto biscuit recipe, is going to be your new friend.
Between almond flour and coconut flour, you can make just about anything, from Low-Carb Pancakes, to All-Purpose Keto Bread, and Macadamia Nut Keto Coffee Cake. Each flour has it's own specific and unique properties. Keto baking can be daunting for some people, but after a few practice recipes like Savory Broccoli Muffins and Chewy Chocolate Chip Cookies, you'll get a hang of it pretty quickly!
Almond and coconut flours are the two ingredients I use the most often when I make recipes from my Ultimate Guide to Low-Carb Baking. They are the staples I keep stocked in our pantry all the time. I also like using ground chia and flax seeds as binding agents. They work wonderfully for Keto Flatbreads (who's tried the Tuna Melt Quesadilla!?). On occasion I enjoy working with pumpkin seed meal or sesame seed meal.
This may come as a surprise, but there are a number of sweet and savory keto friendly baked goods that don't even need flour. My Ketogenic Brownies are a great example of how to make delicious and (actually) fudgy brownies without any sort of flour!
Simple and Easy Keto Baking
With days full of homeschooling two wildlings, tending to our garden and growing collection of farm animals, writing cookbooks and running the Keto Collective, maximizing the nutrition in our meals while minimizing the time I spend in the kitchen is one of my top priorities.
I baked these super cheesy keto biscuits in the morning and ate them warm with breakfast. The children had them again later in the day stuffed with sandwich fixings and avocado. This was such a successful recipe, they happily nibbled the biscuits with a thick layer of grass-fed butter the following day too. These keto biscuits can be saved for a few days in the fridge. Keep them in an airtight container.
Like many of my ketogenic baked recipes, these keto biscuits do not call for any special ingredients or fancy equipment. I'm all about simple, staple recipes!
These biscuits are delicious with breakfast. They pair well with eggs and bacon, sausage and gravy, and some of your other favorite keto breakfast ideas.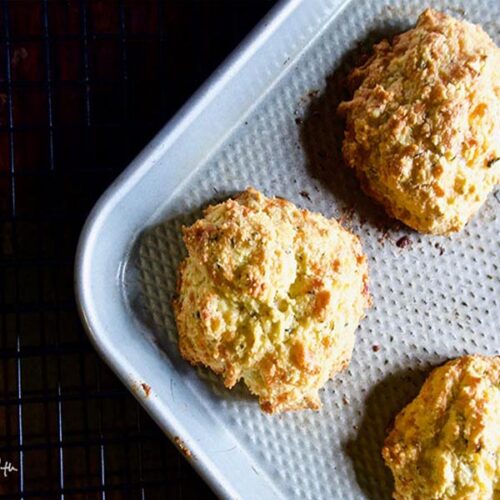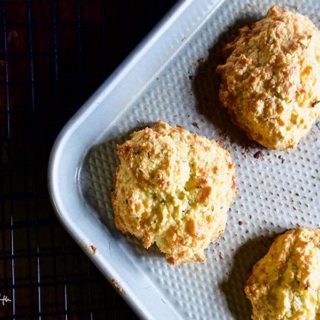 Keto Biscuits with Thyme and Cheese
Cheesy butter rich low-carb, gluten-free, grain-free, and keto biscuits to serve on the side of any meal.
Instructions
Preheat oven to 375 degrees F.

Whisk the egg in a medium bowl. Stir in the cream and butter. Continue until the mixture is smooth. Add the almond flour, salt, and thyme to the same bowl. Mix well and fold in the cheese.

Divide the dough evenly into 12 portions. Drop the biscuits onto a lightly greased baking tray or roll them in your hands first and then press down gently onto the tray. Space them about an inch apart from one another, they rise a bit during the baking but do not spread out much.

Bake for about 25 minutes, until tops are golden brown. Remove from the oven and let cool before serving. They continue to firm upon cooling.
Nutrition & Macros
Serving:
1
biscuit
Calories:
198
kcal
Carbohydrates:
5
g
Protein:
7
g
Fat:
18
g
Saturated Fat:
6
g
Sodium:
286
mg
Fiber:
2
g
Net Carbohydrates:
3
g
To obtain the most accurate representation of the nutritional information in a given recipe, please calculate the nutritional information with the actual ingredients and amounts used, using your preferred nutrition calculator. Under no circumstances shall the this website and the author be responsible for any loss or damage resulting for your reliance on the given nutritional information.
Made this? Leave a Rating! ⭐⭐⭐⭐⭐
Tag a photo with @Primal_Mom and #PEHRecipe on Instagram to share with us!