The homemade keto sauerkraut recipe is a delicious lacto-fermented food made with two ingredients – shredded cabbage and salt! It's packed with gut-healthy probiotics, naturally low in carbs, and sugar-free, making it a perfect dish for those on a ketogenic diet or anyone interested in healthy eating. This salty vegetable recipe is an excellent accompaniment to any meal!
Table of Contents (click to view)
Keto Sauerkraut Recipe
Don't be confused by the sauerkraut you may have seen in a can on the grocery store shelf. This is a lively combination of naturally fermented organic cabbage and good-quality salt. It might not sound much, but through lacto-fermentation, this humble cruciferous vegetable transforms into a soft and salty vegetable side.
This process gives sauerkraut that distinct tangy flavor and produces beneficial bacteria, called probiotics, that may support digestive health and boost the immune system. Even though this metabolic process doesn't need more than cabbage and salt, some recipes also include sugar and vegetables high in carbs.
However, this keto sauerkraut recipe is a low-carb version of this classic fermented food, so you can feel good about eating it. By using low-carb ingredients only and omitting added sugars, this recipe is delicious and fits a low-carb and keto lifestyle.
Raw sauerkraut caught my attention in 2008; I've been making it ever since. It's easy to make, budget-friendly and pairs well with everything. I sold traditionally prepared sauerkraut locally in a health food store many years ago. And today, I am thrilled to share this easy recipe with you so you can enjoy this superfood!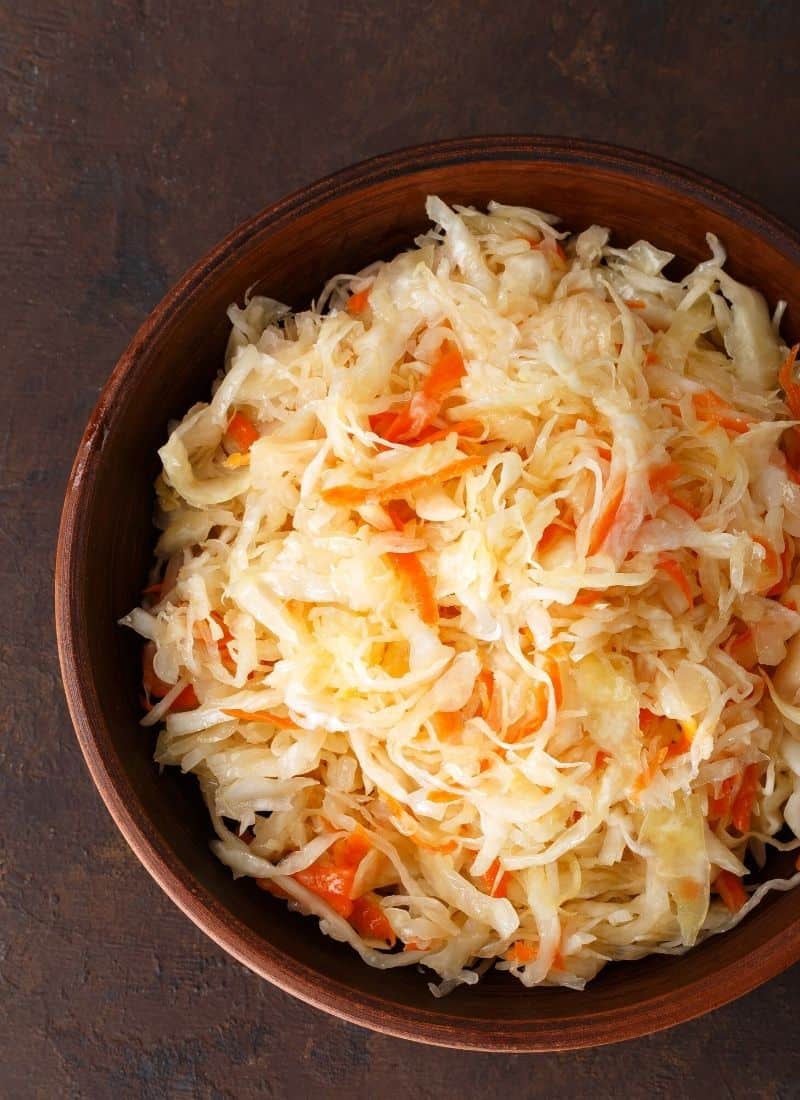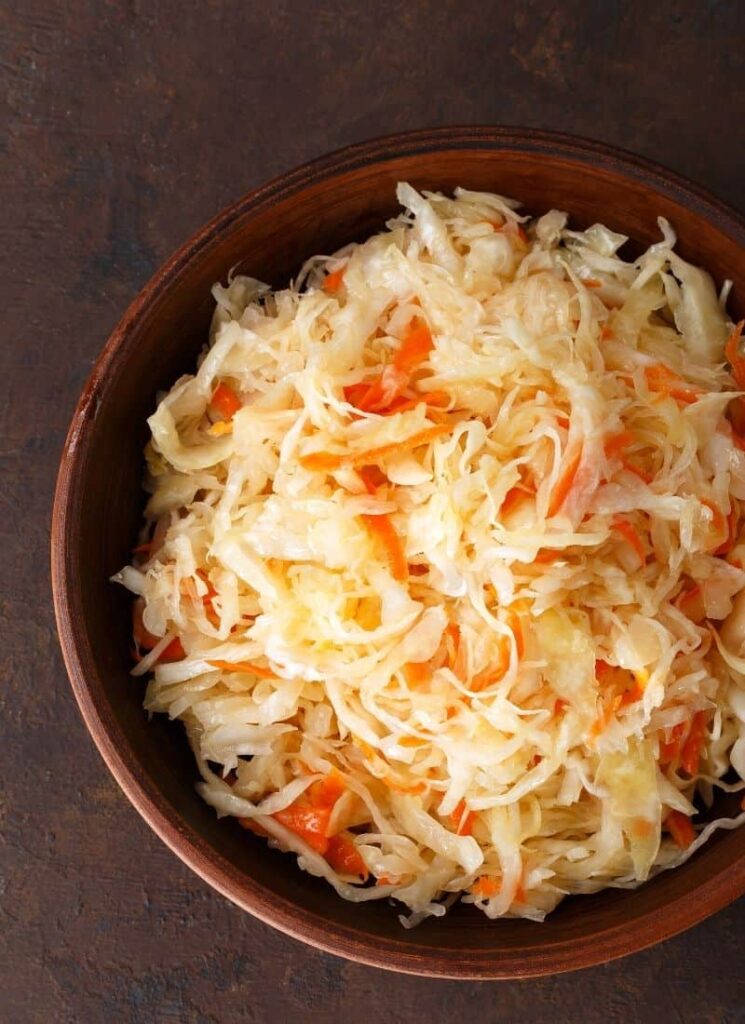 What is Lacto-Fermentation?
Lacto-fermentation is the process by which cabbage and salt turn into sauerkraut. The naturally occurring bacteria on the cabbage, namely Lactobacillus, converts the sugar (carbs) in the cabbage into lactic acid. You can see this in action when bubbles form and rise to the top of the sauerkraut.
The Lactobacillus bacteria is the same strain of beneficial bacteria in fermented foods like yogurt, pickle relish, and kefir. (1) These beneficial bacteria may help support digestive health and fortify the immune system.
Plus, they assist in healthy metabolic processes and facilitate the absorption of key nutrients. (2) In a food-borne illness, foods containing good bacteria and live probiotics may ease symptoms and help support recovery. (3) Overall, lacto-fermented foods are a superfood that would benefit you in the long run.
But unfortunately, the health benefits do not always translate to store-bought sauerkraut. Most of what you see on the shelves are pasteurized products, as the live microbes are destroyed in the heat. And if you can find a raw option at the store, it may be cost-prohibitive for some to purchase regularly.
The good news is that with this simple recipe and easy method, you can make a batch of keto sauerkraut to preserve the beneficial bacteria and save money in the process!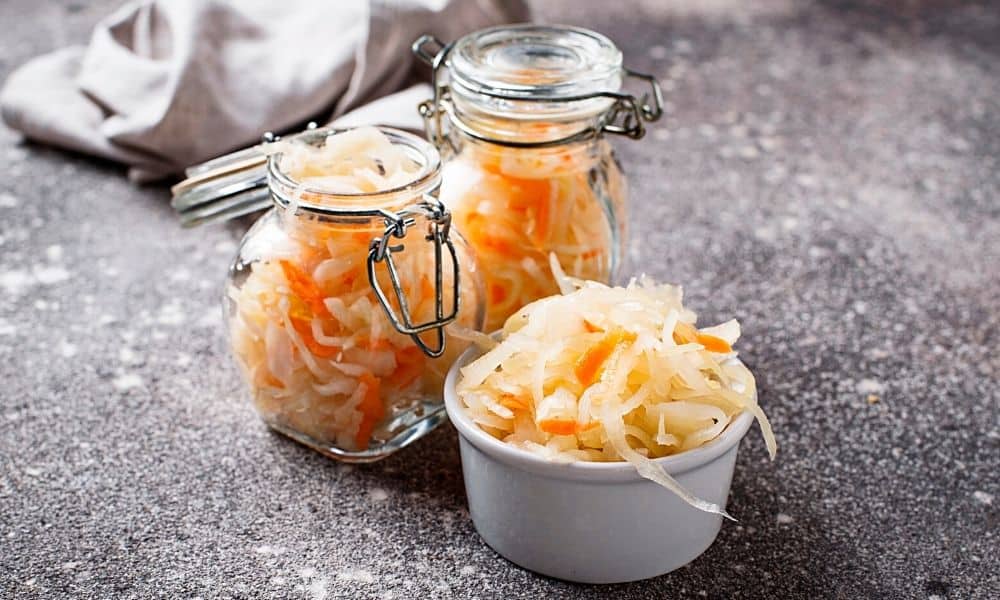 How to Make Keto Sauerkraut
Gather two simple ingredients, and you're on your way to a jar of naturally fermented kraut. Fermenting cabbage employs a simple technique that requires no fancy or expensive equipment but it's important to use high-quality ingredients.
Ingredients
Cabbage – This recipe requires green cabbage, often found in grocery stores. Thinly shredded cabbage will provide a source of nutrients for the beneficial bacteria, so ensure that your cabbage is fresh so the fermentation process moves smoothly.
Salt – For best results, use good quality mineral salt as it creates a safe environment favorable for the Lactobacillus Bacteria to thrive in. This same environment inhibits bad bacteria that would otherwise spoil the ingredients.
Substitutions and Variations
Once you have the basics for this recipe, you can start experimenting with other flavors. If you are a fan of sauerkraut, you will enjoy getting creative with your favorite ingredients!
Check out these ideas:
Use red or purple cabbage for a deep purple look and a spicier finish.
Add fresh herbs like parsley, basil, oregano, and rosemary.
Spice it up with sliced jalapenos, red chili peppers, or a little bit of horseradish.
Add some mustard seeds and bay leaves to the bottom of the jar for extra flavor.
Caraway seeds and fresh dill are a perfect combination to this delicious food.
A great thing about this recipe is that if you make it as written in the recipe card, it is naturally sugar-free, dairy-free, low-oxalate, and gluten-free. It is also excellent if you follow Paleo, Whole30, or GAPS diet.
This is a traditional food made worldwide; many cultures have their own version of kraut.
Directions
Follow along with the easy step-by-step process.
Step 1: Prepare the cabbage
Starting with a fresh cabbage from the farmer's market or your local grocery store, remove any bruised, damaged, or wilted outer leaves.
Cut the cabbage head in half, straight down the middle. Remove the core and slice cabbage leaves into thin strips or shred them using a mandoline or food processor with the slicer blade attachment.
Step 2: Add salt
In a large bowl, toss the cabbage with salt and combine well. Set aside and let this cabbage mixture rest for 20 minutes or until the cabbage softens and releases some liquid.
To help with this process, using clean hands, massage and squeeze the cabbage for a few minutes to break down the fiber and make way for the enzymes and bacteria to do their work.
If using any flavorful additions, add them to the bowl and mix well. Or add them directly to the bottom of the jar.
Step 3: Pack the cabbage
Pack the cabbage tightly into a crock or clean glass jar like a wide-mouth mason jar. Press it down with a wooden vegetable packer, or use your hands. Release all air bubbles until the cabbage is tight and compact.
A 2-quart mason jar (2 1-quart) or a half-gallon fermenting jar will be sufficient for one standard head of cabbage.
It's a good idea to have an airlock fermentation lid. This allows easy environmental control and ensures a proper ferment by limiting oxygen exposure. If not, cover with a cheesecloth or loose-fitting lid.
Are you looking for supplies? I buy fermenting supplies from Cultures for Health.
Step 4: Set aside
Set the jar aside and ensure the cabbage always remains under the brine. You can achieve this by placing fermenting weights on top of the cabbage or using a large outer leaf arranged over the shredded cabbage to hold it all down.
Keep an eye on it as the fermentation progresses, and push down the fermented cabbage as often as needed. Store the jar at room temperature, away from direct sunlight, for at least one month or until done to your liking.
I recommend putting a label on the jar with the ingredients used and the date of the recipe.
Taste the sauerkraut regularly. Transfer the container to the fridge when the cabbage is soft and sour and has fermented to your liking.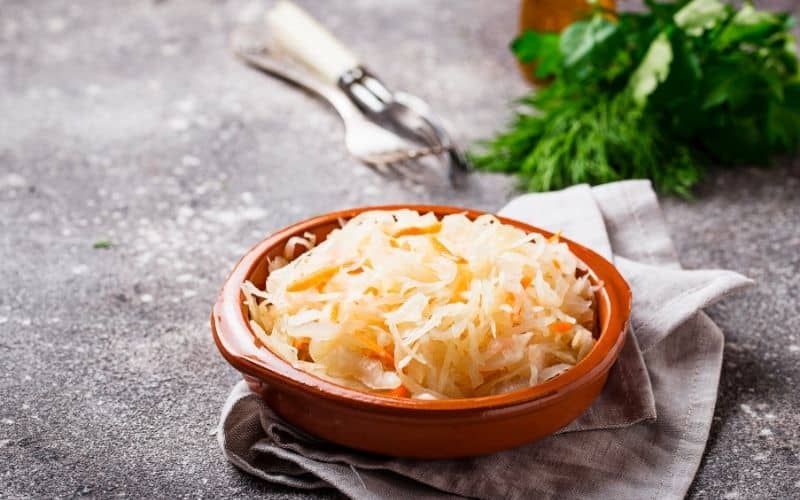 How long does it take to make sauekraut?
Fermentation time depends on how much fresh ingredients you use, ambient temperature, and humidity.
We store the sauerkraut mixture at room temperature on the kitchen counter, in the pantry, or on a shelf. There will be temperature variations based on seasonal changes and geographic location.
Foods ferment faster in warmer environments and slower in cooler ones. The ideal temperature for home ferments is 50-60°F (10-15°C). The minimum time you need is three days before you start seeing some activity. However, as with aging cheese and fine wine, the longer you leave it to mature, the better the flavor.
I recommend you wait a month before trying the sauerkraut. I know it can be challenging, but it is worth it. By this time, the cabbage is usually well broken down, soft, and tender, with a well-developed sour tang.
If you prefer a crunchier texture and less tangy flavor, transfer the ferment to the fridge earlier. The cabbage is more like coleslaw in the earlier phases of fermentation but is still very delicious.
The choice is up to you as it's just a matter of preference. There is no technical right or wrong way.
How long does it take to make sauerkraut?
Fermentation time depends on the amount of material you begin with as well as ambient temperature and humidity.
We store the cabbage at room temperature either on the kitchen counter, in the pantry, or on a shelf. There will be temperature variations based on seasonal changes and geographic location.
Ferments are faster in warmer environments, slower in cooler ones.
The ideal temperature for home ferments is 50-60°F (10-15°C).
The absolute minimum time you need is 3 days before you start to see some activity. However, as with aging cheese and fine wine, the longer you leave it to mature, the better the flavor.
I recommend you wait a month before trying the sauerkraut. I know it can be hard, but it is worth it. At this stage, the cabbage is usually well broken down, soft and very tender with a well developed sour tang.
You may like a crunchier texture and less flavor, in which case it's fine to pull the jar early. I notice the cabbage is more like coleslaw in the earlier phases of fermentation.
The choice is up to you, it's all just preference. There is no technical right or wrong way.
Watch for signs of purification. If the contents get contaminated somehow you will be able to tell. Visible mold, slimy texture, or offensive smell are all signs that something went wrong. It's best to discard the project and start again.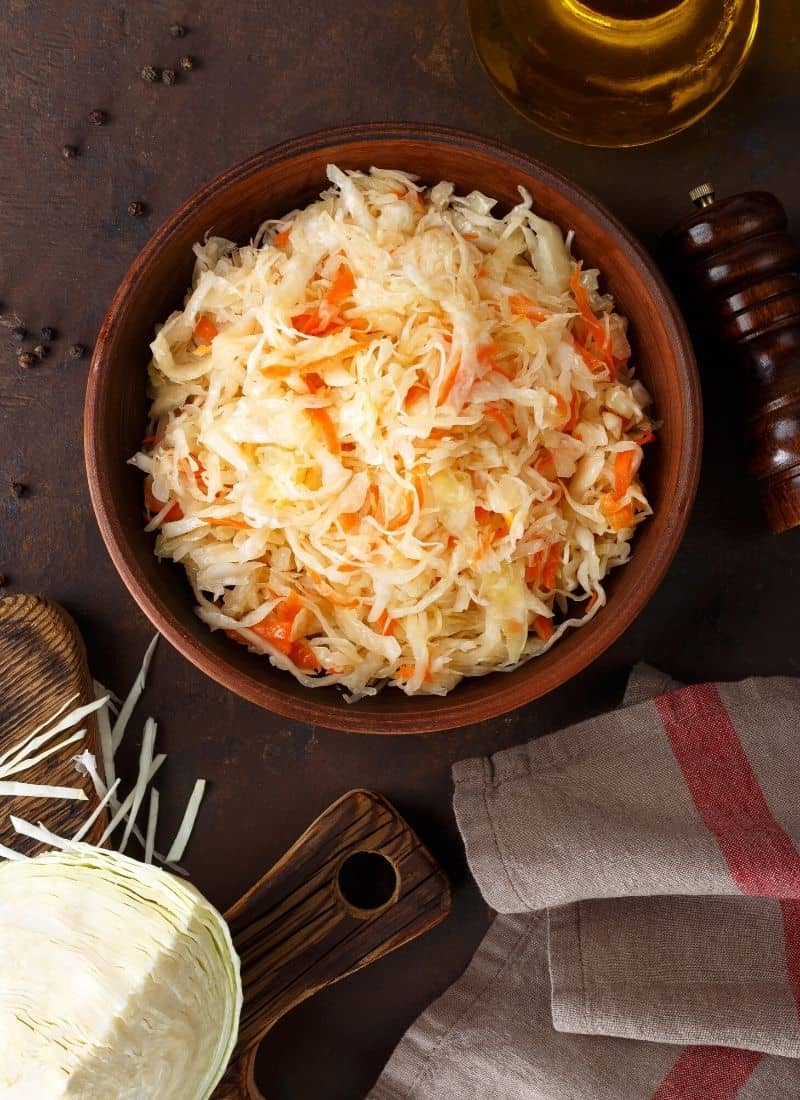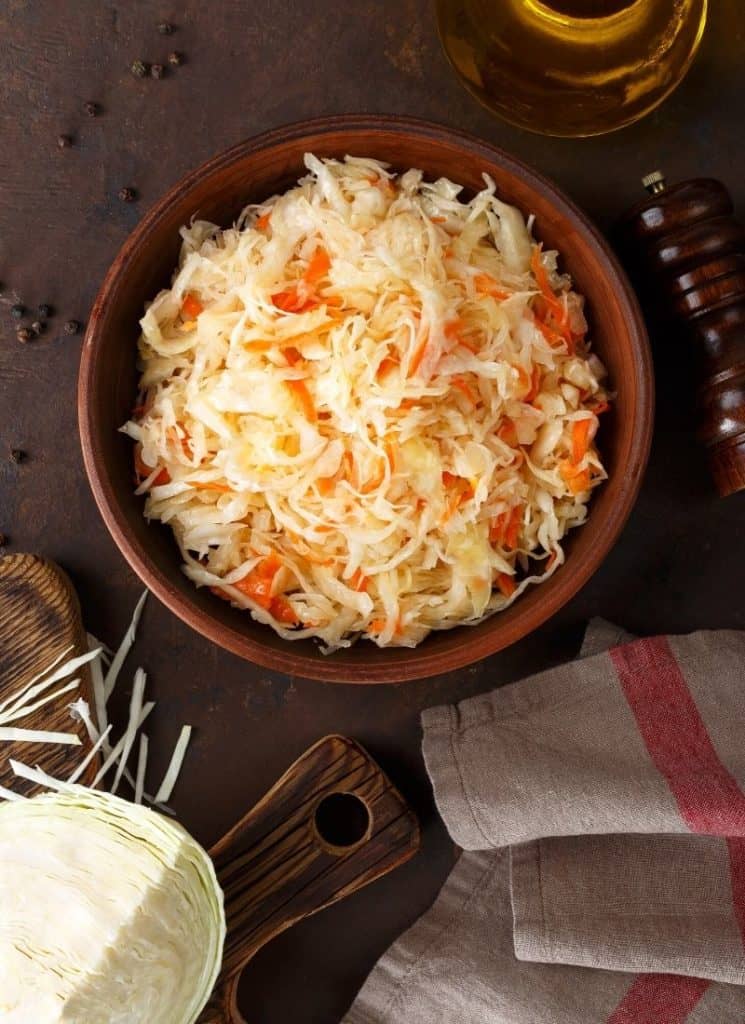 Serving Suggestions
Sauerkraut is a perfect food that is great to have on hand for all kinds of meals. It's an excellent topper for sandwiches like tuna melt with avocado, salads, lettuce wraps, keto fritters, bunless burgers, and just about anything you can think of.
Make a great dish with a protein of choice served with creamy cauliflower mash and sauerkraut on top! It's great mixed into riced cauliflower too.
I love fresh kraut with comfort foods like slow-cooked braised beef shank and a cheeseburger skillet. You can also add the fermented cabbage to a tasty soup just before serving to preserve the beneficial bacteria you worked so hard to cultivate. Avoid heating raw sauerkraut to maintain the live enzymes and microorganisms.
If you're looking for other ways to use cabbage, this easy braised cabbage recipe is an excellent option. Don't feel like cooking? Use extra cabbage to whip up coleslaw with this easy keto mayo recipe.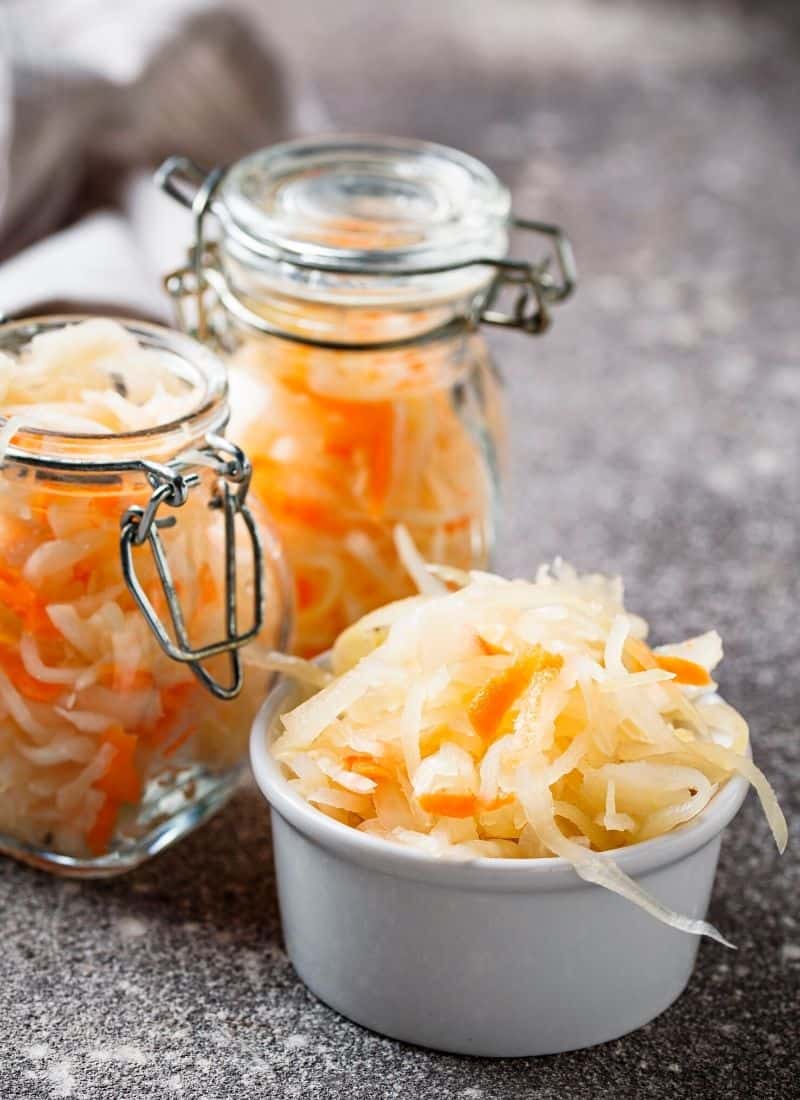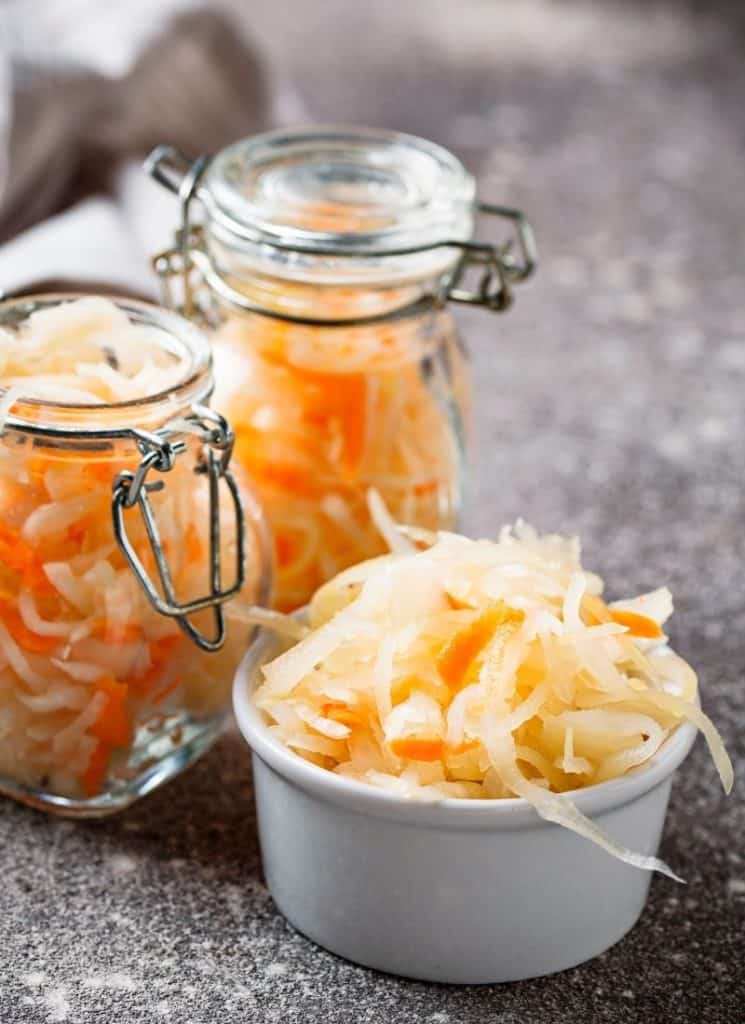 Nutritional Info for Keto Sauerkraut Recipe
This fermented cabbage recipe yields half a gallon of sauerkraut. The standard serving size of sauerkraut is about half a cup, which means this recipe makes 16 servings.
Each serving contains:
14 calories
3g total carbs
2g fiber
1 g net carb
Please note that the nutritional value will change if you substitute ingredients. Use a nutrition app to recalculate and reflect your changes.
Sauerkraut Recipe FAQ
How much salt should I use in fermented sauerkraut?
A good rule of thumb in homemade fermentation is to use 3% of the vegetable weight. In plain terms, that would mean using two teaspoons of salt per pound of cabbage. This equation is easier to understand in metric units. For every kilogram (1000 grams) of cabbage, you want to use 30 grams of salt.
Is sauerkraut keto?
Sauerkraut is considered keto-friendly, as it is low in carbs and high in fiber. This low-carb sauerkraut recipe is fully approved for a keto diet because it contains no high-carb vegetables or added sugars. The make-ahead element of sauerkraut is a nice benefit because you can make and enjoy it for weeks or even months, making low-carb eating more attainable. Sauerkraut is a great addition to a keto meal plan.
How many carbs in sauerkraut?
Anyone tracking macros on a keto diet knows to be aware of creeping carbs. It's understandable if you want to know, "Does sauerkraut have carbs?" The good news is that the carbohydrates in homemade sauerkraut are nothing to be concerned about! Half of a cup of sauerkraut has 3 ½  grams of total carbs, 2 grams of fiber, and only about 1 gram of net carbs. Those are great macros for anyone who aspires to eat healthily!
More Fermented Keto Recipes
Many fermented foods can be a healthy and flavorful addition to a keto or low carb diet. Even pickled eggs are a nice snack or side too. Most ferments are low in carbohydrates and high in healthy bacteria that may help support gut health and digestion.
However, as with all foods, it's important to be mindful of the carb count, especially with store-bought ferments. I hope this low-carb vegetable recipe will become one of your favorites since you have total control over the ingredients used!
More Cabbage Recipes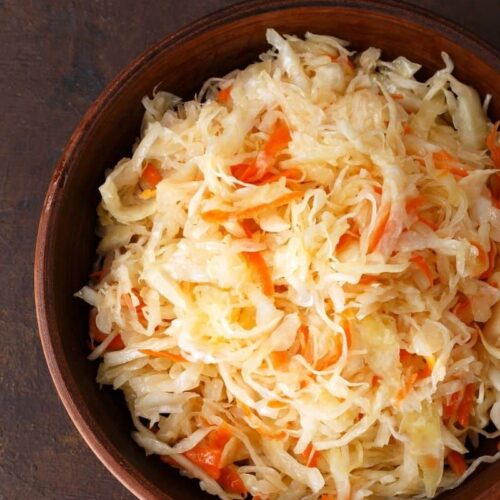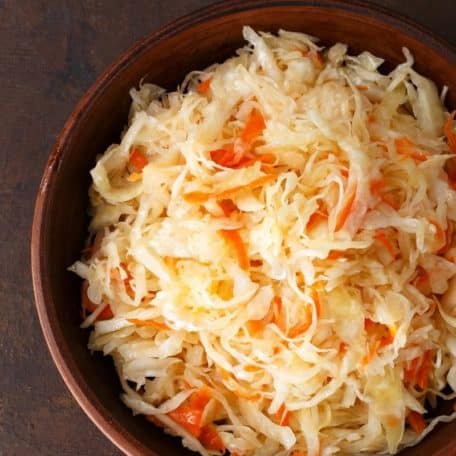 Raw Homemade Sauerkraut
The homemade keto sauerkraut recipe is a delicious lacto-fermented food made with two ingredients – shredded cabbage and salt! It's packed with gut-healthy probiotics and naturally low in carbs.
Ingredients
Basic Sauerkraut
1

medium

cabbage

about 3 pounds

1 ½

tablespoons

salt
Optional Add-ins
1

large

carrot

shredded

1

small

white onion

sliced

¼

cup

fresh dill

chopped

2

cloves

garlic

minced

1

tbsp

caraway seed
Instructions
Discard the outer leaves but save one or two of the clean inner ones, if needed, to press down the final mixture and keep all contents under the brine.

Shred cabbage into thin slices. Dice or slice any of the optional add-ins.

Combine the cabbage and salt in a large bowl. Mix with your hands, squeeze and massage as you go.

Leave the salted cabbage to sit for about 20 minutes and break down. Liquid will slowly pool up.

Add any optional vegetables or herbs you like. Toss to combine.

1 large carrot,

1 small white onion,

¼ cup fresh dill,

2 cloves garlic,

1 tbsp caraway seed

Pack all ingredients together into a clean glass jar. Press down firmly so all air bubbles escape. Cover this mixture with a cabbage leaf or use a weight to hold the contents down under the water line.

Tighten the air-locking lid, cover loosely with a normal jar lid or secure a cheesecloth with a rubber band.

Leave in a cool place, out of direct sunlight for at least 3 days and up to a month. Taste occasionally to see if it is ready. Once to your liking, transfer to the refridgerator for long-term storage.
Notes
Don't miss all the recipe details and preparation tips in the post above! This is an easy recipe but there are often many questions that come up so I did my best to provide all the information you need in the text above. For best results, I recommend reading through the whole post before you make the recipe.
Nutrition & Macros
Calories:
14
kcal
Carbohydrates:
3
g
Protein:
1
g
Fat:
0.1
g
Saturated Fat:
0.02
g
Sodium:
664
mg
Fiber:
1
g
Net Carbohydrates:
2
g
To obtain the most accurate representation of the nutritional information in a given recipe, please calculate the nutritional information with the actual ingredients and amounts used, using your preferred nutrition calculator. Under no circumstances shall the this website and the author be responsible for any loss or damage resulting for your reliance on the given nutritional information.
Made this? Leave a Rating! ⭐⭐⭐⭐⭐
Tag a photo with @Primal_Mom and #PEHRecipe on Instagram to share with us!
Edible recipes like this one are great gifts for keto dieters!