Maca and cacao are both heritage staples of the native peoples in the area where we live in Ecuador. Their cultural and historical importance are equally matched with an impressive nutritional profile and numerous mood enhancing benefits. Each nutrient rich bite of this Energizing Maca Chocolate will promote mental clarity and physical well-being.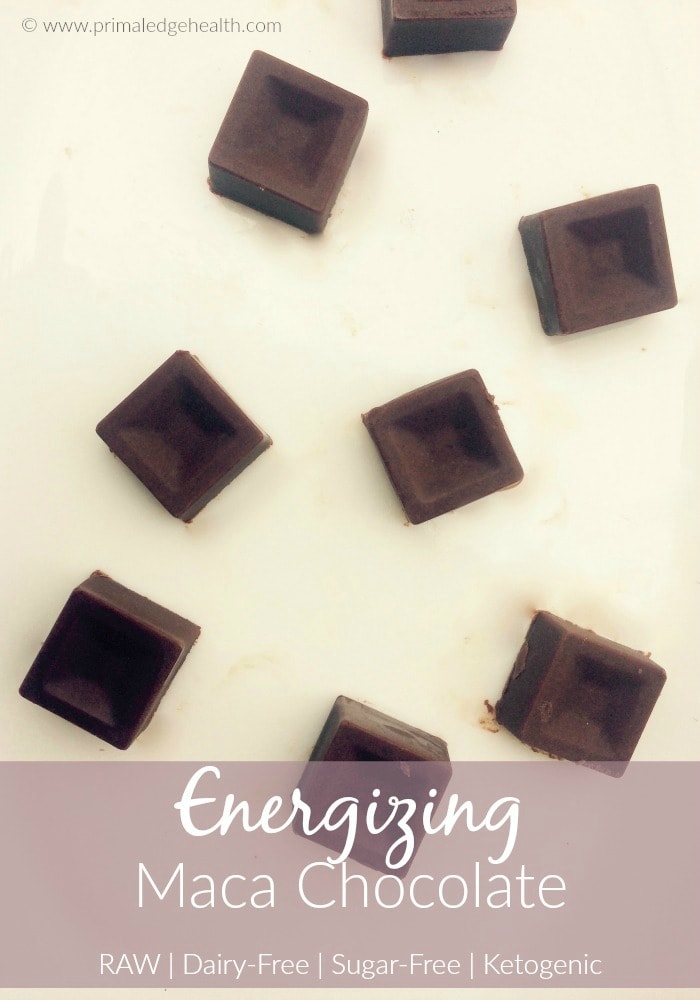 The recipe below combines maca and raw cacao with a handful of other fun ingredients to produce a delicious chocolatey, sugar-free, low-carb, dairy-free, and ketogenic homemade chocolate.
If you have The Ketogenic Edge Cookbook you have probably seen my other homemade chocolate recipes, these Energizing Maca Chocolates are different from any of those because here I add grass-fed beef collagen. This addition takes the mixture from a fudge-like texture and transforms it to a chocolate bar. The collagen acts as a binding agent and gives the chocolate a nice crisp pop to each bite. Collagen also prevents the chocolate from melting so easily (a problem I find with many keto chocolate recipes) and is a source of many nutritional benefits that further enhance the nutrient density of this maca chocolate recipe.
Benefits of Maca + Chocolate
We love maca! Even after using this herbal adaptogen for more than 7 years, I still get excited about it and think it can have a profound and valued place in a person's diet. I've written about maca extensively in our free ebook Maca: The Andean Adaptogen (get a copy here). To recap, I will provide the following examples of why I like mixing maca into homemade chocolates:
Contains vitamin C, copper, iron, potassium, vitamin B6, manganese, and polyphenols
Helps the body adapt to external and internal stress
Assists to balance hormones and the HPA axis.
Increases fertility, reduces PMS symptoms, and alleviates menopausal symptoms in women
Brings in more oxygen to the blood, reduces recovery time post-workout
Boosts energy and stamina
Clears, sharpens, and focuses the mind and enhances memory
Our Premium Raw Organic Maca is in stock now!
Supplies are limited. We have heard wonderful testimonies of how maca has dramatically benefited peoples lives as well as many positive reviews that support our claim to source and provide the best maca available on the market. If you like maca, please show your support by making a purchase in our shop and leaving a review on the produce page or a comment in the section below this recipe. Let us know how you use maca, what it does for you, and if you would like to continue purchasing from us here on the site.
And now on to the other superstar ingredient in this recipe.
What's so great about cacao?
Not to be outdone, cacao also offers many nutritional and life enhancing benefits. Do not confuse cacao with cocoa. The cacao we recommend is a 100% natural whole food with no added sugar and comes from organic sources. You can find cacao products in most health food stores, online health markets, and on Amazon.com listed as "raw cacao".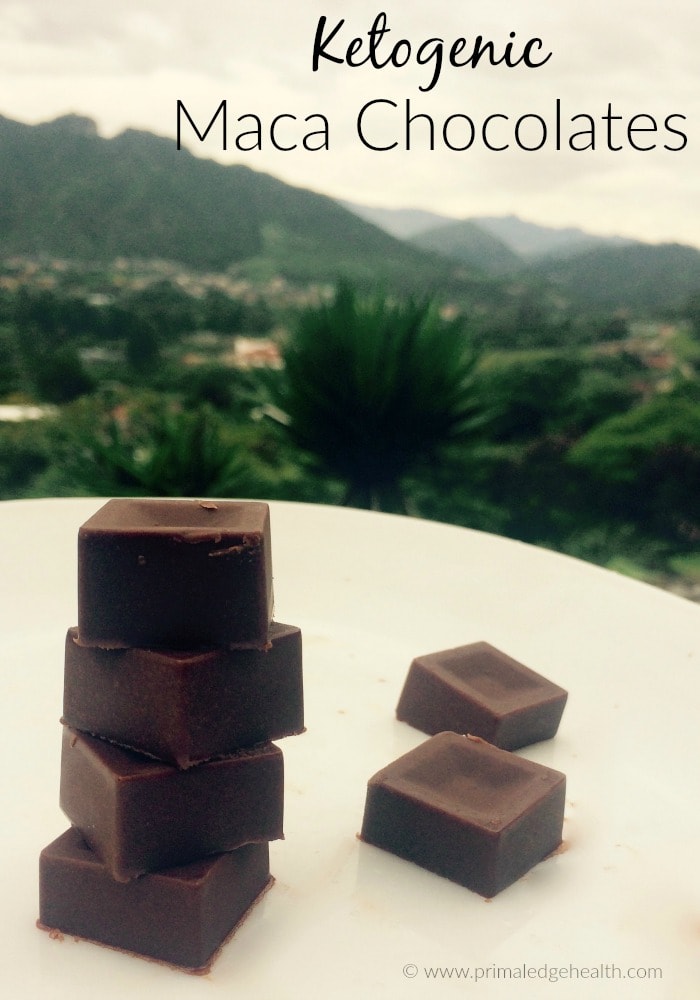 These interesting facts of cacao make it one of my favorite specialty products:
Extremely high in antioxidants
Contains notable amounts of iron, magnesium. calcium
Elevates mood and positively affects brain chemistry
Acts as a mild appetite suppressant due to the MAO inhibitors
Flavonals improve skin, microcirculation, and skin hydration
Provides a healthy source of both monounsaturated and saturated fat
This maca chocolate recipe is adapted from the original "Fudgy Fat Bombs" recipe listed in the dessert section. In addition to this modification here, I give suggestions on how to enhance the original recipe in the book text.
Finding ways to embrace the variety of options available to those on a keto style, low-carb, high-fat diet is exciting. Try the following ideas to add even more nutrient density to the maca chocolates. Use these additions with the original recipe in The Ketogenic Edge Cookbook or the one posted down below.
Optional Add-ins:
shredded coconut
chopped nuts (hazelnut, macadamia, almond)
hemp seeds
chia seeds
a small amount of sugar-free cranberries
Pour the chocolate into molds of your choice. The pieces photographed here are set in reusable silicon chocolate molds. Mini muffin tins and ice cube trays may also be used to form the chocolate. To make bars or maca chocolate bark, pour the recipe into a glass container like a Pyrex baking dish. Let the chocolate chill and break into pieces with a knife.
You might also enjoy this Sugar-Free Chocolate Recipe with Almonds too!
More Delicious Ketogenic Chocolates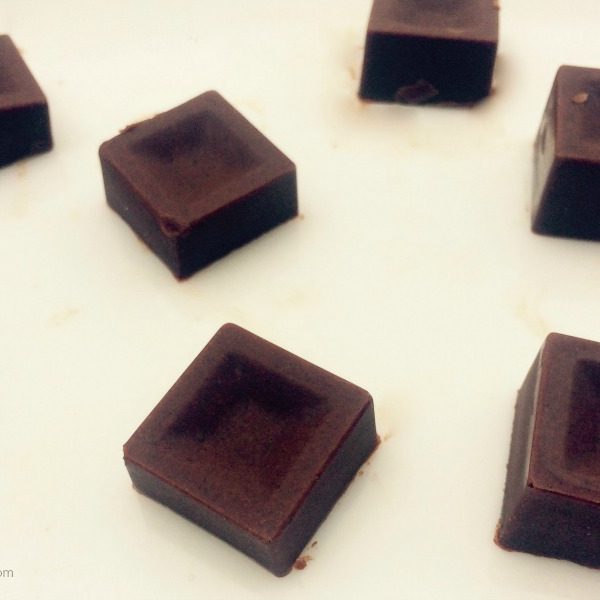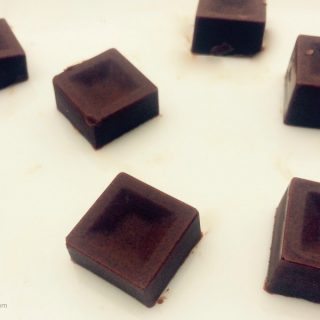 Energizing Maca Chocolate (RAW, Dairy-Free, Ketogenic)
Fuel up on a dose of healthy fats in these sugar-free Energizing Maca Chocolates. Let the heritage maca root help you adapt to stress and manage the day with the cool, calm, collected attitude you aspire to!
Instructions
Melt oil and cacao paste in a double boiler over low heat.

Whisk in nut butter. Add maca, collagen, vanilla, stevia, and salt. Continue to whisk until completely combined.

Remove from heat, cool slightly, and pour into the desired mold. Place in the freezer for 5 to 10 minutes to chill. Store in the refrigerator.
Nutrition & Macros
Calories:
106
kcal
Carbohydrates:
2
g
Protein:
3
g
Fat:
11
g
Saturated Fat:
7
g
Sodium:
4
mg
Fiber:
1
g
Net Carbohydrates:
1
g
To obtain the most accurate representation of the nutritional information in a given recipe, please calculate the nutritional information with the actual ingredients and amounts used, using your preferred nutrition calculator. Under no circumstances shall the this website and the author be responsible for any loss or damage resulting for your reliance on the given nutritional information.
Made this? Leave a Rating! ⭐⭐⭐⭐⭐
Tag a photo with @Primal_Mom and #PEHRecipe on Instagram to share with us!