Keto Egg Cups are a quick solution for meal prepping, snacking, and kid-friendly meals. Like many of my easy keto recipes, these egg cups can also be packed in a to-go container and taken on the run.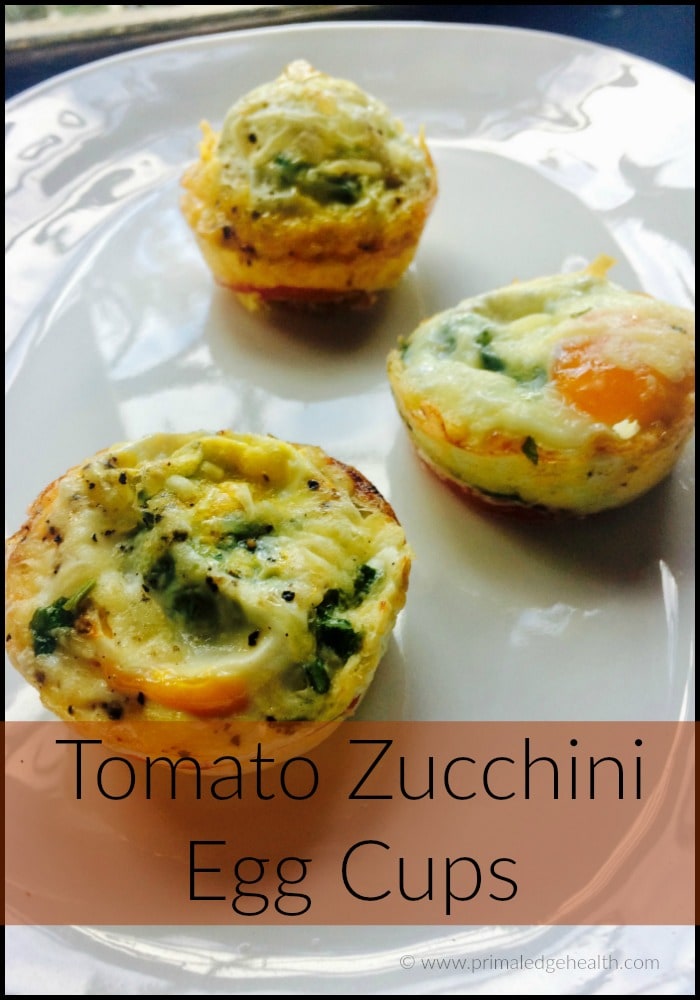 This recipe makes 12 egg cups at a time, leaving enough to store in the fridge for a ready to go nutrient dense source of protein, healthy fats, and vegetables.
This morning for breakfast I paired two of these with a can of wild-caught sardines and it was a great start to a new day!
There are so many delicious keto breakfast ideas to try!
If you love baking as I do, I highly recommend The Ultimate Guide to Low-Carb Baking for all you need to know about sugar-free, keto sweet and savory baked goods!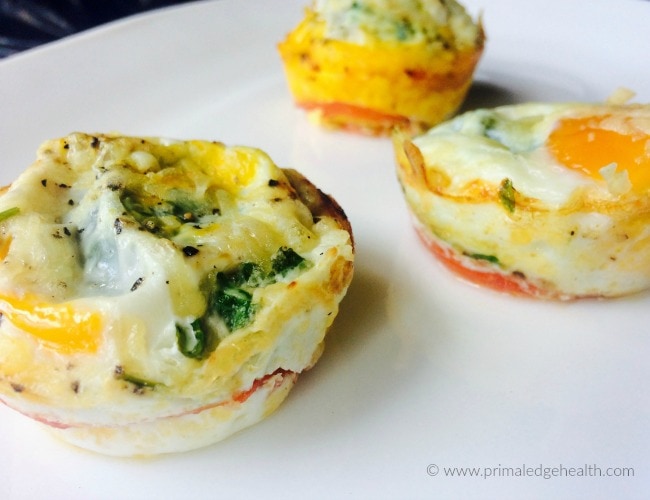 Tomato and Zucchini Egg Cups are Kid Friendly!
In the morning, I strive to serve a meal built around a serving of protein and healthy fats to our little girl everyday. Egg cups makes that easy and they have become a popular breakfast resource. With a breakfast like this, I notice our 4-year-old can focus well, has high energy throughout the morning and does not get hungry until mid-day at lunchtime.
Our kids are not on a ketogenic diet, but more akin to a well rounded, whole foods paleo diet. Our firstborn enjoys a healthy amount of fresh, seasonal fruits and higher carb vegetables like plantains, sweet potatoes, and parsnips. Some foods get sweetened with a local raw honey and she also consumes a fair bit of high-quality dairy products like cheese, milk, and yogurt, usually from A2 cows or goats. Our second born is just a baby and still 100% breastfed. Although he is extremely interested in all the food, he isn't munching anything just yet.
Do you have The Ketogenic Edge Cookbook? Try the "Arugula Gouda Egg Muffin" Recipe!
Recipe Tip:
Thinly slice the tomatoes so the egg yolk can seep down into all the open crevasses and hold the entire egg cup together. If the tomato slice is too thick it will separate from the top part when pulled out from the muffin pan.
The bright red tomato looks beautiful peeking through the egg!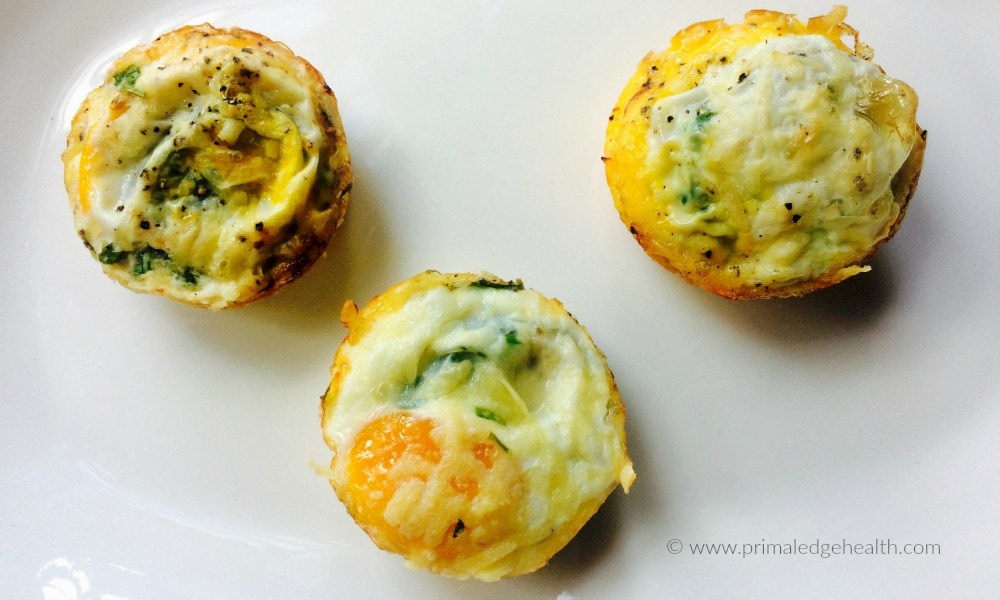 Why put seaweed in an egg cup recipe?
Kelp is a special ingredient in these egg cups. It can be purchased as dried powder or granules. Rich in iodine and an array of minerals and trace elements, this sea based spice is a slightly salty alternative to mineral salt. Upon first opening the jar, the smell is distinct but once added to a recipe, the taste is quite mild. Using ocean based foods like kelp, dulse, and other seaweeds is a fun way to increase nutrient density in meals while at the same time learning new ingredients to enhance your experience in a keto kitchen. If you do not have kelp or an alternative seaweed in your spice collection, simply substitute with a mineral salt.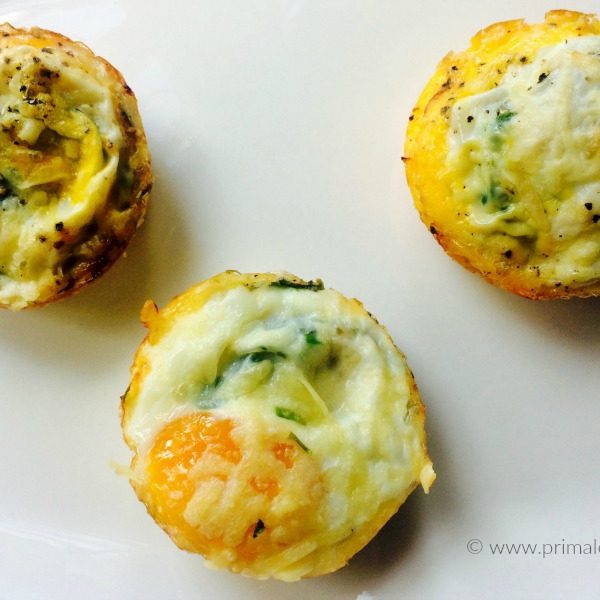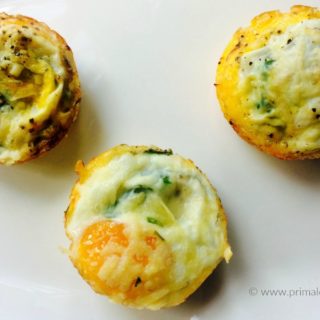 Tomato Zucchini Egg Cup
Egg cups are a quick and easy solution for breakfast and packing into school or work lunches.
Instructions
Preheat the oven to

350

°F

.

Grease a 12-cup muffin pan.

Thinly slice tomato and place one slice in the bottom of each cup. Thinly slice the onion and place rings on top of the tomato. Slice the zucchini to a medium thickness and layer on top of the onion.

Sprinkle the parsley evenly between all cups. Season with kelp (or salt) and ground black pepper.

Crack an egg in each cup so that it covers the vegetables or whisk all 12 eggs in a medium mixing bowl and pour evenly over each cup.

Sprinkle optional cheese on top of each egg cup.

Bake for

12-15 minutes

, until the egg is cooked through and the middle is set.

Serve hot or cool on a wire rack to prepare for a packed lunch. Store leftovers in the fridge or freezer.
Notes
Substitute salt if you do not have kelp on hand.
Nutrition & Macros
Serving:
4
muffins
Calories:
134
kcal
Carbohydrates:
8
g
Protein:
28
g
Fat:
24
g
Saturated Fat:
1
g
Sodium:
14
mg
Fiber:
6
g
Net Carbohydrates:
2
g
To obtain the most accurate representation of the nutritional information in a given recipe, please calculate the nutritional information with the actual ingredients and amounts used, using your preferred nutrition calculator. Under no circumstances shall the this website and the author be responsible for any loss or damage resulting for your reliance on the given nutritional information.
Made this? Leave a Rating! ⭐⭐⭐⭐⭐
Tag a photo with @Primal_Mom and #PEHRecipe on Instagram to share with us!
Love using zucchini in keto recipes? Try these Keto Meatball Stuffed Zucchini Boats next!