Canned salmon is our secret ingredient for a super quick, nutrious keto meal. Easy to use, great for travel, and 100% low-carb, ketogenic, and gluten-free.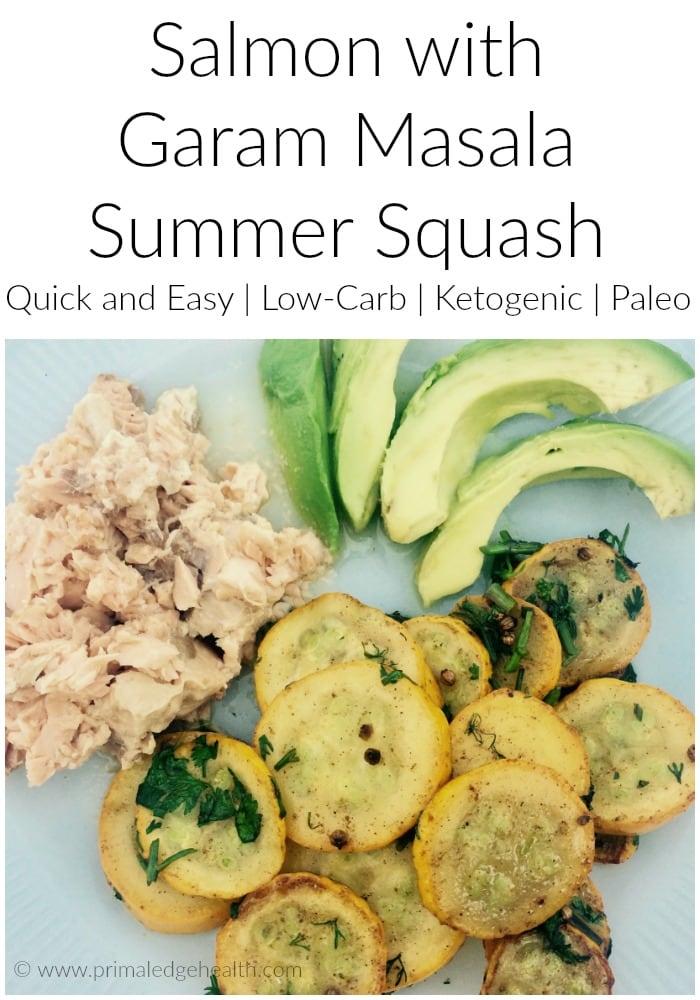 It is a compact source of vital nutrition, easy to pack in a lunch, and can be purchased in bulk, and conveniently stored for a long period of time.
Canned Salmon makes a Quick Keto Meal
This quick and easy keto recipe mixes salmon with fresh summer squash cooked in coconut oil. Once cooked, the summer squash is soft and succulent. Garam masala and coriander seed provide a robust, flavorful accent to the meal that is sweetened with a cilantro leaf garnish.
Wild Planet's canned wild-caught Alaskan salmon is a great pantry staple to have on your shelves. Maintaining a stock of canned fish makes formulating quick and easy keto meals very simple. Salmon is a fish with one of the best nutrient profiles. It is rich in protein, DHA, and Omega 3 fatty acids. We recommend this brand of salmon because it is sustainably caught in Alaskan waters and packaged by a company that supports the conversation of natural marine ecosystems. Wild Planet's canned salmon comes in pop-top BPA free tins which makes them ultra convenient to pack into a lunch or bring traveling. You will not need a can opener, just pop the seal and peal back to open.
For more information on their sustainability and fishing practices, products, and recipes, go to their website.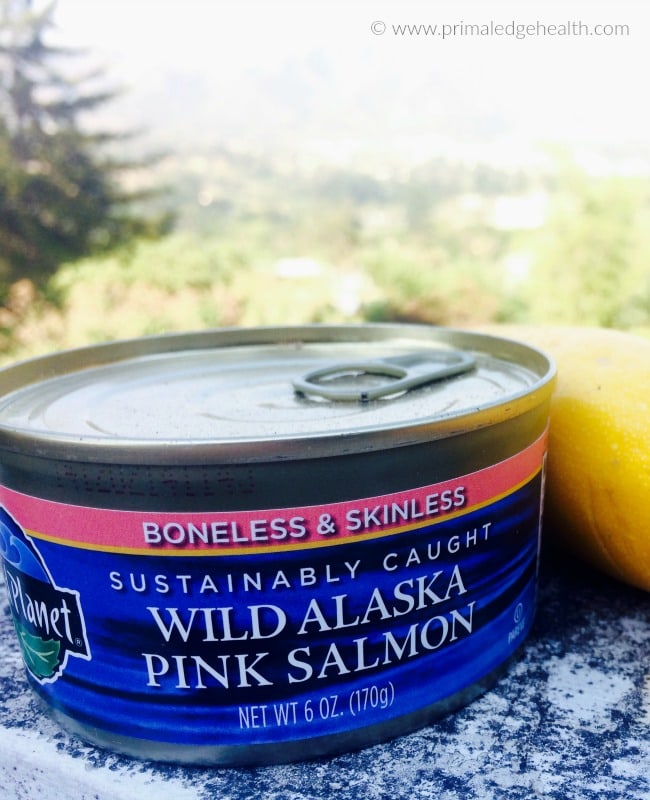 Want less or more protein?
use 1/3 can of salmon for 17g total protein or a whole can for 41.7g protein
add a few eggs on the side for extra protein and fat
Want additional fats?
increase the amount of coconut oil used
add extra botija olives
drizzle with extra-virgin olive oil
serve with a sliced avocado
Read More from the "Quick and Easy Keto Recipe" Series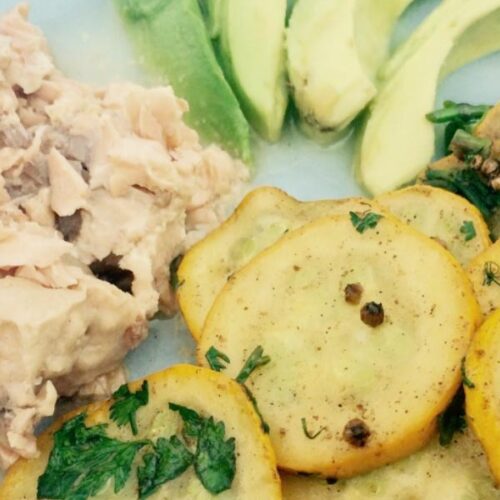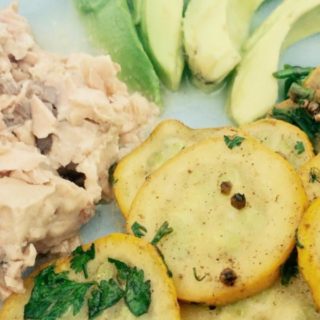 Salmon with Garam Masala Summer Squash
Use canned salmon for a quick and easy low-carb meal at any time of the day. This is a great pantry staple to have on hand. You can't go wrong with salmon and summer squash!
Instructions
Slice summer squash in small rounds and warm the coconut oil in a skillet over medium-low heat. Add garlic and spices to the pan, mix in squash and sauté for

10 minutes

, until the squash is soft.

2 small summer squash,

1 tsp coconut oil,

1 clove garlic,

1 teaspoon garam masala,

1/2 teaspoon ground coriander seed

Chop cilantro, almonds and olives. Open the can of salmon and arrange it on a serving plate.

2 tablespoons cilantro,

2 tablespoons almonds,

8 whole botija olives

Serve squash warm next to the salmon, topped with almonds and olives. Garnish with cilantro.

1/2 can wild-caught salmon

Adjust the macros of this recipe by adding fried eggs or an additional can of salmon. Add an avocado or drizzle extra-virgin olive oil over the entire plate for additional fats.
Notes
Macros per serving (including almonds and olives): 17 g fat, 23.7 g protein, 19.1 g carb, 11.5 g net carb
Nutrition & Macros
Calories:
357
kcal
Carbohydrates:
15
g
Protein:
28
g
Fat:
22
g
Saturated Fat:
6
g
Sodium:
175
mg
Fiber:
7
g
Net Carbohydrates:
8
g
To obtain the most accurate representation of the nutritional information in a given recipe, please calculate the nutritional information with the actual ingredients and amounts used, using your preferred nutrition calculator. Under no circumstances shall the this website and the author be responsible for any loss or damage resulting for your reliance on the given nutritional information.
Made this? Leave a Rating! ⭐⭐⭐⭐⭐
Tag a photo with @Primal_Mom and #PEHRecipe on Instagram to share with us!
For another keto-friendly salmon meal, try this Curry Salmon with Coconut Milk and Bok Choy.