This keto coffee cake recipe is a delicious treat you can indulge in without guilt! Made with healthy ingredients, this sweet treat is gluten-free, grain-free, and sugar-free, and there are options to make it dairy-free. This moist and delicious coffee cake is made with low-carb flour, eggs, sour cream, and a blend of warming spices. Perfect for breakfast, brunch, or as an afternoon snack!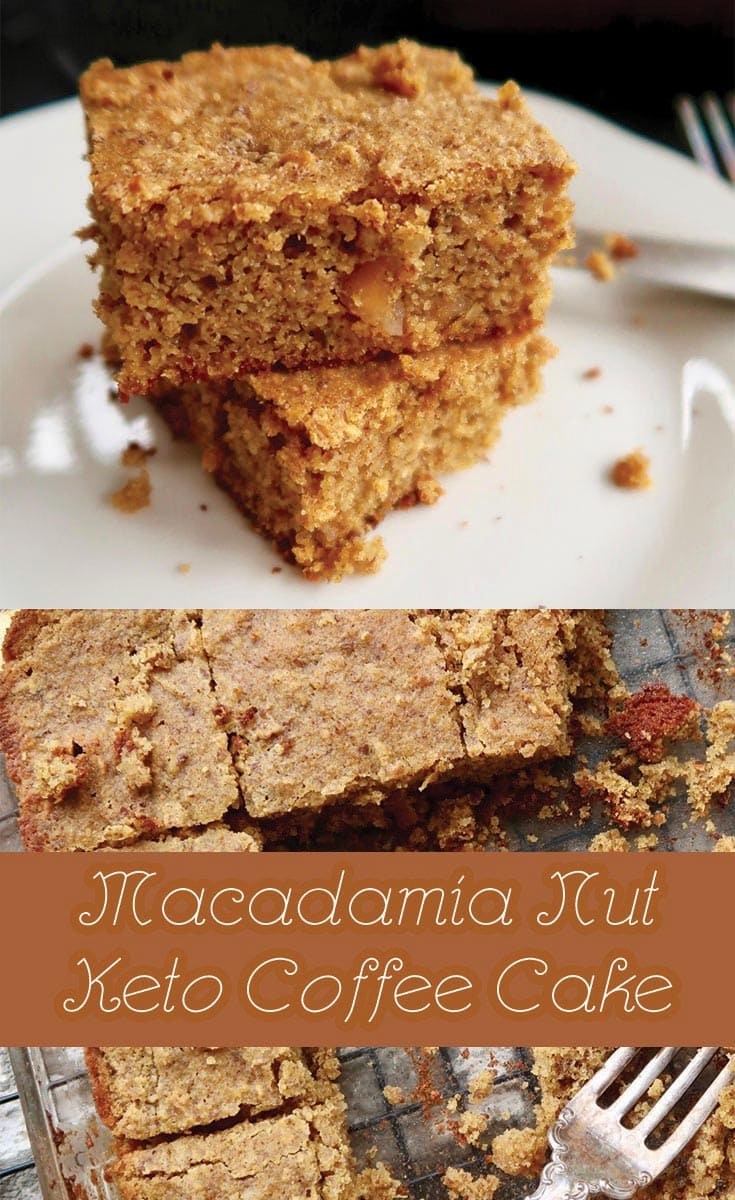 Table of Contents (click to view)
Keto Coffee Cake Recipe
If you're on the keto diet, you may miss some of your favorite treats, like a slice of coffee cake to pair with your morning coffee.
Not anymore! Made with low-carb ingredients like almond and coconut flour and sweetened with a keto sweetener, this delicious coffee cake is a satisfying and indulgent way to start your day without guilt.
Make it on the weekend to enjoy it on busy mornings throughout the week. It's the perfect treat with your cup of coffee, butter tea, or a mug of keto hot chocolate. In fact, this sweet cake doesn't discriminate – it goes great with any hot coffee alternative.
Whether following a ketogenic lifestyle or simply looking for healthier alternatives to your favorite treats, this keto coffee cake will become a staple in your recipe collection. Its tender, crumbly texture and rich buttery flavor perfectly accompany your morning hot drink or just as a sweet treat to enjoy any time of day.
So why wait? Grab that mixing bowl and get ready to whip up a batch of this delicious keto coffee cake today!
How to Make Keto Coffee Cake
Gather a few simple ingredients, mix them in separate bowls, then combine them for a deliciously rich coffee cake batter and bake to perfection.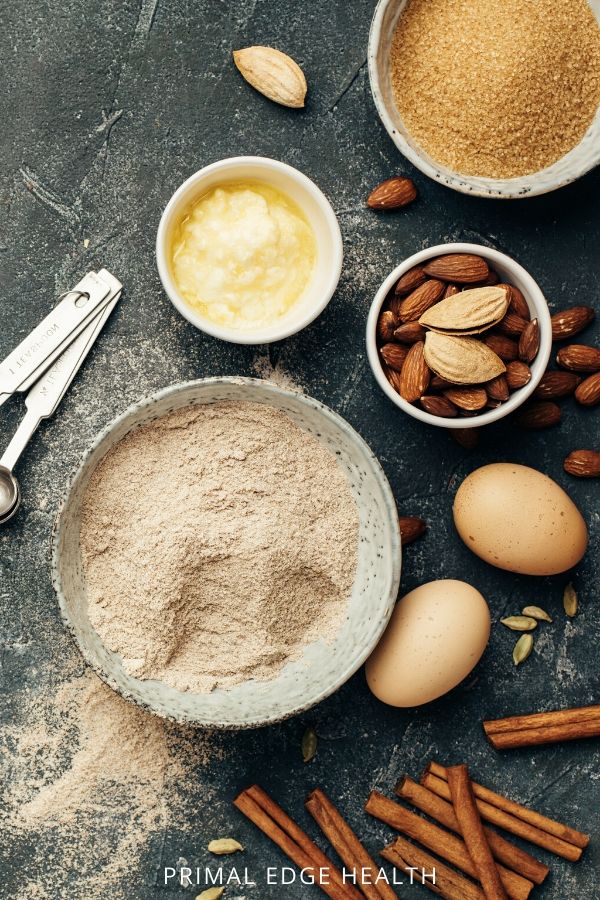 Ingredients
Eggs – As the binding agent in the coffee cake, whole eggs hold everything together while providing structure. 
Butter – The fat in the butter adds a rich flavor and enhances the flavors of other ingredients like cinnamon and vanilla. 
Sour Cream – Adds moisture, richness, and tangy flavor to the cake. It complements the sweetness of the batter and enhances the overall taste.
Dry ingredients – A combination of almond flour, ground flax meal, and coconut flour makes this coffee cake low-carb, gluten-free, and grain-free. 
Low carb sweetener – Use keto brown sugar substitute for best results. 
Baking powder – Used as a leavening agent to help the coffee cake rise and become light and fluffy. 
Spices – Ground cinnamon, star anise seeds, allspice powder, and salt all add excellent flavor and complement the richness of the butter and tanginess of the sour cream.
Vanilla extract – Vanilla adds a rich note to your cake and enhances all other flavors.
Nuts – Adds fantastic crunchy texture and variety of flavors. You can use macadamia nuts, walnuts, pecans, or almonds. They contrast wonderfully with the soft and tender crumbs of the coffee cake.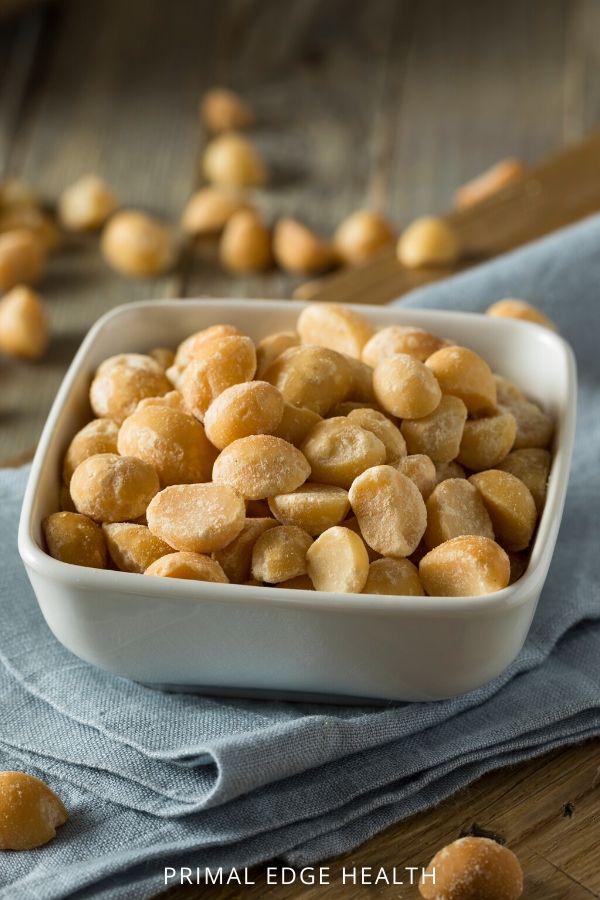 Substitutions and Variations
Once you have the basics, you can modify this coffee cake in many ways.
Check out these fun ideas:
Skip the nuts for a more traditional coffee cake texture.
Drizzle the coffee cake with keto icing for a show-stopping finish.
Use the same icing but tuck it inside of the coffee cake instead. Pour half of the cake batter into the pan, drizzle the icing, followed by the remaining batter. Every bite is delicious and rich!
Make keto coffee cake muffins! Instead of a pan, bake this batter in bite-size mini muffins and frost with maple buttercream frosting.
A great thing about this recipe is that with slight modifications, you can tailor it to suit your diet best and fit your lifestyle. As written in the recipe card, this recipe is already naturally gluten-, grain-free, and sugar-free. It can easily be customized to make it dairy-free too! 
Check out these easy ways to modify the recipe and adjust for particular dietary needs:
Dairy-free – Swap coconut oil for butter and coconut cream for sour cream. 
Paleo diet – Swap out the low-carb sweetener and use sucanat or coconut sugar. Use coconut cream for sour cream. 
GAPS – Use raw honey instead of the sugar-free sweetener and use homemade sour cream that has been fermented for at least 24 hours. 
Directions
Follow along, and you can't go wrong.
Step 1: Whisk
Preheat the oven to 350 degrees Fahrenheit. Grease an 8×8-inch glass baking dish and set it aside. You can also line it with parchment paper first, then grease it so it's easier to remove the cake after baking.
Whisk the eggs in a small bowl. Add butter and cream until smooth. You can also use a hand mixer if it's easier.
Step 2: Combine
In a separate bowl, combine all the dry ingredients together, including the spices. Whisk ground flax meal, coconut flour, almond flour, low-carb sweetener, cinnamon, baking powder, star anise seed, salt, and allspice powder.
Step 3: Blend
Add the flour mixture to the wet ingredients and combine well. If desired, you can add the nuts now.
Transfer the coffee cake batter to a prepared pan. Add nuts to the top of the batter if you have not added them already.
Step 4: Bake
Bake the coffee cake for 30 minutes or until it's golden brown and a toothpick inserted into the center of the cake comes out clean.
Remove from oven when it is done and allow to fully cool before cutting into it. If you cut into it before it's fully cooled, it may be a bit gummy in the center. I prefer to cool it for at least 30 minutes before removing the cake from the baking pan and enjoying it. 
Nutritional Info for Low Carb Coffee Cake Recipe
There are 12 servings of this sugar-free coffee cake. A serving size is one 2" square.
Each serving contains:
138 calories
2g protein
13g fat
5g total carbs
3g fiber
2g net carbs
Please note that the nutritional value will change if you substitute ingredients. Use a nutrition app to recalculate and reflect your changes.
Easy Keto Coffee Cake FAQ
What are the benefits of using flax seed meal in a keto coffee cake?
Working with a blend of flax seed meal, almond flour, and coconut flour allows the coffee cake to stay light and fluffy. It also crisps nicely around the edges and doesn't dry up as it bakes. Almond flour coffee cake recipes tend to be too dense.
Can I substitute another flour for coconut flour or almond flour?
All three flours used in this recipe are not interchangeable because they have different properties and absorbency levels. It's best to follow the recipe as written in the recipe card for best results.
How do I store keto coffee cake?
Store leftover coffee cake in an airtight container in the fridge for up to one week.
Can I freeze keto coffee cake?
You can freeze the coffee cake for longer storage. Ensure it is cooled completely and wrap tightly in plastic wrap or aluminum foil to prevent freezer burn. Then transfer to a freezer bag and freeze for up to 3 months. Thaw in the fridge overnight.
More Keto Cake Recipes
I highly recommend The Ultimate Guide to Low-Carb Baking for all you need to know about sugar-free, keto sweet and savory baked goods!
My recipes typically (but not always) use coconut flour, making them ideal for those with nut allergies or who don't like almond flour. This gooey butter dessert is a simple cake that melts in your mouth. And low-carb chocolate cake is another recipe I regularly make for my children. If you're looking for individual servings that will satisfy a crowd, vanilla coconut flour cupcakes are sure to impress!
But this keto cinnamon coffee cake recipe is consistently one of our favorite low carb holiday desserts!  Be sure to try my other favorite dairy-free keto baked goods: dairy-free pumpkin muffins and chocolate pumpkin bread.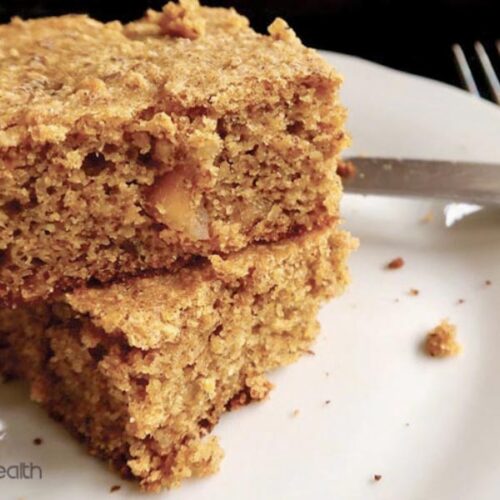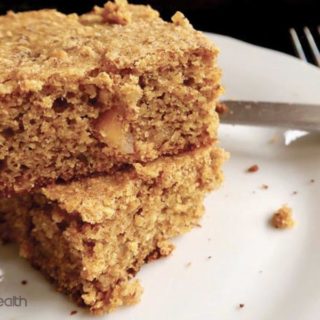 Keto Coffee Cake
A low-carb and keto coffee cake with cinnamon and star anise blended in with flax, almond, and coconut flour is so light and fluffy! Ready in 30 minutes.
Instructions
Preheat the oven to 350° F.

Whisk eggs in a small bowl. Add butter and cream.

In a second bowl, mix all dry ingredients together. Reserve the nuts to be either blended into the batter or sprinkled on top.

Combine the dry ingredients with the egg mixture. If desired, blend the nuts in now. Pour batter into greased 8 by 8-inch glass baking dish. If the nuts are not blended in to the dough, sprinkle them on top now.

Bake for 30 minutes. Test the center with a knife. If it is ready, remove from the oven and let cool. Serve warm, room temperature or cold.
Nutrition & Macros
Calories:
138
kcal
Carbohydrates:
5
g
Protein:
2
g
Fat:
13
g
Saturated Fat:
5
g
Sodium:
146
mg
Fiber:
3
g
Net Carbohydrates:
2
g
To obtain the most accurate representation of the nutritional information in a given recipe, please calculate the nutritional information with the actual ingredients and amounts used, using your preferred nutrition calculator. Under no circumstances shall the this website and the author be responsible for any loss or damage resulting for your reliance on the given nutritional information.
Made this? Leave a Rating! ⭐⭐⭐⭐⭐
Tag a photo with @Primal_Mom and #PEHRecipe on Instagram to share with us!
As featured in The Best Coffee Cake Recipes by All Day I Dream About Food.