This Ketogenic Carrot Cake has a special place in our family recipe collection. I've tested this recipe many times…and then a few more times just to make sure it is still as good as it was the first 10 times. This cake is one of my best easy keto recipes!
I love the ease and simplicity of this recipe. You can make a moist, low-carb carrot cake without fancy ingredients or equipment and it's totally keto diet approved!
That's just the way we roll, simplicity is key.
I created The Ultimate Guide to Low-Carb Baking during the first year of our baby boy's life. Most of the time, I was babywearing him as he slept on me in a baby backpack.
The majority of the recipes are a deliciously epic result of mixing a dry bowl and a wet bowl together and popping it in the oven. I like the challenge of keeping recipes basic but interesting by making up new flavor combinations and suggesting ways to make variations on the original recipe. A personal goal of mine is to always be working to demonstrate the variability and versatility of low-carb and ketogenic cooking or in this case, baking.
Working with a baby on my hip also inspires simple, practical food prep!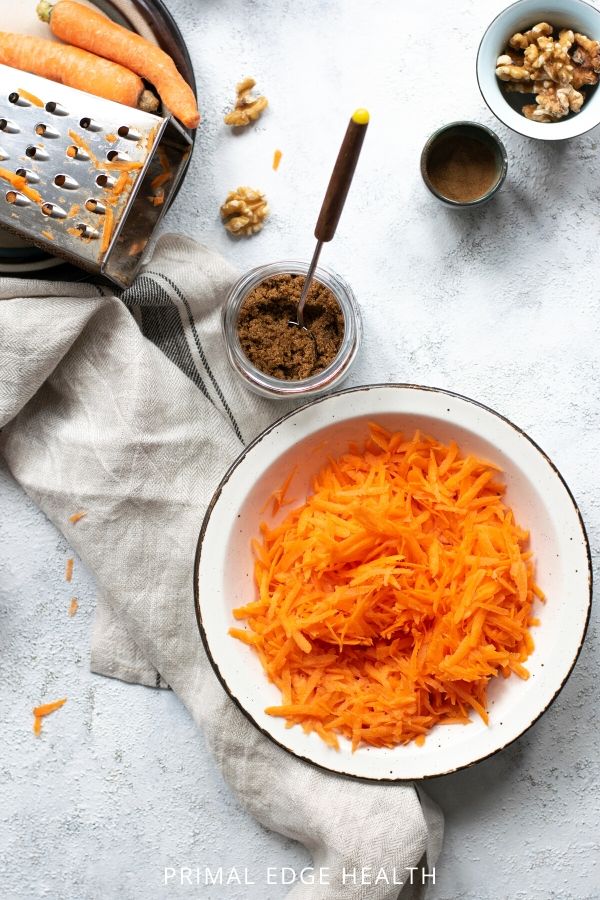 Table of Contents (click to view)
Ultra-creamy Cream Cheese Frosting
A 5 ingredient cream cheese frosting gives a creamy texture to the moist, nutty cake. Wait until the cake is cooled before spreading your delicious cream cheese frosting so it doesn't melt and run down the sides. There are two ways to go about frosting a ketogenic carrot cake. Choose between frosting the whole cake, then slice and serve or slice into individual pieces, frost and then serve. Usually, I end up frosting individual pieces just before serving. The ketogenic carrot cake is super tasty warm, room temperature, or chilled. Anyway, you can't go wrong.
This recipe doubles easily. Make a double layer ketogenic carrot cake and "glue" it together with frosting. Frost one of the "butts" of the cake (the flat bottom part), put the second cake on top and frost the entire top and all over the sides.
Oh my.
Wait… it gets better.
If you're into MAPLE flavor, I have a tip for you. Add a splash of Lakanto's Maple Flavored Syrup to the frosting and mix it up well.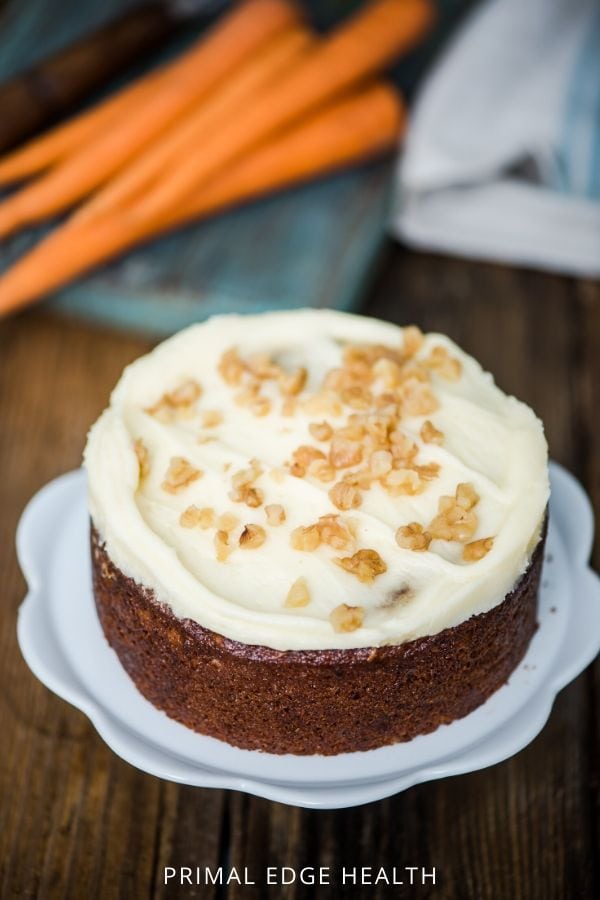 Get 20% off your Lakanto order
Visit their website and apply the coupon code "primaledgehealth" and receive a discount on your purchase!
One simple change can make ketogenic carrot cake dairy-free
This frosting can be an optional topping on your ketogenic carrot cake…
No frosting. Don't think for a moment you miss out on any pleasure or mouth feel. If you watch the video below, you'll learn that after trying pieces side by side, Tristan and I agree that the carrot cake is just as good without the frosting! Is it better? I can't say… you decide.
This one of my favorite keto holiday dessert recipes!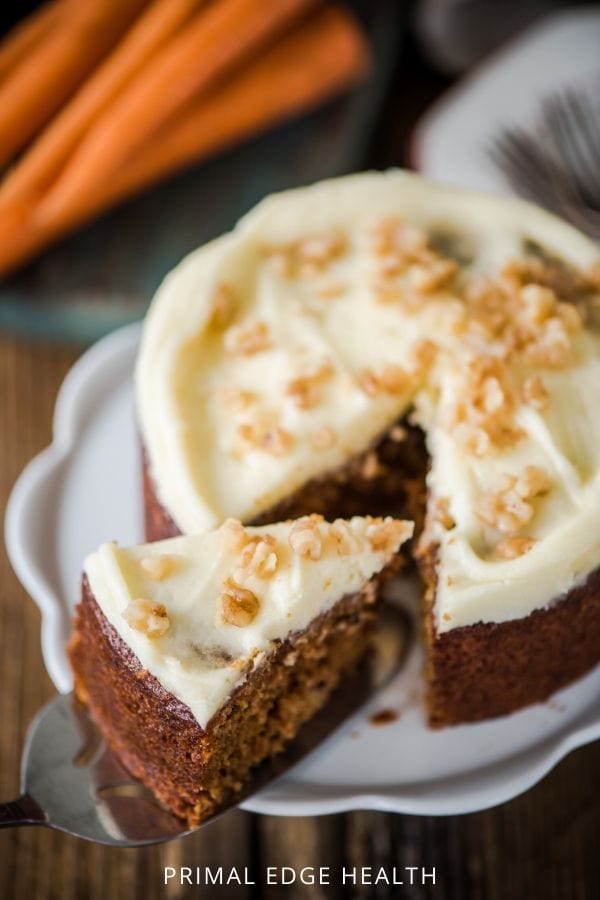 Want to skip the walnuts?
If you have nut allergies, simply omit the walnuts and keep the carrot cake nut-free. If your pantry happens to be empty of walnuts, you can substitute pecans or hazelnuts instead.
Take a look at this list of best keto baking ingredients if you want to know more about what to store in your pantry.
A special tip for the perfect carrot cake
For those interested in advanced food prep, try soaking and drying the nuts before baking with them.
Soaking nuts and large seeds in water for a few hours incites the germination process of the nut/seed. They swell up to at least twice their size, depending on what the item is.
Material can be dried in a single layer in a food dehydrator or at a low temperature in the oven. Complete directions of fully detailed in both my cookbooks, The Ketogenic Edge Cookbook and The Ultimate Guide to Low-Carb Baking. I included a section in both books because both Tristan and I prefer the sprouted nuts to raw or toasted nuts and we have been doing this practice for years.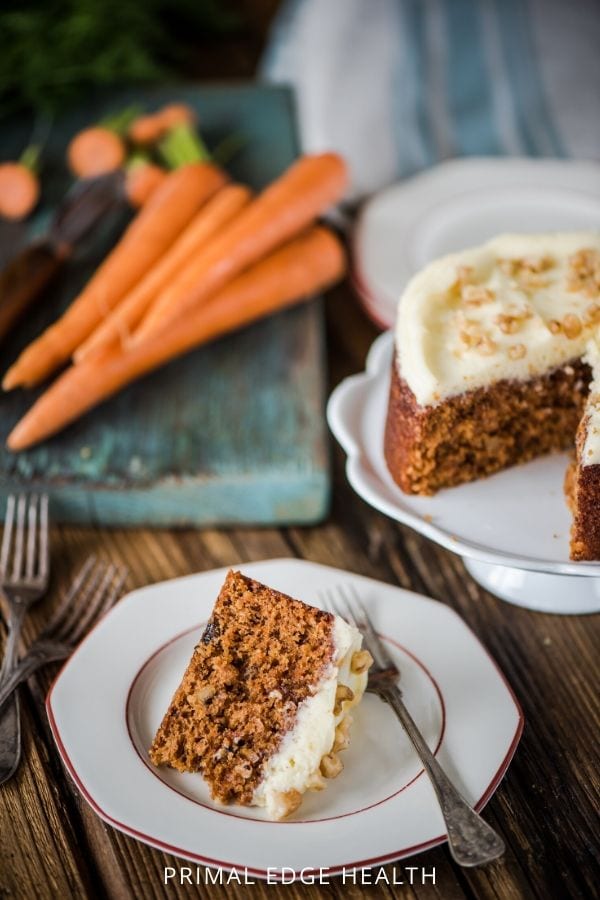 There are a few benefits we really enjoy, most notably, the resulting dry nut is extra crispy and has a great mouthfeel. We think the flavor is enhanced and more robust.
Many people discuss the increased bio-availability of soaked nuts as well. It adds an extra step to complete before they are ready to use, but I am in the habit now of soaking the nuts and seeds (like pumpkin and sunflower) as soon as I bring them home from the market.
Usually I soak overnight and dry them the following day, then store in an airtight container so they are on hand, ready to be used. It may take a few turns to get in the rhythm of doing this, but once you try it and see the difference, I think you will agree, the result is worth the effort!
Watch our KETO CARROT CAKE recipe video here
More Keto Cake Recipes
I tend to bake with coconut flour, so my recipes are ideal for those with nut-allergies or who don't like almond flour.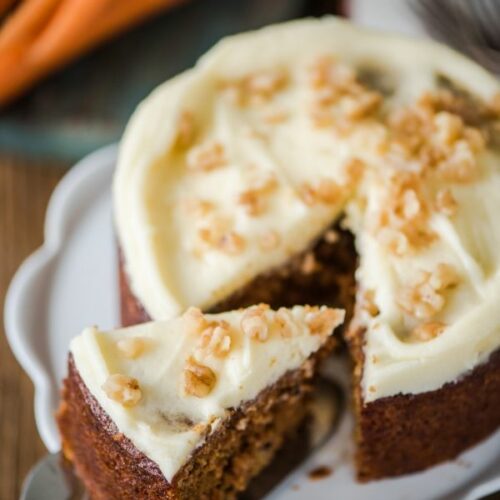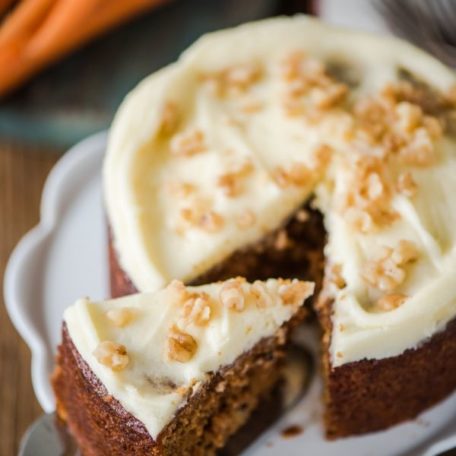 Ketogenic Carrot Cake with Cream Cheese Frosting
Enjoy a healthy healthy sugar-free, low-carb, and ketogenic carrot cake made with coconut flour and other simple everyday ingredients.
Instructions
Preheat the oven to

350

°F

.

Combine carrots, eggs, and coconut oil in the bowl of a food processor.

2 cups carrot,

4 whole eggs,

1/2 cup butter

In a medium bowl, mix all the dry ingredients. Reserve the nuts. Stir the contents into the food processor and blend to combine. Fold or pulse the walnuts a few times to mix evenly.

1/4 cup coconut flour,

1/4 cup Keto brown sugar substitute,

2 teaspoons ground cinnamon,

1 teaspoon ginger powder,

1 teaspoon baking soda,

1/2 cup walnuts,

2 teaspoons Keto sugar substitute

Bake in a greased 8 by 8-inch glass baking dish for

25 minutes

, until edges are golden brown and the center is set.

While the cake is baking, prepare the frosting. Add cream cheese and butter or coconut oil to a medium bowl and mix until thoroughly combined. Mix in Lakanto. Set aside until the cake has cooled.

8 ounces cream cheese,

1/2 cup butter,

1 teaspoon lemon juice,

1 teaspoon lemon zest

Remove the cake from the oven and cool before frosting. Slice and frost individual pieces or frost the whole cake before dividing into portions. Serve warm, chilled, or at room temperature.
Notes
Add a splash of Lakanto's

Maple Flavored Syrup

to the frosting and mix it up well to make a ultra creamy MAPLE frosting! Coupon code "primaledgehealth" for 20% off.
Nutrition & Macros
Calories:
264
kcal
Carbohydrates:
5
g
Protein:
3
g
Fat:
27
g
Saturated Fat:
17
g
Sodium:
240
mg
Fiber:
2
g
Net Carbohydrates:
3
g
To obtain the most accurate representation of the nutritional information in a given recipe, please calculate the nutritional information with the actual ingredients and amounts used, using your preferred nutrition calculator. Under no circumstances shall the this website and the author be responsible for any loss or damage resulting for your reliance on the given nutritional information.
Made this? Leave a Rating! ⭐⭐⭐⭐⭐
Tag a photo with @Primal_Mom and #PEHRecipe on Instagram to share with us!
Browse through Healthy Cinnamon Recipes for more treats!