This Easy Keto Chocolate Cake is so quick and simple to make in only 15 minutes of prep time! It's considerably more healthy than anything store-bought. Plus, the recipe is made with coconut flour and therefore gluten-free and low-carb.
Easy keto recipes are essential to long-term adherence and overall satisfaction with a keto diet.
When you make your own cake, you know what you're eating is 100% clean, made entirely with real food ingredients, and free from vegetable oils, artificial flavors, preservatives, and white sugar.
A boxed cake mix might seem convenient for your schedule, but is it convenient for your health?
If you're tight on time and like to pre-prepped mix concept, use this recipe to make your own.
Gather the dry ingredients together, combine them in a container, and store in your pantry until you are ready to bake.
When the time comes: pick up the mix, preheat the oven, add the butter, coconut milk, and eggs, and bake until ready!
Pretty cool idea, isn't it?
Table of Contents (click to view)
What Makes the Best Sugar-free Chocolate Cake?
Quality ingredients.
The difference between cacao is palpable. Living in Ecuador (known for its heirloom cacao seed) has allowed me to source quality cacao products and bring them to the USA. I've shared what makes our cacao stand apart from others before. In short, it is a fair-trade certified artisanal cacao bean, 100% organic and biodynamically grown in old-growth shade forests.
We offer all the cacao foods you need for homemade chocolate making in our shop with free shipping on orders over $50 (domestic USA only).
In this recipe, a pinch of sweetness (without the blood sugar roller coaster and crazy mental/emotional triggers) is made possible by Lakanto.
Lakanto is my first choice as a keto-friendly sweetener for all keto desserts.
Save 20% on LAKANTO products with our coupon code PRIMALEDGEHEALTH
Alternatives?
I use Lakanto exclusively but you may also use whole or powdered erythritol or liquid stevia drops instead. Replace Lakanto with equal amounts of erythritol, use stevia drops to taste.
If you like DIY projects, learn how to make a DIY stevia extract!
Tips for an Easy Low Carb Chocolate Cake
Coconut flour is an excellent base for keto baking. Out of all the low-carb flours, this is the one I use the most. Combined with egg, it creates a light and fluffy texture with a slightly sweet, subtly coconut flavor easily masked by cacao powder, vanilla, and other flavoring agents.
Give your cake a unique Chocolate Chip Mint flavor by adding ½ teaspoon peppermint extract and ¼ cup cacao nibs or Stevia sweetened chocolate chips.
Vanilla powder is a much more potent flavoring agent than the extract, but also more expensive. Substitute vanilla extract in double the amount (ex: 1 tsp vanilla powder = 2 tsp vanilla extract)
Recipe ratios are formulated for a dark chocolate cake, if you prefer a sweeter result, increase the keto sweetener to ½ cup.
If you want to make this recipe ahead of time, you certainly can. Bake the cake and keep it in the fridge until ready to serve.
Serve plain or frosted. My Maple Buttercream Frosting is a family favorite! Cream cheese frosting and Whipped Ricotta Frosting also pair well. I used the Maple Buttercream recipe here but added 1/2 cup of melted cacao paste (or baker's chocolate) to it for a chocolate finish.
Decorate with Dairy-Free Keto Icing. There is no better way to add swirls and script.
This cake recipe is freezer friendly.
Are you feeding a crowd? Double the batch and bake in a 9 x 13-inch baking pan. It's a great recipe to share at birthday and office parties.
This recipe yields 12 servings.
With only 3 g net carbs per serving, Easy Low Carb Chocolate Cake is a delicious, guilt-free way to enjoy dessert while staying on a keto diet.
The recipe below is 100% gluten-free, grain-free, nut-free, dairy-free, low-carb, ketogenic, and sugar-free!
Love baking? I highly recommend The Ultimate Guide to Low-Carb Baking for all you need to know about sugar-free, keto sweet and savory baked goods.
Just for special occasions
Obviously, cake is still cake. Keto and sugar-free or not, it is delicious and easy to overeat. Portion out your serving and stick to it.
If you find that making a whole cake is too much of a slippery slope, try cupcakes instead which will provide you with smaller pre-set, ready-made portions. You may also half the recipe for less yield or make the full batch and freeze half for later.
Making a Low-Carb Double Chocolate Mug Cake or Keto Lava Cake is also great for portion control since each recipe is just one single serving.
If you love chocolate, I know you'll also want to make this Creamy Keto Chocolate Cheesecake! It's perfect for a special celebration.
More Keto Chocolate Recipes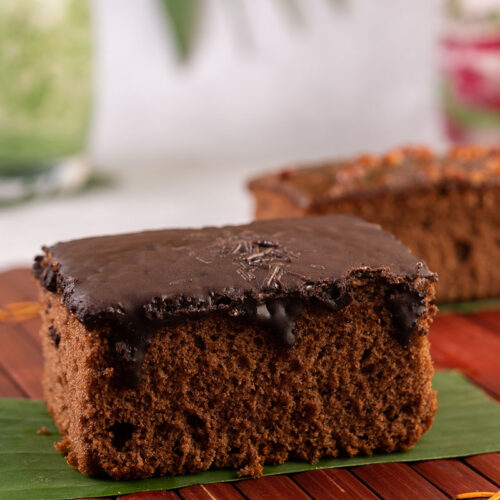 Easy Low Carb Chocolate Cake
This Easy Keto Chocolate Cake is so quick and simple to make in only 15 minutes of prep time! It's considerably more healthy than anything store-bought. Plus, the recipe is made with coconut flour and therefore gluten-free and low-carb.
Instructions
Preheat the oven to 350° F (176 C). Melt the butter in the oven as it warms.

Whisk the eggs in a small bowl. Add the milk and butter to the eggs, stir to combine. Set aside.

In a second bowl, mix all the dry ingredients together. Add the dry mixture to the egg bowl and stir until ingredients are evenly incorporated.

Pour batter into a greased 8 by 8-inch glass baking dish. Bake for 50 minutes, until the center is set and a knife comes out clean after testing the middle.

Remove the cake from the oven and cool. Frost if desired, once cool.
Nutrition & Macros
Calories:
148
kcal
Carbohydrates:
6
g
Protein:
4
g
Fat:
13
g
Saturated Fat:
8
g
Sodium:
112
mg
Fiber:
3
g
Net Carbohydrates:
3
g
To obtain the most accurate representation of the nutritional information in a given recipe, please calculate the nutritional information with the actual ingredients and amounts used, using your preferred nutrition calculator. Under no circumstances shall the this website and the author be responsible for any loss or damage resulting for your reliance on the given nutritional information.
Made this? Leave a Rating! ⭐⭐⭐⭐⭐
Tag a photo with @Primal_Mom and #PEHRecipe on Instagram to share with us!
For a delicious warm drink to go with your cake, try our Sugar-Free Hot Chocolate recipe!
More Keto Coconut Flour Recipes