Vanilla Keto Cupcakes are quick and easy to make. The simple maple buttercream frosting adds a special flair and delicious boost to this low-carb, gluten-free, grain-free, and sugar-free dessert!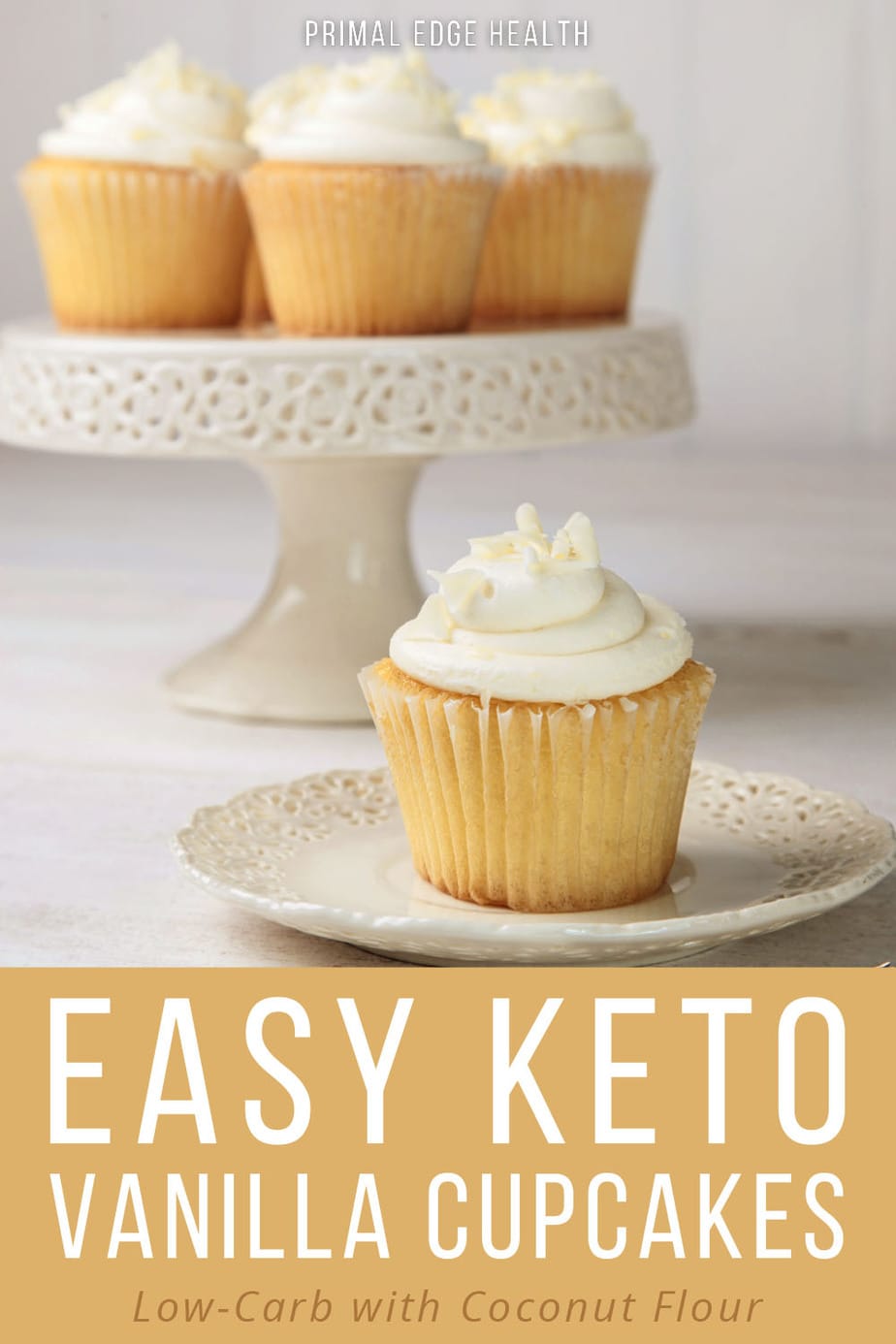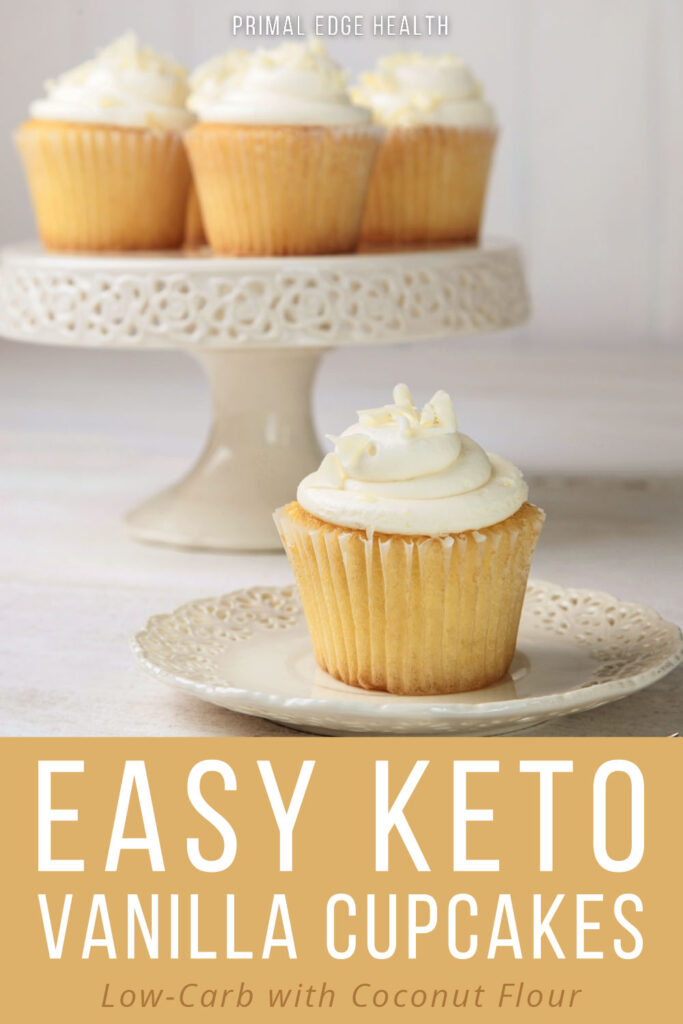 Keto Cupcakes with Coconut Flour
I dove into a self-led course on keto baking immediately after our son was born in 2016. Baking on a keto diet was utterly new to me then, and I was uh-mazed at how good everything was! Who needs wheat flour and sugar if keto alternatives are just as easy (or more so) and taste just as good (or better!)?
After a few months of testing sweet and savory keto baked goods, I established a solid collection of sugar-free, grain-free, and gluten-free recipes. You can find all these recipes in The Ultimate Guide to Low-Carb Baking.
Identifying the best ingredients for keto baking was a huge help. Getting good results is hard if you don't start with the right ingredients. I list many of these same foods in a printable grocery list for keto pantry staples. This is a handy printable to keep in your kitchen or stuck on the fridge for reference.
I rely on coconut flour and other coconut products for a keto diet and keto baking. These are essential low-carb ingredients that make super tasty treats.
Personally, I prefer coconut flour over almond flour because it's cheaper and easier to digest. Coconut flour does not have phytic acid or anti-nutrients like nut flours and is low-oxalate. If you have a history of food allergies or auto-immune conditions, you may also want to favor coconut flour over almond flour. (1, 2, 3, 4)
Baking Tips for Vanilla Keto Cupcakes
Vanilla Keto Cupcakes are super fast and simple to make anytime you need a reliable cupcake recipe to make.
Vanilla comes through well in this recipe, the rich flavor permeates all bites. Vanilla powder is a much more potent flavoring agent, but also more expensive. Vanilla extract may be substituted in double the amount (ex: 1 tsp vanilla powder = 2 tsp vanilla extract)
If you want to make this recipe ahead of time, you certainly can. Bake the cupcakes and keep them, unfrosted, in the fridge until ready to serve. Frosting has the best texture when prepped the day of.
These cupcakes are freezer friendly and can be made in bulk.
Feeding a crowd? Double the batch as needed, these are great for birthday and office parties. Or you can make a vanilla keto cake instead!
Swap frosting for Dairy-Free Keto Icing and decorate with delicate lines and swirls instead.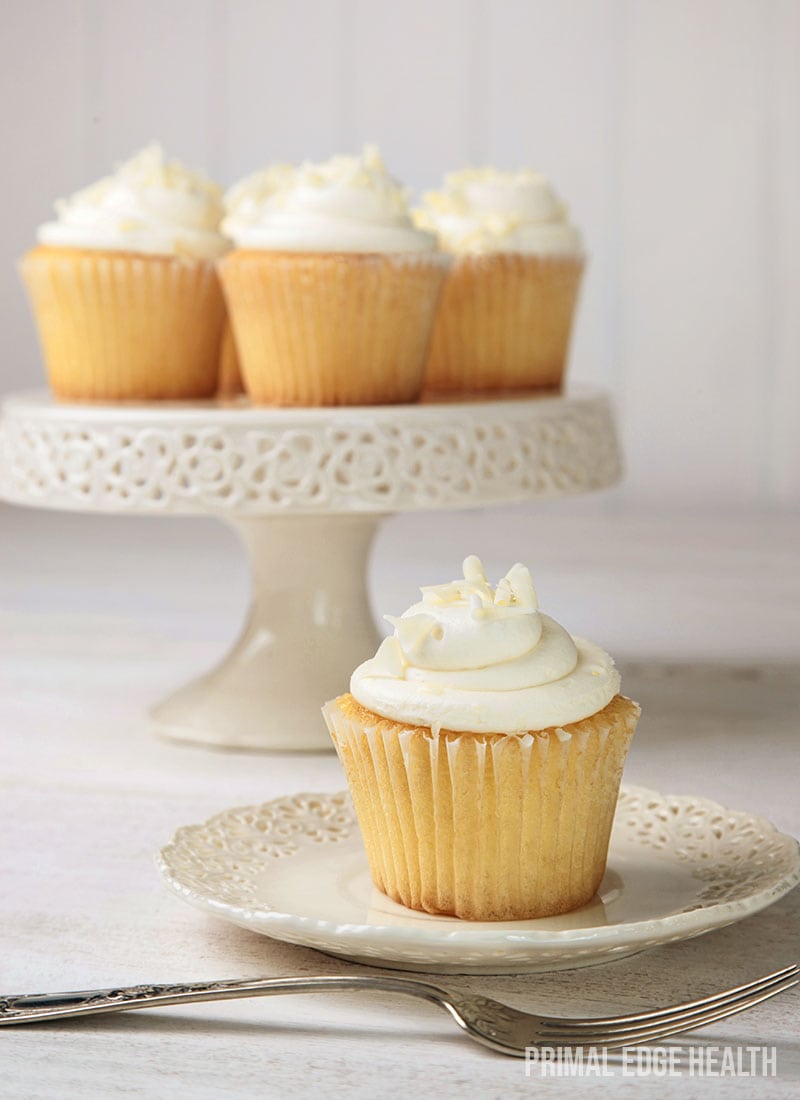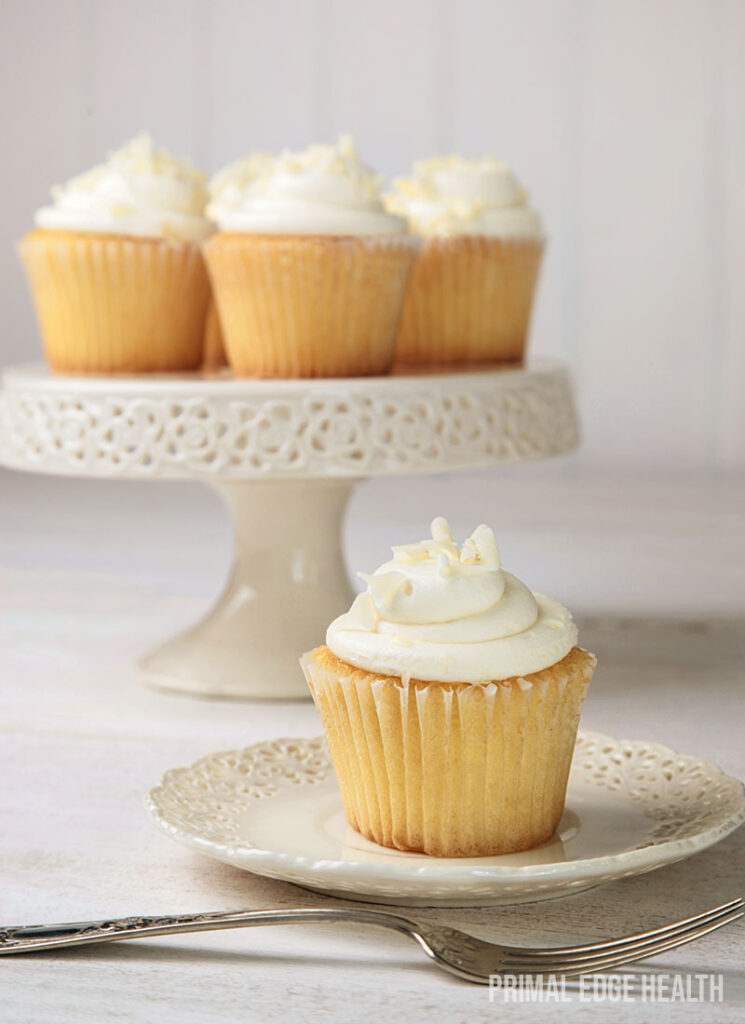 This recipe yields 12 cupcakes.
With only 1 g net carbs per serving, Vanilla Keto Cupcakes are a delicious, guilt-free way to enjoy dessert while staying on a keto diet.
The recipe below is 100% gluten-free, grain-free, nut-free, dairy-free, low-carb, ketogenic, and sugar-free!
Sugar-Free Keto Cupcakes
In this recipe, a pinch of sweetness (without the blood sugar roller coaster and crazy mental/emotional triggers) is made possible by Lakanto's Monkfruit sweetener.
Lakanto is my first choice as a keto-friendly sweetener for all keto desserts.
Save 20% on LAKANTO products with our coupon code PRIMALEDGEHEALTH
LAKANTO Liquid Monkfruit Sweetener is
ZERO GLYCEMIC – Lakanto Sweetener will not increase blood sugar
ZERO CALORIES – With no sugar or added artificial flavoring
USEFUL – Flavor your tea, water, yogurt, desserts, smoothies, coffee
EASY – Convenient for on-the-go everyday use
Non-GMO Verified Monk Fruit
DELICIOUS with no bitter aftertaste
Take a look at these other keto desserts sweetened with Lakanto to see how to use it.
Alternatives?
I use Lakanto exclusively but you may also use whole or powdered erythritol or liquid stevia drops instead. Replace Lakanto with equal amounts of erythritol, use stevia drops to taste.
More Keto Coconut Flour Recipes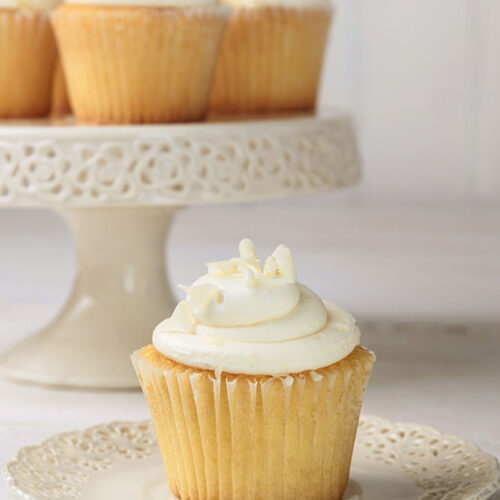 Keto Vanilla Cupcakes with Coconut Flour
Vanilla Keto Cupcakes are quick and easy to make. The simple maple buttercream frosting adds a special flair and delicious boost to this low-carb, gluten-free, grain-free, and sugar-free dessert!
Ingredients
Maple Buttercream Frosting
Instructions
To Preare the Cupcakes
Preheat the oven to 350* F / 176* C.

In a small bowl, combine all dry ingredients.

In a medium bowl, whisk 3 eggs. Add oil and milk. Mix well.

Slowly combine the dry ingredients into the wet ingredients. Set aside.

In a third bowl, beat the egg whites with an electric mixer until thick peaks form. Gently fold into the the batter.

Lightly grease or use cupcake liners in a 12-cup muffin pan. Bake for 20-25 minutes, until a knife inserted into the center comes out clean. Cool on a wire rack.
To Prepare the Frosting
With an Immersion Blender: Place all ingredients in a narrow jar and use an immersion blender to whip until fluffy.With an Electric Mixer: Beat until all ingredients are mixed together. 1 to 2 minutes to fully whip the butter, continue until light and fluffy.

Wait until cupcakes have completely cooled then frost before serving.
Notes
This batter may also be baked as a cake. 1 recipe will make a 9-inch cake, adjust baking time to 30 minutes.
Click the link for sugar-flavored maple syrup in the ingredient list and

use code "primaledgehealth" for 20% off your order!
Nutrition & Macros
Serving:
1
cupcake
Calories:
185
kcal
Carbohydrates:
3
g
Protein:
3
g
Fat:
18
g
Saturated Fat:
15
g
Sodium:
204
mg
Fiber:
2
g
Net Carbohydrates:
1
g
To obtain the most accurate representation of the nutritional information in a given recipe, please calculate the nutritional information with the actual ingredients and amounts used, using your preferred nutrition calculator. Under no circumstances shall the this website and the author be responsible for any loss or damage resulting for your reliance on the given nutritional information.
Made this? Leave a Rating! ⭐⭐⭐⭐⭐
Tag a photo with @Primal_Mom and #PEHRecipe on Instagram to share with us!
If you're looking for a vanilla keto cake with almond flour, I suggest my friend Joy Filled Eat's recipe instead.