Having a well stocked keto pantry makes your keto diet so easy and sustainable!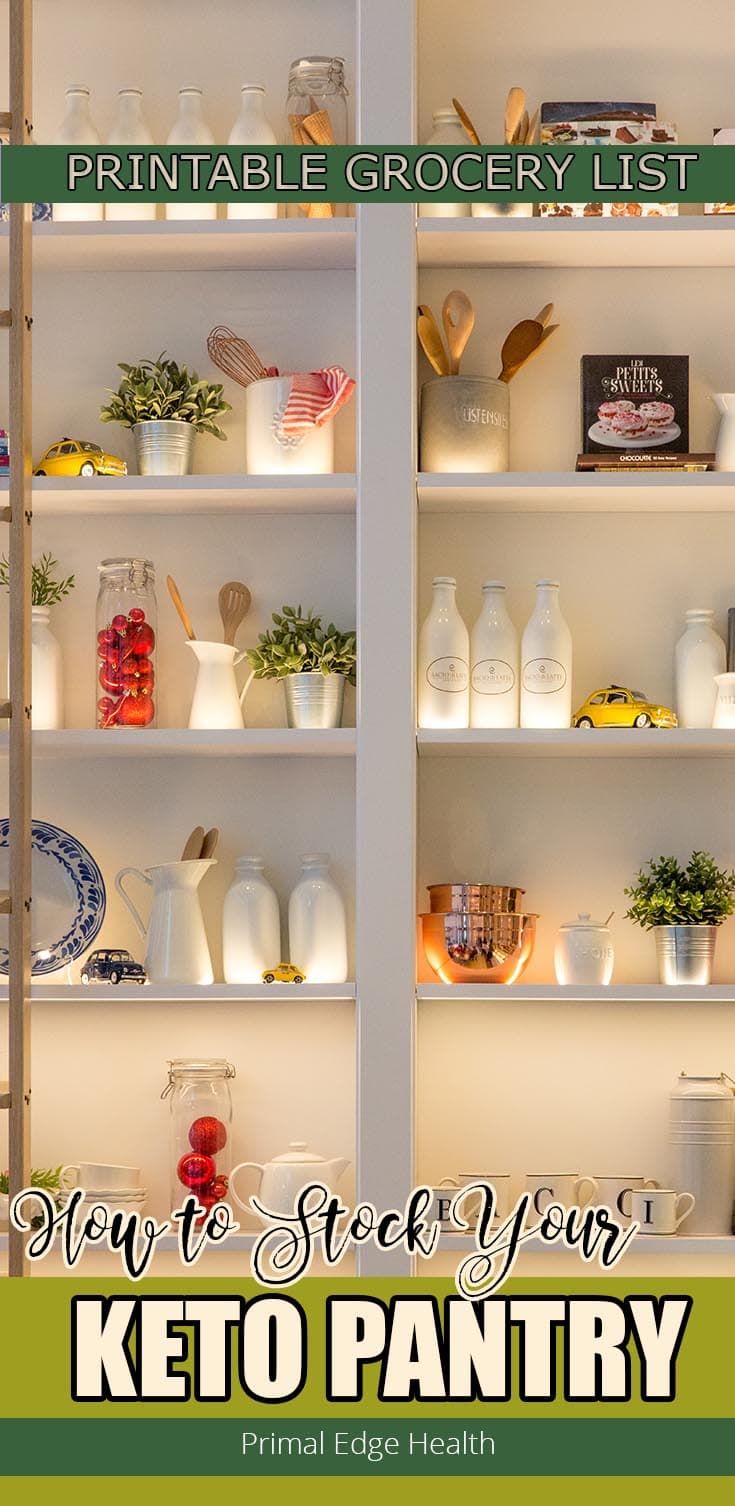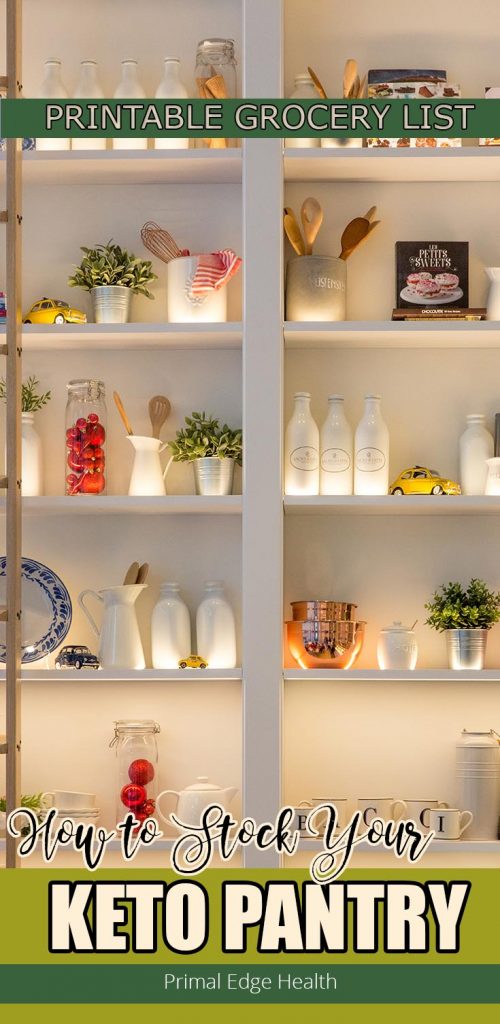 Grab a few ingredients for quick and easy keto recipes, or spend quality time in the kitchen baking keto style. However you like to cook, having the ingredients you need on hand and knowing how to approach substitutes for your favorite foods is important for success.
Stock up on all your keto pantry goodies from local health food stores, farmer's markets, or trusted online stores.
We all know keto is a "high fat" diet. There's such an abundance of healthy fats to choose from! Olive oil, ghee, lard, MCT oil are some of the things you'll find in my cupboard. Take a thorough peek at the fat sources pulled from my pantry in this video: Fat Sources to Use on Keto and How We Use Them.
Fortunately, with the popularity of keto on the rise, there is a growing number of keto friendly products available that will support your diet.
Dried beef jerky, canned fish, and pemmican are excellent travel foods. I also like to make my own pemmican with organ meats!
Canned fish is a prominent ingredient in my quick prep meals, it's ready in minutes. I know I do so much better on 2 or 3 full meals a day and avoid snacking. But these kind of ingredients are also good for snacks in a pinch.
In between meals I do like a warm cup of bone broth. Usually, I make my own, but Kettle and Fire provides organic shelf-stable beef and chicken broth which is great for stocking in the pantry. Having ready-made soups and broths in the panty is a huge time saver. Bone broth is great for warming soups and beef stew.
All Your Keto Pantry Staples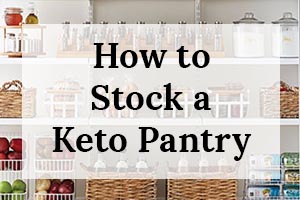 Categories include:
Keto Sweeteners
Flours & Recipe Essentials
Fats & Oils
Snacks
Nuts & Seeds
Condiments & Seasonings
Drinks
Unique ingredients like raw apple cider vinegar, mayonnaise, and sugar-free BBQ sauce are just some of the condiments and seasonings that could rest on your keto pantry shelves. Never forget the salt! That's such an important staple for keto dieters.
Curb cravings with delicious keto chocolates, sweetened appropriately, of course.
Have low-carb flour replacements and baking essentials on hand for when you're ready to whip up low-carb baked goods. For that reason, I recommend many different coconut products on a keto diet.
These are all recommended ingredients that I use in my own kitchen and can build your diet whether you are just beginning or have been following a ketogenic lifestyle for a while.
Our keto shopping list will also be helpful with a full page spread of grocery ingredients and a tutorial on how to source local foods.
Also, take a look at this list of best keto baking ingredients if you want to know more about what to store in your pantry.
Get More Free Keto Printables
Keep organized and stay focused by visually mapping out your info you can reference whenever needed. Follow these lists, so you know exactly what to eat and what to avoid on a keto diet.