Pemmican is a Native American survival food now made more popular as a Paleo protein bar, hiking snack, and nutrient rich travel food. Pemmican was adopted by the fur traders in the 18th and 19th centuries because it served so well during their travels. I imagine they would have felt very grateful to have this stable, travel friendly, high-energy, filling food during long trips and sparse hunting.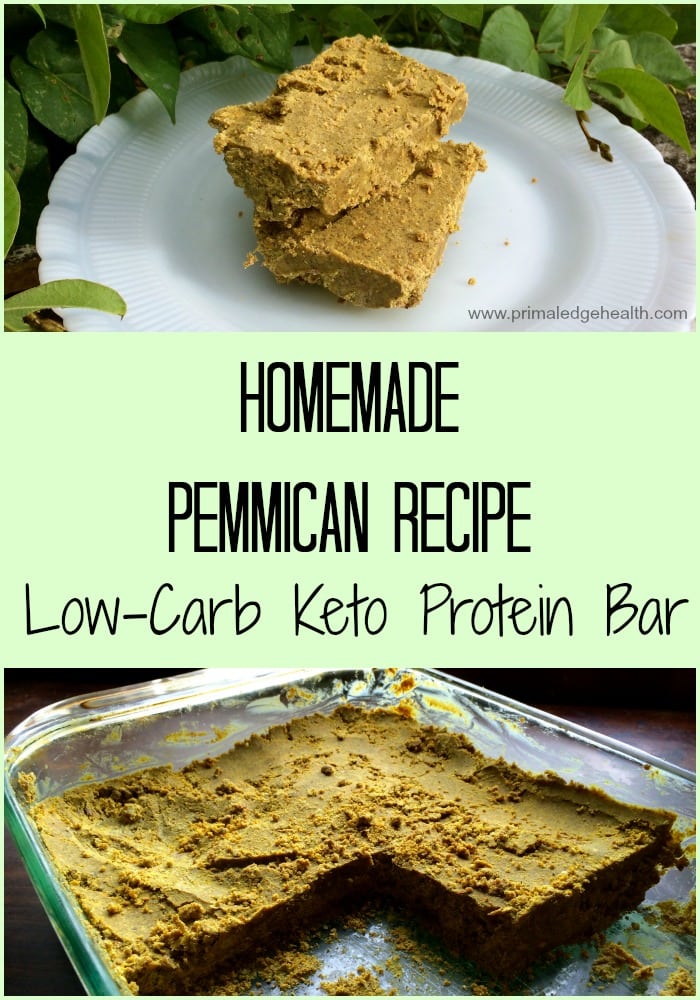 What is pemmican?
Pemmican is traditionally a dried mixture of meat, berries, and rendered fat. Thinly sliced meat (bison, elk, moose) was dried in the sun until brittle and later pounded into a find powder. Berries were likewise dried and ground. I read accounts stating the berries were added later once trade with the Europeans increased, the new cliental liked the sweeter flavor and thus the addition of berries became more customary. These powders were put into a rawhide pouch with melted animal fat poured on top and mixed thoroughly. The pemmican was then stored in these same pouches for long periods of time.
As a survival food, pemmican is highly valued because, if prepared correctly, it can last up to several months (some historical reports say years) without refrigeration!
Pemmican is the superior low-carb ketogenic travel food
I originally became interested in pemmican after hearing it was a traditional way to preserve food. This sort of thing always fascinates me. I love learning about traditional way of preservation like naturally fermenting foods, drying herbs, and making tinctures.
Traveling today is a far cry from the trips Native people made years ago but nevertheless, having healthy homemade food on hand can make a difference. Tristan and I are such food dorks when we take trips, we load up on homemade flax crackers, cheeses, homemade sauerkrauts and avocados. Pemmican is now on our list of awesome travel foods. There is really no contest, it is light and compact, doesn't squish, smoosh or spill. Homemade snacks always beat over priced, under valued airport food versus homemade, nutrient dense fresh pemmican.
I like to bring pemmican along for little excursions as well. Even if I am just going out for a trip to the park, hiking, or long days in Loja I know this pemmican will be a low-carb keto food that the whole family enjoys. Any nutrient dense food our 2-year-old will eat, I make sure to have on hand!
How to make pemmican
You guys have seen my dehydrator in action while I make Green Micronutrient Rich Flax Crackers, here is another example of the Excalibur's usefulness – homemade pemmican.
Ingredients:
5 1/2 cup dried and ground meat (4 pounds fresh lean meat – beef, elk, moose)
5 1/2 cups tallow (tips for rendering your own)
Dried herbs and spices (I like to buy in bulk)
Equipment:
Food Dehydrator (note: if you want to dry your meat in the oven, thinly slice lean meat into strips, lay on cookie sheet and bake at a 180 degrees F for at least 8 hours or until crispy).
High-speed blender (I use a Blend-tec) or food processor
Large glass Pyrex
How to Make Pemmican
First things first, dry your meat. There are a few different ways to achieve this. You can buy strips of jerky and grind them up in a food processor or high-speed blender. You can dry lean muscle meat (essentially homemade jerky) and then grind it up. Or buy ground beef and lay if flat to dry in your dehydrator or oven and then process it once completely dry. I have tried the later two options and find that since we grind up the meat anyway, why not opt for the cheaper ground beef version.
Along the way of my own experimentation, I have learned that you can also dry beef heart and add it to the pemmican. This is a nice way to sneak in the benefits of nose-to-tail eating without suffering through any visual or textural shocks.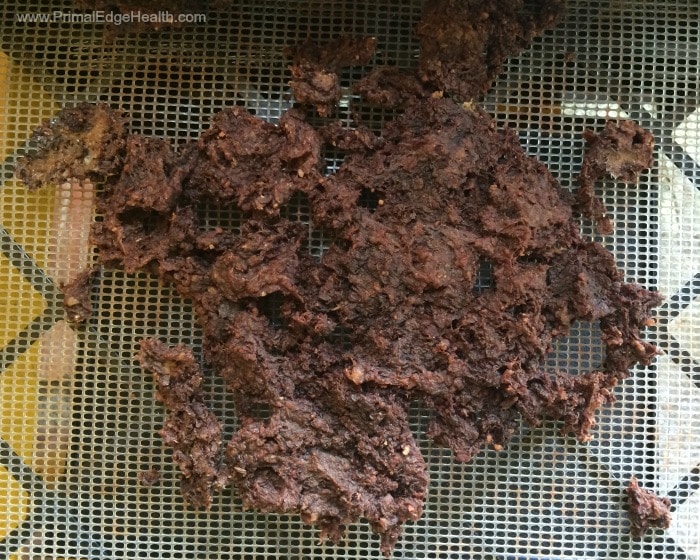 I dry 2 pounds of meat per dehydrator tray. I like to have a rough estimate of how much meat (ie. grams of protein) goes into each batch. I have figured out now that 2 pounds is roughly equal to 1 1/2 cups of dry, ground meat.
We do our meat/fish shopping about once a month, I buy ground meat in bulk and dry about 8-12 pounds at a time. Whatever I do not use immediately saves well in a sealed tupperware or glass jar. This time I dried a total of 8 pounds of meat; 4 pounds of ground meat and 4 pounds of ground heart.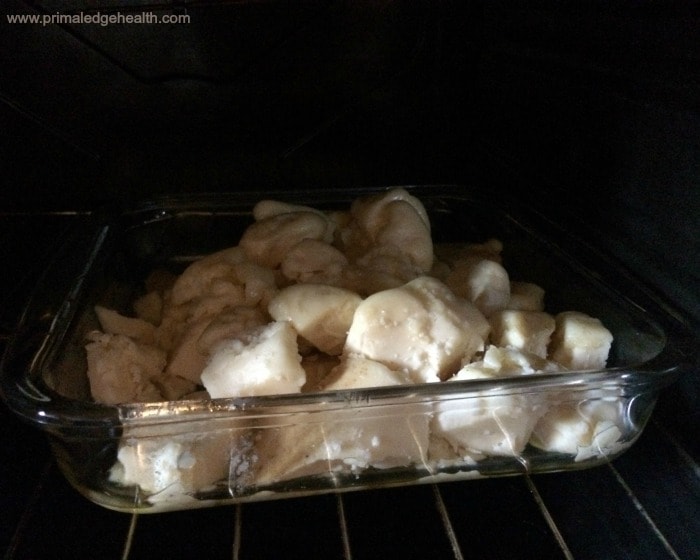 I like a 1:1 ratio of meat to tallow. It makes a nice texture for rolling into bite sized balls or spreading in a larger pyrex.
For this 13-inch rectangle glass Pyrex, I put 4 pounds total of a mixture of ground meat and heart. I measured 5 1/3 dried and ground meat and matched that with 5 1/3 cups melted tallow. I rendered tallow a while ago and had it saved in the fridge. Tallow melts down easily in the oven at a low temperature, remember to use an oven-safe glass container. At 350 degrees, it takes about 15 minutes.
US Wellness offers a good deal on a 5 gallon bucket of rendered tallow.
Similar to making flax crackers, pemmican is an opportunity to load up on anti-inflammatory herbs and spices. I like to buy organic herbs and spices in bulk and keep them in glass jars on hand for frequent use. You could also thrown in some quality green powder! Dried berries are traditionally used, if you want to add them make sure they are finely ground and contribute them alongside the spices (cinnamon, allspice, ginger would be complementary to fruits).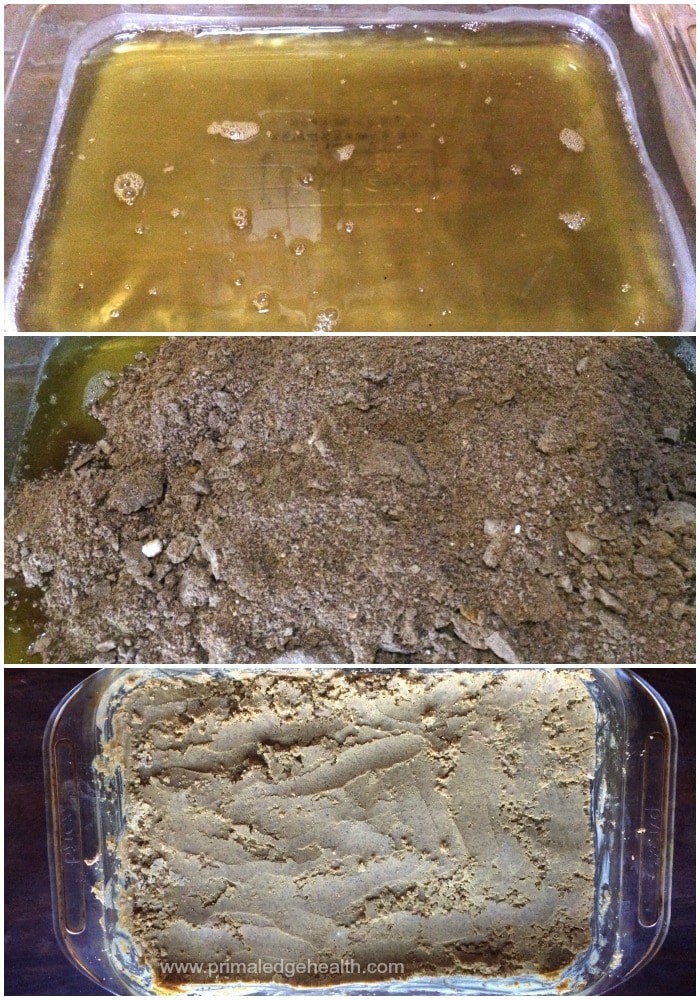 Pour the slightly cooled tallow over the ground meat. There should be just enough tallow to completely cover the dried meat. Mix it up with a sturdy spoon and either roll into small balls (best for a small amount of pemmican) or spread it evenly in the Pyrex.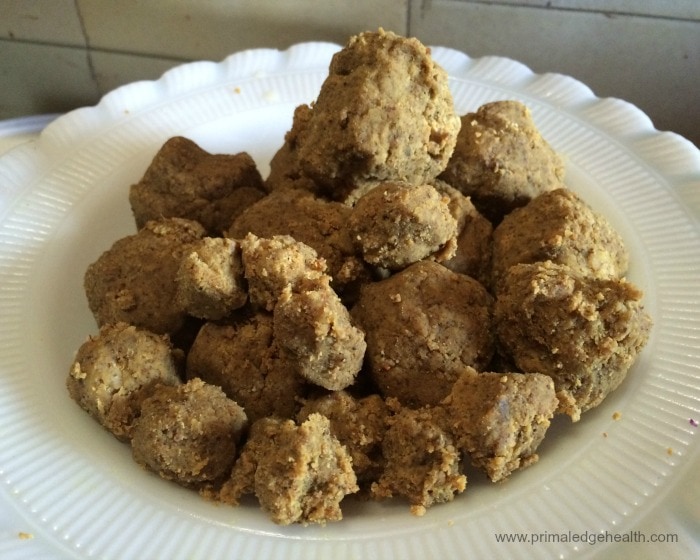 I like to use glass Pyrex because that is what I have available. If you are making a smaller batch, muffin tins would be cute, especially the little mini muffin tins. Chill the finished pemmican in the fridge, once it it hardened it will cut nicely. Cut into squares. With only 4 pounds of meat it is easy to divide into 1/4 or 1/8 pound squares. Pemmican can store in an air tight container for months (some people say years!). Pemmican does not necessarily need to be stored in the fridge. For maximum freshness and flavor, I recommend to store your batch in the fridge if kept longer than 2 weeks.
Like many recipes, once you get the basic technique down there is a lot of room for culinary expression. I have tried different levels of fat to meat, sometimes going up to 75% fat, 25% meat…in the end, it was a little too much but shows the versatility of this recipe. I encourage you to experiment and find a ratio that works for you.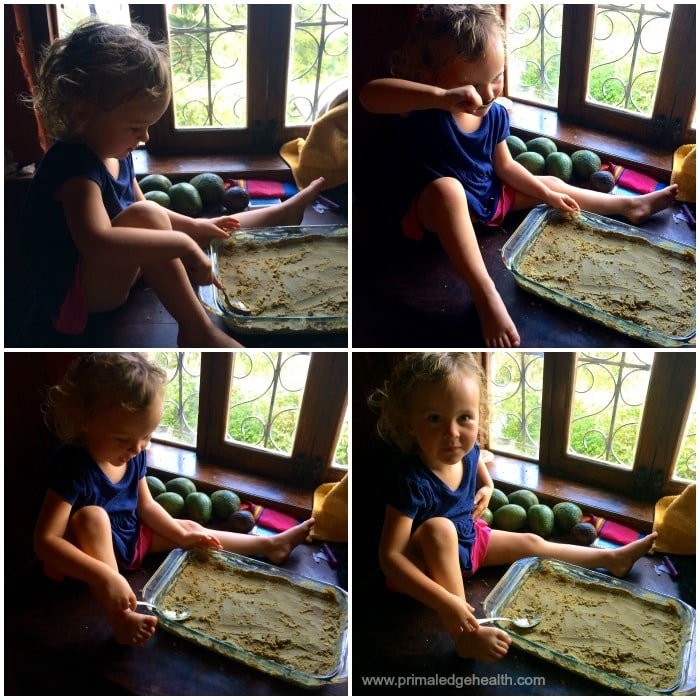 Interesting Tid-bits on Pemmican…
Here is a nice collection of information, stories and pictures about pemmican gathered by Cornell University.
A testimony from a true nature lover of his successful 38 day snowshoe expedition in sub-zero temperatures. This man survived by only consuming pemmican. Check out his real world experience and recommendations about traveling in ketosis and eating pemmican.
A personal commentary and historical perspective with nutritional analysis and excerpts from the Arctic explorer, Vilhjalmur Stefansson's book Fat of the Land.
Steve Phinney, MD and co-author of  New Atkins for a New You on pemmican and ingenious diets with excerpts from George Catlin's Letters and Notes on the Manners, Customs, and Conditions of the North American Indians. This article gives a nice history of pemmican and the social, cultural, survival importance based on Catlin's first hand account.
Dry meat in food dehydrator or oven

Grind meat in blender

Mix in herbs and spices

Melt tallow, let it cool

Pour tallow over meat

Stir up until all is completely combined

Roll into small balls or leave to harden and cut into squares
Don't want to make your own pemmican?
US wellness offers a variety of flavors and sizes to choose from if you want to try it out before making your own.
They have a new low-carb beef flavored pemmican bar available. I love seeing them offer a bulk pail as well!
Want to see more delicious and nutritious recipes? Check out The Ketogenic Edge Cookbook in our shop now!
Follow Primal Edge Health's board Healthy and Delicious on Pinterest.
Save