Low-Carb Pumpkin Soup is a lovely dairy-free soup recipe with coconut cream and sugar-free pumpkin puree. Flavored with a warming and invigorating blend of cinnamon, ginger, and cayenne spices, this is a great choice for any chilly day!
You can double the recipe and freeze leftovers for later.
Low-Carb and Dairy-Free Cream of Pumpkin Soup
Simmering away happily on the stove. Cinnamon spice rising into the air… Amos Lee crooned through the speakers. I'm flooded with nostalgia, filled with warm and cozy feelings.
I feel so grateful to be alive, the world outside seems like a crazy place at times but my home is full of peace.
I feel ripe today, after working so hard for years to feel calm, confident, and secure with myself and my place in the world, today is the kind of day that I can breathe easily.
Everything is ok.
I look at my husband and my children. I think about all the things we've been through and all the ways we have grown. I want to drop to my knees in humble awe of the profundity of life.
We are a family of explorers. Curiously probing the world, learning, discovering, and looking around with wonder.
More Delicious Dairy-free Pumpkin Recipes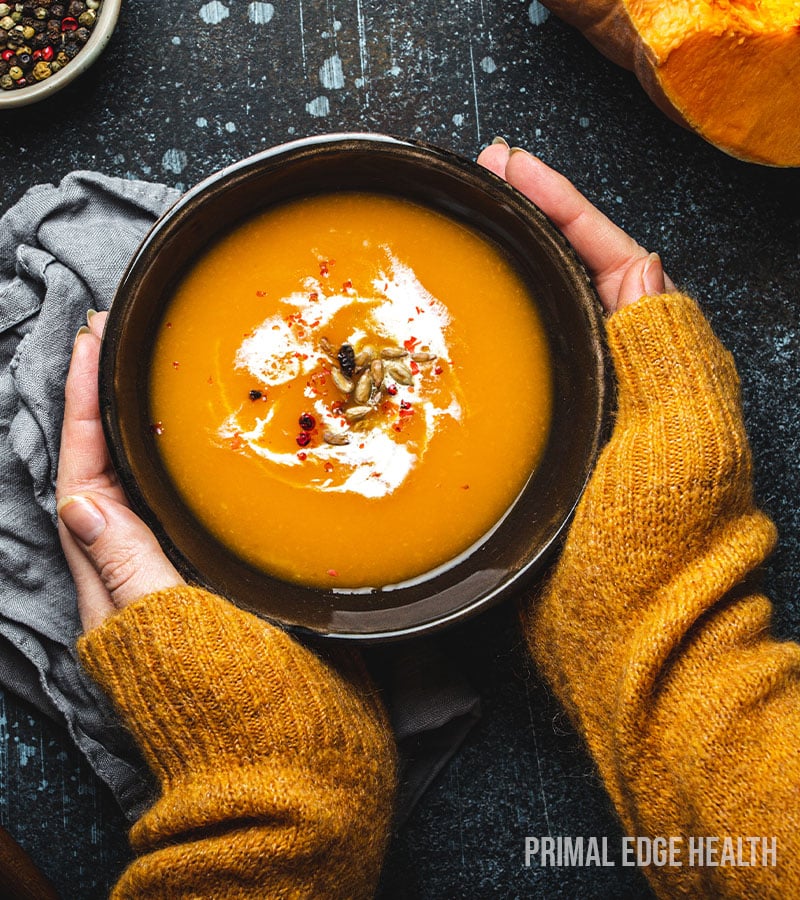 Keto chicken tortilla soup is another comforting dairy-free soup to make, as is this Avocado Soup.
Browse through Healthy Cinnamon Recipes for more seasonal fall treats or Low-Carb Vegetable Recipes if you love easy side dishes.
Looking for an organic shelf-stable bone broth to keep in your pantry? Read my Kettle & Fire Bone Broth Review to learn why they are my top pick for ready-made bone broth!
FOLLOW PRIMAL EDGE HEALTH on INSTAGRAM, PINTEREST and FACEBOOK for more easy keto carnivore recipes and info!