Enjoy a Keto Pumpkin Bread Recipe this fall! Celebrate the change of season with a macro friendly pumpkin bread that is easy to make and entirely low carb and sugar-free. It's dairy-free, flavorful, and moist – sure to be a new fall favorite this year.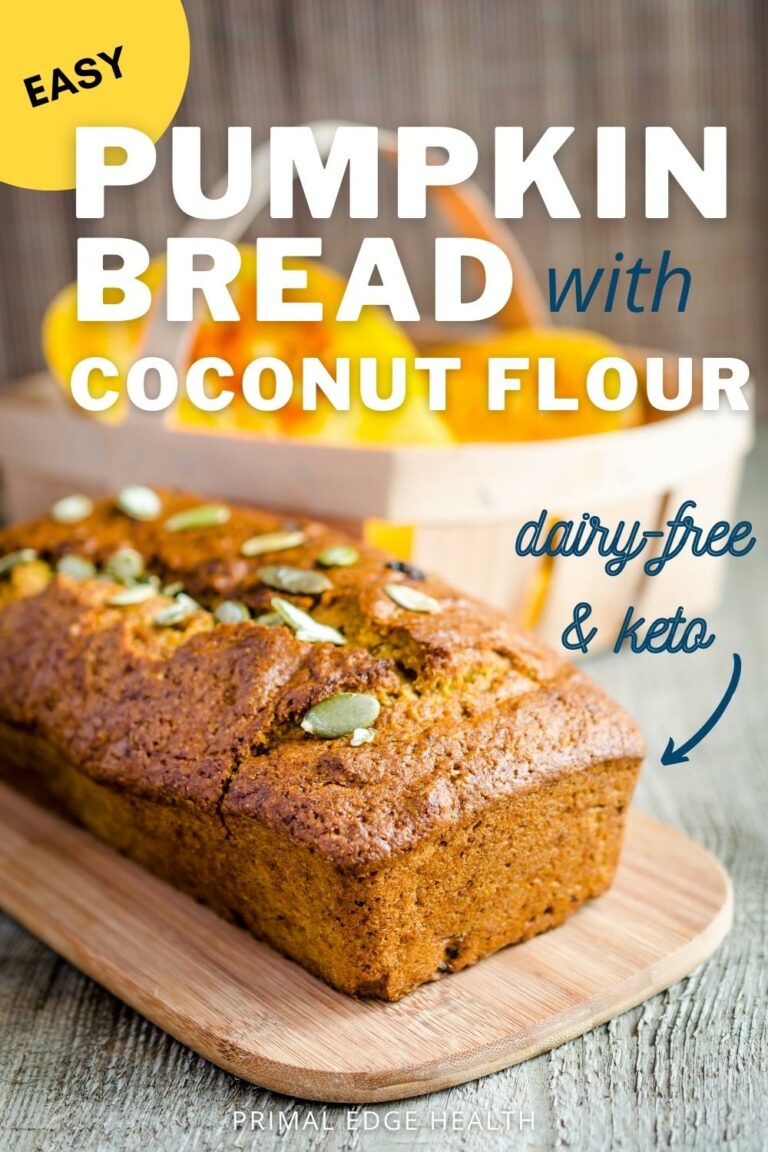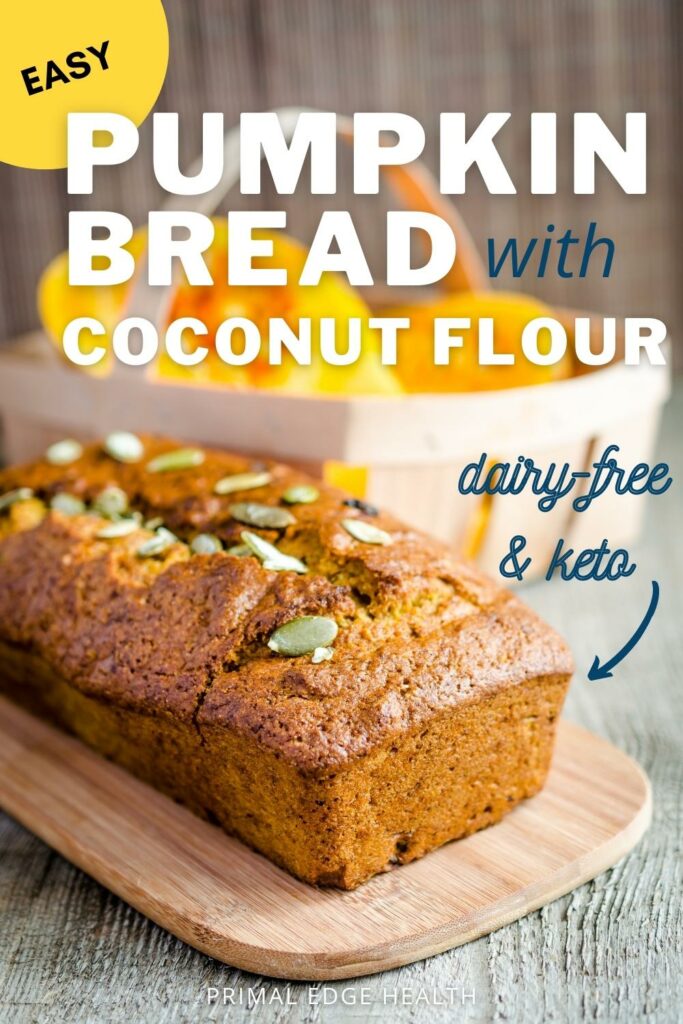 This post is sponsored by the good folks at Mountain Rose Herbs.
Table of Contents (click to view)
Can Pumpkin Be Eaten On Keto?
An important aspect of the keto diet is carb restriction. Ketosis is achieved through a metabolic shift between fuel substrates. The benefits of a keto diet are found after we switch from burning sugar for fuel to effectively using fat (either from the plate or from the body) as an energy source.
Pumpkin is a keto-friendly ingredient and can be used in sweet or savory dishes.
Per 1 cup (240 grams) of canned pumpkin, there is 1 gram protein, 0 grams fat, 10 grams total carb, and 7 grams net carb. (1)
This is the exact amount we use for the entire pumpkin bread recipe. Once the macros are divided into 9 servings, we know that sugar-free pumpkin puree gives us less than 1 gram of net carb per serving!
Pumpkin is a perfect ingredient on a ketogenic or low carb diet. It's full of flavor and tends to be an easy food to grow without the use of many pesticides. What a wonderful way to celebrate seasonal change while still eating in a way that serves you well.
Infusing simple syrup with pumpkin pure is a no-fuss way to instantly add the taste of fall. I love drizzling sugar-free pumpkin syrup into hot drinks, and over pancakes or yogurt.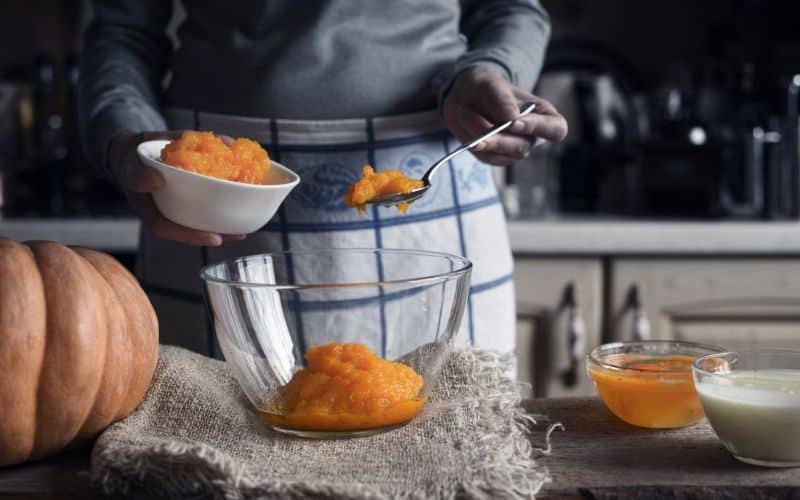 How to Make Low Carb Pumpkin Bread
Make this healthy sugar-free pumpkin bread with just 10 minutes of prep time!
It's super easy and that's only one of the reasons I think this is the best low carb pumpkin bread recipe.
Start by preheating the oven and line the bread pan with a piece of parchment paper.
If you don't have paper, grease the pan lightly. The bread doesn't stick too much, but nothing is better for ensuring a nice release than parchment paper.
Next, gather all the ingredients, two mixing bowls, and a spoon.
You can use homemade cooked pumpkin or sugar-free canned pumpkin puree.
Combine all the dry ingredients together in one of the bowls. Then add the wet ones into the dry mixture. I suggest softening the butter before mixing it in so everything can be combined evenly.
Pour the batter into the pan and smooth it out on top with the back of a spoon. Finally sprinkle the pumpkin seeds on top and press them down gently to make sure they stick to the bread while baking.
Pop the bread in the oven and wait for it to cook. Low carb baked goods always come out best if you can wait until they are completely cool before slicing. I know it's hard, but the result is worth it!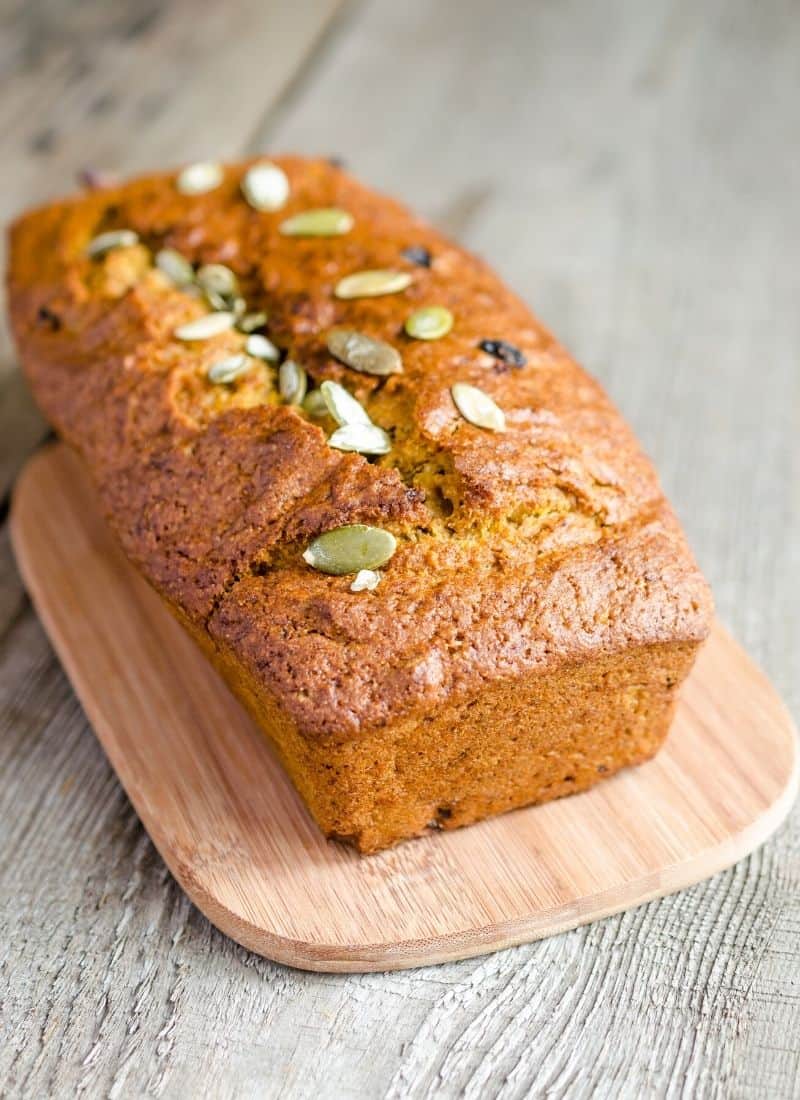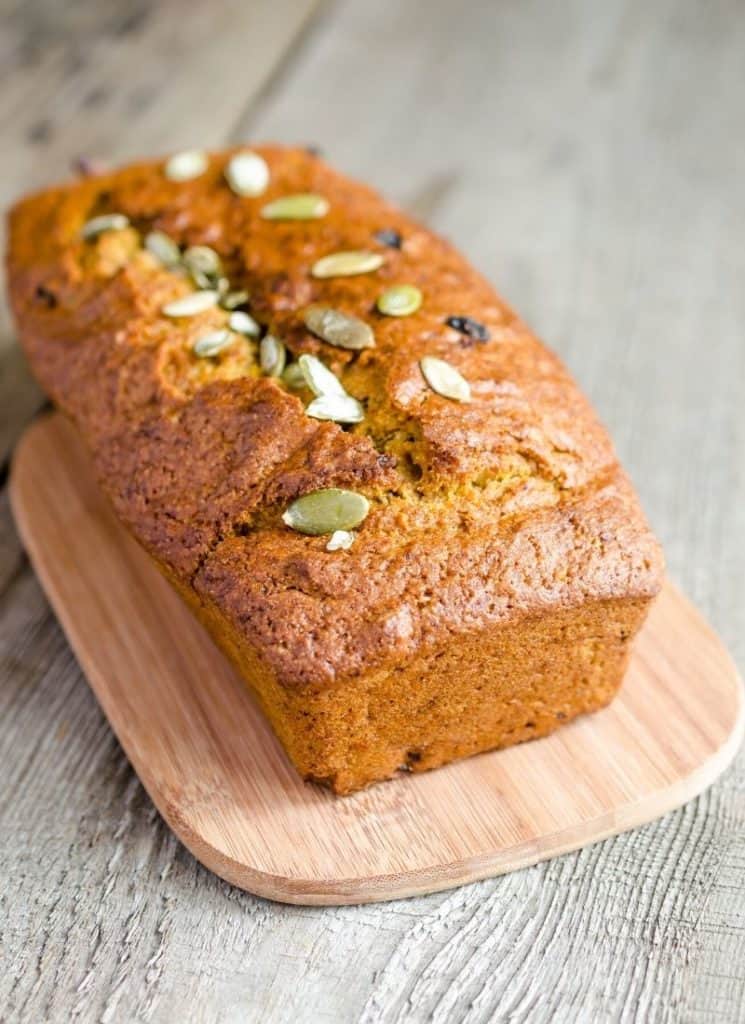 Can Coconut Flour Be Used For Keto?
In many ways, coconut flour is an ideal flour for the keto diet because it is naturally low in carbohydrate, high in fiber, and relatively inexpensive.
I like it because there is little to no phytates, lectins, oxalate, or other plant toxins that can trigger auto-immune reactions and digestive disturbances. If you are following a low oxalate diet, coconut flour is a great choice too!
There are many other keto breakfast ideas that use coconut flour. You won't have a shortage of recipes to try.
Coconut flour isn't the only ingredient to stock up on. There are many useful coconut products for a keto diet. Having a larder full of keto pantry staples makes low-carb baking a breeze.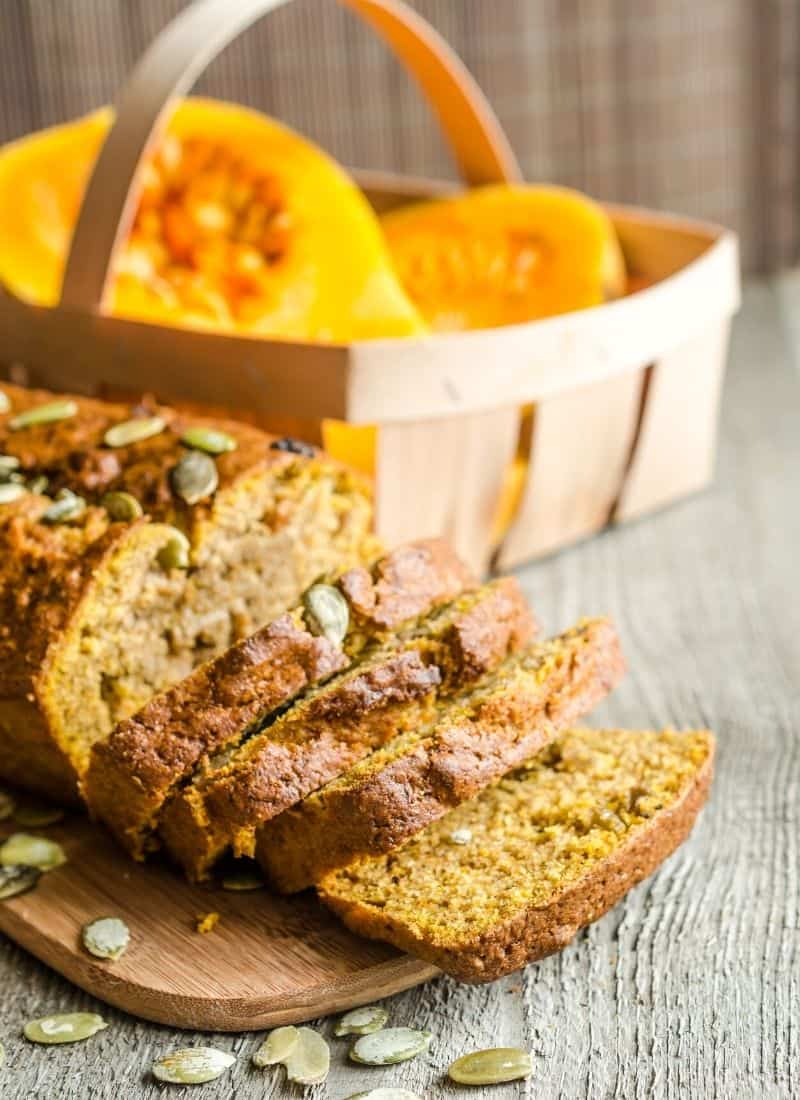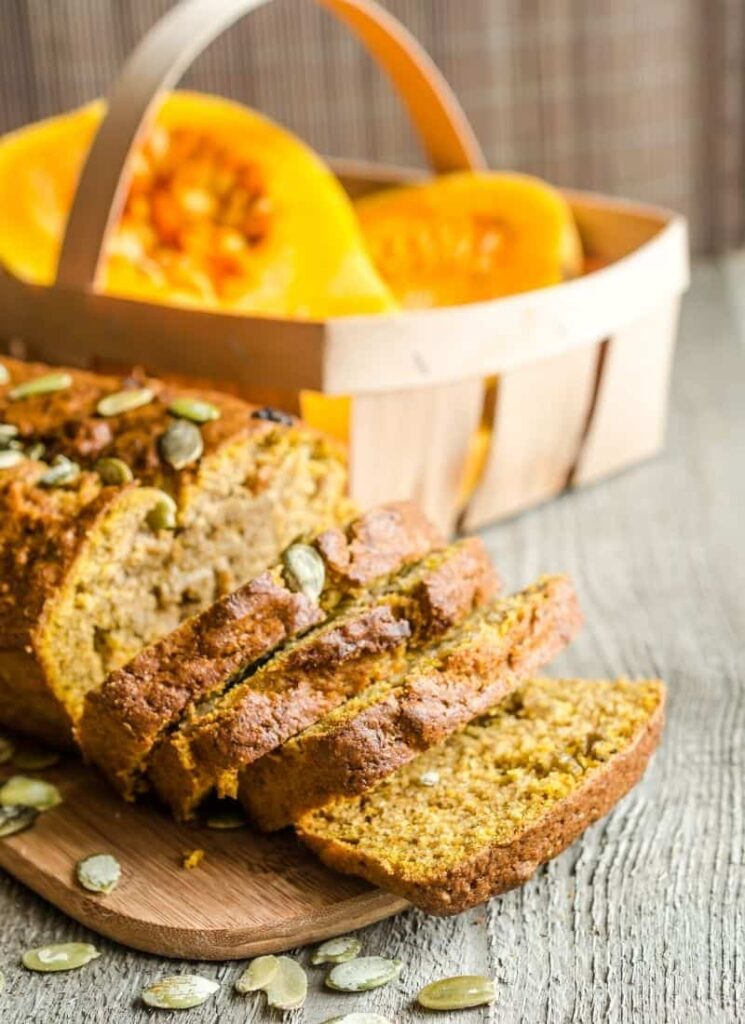 Pumpkin and Oxalate
Oxalate is a little known (and just barely scientifically understood) compound the naturally occurs in many plants. It can bind to minerals in the gut and prevent the body from assimilating them properly. (2)
Unfortunately, when eating in excess, oxalate (oxalic acid) can have a deleterious effect on the human body. Not only does it decrease the bioavailability of food but also results in chronic and acute skin rashes and eczema, severe joint and back pain, urinary issues, IBD, and other undesirable symptoms. (3, 4) Many modern health foods may be causing more harm than people understand.
Simple dietary changes, such as choosing ingredients from a low oxalate food list can help reduce the effects of oxalate toxicity by bringing intake down to moderate or low levels.
Pumpkin has low oxalate levels, even pumpkin seeds are noted to be acceptable on a low oxalate diet. (5, 6)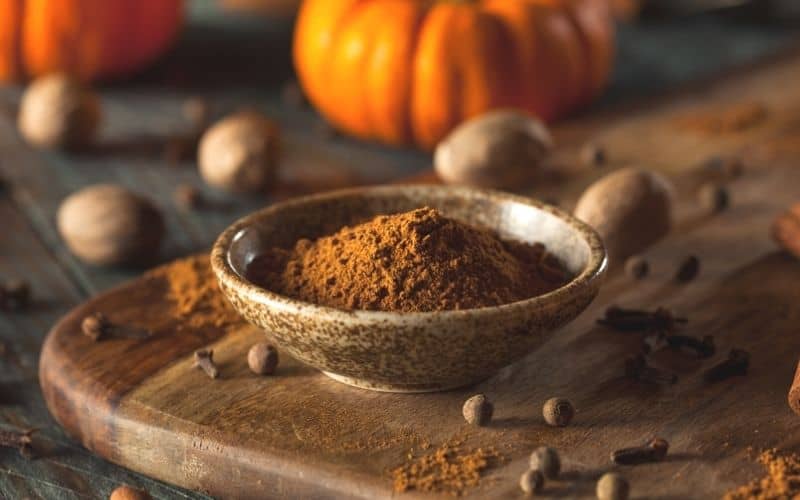 What Spices are in Pumpkin Bread?
Pumpkin bread is a classic fall recipe because it makes use of such an iconic fall vegetable, pumpkin. What goes better with pumpkin than pumpkin pie spice?
Pumpkin bread uses pumpkin pie spice which has a warming flavor thanks to the combination of cinnamon, ginger root, nutmeg, allspice, clove, and cardamom. This may be the most well known American spice blend. It's often associated with Thanksgiving, but who's to say we can't enjoy it all season long?
With roots as early a the 1890s, it wasn't until the 1950's that popularity really took off. Now this spice is used in a range of items from baked goods to lattes and lip balm to candles. (7, 8)
When it comes to herbs and spices, I always turn to Mountain Rose Herbs. I find their selection and quality unparalleled.
Read my review on Mountain Rose Herbs to learn more about my personal experience.
If you love this end of the year spice mix, I know you'll also adore Winter Spice Tea with a bold and robust aroma that is warming to the senses and body. Today's cold weather is the perfect time for hot tea, which I often drink as a healthy alternative to coffee in the morning.
Apple Spice Tea is on my list to try next because the sweet, yet earthy blend sounds so charming to drink while rain falls outside.
You know I'll be sipping these from my favorite my "Make Tea Not War" mug!
How to Store Keto Pumpkin Bread
This bread usually goes fast. It's fine to leave out on the counter for a few days while everyone enjoys it. A fresh loaf of keto pumpkin bread will stay good for a few days if kept in an airtight container on the counter.
It is best to store it in the fridge if you want to keep it longer. With cold storage, the bread will be good for up to 7 days.
Tips for Freezing Sugar-Free Pumpkin Bread
If you double batch this recipe or want to store leftovers for a long period of time, I recommend freezing the portion that you don't plan to eat right away.
After the bread is completely cool, freeze the loaf whole or divide the pumpkin keto bread into slices ahead of time.
To freeze the whole loaf, simply place it in a freezer-safe bag and squeeze out the air. Write a label with the recipe name and date you made it then, tuck it away to freeze.
Layer parchment paper between bread slices so you can easily separate them once frozen. This is a nice way to have portion-controlled servings all ready to go. If you only want one or two, remove them from the stack and defrost. The rest can stay in the freeze for another time.
Warm and cinnamon-sweet, this hot keto cereal is another great breakfast for fall!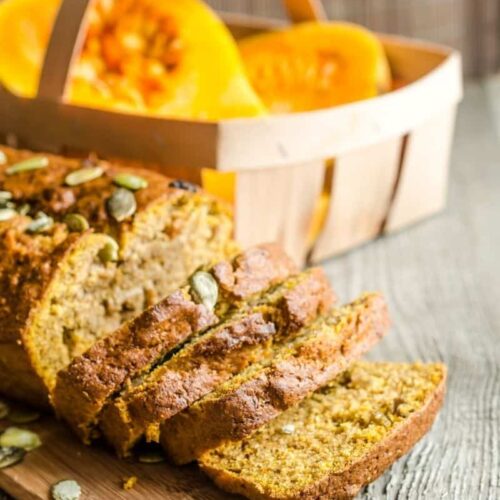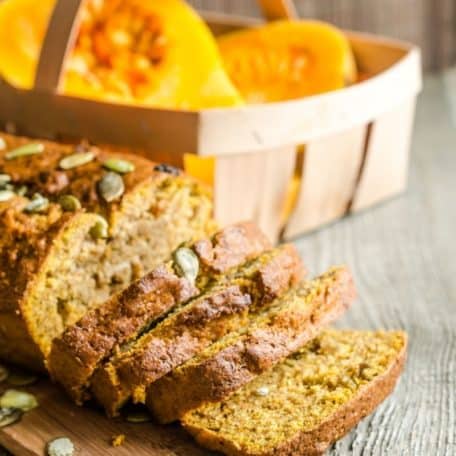 Keto Pumpkin Bread Recipe with Coconut Flour
Enjoy a Keto Pumpkin Bread Recipe this fall! Celebrate the change of season with a macro friendly pumpkin bread that is easy to make and entirely low carb, dairy-free and sugar-free. It's flavorful and moist, sure to be a new fall favorite this year.
Instructions
Preheat the oven to

350

°F

(177°C). Line a 9×5-inch (23×13 cm) bread pan with parchment paper or grease well.

Mix the dry ingredients (coconut flour, sweetener, baking powder, pumpkin pie spice, salt, baking soda) together in a mixing bowl. Reserve the pumpkin seeds.

¾ cup coconut flour,

½ cup Keto brown sugar substitute,

1 teaspoon baking powder,

1 ½ tablespoon pumpkin pie spice,

½ teaspoon salt,

¼ teaspoon baking soda

Combine all wet ingredients in a second bowl (pumpkin puree, eggs, coconut oil, vanilla). Slowly add the dry mixture into the wet bowl and combine well.

1 cup pumpkin puree,

6 large eggs,

½ cup coconut oil,

1 teaspoon vanilla extract

Pour the batter into the bread pan and spread with the back of a spoon or spatula until all is an even level.

Sprinkle the pumpkin seeds over the top and gently press down so they stick.

Bake for

45 minutes

, until the top crust is golden brown and firm. Test the center with a toothpick, if it comes out clean the bread is done. If not, put it back for another

10 minutes

, or so

Place on a cooling rack and wait until thoroughly cool before removing and slicing. When ready to release from the pan, pull up evenly on both sides of the parchment paper. Cut into 9 1-inch thick pieces.
Notes
If you buy canned pumpkin puree from the store, make sure it's sugar-free for this to still be a keto recipe.
Nutrition & Macros
Serving:
1
slice
Calories:
204
kcal
Carbohydrates:
8
g
Protein:
6
g
Fat:
17
g
Saturated Fat:
13
g
Sodium:
228
mg
Fiber:
4
g
Net Carbohydrates:
4
g
To obtain the most accurate representation of the nutritional information in a given recipe, please calculate the nutritional information with the actual ingredients and amounts used, using your preferred nutrition calculator. Under no circumstances shall the this website and the author be responsible for any loss or damage resulting for your reliance on the given nutritional information.
Made this? Leave a Rating! ⭐⭐⭐⭐⭐
Tag a photo with @Primal_Mom and #PEHRecipe on Instagram to share with us!
Thank you again to Mountain Rose Herbs for bringing you this recipe!
More Keto Pumpkin Recipes
Take a look here if you want more pumpkin flavored or keto breakfast recipes:
If you're just getting started with gluten-free baking (grain free and keto too), I highly recommend The Ultimate Guide to Low-Carb Baking for all you need to know about budget and family-friendly sweet and savory baked goods.