Start the day with this hot keto cereal recipe. This low-carb breakfast will become a family favorite fast, featuring coconut flour, flax seed, chia seed, eggs, and other wholesome ingredients.
The best part is this tasty bowl is packed with fiber, protein, and healthy fats and is perfect for anyone on a low carb diet. With a simple ingredient list and easy prep, this homemade keto cereal is a tasty and convenient way to start the day.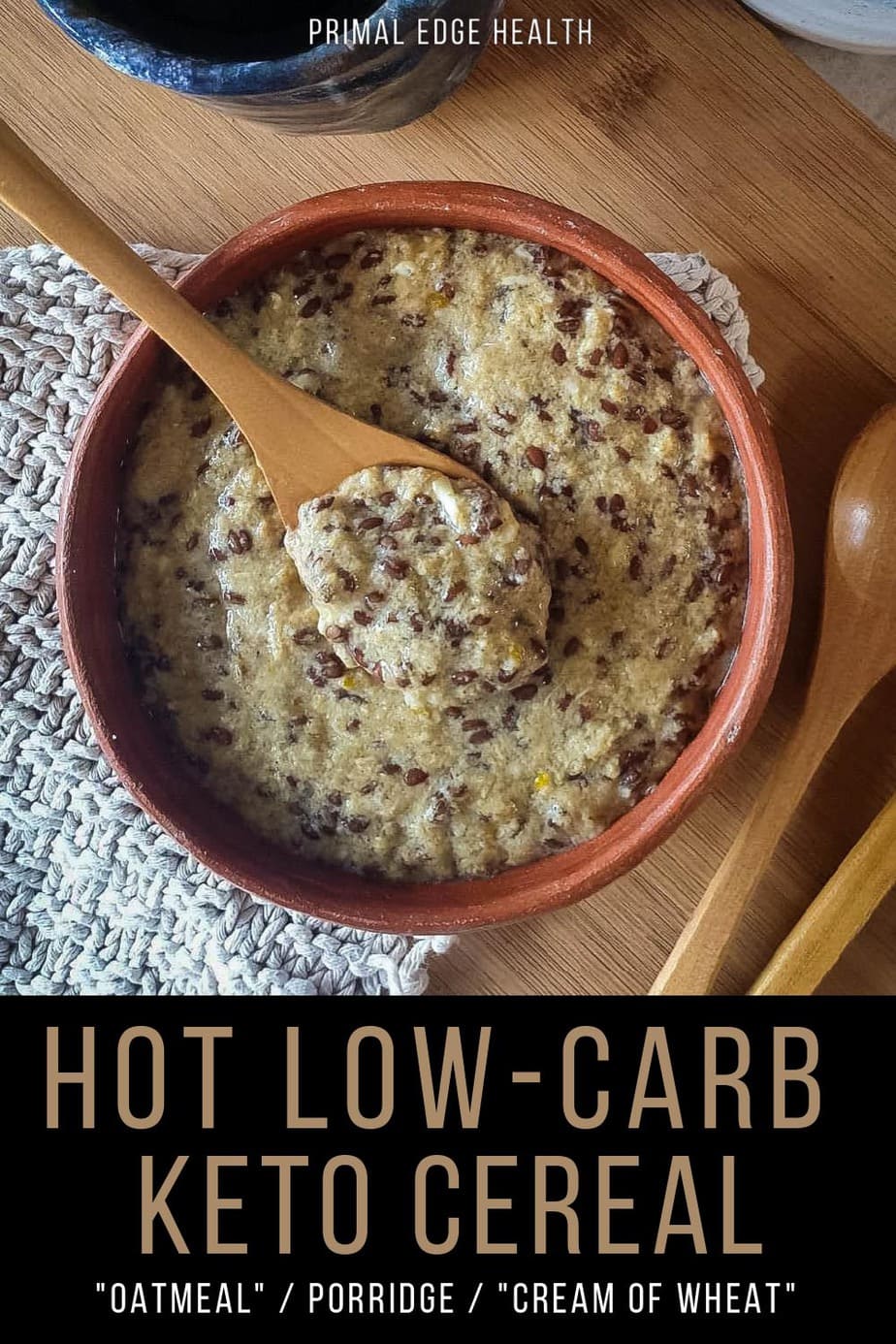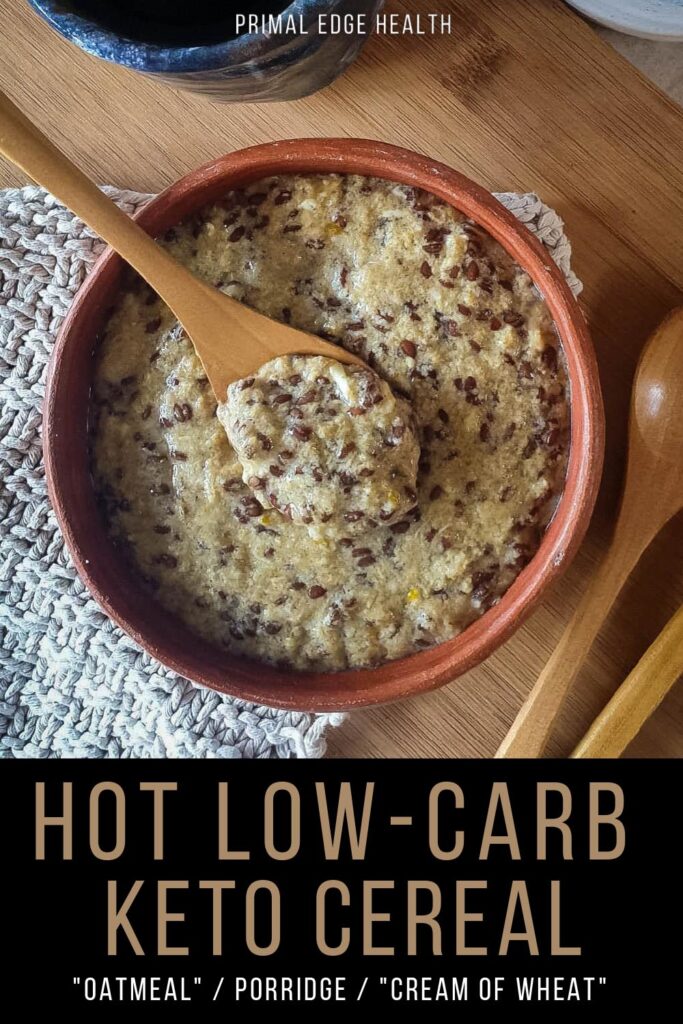 Table of Contents (click to view)
Hot Keto Cereal Recipe
The thick porridge base has a neutral taste and texture, similar to oatmeal, making it the perfect medium to pick up the flavors of cinnamon and vanilla.
Add ingredients like unsweetened shredded coconut, seasonal berries, almond butter, or sprouted pumpkin seeds for extra texture and nutritional content – and you have the best keto cereal!
I appreciate starting the day with substantial protein and fats early in the morning. For me, breakfast is the biggest meal of the day. I usually reach for an omelet stuffed with garden vegetables, like the one you see in my Day of Eating video.
However, not all days are the same, and sometimes, I just want to cozy up to a bowl of warm and creamy cereal like the cream of wheat I grew up eating. On those mornings, this keto breakfast cereal of chia, flax, and coconut is a great option.
Healthy Keto Breakfast Options
One of the great benefits I've experienced on keto is completely adapting to eating a high-protein breakfast. It's a huge relief to finally break the addiction to sugary meals and high-carb ingredients first thing in the morning.
Eating keto waffles, keto pancakes, and keto French toast will always be better for your diet goals eating than their wheat-based high-carb counterparts. Still, you'll do yourself a favor by prioritizing savory protein for the best long-term dietary success. I love this keto breakfast cereal because it combines the best two options: a delicious sweet flavor with high-protein macros.
A lot of traditional cereals from the grocery store are grain-based and have added sugar that can cause high blood sugar, GI problems, and food cravings. That makes this option all the more important as the best way to enjoy stable blood sugar and the comfort of a family favorite food on a keto diet.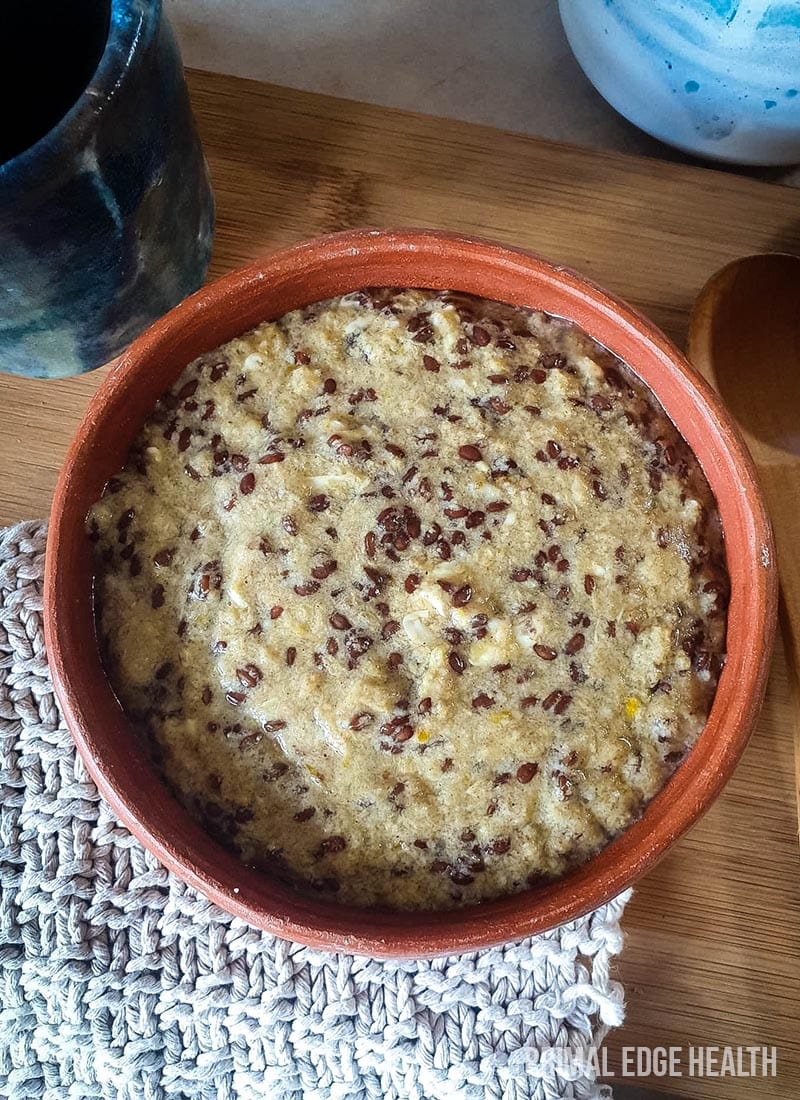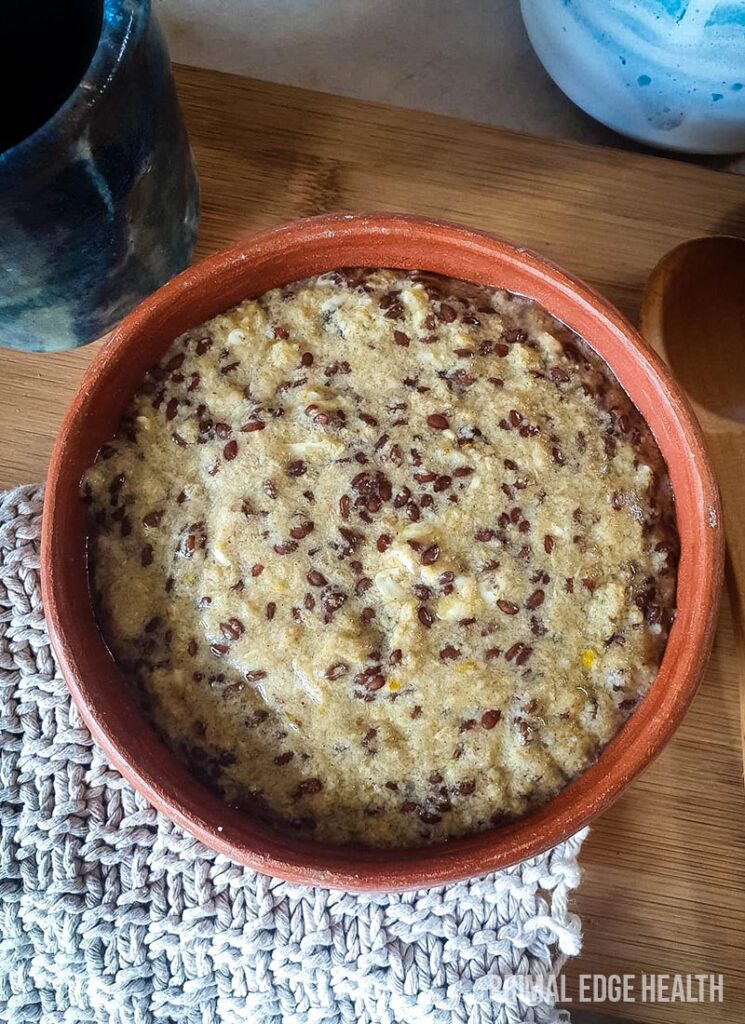 Keto-Friendly Cereal Recipe
Gather these simple everyday low-carb ingredients, and you're on your way to a hearty and delicious sugar-free cereal in just 10 minutes!
Ingredients
Coconut flour – Provides a low-carb, high-fiber base for the cereal, adding a slightly nutty flavor and thick texture.
Flax seeds – Adding these seeds to the keto cereal helps promote a rich and creamy consistency as flax seeds become gelatinous when added to liquid. Flax seeds are also a good source of dietary fiber which may help you feel full and satisfied.
Chia seeds – Like flax seeds, chia seeds are also rich in fiber and healthy fats. Chia seeds in hot cereal add a pleasant texture and a subtle crunch, making for a more satisfying and enjoyable bowl of cereal.
Keto granulated sweetener – Using a low-carb sugar alternative, such as monk fruit sweetener, adds sweetness to the cereal without adding sugar or carbs.
Eggs – A great source of protein, making keto cereal satiating and satisfying. Eggs also help to bind the cereal together.
Coconut cream – Provides a subtly-sweet creamy base that's delicious and keto-friendly.
Cinnamon – Adds incredible warmth and flavor to the cereal.
Vanilla extract – Vanilla adds a pleasant aroma and taste, balancing out the cinnamon.
Salt – Salt enhances all the flavors, producing a well-rounded delicious keto cereal.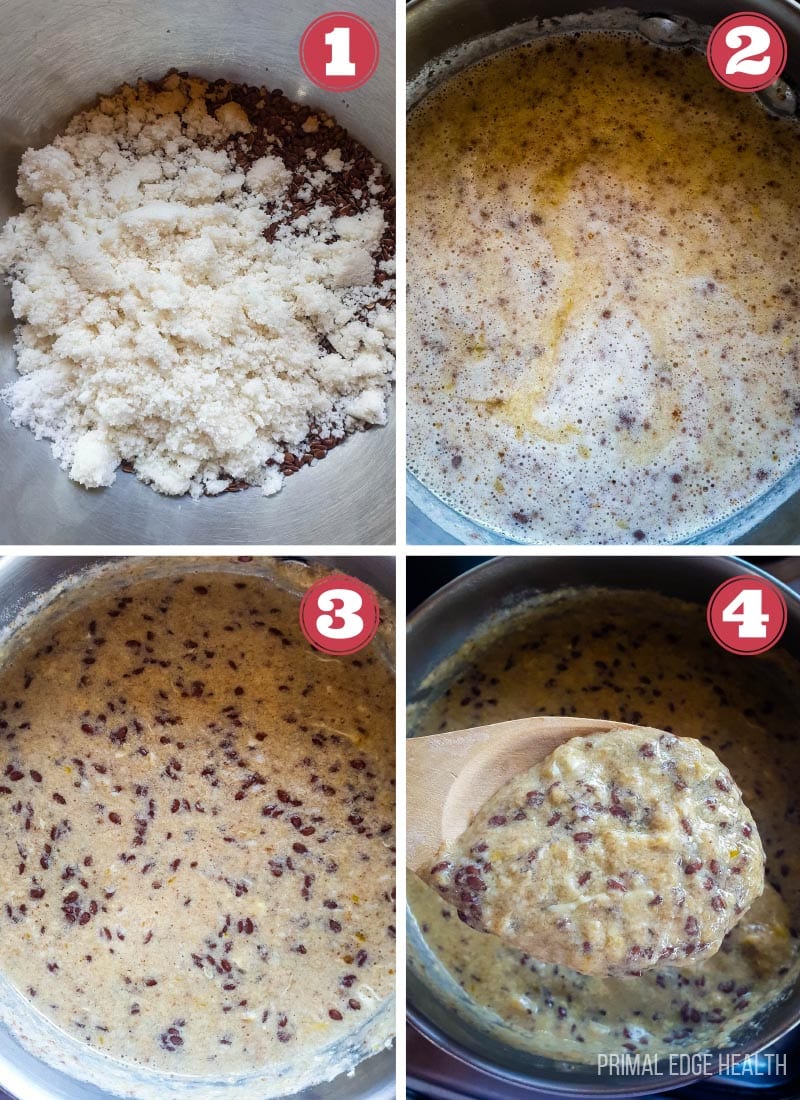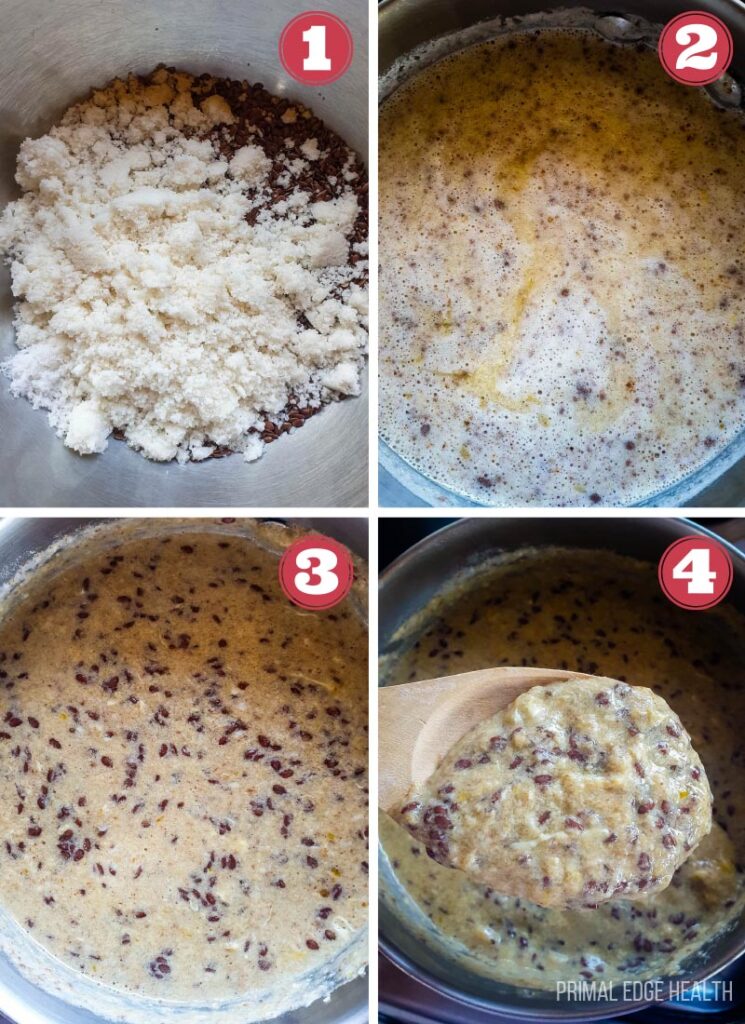 Step-by-Step Instructions
Follow these simple steps, and you'll make this keto-friendly cereal perfectly the first time you try it!
Step 1: Cook
Combine coconut flour, flax, and chia seeds with water in a small saucepan over medium heat. Bring to a simmer and cook for about five minutes.
Step 2: Add
Stir in the sweetener, cinnamon, vanilla and salt. Reduce to low heat.
Step 3: Whisk
Whisk eggs in a small bowl and add to the pot. Continue cooking until cereal has thickened, approximately five minutes.
Step 4: Serve
Serve warm with cream on top and your favorite optional toppings like berries, nut butter, nuts or chocolate chips.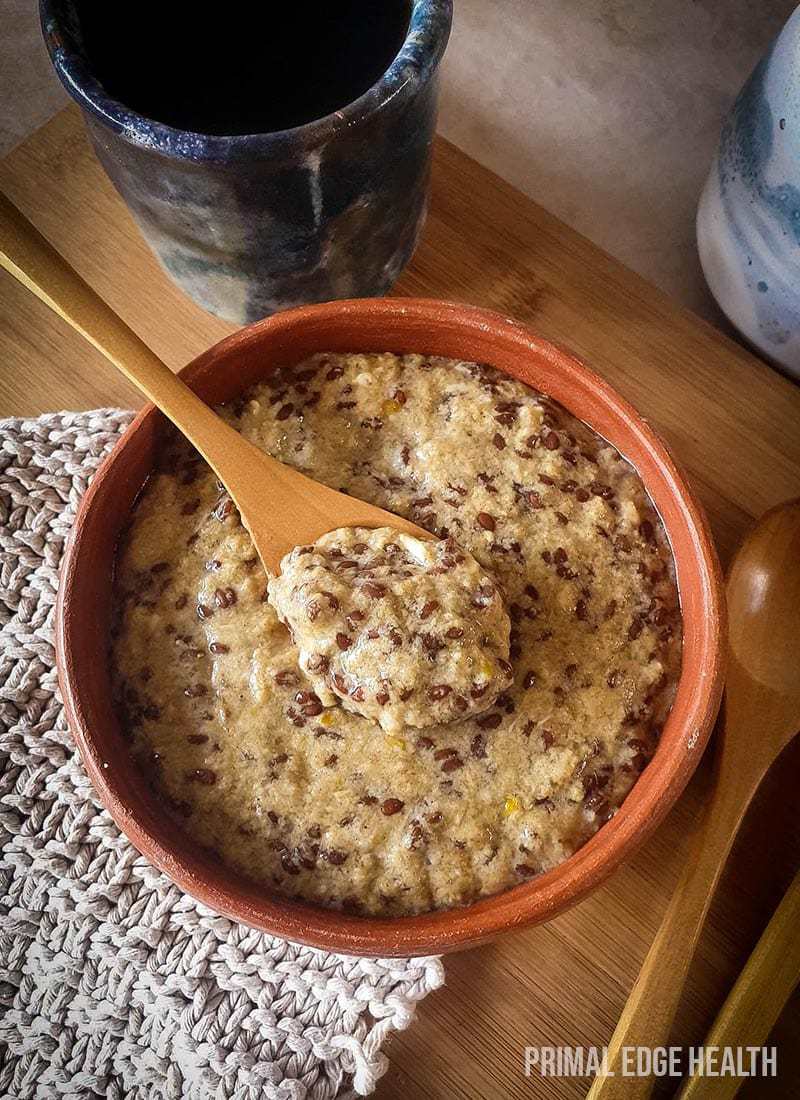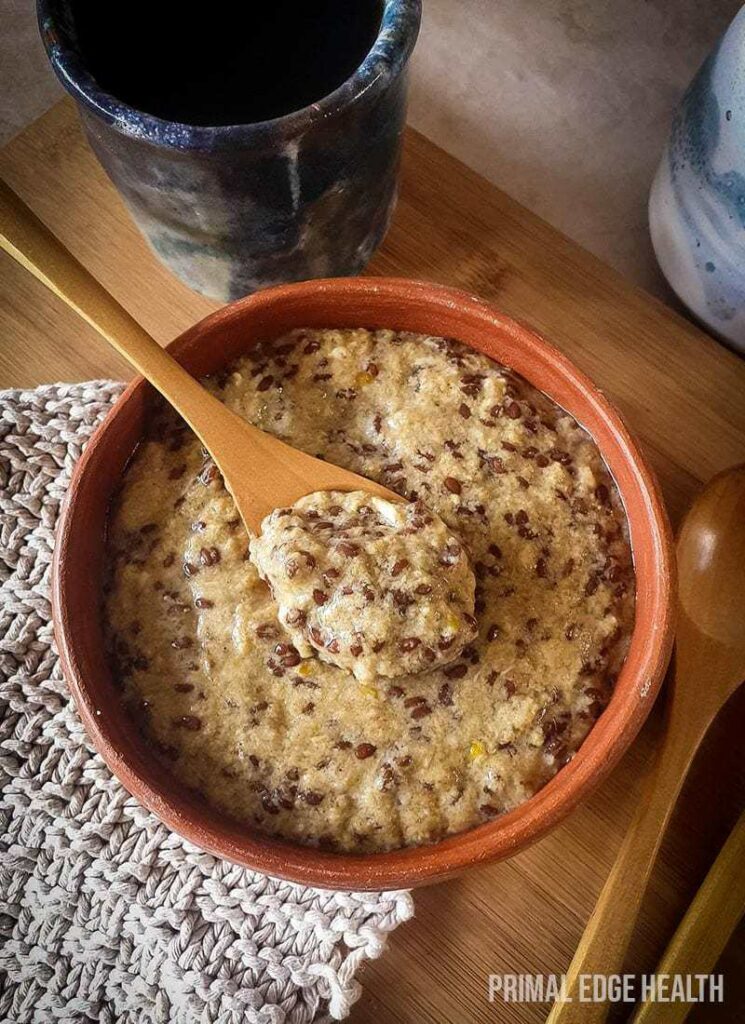 Nutritional Info for Keto Hot Cereal Recipe
This keto cereal recipe yields four servings. Would you believe me if I said that a serving of this homemade recipe has only six grams of net carbs? it's true.
Each serving contains:
231 calories
18 g protein
20 g fat
19 g total carbs
13 g fiber
6 g net carbs
Please note that the nutritional value will change if you substitute ingredients. Use a nutrition app to recalculate and reflect your changes.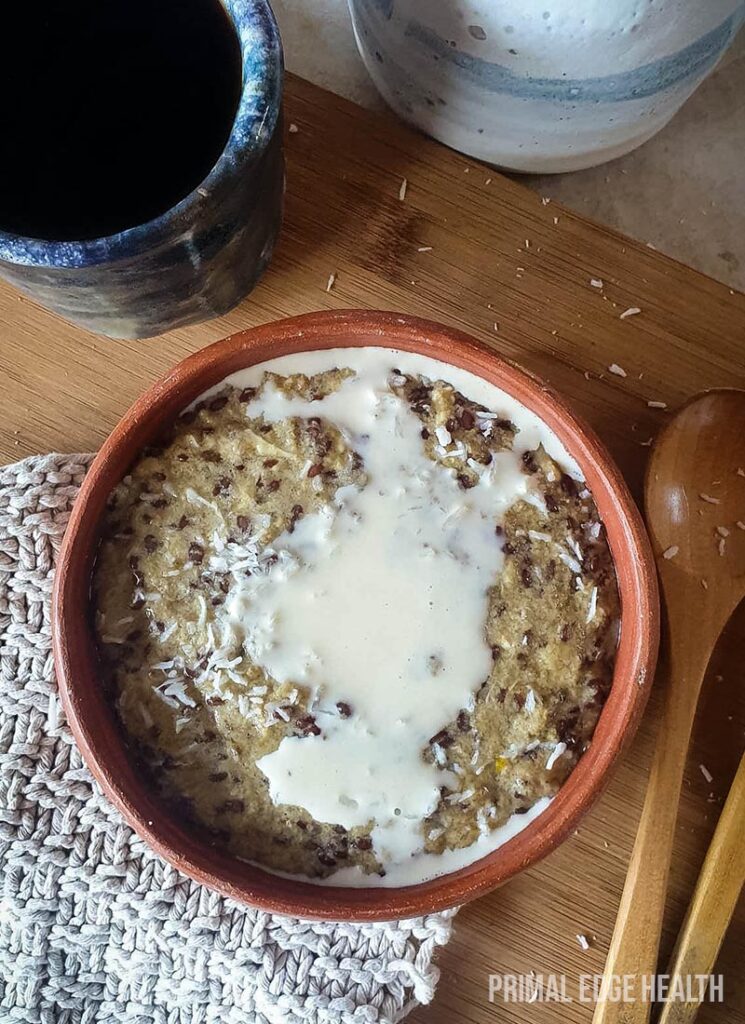 Substitutions and Variations
This low-carb cereal is a simple recipe that brings major comfort food vibes on a busy morning.
Check out these simple ways you can dress up your bowl of cereal:
Frozen or fresh berries – Low-carb berries like raspberries, blueberries, and blackberries are great toppings. Chopped strawberries make an excellent choice as well.
Nut butter – Almond or peanut butter adds richness and healthy fats to this breakfast bowl.
High-protein – Add a scoop of your favorite protein powder or collagen peptides for extra protein. 
Crunchy – Sprinkly on crunchy toppings such as unsweetened coconut flakes, hemp hearts, cacao nibs, pepitas, or sunflower seeds. 
Chocolate – Add a teaspoon or two of cacao powder to the cereal mixture and top with low-carb chocolate chips for a healthy indulgence all chocolate lovers will enjoy.
Diet Modifications
As written in the recipe card, this recipe is naturally keto, low-carb, sugar-free, dairy-free and gluten-free. If you have additional dietary needs, consider the following modifications.
Whole30 – Omit sweetener or use date paste.
Paleo – Paleo-friendly as is, but for true paleo, use coconut sugar, honey, or maple syrup for sweetener.
GAPS – Swap the keto-friendly sweetener with raw honey.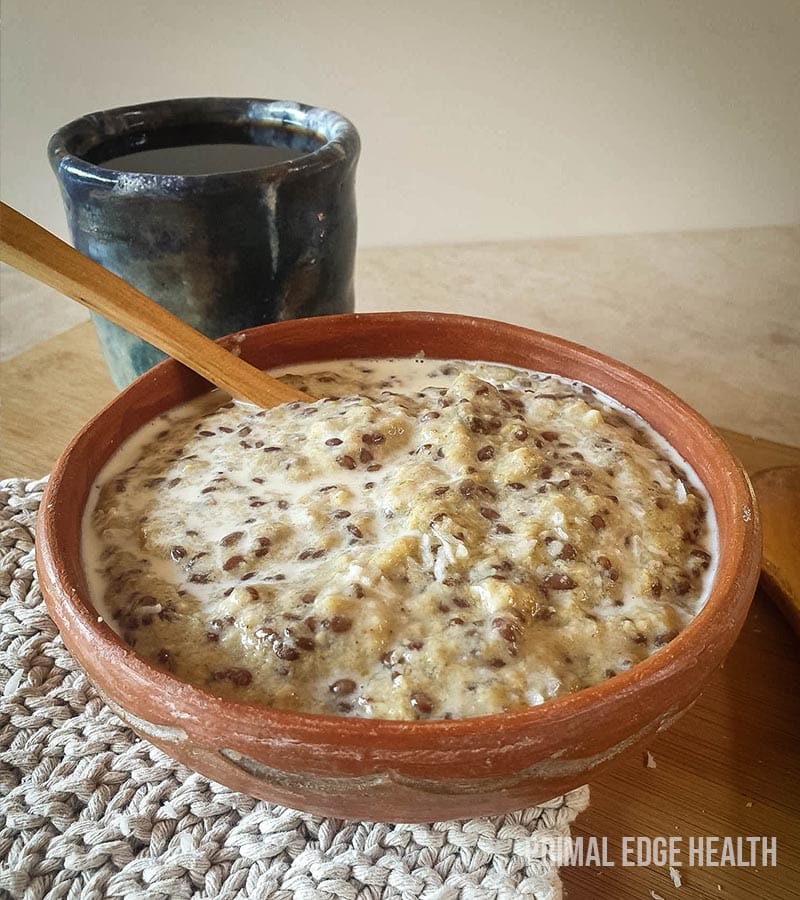 Hot Cereal FAQ
Can I make keto cereal ahead of time?
Yes, you can make a batch of homemade cereal ahead of time and store it in the refrigerator in an airtight container for up to three to four days. Reheat it on the stovetop over medium-low heat with a little extra almond or coconut milk until warmed through. 
How can I adjust the thickness to the cereal to my liking?
Depending on your preference, you can easily adjust how thick or thin your cereal is by adding more or less liquid. To thin it out, add a little more liquid like water, coconut milk, or unsweetened almond milk. If the cereal is too thick, add a scant teaspoon of coconut flour and cook gently on low heat. 
Can I use almond flour instead of coconut flour in this recipe?
Coconut flour and almond flour have different absorbency rates and are not interchangeable. It is best to use coconut flour in this recipe.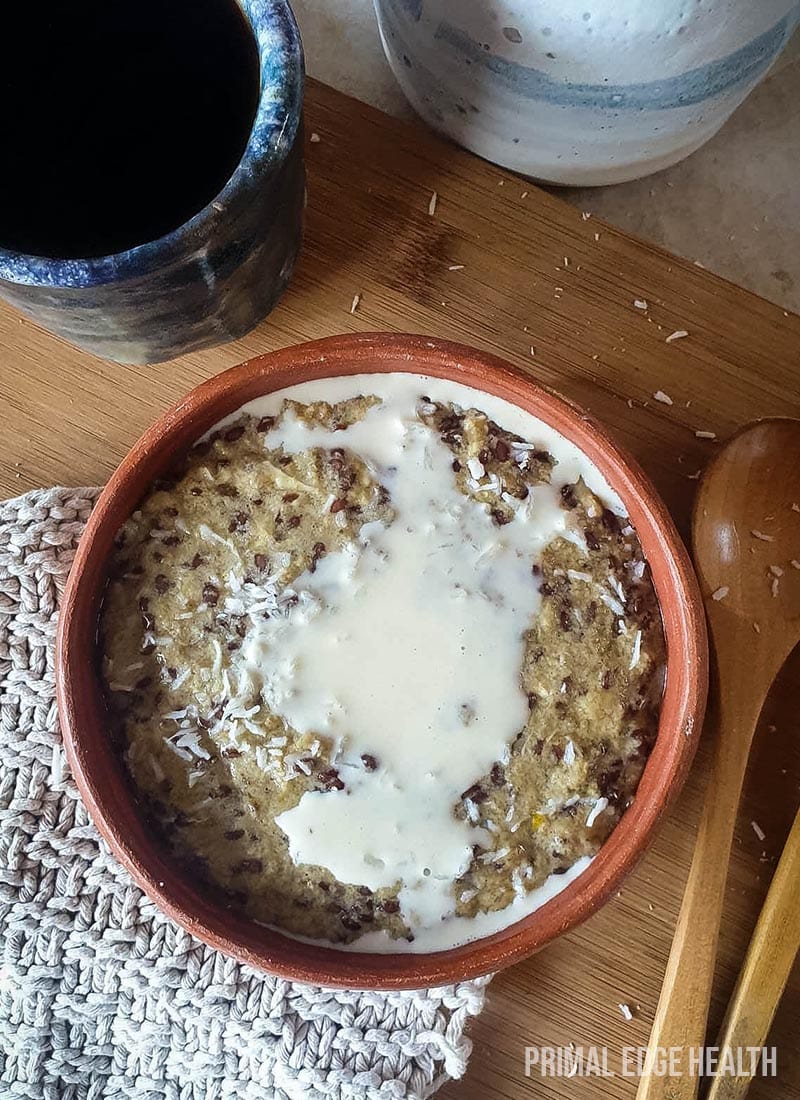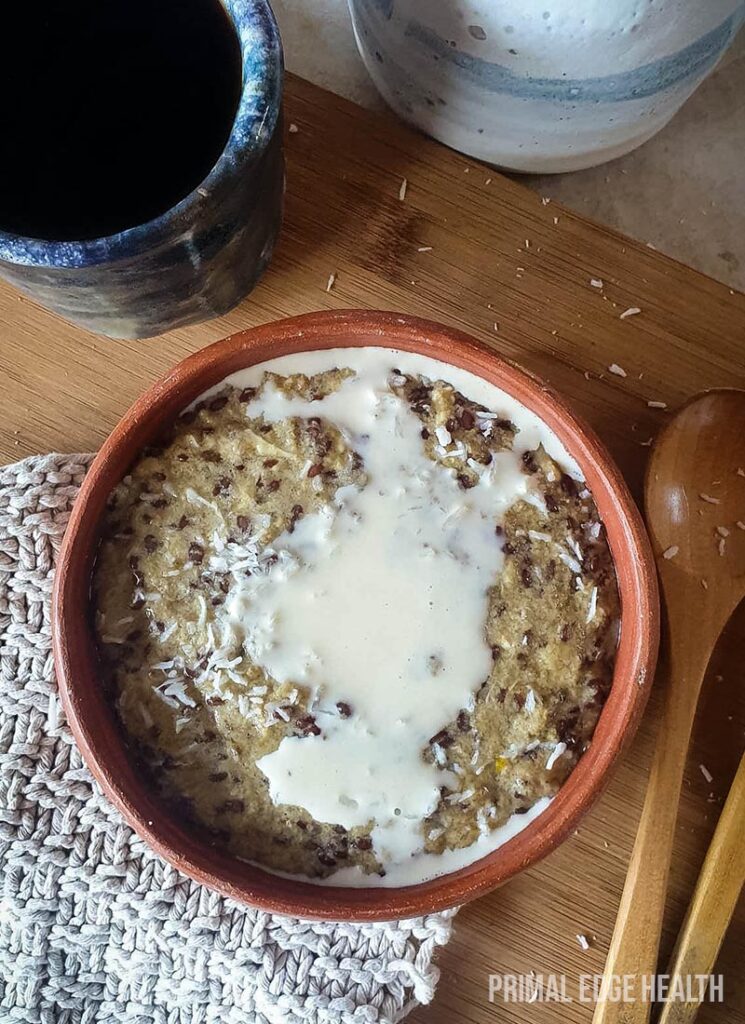 More Keto Breakfast Recipes
There are so many great keto breakfast ideas to try! Many are ready in one-half an hour or less.
Treat your family to keto blueberry scones or start the day with coconut flour pancakes. You can also whip up a blueberry avocado smoothie or green smoothie for super busy mornings.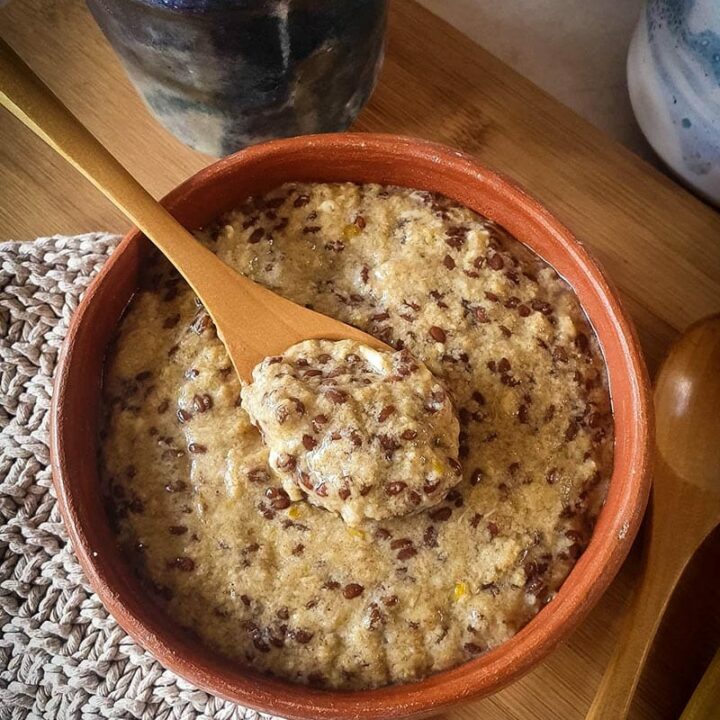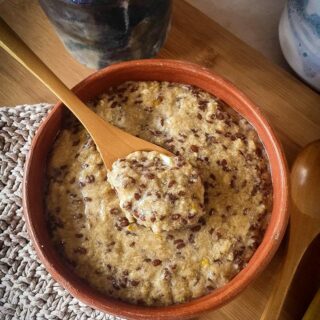 Hot Keto Cereal (Low-Carb Oatmeal)
This fiber rich, hot keto cereal recipe is quick to make and gives you a combination of protein and fat for breakfast. With easy recipes like this, you can enjoy comfort food like porridge, oatmeal, and cream of wheat on a keto diet.
Instructions
Combine coconut flour, flax, and chia with the water in a small saucepan over medium heat. Cook for about

5 minutes

, as it comes to a simmer.

½ cup coconut flour,

¼ cup flax seed,

¼ cup chia seed,

3 cups water

Mix sweeter, cinnamon, vanilla, and salt in a small bowl. Add to the pot and stir to combine.

¼ cup Keto sugar substitute,

1 teaspoon ground cinnamon,

1 teaspoon vanilla extract,

¼ teaspoon salt

Reduce heat to low. Stir in the whisked eggs and continue cooking until cereal has thickened, approximately

5 minutes

.

Serve warm with cream on top. Divide optional add-ins equally between all servings.

4 tablespoons coconut cream,

¼ cup berries,

1 tablespoon almond butter,

1 tablespoon unsweetened shredded coconut,

1 tablespoon hemp seeds,

1 tablespoon cacao nibs
Notes
Add your favorite nuts and seeds as a garnish on top.
Nutrition & Macros
Calories:
231
kcal
Carbohydrates:
19
g
Protein:
18
g
Fat:
20
g
Saturated Fat:
8
g
Sodium:
193
mg
Fiber:
13
g
Net Carbohydrates:
6
g
To obtain the most accurate representation of the nutritional information in a given recipe, please calculate the nutritional information with the actual ingredients and amounts used, using your preferred nutrition calculator. Under no circumstances shall the this website and the author be responsible for any loss or damage resulting for your reliance on the given nutritional information.
Made this? Leave a Rating! ⭐⭐⭐⭐⭐
Tag a photo with @Primal_Mom and #PEHRecipe on Instagram to share with us!
Save