This Keto French Toast Recipe has the classic taste and texture of traditional French toast without extra carbs. This comforting breakfast dish is subtly flavored with cinnamon and vanilla and has only 5 grams of net carbs per serving! Plus, the entire recipe comes together quickly in just 30 minutes.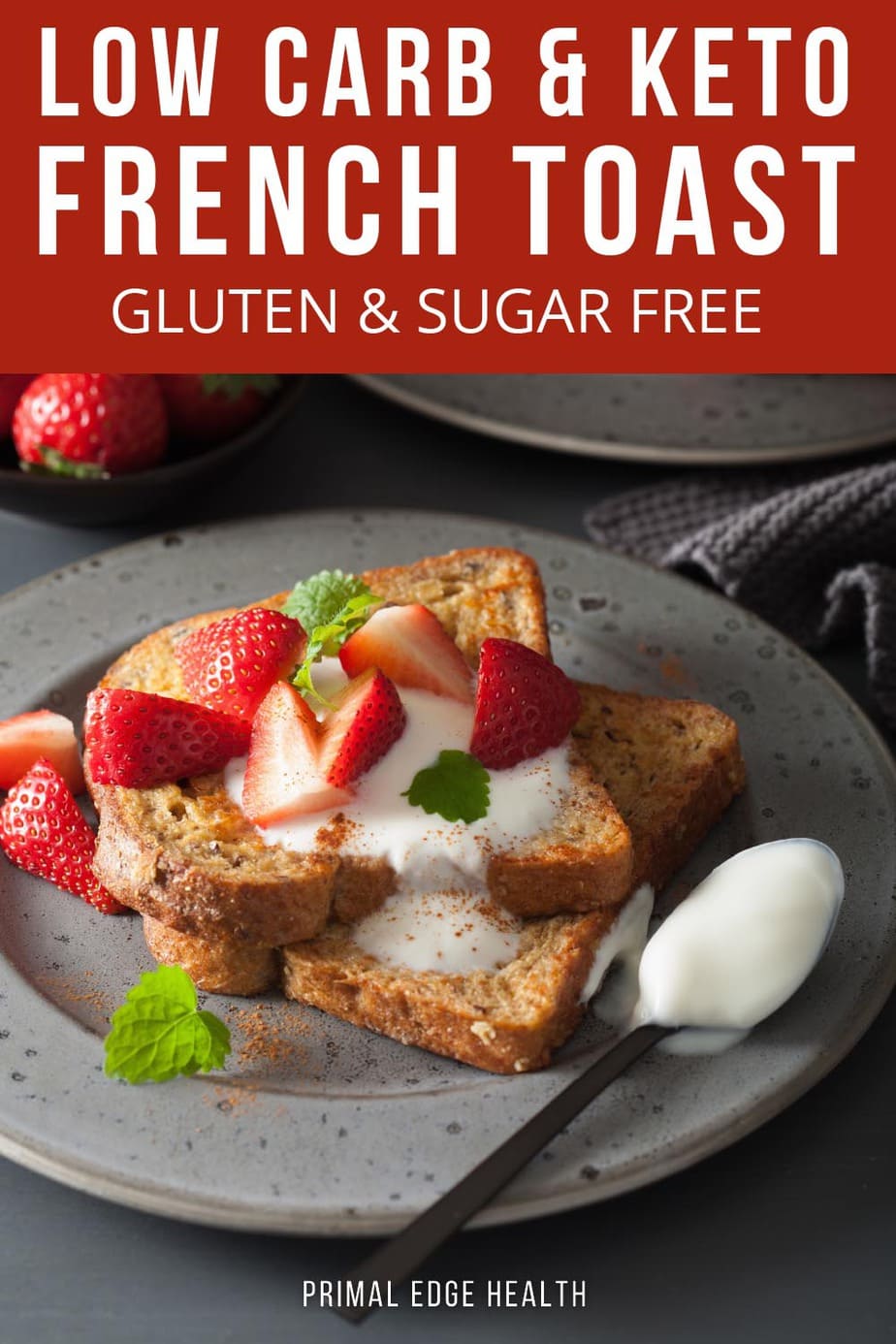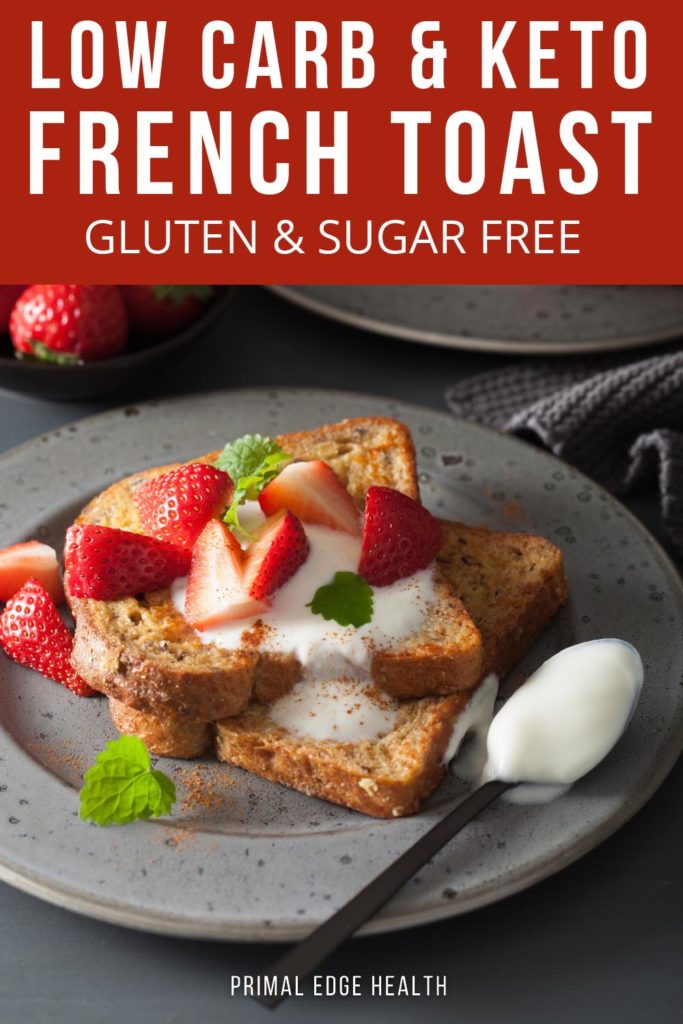 Table of Contents (click to view)
Keto French Toast Recipe
Keto French toast is a delicious and satisfying breakfast that is low in carbs and perfect for anyone following a keto diet. You can enjoy all the classic flavors and textures of regular French toast without derailing your diet by using low-carb bread and keto-friendly sweeteners.
Plus, you can jazz up your keto French toast to suit your taste preferences with various toppings, such as butter, sugar-free syrup, berries, and full-fat Greek yogurt. You can even make savory French toast if sweet isn't your flavor.
Whether you're looking for a weekend brunch recipe or a quick breakfast on busy mornings, keto French toast is a must-try recipe for anyone looking for a healthy and delicious breakfast.
Looking for more low-carb ideas to start your day, you will love this collection of family-friendly keto breakfast recipes?
If you prefer your French toast to have that perfect texture with custard-like creaminess, you will love this recipe. Consider this an elevated version of plain keto toast with the perfect balance of eggs, heavy cream, cinnamon, and vanilla. Each bite is irresistibly rich and satisfyingly decadent.
Ready to make keto French toast the entire family will love?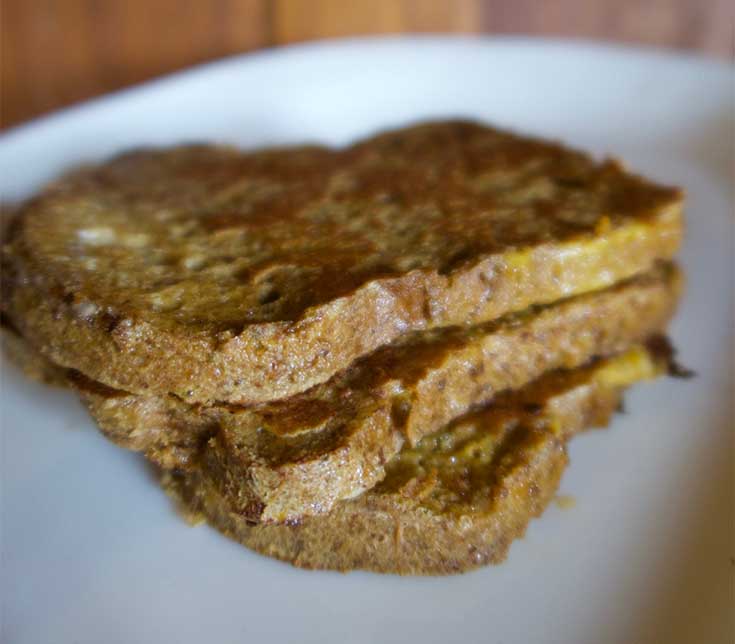 How to Make Keto French Toast
Gather a few simple ingredients, mix them, then fry the bread until golden brown, and you can sit down to a hot breakfast of French toast in less than 30 minutes!
Ingredients
Keto bread – This psyllium husk keto bread is my first choice for French toast. After cooking, the crust gets crispy, while the center is soft and chewy. It's delicious! However, if you already have a favorite keto bread recipe, you can substitute it with whichever one you like best.
Eggs – A necessary ingredient as the bread is soaked in the egg batter before cooking. Eggs also add excellent protein and texture to the dish.
Heavy cream – Cream replaces the need for milk in traditional recipes; heavy whipping cream adds richness and creaminess to low-carb French toast.
Flavors – I adore ground cinnamon and vanilla extract in the batter, but you could omit them.
Butter – A healthy fat is necessary to fry each piece of bread until toasty and golden brown.
Toppings – I suggest serving with full-fat Greek yogurt and fresh strawberries, however, these are optional, and you can enjoy plain French toast just as well. Homemade yogurt is a delicious substitution for Greek yogurt.
You may also like serving with keto maple syrup and dusting with a powdered sugar substitute.
Substitutions and Variations
The best part about this recipe is that with small modifications, you can tailor it to best suit your diet and fit your lifestyle. Using good quality low carb bread will ensure your French toast will remain low-carb.
Check out these easy ways to modify the recipe and adjust for particular dietary needs:
Paleo diet – Use a paleo bread and swap heavy cream with coconut milk and use ghee instead of butter when frying the toast.
GAPS – Use GAPS-compliant bread. Dairy is permitted in moderation. Top French toast with raw milk yogurt, strawberries, and a little bit of honey.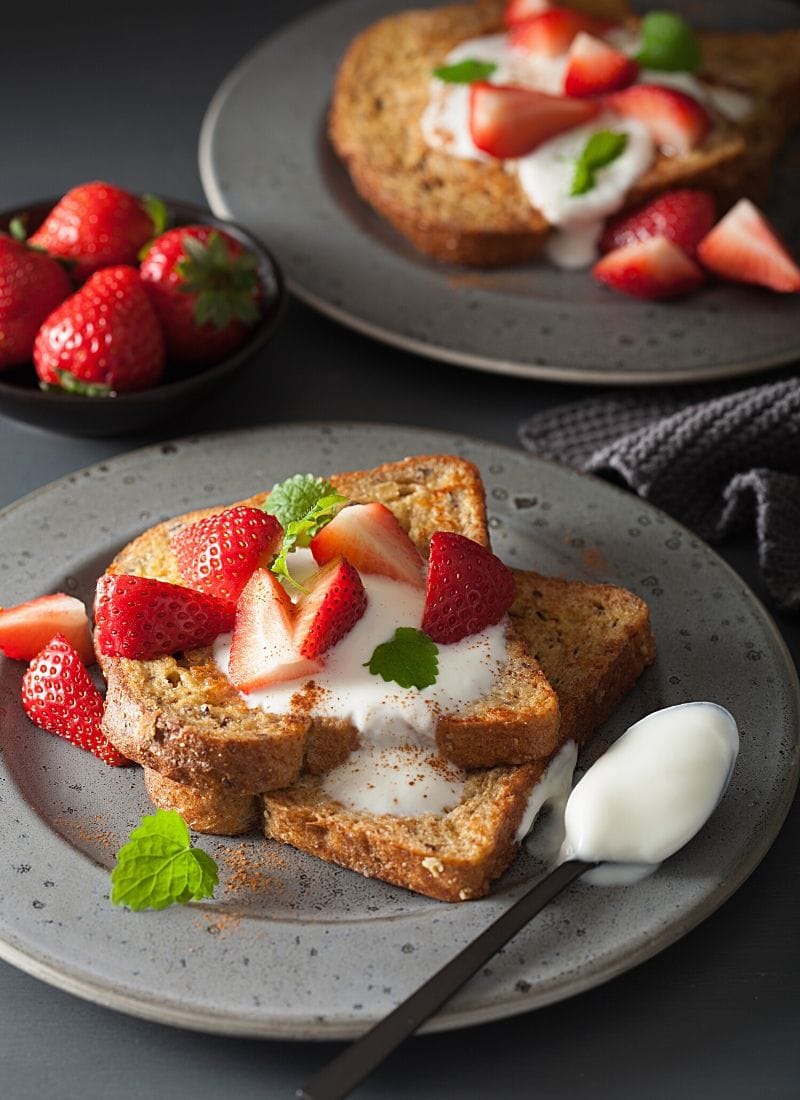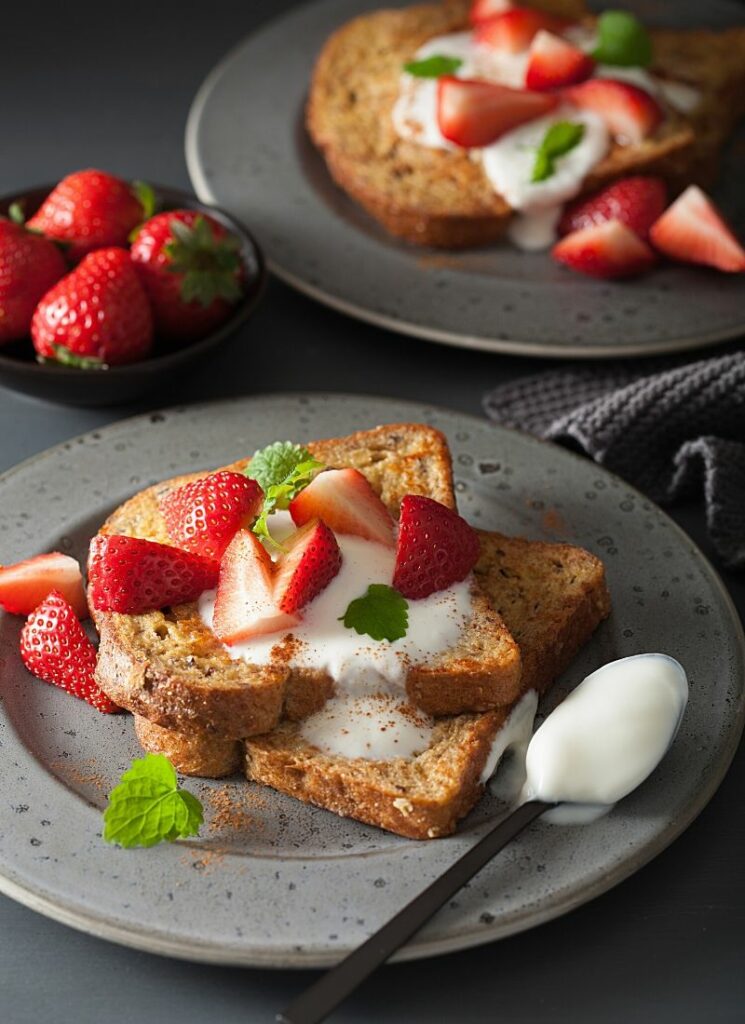 Step-By-Step Directions
Step 1: Whisk
In a shallow bowl, whisk the egg and cream together. Add cinnamon and vanilla and stir well to combine.
Step 2: Heat
Heat the butter in a large skillet or frying pan over medium-low heat.
Step 3: Dip
Dip each slice of bread into the egg mixture and ensure both sides are coated evenly with the egg batter.
Step 4: Fry
Add the coated bread slices to the hot pan in a single layer and cook until the bottom is golden brown, about 1-2 minutes.
Flip the bread and cook the other side until it's golden brown, an additional 1-2 minutes.
Repeat until all slices of bread have been cooked, adding more butter to the pan if needed.
Step 5: Serve
Serve the French toast warm with optional strawberries and yogurt.
If necessary, leftover French toast can be stored in an airtight container in the refrigerator for up to 3 days.
Serving Suggestions
There is no wrong way to serve this easy breakfast dish. Nothing is better than waking up on a Saturday morning to a plate of keto French toast with a pat of butter and sugar-free maple syrup. An easy way to add richness is to serve it with a dollop of Greek yogurt or whipped heavy cream and top it with fresh berries.
Additionally, you can make minor adjustments in serving this low-carb breakfast. Consider these fun ways to jazz up this class morning meal:
Kid-friendly: Cut the bread into keto French toast sticks and have the kids dip them into their favorite syrup.
Feed a crowd: Make a French toast casserole by cutting the bread into small pieces, pouring the mixture of eggs over it in a baking dish, and baking it for a breakfast that instantly feeds the whole family.
Savory French Toast: Instead of berries and sweet syrup, consider topping them with sour cream, cheddar cheese, bacon bits, and green onions. Savory pancakes are a thing too and just as good as a sweet option.
Nutritional Info for Strawberry French Toast Recipe
There are four servings of this low carb French toast recipe.
Each serving contains:
359 calories
6g protein
30g fat
17g total carbs
12g fiber
Please note that the nutritional value will change if you substitute ingredients. Use a nutrition app of your choice to recalculate and reflect your changes.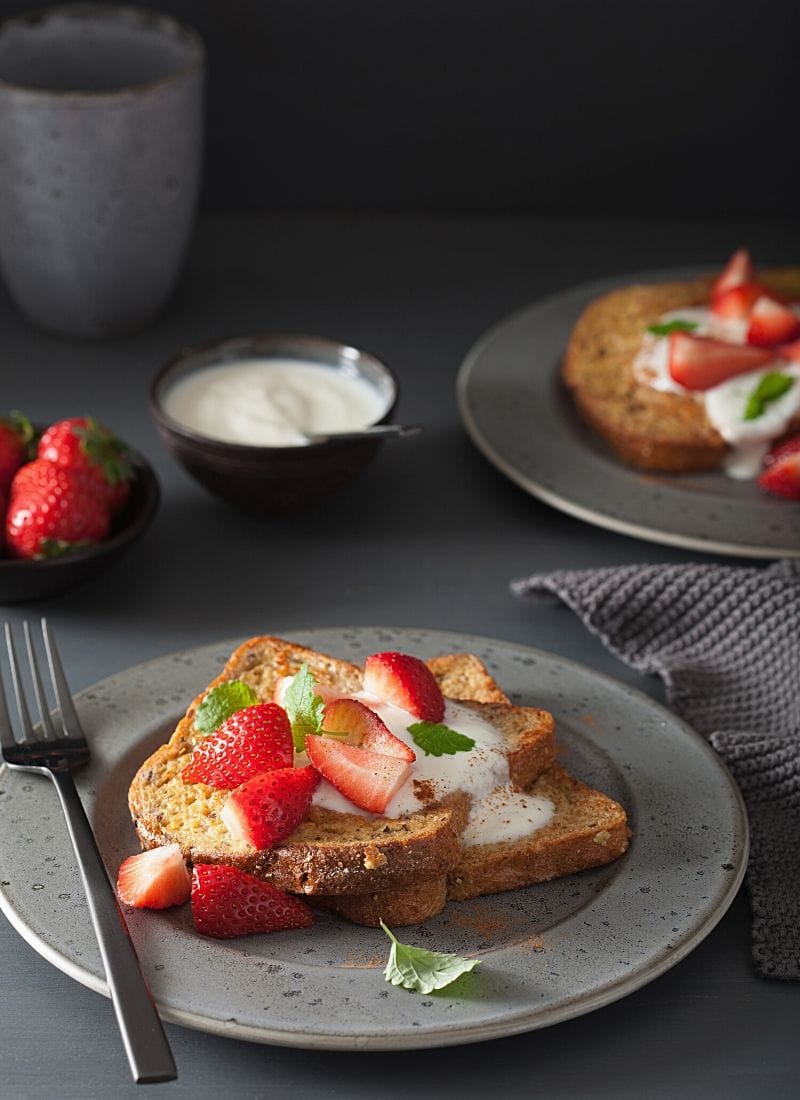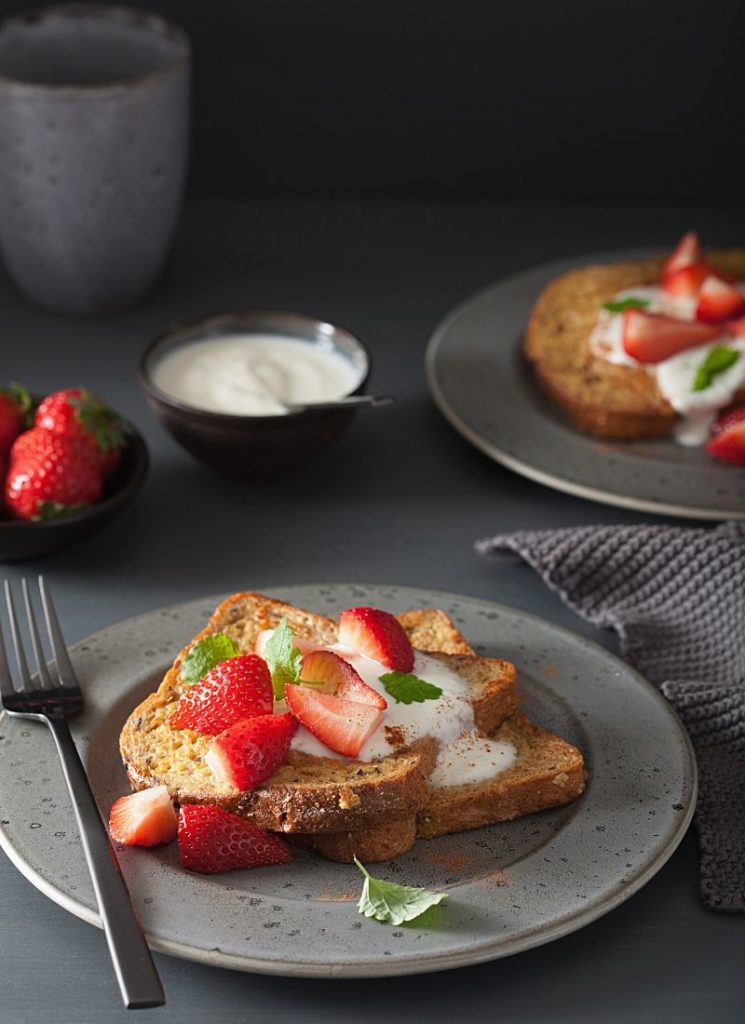 Strawberry French Toast FAQ
How many carbs in French toast?
According to FatSecret, one slice of plain French toast has about 20 grams of carbohydrates. Considering that a serving usually includes at least two pieces, that's 40 grams of carb minimum per meal. Compare this with only 17 grams of total carbs (just 5 grams net carbs) per serving of my low-carb recipe, and you'll see a big difference.
What bread is best for keto French toast?
Ensure you use low-carb bread made with almond flour, coconut flour, psyllium husk, or other keto-compliant ingredients. If using store-bought bread, avoid white bread and look for zero carb bread instead.
What toppings are keto-friendly for French toast?
An easy way to dress up keto French toast is to add low-carb toppings such as butter, cream cheese, peanut butter, whipped cream, sugar-free syrup, and berries.
Can I eat French toast on keto?
Traditional French toast is not suitable for those following a keto lifestyle due to its high carb content. However, following this easy keto French toast recipe will ensure you still stick to your low-carb and keto diet.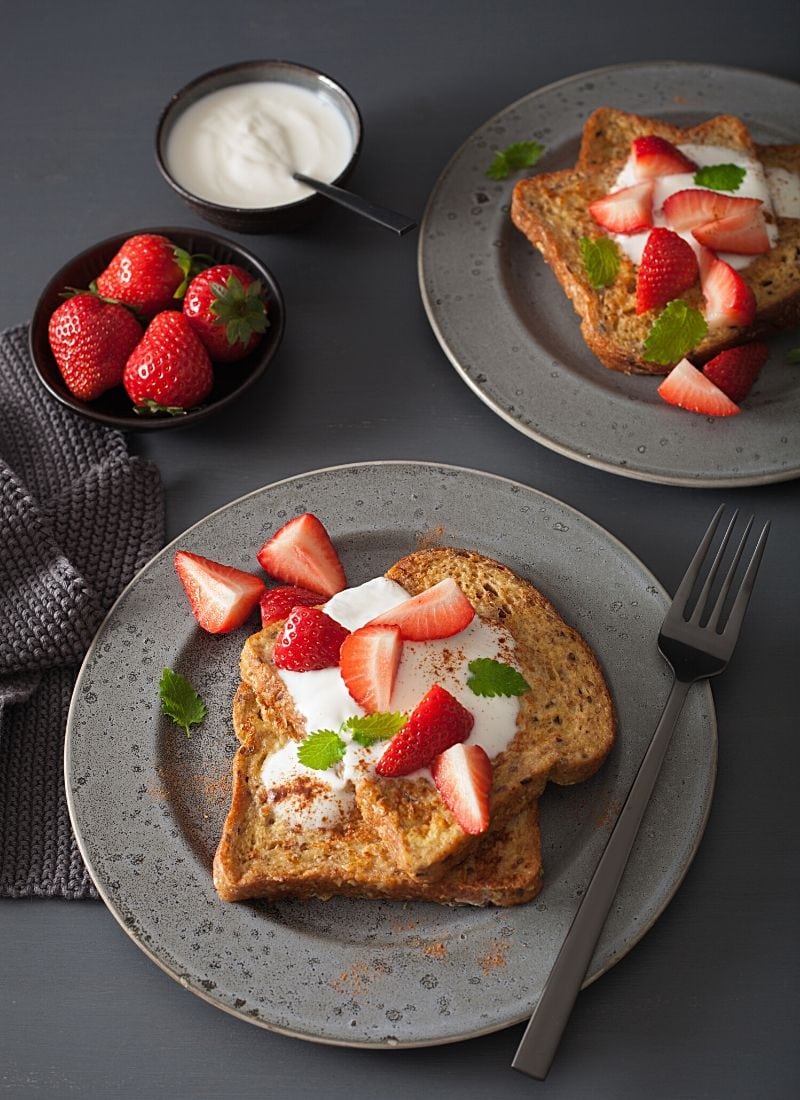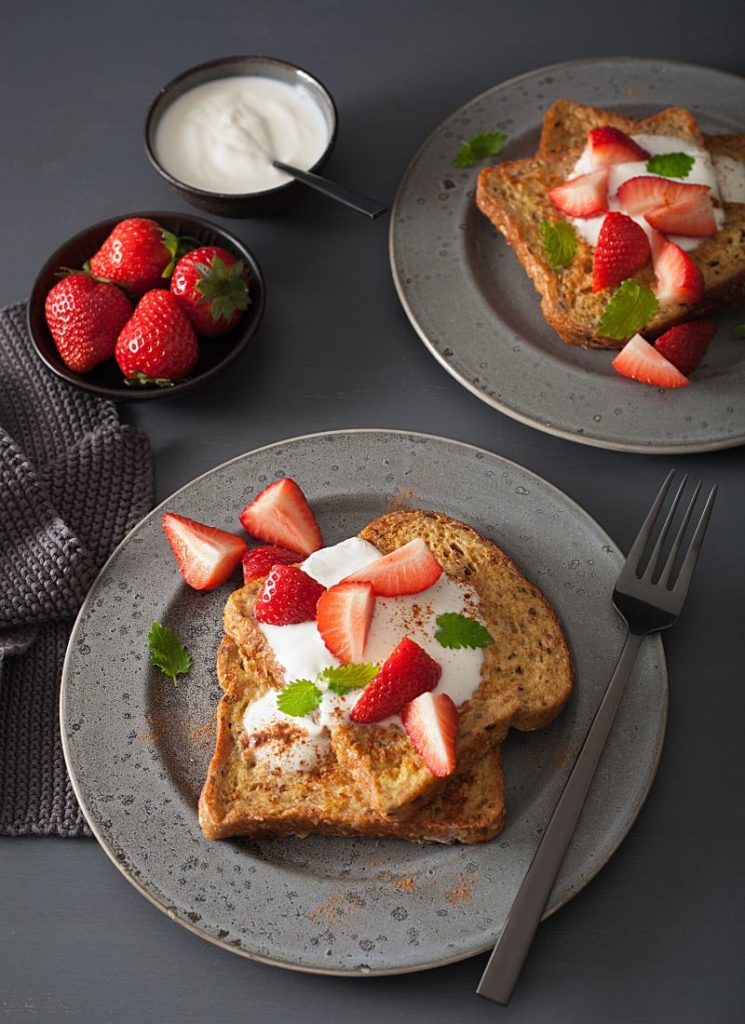 More Keto Breakfast Recipes
If you're stocked up on sugar-free maple syrup, consider making these coconut flour pancakes, 2-ingredient keto waffles, or low carb waffles made with almond flour and cottage cheese. I also have a popular collection of keto pancake recipes you won't want to miss.
Are you looking for a different texture in your breakfast? Try this hot keto cereal or keto blueberry scones.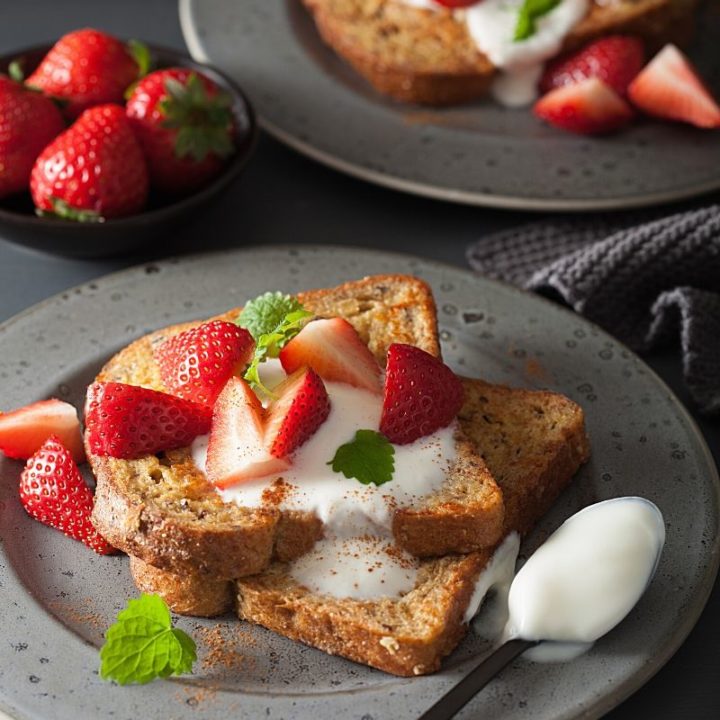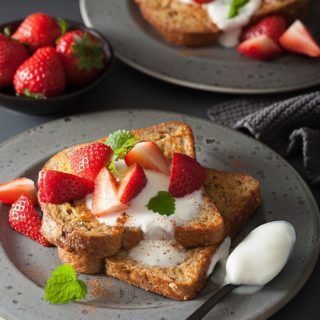 Low-Carb French Toast with Strawberries
This keto French toast recipe is a low-carb, diabetic-friendly breakfast dish flavored with cinnamon and vanilla. It has the perfect texture we all know and love, but only 5 grams net carb per serving!
Ingredients
Serve with:
1

cup

strawberries

sliced, optional

½

cup

full-fat Greek yogurt

optional
Instructions
In a shallow bowl, whisk the egg and milk together. Add cinnamon and vanilla. Stir well to combine.

2 large eggs,

¼ cup heavy cream,

1 teaspoon ground cinnamon,

½ teaspoon vanilla extract

Heat the butter in a skillet over medium-low heat.

Dip the bread in the egg mixture, flip it over and coat the second side. 

Once the pan is hot, arrange as many bread slices as will fit without touching one another. Cook

60-90 seconds

until golden brown. Then, flip and cook the same for the second side. Repeat with all remaining slices.

Serve warm with optional strawberries and yogurt.

1 cup strawberries,

½ cup full-fat Greek yogurt
Notes
Homemade yogurt is a delicious substitution for Greek yogurt.
You may also like serving with keto maple-flavored syrup or a powdered sugar replacement.
If substituting the bread, each serving of just the egg mixture contains 107 calories, 10 g fat, 4 g protein, 1 g carb, 0.3 g fiber, and 1 g net carb.
The video shows our original recipe which is great, however, you'll see the most recent (and more simple) version here on the card.
Nutrition & Macros
Calories:
359
kcal
Carbohydrates:
17
g
Protein:
6
g
Fat:
30
g
Saturated Fat:
23
g
Sodium:
760
mg
Fiber:
12
g
Net Carbohydrates:
5
g
To obtain the most accurate representation of the nutritional information in a given recipe, please calculate the nutritional information with the actual ingredients and amounts used, using your preferred nutrition calculator. Under no circumstances shall the this website and the author be responsible for any loss or damage resulting for your reliance on the given nutritional information.
Made this? Leave a Rating! ⭐⭐⭐⭐⭐
Tag a photo with @Primal_Mom and #PEHRecipe on Instagram to share with us!
SaveSaveSaveSaveSave