An low-carb, ketogenic sugar free chocolate recipe is made with an all-natural, zero carb sugar replacement. It won't trigger cravings or send your blood sugar on a roller coaster! My easy keto recipes are always acceptable for keto dieters and diabetics alike.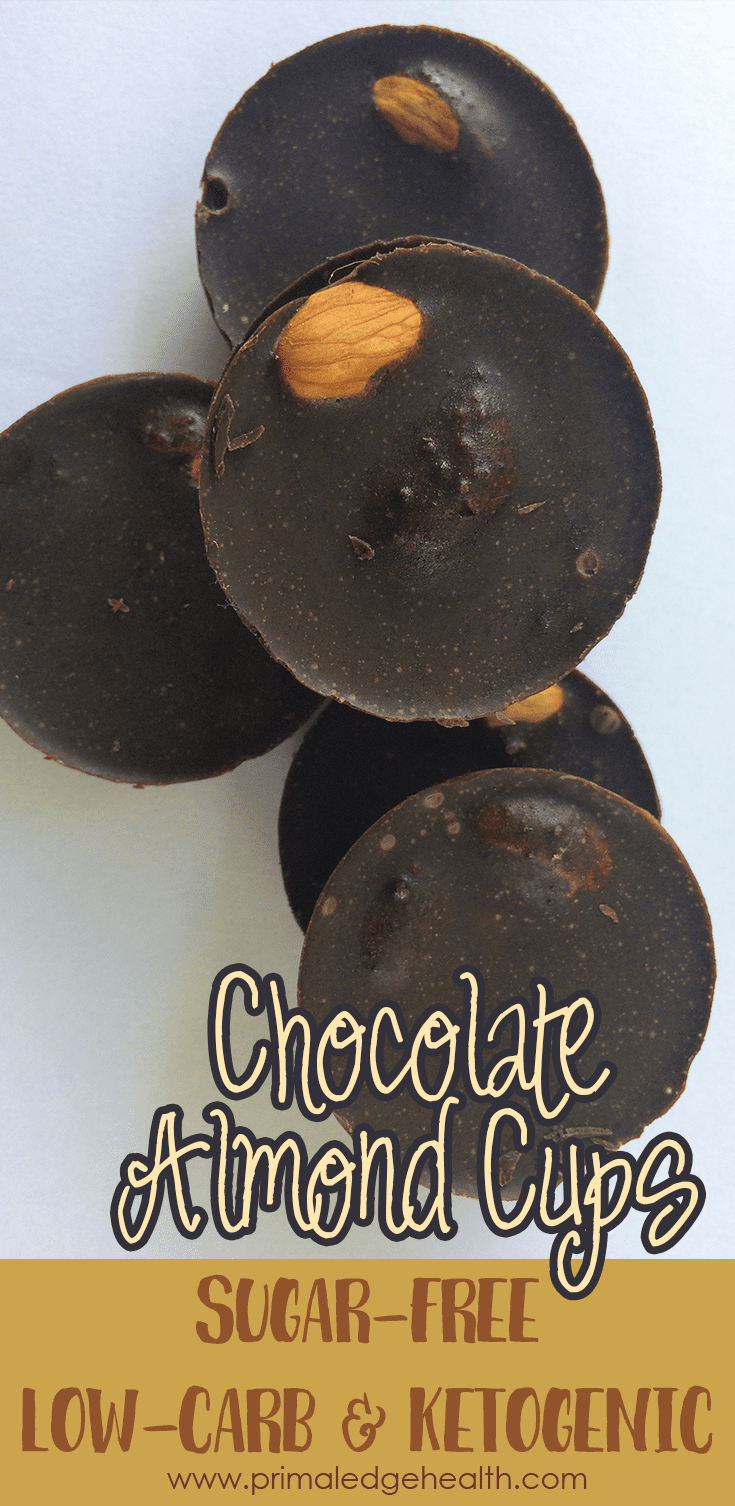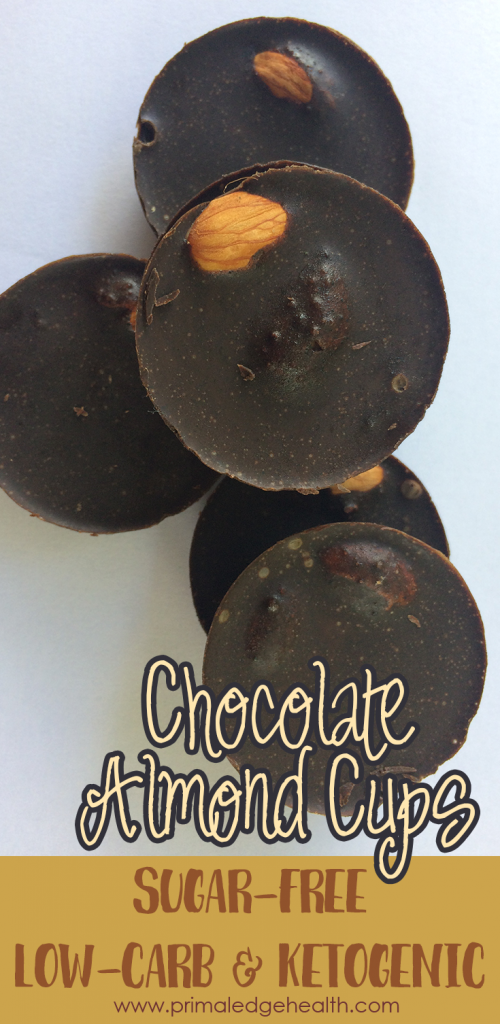 Homemade chocolate is really very easy and always better than what you'll find in the store. These chocolate almond cups are the perfect after-meal treat and a much cheaper alternative to store-bought chocolate bars.
It only takes 5 ingredients (plus a pinch of salt) and 10 minutes to mix up a batch of this delicious, low-carb dessert!
They are a perfect treat when you want something sweet on a keto diet!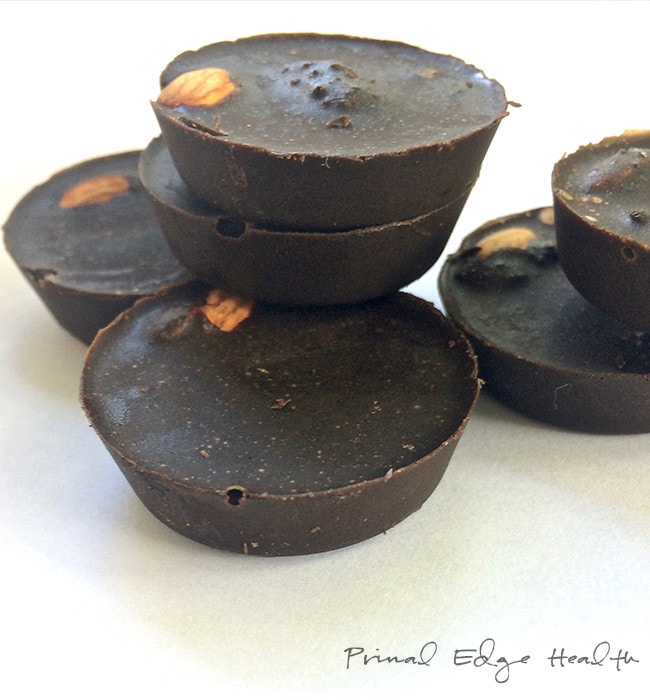 Make a Sugar Free Chocolate Recipe – The easy way!
I use a mini muffin pan because small wells are the perfect size to hold a few almonds. Once solid, one mini cup is satisfying to eat at a time. It is a good portion size; enough for a few bites but not too small that I get tricked into overeating.
If you don't have a mini muffin pan, use a silicone chocolate mold instead. Depending on the size of your mold, you may only be able to fit one almond in each space. They are such cute bite-sized cups with just one almond! If this is the case, all you have to do is pour the melted chocolate over each almond and chill until solid. This sugar free chocolate recipe is very forgiving.
I don't recommend substituting the cacao butter for coconut oil or adding any other ingredients such as butter or cream. The perk of cacao butter is that it is solid at room temperature. With coconut oil or other ingredients, your chocolate will melt easily and you'll have to store it in the fridge or freezer.
Want to find out more about cacao butter? Here is a great resource explaining what it is and more on how to use it.
Important! This recipe works best with a powdered sweetener.
Granular sweetener is too heavy and will sink to the bottom and separate from the rest of the chocolate cup.
You can buy a powdered version or blend granulated sweetener in a food processor/blender to make powdered sweetener at home.
Recipe Notes
Try different mineral-rich salts, so many options and each brings its own unique flavor!
These cups are freezer friendly and can be made in bulk.
Use my favorite keto sugar substitute to keep chocolate free from refined sugar, added sugar, and artificial sugars.
This recipe yields 12 mini muffin cups. If you use a silicone mold, the individual cup size will vary.
With only 1 g net carbs per serving, this sugar free chocolate recipe is a delicious, guilt-free way to enjoy healthy chocolates while staying on a keto diet.
100% gluten-free, grain-free, dairy-free, low-carb, ketogenic and sugar-free!
What's the secret for really really good chocolate?
Quality ingredients.
The difference between cacao is palpable. Living in Ecuador (known in the chocolate world for its heirloom cacao seed) has afforded me the opportunity to source real quality cacao products. I've shared what makes our cacao stand apart from others,
In short, it is
We offer all the cacao foods you need for homemade chocolate making in our shop with domestic USA shipping. International shipping tends to be very expensive but if you are interested in a quote on a bulk order, contact me here.
In this recipe, a pinch of sweetness (without the blood sugar roller coaster and crazy mental/emotional triggers) is made possible by Lakanto's powdered Monkfruit sweetener.
Lakanto is my first choice as a keto-friendly sweetener for all keto desserts. In this recipe, I prefer the powdered formula over whole erythritol because it blends well into the cacao mixture, sometimes the whole crystals leave a slightly crunchy texture.
Save 20% on LAKANTO products with our coupon code PRIMALEDGEHEALTH

Alternatives?
I use Lakanto exclusively but you also may use whole or powdered erythritol or liquid stevia extract instead. Replace Lakanto with equal amounts of erythritol, use stevia drops to taste.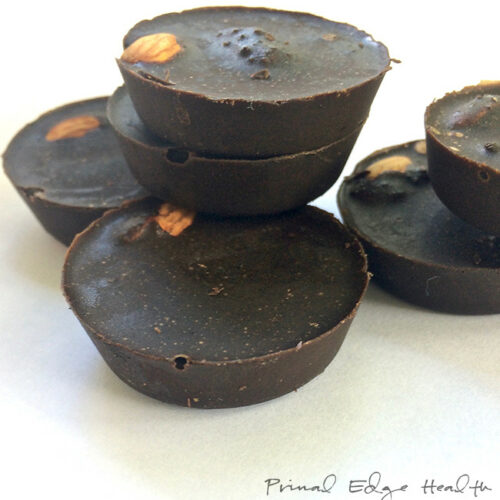 Sugar-Free Chocolate Almond Cups
An easy sugar free chocolate recipe is made with an all natural, zero carb sugar replacement. This makes it so friendly for keto dieters and diabetics alike!
Instructions
Melt cacao butter in a double boiler or a DIY version of one with a heat-proof bowl placed over a small saucepan filled with ~1 cup of water, over medium heat. The water line should come just below the bottom of the bowl.

Remove from heat and set aside. Stir in the cacao powder, sweetener, vanilla, and salt.

Divide the almonds evenly between 12 wells of an empty mini muffin pan or use a chocolate mold. Pour or spoon the melted chocolate mixture over the almonds.

Transfer to the fridge or freezer to chill. Once hardened, remove from molds and store in an air tight container. Store at room temperature or refrigerate for up to 3 months.
Nutrition & Macros
Serving:
1
chocolate cup
Calories:
94
kcal
Carbohydrates:
3
g
Protein:
1
g
Fat:
10
g
Saturated Fat:
5
g
Sodium:
117
mg
Fiber:
2
g
Net Carbohydrates:
1
g
To obtain the most accurate representation of the nutritional information in a given recipe, please calculate the nutritional information with the actual ingredients and amounts used, using your preferred nutrition calculator. Under no circumstances shall the this website and the author be responsible for any loss or damage resulting for your reliance on the given nutritional information.
Made this? Leave a Rating! ⭐⭐⭐⭐⭐
Tag a photo with @Primal_Mom and #PEHRecipe on Instagram to share with us!
More Sugar Free Chocolate Recipes You Should Try